When it comes to hiking routes, what could be better than a long scenic ridgeline? Miles of trail improbably squiggling through jagged landscape via the highest path around, with expansive views to both sides, as if walking on a narrow pathway through the sky…
The long squiggle of North Coast Ridge Road, and the North Coast Ridge Trail it connects to, first jumped out at me from the Ventana Wilderness map years ago. Having twice summited Cone Peak from Highway 1, I couldn't help but wonder: what would it be like to get there the long way, starting 30 miles north near Big Sur and following the ridge south?
This past weekend I finally had a chance to scout this route, which doesn't seem to be a common one. I'm happy to report that it most definitely delivered on the dramatic ridgeline promise. With the Santa Lucia Mountains to the east and the deep blue Pacific Ocean to the west, there are quite literally views for days along the North Coast Ridge.
In this guide I'll explain the route and the terrain for those looking to incorporate all or part of the North Coast Ridge Road / Trail into their next Big Sur backpacking trip.
Warnings and Caveats
Though difficulty depends on season and trail conditions (details below), the full route described here is an intermediate/advanced backpacking route in a remote and rugged area. It requires advance planning, smart decision making, and self-sufficiency. Water can be scarce, trails can be overgrown or hard to follow, and you probably won't see any other humans for almost the entire way.
The aesthetics won't appeal to everyone. Singletrack snobs be warned, there is a lot of dirt road, albeit with some excellent views and no vehicles. After that the "trail" becomes more of a "route" requiring attention and sometimes pushing through overgrown brush. There isn't much in between, and those looking for well-groomed singletrack trail won't find much of it here (or anywhere in the Ventana Wilderness for that matter).
If you stick to the ridge you'll likely be dry camping, especially in the summer, and you'll need to hike off route a mile or two in order to fill up during the day. However, if you go in with a plan, there's something very satisfying about negotiating with nature to traverse this wild landscape.
If I haven't scared you off yet – or better yet, if I've intrigued you – read on to learn about this unusual and adventurous backpacking route along the North Coast Ridge of the Santa Lucia mountains in the Ventana Wilderness.
Route Overview
There are many ways to incorporate the North Coast Ridge into a Ventana backpacking trip. Here I'll lay out the most obvious and aesthetic point-to-point thru hike, and further below I'll explain some variations for those wanting a shorter or longer route.
Key Numbers
Distance: 41 miles
Lowest Elevation: 40 feet (at the very end)
Highest Elevation: 5154 feet (at Cone Peak Summit)
Cumulative Elevation Gain: ~8000 feet
Location: Ventana Wilderness, part of Los Padres National Forest in California, USA
Start: North Coast Ridge Road gate in Posts, CA on Highway 1
Finish: Kirk Creek Campground on Highway 1
Route Map
Logistics and Transportation
This route makes a great point-to-point hike going from north to south. I recommend this direction because the route gets progressively higher, hillier, more spectacular, and more challenging as you go. Going the other direction would be very anticlimactic.
To enjoy the point-to-point hike though, you'll need to set up a two-car shuttle or be dropped off / picked up. On the northern end, park one car (or arrange a dropoff) near the start of North Coast Ridge Road in the small community of Posts. You'll find free street parking in a few places between Highway 1 and the gate at the start of North Coast Ridge Road.
Park a second car (or arrange a pickup) at Kirk Creek Campground, just a 40 minute drive south along scenic Highway 1. There's trailhead parking on the east side of the highway.
Note that phone reception is spotty to nonexistent in this area, even along the highway, so don't count on calling for a ride when you finish. A SPOT tracker or Garmin InReach comes in handy here, and is a smart idea for backcountry safety anyway.
Out and Back?
If a car shuttle isn't an option you could, in theory, do this route as an out and back. This is actually the way I did it, over 3 long days averaging 20+ miles each day. But consider yourself warned: after the spectacular views on the way up, those 17 miles of fire road are going to feel loooooong on the way back down. Unless you're a fast hiker who can cover that stretch in a day or less, you'll likely find it very tedious.
A Note on Pace
Trail conditions vary dramatically on this route, so plan daily distance accordingly. The first 17 miles are fast, the next 5 miles to Rodeo Flat are a bit slower, and from there to Cone Peak is even slower. If you can hike 3 miles per hour on the (uphill) fire road, expect to cover only 1 – 1.5 miles per hour on the brushy and/or steep sections that come later.
Route Description
Section 1: North Coast Ridge Road to start of North Coast Ridge Trail
Miles 0 – 18
This is a gated dirt road, generally well maintained. It starts out well graded and climbs steadily for the first 5 miles, then becomes increasingly rolling with sections of steeper grade.
The road passes through sections of private property and there are a few houses way out there, but we saw zero vehicles the entire time. Pedestrians are allowed (just walk around the locked gates) but bicycles are prohibited.
For those who scoff at the idea of hiking for so long on a dirt road, let me just say it was better than expected. The wide-open views on both sides are enough to keep you occupied visually. If hiking with a partner it's a very companionable section where you can easily walk side-by-side and chat.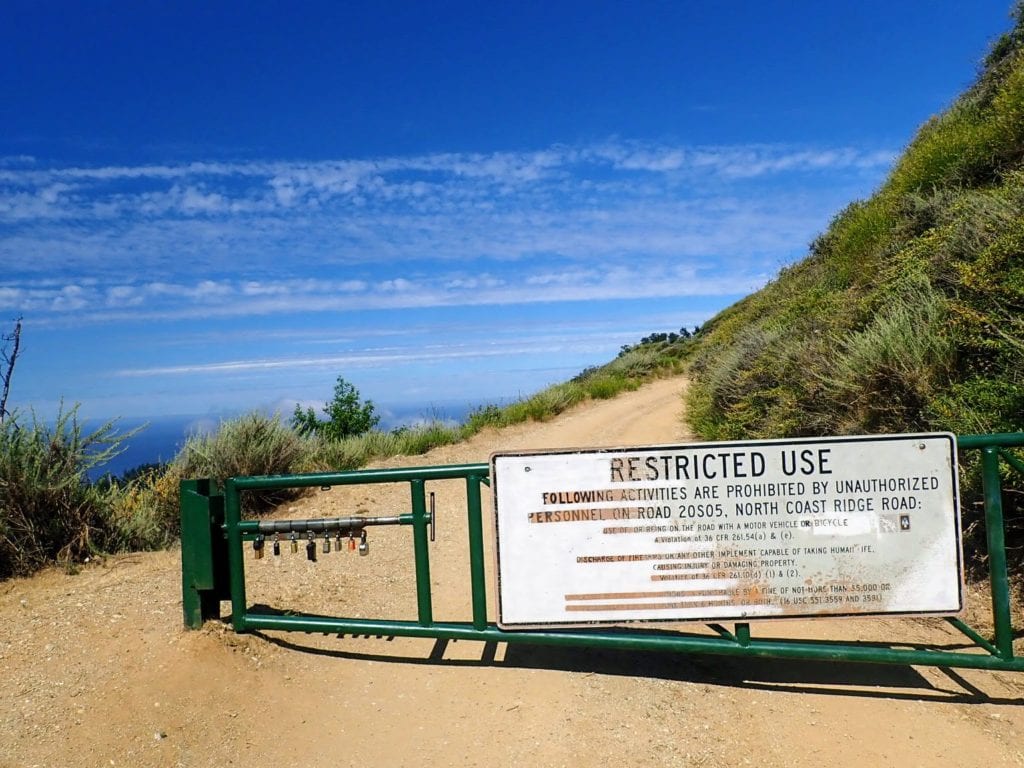 Section 2: North Coast Ridge Trail to Rodeo Flat Junction
Miles 18 – 23
Around mile 18 the maintained road ends abruptly at a gate, beyond which the shape of a road continues but no vehicles have passed recently. This is the start of North Coast Ridge Trail.
As of summer 2020 the brush, having been cleared by fire crews not too long ago, is only about knee-high in most places and totally clear in others. The trail follows the old road but does require some care to look for the tread, especially where fire breaks go up and over hill tops while the road/trail contours around them.
This section has several good camp locations (more detail below) and potentially the only on-route water sources, though even these are unreliable in dry summers or fall.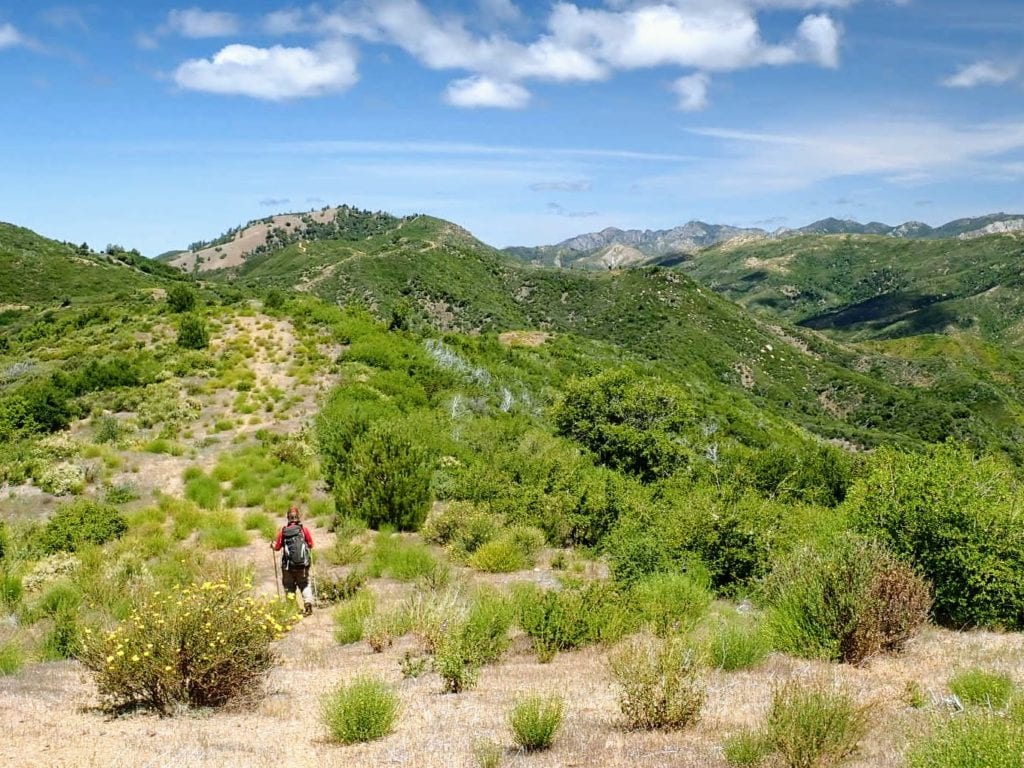 Section 3: Rodeo Flat to Carrizo Trail Junction
Miles 23 – 28
Through this section the trail becomes increasingly overgrown. Depending on when someone last came through with clippers, you may need to push through sections of heavy brush or even crawl through a few short tunnels. If you get into the right mindset, it's kind of fun! 🙂 The trail here is mostly level and easy to see (the old road is cut obviously into the side of the hill), but the going is slow.
Expect slow travel, wear long pants and long sleeves, and maybe bring some pruning sheers (cut branches close to their point of origin and don't leave pointy spears at eye level). The good news is, poison oak doesn't seem to be common up at this elevation compared to the lower trails of Ventana's valleys.
Section 4: Carrizo Trail Junction to Cone Peak Summit
Miles 28 – 30
From here the trail becomes (relatively speaking) more crowded as you begin encountering other hikers in the Cone Peak area. For the first time, the route leaves the ridge trail and plunges downhill on the (usually brushy) Gamboa Trail to Trail Spring, then climbs back up steeply to the junction with the Cone Peak summit trail.
Take the small out-and-back to the summit of Cone Peak, the tallest coastal mountain in the lower 48 states. Though you've already been spoiled by ridgeline views for miles, the full 360 degrees from the top are the perfect reward for your long ridge traverse, and the old fire lookout is interesting.
Important note: there are several ways to reach Cone Peak, and the one I've described here will be best for most people. For the curious, here are the alternates you may be tempted by if perusing maps:
If you'd rather not push through the overgrown Gamboa Trail, you can stay higher on the Coast Ridge Trail to Cone Peak Road and then summit Cone Peak from the southeast. This adds several miles to the route and requires crossing a somewhat sketchy section of steep landslide near the start of the Coast Ridge Trail.
Some maps show a direct ascent from the north, straight up the spine of the ridge to Cone Peak. This is a scramble, requiring some basic rock skills and a head for heights. Ventana rock is not known for being stable or high quality.
Old USGS quad maps show another direct summit route from the east. As far as I can tell, this doesn't exist, or if it does it would be a very challenging cross-country scramble/climb. Please avoid.
Section 5: Cone Peak Summit to Kirk Creek Campsite / Highway 1
Miles 30 – 41
This is the reverse of the standard Cone Peak ascent route. You'll descend 5000 feet, enjoy more great ocean views, and some lower elevation forests and valleys on your way down to the sea. The only camping in this high-use area is at the established sites of Espinosa and Vicente Flat.
Campsites and Water Sources
Camping
No permits or reservations are required to camp in the Ventana Wilderness. However, sites in the popular areas closer to Cone Peak do fill up on weekends, and in these high use areas you should only camp at established sites. Be prepared with a backup plan in case there's no room at your chosen spot.
North of the Carrizo Trail junction there are far fewer hikers, and it seems acceptable to make camp on durable dirt surfaces while leaving no trace.
Water – Important!
Water sources in Ventana Wilderness are often seasonal, especially up high on the ridges. Summer can be very hot. If hiking this route in summer or fall you will need to hike off-route a few miles (and a lot of elevation change) to refill on water. Even then, there will be long dry stretches in between.
Unless you can hike 15+ miles per day, you are going to have a tough time carrying enough water to hike this route in summer. The section between miles 9 and 27 may be completely dry in the summer or fall. In these conditions prepare to carry 6+ liters each, dry camp, and cover long days on potentially overgrown trail. Sounds fun right? 🙂 If this sounds like too much, hike this route in early spring and make sure (check trail conditions) either Redondo Spring or the stream just south is flowing.
I can't emphasize this enough. ALWAYS research water sources using the trail map here (look for the little "water glass" icons) and reading trail condition reports here before starting your trip. Have a backup plan in mind (which might involve hiking miles off-route) in case a source is unexpectedly dry, or the route to a source is too overgrown to be passable.
When I hiked this route on a June weekend we saw no other humans between miles 4 – 28. Don't count on being bailed out if you misjudge your water supply. We hiked 20 mile days and carried 6 liters each, and still went thirsty a few times.
Water and Camp Mileages
Most of the details listed below can be researched further on bigsurtrailmap.net.
| | | |
| --- | --- | --- |
| Route Mile | Description | Notes |
| 4.5 | Timber Top Camp / Boronda Trail junction | Pumphouse use camp and water are ~1 steep mile west of the route. Timber Top Camp just off route but no water |
| 9.5 | Cold Spring Camp junction | Camp and water 0.5 miles off route to the east |
| 14.2 | Marble Peak Trail junction | Several camps and seasonal water sources along Higgins Creek 2+ miles off route to east |
| 18.2 | Bee Camp Trail junction | NOT a good water source as trail has lately been impossibly overgrown. Good dry camping up on the ridge however. |
| 18-23 | Dry camping options | Variety of nice ridgeline dry camping options through this section. |
| 21.5 | Redondo Spring | Seasonal, not necessarily reliable water source. Check trail condition reports for current status. |
| 22.5 | Volunteer use camp and stream | Stream is seasonal, not reliable in summer. Check trail condition reports for current status. |
| 23 | Rodeo Flat junction | Flat saddle with great views, would make nice camp especially if the stream just before is flowing. Note: in case of water emergency, reliable stream is 2.5 miles downhill on Rodeo Flat trail. |
| 26.5 | Tin Can Use Camp | Gorgeous campsite with fantastic views. No water. |
| 27.5 | Cook Spring camp and water | Fairly reliable spring and nice camp, less than 1 mile off route |
| 28.7 | Trail Spring camp and water | Nice camp near semi-reliable spring |
| 36 | Vicente Flat camp and water | Camp and reliable water |
| 38 | Espinosa camp | Camp with unreliable creek 0.2 miles before |
Example Itinerary
Here's an example itinerary for a moderate pace that would work in spring, when the water sources are more reliable.
| | | | |
| --- | --- | --- | --- |
| Day | End Mileage | Miles Hiked | Camp |
| 1 | 9.5 | 9.5 (plus 0.5 to camp from route) | Cold Spring Camp |
| 2 | 22.5 | 13 (plus 0.5 from camp to route) | Volunteer Use Camp / seasonal stream |
| 3 | 28.7 | 6 (these are slow miles) | Trail Spring Camp (or Cook Spring camp a mile before) |
| 4 | 36 | 7 | Vicente Flat Camp |
| 5 | 41 | 5 | Finished |
The days are longer in the beginning because the terrain is easier. If Redondo Spring and the creek just after are dry, this itinerary requires one night of dry camping and two full days of dry hiking, NOT recommended in summer.
If you are a fast and experienced hiker, you MAY be able to carry enough water to last until Cook Spring Camp at mile 27. We carried 6 liters, hiked 20 miles the first day, and refilled at Cook Spring halfway through the second day. I don't recommend this unless you really know what you're doing, and keep in mind that miles 23 – 27 can be badly overgrown and very slow.
Trail Conditions
If you haven't hiked in the Ventana Wilderness before, read this part carefully. This is the only area where (on a previous trip and different trail) I have been literally forced to turn around and abandon a trip because the trail was completely impassible, overgrown with interlocking brush.
Trails in Ventana are maintained by intrepid volunteers, including some hikers who carry saws and clippers on their weekend outings. Depending on the trail, time of year, how many years it's been since the last fire, and when someone last went through with clippers, trail conditions can range from wide open to impossible.
The trail reports here are essential for planning any hike in this area. Take all ratings with a grain of salt. "Passable" by local standards may still mean wading through brush. At lower elevations this brush often includes Poison Oak, and spring is tick season.
Recommendations:
Wear sturdy long pants, and in many cases also sturdy long sleeves that won't snag easily. A hat or buff may be helpful, especially if you have long hair.
Be prepared to turn back at any point if the trail is impassible. Plan water supply accordingly.
Hiking poles make good brush shields.
Consider hiking with a small pair of pruning sheers to aid your own passage and help clear trail for future hikers. Try to clip branches as close to their origin as possible, and avoid leaving pointy spikes especially at face level.
Variations
This ridge route just jumps off the map and begs to be hiked. But if you're looking for something slightly different, here are a few variations that might be a better fit.
Instead of starting from the North Coast Ridge Road, you could hike up the steeper Boronda or De Angulo trails from Highway 1. This cuts a few of the most boring early miles off the dirt road walk.
If you know what you're doing, loop routes down into the interior, such as Lost Valley, beckon from the trail map. Water is more plentiful down there but so is poison oak. Read trail condition reports before attempting.
If 30 miles of ridge walking isn't enough for you, tag the summit of Cone Peak and continue on Cone Peak Road to where it crosses Nacimiento-Fergussen Road. From there you can link up with South Coast Ridge Road for another ~30 miles (this section is still dirt, but is open to vehicles and bicycles).
Navigation
Though much of this route is straightforward, a GPS device or smartphone app is important for sections where the trail is obscured by brush. I also highly recommend having an offline map of the surrounding area in case you need to change plans due to water issues or overgrown trail.
You can download a GPX file of the entire area here, and import it into a smartphone app like Backcountry Navigator. Always bring a backup, whether that's a friend with their own cached maps or a paper printout from bigsurtrailmap.net.
Dangers and Annoyances
In addition to the previously mentioned issues with water and overgrown trail, here are some other things to be aware of when hiking in the Ventana Wilderness.
Ticks: throw one of these in your med kit and check yourself regularly, especially during the spring.
Poison oak: learn what it looks like and bring some of these wipes, you'll thank me later.
Rattlesnakes: keep an eye on the ground and watch where you put your feet and hands, especially when scrambling off trail.
Biting flies: especially in spring and summer; bug repellent may help a little. They only land when you're standing still. 🙂
Bears: super rare but a few recent sightings point to an increasing population of black bears in the area.
Heat: there isn't much shade up on the ridge, and summer can be very hot. Pack plenty of sunscreen and a hat.
Snow and cold: in the winter, higher elevations in this area get snow and nights can be below freezing. Valleys and ravines are often the coldest places to camp.
Steep terrain: don't be fooled by the easy grade of the first few miles. This route has some steep sections! I don't always use hiking poles but found them helpful here, both for powering uphill and pushing brush out of the way.
Remoteness: you might not see any other hikers except for the area near Cone Peak. This is great if you like solitude, but you'll need to be self-sufficient. Hike with others unless you're very experienced, and consider carrying a SPOT tracker or Garmin InReach for emergencies (most of the route has no phone signal).
Final Thoughts
If all those warnings haven't put you off, I hope you'll enjoy this adventurous ridge hike in the Ventana Wilderness. It's fascinating to experience a remote road turning to overgrown two-track turning to singletrack trail and back again, all while surrounded by airy coastal mountain views.
If you're not quite ready for this route or want something a bit more traditional, I recommend starting with the much more popular Cone Peak backpacking loop, which will give you a taste of the Ventana Wilderness with all its beauty and its challenges.
More Hiking Resources
If you're dreaming about a hike in the Ventana Wilderness, here are some other posts you might enjoy:
Or visit the complete backpacking and hiking resources section here!


Hiking resources in your inbox?
There's more where this came from! Sign up here for occasional emails full of inspiration and information about backpacking and hiking.


Share the Adventure
If you found this article helpful, please consider sharing so more people can benefit from it: