Maybe you're just getting into this idea of pedal-powered travel, or maybe you have some miles under your wheels but are considering a new riding style. Either way, you now find yourself at a crossroads: bikepacking bags or panniers?
One of the amazing things about bicycle travel is covering surprisingly large distances under our own power, while carrying everything we need with us.
And one of the biggest challenges of bicycle travel is covering surprisingly large distances under our own power, while carrying everything we need with us.
Thus it's no surprise that bike travel discussions so often make their way to the subject of gear, even though we all know the gear is just there to enable the experience. Sometimes finding ways to carry all that stuff on a bicycle is darn hard!
These days bike travel has evolved into two distinct styles, with two typical gear-toting setups: traditional rack and pannier touring, and bikepacking with… you guessed it, bikepacking bags. Both are effective ways to carry everything you need for days, weeks, or even months. But their strengths and weaknesses will be revealed differently on different types of bike trips.
If you're just starting out, this can all be a bit confusing. My goal with this post is to help you understand how these two different systems – rack and panniers versus bikepacking bags – work, and how to approach choosing from amongst the wonderful array of options for your next pedal-powered adventure.
Panniers versus Bikepacking Bags
First, a quick overview of terms.
What are racks and panniers?
Panniers are bags that attach to racks, which attach to your bike. They come in left/right pairs, and a full setup includes four: two in back and two in the front, though many people ride with only rear panniers on lighter trips.
A rack and pannier setup typically includes these parts:
Rear rack
2 rear panniers
Handlebar bag / case
Front rack (optional)
2 front panniers (optional)
Bicycle travelers often also strap additional bulky items to the rear rack, like a tent or sleeping pad.
Racks and panniers are usually (but not always) associated with the "bicycle touring" style: longer distances or international trips, more and heavier gear, more pavement than dirt, more populated than remote, more motels and established campgrounds than wilderness camping (though this last one is more variable).
These are two examples of common pannier setups:
What are bikepacking bags?
Bikepacking bags attach directly to your bike without a rack. Because there are so many different types and sizes of bikes, bikepacking bags have a lot more variation. A typical bikepacking bag setup would include some or all of these parts:
Handlebar bag (often a roll-style bag)
Saddle / seat bag
Frame bag
Top tube bag for small items
Feed bags for snacks and small items
Bikepackers sometimes also attach mounts to the front fork for bottles or other small cargo.
This is an example of a bikepacking bag setup: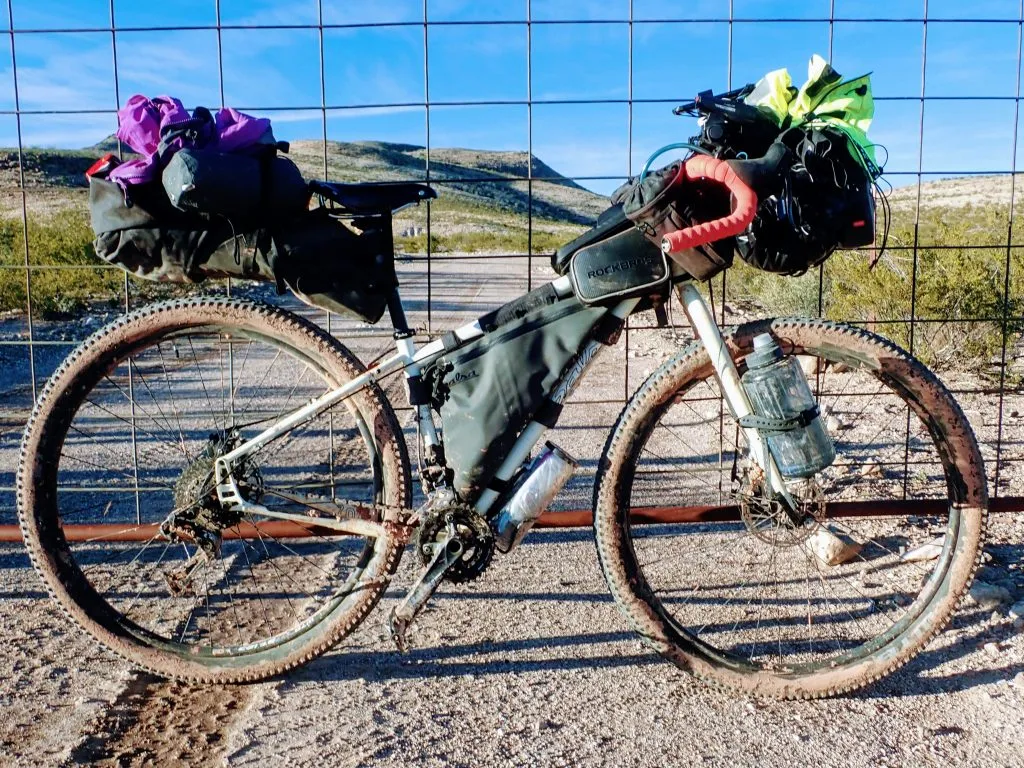 Bikepacking bags are usually (but not always) associated with the "bikepacking" style, loosely defined as: shorter and/or more focused trips within a particular backcountry area, lighter and/or more minimal gear, more dirt trails than roads, more remote than populated, more camping than hotels.
Panniers: Pros and Cons
To understand why different types of bike bags are used for different types of trips, it helps to understand what each type of system is best at. Here are the biggest pros and cons of a rack and pannier setup.
Advantages of Rack + Panniers
Larger overall capacity
Larger capacity for single big item, eg. laptop
Precise packing not needed
Easier to detach from bike and transport separately or bring into room/tent
More standardized rack and attachment systems
Steel racks can be welded if they break
Disadvantages of Rack + Panniers
Less aerodynamic
Can encourage overpacking
Heavier empty weight than bikepacking bags
Rigid attachments can be broken in crash
A broken rack is difficult to fix in remote areas
Thing you need is always at very bottom of the other pannier
Bikepacking Bags: Pros and Cons
Here are the biggest pros and cons of bikepacking bags for most riders.
Advantages of Bikepacking Bags
Streamlined shape is more aerodynamic
Encourages lightweight packing
Soft attachments less likely to break in crash, easier to repair in the field
Compartmentalized packing: thing you need is never too far buried
Lighter empty weight than panniers
Disadvantages of Bikepacking Bags
Smaller overall capacity
Smaller individual capacity: a single large item like a laptop may not fit at all
Harder to remove from bike for transport, hotel stays, theft protection, etc.
Require more precise packing
More variation and fit issues depending on bike size and geometry
Especially difficult to fit for small riders on certain bikes
Most Important Factors to Consider
Now that you know the pros and cons of panniers vs. bikepacking bags, let's hash out how they might apply to some real-world bike trip scenarios.
Terrain and Remoteness
There's no doubt about it, a rack and panniers get increasingly awkward on increasingly rugged terrain. Try riding narrow singletrack, carrying your bike across a river, or pushing it up a steep slippery slope with a full set of panniers. If the weight alone doesn't crush you, the unwieldy shape and balance will.
Bikepacking bags are designed to let riders cover rough ground, even technical singletrack on full-suspension mountain bikes, while carrying gear. They're intended to help your bike stay agile, and to be robust when knocked around in a crash or otherwise.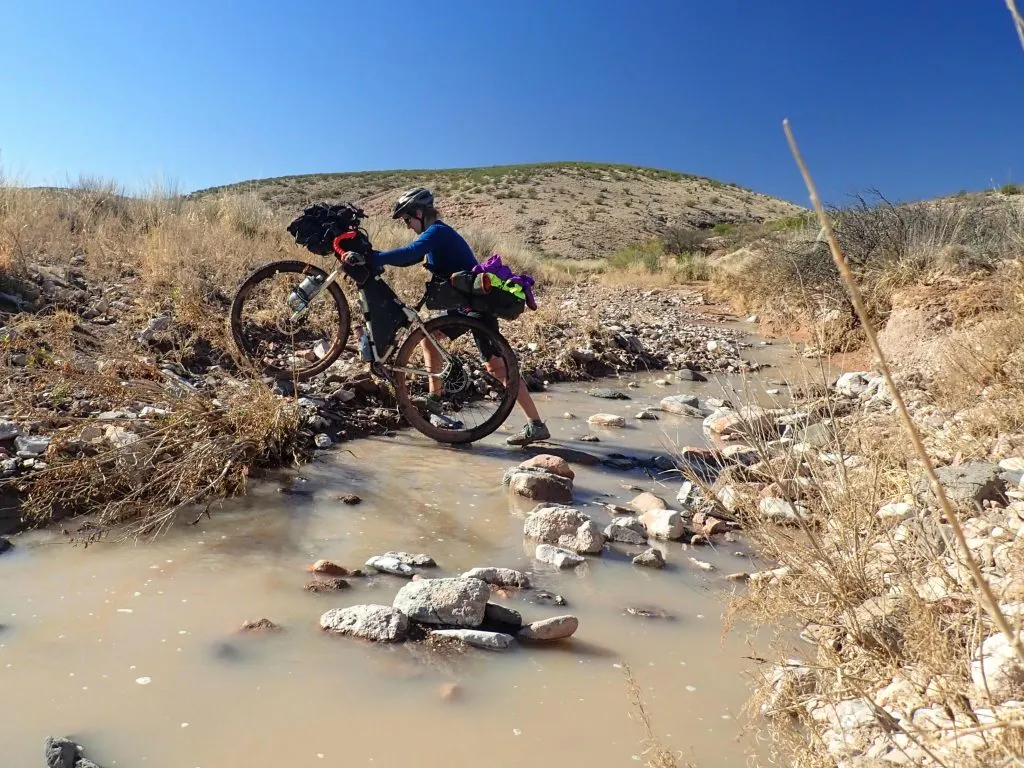 On a related note, more rugged terrain is often (though not always) linked to more wild camping, fewer hotels, and less interaction with people, especially when riding trails where vehicles can't go. This makes it less of a problem that bikepacking bags are more awkward to detach from the bike.
When I tour, I often find myself detaching panniers to carry them up to a motel room, pull them inside my tent at night to keep them safe, or load my bike on a bus to bypass a busy section of road. When bikepacking I'm more likely to sneak off to a hidden campsite and lay my bike beside my tent, bags still on it, not expecting any visitors.
You might prefer a rack and panniers if you:
Stick to riding pavement and well maintained gravel
Mostly like to ride in populated areas
Aren't drawn to especially rugged or steep routes
You might prefer bikepacking bags if you:
Like mountain biking, singletrack, and hard-to-reach wilderness
Enjoy developing your technical riding and bike handling skills
Don't mind pushing or occasionally carrying your bike in order to travel through wild places
Packing Style
I've been through the transition from panniers to bikepacking bags myself, and I can tell you, your packing style really does need to change. Instead of "why not, I'll just throw it in" when packing panniers, packing bikepacking bags can feel like playing Tetris.
Thus, bikepacking bags inevitably invite a transition to more minimalist, lightweight, multi-use gear. It's much like the difference between traditional backpacking and ultra-light backpacking: are you optimizing for time in camp, time on the move, or somewhere in between? In fact, many bikepackers find themselves in the same gear orbits as lightweight backpacking types, drooling over the same gear and counting ounces.
You might prefer a rack and panniers if you:
Can't imagine going without your ____ (camp chair, frying pan, laptop, guitar…)
Prefer to use gear you already have or can buy for cheap, even if it's heavy or bulky
Don't want to bother with precision packing or experimentation
You might prefer bikepacking bags if you:
Already have some lightweight backpacking gear or are interested in buying some
Enjoy the puzzle of minimalist gear and multi-use items
Don't mind giving up a few luxuries in order to cover ground faster and more easily
Length of Trip
Bicycle travel has taught me that past a certain amount of time, you actually don't need more stuff in order to stay on the road longer. As someone who is constantly trying to fight encroaching clutter in my life at home, I think that's pretty cool!
But… not all bike trips are equivalent. That weekend getaway IS going to be different from the multi-year round-the-world tour with frequent stops for digital nomad gigs. Is your bike trip a break from real life, or IS it real life?
Someone on the road for longer is going to need gear for multiple seasons and different climates as they pass through larger areas of the world. They might need a laptop in order to work from the road, or at least some favorite luxuries from home. It's always nice to have a clean outfit of "town clothes" tucked away, and a bit of room for souvenirs, not to mention a well stocked repair and spare kit.
By contrast, someone out for a long weekend or week vacation is more easily able to leave "daily life" at home for a while and focus on riding in a particular climate or area. Extensive spares and tools aren't as critical (though a small repair kit is still important!), and it's easier to make do with a streamlined gear and clothing setup.
You might prefer a rack and panniers if you:
Will be on the road for months at a time
Will be traveling through multiple seasons or climates, especially a cold winter
Need to do other activities (working remotely, seasonal jobs, etc) during your bike tour
Plan to take extended breaks from riding during your trip
You might prefer bikepacking bags if you:
Usually take shorter trips: weekends up to a week or two
Focus mostly on riding during your trips
Ride in places with reasonably consistent and not-too-cold climate
Purpose and Style of Trip
Mentioning that panniers are less aerodynamic than bikepacking bags may sound silly to many bicycle tourers. When the focus is on spontaneous detours, interactions with locals, and seeing the sights, the difference between 8 miles per hour and 8.5 miles per hour might seem too absurd to even mention.
But take the winner of the Great Divide Mountain Bike Race, for example. This 2700+ mile race is typically won in a bit over two weeks. TWO WEEKS! Do the math on that: it comes out to riding 170+ rugged miles per day, every day, with very little sleep. You can bet these folks try to eek out every last advantage in efficiency and speed.
You don't have to be winning races to value the minimalist flavor of bikepacking bags, of course. We can all value moving fast and light relative to our current standards.
You might prefer a rack and panniers if you:
Like riding at a comfortable pace and daily distance
Value time off the bike as much as time in the saddle
You might prefer bikepacking bags if you:
Feel excited by the words "moving fast and light in wild places"
Enjoy the puzzle of lightweight and minimalist gear
Are intrigued by the idea of self-supported endurance bike racing
Frequency of Food and Water
Food and water can be the biggest and heaviest items you'll carry on certain types of trips. If you'll be stopping twice a day at restaurants for lunch and dinner, this isn't much of a concern. But if you travel in remote areas or through dry deserts, suddenly you need much higher capacity.
This is the one area where bikepacking bags are actually LESS well suited to remote and rugged trips. It can be a struggle to figure out where to pack all that food for a remote wilderness trip with bikepacking bags, whereas the town-hopping tourer will have more room than needed in those spacious panniers.
You might need to consider panniers for:
Multi-day dry stretches with no water
Remote areas with infrequent food resupply (less than every 4-6 days for example), especially in places where you need to make do with the food you find even if it's heavy / big / awkwardly shaped
You'll likely be ok with bikepacking bags for:
Trips with water at least once per day
Trips with food resupply at least once every few days, or where you can find or ship your own optimized food supply (dehydrated meals, etc)
That said, if you're willing to get creative, there are actually lots of options for carrying water even with a bikepacking setup. So don't give up on bikepacking bags just because of food and water issues.
Which is Cheapest, Panniers or Bikepacking Bags?
You may notice I haven't said much about price yet. This is because it all depends on which products you choose and how you buy them. In my post about bikepacking on a budget, for example, I go through a number of ways to save money on bikepacking gear.
If you're wondering which is cheaper, panniers or bikepacking bags, here are a few examples. You should take these all with a grain of salt though. My biggest tip for budget gear is to keep a list of what you want, watch for sales, or even better, track down used high quality gear on eBay, GearTrade, Craigslist, REI Garage Sales, etc.
Note that all the lists below are just examples. The listed gear is mostly from brands I have used and tested in the past, but I haven't tried them all, and you'll need to check that each item actually fits your bike and is appropriate for your needs.
Top of the Line
Below is an example brand-new setup from top-notch brands. People sometimes say bikepacking bags are more expensive, but as you'll see, a new top quality rack and pannier setup isn't cheap either.
What makes panniers cheaper for many riders is going without the front rack and bags, which brings the cost down to very comparable with a bikepacking bag setup from well-known brands.
Midrange
Here's an example setup from budget brands. These will likely have some limitations, for example the rack is aluminum instead of steel, which is easier to break and harder to repair on the road. The rack and panniers setup omits the expensive front rack and instead loads up the rear with a dry sack and bungees.
Some of the bikepacking bags in this range are less durable or have issues like straps that loosen on bumpy trails; some are fantastic deals with no issues. I started with a bikepacking setup in this range, and have reviewed many of these choices in my gear section.
Shoestring Budget
Here are some ideas for bargain and/or DIY solutions. These inevitably come with some compromises, whether it's durability, flexibility, capacity… But if budget is what's standing between you and your bike travel dreams, they WILL get you out the door, and that's what matters most.
Obviously these are pretty stripped down setups. Full disclosure, I haven't tried the DIY bucket panniers! If you're really on a shoestring budget my advice is actually to go back up to the sections above and hunt down the cheapest second-hand or free gear you can find via eBay, Craigslist, etc.
Tips For Using Panniers
If all this has convinced you to rock the rack and panniers on your next bicycle tour, here are some tips.
Start with rear panniers only. For shorter trips or fair-weather adventures, you probably don't need front panniers.
Make sure your bike has mounting points for a rack, and that the panniers and rack are compatible with each other.
Get a quality steel rack if you can afford it. They're easier to repair in the field (any welder can do it) and less likely to break in the first place.
Get quality waterproof panniers if you anticipate frequent use. The Ortlieb Back Roller Classic are what I use and recommend, along with many other bike tourers. They can be pricey but are worth it for their reliability; look for sales and second-hand gear.
Use Blue Loctite on your bolts if riding bumpy surfaces (trust me).
Pack your panniers so the weight is distributed evenly left to right (but don't obsess over small differences).
Pack the heaviest things in the bottom.
Don't feel the need to fill them all the way. Lighter = better.
Try to remember what you put in each side so you don't have to always look through both (I STILL fail at this constantly).
For more information, see this post for a deep dive on cycling panniers.
Tips for Using Bikepacking Bags
If you're inspired to jump into the world of bikepacking bags, here are some tips to get you started:
Start with a frame bag, since it's the hardest to DIY and fits the best location on your bike for heavy gear
Look for deals and used gear, or consider DIY (some ideas here)
Get creative with straps and cinches. Bikepacking bags sometimes take fiddling to attach securely, especially on small bikes with less tire clearance.
Pack heavy items as low as possible and close to center of the bike. Frame bag is ideal, followed by innermost corner of a saddle bag (closest to the saddle).
This is just the tip of the bikepacking bag iceberg. To learn more, start with bikepacking.com's guide to bikepacking bags.
Mixing and Matching
The choice between panniers vs. bikepacking bags is not a moral or political issue (hopefully!), despite the tendency to become evangelists for our own setup. There's no rule against mixing and matching or switching back and forth; in fact I do it all the time. Once you've built up your gear collection and experience, you'll be able to choose the perfect combination for any type of trip.
Some examples of hybrid setups I've used and seen:
Touring in Back, Bikepacking in Front
This is the hybrid setup I recently used for a one month pavement tour through Egypt and Sudan. My gear was fairly minimalist, but I needed to haul 2+ days of water on certain desert stretches, and didn't want any excuses to skimp on water in this scorching environment.
Borrowed from touring style:
Rear rack and panniers: ample luggage space and expandable water storage.
Borrowed from bikepacking style:
Frame bag: most efficient use of frame triangle space
Front handlebar roll bag for sleeping bag
Front fork water bottle cages for extra water capacity
Bikepacking-style feed bags and top tube bag for snacks and small items
Rear Rack + Dry Sack "Seat Bag"
This setup got me across the United States in 30 days on a mix of gravel and pavement. It borrows the rear rack from traditional touring, but skips the bulky panniers in favor of a more streamlined dry sack bungeed to the top. It's kind of like a rack-supported DIY bikepacking seat bag. Kind of. It's smaller than panniers and more aerodynamic, yet heavier than a seat bag and with a larger capacity.
Small Panniers on a Rear Rack
For some riders, especially smaller cyclists riding 29er bikes, there just isn't room for a seat bag between the saddle and rear tire. Sometimes these folks opt for a sturdy rear rack and mini panniers (either front panniers or specifically designed bikepacking panniers) as a bikepacking setup.
Final Thoughts
As you can hopefully see by now, there's no single one right way to pack for bicycle travel. The question of bikepacking bags versus panniers can only be answered in the context of a specific trip and rider. Start with one, maybe try the other, mix and match both until you find the perfect setup for your needs.
Just to be contrary, I'll finish with two examples of what could be considered incorrect choices, which still worked out fine.
The most important part: just get out there and ride! The rest has a way of working itself out.
More Bikepacking and Touring Resources
Here are some other posts you might find helpful on your pedal-powered journey:
Or check out the full list of bicycle travel resources here.
Bike resources in your inbox?
There's more where this came from! Sign up here for occasional emails full of inspiration and information about bikepacking and bicycle touring.


Share the Adventure
If you found this article helpful, please consider sharing so more people can benefit from it:
Pin For later