Choosing shoes for bikepacking is a big deal! No one likes blistered heels or tingling toes. If you're about to set off on a long trip (or even a short one) through the middle of nowhere, you want to be sure you've got the right shoes on your feet.
Pearl Izumi's X-Alp series is a popular collection of mountain bike shoes optimized for different types of riding. I've been riding the Canyon model (women's version – there's a men's version too) for about 3500 miles.
In this review of the X-Alp Canyon cycling shoes, I'll explain what I love about them and a couple things that could be better. Overall I recommend the Canyon as a comfy and versatile SPD shoe for bikepacking adventures that could include a bit of anything.
When you buy through affiliate links in this post, I may earn a small commission. Thanks for your support! Don't worry, everything you read here is unbiased and based on real experience on the road and trail. Learn more.
X-Alp Canyon Overview
Style: 2-bolt SPD mountain bike shoe
Price: $110
Summary: The X-Alp Canyon is a comfy and versatile SPD mountain bike shoe that can handle anything a bikepacking trip might throw at it… including miles of walking. It's breathable, comfortable both on and off the bike, and well-suited for a wide variety of terrain. If the outsole were more durable, the Canyon would be my dream bikepacking shoe.
Details and To Purchase:
X-Alp Canyon, Women: Pearl Izumi | Competitive Cyclist
X-Alp Canyon, Men: Pearl Izumi | Competitive Cyclist
Pros and Cons
What I Love
As comfy for walking as a bike shoe can get
Good traction on outsole

Breathable
What I Don't Love
Outsole not as durable as I would like
I would prefer hook-and-loop closure instead of laces
Why the X-Alp Canyon?
The Canyon is a 2-bolt SPD shoe, which means it accepts recessed cleats in the typical MTB style. When paired with my favorite single-sided SPD pedal I find this style is ideal for bikepacking and touring. The relative flexibility of the X-Alp Canyon means walking – up a steep hill or around town on a rest day – isn't an issue. The hybrid pedal means I can ride unclipped for long periods of time if conditions require it.
If you're still on the fence about clipless shoes for bikepacking in general, first head over to Pedals & Shoes For Bikepacking & Touring: Is Clipless Worth It? If you're still not convinced, there are also several flat shoes in the X-Alp lineup.
I chose the Canyon over other SPD models in the X-Alp series for a few reasons:
Price: not as expensive as some in the lineup, such as the Elevate
Fit: they just fit my feet better than a few other models I tried. Your mileage may vary of course, since we're all shaped differently.
The terms "versatility" and "hike-a-bike" appear prominently in the product description. Sounds right up my alley!
If the Canyon shoe were a bike, it seems like the "gravel bike" or maybe the "rigid mountain bike" of the X-Alp lineup. Its lugs are not the most aggressive, but it still means business. No coincidence that I'm bikepacking on a Salsa Fargo (rigid mountain bike) these days. The Canyon seems to fit right in.
What Kind of Riding?
My riding style is varied but tends toward the long, slow, and steady. This past summer I used Canyons for the entire Great Divide Mountain Bike Route, the Smoke 'n Fire 400, and The Big Lonely. That's a lot of gravel, a bit of singletrack, and some necessary pavement. Also, definitely some hike-a-bike.
I also sometimes bike tour overseas, such as my last pre-pandemic trip in Egypt and Sudan, which involved a lot more pavement. I would have used the Canyons for that too, if I hadn't been using a similar pair of discontinued X-Alp Seek shoes at the time. Their flexibility and comfort means I don't need to bring another non-cycling pair of shoes, even on a long international trip (I do sometimes bring lightweight sandals though).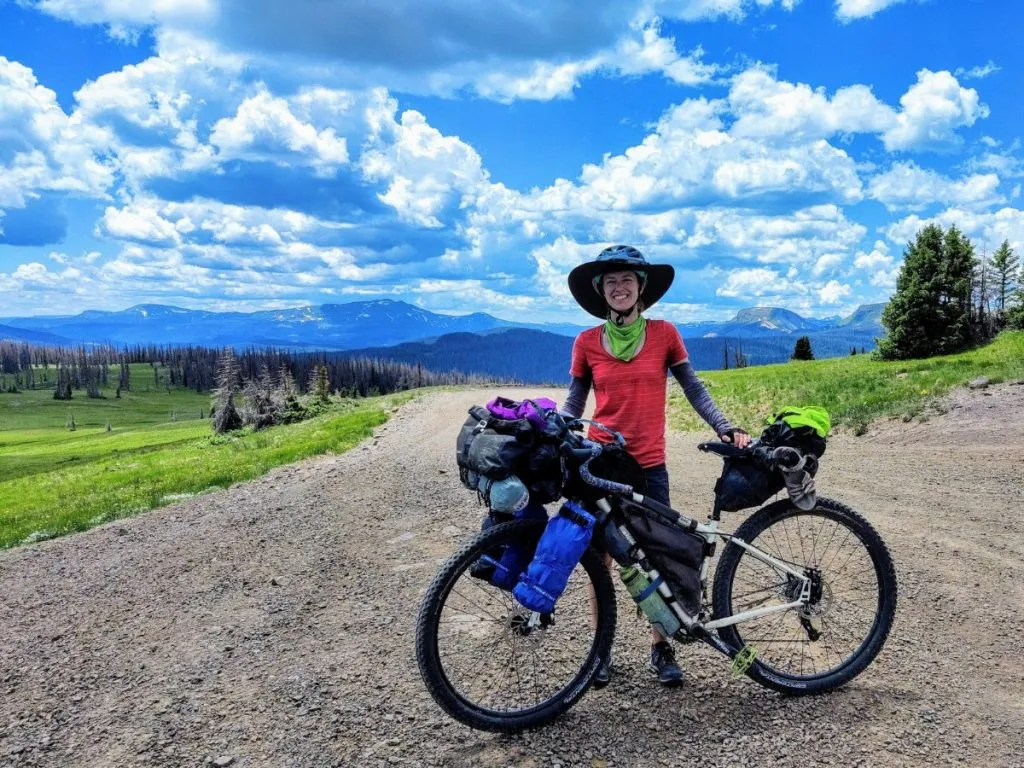 My Impressions
Fit
Fit is obviously an individual thing, but the Canyon fits my feet well. I usually wear a women's size 7.5, and I wear size 38 in the Canyon. My feet are fairly narrow with a high arch.
For hiking and running I'm used to the wide toe box of Altra Lone Peak shoes. The X-Alp Canyon is definitely narrower in the toe box, as you would expect from a cycling shoe, but I haven't had problems with toes rubbing on the sides.
I do notice that the heal slips up and down a bit when I walk, seemingly due to the stiffness of the shank compared to a regular athletic shoe. But this has yet to cause blisters or chafing even after lots of hike-a-bike and walking around town. It's a total non-issue while pedaling.
Pedaling
I don't have too much to say here, except that they work. These aren't the stiffest and most powerful cycling shoes ever, but they're stiff enough where it matters, from the ball of the foot back.
I use hybrid SPD pedals – SPD on one side, flat on the other – and these shoes pair well with them. The traction pins on the flat side are plenty grippy on the rubber bottoms, allowing me to ride the flat side pretty much indefinitely when needed due to mud, snow, or a lost cleat.
When clicked into the SPD side, the bottoms rest nicely on the surrounding platform to distribute the pressure. As the outsole wears down over time, this becomes less true, and I did have some discomfort as my first pair wore down (see Durability below).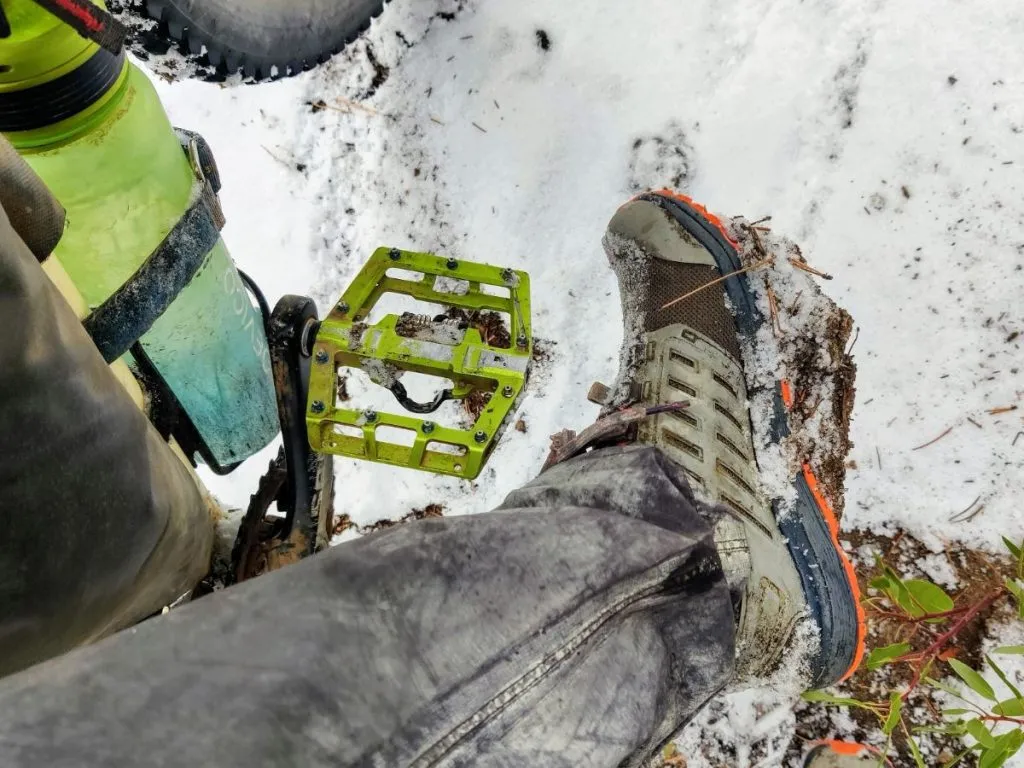 Walking
It may seem strange to include such a thorough section on walking when reviewing a bike shoe! But as a bikepacker, walking is important to me. I spend lots of time – sometimes hours – hiking my loaded bike up to high mountain passes. I travel for weeks and months without another pair of shoes.
My bike shoes are my walking shoes, which is one of the main reasons I think the X-Alp Canyon makes a great bikepacking shoe.
Flexibility: The 3/4 length nylon composite shank ends just in front of the ball of the foot, where the cleats attach. This allows for a mostly normal walking gait, even on steep or uneven ground. Apparently the nylon composite is stiff in the direction needed for pedaling, while still allowing torsional flex for walking. Yay for materials engineering.
Low cut: The ankle is cut like a running shoe, low enough for full range of motion. This is especially nice when hike-a-biking up (or down!) a very steep grade.
Outsole: The grippy rubber outsole works well, and provides adequate traction even in rocky, slippery conditions. The lugs on the Canyon are noticeably less aggressive than those on other X-Alp models like the Divide and Elevate, and I was worried this might be a problem, but so far it hasn't bothered me. I do think the more aggressive models might do slightly better in really loose stuff, but those types of hike-a-bikes are always going to be a challenge in any shoe. For the type of riding I do – lots of gravel, occasional rough trail, a bit of pavement – the Canyon is a good balance.
Cushion: The Canyon has a lightweight EVA midsole to provide a bit of cushion while walking. I've walked miles at a time in it, even doing some short hikes, and can confirm that this works well.
Cleats: The cleats are recessed into the sole and don't normally impact my walking gait. They do make a horrible grinding sound on rock or gravel, and a light click on pavement, but this is normal for bike shoes. As the outsole wears down, the cleats do stick out more and eventually start to be noticeable while walking.
Pro Tip: When I'm on the road with only my bike shoes and need to do substantial walking – like a rest day running errands in town or a short hike – I sometimes remove the cleats from my X-Alp Canyon shoes. Aside from the slightly stiffer feel when rolling from heel to toe, it almost feels like a hiking shoe and doesn't make that annoying clicking sound on hard surfaces.
Breathability
The breathable mesh upper is one the reasons I chose the X-Alp Canyon. On a bikepacking trip where these shoes are on my feet for 8+ hours every day (or even 18+ hours while racing), I can't afford to have my feet stay damp for too long or bad things will happen.
Whether riding in 100+ degree heat in the desert or getting my feet wet on a creek crossing, I like that the Canyons are designed to let air circulate. I believe this is part of the reason I never have problems with hot spots, blisters, or rashes on my feet.
The downside to breathability is that they don't keep my feet as warm when it's cold. In sub-freezing temps, especially if wet, my toes go numb very quickly. But that's a tradeoff I'm willing to make since I ride mostly in warmer weather. I'd rather have a bikepacking shoe that breathes well when it's hot, because I can layer up with extra socks, plastic bags, or shoe covers when it's cold.
Despite their breathability the uppers seem to be very durable! I've had no issues with the uppers, even as the outsoles start falling apart.
Closure and Lacing
The X-Alp Canyon uses good old-fashioned shoe laces, instead of the more common hook-and-loop straps or Boa closure.
I do appreciate that laces are reliable and "field repairable," which is important in a bikepacking shoe. I wouldn't want to be stuck in the backcountry with a broken Boa gizmo, unable to keep my shoes on my feet. But sometimes I find the laces fiddly, especially with cold hands. I often tie them too loosely when starting my day, and then have to stop and tighten them once the forces of pedaling have evened out the tension.
There's an elastic loop to keep the laces in place, which I definitely recommend using if you don't want the ends getting crunched in your drive train. Every now and then my laces slip out of that loop, and I have to stuff them back in.
For convenience I would prefer a hook-and-loop closure system instead of the laces, as long as it didn't wear out over time. This is only a minor drawback for me though.
Durability
Durability of the outsole is my one complaint about the X-Alp Canyon. I know I put my shoes through more than many casual mountain bikers, but I've gone through three pairs this year! If you are doing significant amounts of hike-a-bike on gravel roads or rocky trails, I would not expect the Canyons to last longer than 1500 miles.
My first pair lasted roughly 1600 miles on the Great Divide. By the time I was able to replace it in Jackson, WY, the outsole was completely falling apart. The area in front of the 3/4 shank, where the toe box flexes, seems especially vulnerable. As the rubber wore down, the edge of the shank became exposed and pebbles frequently wedged into the crack. As pieces of the outsole fell off, pedaling became uncomfortable due to the uneven surface contacting the platforms.
Part of me is embarrassed to admit this: I went through one pair of tires on the Divide (Continental CrossKing ProTection) but two pairs of shoes! Did I indulge in too much hike-a-bike? Perhaps, but that's just the way it goes sometimes, and a good shoe for bikepacking needs to deal with it.
My second pair lasted through the rest of the Divide, another 1100 miles, before starting to show hints of the same wear pattern. I replaced it before taking on two shorter bikepacking races at the end of the summer, each about 400 miles long. Both these pairs have some miles left in them, but the same weak spot is starting to show on both. To be on the safe side I'll probably buy yet another pair before my next long trip.
At the $110 price point I would prefer a shoe that lasts longer. But since I know the Canyons work well for me, I'm tempted to just keep buying them for now.
In Conclusion
For my current needs, the Pearl Izumi X-Alp Canyon strikes a great balance as a bikepacking shoe. It's my shoe of choice for everything from a multi-month tour to a several-day bikepacking race, and I never worry about whether I'll be comfortable hike-a-biking for hours or running errands in a resupply town.
I wish they lasted a little longer, but until I find another shoe that fits as well and is as comfortable both on and off the bike, I'll keep buying them.
More Bikepacking Resources
If you're into bikepacking, you might also find these helpful:
Or, visit the bikepacking resources section for even more information and inspiration.
Bike resources in your inbox?
There's more where this came from! Sign up here for occasional emails full of inspiration and information about bikepacking and bicycle touring.


Share the Adventure
If you found this article helpful, please consider sharing so more people can benefit from it:
Pin For Later