The Flagstaff-based Pinyons and Pines bikepacking race has been on my radar for a few years. I love high desert landscapes in general, and after thru hiking the Arizona Trail last spring the region has a special place in my heart.
When the 2022 edition lined up (just barely) with my schedule, I was excited to give it a try. I was even excited to revisit some familiar sections of the AZT by bike, which is strange, because while hiking the AZT I often felt glad to be on foot. Ah, the wondrous amnesia of endurance adventures.
The ride turned out to be straightforward in some ways and unexpectedly difficult in others. The weather was perfect, the bivy spots plentiful and comfy, and the resupply and water frequent enough. My body and bike mostly cooperated — no major breakdowns for either of us. The community surrounding the event, as usual, was fun and friendly.
But in other ways, I struggled. The two weeks leading up to the ride had been stressful for personal reasons, and I quickly realized this wasn't the right time to dig really deep mentally or physically. My limited training and sea-level lungs made for slow going, even when I thought I was riding strong. My rigid bike rattled and chattered over the rocky roads — how had I forgotten that Arizona is full of rocks? — and my MTB skills, such as they are, were not ready for so many miles of singletrack.
In the end I revised my time goal, treated myself to an extra hour of sleep each night, and resolved to enjoy myself a little more and destroy myself a little less. It worked! I finished toward the back of the pack but feel that I made good decisions out there, and I even enjoyed improving my mountain biking skills. Perhaps it's finally time to put on a suspension fork…
This post is a ride report and overview of my experience at Pinyons and Pines 2022. If you're thinking about riding the event in future years, touring in the Flagstaff area, or just curious about bikepack racing (particularly for less speedy folks) in general, I hope it helps!
Thanks a bunch to organizer Dana for going above and beyond to create a welcoming and high-quality event, and to all the awesome people I had the pleasure of meeting out there. Your riding and your grit were truly impressive!
The Route
The route changes every year, and in fact the 2022 route changed several times due to fire and other last-minute closures. Here's the final 2022 route:
I asked a few veterans how this year compared to previous years in terms of difficulty. One rider said he thought this year was a bit harder, and a few others said it was similar.
By my count, the surfaces break down roughly as:
Singletrack: about 80 miles
Pavement: about 45 miles
Gravel and dirt roads, including some very rough and rocky "roads": all the rest (so about 185 miles)
The large amount of singletrack was definitely a surprise! Perhaps it should have been clear from the map given all the miles of Arizona Trail, but in my memory there were large sections of the AZT that followed dirt roads in the northern section. That may be true, but they weren't on this route! I also didn't expect that the unpaved roads would be so rough and slow-going in places.
Preparation and Approach
I usually "train" for rides by doing other rides, and for better or worse that was my approach to this one too. Since spring was quite busy with non-bike activities, I would have to rely on miles banked during a casual tour in March and a decently hard push at Tour de los Padres in April.
TDLP was great prep, but in the month between TDLP and P&P I only got on my bike once. I spent the two weeks prior to Pinyons and Pines at a family member's home helping them through some medical issues. It was was both physically and mentally tiring, and I didn't ride at all there. I drove to Arizona straight from their house, happy that I could fit this adventure in at all.
I arrived in Flagstaff on Tuesday hoping to acclimate to the elevation. I went for a little hike and a short shakedown ride on the AZT but felt clumsy and tired. I reassured myself that there would be plenty of time to get into the groove once the event started.
After two nights of sleeping in my car, I treated myself to a motel room on Wednesday night. It's always a little tough to sleep well the night before a big ride, but I did my best to get some good hours of rest before the 6am Thursday start.
Bike and Setup
My new Chumba Stella Ti, with rigid Whisky carbon fork, tackled Pinyons and Pines for her third voyage. Though I think a suspension fork would have been ideal, I was still happy to be on Stella instead of my beloved old Salsa Fargo. Her flat handlebars helped with control on the rough sections, her lighter weight eased the work of climbing and hike-a-bike, and the feel of titanium and carbon combo is about as smooth as a rigid bike can get. She's a fantastic bike, certainly deserving of a better and faster rider than me, but happy to make my ride more enjoyable nonetheless.
I ran Vittoria Mezcal 29×2.25" tires, which seemed to be a popular choice. Wider might have been better for my rigid fork, but on a hardtail they probably would have been perfect. I lived in fear of a sidewall tear every time I plowed through another pile of rocks, but thankfully only one small self-sealing puncture occurred.
This is the first route I have ever raced or toured where I feel confident saying a hardtail mountain bike is the best choice. On previous rides I've always felt an argument could be made for fully rigid. It's never the best on the rougher sections of trail, but there's usually enough smooth gravel and pavement for a rigid bike to earn its keep.
Pinyons and Pines, however, had a lot more singletrack (about 83 miles by my count) than the routes I usually ride. It also had relatively little smooth dirt, gravel, or pavement. Arizona, I remember now from the AZT, is basically a giant pile of rocks. That said, several riders crushed the route on rigid mountain bikes and even gravel bikes! No excuses.
Gear Highlights
The front-runners in this race didn't even pack a sleep setup. They rode straight through the night to finish in less than two days!
As a slower rider, I need a few hours of quality sleep each night to get me through. Thus my gear list for events in the 300 – 500 mile range is basically a slimmed-down version of my touring gear list.
I get very cold when it's chilly out, so I always carry a full set of layers and sleep system in the mountains or high desert. In this case I was over-geared for the relatively mild nights, but you never know! The second-to-last bikepacking event I rode, The Big Lonely, involved a snowy bivy with temps in the teens.
Here are the key items from my sleep and clothing kit:
Bivy: Borah Gear water-resistant bug bivy (not waterproof, no rain in forecast)
Pad: Therm-a-Rest Neo Air X-Lite inflatable pad
Quilt: Enlightened Equipment Convert 10 degree (old, probably more like 20 degrees now, and I'm a very cold sleeper).
Layers: Puffy jacket, rain jacket (mainly as windbreaker), rain pants (for warmth), mid-weight merino midlayer, ultralight high-vis vest, fleece gloves with latex over-gloves as windbreaker
Key electronics:
Navigation: eTrex 22x, plus RideWithGPS on phone for backup and big picture planning
Lighting: kLite Gravel dynamo-powered headlight, Qube tail light, and older helmet light from Light and Motion for the slower miles where the dynamo light isn't bright enough
Charging: 10,000 mAh power bank, kLite dynamo USB charger, small wall charger and cables
The dynamo hub and kLite setup (review here) are new along with the snazzy new bike. They're definitely a luxury, but after years of carrying around a heavy stack of power banks and still stressing about keeping everything charged, I really enjoy this upgrade.
If you're considering a dynamo setup, it's worth noting: at climbing and singletrack speed, the light and charging still need to be supplemented (by a second light, and charging at resupply stops, respectively). On my slow third day of P&P I only managed to charge my power bank 15% from my dynamo!
Notable items I don't pack for an event like this, though I would for a more leisurely ride:
tent
any spare clothes not for warmth
cooking kit and eating utensils (I do bring a small spoon and ziplock bag so I can cold-soak an emergency ramen meal if needed).
In hindsight, I could have gotten away with my lighter quilt. Otherwise, I used everything I packed (aside from bike and body repair supplies) and was happy with the setup. I didn't weigh my bike before this ride, but based on previous rides I'd guess she was ~45 pounds loaded without food and water.
Daily Notes
Day 1: 112 miles, Flagstaff to before Verde River
An enthusiastic crowd gathered outside the bike shop in the freezing morning air. It was fun to see a number of friendly familiar faces from Smoke 'n' Fire, The Big Lonely, and Tour de los Padres.
At 6am we were off, only to be stopped in our tracks by the Amtrak train. After a few humorous minutes the train chugged onward and we rolled out of town on bike path. My fingers were already painfully numb and I tried to shake blood into my hands as I rode.
I chugged as slowly and steadily as I could up the long first climb. As a sea level dweller I really felt the elevation (and perhaps my lack of training) as we climbed from around 7000 feet up to 9000 feet. I couldn't keep my heart rate sustainably low while still making forward progress, and I knew I'd have to pay for the effort later. I quickly fell to the back of the pack but still enjoyed revisiting this section of the Arizona Trail.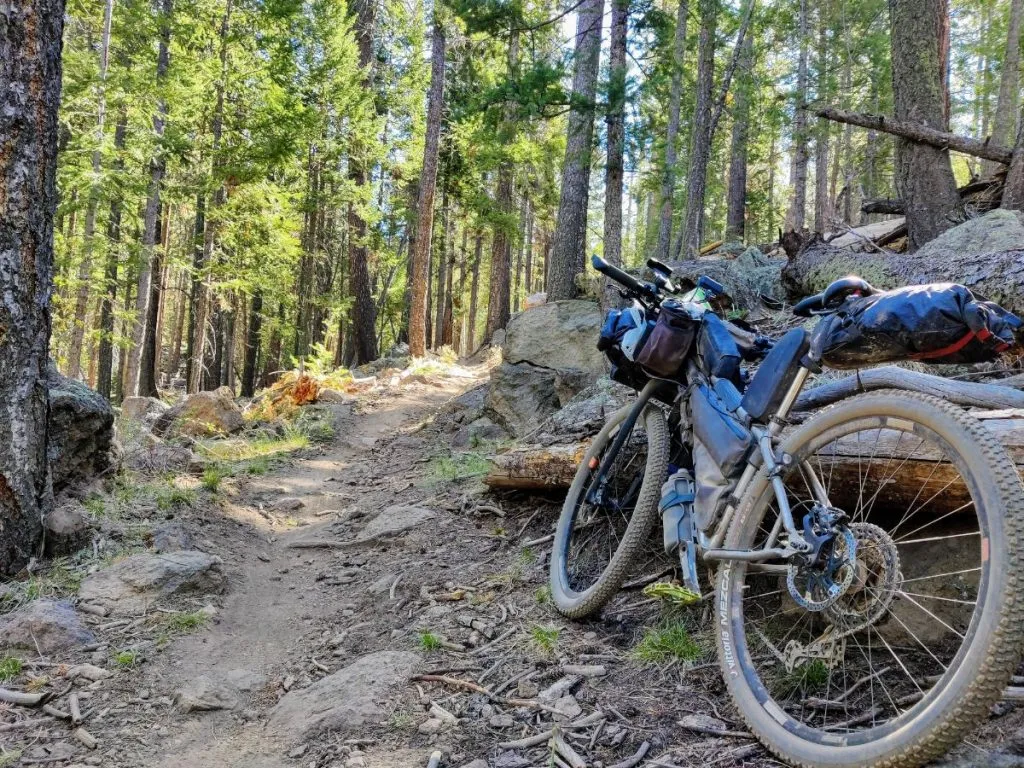 Finally the trail turned downhill and became super fun and flowy, followed eventually by dirt forest service roads. The riding got easier, but the afternoon still passed too quickly and I found myself in Williams just before sunset. I ate a gas station dinner to keep things simple and quick, then prepared to ride into the night. My goal was to reach the Verde River, about 35 miles away, before stopping to sleep.
There was still ten miles of work to be done, but eventually I reached the start of the major descent. Finally, some free miles! Close to the bottom the terrain became rolling again and I felt completely spent on the climbs. I decided to stop a few miles short of the river, around midnight, and sleep for a full four hours in hopes of recovering from the morning's altitude-induced exhaustion.
I set up my bivy behind some scraggly trees down a secondary road. It was just the kind of stealthy spot I look forward to in this type of landscape – flat, hidden, and there exactly when you need it. I enjoyed the stillness while nibbling at a very dry sandwich that didn't want to go down, then immediately fell into a comfortable sleep.
Day 2: 73 miles, before Verde River to 2/3 up climb after Camp Verde
The sky was already brightening around 4:30am and it was fully light by the time I hit the road. My legs felt much better and I was able to pedal most of the gravel climb from the river. This got me to Jerome, an odd place I couldn't quite figure out. There only seemed to be one restaurant open, so I enjoyed an expensive breakfast burrito and iced coffee before moving on.
The climb from Jerome brought the first hint of the day's challenges. The rocky two-track hike-a-bike seemed to go on forever in the hot sun. Once it leveled out I was surprised by the fun flat riding along a contour line with views over a populated valley. The ease was short lived though, and soon I was climbing rough rocky roads en route to the Mingus Black Canyon trail.
This trail turned out to be notorious. I'll be honest, I walked many miles of it (downhill) and even walking was uncomfortable – slippery, narrow, precarious – and slow. Some brave souls rode it, and I later heard stories of a fall into Prickly Pear cactus ("He was still pulling spines out the next day.") and a tumble down the hillside ("I was suspended in a tree with my bike on top of me!"). Down near the bottom where the trail finally became ride-able for me, I was still on edge. "Whatever you do," I told myself, "Don't look at the cactus! Look where you want to go! NOT at the cactus!"
This endless trail finally led to nine paved miles into Camp Verde. The shoulder was mostly good but occasionally disappeared through bridges and roundabouts, so I was happy to reach town just before dark. I grabbed dinner and another to go from Subway, restocked on snacks at the gas station, and pedaled out just as the sun was setting. The air was still warm and the moon full. If not for the creepy drunk guy who repeated "be safe out there" a few too many times, I might have felt more comfortable than I usually do when beginning a stretch of night riding.
After five more paved miles the route turned onto a long gravel climb. I made good progress for awhile, but eventually fatigue kicked in and I slowed to a walk. About two thirds of the way up I did the math; if I stopped now I could get four hours of sleep and be moving again by first light, hopefully with fresher legs. I slipped off behind some bushes for an early bedtime around 11pm. As with my previous night's bivy spot, it was so nice that I almost – almost – didn't want to sleep.
Day 3: 81 miles, climb after Camp Verde to AZT past Marshall Lake
Sunrise brought another pleasant morning and relatively fresh legs, and I was able to ride the climb I'd been walking the night before. Topping out was only a brief triumph. Up on the mesa the otherwise mild terrain was crossed by some of the worst excuses for "roads" I have ever seen. At each intersection I would take a guess: will this be an actual road or just a pile of rocks? I tried to stay mentally checked out through this section, listening to audio books to avoid frustration. I did enjoy the wide vistas and fragrant pines, but otherwise it was not my favorite.
I thought I was happy to reach a wide gravel road near Stoneman Lake, only to remember that wide gravel roads on weekends are full of RVs and pickup trucks. The contrast made me thankful for the empty roads elsewhere on the route. I tried to ignore the dust and the passing cars as I struggled up the washboarded gravel climb.
At mile 226 the route joined a familiar section of the Arizona Trail. The vehicle-inaccessible singletrack seemed so protected and friendly as it traversed gentle slopes under shady pines. I thoroughly enjoyed the swoopy curves, obviously designed for mountain bikers, that had driven us nuts as hikers last spring. ("This trail is so much longer than it needs to be! Why can't it just go straight?")
Soon the character changed completely, to rough and rocky hike-a-bike. I remembered this section too – it had been a pain to hike even without a bike. It took forever to reach the campground where I could refill water and collect myself. I knew I would miss the open hours at the next resupply stop, so I had just barely enough food but no extra for indulgence or comfort. My spirits lifted when another rider rolled in – I hadn't seen anyone all day – and we commiserated about the trail.
I left the campground fully expecting to walk the next five miles of AZT, but they were completely different in character, smooth and flowy and enjoyable. Then another treat: right around sunset the route turned onto the most glorious little gravel road I've ever seen. It was smooth and fast, empty except for a few quiet campers, and largely downhill. The full moon was so bright I kept mistaking it for headlights behind me, and the temperature was mild. Such a relief!
The community of Lake Mary was quiet by the time I rolled through on good pavement, catching just a glimpse of porch lights and glowing windows. Around 11pm I passed through the camping area at Marshall Lake and rejoined the singletrack AZT. The trail was more rideable than I'd feared, but I was clumsy and tired. Innumerable perfect camping spots beckoned from both sides of the trail. Having made my goal for the night and feeling confident I could finish before dark the next day, I decided to make camp.
This camp spot was the nicest of all. No wind, no noise, just the impossibly bright full moon illuminating a perfectly still landscape. How could so much life be so still and quiet? I stayed awake a bit longer than I should have, just enjoying my chance to be part of it all, then set my alarm for three hours later.
Day 4: 45 miles, Marshall Lake to Flagstaff
I was up and rolling just before sunrise on what I hoped would be my last day. With only 45 miles – albeit tough ones – I felt pretty sure I could get it done before dark. The singletrack was much easier for me in the morning light, and I actually enjoyed a good portion of it. My trail riding skills – not much to begin with – had been improving throughout the ride and it was fun to get some use out of them.
Approaching Flagstaff the trails became smoother and busier with friendly trail runners, hikers, and mountain bikers enjoying their morning workouts. Twenty five miles in I reached my first goal: the gas station at the highway crossing. I was excited to refuel after cutting my food supply just a little too close. Here I found a couple more riders who headed out while I was still scarfing my sandwich and packing up snacks.
From the gas station to the finish was only twenty miles, but I knew they'd be tough. The final climb was rough singletrack through a shadeless burn scar up to 8700 feet. My body complained about the exertion, heat, and altitude, and I walked almost all of this climb. At the top I collapsed in the shade to cram in some calories before the descent. A couple curious mountain bikers stopped to chat and wish me a successful finish.
Only ten miles to go! But the descent was mostly singletrack; would it be technical enough to reduce me to a walk? To my great relief it was fairly moderate and I was able to ride most of it; it was even fun! I tried to imagine what a struggle this section would have been on day 1, and to take pride in my improved skills and confidence. I definitely don't get any awards for being fastest, but maybe I can get "Most Improved." 🙂
The last few miles into town were paved and fast. A few earlier finishers, as well as the race director, were unexpectedly waiting at the finish to cheer me in. I really enjoyed chatting with these folks, especially since my ride had been mostly solitary after the first day. After staying to welcome in the next finisher, I eventually tore myself away to find my car, a motel, and a massive dinner.
Aftermath
Recovery from this event has been fairly smooth, probably because I chose to sleep about an hour extra each night. My body has felt fairly good mechanically – not too sore or beat up – but overall I felt weak and a bit unsteady for a couple days. A solid effort of eating, drinking (mostly water, a little beer) and sleeping seems to have done the trick.
I spent a day resting in Flagstaff and meeting up with a few folks I know from other events. It's always so fun to geek out about bikepacking with others who share the passion; it's a big part of what makes these events so special. Though these folks were significantly faster than me, we had no shortage of common experiences and perspectives to chat about.
On the way home I stopped for two nights in Mojave National Preserve. At my quiet campsite down a long gravel road, I was finally able to enjoy the stillness I miss during the constant forward motion of bikepacking events.
Now that I'm home, I think it's time to get my suspension fork cut and installed. It arrived just before P&P and I didn't have time to swap, though I decided I didn't want to anyway; I was expecting a smoother ride. But after getting so much great singletrack practice at Pinyons and Pines, I may as well keep building on it.
Overall Impressions
What Went Well / What I Liked
No mechanical issues! The bike took a serious beating on those rough roads and trails, and I'm honestly amazed she's still in one piece. Go Stella!
Relatively little saddle pain. After running out of chamois cream at Tour de los Padres, I discovered aloe vera gel. The combo works great! Along with my recent switch from a Brooks B17 saddle to a Selle Italia Diva Gel Flow, I seem to have solved the worst of my saddle issues.
Mild weather, including some of the most comfortable nights and early mornings I've ever experienced in a bikepacking event. You never know what will happen in the mountains and high desert. There could be rain, snow, death mud, howling wind, sub-freezing temps… The worst I can say is that it was a little too hot during the afternoons. Not bad!
Skill improvement. I have a bad habit of signing up for these mixed-terrain events telling myself they'll be "mostly gravel" and then struggling through the singletrack sections. I still have a long way to go, but this route took my singletrack skills and confidence to a new level. By the end I was shocked at what my bike and I could roll over!
Plentiful camping. With a few short exceptions almost the whole route was on public land, and the terrain was often perfect for stealthy camping. Just wander a little ways from the road and you'll find a flat, hidden, and pleasant place to bivy.
Few vehicles. Except for a few short sections, most of the route was almost completely free of motor vehicles. Surely the super-rough roads and non-motorized singletrack are to thank for this. It's a good reminder of how much nicer bikepacking is when you're not busy dodging RVs and ATVs while inhaling their dust clouds.
Community and good vibes. Though I rode alone the entire time and camped alone every night, I enjoyed leapfrogging with a few others near me. It seemed we mostly passed each other at night while one or the other of us was sleeping, so most of the ride felt quite solitary. But whenever I did meet another rider, I felt cheered and inspired by their enthusiasm and grit.
Challenges / Could Have Been Better
More rough and technical riding than expected. This route definitely stretched my mountain biking abilities and comfort zone. I'm a big chicken when it comes to risking injury, so the more technical sections slowed me down a lot. That said, I did enjoy the state of flow and focus they produced when I was able to get into the groove.
High elevation. Though I arrived on Tuesday to try and acclimate, my body didn't feel at all ready for the climb up to 9000 feet on Thursday morning. Even on the final day I still felt extra wiped over the last climb. I usually acclimate to altitude well enough, so I'm not sure why my body was a little less cooperative than usual.
Slow pace. Simply put, I wanted to be faster! But as any athlete knows, wanting isn't enough — body and mind have to be in the right place to make it happen. I'm still happy that I was able to finish and have a good time out there.
In Conclusion
Each time I ride a bikepacking event, I feel like I've devoured a sampler plate of the terrain, landscapes, and bikepacking culture in a new area. Sure I could go ride the same route on my own, but the camaraderie of an event is hard to resist. Even when riding alone, it's fun to know other people are experiencing similar joys and challenges a bit ahead or behind (ok, mostly ahead).
I really enjoyed revisiting sections of the Arizona Trail, and reflecting on what's changed and stayed the same since I first experienced them a year ago. I still think some of the AZT is best traveled on foot, but some is definitely designed for mountain biking, and now I understand its appeal.
Thanks again to Dana for organizing, all the local sponsors for supporting, and to the many delightfully crazy bikepackers who made Pinyons and Pines special. Though I may have been thinking "Why am I doing this?" during some parts of the ride, I finished – as happens every time – thinking about when I can do it again and do it better. Such is the magic of a good bikepacking race!
Bike resources in your inbox?
There's more where this came from! Sign up here for occasional emails full of inspiration and information about bikepacking and bicycle touring.


Share the Adventure
If you found this article helpful, please consider sharing so more people can benefit from it: