I've been into bikepacking with flared drop bars ever since I put Cowchippers on my Long Haul Trucker.
In those early days I was simply wedging wider tires on my pavement touring bike and pretending it was a bikepacking bike. The addition of the Cowchippers blew my mind. The seemingly minor change ramped up stability and comfort and allowed me to roll with this unlikely setup until a Salsa Fargo entered my life.
You can spot a Fargo a mile away by those ultra-flared Woodchipper handlebars, and those are what I rode for several thousand miles. They work! The extra stability in the drops is very noticeable, and the range of hand positions is welcome on long-haul rides.
But in late summer 2021 I found myself riding the Smoke 'n Fire 400+ for the third time, and for the first time ever, I was not loving the Woodchippers. My handlebar bag kept interfering with my shifters, and I spent too much time in the drops, leaning too far forward while trying to stabilize on rocky trails. My hands got tired from reaching for my shift and brake levers. Could it be that the time had come to consider other bars?
Time for a Change
As if arranged by benevolent bikepacking gods, several days after the race – while I was still scarfing recovery calories and taking afternoon naps – I heard from PNW Components about their Coast handlebars. Wider at the hoods for stability, and shallower in the drops for ergonomics. Yes please!
I swapped to the Coast bars just a few days before The Big Lonely. Three hundred fifty miles of gravel, dirt road, and singletrack trail later, it was a no-brainer. Stability, comfort, and bag space were all much improved. I would not be switching back to the Woodchippers.
There are many flared drop bars out there today, at a wide range of price points, and I have certainly not tried them all. But if you're looking for affordable flared drop bars for bikepacking, I have no qualms recommending the Coast bars.
This review of the PNW Coast bars includes a basic product overview, pros and cons I noticed while riding with them, and my experience switching from Woodchippers to the Coast. If you're looking for a new set of dirt drops for your bikepacking rig, I hope it helps.
Please note: My Coast bars were gifted by PNW Components and some links in this post are affiliate links. All words and opinions are my own. I value your trust as a reader, so for more information please see my Trust & Transparency Policy.
PNW Coast Bars Overview
The Coast Handlebar from PNW Components is a wide flared drop bar with shallow drops, ideal for comfortable, stable, and playful riding on gravel and light singletrack.
Widths: 480mm, 520mm
Material: aluminum alloy
Weight: 346g, 357g
Clamp size: 31.8mm
Price: $69
Buy it: Coast Handlebar
A Note on Stem Length
The Coast is wider at the hoods than some dirt drop bars – one of its biggest strengths. If you switch from a narrower bar, PNW recommends shortening your stem by 10mm for every 20mm of increased bar width to keep your riding posture comparable.
For example, I switched from 42cm Woodchipper bars with a 70mm stem, to 48cm Coast bars with a 40mm stem. PNW has a Coast stem in their lineup, but it didn't go short enough for me so I grabbed a simple 40mm stem off Amazon.
I really liked the new setup. I didn't feel my steering was too "twitchy" as some articles had warned about short stems. My Fargo had been feeling a little too reachy for me – longer stem plus the position of my hoods on the Woodchippers – and this shorter stem with the Coast bars created a slightly more upright and comfy position for long days in the saddle.
Impressions
I put the Coast handlebar through its paces at The Big Lonely: 350 self-supported miles of gravel and dirt road of varying quality, smooth-ish singletrack with occasional obstacles, about 20 miles of light snow, and a bit of pavement. I was quite happy with the new bars, from the first few miles all the way to the finish. I think they make a great handlebar for bikepacking on a gravel bike or a rigid mountain bike.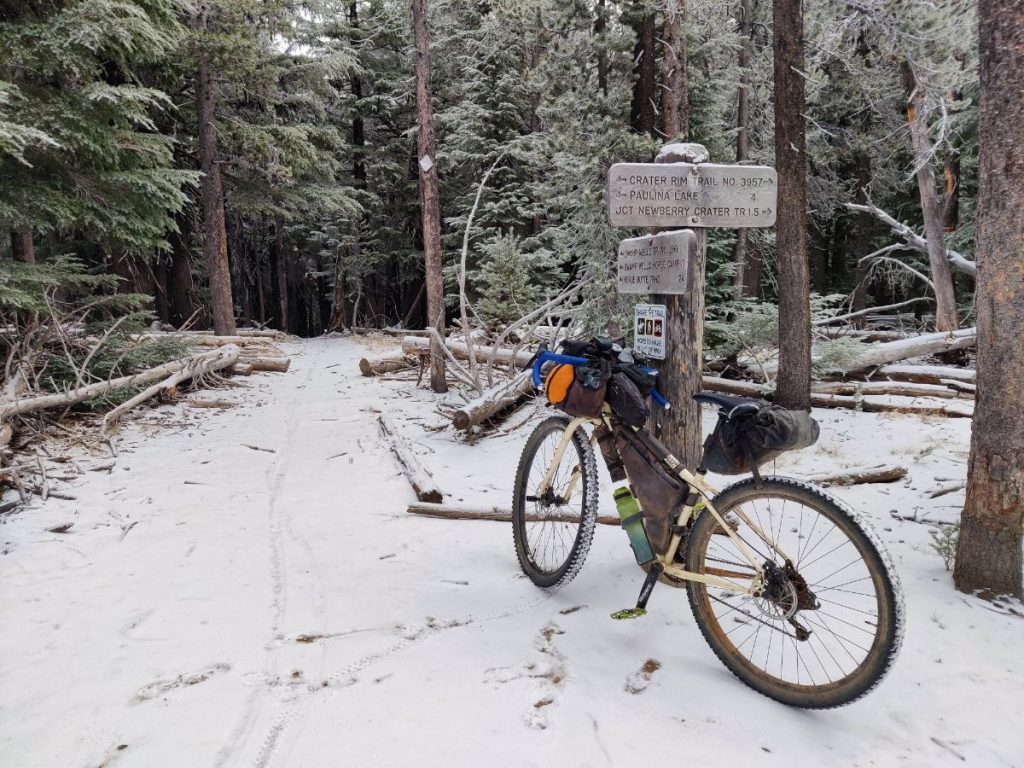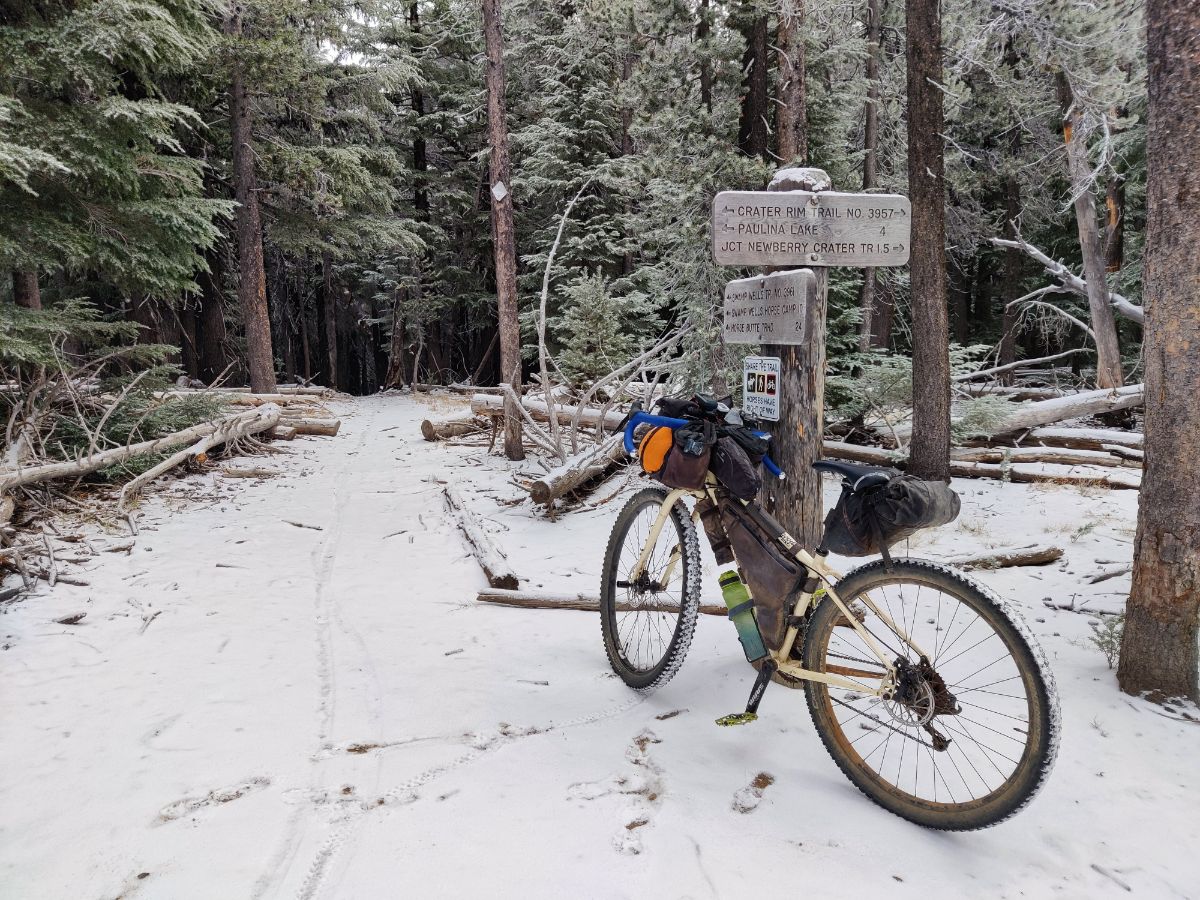 Width
We all know flared drop bars are meant to be wider at the ends of the flared drops – the widest part – but the Coast bar is fairly wide at the hoods too. Both sizes (480 and 520mm) are wider than the widest of the Woodchipper sizes, which maxes out at 46cm between the hoods. This has several advantages for riding and especially for bikepacking.
Stability: Wider hoods mean more stability and control while riding with hands on the hoods or the outer curve of the bar, which for many bikepackers is a more comfortable all-day posture than riding in the drops. Since I like to ride varied routes with everything from singletrack to pavement, I've struggled with this compromise in the past. I like the flexible hand positions of drop bars, but when the trail gets rough I long for the stability of wider flat bars.
The Coast, though obviously not as wide as flat bars, strikes a decent balance for the mixed terrain I like to ride. With the Coast I found myself riding comfortably in the hoods on flowy singletrack and rocky downhills that would have had me switching to the Woodchipper's drops for more stability.
Yes, the Woodchipper is wider at the end of its flared drops. But you can't reach the brakes or shifters from there, which limits the usefulness of that hand position to mostly steady climbing. The Coast offers more stability in the hand positions that work for uphill, downhill, and everything between.
Bag space: As a smaller bikepacker, I'm always looking for ways to fit more gear on my bike without rubbing on my tires. With my 42cm Woodchippers, I struggled to cinch my handlebar bag short enough to fit between the hoods without catching on my shift levers. The Coast opened up another 2.3 inches of space between the hoods. I was able to move my sleeping pad and emergency bivy into my handlebar bag and still had more lever clearance than in the past.
Bar real estate: Between bag mounts and electronic gizmos, my cockpit gets pretty crowded. I use a bar extender to make room for the gizmos, but the Coast's extra real estate allows for mounting more on the bar itself. For example, putting my phone holder on the bar, instead of the extender, placed it in a more secure and usable position.
Comfort
I log long days in the saddle when I bikepack, so a comfortable riding posture and ergonomic hand position are big priorities. My small hands put me at a disadvantage here; sometimes it's a strain just to reach my levers.
The Coast bar's shallow drops were very comfortable for me. They make it a smidge easier (still difficult) to use my brake and shift levers while riding in the drops, and take some pressure off my wrists on descents. It's easy to quickly switch between the drops and hoods too.
Vibration
The only negative I noticed about the Coast bar was some road vibration. These are affordable alloy bars, not pricey carbon, so this is expected to some extent. I found it worst on my initial test ride, unloaded on pavement. Once loaded up with gear and riding more varied surfaces it all but disappeared.
My Woodchippers had a similar issue, and if the Coast was a tad worse it may have been due to the shorter aluminum stem I put on when I switched. I don't think the Coast bars have more vibration than other bars in the same price range, and if you're riding loaded I don't think it's an issue. I rode 18-20 hours a day in The Big Lonely and never noticed it. But if you ride unloaded for long hours on gravel or pavement, or are especially sensitive to nerve issues in your hands, it might be worth shelling out for a pricier bar with more vibration damping.
PNW Coast vs. Salsa Woodchipper
To be clear, the Woodchipper and Coast are not particularly similar as far as flared drop bars go. The Woodchipper's unique design is known for appealing to some folks and not so much to others. The Coast is more of a classic gravel handlebar design.
I'm comparing them side-by-side because they're what I personally know best, and I think others will find the comparison useful. Woodchippers come stock on the Salsa Fargo, one of the most popular bikepacking bikes out there, and not everyone loves them. If you're thinking about swapping out your Fargo's bars for a more classic gravel handlebar, the Coast is definitely worth considering.
Width: As you can see below, my 42cm (hood to hood) Woodchippers had a larger full width than my 48cm Coast bars, due to the Woodchipper's more aggressive flare. But you can clearly see that the Coast bar is wider at the hoods, which is where I like to spend a majority of my riding time. The Woodchipper comes in 42, 44, and 46cm sizes, so even the widest Woodchipper won't be as wide at the hoods as the narrowest Coast.
Drop and overall shape: Here's a side-by-side showing the different shapes of the Woodchipper and Coast:
For me, the Woodchipper's extra-wide flare only added stability when I was climbing a consistent grade with my hands on the bottoms of the drops. Otherwise the need to reach shifters and brakes kept my hands on the narrower parts of the bar.
After trying the Coast I appreciate the added stability over a wider range of hand positions, and I find the shallow drop more comfortable on my wrists and hands. I love Salsa's bikes in general, but the Woodchippers are a bold statement and that means they won't work perfectly for everyone.
In Conclusion
Handlebars might not seem like a big deal if you're still riding what came with your bike. But once you start paying attention and experimenting, you might be surprised by how much they affect your comfort and control.
I rode with my Woodchippers for a few thousand miles with no major complaints, but after trying the Coast I doubt I'll ever go back. As an affordable gravel handlebar for bikepacking, the Coast has a lot going for it, and I wish I'd discovered it sooner.
My biggest takeaway from this recent handlebar change: pay attention to what makes you comfortable and what bugs you on your bike. The Coast might be perfect for you, or it might not, but there's probably a bar out there that is (ideas here). Small, easy, and relatively affordable changes like this can make a big difference in the quality of our riding experience.
More Bikepacking Resources
If you're thinking about handlebars for bikepacking, you might find these helpful too:
For even more pedal-powered goodness, check out the bikepacking resources center.
Bike resources in your inbox?
There's more where this came from! Sign up here for occasional emails full of inspiration and information about bikepacking and bicycle touring.


Share the Adventure
If you found this article helpful, please consider sharing so more people can benefit from it:
Pin For Later