A good rain jacket can save your life in the backcountry. At the very least, it will make a soggy day more pleasant. But there are soooo many options available these days, how's a hiker/biker/climber to choose?
I happen to own three of the most popular rain jackets out there, each in its own category in terms of price, features, and technology. While they all excel in their own ways, they're each designed for different conditions and styles of outdoor adventure.
In this post I'll review the pros and cons of three popular jackets I've spent a lot of time in – the Marmot PreCip, Outdoor Research Helium II, and the Arc'teryx Women's Beta AR – and explain how I choose which one to wear each time I venture out.
If you want to learn more about how jackets are made and what features are available, you can check out this overview from REI first. Now, let's get on to the details!
Marmot PreCip
My blue Marmot PreCip was my first real outdoor rain jacket, and it says a lot that it's still in my rotation. It strikes a great balance between features, durability, weight, and price. It's my go-to when I want something durable but not too heavy/bulky, for use in moderate conditions (not dangerously cold, not expecting nonstop rain).
I would recommend the PreCip to:
Anyone looking for a general-purpose rain jacket for hiking or other backcountry trips in moderate conditions.
New hikers looking to buy their first outdoor-focused rain jacket.
Travelers wanting a durable and affordable rain jacket that can take abuse on the road but won't be devastating if lost or damaged.
What I like:
More affordable than most
Pit zips help with breathability
Roomy fit goes over warm layers easily
Two zip front pockets in pack-compatible location
Velcro adjustable cuffs and drawstring adjustable hem
Reasonably lightweight at 9.6 oz
What I don't like:
Has grown less waterproof over the years (normal for coating-based waterproofing)
Adjustable hood does not fit over helmets (bike, ski, etc)
Not as breathable as Gore-Tex for heavy aerobic activity (though pit zips help a lot)
If it pours all day long, you will probably get a little wet in this jacket
What I think it's great for:
Summer hiking in California's Sierra Nevada mountains
Summer hiking in the Pacific Northwest
Bicycle touring in moderate climates (I used it in drizzly northern Vietnam)
Spring skiing on a warm day
Learn More
Outdoor Research Helium II
The Helium II is the unapologetic lightweight pick. If you're truly hardcore about counting grams, you're probably looking at something like this, but for the rest of us who still like to move fast and light in the backcountry, the Helium II is a classic. I bought mine for my JMT thru-hike several years ago and it served its purpose admirably.
Do note that the Helium II achieves its airy lightness by sacrificing features and durability. I would not recommend it unless you're already making a strong effort to reduce your pack weight in other areas. If you haven't already optimized your "big 3" (shelter, sleeping bag, backpack) or plan to soon, I don't think the Helium II is worth the money for you.
What I like:
Really lightweight (5.5 oz) and packs very small
Zip front chest pocket
What I don't like:
Grew much less waterproof after just a couple seasons.
Even when new, if it pours all day long, you will eventually get wet in this jacket.
Minimal features: no pit zips, hand pockets, or adjustable cuffs (this is what you get with really lightweight gear)
Not as breathable as Gore-Tex for heavy aerobic activity
Adjustable hood does not fit over helmets (bike, ski, etc)
Relatively less durable for the price than some heavier alternatives
Slimmer fit, not much extra room for puffy layers underneath (consider ordering up a size)
That may look like a long list of "don't likes," so I want to emphasize, this jacket is built for a specific purpose (to be lightweight) and it serves that purpose well. The drawbacks to a jacket this light are mostly inevitable, at least until the next magic technology comes along. I'm not hating on this jacket, just telling you what the tradeoffs are.
What I think it's great for:
Fast and light summer hiking and backpacking (I've used it on the John Muir Trail and Tahoe Rim Trail)
Stuffing in a hydration pack for long trail runs in questionable weather
Learn More
Free Packing List
Going backpacking? Grab this free one-page packing checklist, because no one likes getting to camp and realizing they forgot to pack their sleeping pad. 🙁
Arc'teryx Beta AR
My Arc'teryx Beta AR was the latest addition to my rain jacket collection, purchased because my adventures were escalating and I needed a jacket I could rely on for long trips in truly gnarly weather. It's expensive, but you get what you pay for with this one, and I really, really love it.
This is the only rain jacket I've owned that I would (and do) trust my life to in remote, cold, wet corners of the world. It's not the lightest, but weight doesn't matter as much when you're approaching hypothermia. I get cold very easily, and feeling secure in bad weather has been key to unlocking my dreams of bigger outdoor adventures.
The Arc'teryx naming system is a little tricky to decode, but AR is their "all-around" line. There's also SV for "severe weather" if you're a truly hardcore alpinist, or LT and SL for more minimalist (and a bit less durable) lightweight design. I've felt the AR is a great balance, but haven't tried the other lines.
I would recommend the Beta AR to:
Those who adventure in weather that is very cold or stormy, where getting wet could be dangerous.
Multi-day trips in very wet weather, the kind where it rains all day for multiple days, and you'd like to avoid being constantly soaked even if the weather isn't dangerously cold.
Global outdoor-focused travelers looking for a jacket they can rely on anywhere in the world: climbing mountains in Nepal, hiking through wind and rain in Patagonia, crossing Iceland by mountain bike, you get the idea.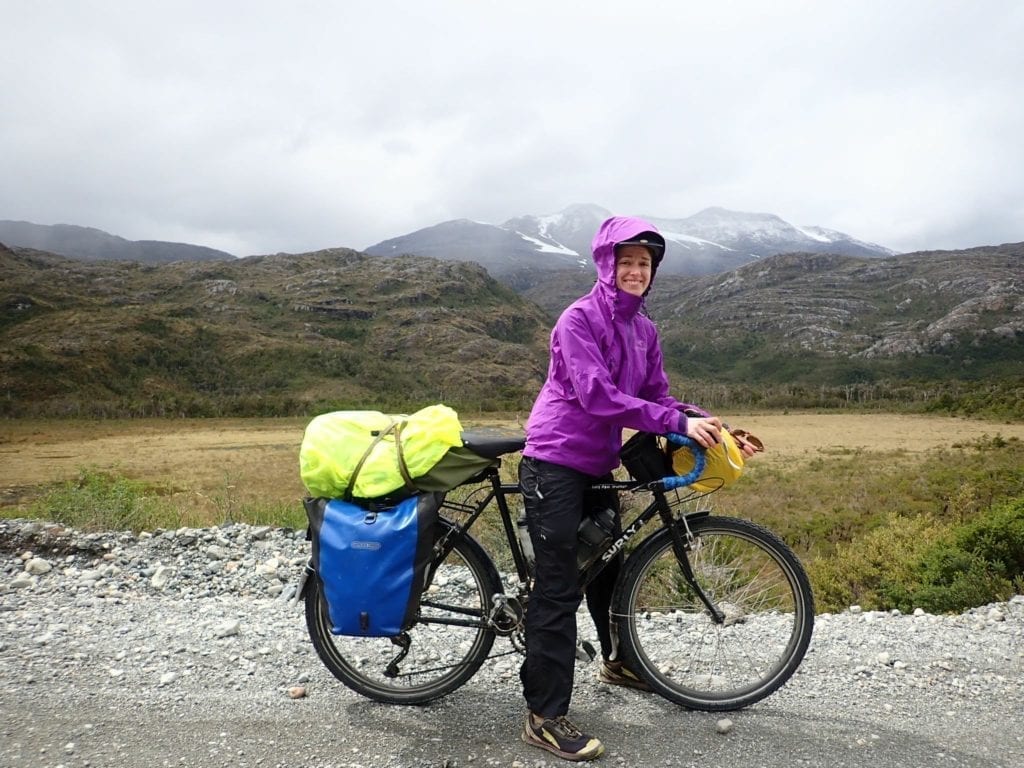 What I like:
Bomber waterproofing and design. I feel dry and safe even in gnarly weather.
Large pit zips
Good breathability even during hard aerobic work.
Great adjustable hood design, stays put, keeps out water, and fits over my ski and bike helmets.
Excellent windbreaker, keeps me warmer even when not raining.
Two zip hand pockets in pack-compatible location, interior mobile device pocket
Adjustable velcro cuffs and drawstring hem
Roomy fit is great for layering and has good arm and shoulder mobility
What I don't like:
The price tag. This jacket is a true splurge. I bought mine gently used on eBay and it was still expensive. But, you get what you pay for.
Relatively heavy (13.2 oz) and bulky, though not bad considering the extra security it provides.
What I think it's great for:
Mountain activities in challenging weather (loved it while bicycling through cold and windy Patagonia)
Very remote and/or solo adventures where staying dry is mandatory (trusted it while bicycling solo through remote parts of the western US)
Multiday trips in very rainy climates
Skiing and snowboarding
Global travel to who knows where in all seasons
Learn More
So what's the best rain jacket for backpacking / bikepacking / etc?
Like most things in life, it depends. Among these three popular choices, here's what I recommend:
Marmot PreCip (9.6 oz, $): Great general-purpose choice for moderate budgets, unless you're spending a lot of time in very cold and/or rainy conditions.
Outdoor Research Helium II (5.5 oz, $$): If you mainly hike in summer and deal with only occasional rain, AND you're committed to packing light, then the Helium II could be a good investment.
Arc'teryx Beta AR (13.2 oz, $$$): If you have the cash to spend and are into more extreme adventures (wetter, colder, more remote), I think it's worth the extra money. It's the only one of these three that I trust with my life when I'm far from civilization in gnarly conditions.
Of course, there are many more options out there. These are the three I know best, and they happen to be popular choices in their categories. I think between them they will suit most outdoor adventurers' needs, but if you want to see even more options, Outdoor Gear Lab reviews more here.
Pin For Later
More Outdoor Gear Resources
If you're searching for a rain jacket, you might also be interested in these:
Free Packing List
Going backpacking? Grab this free one-page packing checklist, because no one likes getting to camp and realizing they forgot to pack their sleeping pad. 🙁