A couple years ago, in an aspirational mood, E and I bought a used ambulance to convert into a camper. We had big plans: gut the whole thing, learn lots of impressive DIY skills, build a cozy mobile adventure nest to rival the best of Instagram…
Well, as you may have guessed, other adventures got in the way and we have not made as much progress on our ambulance conversion as we'd hoped. To salvage the spirit of the project with minimum effort, we focused on our top priority systems – solar, battery, bed – and hacked together simple solutions for the rest. The full conversion is still a long way off, but we've now taken two month-long trips in our quick and dirty "v1.0" conversion and are pleasantly surprised by how usable it is.
This is one of many advantages of using an ambulance for a camper conversion: they come with many useful features like seating, storage, and insulation already in place. You can comfortably camp in a converted ambulance with surprisingly little work. Though we only finished around 5% (maybe less) of the work needed for a full conversion, this quick and easy version meets about 70% of our needs. It's carried us through California, Nevada, Idaho, Utah, Washington, and Oregon as we linked together hiking and biking adventures, and it's been our home at Burning Man two years in a row.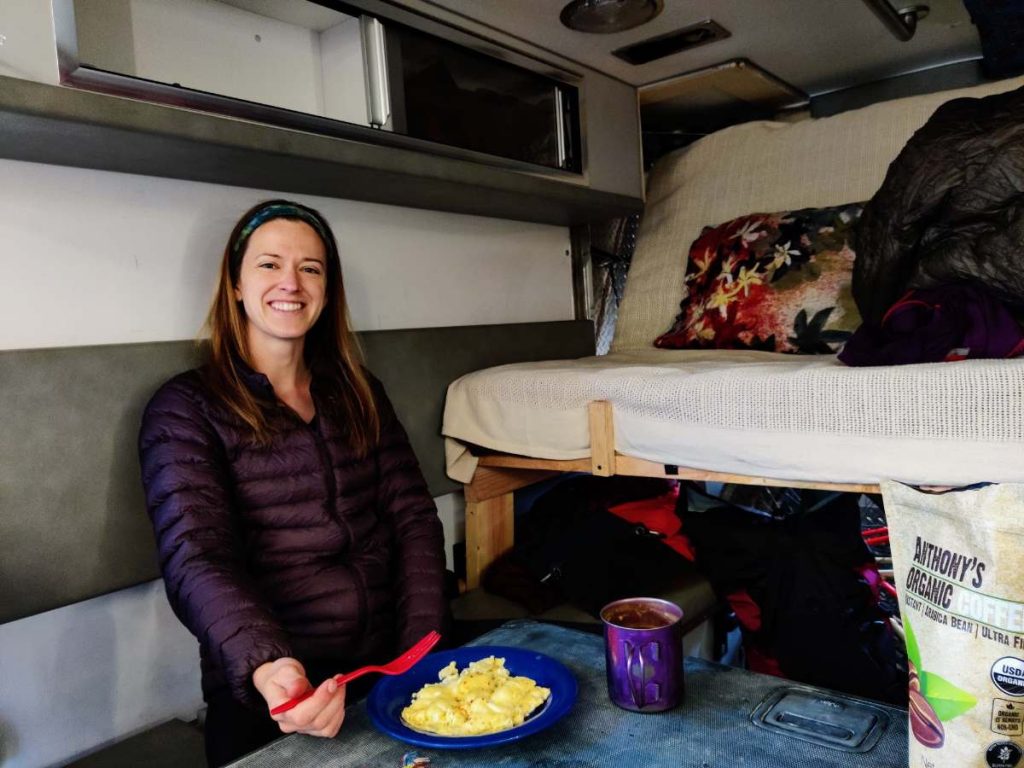 As we wrap up our second trip in "Lance" (the letters that remained when I got tired of peeling off the decals) and start to dream about the next phase of the project, I'm feeling inspired to write up this description of our minimalist ambulance conversion. I hope it helps others who, like us, love the idea of converting an ambulance into a camper but may not (yet) have the time and skills for a full conversion. I'll share what we prioritized, how it's working for us, our simple solutions for the systems we didn't focus on, and what we've learned about our needs for the next phase of the project.
One important clarification: our goal has never been full-time van life. We have a permanent home and the ambulance is our adventuremobile, perfect for spending a couple months each year cruising around the western US linking up our hiking, biking, and other adventures. We can comfortably stay out in the boonies for 3-5 days with this setup before feeling drawn to town for a refresh. If we were living full-time in our ambulance, I imagine this quick partial conversion would leave us wanting a lot more.
Without further ado, here's an overview of our version 1.0 ambulance camper conversion, quick and dirty with just the essentials. If you're struggling with how to prioritize your own ambulance build, I hope it helps!
When you buy through affiliate links in this post, I may earn a small commission. Thanks for your support! I always offer unbiased opinions based on real experience from the road and trail. Learn more.
High Priority Systems
These are the systems we chose to focus our limited time and money on, essentially the "minimum viable product" for our use case of Burning Man and outdoorsy road tripping. While some of the pieces were expensive, we feel they're a worthy investment because they'll last us through multiple iterations of the build. We got a ton of bang for the buck with these projects and can't imagine life on the road without them.
Solar and Battery
Literally the first thing we did with our ambulance, after a bit of cleaning, was plaster the roof with solar panels. We went all-out on this system because we thought it would unlock a lot of other good options for our build. It helped that E is interested in this kind of thing and did most of the system design, and I have an electrical engineering degree from a previous life.
We have 1700 W of solar panels and 10 kWh of battery. I'll describe the components below, but be aware that this space changes really fast. Most of the components we bought a couple years ago, while still good, are no longer the best available options. Do your own research; we found Will Prowse's YouTube channel really helpful in designing our system.
Solar panels: four 430W PERC panels, originally this Q.Peak DUO model from altestore.com, though panels change so fast it's probably not useful to track down that specific model. We attached them with standard solar panel z brackets, self tapping metal screws, and construction adhesive.
Batteries: We currently have two of these EG4 LifePower4 LiFePo4 5.12kWh batteries and would recommend them for now, though battery tech changes fast so by the time you read this there might be something better. They didn't exist a few years ago and our first version used old Tesla Model S batteries like these which were harder to work with and are no longer the best option in our opinion. The LFP battery technology is safer and allows us to use more of the battery's full range. Note that in very cold climates (say lower than 20 degrees F) both these battery types take a performance hit.
Controller: Phocos Any-Grid 5KW 120V Hybrid Inverter Charger. The all-in-one functionality is a must-have in our opinion, and this unit works pretty well for us. The only drawbacks have been some challenges charging from a standard 120V 15A outlet (still troubleshooting) and a small constant current drain to support the controller itself. As with panels and batteries the technology moves fast here; if we were building the system today we would look at this one.
One basic tip for those new to solar power systems: make sure the input range of the controller you choose is compatible with the voltage generation range of your panels in series. Our Phocos controller is sized for a slightly bigger system, so we use only one of the two inputs.
Bed
Our bed is the project I'm personally most proud of, since I took the lead on designing it. It's a hinged platform that slides up into "couch mode" to give about 14″ more living space during the day. We hacked it together out of 2×4's, 2×6's, and plywood. On top is a comfy 5″ foam mattress, queen width with a few inches cut off the end and a "hinge" sliced across the middle so it folds better.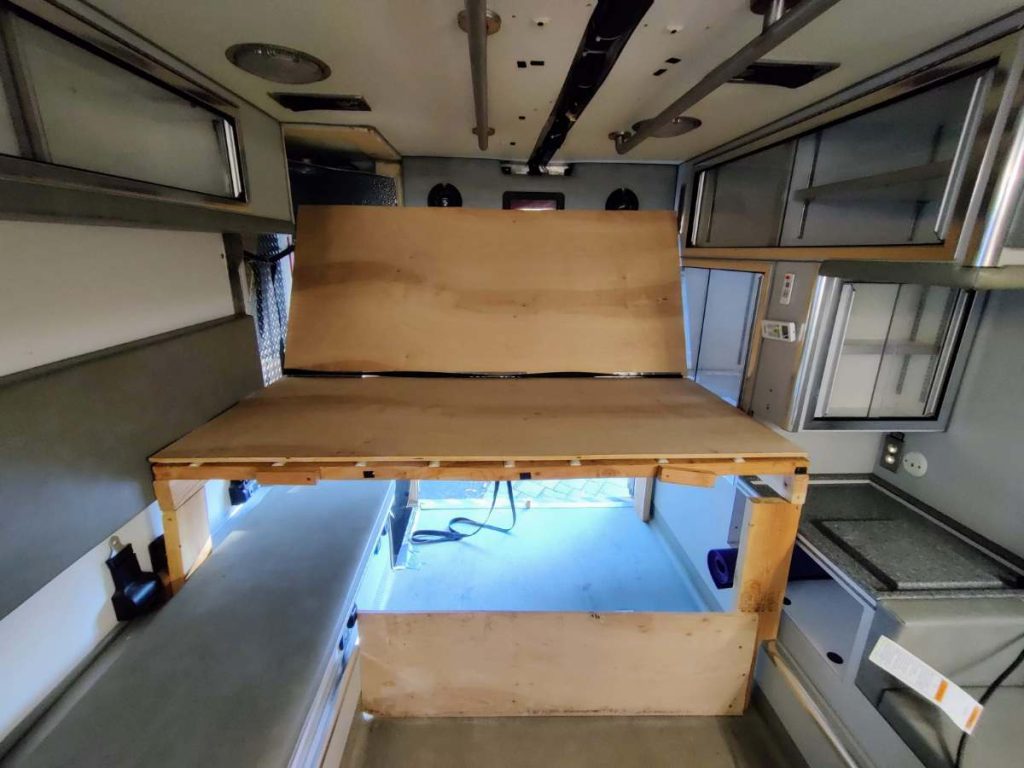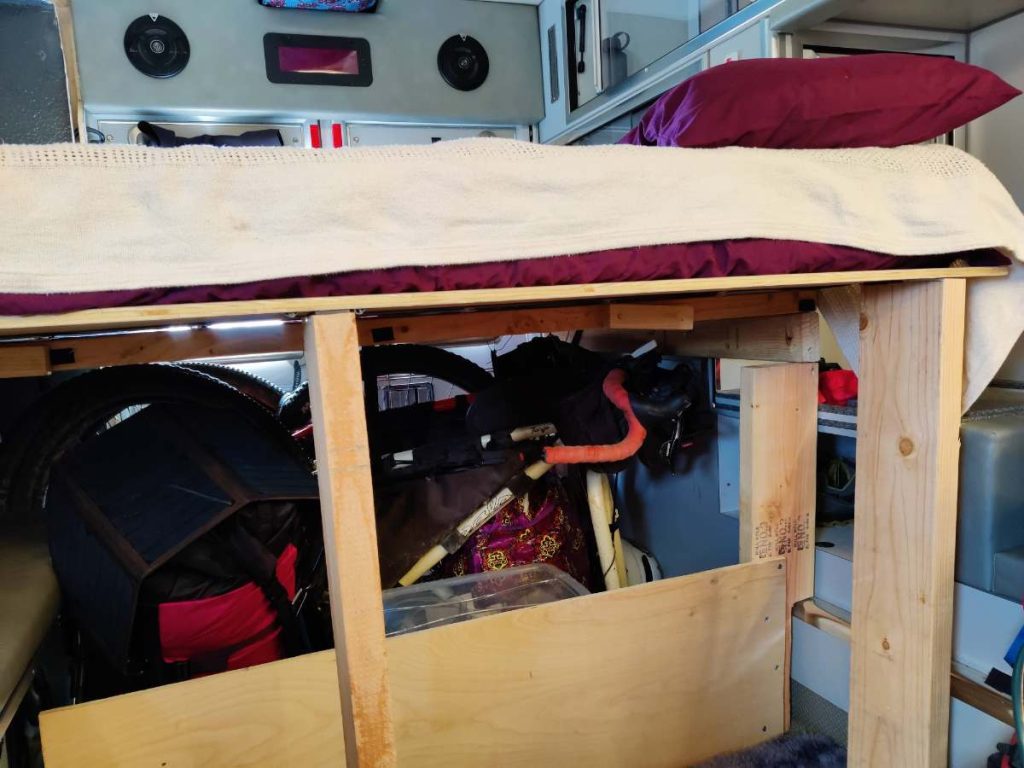 Under-bed bike storage is a top priority for me – what's the point of camping in a beautiful place if I can't go for a bike ride? So a platform bed in the back was a no-brainer. Because we're both relatively short (5'5″ and 5'7″) we're able to sleep sideways across the back of the ambulance box even with cabinets still in place. This is another reason the platform style works well for us.
In addition to being the right location for the "garage" (bike and gear storage), the back of the ambulance was the easiest area to make space for a bed without doing major demolition work. We cut out the back passenger-side cabinet to make space for the bed platform, but no other modifications were necessary. We can still even use the lower area of that cabinet as access to the garage.
Overall we've been really happy with this bed. It's surprisingly comfy and I sleep just as well on it as I do at home. The construction could be a bit better, especially the supports we use under the part that overhangs the "couch" platform — just 2×6's cut to the right height. And as we think about putting passenger seating in the back we realize it's definitely not safe to have this massive tangle of heavy wood back there too. One of our next moves will be to rebuild this bed out of extruded aluminum and attach it to the box more securely.
Gear and Bike Storage
We positioned the bed to maximize headroom while just barely clearing the tops of our mountain bikes when loaded underneath with front wheels removed and seatposts removed or dropped. Loading the bikes is not my favorite activity — it requires quite a big of finagling. Once loaded they're easily secured in place with some rubber straps looped around the bed platform above.
My dream for the next build is to move the bed a couple inches higher so the bikes have more breathing room. I'd also love to figure out some sort of sliding mechanism that makes loading and unloading bikes easier, but it's hard because the bikes go in sideways and they're wider than the rear door. Still noodling on this one…
With the bikes in place we still have some available storage toward the front of our "garage," accessible from inside the box over a half-height divider. Our lack of a detailed build-out led to a helpful realization: we actually don't want a specific perfectly sized place for every item like a full-time vanlifer might. Instead we need large spaces for swappable boxes or bags that might be different on each trip: bikepacking gear one time, Burning Man attire the next, backpacking gear later. Our current garage allows for stacking a few of these huge tote bags full of gear, and that works perfectly for us.
Cooling and Heating
Cooling was on our must-have list for Burning Man in particular, where it can easily top 100 degrees and afternoon naps are key to survival. E decided a mini split would be an efficient way to handle both cooling and heating given our relatively large amount of solar and battery. We're using a Pioneer Diamante 9000 BTU 115V Ductless Mini-Split. It's one of the few 120 V models, as opposed to 240 V, which limited our choice somewhat.
This system meets our needs in most ways, but it's not perfect. The thermostat is good at controlling the temperature in the small space, and the remote control is handy. Cooling is fairly efficient, especially since we usually have good solar input when it's hot out.
Heating burns through our battery a little too quickly to be sustainable, especially in winter when it's cloudy and daylight hours are shorter. We recently bought an inverter so we can recharge our batteries off our diesel engine, which will help.
The biggest drawback to the mini split is that the pieces are, contrary to the name's implication, pretty big and hard to find good locations for. The exterior unit is perched awkwardly on the roof (good airflow and easiest place to install it) which reduces our overhead clearance. This has already caused problems getting into mechanic garages for vehicle maintenance, and makes it harder to park under trees. Plus, it looks funny! I'd prefer it on top of the cab, but we'd need to figure out mounting and airflow.
The interior unit is also bulky and takes up a lot of space in the walkthrough area, where we'd someday like to put a shower.
If we were starting over today we'd look into Pioneer's newer under-bench RV heat pump, which didn't exist when we bought ours. We haven't researched it thoroughly but the compact size is definitely appealing.
Internet
Starlink. We live in a rural area and this comes in handy at home too. As much as I love disconnecting out in nature, I need to work from the road and keep in touch with family in order to make our road trips possible.
Right now we just use this 12.5 foot telescoping ladder to put the Starlink on the roof when needed, and find a place for it inside the rest of the time (a pain since it's bulky and awkwardly shaped). We're considering a roof mount for it, but we also like the current ease of placing it elsewhere if the signal is better, so we haven't decided yet.
Medium Priority Systems
The following systems are important to us but we didn't put much effort into them. In many cases this has worked out great, and in a couple cases we've found them lacking.
Food and Cooking
Eating well-ish on the road is important to us, but we also do a lot of backpacking and bikepacking where we cook with a tiny portable stove for weeks on end. So the rudimentary kitchen system in our ambulance conversion feels luxurious! We haven't yet made any special cabinetry or countertops; we simply use existing places in the ambulance. These are the components:
Portable induction cooktop: We're using the Cusimax 1800W induction burner along with one frying pan and one pot (induction compatible). This allows us to cook or reheat a good variety of food: pasta, scrambled eggs, soup, frozen stir fry dinners, etc. It sits on the existing ambulance countertop and we sit in the medic's chair to cook.
Fridge: a basic 1.7 cubic foot mini fridge that we bought on the road during our first trip. This allows us to eat fresh food for a few days, but we're often limited by space and have to choose our meals carefully when we'll be out for more than about 4 days. When we're parked it sits in the side-facing seat and when driving we move it down to the floor. In our next version we'll probably upgrade to something bigger, like a 3.2 cubic foot model, and build a dedicated cabinet for it.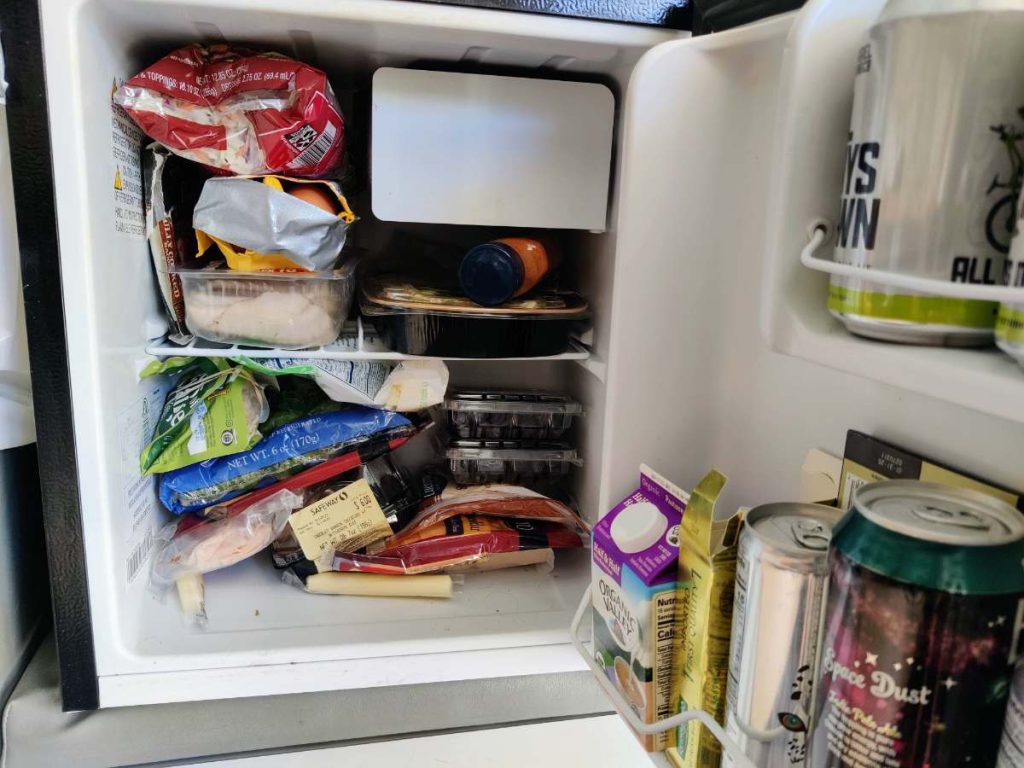 Pantry: The ambulance cabinets above the "kitchen counter" are excellent, with clear sliding doors that let us see what's inside but keep out the occasional mouse who makes it inside when we're parked in the woods.
Goal for next version: small microwave. Though we can cook quite a bit with the induction cooktop, it's messy to clean the pan without a sink (see below) and many pre-made meals are more easily cooked in the microwave. We'll probably add one in our next iteration.
Lighting
The ambulance came with ample lights in the ceiling, but we don't use them for two reasons. 1) The light quality is unpleasant and doesn't feel cozy, and 2) we keep the ambulance electrical system turned off to avoid all sorts of issues we haven't had a chance to diagnose, like battery drain and a recurring "oxygen low" alarm that really kills the ambiance.
We added our own very functional lighting for cheap by simply stringing up one of these LED light strips. They have adjustable brightness and three color options (cool, neutral, warm) which is great for making the place feel a bit homier, especially in the evening before bed. We attached the remote control to the wall near the bed.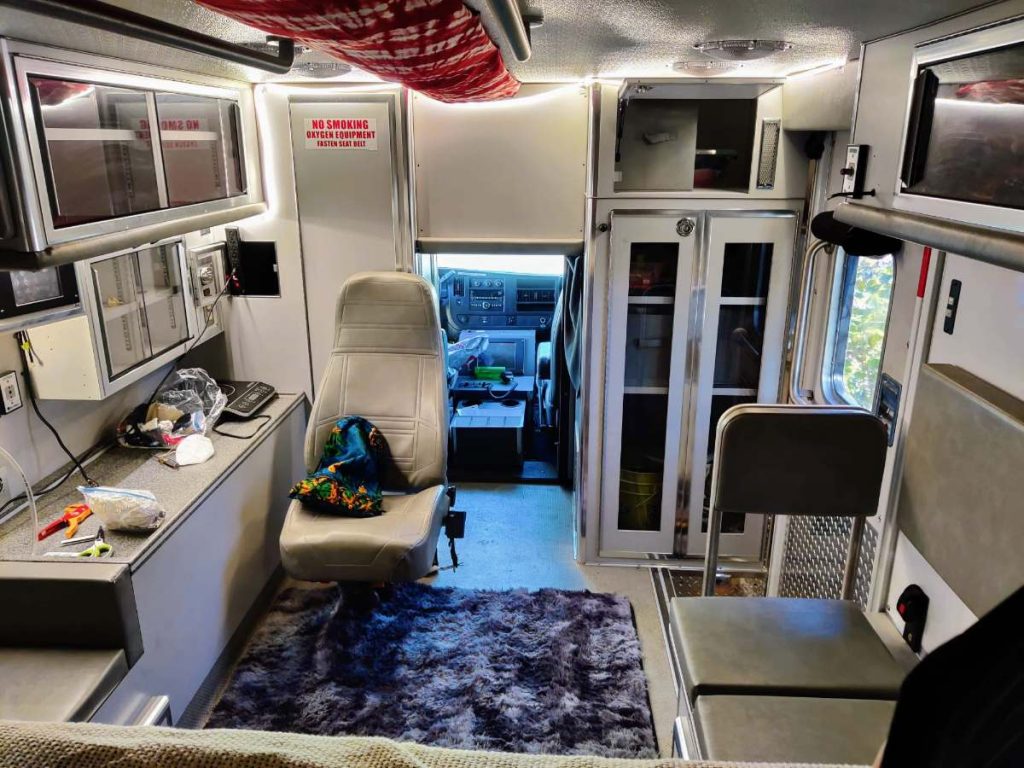 Seating and Table
Built-in seating is one of the best reasons to use an ambulance for a low-effort camper conversion. We haven't added any seats and yet the space is flexible enough to accommodate our cooking, eating, and working needs.
With the wide bench seat on the passenger side plus the swiveling medic's chair we have seating for three people. We have a 30×33" plastic table that folds flat when not in use, and we set it up between the seats for indoor eating and working. It's just a hair too small for both of us to use laptops comfortably at the same time, but it's very close. It's also super flexible – we can bring it outside with our camp chairs for outdoor dining.
Water and Sink
This is an area we did not prioritize, and we often find ourselves wishing for something better. Someday it would be nice to have a real faucet and sink, but this system will take some planning and work.
We currently keep two 2.5 gallon water dispensers inside for drinking and washing, and additional 5 gallon containers in outside cabinets to refill as needed. This works well for drinking water, but it's awkward for washing dishes. We can set up a dispenser above a 5 gallon bucket to collect the gray water, but then we have to deal with dumping a bucket of smelly water somewhere in town. Plus it's hard to get the dishes fully clean this way, so we often resort to wiping with paper towels and just doing a "deep clean" of all the dishes whenever we get to a real sink. Yes, I know that's a little gross. What can I say, I'm a housekeeping failure.
Trash and Recycling
Our solution here is two 5 gallon buckets with lids, lined with trash bags. We keep them in a nifty ambulance cabinet that's accessible from both the inside and outside, which is convenient when we're spending a lot of time outside at camp. The only issue is that they're not the most efficient use of space — we often fill them up — and it can be hard to find a legal place to dump the bags in town. Still, we're happy with this simple setup for now.
Low Priority Systems
These are the systems we pretty much ignored and have only the bare minimum solutions for. We can sort of get by without them, but they're all on our wishlist for build version 2.
Toilet
This is no one's favorite part of a camper build, so I'm happy to say we've managed to get by without a toilet so far. This works for us because we're usually either camped out in the woods (practicing leave-no-trace bathroom techniques) or somewhere near a real toilet. In case of emergencies we carry a 5 gallon bucket with toilet seat lid and some wag bags.
We do make regular use of a pee bottle when it's not practical or appropriate to go outside. Ladies, I recommend a wide-mouth jar like the kind these cashews come in.
We would like to add a toilet for convenience in our future build, but haven't decided what kind yet. E favors the pricey electric Incinolet because he wants to fully leverage our battery system, whereas I would prefer something simpler and cheaper. We'll see!
Shower
Wet wipes! And sometimes a basin of water and a few drops of Dr. Bronner's soap. Because we're used to backpacking and bikepacking, where hygiene standards are even looser, we can put up with this for a little while. But after a few days we usually start wishing for a real shower, and this is one of the biggest factors leading to more nights in town and money spent on hotels and RV parks.
We definitely want a shower in our future build. We do a lot of active outdoor sports while on the road, and being able to take a proper shower would make a big difference. This will take some work and we haven't decided where it will go, but I like the idea of putting it in the walkthrough area to the cab (very efficient use of space).
I know outdoor showers are a popular solution, but we want something we can use in cold weather. We're also pretty strict about Leave No Trace, so we would still need a way to collect the soapy gray water.
Decor
A friend of ours, upon first stepping inside our quick and minimal ambulance conversion, declared the aesthetic "ambulance-forward." Very well-put! We've done almost zero decorating, and I have to admit – as someone who appreciates an aesthetically pleasing environment – this does get to me sometimes. On our first voyage I tried sticking fabric to the ceiling, but quickly grew tired of messing with double-sided tape that couldn't weather the combined assault of washboard gravel and hot summer temps. Someday, when we get a little further along, I'll try again.
One small effort I do recommend: we bought this cheap 4×6' rug and cut out a notch to accommodate the base of the medic seat. It's soft and warm underfoot, looks nicer than the dirty floor beneath it, and can easily be replaced someday when it's had enough.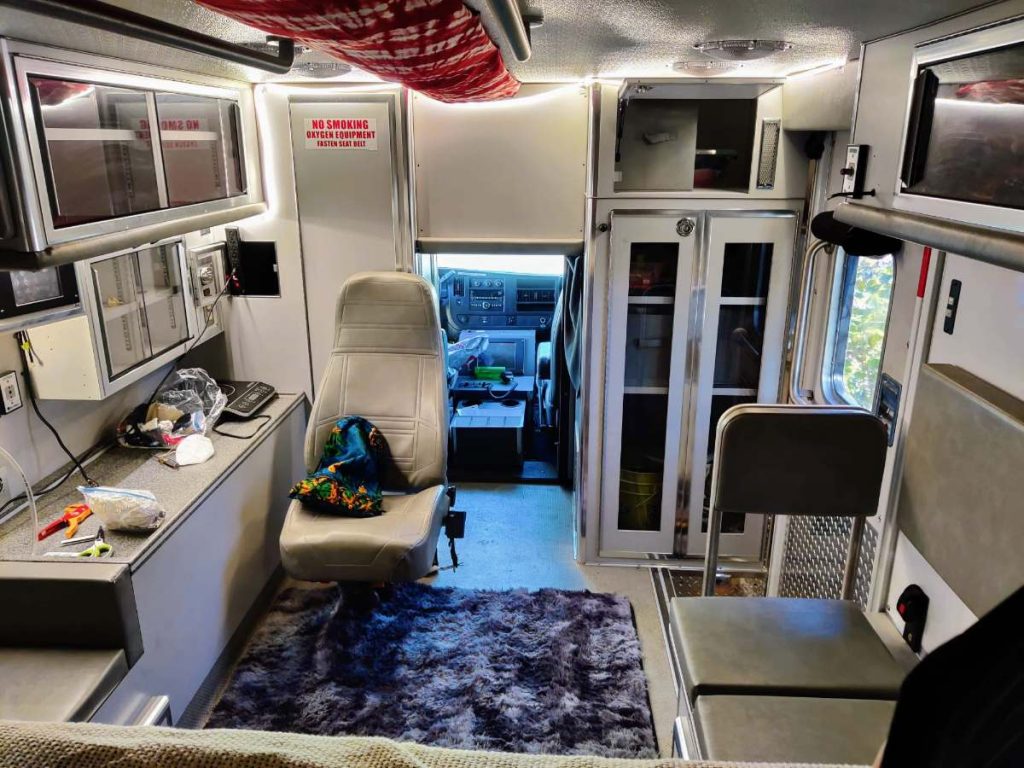 Priorities for Next Stage
As we wrap up our second trip in our quick and easy ambulance conversion, we're starting to dream about the next iteration. Though this version has met many of our needs and enabled some awesome adventures, it's also taught us a lot about what we need to make life on the road even better. These are our top priorities for the next version, in rough order of importance.
Better bed: similar design but sturdier and made from extruded aluminum
Cabinetry for fridge (larger) and microwave
Shower
Toilet
Safe passenger seating in the rear, in case we want to travel with friends or start a family
Sink and faucet
These are on the nice-to-have list:
Ventilation fan
Additional window or skylight
We need to work up our courage to start this next phase. One downside of ambulance conversions is that they aren't a blank canvas and you really need to commit. To go any further we need to remove some of the cabinets we love so much, and (gulp) probably tear out the electrical panel and unneeded wiring (a big and scary project). Wish us luck!
More Ambulance Conversion Resources
If you're interested in converting an ambulance into a camper, you might also like:
Outdoor travel resources in your inbox?
There's more where this came from! If you love outdoor adventures in beautiful places, sign up here for occasional emails with my best tips and inspiration.
Share the Adventure
If you found this article helpful, please consider sharing so more people can benefit from it:
Outdoor travel resources in your inbox?
There's more where this came from! If you love outdoor adventures in beautiful places, sign up here for occasional emails with my best tips and inspiration.
Share the Adventure
If you found this article helpful, please consider sharing so more people can benefit from it: