Established bikepacking routes abound these days, which is fantastic! If you don't have much time for planning and want a high-quality route with a good chance of success (no unexpected locked gates, busy highways, or impossible river crossings blocking your way), a well-traveled established route is the way to go.
But not all of us live near established routes, and some of us have an odd affinity for the route planning process itself. Sometimes we're driven to explore a new area that's captured our curiosity. In these cases we may need or want to plan our own bikepacking routes.
I've written before about how I approach route planning in large areas of public land like National Forests, and you might want to check out that post for a different angle on the subject. This post will be a list of tools I find helpful for dreaming up, researching, and riding DIY routes. If you're new to bikepacking it'll give you plenty to get started with, and experienced riders might even learn about a new resource or two.
When I think about planning a bikepacking route, I think about these different stages:
Inspiration: Which regions and lines capture my imagination and refuse to let go?
Research: Are there good bike routes through these areas? What are they like? How and where might I resupply food and water? Is the land public or private? Where can I camp?
Mapping: Building, saving, and sharing or exporting a GPS track
Navigating: Following the route once I'm riding, or finding new routes on the fly
Tracking: Recording my GPS location at intervals so I have a record of my ride
There's certainly some overlap, but I've marked each tool in this list with the stages I think it's most helpful for.
At the risk of getting hung up on labels – we're all one big happy bike family after all – when I say bikepacking I mean mainly off-pavement multi-day bike adventures, and mainly in the United States. Bicycle touring, which generally connotes more pavement, panniers, and towns along the way, demands a slightly different approach. Though many of the tools I list here will be helpful for bicycle tourers too, many are specifically focused on gravel and dirt routes, and many aren't available in other countries.
Ok, ready to plan some deliciously off-the-beaten-path bikepacking routes? Here are my favorite apps, maps, and tools for bikepacking.
RideWithGPS
Use for: research, mapping and sharing, navigating, tracking
RideWithGPS is a popular route planning, sharing, navigating, and tracking tool designed specifically for cyclists. Basic features are free, and more advanced use requires a very reasonable monthly fee. I use the planner to create GPS tracks when I'm making up my own routes, and I use the smartphone app to navigate my own routes and those made by others.
Route planner features I especially like:
Includes many different map layers (Google, Open Street Map, ESRI and USGS topo, etc), useful for cross-referencing to learn more about obscure roads and trails
Easy to share routes and import those created by others
Popular platform for route designers, so many routes already have a RideWithGPS map available
Smartphone app features I especially like:
Turn by turn navigation when available
Audio cue mode, to save phone battery by keeping screen off
Detailed elevation profiles
Offline route caching and navigation, for a small monthly fee
Track your ride as you go
When I'm about to start fiddling with a new route idea, the first thing I do is open the route planner to keep track of my ideas.
Gaia GPS
Use for: research, mapping and sharing, navigating, tracking
Gaia GPS is a popular alternative to RideWithGPS. It's not cycling specific, but it has more detailed map layers available offline including topographic maps and land use layers. This is important when you're exploring on the fly instead of just following a pre-mapped line, or as a more robust backup solution in case plans need to change mid-ride in a remote place. The most useful features require a small annual fee.
I'm a RideWithGPS gal myself, so I haven't used Gaia extensively. But if I needed to do a long remote trip without planning a detailed route in advance, I'd definitely consider it.
Google Maps Satellite View
Use for: research
Though Google Maps by itself is dangerously useless for off-pavement bikepacking (it can easily lead you astray on non-existent or private roads), the Google Maps satellite layer is extremely handy. It's available within the RideWithGPS planner, so you can switch back and forth to easily see what it actually looks like in the area where you plan to ride.
The satellite layer can help you answer questions like:
Is there actually a road or trail here?
Is this road paved or gravel?
Is this water source a large river, or a small stream that might be dry?
Is there a bridge across this large river?
Are there sheltered spots to camp in this area?
Here's just one of many examples from my own route planning. While routing through the open plains of southern Idaho I wanted to stay on the main gravel road, but a network of smaller jeep tracks led off in all directions. Using satellite view I was able to catch spots like this, where the default routing left the main road and followed much smaller and slower tracks.
Here's another example, showing a river crossing without a bridge in Mendocino National Forest that you might want to know about during times of fast snow melt:
Spoiler: in late fall it was only calf-deep and we made it across.
Do remember that satellite images are taken at all times of year and may be several years old. Don't assume weather or water sources will be the same as what you see. I once had to remind a concerned family member that satellite photos showing snowy mountains in winter did not mean I was riding through snow in the middle of summer. 🙂
Google Maps Street View
Use for: research
Similar to satellite view for remote areas, Street View is incredibly useful for getting a clearer picture of less remote areas. Pretty much every major road in the US is covered by Street View at this point, and most of the minor ones too.
When you see that a road is not covered by Street View, that probably means it's private (bad for bikepacking) or it's remote and quiet (great for bikepacking), so use caution when determining which is which. I like to use the places where Street View stops (the blue highlights disappear as you're dragging) as ideas for remote gravel routes.
Street View is available within the RideWithGPS route planner. Look to the bottom right of the map, click the little yellow person, and drag him onto the road you want to see. Roads that have imagery will be highlighted in blue as you drag. Street View is also a feature within regular Google Maps, including the mobile app.
Google Street View can help you answer some important questions while planning your bikepacking route:
Is there a gate or private property sign blocking access to this road?
Does this small town look like the kind of place where I can camp?
Does this highway have any shoulder? Does it seem busy with traffic?
Is this road paved or gravel? Does it look maintained?
What kind of scenery can I look forward to?
As with satellite images, know that Street View images may be out of date and are most likely from a different season and time of day than what you'll experience. Don't expect traffic volume and weather to match what you see.
Google Maps Bicycle View
Use for: research, navigating, mapping
Routing through urban areas can be challenging, especially after several days in peaceful wilderness. For areas that support it, Google Maps' bicycle layer makes these areas safer and easier by showing bike paths and roads with bike lanes.
You can turn on the bicycle layer in the Google Maps app or web interface to see the green lines (dark green = bike paths, regular green = bike lanes). If navigating with the Google Maps app you can use bicycle mode to prioritize these routes, which can help you ride across a city as safely as possible. There's also an option to turn on the "bike paths" feature in the RideWIthGPS route planner so you can easily see where they are as you build your GPS track.
Many cyclists also use Komoot for a similar purpose. I haven't used it extensively, but I know it can give cycling-specific turn-by-turn directions when you need a bike-friendly route through an urban area. They also seem to be collecting crowdsourced data on hiking and biking routes, so it might be useful for route inspiration too.
Strava and RideWithGPS Heatmaps
Use for: inspiration, research
The Strava Global Heatmap visualizes activity data from Strava users in map format, allowing you to see which roads and trails have been traveled most often by Strava users. RideWithGPS now has a similar feature in their route planner. Just a quick look can help you spot the most popular cycling routes in an area, or seek out the less popular ones if that's your style.
I sometimes use these heatmaps to figure out if a route I'm eyeing is open to the public. If there are zero tracks on a particular road in a somewhat populated area, there's a good chance it's private or otherwise off limits. Do keep in mind that some users can access private land that you cannot, for example soldiers exercising on a military base or a land owner riding on their own property.
Gravelmap
Use for: inspiration, research
Gravelmap.com is collecting crowdsourced data to help cyclists find unpaved back roads. Instead of squinting at satellite images and hoping for the best, you can look for routes people have already ridden. Clicking and zooming around their map is sure to get your adventurous spirit fired up as you notice connections, blank spaces, and interesting routes from point A to point B.
Bikepacking.com, Bikepacking Roots, and ACA Route Maps
Use for: inspiration
Though more about finding established routes than planning your own, the route networks from bikepacking.com, Bikepacking Roots, and Adventure Cycling Association are great sources of inspiration. You might decide to use part of an existing route as a starting point and then branch off in your own direction, or try to link up two established routes via your own path. Or you might get suckered into riding one of their wonderful and thoughtfully designed routes as-is, which would not be a bad thing.
Keep in mind that most (not all) of ACA's routes are on roads with non-trivial amounts of traffic, while bikepacking.com focuses on dirt and gravel.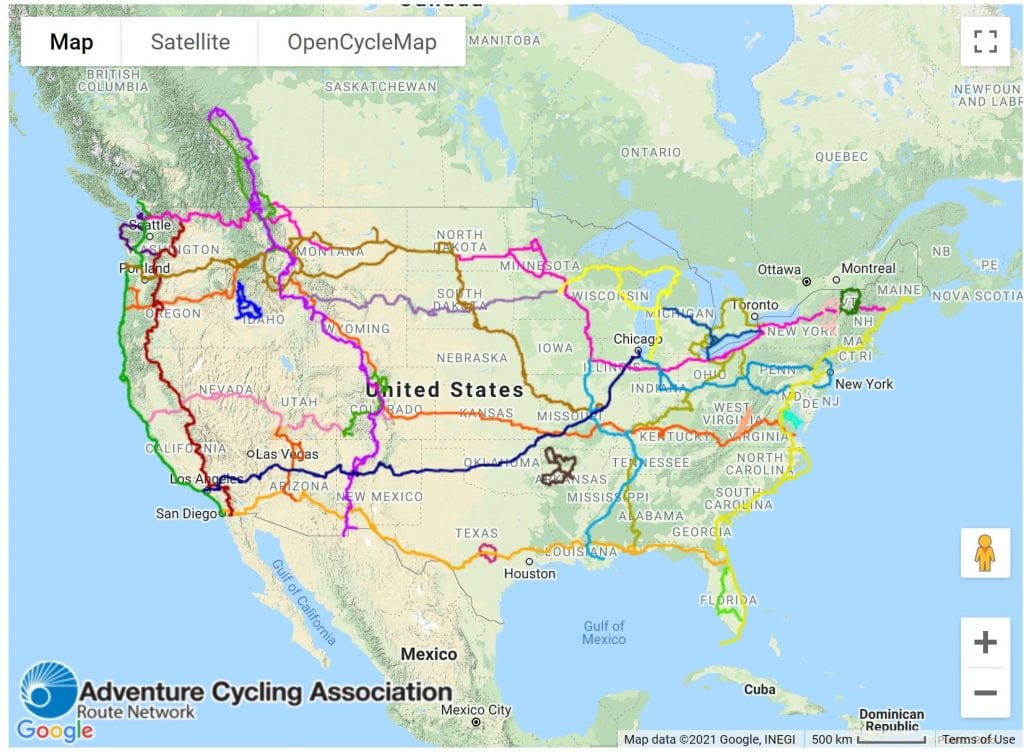 MTB Project and Trailforks
Use for: inspiration, research
MTBProject.com is a free app designed to help mountain bikers find trails. While most trails are intended for day rides, the map view can give a good sense of where connected trail networks might hold potential for multi-day riding. The app also has an easy offline caching feature which is great for navigation outside of cell service range.
Gravel and road riders beware: MTB Project is mostly focused on singletrack trails, but does include some fire roads and other easier terrain. Pay close attention to the difficulty ratings, and don't say I didn't warn you.
Trailforks is a similar idea and may have better coverage in certain areas, though I personally haven't used it as much.
Honorable Mentions
Here are a few other apps I've found useful for bikepacking and bicycle touring, usually once I'm on the road during a longer trip.
Warmshowers: Classic hospitality network for cyclists in search of free lodging and encounters with cool people. Great for keeping costs down while staying in larger cities.
iOverlander: I mostly use this for travel outside the US, particularly in Africa and South America, but the database is global. Helpful for crowdsourced info about wild campsites, budget lodging, border crossings, ferries and buses, and much more.
Windy: An app that shows wind direction and speed forecasts by location. Super helpful for riding in windy areas – like Patagonia and the Sahara Desert – where the speed and direction of the wind will make or break your day.
Maps.me: An app based on Open Street Map with crowdsourced info from travelers. Very useful for travel abroad, and also has a nice offline caching feature that's a handy backup in case of reroutes. Helpful for finding established campgrounds too.
Google Maps: As mentioned above, Google Maps' default navigation feature is downright dangerous in the backcountry. However, the app is a must-have for bike travelers for its offline caching feature (good for at least knowing major roads), local business info (including campgrounds and RV parks), and bike-friendly routing through populated areas.
BikeSleepBike: Shameless plug for a project I built. 🙂 The BikeSleepBike website allows you to search for other cyclist's bikepacking trip reports by place, route, style, and more. If you like to use trip reports as a source of inspiration or info for planning your own routes, you'll find plenty here.
Enjoy Your Ride!
With all those mapping apps and route planning tools, you'll have everything you need to plan some amazing routes. Go explore, have fun… and always have a backup plan in case your perfect route idea doesn't quite work out. 🙂
Bikepackers, did I miss your favorite tool? Help us all out and leave a comment below. I'm always on the lookout for new ideas.
Bike resources in your inbox?
There's more where this came from! Sign up here for occasional emails full of inspiration and information about bikepacking and bicycle touring.


Share the Adventure
If you found this article helpful, please consider sharing so more people can benefit from it:
Pin For Later