At a Glance
Revelate Designs' Handlebar Harness is a versatile and sturdy off-road cargo carrier with large capacity range.
I've tested it over 5700 miles of bikepacking in a range of styles, from ultralight racing to long-distance travel abroad.
I love that it's super durable, easy to use, thoughtfully designed, and works with many handlebar setups and dry bags.
Most bikepackers will appreciate the Harness's versatility, but if you specialize in ultralight or technical riding you might look at more minimalist options like the Pronghorn.
The add-on Egress Pocket is a must-have for extra easy-access capacity.
Revelate Design's handlebar harness is a versatile and durable workhorse of a handlebar cargo system. With semi-rigid mounts, flexible capacity, and Revelate's typically thoughtful details, the Harness makes a convenient and reliable gear hauler for pretty much any style of bikepacking.
I've been using my Revelate Harness for over 5700 miles (yeesh that added up fast!) with both flat bars and drop bars, on gravel and singletrack, for both leisurely and aggressive rides. I'll probably keep using it until it falls apart, which — based on its bombproof durability so far — is likely to be until the end of time.
My goal with this long-term review of the Revelate Designs Harness is to help you decide whether it's right for you and your style of riding. It was one of my earliest purchases of "nice" bikepacking gear, and though I think it's a good value, I know what it's like to wonder if a particular piece of gear will be worth your hard-earned money. Read on to learn what I love about this handlebar narness, a few things that could be better, and what type of riding I think it's best for.
Ready to buy? Campfire Cycling is offering 15% off other Revelate bikepacking bags when you buy the Revelate Handlebar Harness. See the deal here.
When you buy through affiliate links in this post, I may earn a small commission. Thanks for your support! I always offer unbiased opinions based on real experience from the road and trail. Learn more.
Revelate Handlebar Harness
Price: $95
Weight: 15 ounces
Max dry bag capacity: 20 liters
My rating: 4.6 / 5 stars, meets my needs in a wide range of circumstances with just a couple minor annoyances
Learn more or buy:
Campfire Cycling
REI
Revelate Designs
My conclusion: The Revelate Designs Handlebar Harness is a versatile and reliable way to carry light-but-bulky gear on your handlebars while bikepacking. Its adjustable design adapts to small or large loads and drop or flat bars, and is packed with thoughtful details for easy usage. Though the mounting system isn't the tightest, it's very forgiving (as long as you have enough tire clearance).
What I like:
Very adjustable and versatile, works with variety of handlebars, bike geometries, and loads
Dry bag is easily removable for smooth loading and unloading
VERY durable, zero signs of wear after 5700 miles
Thoughtful strap system makes for easy loading and adjusting
Integrates with Egress Pocket for handy accessible storage
Relatively lightweight (though not the lightest)
Made by one of the original innovators in the bikepacking space
Could be better:
Low-riding position requires a slim bag and careful setup when using suspension fork (on my size small 29er)
EVA parts make occasional squeaking sound against certain dry bags when dusty
Rubber spacer blocks tend to slide askew in their straps
How I Use the Revelate Handlebar Harness
When I tally it up, I've been hauling gear with the Revelate Harness for over 5700 miles! I was actually a little surprised by that number, maybe because the Harness has become such a staple in my kit that I rarely think about it. Like most good gear, it's is at its best when not demanding my attention.
Of these 5700 miles, roughly 2500 were bikepacking races. Over 2000 miles were logged during bikepacking adventures abroad in Central Asia and Morocco, and the remaining 1200 were a section ride of the Western Wildlands Route. These rides span from fast and light endurance efforts to leisurely tours. Gravel, dirt, and rough 4×4 roads make up the majority of miles, with some pavement and singletrack mixed in.
Most of the pictures in this post include the Egress Pocket combined with the Harness. I love the Egress because it adds so much easily accessible storage for small items, and I almost always use it along with the Harness. It's sold separately though and isn't strictly necessary.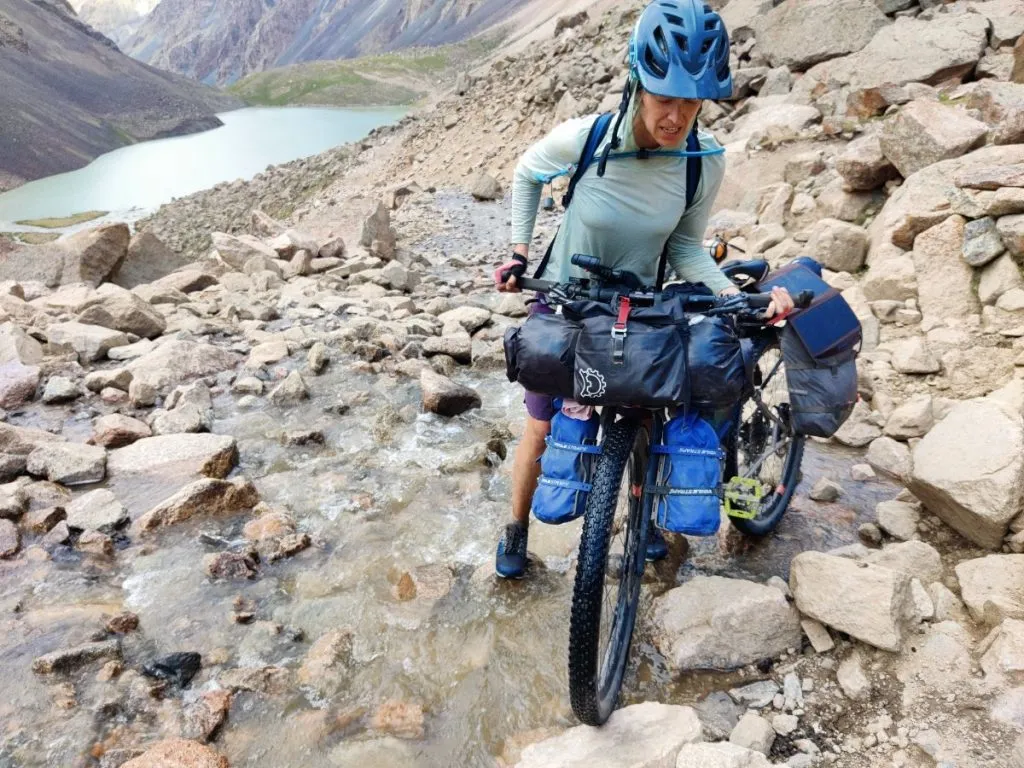 I use a few different dry bags with the Revelate Harness depending on the bike and route involved:
Revelate Designs makes the Saltyroll dry bag specifically for use with the Harness. Its size and shape are similar to the Salsa EXP bag mentioned above, and if I didn't already have the Salsa bag I would probably be using the Saltyroll along with the harness on flat bars.
My husband also uses a Revelate Designs Harness on our trips together, and he likes it a lot. He used it last year on a drop bar Fargo for half of the GDMBR, and more recently with Jones Loop H-Bars on our Kazakhstan and Kyrgyzstan ride.
Mounting System
The Revelate Harness uses a semi-rigid mounting system to attach a soft EVA cradle to your handlebars. The cradle uses three adjustable straps to secure a large cylindrical object, usually a dry bag stuffed with sleeping bag or clothes, plus optionally a second smaller object. The entire system is made from rubber, EVA foam, and flexible straps, so it's "crash proof" in the sense that there's nothing rigid to break if you eat dirt in the middle of nowhere.
The cradle is spaced about 2 inches away from the bars by molded rubber blocks that lie beneath adjustable straps. This system is fairly good at keeping the harness off brake and shift cables and hoses. Though the cables are pushed closer to the bars than they normally would be, I've never had issues with them rubbing or kinking.
Pro tip: Be sure to attach the blocks to the cradle with the included loops! On my initial install I neglected this step and promptly lost one of the blocks. Fortunately you can order replacements from Revelate.
An issue for me, though not for everyone, is that the cradle hangs more or less downward from the handlebars. Since I'm a small bikepacker on a 29er bike, I have to watch out for tire tub. It's definitely workable, but I make sure all the straps are thoroughly tightened when using a larger dry bag. With a suspension fork I have to use a smaller bag and be especially careful. In contrast, the Salsa EXP Anything Cradle uses a rigid mount that can be angled upward, offering more tire clearance for small riders and long travel forks.
Lastly, the Revelate Harness includes a bottom center strap for stability. The strap is designed to go around the head tube or fork crown to add downward pull and prevent bouncing. It's very adjustable thanks to its cam locking buckle and multiple attachment points, and it reduces bouncing effectively. My only gripe: when the foam spacer gets dusty it makes maddening squeaky noises!
If you happen to be using the Harness with the Mountain Feedbag from Revelate Designs, there's a clever way to integrate the two so they don't fight for limited handlebar space. The feedbag includes a plastic loop that can attach to the Harness's mounting strap:
Using the Revelate Harness with Drop Bars
The Revelate Harness works with both flat bars and drop bars. Of the 5700 miles I've logged with it, about 2000 have been on my drop bar Fargo with either 42cm Woodchipper bars or 48 cm PNW Coast bars. The harness measures 11.5 inches at its widest point, so it will fit even the narrowest of drop bars. The capacity is obviously limited by the space between the drops and it's harder to access the bag while it's in the harness, but otherwise it's a great setup.
For running the Revelate Harness on drop handlebars I especially love the Sea to Summit eVent Compression Sack (or this similar model from REI). The lengthwise compression system allows for cramming more soft items into a smaller space between the drops. The only downside: it's hard to access items inside the bag during the day, so it's best used for sleep and camp gear.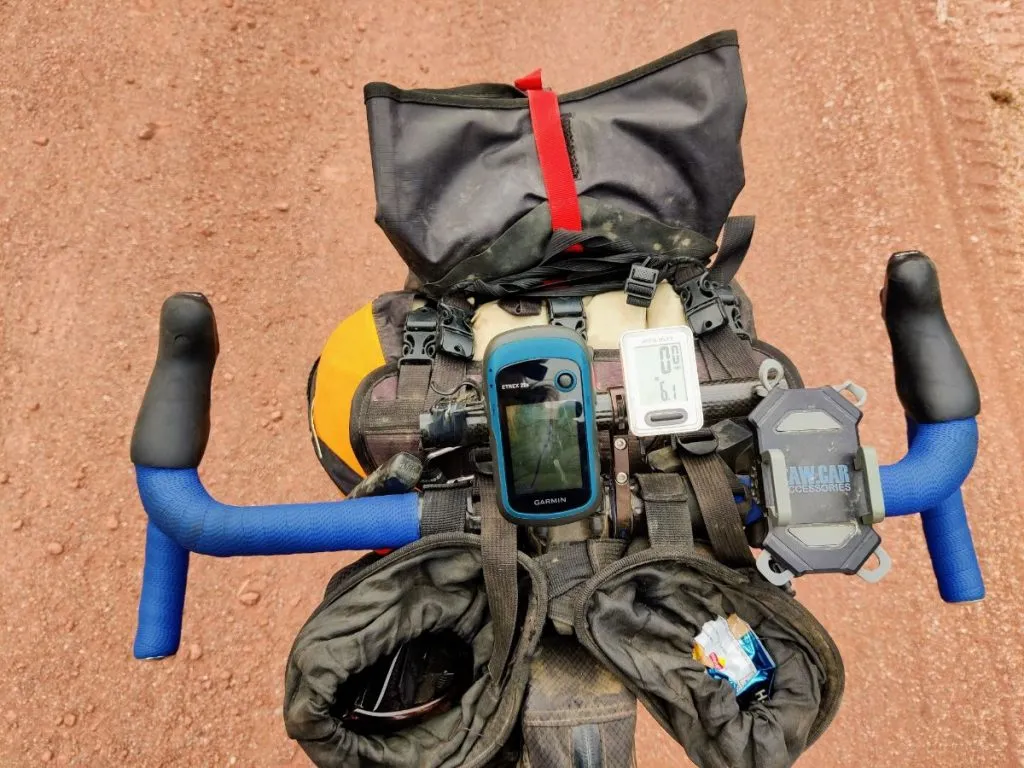 Loading and Unloading
The Revelate Handlebar Harness uses three sturdy straps to secure a dry bag against the molded EVA cradle. Three straps may seem redundant (why not two?), but it's actually a very thoughtful design. First, buckle the red center strap to secure the bag in a balanced position, then buckle the side straps without needing to hold the bag in place with your hand. It's a small thing, but this kind of detail is so helpful for reducing daily futzing and frustration.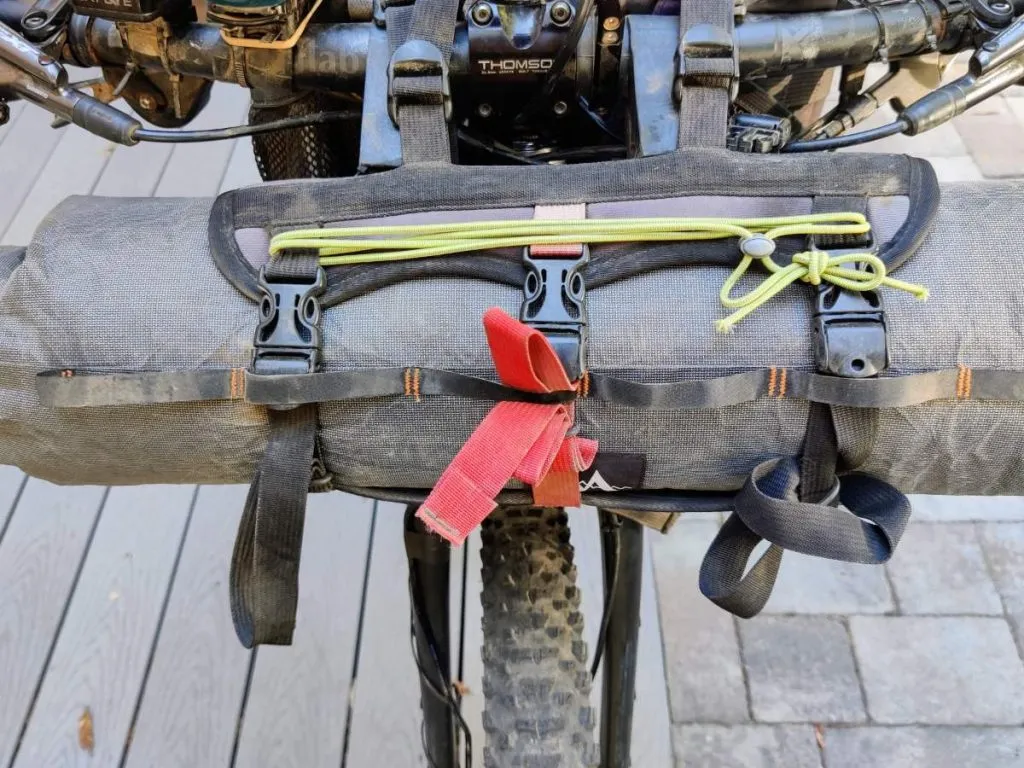 All straps have cam locking buckles that won't loosen over time and are easy to tighten as the system settles a bit on rough ground. In my experience Revelate's bags are generally full of thoughtful and easy-to-use details, and the little rubber rings to hold dangling strap ends are a great example.
The Harness is designed for frequent removal of the dry bag, in contrast to some handlebar systems (like Revelate's Sweetroll) that combine the dry bag and mount into a single unit. I like that the Harness gives me options. Sometimes I'll undo the buckles and bring the whole bag into my tent at night (especially when setting up camp in the rain), and sometimes I'll just slide my gear out one end and leave the dry bag in the cradle. Either way works.
I have only one complaint about this system: the material on the cradle's edge makes squeaking noises against certain dry bags, especially my shiny Salsa EXP bag. I work around this by putting a layer of plastic trash bag between the cradle and dry bag, which is only a minor inconvenience. I assume the Harness interfaces quietly with Revelate's own Saltyroll dry bag.
Load Capacity
The Revelate Harness has a huge capacity range. You can load it down with a 20 liter bag plus the Egress Pocket, or cinch it up high and tight around a compact dry bag. You can even strap a second item into the harness alongside your dry bag; I sometimes carry my solo tent here.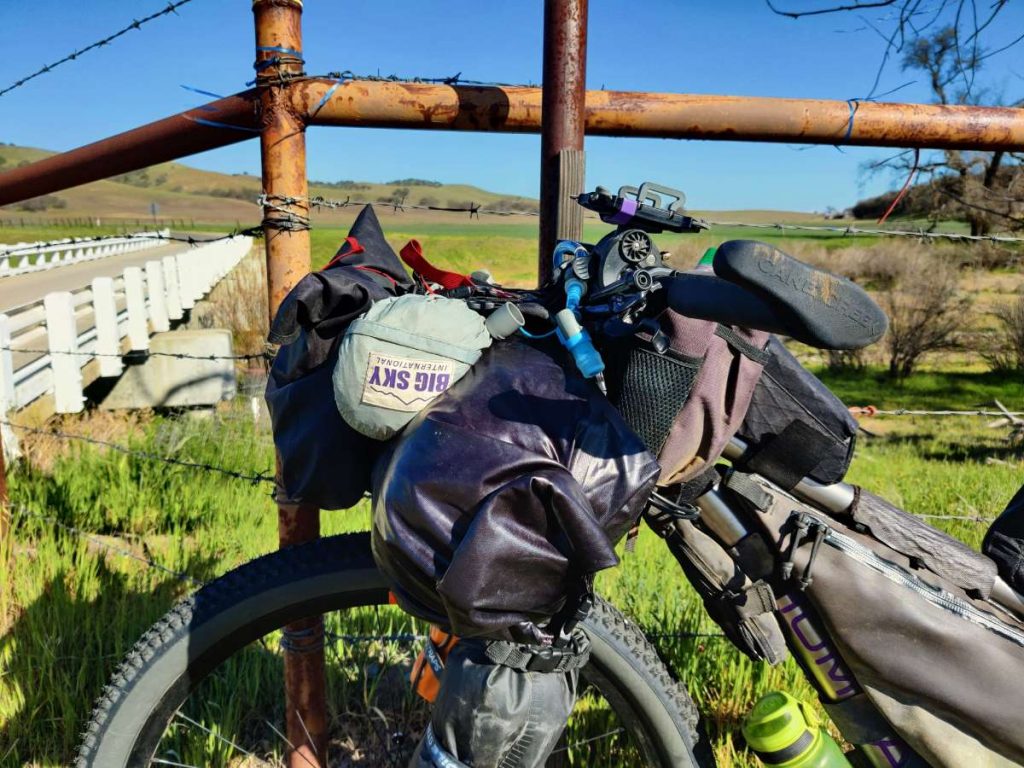 Revelate says the Harness has a weight limit of 15 pounds. If you're riding rough terrain that's a lot more than you'll want to carry on your handlebars anyway. I've tested it with up to ~10 pounds on non-technical dirt rides with no signs of strain or damage. It's likely your legs and bike handling capabilities will feel overloaded before the Harness does.
When used with the Egress Pocket there's a very handy flat space on top of the harness and dry bag. I've rigged my own stretchy shock cord here, looped through the Egress's straps, for stashing a spare layer or pair of gloves. It even works well for extra water capacity in a pinch.
Stability
When properly mounted and adjusted, I've found the Revelate Harness to be stable enough even on rough terrain. As mentioned above, the semi-rigid mounting system isn't a perfect fit for my cockpit yet the overall system is very forgiving. Buckles stay tightened thanks to their cam locks. The dry bag stays where I put it thanks to the cradle's grippy inner surface and robust straps, even when I've packed it a bit loosely or asymmetrically.
If my bikepacking focus were mainly technical singletrack, I might look for a harness that's either more minimalist or more rigid. When I make the most of this harness's capacity it's a tad on the bulky and heavy side for good technical riding. If I don't use a small dry bag, it rubs on my tire when used with a suspension fork.
One alternative is Salsa's EXP Anything Cradle with a rigid mount that could be used to hold a larger dry bag up and off the front tire. On the more minimalist end of the spectrum, Revelate's Pronghorn harness is specifically designed for lightweight technical riding.
Durability
The Revelate handlebar harness appears to be bombproof. After thousands of miles you'd think I would have something to show as wear and tear. Maybe a frayed strap or a worn seam? Nope, nothing. It's filthy but otherwise in mint condition.
Egress Pocket
I almost always use my Revelate Designs Harness together with the Egress Pocket, which I absolutely love. It's an extremely versatile accessory that adds easy-access capacity to the Harness (or the Sweetroll and Pronghorn mentioned below). It can also be a standalone handlebar bag for day rides, which definitely helps it earn the $75 price tag. The Egress can even be converted into a shoulder bag or hip pouch, perfect for town days and side trips on long-distance bike trips.
The Egress Pocket has a roll-top closure with adjustable strap and buckle. I typically use the Egress for snacks and small essentials, and I love how easily it adjusts between its full size (when overstuffed with cookies and trail mix) and nearly empty (when resupply is hopefully near).
It attaches easily to the Harness using two small additional straps with buckles at either end. Sometimes I use the space between the Egress and the dry bag in my harness to carry an additional item, like a small tent. Though the Harness can carry a second item on its own, I find this division makes loading and unloading a little smoother and keeps my tent riding a little higher.
Harness vs Pronghorn vs Sweetroll
How does the Harness compare with other handlebar bags from Revelate Designs?
The closest comparison is Revelate's ultralight Pronghorn. This stripped down handlebar system works similarly to the Harness – it's even compatible with the Egress Pocket – but uses ultralight materials and a minimalist design. The Pronghorn weighs between 7.5 – 9.2 oz (compared to the Harness's 15 oz) and costs between $145 – $160 for both bag and harness, depending on choice of removable dry bag (7.5, 11, or 23 liters). It's ideal for carrying ultralight gear on fast-and-light trips, but less versatile than the Harness and possibly less durable (as is often the case with ultralight gear).
The other option is the Sweetroll. The Sweetroll handlebar mount is integrated into the bag itself, so you can't quickly remove the bag from the bars. This isn't a huge deal, but it does mean you'll be unloading and restuffing the bag while it's on the bike, which can be mildly annoying especially in the rain. It also means you can't swap between different size dry bags; you're stuck with the Sweetroll's 11 liter capacity. You can still add a small second item, as you can with the harness, using the adjustable front flap. The Sweetroll is also compatible with the Egress Pocket.
Between these three options I prefer the Harness for its versatile and durable design. I like that I can use it for everything, from endurance bikepacking races to multi-month tours. If I had unlimited money to spend on bikepacking (a gal can dream!) I would also buy the Pronghorn with a small or medium dry bag to shave a few ounces for short rides or bikepacking races. But for now, the Harness does everything I need it to do.
In Conclusion
Before upgrading to this harness I used more budget-friendly alternatives: a RockBros handlebar bag and the classic "strap it to the handlebars" hack. So I can confirm from experience: the Revelate Harness is a big step up in terms of usability and versatility.
I also own a Salsa EXP Anything Cradle. While it's especially great for maximizing tire clearance with a suspension fork, I reach for the Revelate Harness more often due to its high capacity, flexible (literally and figuratively) design, and general ease of use.
If you're looking for a quality all-around bikepacking handlebar system that can handle whatever you throw at it, I definitely recommend the Revelate Designs Handlebar Harness.
More Bikepacking Resources
If you liked this review, you might also enjoy these articles:
Or visit the bikepacking section for lots more!
Bike resources in your inbox?
There's more where this came from! Sign up here for occasional emails full of inspiration and information about bikepacking and bicycle touring.


Share the Adventure
If you found this article helpful, please consider sharing so more people can benefit from it: