Stem bags have grown popular recently, but the Mountain Feedbag has a longer history than most. Its earliest version dates back 15 years to when Revelate Designs was first making waves in the bikepacking space.
Today this mighty little stem bag is a beloved classic among bikepackers. It's there for us when we need to stash our sunglasses, chamois cream, gummy bears, water bottle, bear spray… Though it seems simple on the surface, I've never seen a bike bag with such a high ratio of thoughtful design per inch. The diminutive Mountain Feedbag is absolutely bursting with useful features and details.
I'll admit it: for years I resisted shelling out the cash for these stem bags. How could they possibly be worth over 2x the cost of cheaper alternatives? But recently my new bike has inspired me to upgrade a few key items. The Revelate Feedbag was available in purple, which sealed the deal.
I've put about 2700 tough miles on my pair of Revelate stem bags so far: in the US and Central Asia, multi-week tours and bikepacking races, on dirt and gravel and a bit of pavement. They've seen 5-day food carries, 4-hour hike-a-bikes, 20-hour days, and 100 degree temps. How did they hold up? Spoiler alert: better than I did, in many cases!
I'm writing this review to help other riders decide, especially the budget-minded among you, whether Revelate stem bags are a worthwhile purchase. There are many dozens of stem bag options out there, some cheaper and some more expensive. Is the Revelate Mountain Feedbag the right choice to carry your gummy bears and chamois cream? Read on to find out.
When you buy through affiliate links in this post, I may earn a small commission. Thanks for your support! Don't worry, everything you read here is unbiased and based on real experience on the road and trail. Learn more.
Revelate Designs Mountain Feedbag
My conclusion: The Revelate Designs Mountain Feedbag is a premium bikepacking stem bag jam-packed with thoughtful design and useful features. I especially love its roomy and well-designed exterior pockets, one-handed open and close that actually works, and durable construction built to last for the rugged long haul.
What I like:
Roomy capacity without getting in the way
Tall size easily holds large water bottle
External pockets are large and conveniently shaped
Adjustable attachment system works with many setups
Removable and brightly colored lining
One-handed open and close that actually works
Bright accent color choices
Very durable
Made by an innovator in the bikepacking space and the original creator of the stem bag concept
What I dislike:
More expensive than some options
Pull cords are a little long, so the ends hit my knees when pedaling unless tucked into the bag.
Stem loop could be longer; I had to add extra Velcro to fit around my wide stem.
My Experience With the Revelate Mountain Feedbag
I've been using a pair of Revelate Mountain Feedbags on my Chumba Stella for a bit over 2700 miles of bikepacking: a month in Central Asia, 1200 miles on the Western Wildlands Route, and a couple bikepacking races. These miles were a majority gravel and dirt roads, a bit of necessary pavement, and several hundred miles of technical singletrack.
Though most of my miles are loaded, I also keep a single Revelate stem bag mounted to my Stella for day rides. They're just so handy that I don't know what I'd do with out them.
Mounting
Revelate Designs is known for their singletrack-friendly gear that doesn't shy away from rugged riding. In this tradition the Mountain Feedbag uses three burly straps for strong and stable attachment on any terrain. No bouncing, swaying, or ripped stitches to worry about here.
The Mountain Feedbag has three attachment points: Velcro handlebar strap, Velcro stem strap, and adjustable strap with buckle that goes under the fork crown. Together these three points are a very stable system; even on technical singletrack the bag is rock solid.
The stem strap can be moved between three positions on each side of the bag for right or left sided mounting. When mounting two bags the strap ends can be stuck to each other to create a single large loop, a clever solution for making the most of limited strap space. Unfortunately the stem strap is too small for my stubby stem, which I solved by adding a second length of Velcro from a different bag.
The crown strap works well on both my Whisky rigid and Fox suspension forks. Revelate sells an extension in case the strap is too short for less common geometries.
If you're running Mountain Feedbags alongside the Revelate handlebar harness, you can skip the handlebar strap and hook the stem bag directly into the harness mounting system using a plastic loop. This is a clever and very helpful detail, since the two sets of handlebar straps otherwise fight for limited bar space.
Size and Shape
Some stem bags take a more minimalist approach intended mainly for holding water bottles on day rides. Not these! Revelate's roots are in long-distance expedition bikepacking. They've figured out how to squeeze every cubic millimeter of capacity out of this bag without making it bulky or unwieldy.
In my opinion, the Revelate Mountain Feedbag nails the optimal size and shape for a stem bag. It's tall enough to securely hold a water bottle (8 inches when the fabric top panel is open and extended, 6 inches when it's cinched closed). It's just wide enough (3.5 inches diameter) to dig around in for mid-ride snacks without threatening to hit my knees when I pedal. A middle layer of foam adds enough stiffness to give the bag some shape without making it a rigid cylinder. The foam also adds insulation to keep your water cool and your french fries hot, or whatever.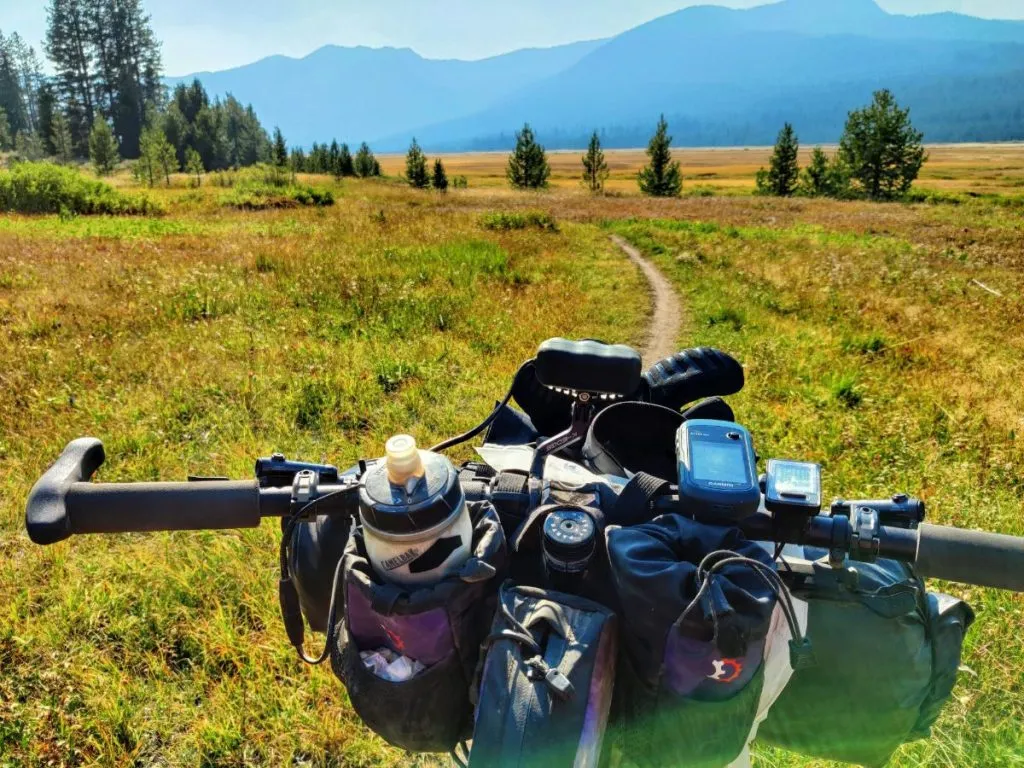 Pockets
The Mountain Feedbag has the roomiest pockets of any stem bag I've seen. Each side has a big mesh pocket perfect for holding small items while being able to see what's in there. The opening is slanted toward the front for easier access. The front of the bag has a single deep pocket with a drain hole in the bottom. I use these pockets for all kinds of tiny odds and ends: wrappers, chapstick, pepper spray, tools, and more.
All three pockets use pleated fabric for extra capacity and an elastic top for security – just one of many places where this bag goes above and beyond. It seems like an obvious feature once you see it, but many cheaper stem bags don't have it.
One-Handed Open / Close
Revelate has early roots in the bikepack racing scene, where it's critical to do as much as possible (eating, swapping layers, crying, even peeing – or so I've heard!) while riding. Thus it's no surprise that they've really nailed the one-handed open and close system on their feed bag.
When you need to access the bag, simply pull the loop end toward you. To cinch it back up so your gummy bears don't bounce out, pull the tab upward. They've even used subtly different cord for each so it's easy to grab the right one.
This brings me to one of very few things that aren't perfect about this bag: when fully closed, the cord is long and bounces against my knee as I'm pedaling. Fortunately it's easily solved by tucking the plastic tab into the front pocket or top of the bag.
Inner Lining
Even the inside of the bag is thoughtfully designed. The bright color is surprisingly useful for seeing what's inside, helpful after a few days of indiscriminately stuffing things in. The liner unsnaps from the bottom and pulls out for cleaning and drainage, which will bring you great joy the first time you encounter a stem bag full of trail mix soup.
Durability
I've been impressed by the durability of every Revelate product I've used, and the Mountain Feedbag is no exception. After 2700 miles they show few signs of wear, and I expect them to keep chugging for thousands of miles more. The mesh pockets are slightly frayed in a couple places, but totally intact. Otherwise, they look like new (except dirtier).
Handlebar straps seem to be a weak point on stem bags – I've seen them rip clear off a couple cheaper options – but Revelate's burly stitching looks like it will hold a long time.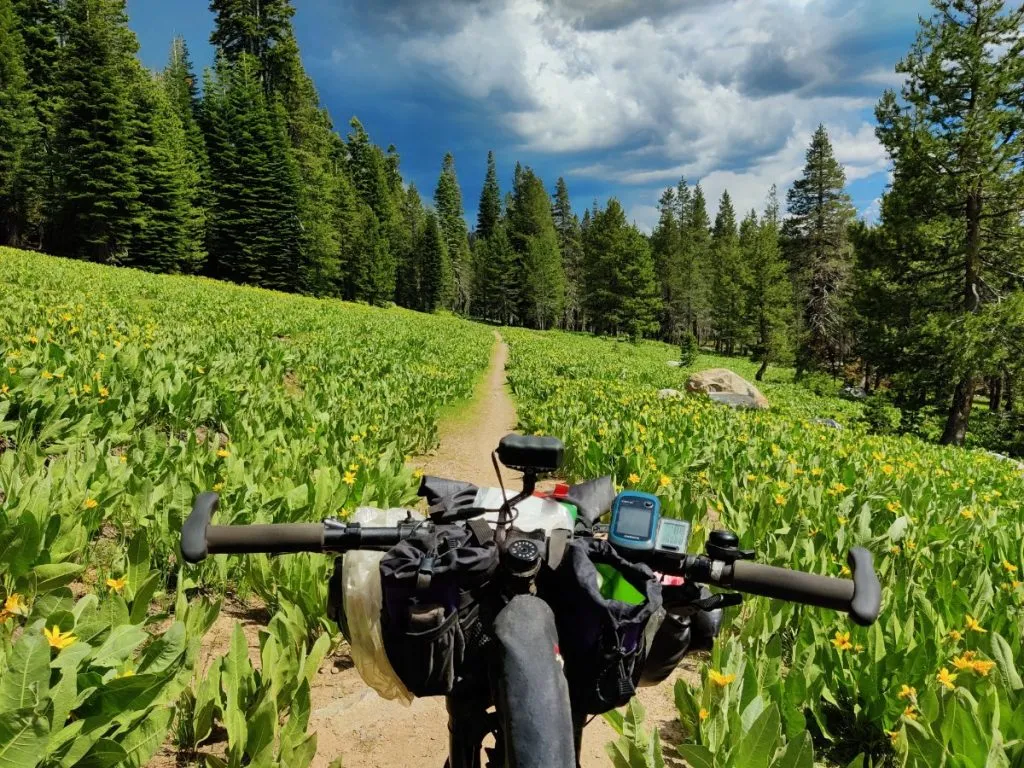 In Conclusion
I've put about 2700 miles on my pair of Revelate stem bags so far, and I'm a convert. It's obvious that these bags were designed by bikepackers, tested by bikepackers, and revised by bikepackers until they're nearly perfect.
Are they worth the money? If you have the money, then yes. I'm enjoying them a lot and definitely consider them the nicest of my collection in terms of form, function, and durability. They're the stem bags I'll keep choosing for my biggest rides while the others stay on the bike I use less often.
That said, you can absolutely make do with a more affordable option. If you like the features of these bags but can't stomach the price tag, check out the Moosetreks Stem Bag with similar features for a much lower price. It's a lot less durable and is a shameless ripoff of Revelate's bag, but I'm not going to judge you — money is money.
There's also the REI Co-op Junction Stem Bag, which gets high points for quality at an affordable price. I don't find the design quite as intuitive or the mounting system as flexible, but it's fairly durable.
But if money isn't tight, or even if it is but you plan to do a lot of riding with your stem bags, I think the Mountain Feedbag is worth the cost. It's incredibly well-designed with long distance bikepacking in mind, and it will probably outlast most cheaper options. Now that I have mine, I wish I'd bought them earlier!
More Bikepacking Resources
If you liked this review, you may also enjoy these articles:
Or visit the bikepacking section for lots more!
Bike resources in your inbox?
There's more where this came from! Sign up here for occasional emails full of inspiration and information about bikepacking and bicycle touring.


Share the Adventure
If you found this article helpful, please consider sharing so more people can benefit from it: