The Bottom Line
The Arc'teryx Beta AR (women / men) is a bombproof hardshell jacket for alpine adventures of all kinds.
I've been using the Beta AR for years on my most adventurous bikepacking, backpacking, and skiing trips.
I love its reliable weather protection and versatile active fit. It's not cheap, but frequent mountain adventurers will get their money's worth over many seasons.
When clouds build and temperatures drop, nothing beats the feeling of zipping yourself into a confidence-inspiring hardshell jacket. The Beta AR from Arc'teryx is a top-of-the-line portable storm shelter for year-round mountain adventures, and I've been trusting my comfort and safety to it for the last four years.
This jacket ain't cheap, and I'll confess to buying mine lightly used for a good price. But after years of putting it to the test in some of my favorite places on earth – Patagonia, Kyrgyzstan, Tanzania, and the Rocky Mountains of the US, to name a few – its value is abundantly clear. It's the jacket I trust with my life in the coldest, wettest, and most remote places I'm willing to venture to.
It's a beautifully made jacket that achieves its goals flawlessly, but it's optimized for specific uses and conditions. If you're considering the Beta AR jacket, this review will help you decide if it's right for you and worth your hard-earned cash.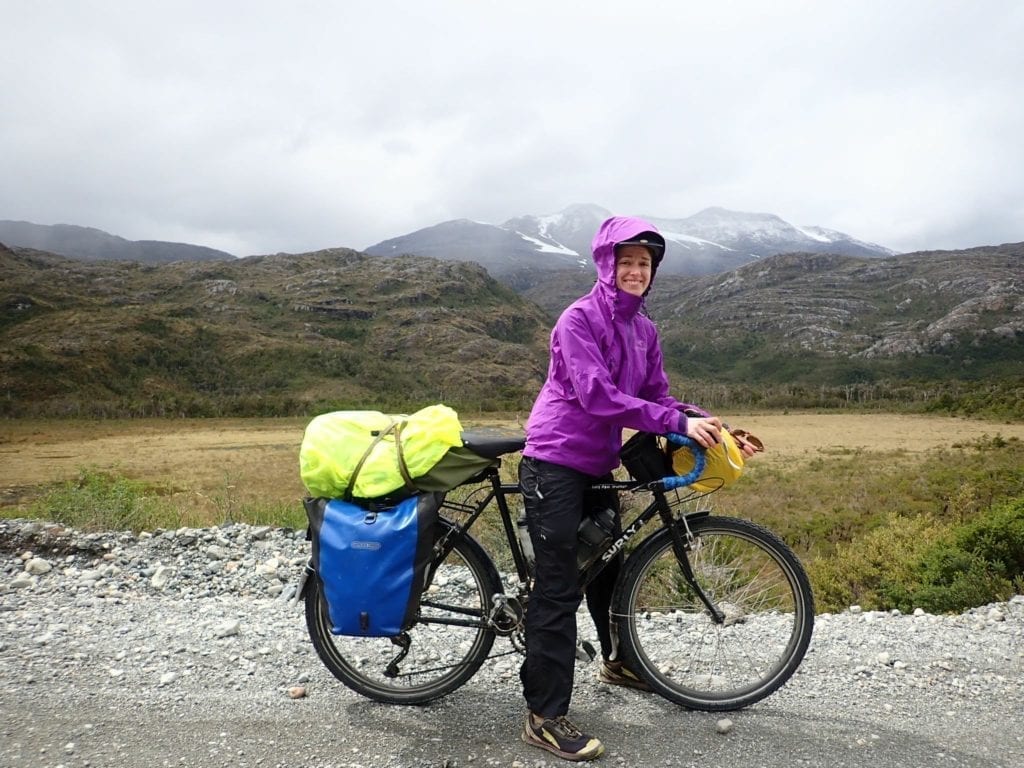 When you buy through affiliate links in this post, I may earn a small commission. Thanks for your support! I always offer unbiased opinions based on real experience from the road and trail. Learn more.
Arc'teryx Beta AR Jacket
Price: $600
Weight: 14.4 oz (women's), 16.2 oz (men's)
My rating: 4.8 / 5 stars, perfect for its use case and I love it
Also available on Amazon:
My conclusion: The Arc'teryx Beta AR is a durable, versatile, and incredibly weatherproof hardshell jacket that I trust to keep me warm and dry in the gnarliest conditions. Its top-tier construction, thoughtful design, and impressive performance make it a joy to wear during all kinds of mountain activities. It's expensive, and casual hikers seeking a simple rain jacket should look at cheaper and lighter options. But if you spend a lot of time in big mountains and don't let weather slow you down, this is a jacket you'll treasure for many years.
Beta AR Pros:
Absolutely bomber weather protection, a trust-with-your-life kind of jacket
Extremely durable thanks to rugged 80D fabric in high wear areas
Comfortable fit with great range of motion for any activity, including climbing
Thoughtful details like glove-friendly zippers and adjustments
Good breathability and ventilation (huge pit zips)
Highly adjustable hood for full-coverage fit with or without helmet
Beta AR Cons:
Heavier and bulkier than a typical lightweight rain jacket for backpacking, though weight is reasonable for the protection it offers
Expensive at full price (but can sometimes be found on sale)
Hand pockets a tad on the high side and chest pocket doesn't fit my phone
My Experience With The Beta AR
I've been using my Women's Arc'teryx Beta AR Jacket for about five years now, mostly for backpacking, bikepacking, and skiing. I originally bought it because my adventures were escalating and my flimsier 3-season rain jackets weren't quite cutting it. I needed a reliable shell I could trust with my life in wet, cold, remote places.
My budget didn't allow for a full-price Beta AR but I'd been coveting one anyway. When I happened across a lightly used women's small — in gorgeous bright purple even! — at a steep discount on eBay, I jumped on it. When it arrived in the mail it was love at first wear, and we've been adventuring together ever since. My husband calls it my "pretty purple person protector," because nothing lightens the mood in a raging storm like alliteration.
My Beta AR has kept my dry and cozy on many of my most exciting adventures: bikepacking in Kyrgyzstan, thru hiking the Colorado Trail, bikepacking the Great Divide, and bike touring through Patagonia, to name a few. This long-term review of the Arc'teryx Beta AR Jacket is based on my experience during those trips and others.
The Beta AR works well for so many activities that it's hard to cover them all in a single review. I use mine mainly for backpacking, bikepacking, and downhill skiing, so I review it from that perspective. It's also a popular jacket for alpine climbing and backcountry skiing, which I have only minimal experience with.
This is a review of the women's Beta AR, and I hope it'll be especially useful to female readers. The men's version of the Beta AR is almost identical, with just minor fit variations and a different set of color choices, so I hope men find my review helpful too.
Best Uses for the Beta AR
The Beta AR is the most versatile jacket in Arc'teryx's most versatile line. The Beta tagline is "Versatile: high performance for diverse activities and conditions" while the AR designation stands for "all-around… emphasizing versatility for multiple activities." Ok we get it, this jacket is versatile!
Remember though, this is a durable hardshell geared toward alpine adventures, so versatile in this context doesn't actually mean "perfect for any outdoor activity." If you're a 3-season backpacker looking for a rain jacket, you can easily find something lighter and less expensive to meet your needs. The Beta AR is a jacket for people who love mountains and spend time in them throughout the year.
Though relatively sleek for the protection it offers, it's the heaviest and bulkiest of my rain jackets, so I save it for when conditions justify. For me this means anywhere a combination of wet, cold, and wind could be dangerous. This certainly includes winter skiing and shoulder season high alpine activities. It could also include summer adventures in a place like Patagonia, known for its strong winds and temperamental weather, or a forecast of nonstop rain in the Pacific Northwest. In short, the Beta AR is a jacket you pull out of the gear closet based on the conditions, not the activity.
I don't use the Beta AR for everything. I also have an ultralight OR Helium rain jacket that I use for hiking and biking in milder 3-season conditions like the Tahoe Rim Trail and JMT in summer, the Arizona Trail in spring, and year-round bikepacking in mild coastal California. I also sometimes use a Marmot PreCip as a middle ground between the Helium and the Beta AR.
Weather Protection
The Beta AR's weather protection is exceptional. It's designed for rugged adventures in the high mountains, and I trust it with my life in the coldest, wettest, and windiest places I venture to.
The 3-layer Gore-Tex Pro shell resists wetting through even in prolonged rain. The fully adjustable hood, cuffs, and bottom hem can be cinched down to keep the wet and wind out. The fit is roomy enough to layer over my warmest combination of midlayers no matter what kind of movement I'm doing. It's the only shell I'll wear a puffy underneath (if I have to) while out in the elements, sometimes essential for warmth but risky with a jacket that isn't guaranteed to keep it dry.
In dry weather I often throw on the Beta AR to cut icy wind or add warmth while sitting around camp. It's breathable enough, especially during low aerobic output, that I feel totally comfortable in it. Zipping it up feels like sealing myself into an impenetrable fortress of warmth and dryness.
Weight and Packed Size
The Beta AR has a claimed weight of 14.4 oz for the women's version and 16.2 oz for the men's.
I love lightweight gear and this is the heaviest item of clothing I pack, but I think the weight is very reasonable considering how durable and reliable this jacket is. Not once have I thought, while being pelted with hail, "I really wish this jacket weighed a few ounces less."
Compared to other similarly durable and well-equipped hardshell jackets, the Beta AR's weight is about average or slightly on the high side. The Outdoor Research Archangel, for example, weighs about 2 oz more for the women's version. The Patagonia Pluma weighs 1.5 oz less. Direct comparisons are tricky because each jacket has its own mix of strengths, weakness, and features. But all else being equal, a heavier jacket is generally more durable and weather-resistant.
If you don't actually need such a durable and reliable hardshell, you can save meaningful amounts of weight (and money) by choosing a lightweight rain jacket instead. For example, the affordable Marmot Precip weighs 9 ounces and the REI XeroDry GTX weighs 10.6 oz.
The Beta AR doesn't pack into its own pocket like the Helium and Precip shown below, but it does roll up to a reasonable size. It feels a bit bulky when stuffing into a bikepacking seat bag or other space-constrained setup. This is the biggest reason why I only bring it along when conditions justify.
Materials and Construction
The Beta AR makes strategic use of premium materials to balance durability, weight, and performance. The main jacket body uses 40-denier 3-layer Gore-Tex Pro, the premium Gore-Tex offering that promises guaranteed water and wind protection. High-wear areas like shoulders are reinforced with more durable 80-denier Gore-Tex Pro, which helps set the Beta AR apart from some of its lighter competitors. The whole thing is DWR-treated and the seams are taped.
The zippers deserve a mention too. The front zipper is burly, something I appreciate after a history of zipper failures on lightweight gear. The pocket and pit vent zippers are smaller, but all are smooth and easy to operate (even with gloves) thanks to corded pulls. Arc'teryx says their WaterTight™ zippers are water resistant but not waterproof, however I've never noticed water sneaking through them.
Fit and Comfort
I'm 5'5″ and 120 pounds, and my women's small Beta AR is a comfortable fit. Since this is my cold weather jacket I appreciate the plentiful space underneath for layering. I rarely layer anything on top of the Beta AR, but occasionally I'll throw on a puffy for extra warmth during a break and have no problem fitting my relatively trim Cerium down jacket over the top. The Beta AR is roomy on me, but stops short of being baggy.
Being an alpine-focused jacket, the Beta AR is built for movement in all directions. The underarms are gusseted for easy overhead reach, and the articulated elbows mean the cuffs don't ride up when bending an arm. In my experience it's super comfortable to wear; it doesn't bind anywhere or bother me in any way.
The length is longer than my rain jackets, which is typical for an alpine-focused hardshell. It's long enough to stay put under a backpack hip belt or climbing harness. It's also long enough to fully cover any midlayers underneath and to avoid a chilly gap when bending over to adjust skis. I have long arms for my height, yet the sleeves come down almost to my knuckles for easy pairing with gloves.
Breathability
Breathability is always an issue with hardshell jackets, but the Beta AR does a decent job here. It's certainly easy to overheat during high aerobic output, but the Beta AR's Gore-Tex Pro leads to much less clamminess than some 2.5 layer jackets like the ultralight OR Helium.
The massive pit zips, which have a zipper pull on either end and can be adjusted even with mittens on, are a huge help. That said, this jacket prioritizes weather protection over breathability, so it's not the ideal choice for continuous high-output activities.
Hood and Collar
The Beta AR's roomy hood is one of my favorite features. Compared to the hoods on my other rain jackets it feels like a storm shelter. It's large enough to fit over any helmet (I've personally tried it with biking, climbing, and skiing helmets) and still provide excellent coverage.
Yet it's also adjustable enough to cinch down securely around my small head when helmet-free. A two-point adjustable draw cord at the back of the hood makes it possible to fine-tune its size and shape, while a cord around the front cinches tight around the face when conditions get gnarly.
The collar on the Beta AR is another winning feature in my opinion. It's separate from the hood which is a bit unusual, but this allows for zipping the tall collar fully without wearing the hood, or unzipping the collar for ventilation while keeping the hood on. Though hoods are extremely useful, I find them distracting (crinkly noises, peripheral vision issues…) and only wear them when necessary, so I often use the collar without the hood.
The collar is tall, seals in warmth nicely, and has a soft microsuede chin guard. It's large enough to fit comfortably over my chin; I often tuck my mouth behind it on windy chairlift rides. I'll note that I have an unusually long neck, so less giraffe-like folks could find the collar a bit too tall.
Pockets
The Beta AR jacket has three pockets: two roomy zippered hand pockets on the front and one smaller zippered chest pocket on the inside left. I have very few gripes about this jacket, but one minor annoyance is that the hand pockets are a tad on the high side. Though this positioning keeps them clear of hip belts and climbing harnesses, I find it a bit awkward when trying to rest my hands in the pockets to keep them warm.
Cuffs and Hem
Along with the hood and collar, the bottom hem and wrist cuffs of the Beta AR turn this jacket into an impenetrable fortress. The adjustable Velcro cuffs can fit over or under a wide variety of gloves, or simply cinch down tight to keep drafts and water out.
The bottom hem has drawcords on both sides that cinch the jacket tight around the hips to keep out rain, wind, or fresh powder snow. They're almost operable with a single gloved hand, if you're patient.
Durability
For such a lofty price, the Beta AR better last a long time! I'm happy to report that mine is still in great shape and shows no signs of wearing out any time soon. This is part of what we get for our extra dollars and ounces of weight: a durable jacket that can stand up to heavy use in rugged environments. There are a couple small places on the back of the jacket where the layers have begun to separate, but so far this hasn't impacted functionality.
Like all DWR treated fabrics, the waterproof finish does fade with time. Though the 3-layer Gore-Tex still does a great job on its own, I find that refreshing the DWR coating with Nikwax TX.Direct about once a year keeps the waterproofing in top shape.
Price and Value
It should be obvious by now that the Arc'teryx Beta AR is an excellent hardshell jacket for alpine pursuits, but is it good enough to justify the cost? A quality hardshell will always be spendy, but the Beta AR runs a good $50 – $100 above its more affordable competitors.
Who am I to say? I bought mine lightly used on eBay for a considerable discount. Especially back then I had a small budget and would never have considered the full-price option. If I bought one today I would probably still not pay full price; I would wait for a sale, because I'm stingy like that.
I do think the Beta AR is worth the money for a certain group of folks: year-round mountain adventurers who spend a lot of time outside and expect to do so for many years. A quality jacket like the Beta AR will last a long time. If you use it for multiple sports and multiple seasons over many years of skiing, climbing, peak bagging, etc. the cost per hour of staying warm and dry will surely be worth it in the long run.
If you're more of a fair-weather adventurer and primarily looking for a rain jacket, I don't think you'll get enough value from the Beta AR to justify the cost. You can find much more affordable and lightweight options to keep you dry in occasional rain.
Finding the Beta AR On Sale
Like most outdoor gear, with a little effort you can likely score a Beta AR jacket for less than full price. I was thrilled to find mine on eBay! Here are some ideas:
Wait for sales. Most outdoor gear retailers run sales at certain times or year or offer coupons or member discounts.
Be willing to go with a less popular color or previous season's model.
Shop used gear sites like REI's used gear shop, Geartrade, Outdoor Gear Exchange, and eBay. A lightly used quality hardshell still has many years of use left in it.
In Conclusion
If you're all-in on mountain sports and refuse to let bad weather slow you down, the Arc'teryx Beta AR is a solid investment in your adventurous future. As long as you can afford it, you can't go wrong with this jacket's quality materials, comfortable and functional fit, and bombproof weather protection.
More Outdoor Resources
If you liked this review, you might also find these articles helpful:
Or, visit the hiking resources center for LOTS more!


Hiking resources in your inbox?
There's more where this came from! Sign up here for occasional emails full of inspiration and information about backpacking and hiking.


Share the Adventure
If you found this article helpful, please consider sharing so more people can benefit from it: