Summary
The Arc'teryx Cerium (women, men) is a high performance down jacket (also available as a hoodie) for outdoor adventures where weight, packed size, and warmth are all important.
I use the Cerium for lightweight backpacking and bikepacking in cooler shoulder-season weather.
I find the fit comfy yet reasonably stylish, just right for layering over and under.
I love mine and would buy it again, but ideally on sale (it's pricey).
We outdoor adventurers grow very attached to our puffy jackets, and with good reason! When temps drop a quality down jacket keeps us cozy, happy, and safe. The Cerium from Arc'teryx is a premium choice and reliable favorite for its high warmth-to-weight ratio, comfortable and attractive fit, and quality construction.
I've been using my Arc'teryx Cerium Jacket (no hood, women's version) for two years now, mostly for long-distance backpacking and bikepacking. My adventure style tends toward fast-and-light, but I run cold and refuse to compromise on warmth. I generally avoid snow unless I'm skiing, but I embrace high elevations and shoulder season weather.
My Cerium has kept me cozy on an Arizona Trail thru hike, Kyrgyzstan bikepacking adventure, and a number of bikepacking races like the Smoke 'n Fire 400, to name just a few. All these trips had stringent space and weight constraints plus occasional sub-freezing nights and mornings, exactly the kind of conundrum the Cerium is designed to solve.
A down jacket is one of the most expensive items of outdoor clothing many of us buy, so it's natural to worry about making the right decision. Will it be warm enough? Can it pack down small enough? Will it last a long time? The Arc'teryx Cerium has worked out wonderfully for me, and in this in-depth review I'll help you figure out if it's right for you too.
When you buy through affiliate links in this post, I may earn a small commission. Thanks for your support! I always offer unbiased opinions based on real experience from the road and trail. Learn more.
Arc'teryx Cerium
Price: $375 (jacket), $400 (hoody)
Weight: 9.5 oz (women's medium jacket), 11 oz (women's medium hoody)
My rating: 4.7 / 5 stars, I love it and would buy it again (but ideally on sale)
Also available on Amazon: see Arc'teryx Cerium
My conclusion: The Arc'teryx Cerium is a premium down jacket for active adventurers seeking a high warmth-to-weight ratio and small packed size. It's hard to go wrong with the Cerium's comfortable layer-friendly fit, well-designed features, and sustainable materials and manufacturing, but all this comes at a higher price than some alternatives.
Cerium Pros:
High warmth-to-weight ratio
Surprisingly compressible
Comfy and attractive athletic fit that layers well
Moisture-resistant outer and areas of synthetic insulation help preserve warmth despite light mist or condensation
Available with and without hood
Made from sustainable materials and responsibly sourced down
Cerium Cons:
Relatively expensive
Delicate zipper could be the first part to fail (though mine is still working well)
Cerium or Cerium LT?
Previously Arc'teryx sold a line of Cerium jackets, including the LT (for "lightweight"), SL (for "super lightweight"), and SV (for "severe weather"). As of this writing though, the SL and SV are gone from the Arc'teryx website.
The plain Cerium listing now bears the note: "The Cerium was previously the Cerium LT." It seems the LT is the only surviving member of the family, and lives on as simply the Cerium.
Hood or No Hood?
The Cerium comes in two versions: a hoody and a hoodless jacket. (It also comes in a vest version, but that's out of scope for this review).
I prefer the jacket without a hood. My sleep system includes a standalone hood that I wear with my quilt at night, and I can also wear it with a jacket during the day. I also sometimes wear a merino sun hoody. Between these two options, my head is covered (literally), and I'd rather save the weight (about 2 oz) and bulk by not having a hood on my puffy jacket.
If you have a need for a hood, the Cerium Hoody is well-designed. The StormHood™ system is carefully shaped to not obscure peripheral vision (always a pet peeve of mine with hoods) and includes a drawcord cinch. It fits over a helmet if needed, though it works well without one too.
My Experience with the Cerium
After a number of long-distance adventures by foot and bike, occasionally in quite nasty weather, here's my in-depth review of the Arc'teryx Cerium jacket. I'm a woman and this is technically a women's review, but my husband uses the men's version and gives it his thumbs-up as well. The two versions are quite similar aside from colors and minor fit variations.
Warmth
The Cerium, in short, is very warm for its weight and bulk.
I originally bought it to fill the gap between my ultralight Mountain Hardwear Ghost Whisperer (not quite warm enough for cooler weather) and a warm but bulky 600-fill down jacket. I needed something light that could pack down small for bikepacking races but also keep me warm(ish) in near-freezing temps. The Cerium has filled that niche perfectly.
How warm is the Cerium? This is obviously subjective, but here's my experience. For context, I run quite cold and am usually the first in any group to start shivering.
I use the Cerium as my primary insulating layer, usually over a 260 weight merino midlayer. For extra warmth I'll throw my rain jacket over it all. This combo has been sufficient when temps occasionally drop into the 20's F. I wouldn't use it for trips with sustained periods of sub-freezing weather – like snow camping or ski touring – because it does get a little chilly. But for general 3-season adventuring it's a very solid choice.
For a fast-and-light summer mission where temps aren't expected to drop below around 50 F, I'll save a bit of weight and bring my lighter Ghost Whisperer instead. Honestly though, the Cerium is light and packable enough to work in this scenario too, and is a more versatile choice if you run cold or adventure in cooler weather.
Weight
The Cerium jacket (no hood) weighs around 9.5 oz for the women's medium and the hood ads about 1.5 oz. This puts the Cerium squarely in the lightweight down jacket category.
It's hard to find a warmer jacket at this weight! But if you primarily adventure in mild climates, don't get cold easily, and/or are counting every ounce, an ultralight option like the Ghost Whisperer might work for you. Though it's definitely less warm than the Cerium, it weighs a mere 7 ounces.
Insulation and Construction
The Cerium's high warmth-to-weight ratio comes in part from its 850 fill white goose down. You'll be happy to know this down is ethically sourced according to the global Responsible Down Standard.
Technically the Cerium is not 100% down, which is a unique and smart feature. Arc'teryx's Down Composite Mapping strategy places synthetic insulation in small areas where moisture buildup is common (like underarms, cuffs, and collar), helping them retain some warmth even when damp.
The Cerium's 15 denier outer is both wind and moisture resistant, which is certainly a nice-to-have feature. However, this is still a down midlayer, and you'll definitely need to add a reliable shell jacket for wind and rain.
The inner is thin and lightweight but manages to feel soft against the skin rather than sticky, stiff, or slick. I prefer its feeling to my Ghost Whisperer if I don't have a long-sleeve shirt underneath.
Finally, Arc'teryx is moving toward more sustainable manufacturing. The outer fabric is dyed with a technique that reduces energy and water use, and the inner is 60% plant-derived (as compared to synthetic nylon, which is derived from fossil fuels).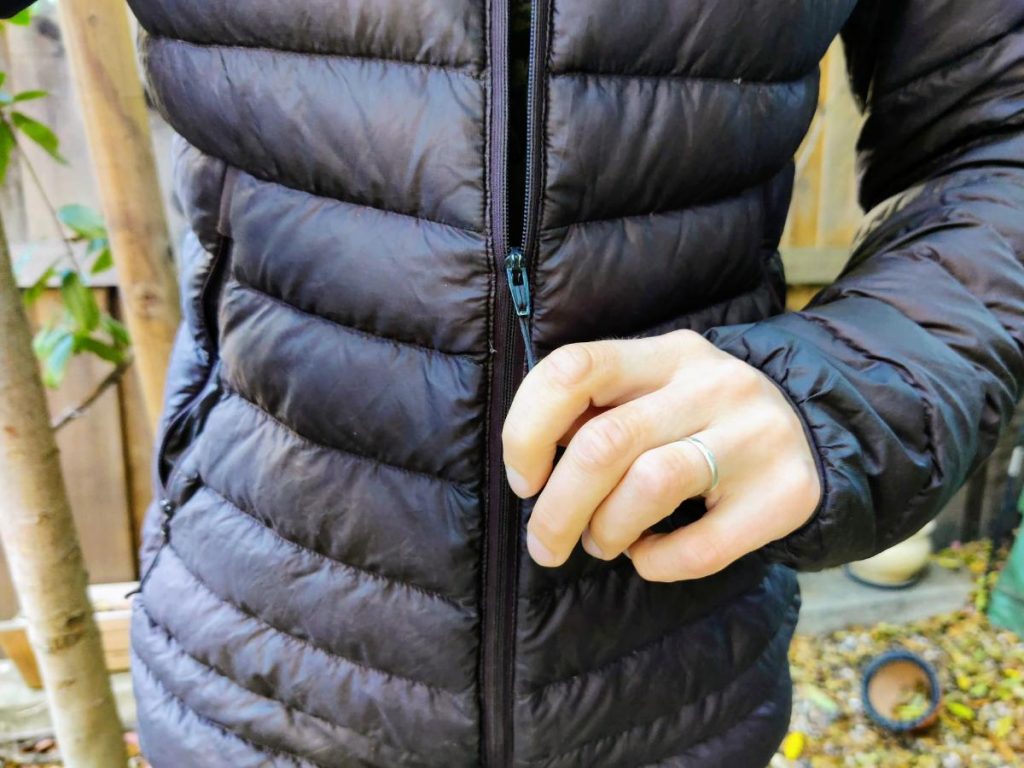 Shape and Fit
Arc'teryx says the Cerium has a "trim fit" ideal for layering. I find that it moves well with my body and doesn't feel restrictive, either with a backpack or on a bike. I wouldn't hesitate to climb with it either; the hem is long enough and the cut flexible enough for comfortable overhead reaching. My women's version is somewhat shaped as opposed to boxy, but I don't find it overly tight.
I'm 5'5″ and 120 lbs with trim build and small chest, and usually wear a size small. The women's small Cerium fits me well with a little room to spare. It fits easily under a rain jacket, and I can actually layer it over my shell jacket if I feel like it, or a thick wool midlayer.
My husband, who has a broader torso and more muscular build, finds his usual size medium to be a bit snug. He probably could have sized up to a large.
We both feel that the Cerium also just looks good. It's hard to say exactly why – maybe it's the color choices, matte finish to the outer fabric, or longer cut. Whatever the secret is, we don't feel frumpy when wearing the Cerium.
Features: Pockets and Drawcord
The Cerium has two outer zip hand pockets and one internal chest pocket. I use the zippered hand pockets constantly, to warm my hands when it's cold or to keep track of small items like my headlamp or phone around camp.
The internal chest pocket is plenty big enough for my 3″x6″ smartphone. It's also great for a small wallet or credit card, if you happen to be in the frontcountry.
There's a draw cord at the hem for keeping out drafts. I keep this partially cinched and don't adjust it often unless I'm really battening down the hatches for cold and windy weather.
Packed Size
We often talk about warmth-to-weight ratio, but the Cerium's warmth-to-packed-size ratio is also surprisingly good. Though it weighs a few ounces more than my Ghost Whisperer it takes up only a little bit more space. With both packed in their included stuff sacks the difference in size is barely noticeable.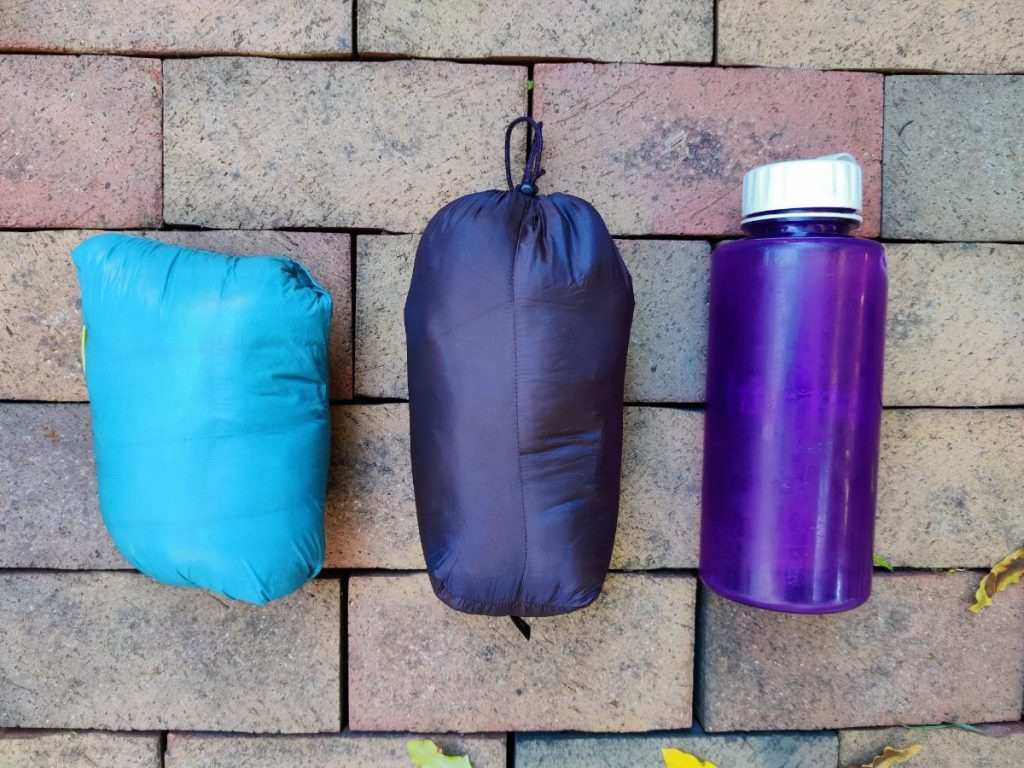 A tight bikepacking setup is often more space constrained than a backpacking setup, at least with the gear I use. When I'm stuffing my gear into small and awkwardly-shaped bikepacking bags, the Cerium leaves plenty of room for my other layers. By contrast, my less expensive 600 fill down jacket could fill a small seat bag on its own.
While some down jackets (like the Ghost Whisperer) pack into their own pocket, the Cerium comes with a lightweight stuff sack tethered to the inside of the chest pocket. It's removable and I never use it, preferring to just stuff my jacket into whatever nook and cranny is available.
Durability
I've been happy with the Cerium's durability over two years of periodic multi-month trips. Only a couple feathers have tried to poke through (typical for most down jackets) and overall the jacket still looks like new. Arc'teryx is known for their quality construction and premium feel, and the Cerium is no exception.
That said, this jacket isn't made to take much abuse. If you're doing a lot of abrasive activities in your puffy jacket – climbing, bushwhacking, etc – a more robust model like the Outdoor Research Helium Down Hoody is worth considering. For typical backpacking, bikepacking, and use around camp, however, the Cerium is plenty durable.
Zippers are generally the first thing to fail on my most-loved gear, and I do wonder how long the Cerium's lightweight zipper will last. So far it's still going strong, but I'd suggest being gentle.
Water Resistance
The Cerium uses strategically placed synthetic insulation at the cuffs, collar, underarms, and shoulders where moisture buildup is more likely. This helps retain warmth even if those areas get a little damp. It also uses a moisture-resistant outer fabric to slow the seeping of moisture into the insulation.
Keep in mind though, this is still a down jacket. These features may buy you a few seconds while you're rushing to dig your shell out of your pack, or keep you a little warmer on a foggy morning, but you're still going to need a rain jacket.
Price and Value
Like all Arc'teryx products, the Cerium is a premium option at a premium price. You'll find cheaper down jackets for sure, though few can match the Cerium's warmth-to-weight and warmth-to-space ratios.
If you're on a budget and/or not especially concerned with the weight of your gear, it may not be worth the price. If you're backpacking or bikepacking and haven't already optimized your "big three," you can likely save more ounces per dollar spent by choosing a lighter shelter or sleep system, or just leaving behind a few luxury items.
On the other hand, if you spend a lot of time in your down jacket, value a light and streamlined kit, and have the money to spare, it's hard to go wrong with the Cerium.
Other Options to Consider
Here's a sample of other 800+ fill down jackets / hoodies to consider alongside the Cerium:
You can also find heavier jackets for lower prices; look for 600 – 700 fill down. Generally speaking, the rule is "light, warm, affordable – pick two!"
In Conclusion
The Arc'teryx Cerium is a premium down jacket for active adventurers seeking a high warmth-to-weight ratio and small packed size. It's hard to go wrong with the Cerium's comfortable layer-friendly fit, well-designed features, and sustainable materials and manufacturing, but all this comes at a higher price than some alternatives.
You'll love the Cerium if: you spend a lot of time in your down jacket, value a light and streamlined kit, prefer an athletic fit over boxy, and have the money to spare.
More Outdoor Resources


Hiking resources in your inbox?
There's more where this came from! Sign up here for occasional emails full of inspiration and information about backpacking and hiking.


Share the Adventure
If you found this article helpful, please consider sharing so more people can benefit from it: