If there's one down jacket classically coveted by the ultralight adventure crowd, it's the Mountain Hardwear Ghost Whisperer. For many years it's been the standout option for thru hikers, bikepackers, and anyone else seeking the warmth of 800 fill down at the lightest weight possible. If you like to go far, fast, and light in moderate weather, the Ghost Whisperer is probably at the top of your list – and not just because of its awesome name. 🙂
I've had my Ghost Whisperer for eight years! Mountain Hardwear has made a few updates since then; the latest Ghost Whisperer/2 boasts a moisture-resistant outer and more sustainable materials. But the overall fit, design, minimalist feature set, and best-in-class weight savings remain as tried and true as ever.
I've used my Ghost Whisperer for thru hiking the John Muir Trail and Tahoe Rim Trail, bikepacking in New Zealand, a wee bit of alpine climbing, bikepack racing, and a number of other fast-and-light shenanigans by foot and bike. Though I've more recently added a warmer down jacket (the Arc'teryx Cerium) to my gear collection for chillier trips, I still reach for my Ghost Whisperer when temps are unlikely to drop too far into the 40's F.
The Ghost Whisperer isn't cheap. In fact it was one of my earliest and biggest outdoor gear splurges, and I was nervous about it at the time. Since then I've come to understand that a good down jacket is worth its weight in gold in the backcountry, and the Ghost Whisperer was a good choice for me. But if you're wondering whether the Ghost Whisperer is worth YOUR money, this long-term review will help you decide. It is a specialized piece of gear, and it won't suit everyone's needs.
Mountain Hardwear Ghost Whisperer
Price: $325 (jacket), $350 (hoody)
Weight: 6.9 oz (women's jacket), 7.8 oz (women's hoody)
My rating: 4.2 / 5 stars, serves its purpose well, but a few compromises
Also available on Amazon:
– Women's Ghost Whisperer jacket and hoody
– Men's Ghost Whisperer jacket and hoody
My conclusion: The Mountain Hardwear Ghost Whisperer (and updated Ghost Whisperer/2) ultralight down jacket has been a favorite of thru hikers and other fast-and-light adventurers for many years. Though it's not the warmest in absolute terms and will eventually show signs of wear, its warmth-to-weight ratio is impressive and its small packed size can't be beat.
Ghost Whisperer Pros:
Lightest full-featured down jacket available
Good warmth-to-weight ratio
Packs very small
Available both with and without hood
Made from ethically sourced down and recycled nylon
Ghost Whisperer Cons:
Shows wear faster than more durable jackets
Not high in absolute warmth (though warmth-to-weight ratio is good)
Relatively expensive
Hood or No Hood?
The Ghost Whisperer is available as either a hoody or a hoodless jacket. It's nice to have the choice. Which one is right for you?
I prefer the jacket without a hood. My sleep system includes a standalone hood that I wear with my quilt at night, and I can also wear it with a jacket during the day. I also sometimes wear a merino sun hoody. Between these two options my head is covered (literally), and I'd rather save weight and bulk by not having a hood on my puffy jacket. Multi-use gear is a great way to lighten the load.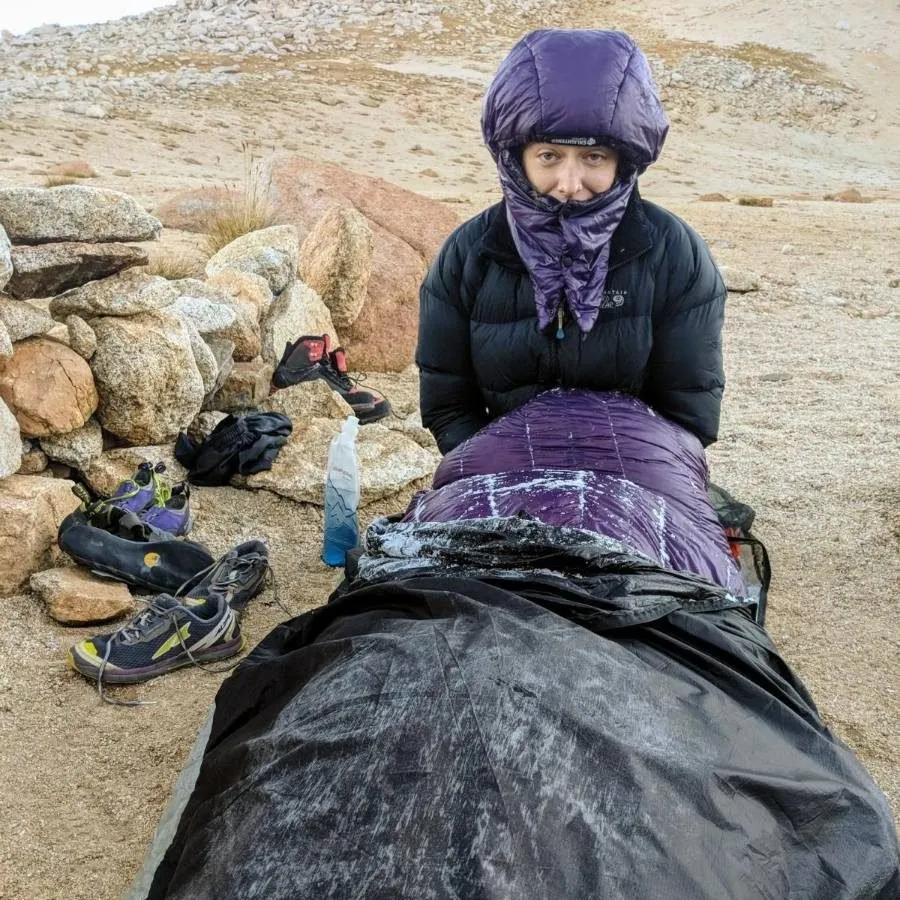 If you do prefer the hoody version of the Ghost Whisperer, know that the hood is snug and well-fitted, and probably won't fit over a helmet.
My Experience With the Ghost Whisperer
After a number of long-distance adventures by foot and bike, occasionally in nasty weather, here's my in-depth review of the Mountain Hardwear Ghost Whisperer jacket. I'm a woman and this is technically a women's review, but my husband uses the men's version and gives it his thumbs-up as well. The two versions are similar aside from colors and fit variations.
Weight
This is where the Ghost Whisperer really stands out; being lightweight is its primary mission. The Ghost Whisperer/2 weighs in at an unmatched 6.9 oz for the women's jacket (no hood) and 7.8 oz for the hoody. I'm not aware of any other down jacket this light. If you're willing to step up to the 10-12 oz weight range you'll find a few other premium options, while many quality down jackets weigh 15 oz or more.
Warmth
The Ghost Whisperer manages to be moderately warm while weighing very little, thus it has an impressively high warmth-to-weight ratio. But that's a ratio, not an absolute warmth measure. If you're concerned about being warm enough in near-freezing temps, the Ghost Whisperer may not be your best option.
Here's the important thing to remember about the Ghost Whisperer: it's an ultralight down jacket intended for moderate climates. If you run warm, use it primarily while active, or combine it with other layers, you might be able to make it work in cooler temperatures.
I run cold – I'm usually the first person in any group to start shivering – and use my down jacket primarily in non-active situations like sitting at camp and sleeping. For me the Ghost Whisperer is not sufficient for non-active use below around 50 degrees F. It's worked beautifully for mid-summer backpacking in the Sierra and for year-round adventures at lower elevations in coastal California, and for extra warmth while active in really cold weather (skiing).
For multi-day use at high elevations or in shoulder season conditions – like the Arizona Trail in spring, Kyrgyzstan's mountains in summer, or Oregon's high desert in fall – I use the Arc'teryx Cerium. It only weighs about 2.5 oz more but is noticeably warmer when temps drop to freezing or below.
If you're set on the Ghost Whisperer but sometimes need more warmth, a versatile option is to pair it with a synthetic fleece for cooler trips and use it alone when conditions allow.
Insulation and Construction
The Ghost Whisperer/2 gets its warmth from 800-fill-power RDS-certified, fluorine-free goose down (90% goose down, 10% goose feather). RDS stands for Responsible Down Standard, a global standard for ethical down. The insulation is kept in place nicely with narrow horizontal baffles.
Both the outer and inner fabrics are 10-denier nylon, the outer being ripstop, recycled, and DWR treated to repel light moisture.
Shape and Fit
The Ghost Whisperer fit is comfortable and, well, unremarkable. It's a bit boxy and runs wider compared to the Cerium, but still layers well over midlayers and under a shell. The women's version uses a slightly different baffle pattern than the men's, a nice touch that gives it a smidgen of an hourglass look.
I'm 5'5″ and 120 lbs with trim build and small chest. My Ghost Whisperer is a women's small, which is my usual size, and it fits just right. My husband has a broad torso and muscular build, and his usual size medium fits him well too.
My older Ghost Whisperer is cut a bit too short for my taste, and when raising arms above my head it rides up quite a bit. I haven't been able to determine if the newer versions are cut a bit longer, but from comparing pictures it seems they might be. Still, if you're tall or long in the torso be sure to try it on and consider whether the length will work for your needs (considering your backpack hip belt, climbing harness, forward-leaning posture on a bike, etc).
Features: Pockets and Drawcord
Despite its crazy-light weight the Ghost Whisperer still manages to have a full set of features: hood (on the hoody versions), two zip hand pockets, and a minimalist hem drawcord to reduce drafs. The hand pockets are large, well-positioned, and fit my phone with room to spare. No complaints here.
Packed Size
The Ghost Whisperer packs into its own pocket, which is nifty. Most of the time I simply stuff it into whatever nook or cranny is available in my pack. It takes up an impressively small amount of space for its warmth, which makes it perfect for ultralight backpacking or minimalist bikepacking.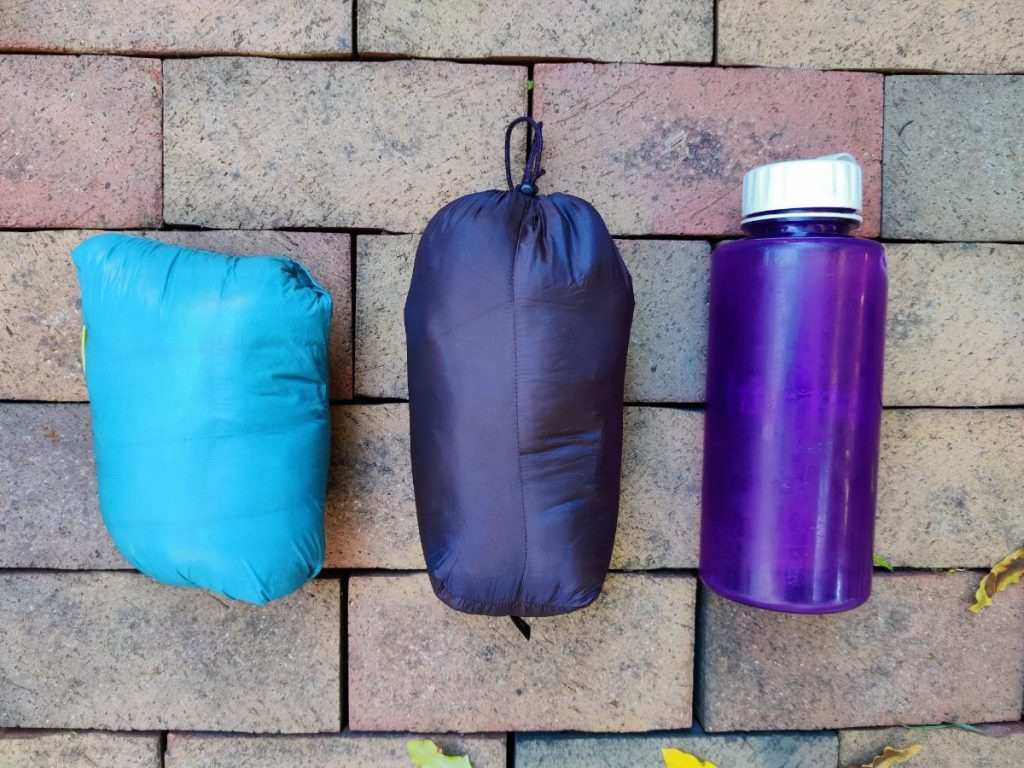 Durability
Standard wisdom says lightweight gear is less durable and requires more careful handling. This does apply to the Ghost Whisperer and you'll have to treat it somewhat gently, though honestly this is true for most down jackets. This is not a jacket you'll want to rub against granite or snag on bushes.
That said, my Ghost Whisperer has held up fairly well. It's retained most of its feathers and loft throughout the years (I do try to wash it as infrequently as possible). The main signs of wear are only cosmetic: the logo has disintegrated, and there is some discoloration and loss of loft around the cuffs and collar.
Water Resistance
The Ghost Whisperer/2 uses a DWR treated outer layer to help repel moisture, but does not use hydrophobic down. You might be ok for a short time in light mist, but overall this is a jacket for dry conditions. If you want to wear it in the rain, it's essential to have a reliable rain shell over the top.
Price and Value
The Ghost Whisperer is designed for ultralight gear enthusiasts who are usually willing to pay extra for a lighter and more streamlined setup. If you've already worked on reducing your base weight and have a relatively light "big three" (if you're backpacking), shelling out for a jacket like the Ghost Whisperer is a reasonable next step.
If you're not particularly concerned about every ounce, you can find more affordable jackets that weigh more and don't pack down as small. If you sometimes adventure in colder weather and don't want to buy two down jackets, a warmer and slightly heavier choice may suit you better.
A good way to bridge this gap and make the Ghost Whisperer a little more affordable: wait for sales. All the major retailers have them periodically. You can often score a brand new item for as much as 30% off if you're patient, especially if you're not picky about which color you get. Used gear is also a good option, though with a down jacket I'd make sure it was very lightly used before you buy.
Other Versions
Though the hoody and jacket are by far the most popular, Mountain Hardwear currently offers a few interesting variations on the Ghost Whisperer:
Ghost Whisperer S: Unique design with offset zipper intended for better layering
Ghost Whisperer Snap: If you hate zippers (perhaps you're often wearing gloves) this is an interesting idea.
Ghost Shadow: A different model entirely, combining the Ghost Whisperer's ultralight approach with synthetic insulation for a less expensive jacket that holds warmth better in the wet
The full Ghost Whisperer line also includes a vest, pants, shorts, and even a skirt, so you can clothe yourself entirely in ultralight down from head to foot. 🙂
In Conclusion
The Ghost Whisperer has one goal and one goal only: to be the lightest down jacket that doesn't require major sacrifice in terms of comfort and features. It accomplishes this mission admirably with an impressive warmth-to-weight ratio and a packed size that nearly disappears into your pack.
If you know exactly how much each piece of your gear weighs, and you don't spend too much time sitting around in near-freezing temperatures, you'll probably be happy with the Ghost Whisperer as you enjoy many miles of lightweight adventuring.
Learn more or check prices: REI, Backcountry, or Amazon.
Excited about backpacking but need help getting started?
The Backpacking Trip Planner Workbook will help you start off on the right foot.


Hiking resources in your inbox?
There's more where this came from! Sign up here for occasional emails full of inspiration and information about backpacking and hiking.


Share the Adventure
If you found this article helpful, please consider sharing so more people can benefit from it: