At a Glance
The OMM Divide is a sturdy and incredibly versatile cargo rack that can mount in front or back to nearly any bike, even those without rack eyelets, using an axle mount system.
When axle mounted the Divide has an unusually high weight limit of 70 pounds.
I tested the Divide over three months of bikepacking and touring in Central Asia, Morocco, and Portugal.
I love that the Divide can swap between all my bikes. It's fairly expensive, but its versatility means I'm guaranteed to get plenty of use out of it.
Imagine this predicament: You want to carry a hefty amount of gear and supplies for a rugged and remote bikepacking trip. This mountain of gear won't fit in bikepacking bags, so you'll need to use a cargo rack.
Only one problem: your beloved bike, otherwise perfect for the job, doesn't have eyelets for mounting a rack.
That's a bummer! You should probably buy a new bike. 😉
Hold up, just kidding! While we all love excuses to shop for a new bikepacking bike, Old Man Mountain has been solving this problem for many years. Their Divide rack solved it beautifully for me on a monthlong trip in Central Asia last summer, and again this spring in Morocco and Portugal on a different bike with different mounting setup.
The Old Man Mountain Divide rack, with its thru axle "Fit Kit" mounting option, is a clever solution. The versatile design works with standard rack eyelets if you have them, but can also be mounted to either a thru axle or QR skewer using parts from OMM. The Divide can be a front rack or a rear rack, and the deck height and strut length are highly adjustable. You can swap it from a road bike to a full-suspension mountain bike and back again. Did I mention this rack is versatile?
I've now tested the OMM Divide Rack on two different trips with two different bikes, one with a thru axle Fit Kit and one with a QR skewer. In this review I'll share my impressions, tips, and pictures, as well as my thoughts on who will appreciate this rack and who might want to look at other solutions.
Looking for something a bit more minimalist? If you don't plan on carrying full panniers, check out the OMM Elkhorn rack. It offers the same mounting versatility as the Divide but weighs less and easily accepts 3-bolt gear cages.
I paid full price for my Old Man Mountain Divide and have no relationship with the brand. There are, however, some affiliate links in this post which help support the continued existence of this website.
Review Summary
Product: Divide Rack from Old Man Mountain
The Divide rack from Old Man Mountain is a burly, versatile, full-featured cargo rack that can mount to nearly any bike in front or rear, even if the bike lacks mounting eyelets. It's neither the lightest nor cheapest rack out there, but I found it to be bombproof and user-friendly over 2000 miles of bikepacking, and I like that it's compatible with all my bikes. It's a great choice for people who carry lots of gear on rugged rides, swap racks between multiple bikes, and/or have a bike that's hard to fit a rack to.
Price: $168 for rack, plus Fit Kit if needed for axle mounting (between $60 to $80)
Weight: 960 g including all hardware and extenders
Max load: 55 lbs eyelet mounted, 70 lbs axle mounted
Max tire size: 29×3″ for regular Divide, 27.5x 4.6 or 26×5″ for Divide Fat
Material: aluminum
Pannier rail diameter: 10 mm
My rating: 4.4 / 5 stars, performs well and serves important purpose, but a couple small downsides to be aware of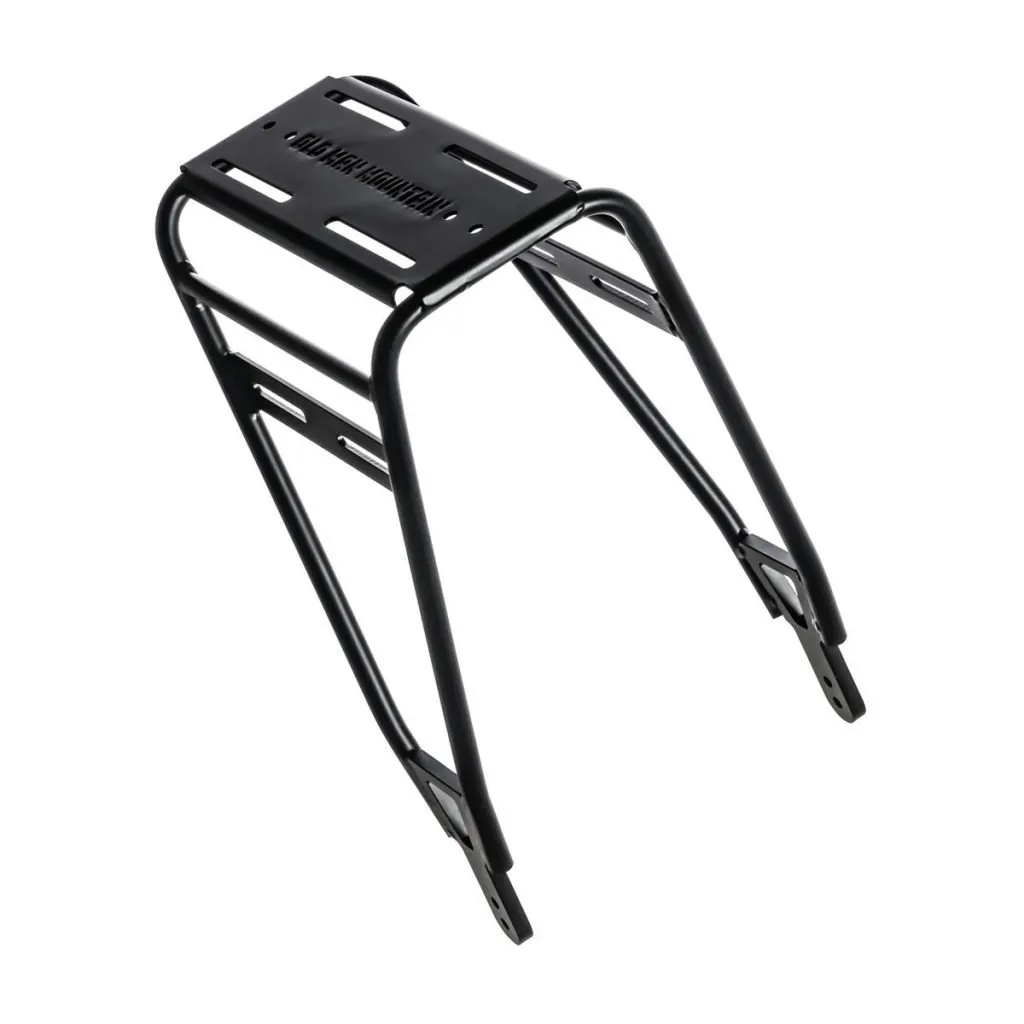 What I love:
Can be mounted to bikes with or without rack eyelets
Can be used as either front or rear rack
Versatile and adjustable enough to fit a wide range of bikes from road to mountain

Sturdy, durable, and reliable

High weight limit of 70 pounds when axle mounted

Fast and helpful customer support
Small company based in Bend, OR
Could be better:
Expensive, especially if using a Fit Kit
Assembly and mounting are involved (though the instructions are very clear)
Not the lightest rack; overkill if you just need a minimalist rigid seat bag alternative

When axle mounted, rack must be removed from axle in order to remove the wheel, which slightly complicates fixing a flat

Mystery issue with QR skewer and wheel coming out; customer support says this is weird and sent a replacement skewer for my next trip.
Compatibility and Fit Kit System
The Old Man Mountain Divide rack works with standard rack mounts if your bike has them, and this will save you $60 – $80 since you won't need a Fit Kit. The rack's adjustable fit has a good chance of working with almost any eyelet position out there.
But the axle-mounted "Fit Kit" system is what really sets Old Man Mountain racks apart. By replacing your bike's front or rear thru axle with a specially designed version from Robert Axle Project, you can mount OMM's racks to nearly any bike even without rack mounts. This works for thru axles of pretty much any length, as shown on the extensive list of Fit Kit options, as well as for quick release skewers.
Whether or not you use a Fit Kit or eyelets, the height of the deck can be adjusted by moving the dropouts. This allows the rack to fit a wide range of wheel and tire sizes while keeping the weight as low as possible.
Finally, the Old Man Mountain Divide can be either a front or rear rack! It comes with the hardware for either, though you'll need a different Fit Kit if not using eyelets.
What about bikes with eyelets?
Though the Fit Kit system is the Divide's standout feature, it's important to understand that it also works great as just a "normal" rack. If your bike has eyelets in the right places, you don't need to order a fit kit. This means you can swap the Divide between bikes with eyelets and bikes without them, making it all the more versatile.
To make this super clear, here are pictures of the rack mount eyelets / braze-ons typically used to mount a rack on a bike:
The OMM Divide rack can mount to those, but it can also mount to bikes that don't have one or both of those mount points.
Not all rack mounts and eyelets are equally capable. While travel-focused bikes from the likes of Surly and Salsa are designed to carry a load for the long haul, a department store commuter bike may not be. You might choose to axle mount your Divide for extra reliability in that case, even if your bike has rack mounts. The Divide's weight limit is 55 lbs when eyelet-mounted(if the eyelets are up to the challenge) and a whopping 70 lbs when axle mounted.
My Fit Kit Setups
Rear Thru Axle (Stella)
I used the Divide for 900 miles on my Chumba Stella Ti, a rigid mountain bike, with the thru axle Fit Kit. It works by replacing the standard axle with one that includes end caps with protruding… bits (not sure what to call them). The dropouts of the rack have hollow cylinders at the bottoms which snap over the protrusions on the axle end caps. The weight of the rack is supported mostly by the axle, not the frame.
At first the rack seemed a little narrow for my Boost rear wheel, and I wondered how OMM can make a rack that supposedly fits everything from road bikes to mountain bikes. But it wasn't too hard to pull the dropouts apart and snap them into place over the axle ends. I can imagine the design working fine for somewhat narrower hubs too.
To attach the rack to the seat stays if there are no eyelets, the Fit Kit includes "pucks" that attach with special zip ties and distribute load along a short section of the stays. This apparently works for any frame material, including carbon, and I didn't think twice about putting it on my titanium frame (protective frame tape is included). I fully expected them to slip and settle once I loaded the rack and rode miles of rough gravel, but they never moved a millimeter. The only downside: when switching back to my seat bag I had to cut the zip ties, and eventually I'll need to get more if I keep switching back and forth.
OMM also offers a seat post clamp as an alternative to the puck system. I haven't used this particular clamp with the Divide, but I've used a similar type of clamp with a different rack in the past when seat stay eyelets didn't quite line up with rack struts, and it works well.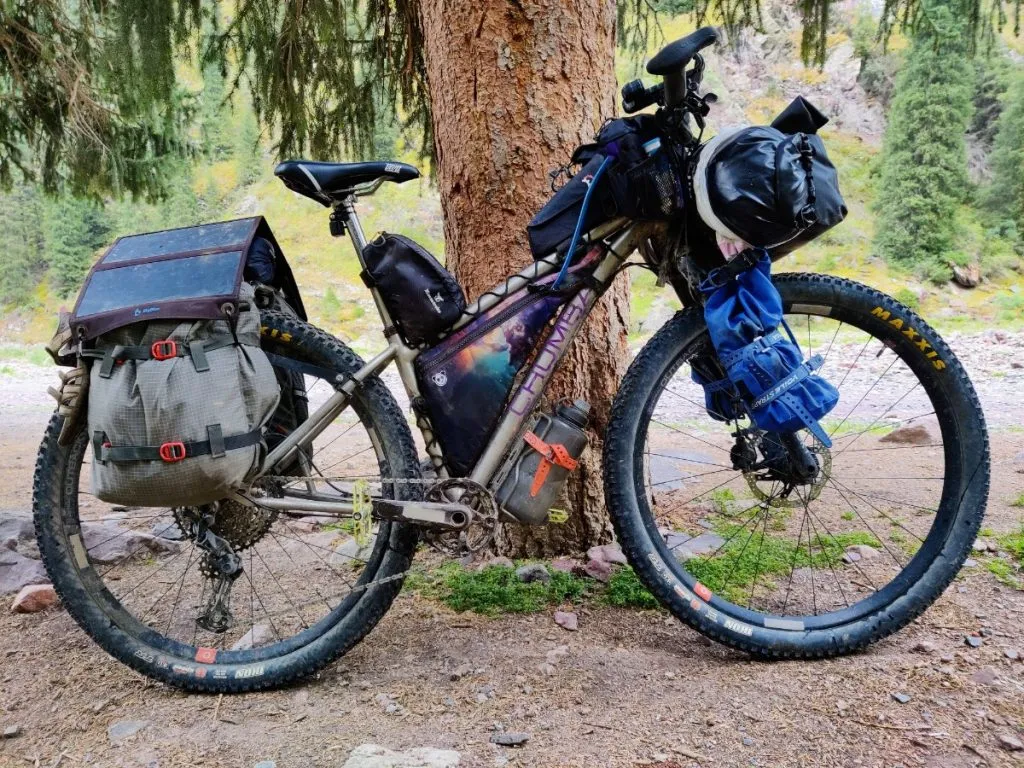 Rear QR Skewer (Fargo)
I used the Divide for 1200 miles in Morocco and Portugal on my Salsa Fargo, an older model with quick release axles. This setup was a bit trickier but worked out in the end.
The Fargo has sturdy rack eyelets near the dropouts, so there's technically no need for a Fit Kit. I first tried to eyelet mount the Divide like a normal rack but my Fargo's Avid BB7 brakes had a pad adjustment knob in just the wrong place.
It was going to be challenge to keep the rack clear of the knob, so I decided to try the QR skewer Fit Kit and see if the slightly different mounting location would solve the problem. Since I already had the pucks, OMM kindly told me I didn't need to buy another whole Fit Kit. All I needed was this $18 QR skewer, which is just like my original skewer but longer.
Even with the new skewer, that darn pad adjustment knob was still in the way. OMM customer support had some clever suggestions, including reversing the direction of the rack dropouts and mounting them on the other side of the rack tabs. That would have just barely worked, but in the end I replaced the BB7's with svelter TRP Spyre brakes. I'd been wanting to make this upgrade for awhile anyway, so this was a good excuse.
The Fargo has eyelets on the seat stays, so I didn't need to use the pucks on this setup. The struts had to flex a fair amount to connect with the eyelets but it didn't seem to be a problem.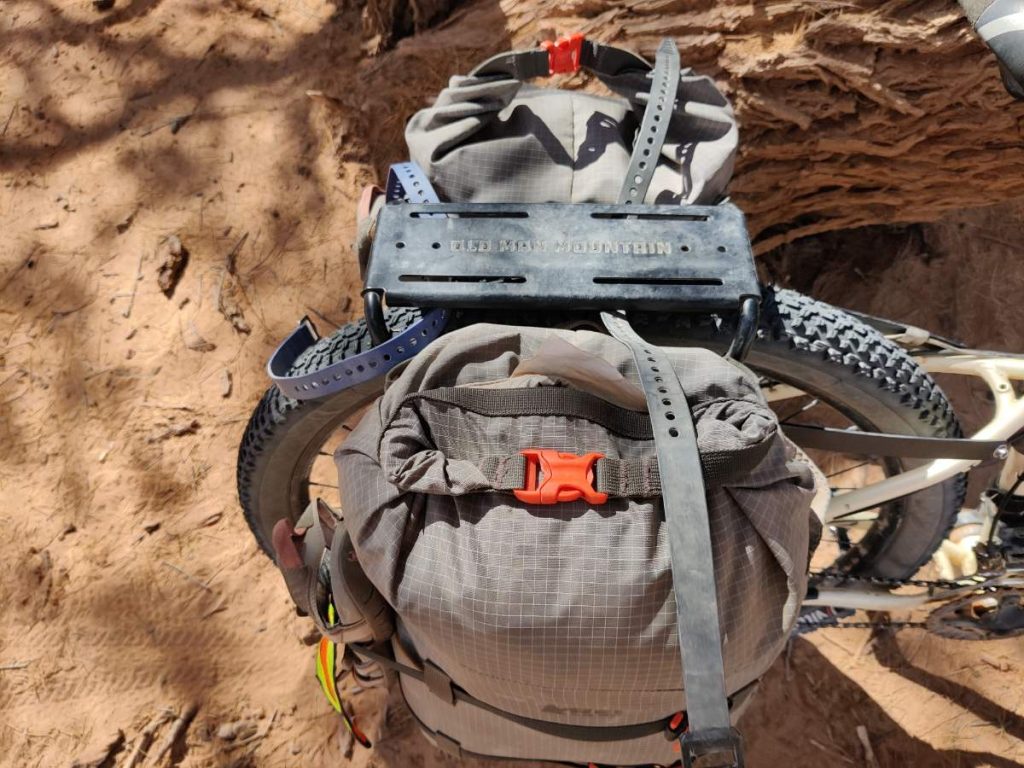 Assembly and Installation
The process of installing my Divide rack went smoothly, but not quickly. Old Man Mountain has done an excellent job with their instructions, which are available online (written and video) and also come printed with the rack.
It is, however, a relatively complex rack to assemble and mount. You'll need to choose the correct hardware from several included options, attach the adjustable dropouts, and (for Fit Kits) assemble the axle with proper spacers and attach the pucks and extenders.
Here's the finished product looking snazzy before loading up:
Weight
Out of the box, the first thing I noticed about the Divide rack was how sturdy it felt. Every part of the rack and hardware feels thick and strong and trustworthy. It's clearly designed to go the distance over rough and rugged terrain.
Unfortunately, all this sturdiness adds weight despite the rack's aluminum construction. The rack and hardware needed to attach it to my bike (including pucks and excluding unused bits intended for other configurations) weighs 980 grams on my scale, plus the Fit Kit axle is 70g heavier than my original axle. That's a total of 1050 additional grams (2.3 pounds).
For comparison, my old Tubus Logo rack – which I mount to my touring bike with eyelets – adds only 763 grams to my bike. That's almost two thirds of a pound lighter.
On the other hand, the steel Surly rear rack might be a more appropriate comparison with its burly construction and 80 pound weight limit. It weighs 1260 grams, which is about 0.45 pounds more than the Divide. So the Divide isn't the lightest rack around, but it's not the heaviest either.
I mention all this because people generally have two reasons for wanting to bikepack with a rack. 1) They need to carry more gear and supplies than bikepacking bags can fit, or 2) They carry a minimalist load but ride a small frame or full-suspension and need a seat bag alternative.
If you're in category 1 and planning to load up the Divide with panniers, water, tent, etc. I think the extra weight isn't an issue. A rack that can take some knocks is worth a bit of extra weight, and it's a small amount compared to your gear. The Divide rack really shines as a bikepacking rack for those who need more gear capacity than a standard soft bag setup.
However, if you're looking for a seat bag alternative to carry more minimalist gear because you don't have enough bag-to-tire clearance, the Divide probably isn't the best choice for you. Consider a lighter alternative like Old Man Mountain's more minimalist Elkhorn model, or the PNW Bindle or Tailfin AeroPack.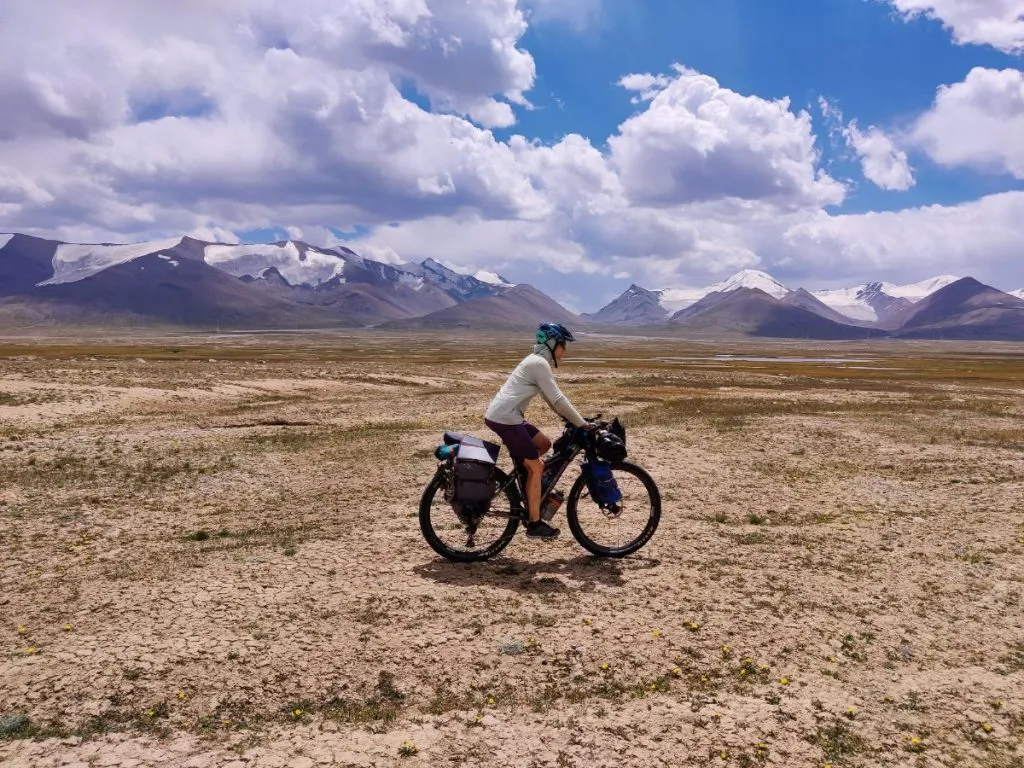 Deck and Rail Design
Rack design might seem like a subtle factor, but a thoughtfully designed rack really does make a difference in day-to-day bikepacking life. The Old Man Mountain Divide has a few nice features that I appreciated in Central Asia:
Low pannier rail keeps weight lower for better handling, and makes it easier to lash gear to the top deck.
Adjustable dropouts allow for moving the deck as low as possible, again keeping weight lower.
Solid top deck with slots is great for lashing gear to, even awkwardly shaped or saggy items. I used a couple Voile straps to attach my sleeping pad and extra food when my panniers were too full.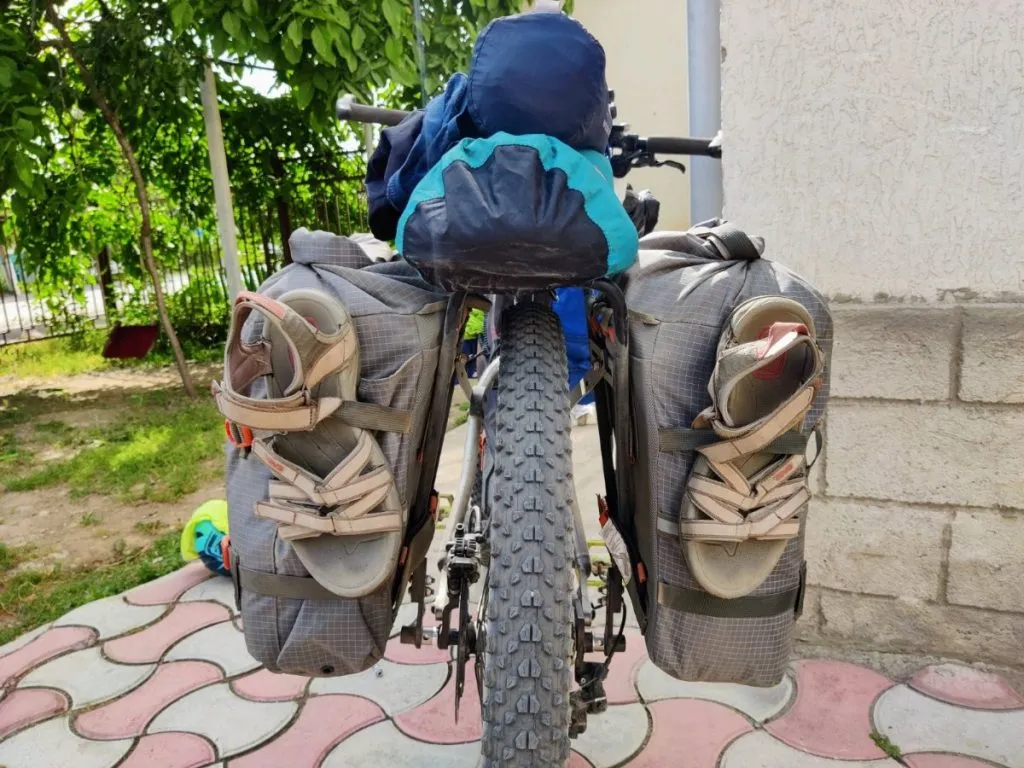 Just one gripe about the design of the Divide rack and my specific setup: the horizontal bars below the pannier rails (where the extenders attach) made it harder to attach and detach my REI Link Panniers. These panniers use a hook-and-loop attachment system that's rattle-free and break-proof. It's perfect for rugged bikepacking, but not the easiest to get on and off for motel stays or tricky bike portages. That said, the panniers fit the rack really well once installed, which is the most important part.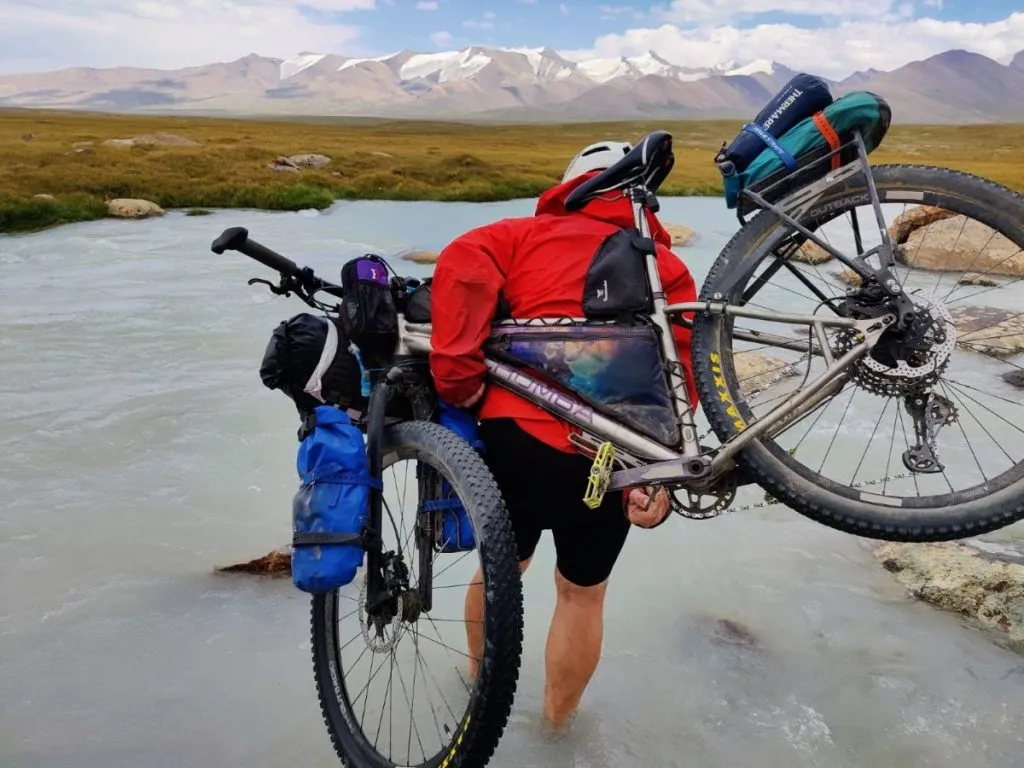 Removing A Wheel
It's worth noting that if you use the axle mounted system, you'll need to unmount the rack from the axle in order to remove the wheel. If you're packing your bike for transport or fixing a flat by the side of the road, it's an extra step.
I dealt with this once in Morocco to replace a bent derailleur hanger. It slightly complicated the repair process, but it wasn't a huge deal. I just had to remove the panniers and loosen the seat stay mounts so I could pivot the rack out of the way.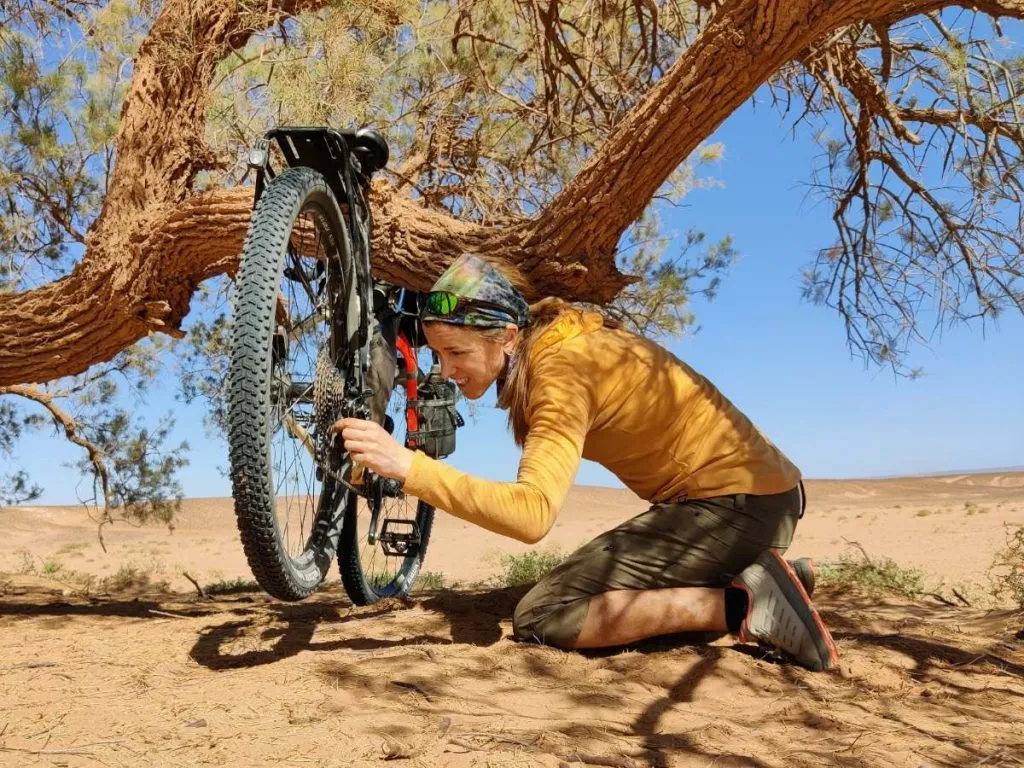 High Load Capacity
The Old Man Mountain Divide has a max load rating of 55 pounds when eyelet mounted, and a generous 70 pounds when axle mounted. Though I wouldn't recommend getting anywhere near that limit — it puts your bike under extra strain and isn't very fun to ride — folks with expedition-scale gear needs will appreciate knowing their rack isn't the weakest link.
There are other racks with similarly high load capacity — the Surly rear rack claims 80 pounds — but your bike better have bombproof eyelets to mount it to. The axle-mounted system used by the Divide is supposedly more robust.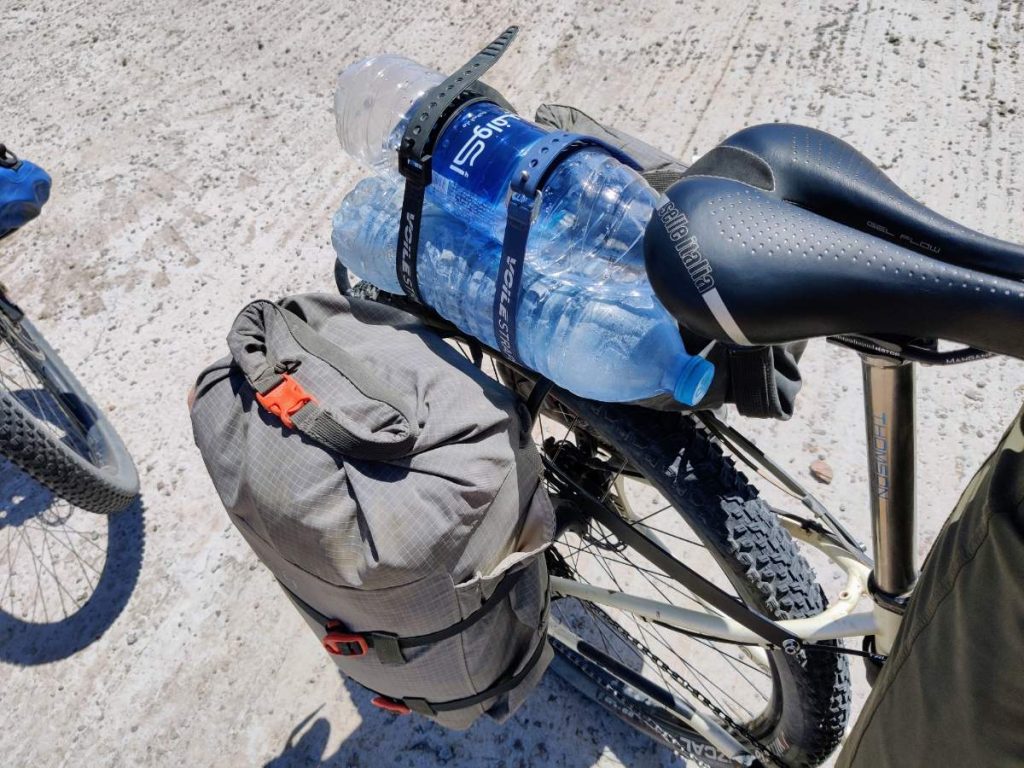 Reliability
The Divide rack certainly feels sturdy and reliable, but I can also vouch for it based on over 2000 miles. This rack endured rocky 4×4 tracks, washboarded gravel, gnarly hike-a-bikes, and messy portages across rivers. Through all this it carried a moderate load in two 18 liter REI Co-op Link Panniers.
I was nervous about the puck mounts especially – would they stay put on my seat stays? We didn't have time to do an overnight test of this new system before jetting off to Central Asia, so we crossed our fingers and said a prayer to the bikepacking gods. (Note: I do not recommend this! Always test your gear setup before a long trip. Don't follow my bad example.)
Thankfully, the rack and puck mounts performed flawlessly in Central Asia. I don't think they moved a single millimeter during the entire trip. No bolt loosened, no attachment point slipped. The entire thing stayed rock-solid for the entire monthlong adventure. We needed to solve a number of problems on that trip, but I'm happy to say none of them involved my Divide rack.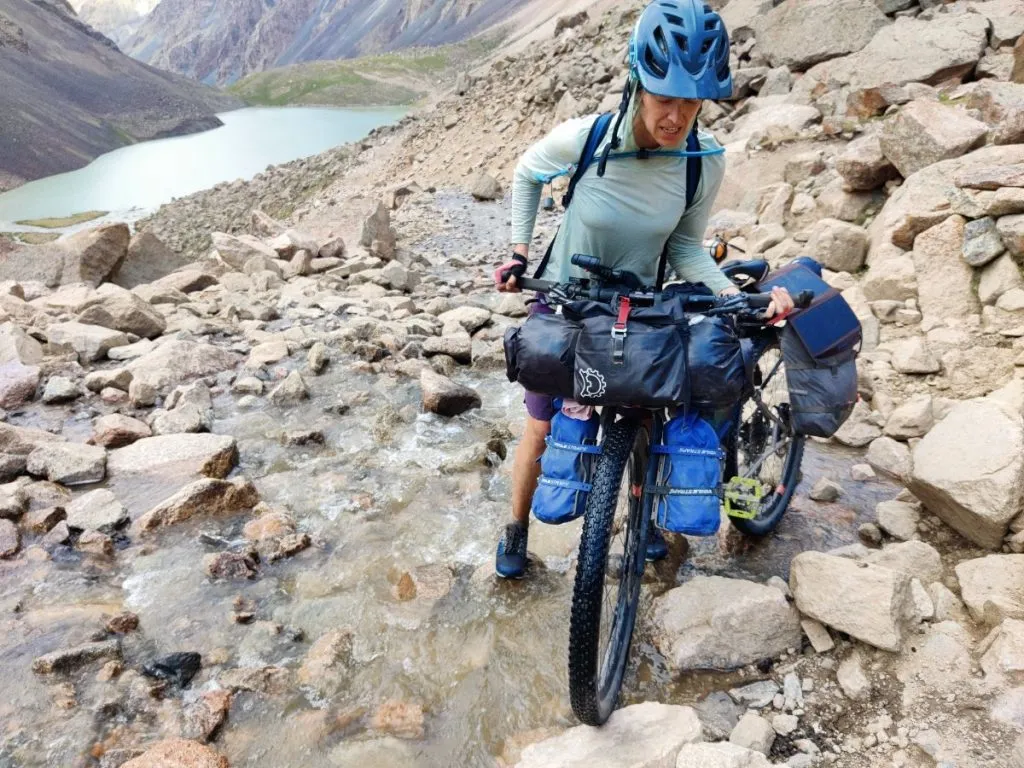 In Morocco I did have an issue with the QR skewer mount. It's a bit of a mystery and I still haven't figured out the cause, but twice the rear wheel fell out of the dropouts with the skewer lever still in the closed position. It happened once during a nasty hike-a-bike while lifting over rocks, and again a couple wheels later while carrying the bike up hotel stairs. In both cases I was sure I'd tightened it adequately.
I emailed OMM support about this, and as usual (see below) they got back to me right away. They weren't aware of this happening before and said that if the lever remained closed it should not have been possible. They immediately sent me a new QR skewer free of charge, on the theory that perhaps the cam on the old one was defective or worn. I haven't had a chance to test this new skewer yet, but hopefully it solves the problem!
Customer Support
Old Man Mountain (OMM) is a small company based in the bikepacking paradise of Bend, Oregon. They definitely walk the talk when it comes to supporting their fellow adventurers.
I've emailed several times with questions about my various rack installations, and every time they answered quickly and helpfully. They're impressively knowledgeable about a wide range of bikes and mounting options, and full of problem solving ideas. When I mentioned having an issue with my QR skewer in Morocco (details above) they immediately sent me a new one, no further questions, just in case the problem was on their end.
This kind of high-touch customer support is definitely an advantage of going with an OMM rack, and part of what you're paying for with the slightly higher cost.
Cost and Value
Though my gear options have expanded over the years, I began bikepacking on a small budget and I'm always mindful of cost. The Divide rack's total cost of $246 — $168 for the rack plus $78 for the Fit Kit — was on the high side for me.
I justified the purchase by telling myself a) I didn't really have any other good options for putting a sturdy bikepacking rack on my bike that lacks eyelets, and b) such a versatile rack could be used on my other bikes or my husband's for years to come. You might think of the Divide as a "forever rack" – likely to still be in good shape and compatible with whatever bike and bags you're using ten years from now.
Divide Fat and Divide USA
If 29×3″ tires aren't enough rubber for you, the Old Man Mountain Divide also comes in a fat version that clears up to 26×5" or 27.5×4.6" tires.
The standard Divide is made in Taiwan. For those who want to support local manufacturing, Old Man Mountain sells "made in the USA" versions of the Divide and Divide Fat. These are made in California by Channing Hammond, the company's founder, and cost $60 more.
Other Options
As happy as I am with the OMM Divide rack, I think it's always important to consider alternatives, especially with such a critical piece of gear.
Without Eyelets
If your bike frame lacks eyelets for a rack, I'm not aware of any other options that let you carry as much weight as reliably and with as much versatility as the Divide. Ok, there are some suspicious clamp-mounted options on Amazon (like this one) that cost $45 and claim a 200 pound capacity, but I'm personally not going to trust that on a big ride in the backcountry.
The Tailfin AeroPack is worth discussing, especially the alloy version with pannier mounts which is probably OMM's primary competitor. It's quite expensive, especially the carbon version, but it does save quite a bit of weight over the Divide. The alloy version is a little lighter than the Divide, but not by much. They have a version with pannier mounts that can carry up to 60 pounds with a thru axle mount system similar to OMM's.
Personally, I don't like that the Tailfin rack is so focused on integrating with their specially designed bags. It's a nice system if you go all-in, but every part is expensive and the full system would really add up. I prefer to keep my options open. For example, the pannier mounts on the Tailfin only work with their specially designed panniers, which cost $145 each. I wanted to use the REI Co-op Link Panniers for this trip because of their $80 price tag and soft attachment system, and they would not have attached to the Tailfin rack. The OMM Divide, by contrast, uses a very standard rack design that should be compatible with any panniers.
If your bike lacks eyelets and you're looking for a minimalist rack solution, the Divide might be a little much. Consider OMM's Elkhorn rack, the PNW Bindle, or the no-pannier version of the Tailfin AeroPack.
With Eyelets
If your bike has eyelets and you don't plan to carry more than 50 lbs, you might look into the Tubus Logo EVO. I've ridden quite a bit of rough gravel with my Tubus on my Long Haul Trucker and have found it light yet strong and durable. My husband, whose bike has eyelets, took my old Tubus on our Central Asia trip alongside my Divide and found it up to the challenge.
Even if your bike does have eyelets and you therefore have plenty of options, a case can still be made for the Divide as a solid and versatile rack. If you buy the Divide and want to someday use it with a different bike or swap it from front to rear, you can be sure it's adjustable enough to fit. And if that bike lacks eyelets, you can buy a Fit Kit and keep using the Divide for less than the price of another eyelet-free solution.
More Bikepacking Resources
If you found this review helpful, you might also like these articles:
Or, visit the bike travel home page for lots more!
Bike resources in your inbox?
There's more where this came from! Sign up here for occasional emails full of inspiration and information about bikepacking and bicycle touring.


Share the Adventure
If you found this article helpful, please consider sharing so more people can benefit from it: