The Olliepack saddle bag is a new offering from Seattle-based Swift Industries launched in September 2022. It promises 6 liters of stable, sway-proof gear capacity perfect for lightly loaded exploration and/or technical terrain.
As a smaller rider with limited seat-to-tire clearance, I've always had a love-hate relationship with bikepacking seat bags. I love how they eliminate the need for a bulky rack, but hate all the fiddling and coaxing needed to keep them stable and droop-free.
So when I recently had an opportunity to test the new Olliepack seat bag and its promise of a stable and secure fit, I jumped at the chance.
I put the Olliepack through the wringer during 380 demanding miles of the Smoke 'n Fire bikepacking race in Idaho. This was my fourth time at the event and I was gunning for a personal best time, so heading out with a brand new seat bag felt like a bold choice. The Olliepack was confidence-inspiring right out of the box though, and I've heard great things about Swift Industries. I loaded it up and took the risk!
I'm happy to say the Olliepack did not disappoint. This bag is rock solid and a joy to use. Though I faced a few challenges during the event as usual – neverending climbs, 70+ degree temperature swings, and yucky smoky air, to name a few – the Olliepack never let me down.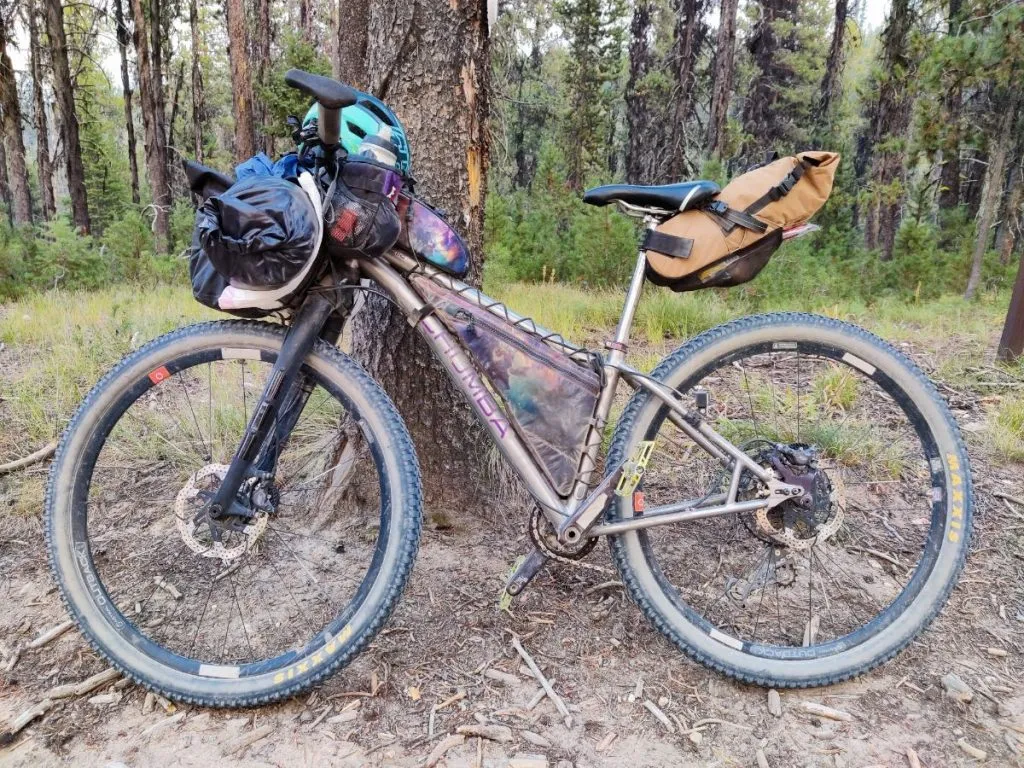 This detailed review describes my experience with the Olliepack saddle bag and its performance during 380 miles of gravel roads and singletrack at Smoke 'n Fire. If you're looking for a small bikepacking seat bag and considering the Olliepack, I hope you'll find it helpful.
Disclosure: My demo Olliepack was provided by Swift Industries for testing, and some links in this post are affiliate links. However, as always on Exploring Wild, this review is an honest no-strings-attached story of my personal experience.
Olliepack Review Summary
Product: Olliepack Seat Bag from Swift Industries
My conclusion: The Olliepack is a minimalist bikepacking saddle bag that lives up to its no-sway hype. The carefully designed attachment and closure systems make for a rock-solid fit on my saddle, even over rough singletrack. Thoughtful touches like the stash pocket and grab straps eliminate a few frustrations of life on the trail. If the closure straps were long enough to stuff in just one more sandwich and if it were fully dropper post optimized, I'd call it perfect.
What I love:
Rock solid sway-free attachment system that really works
Mesh pouch is super convenient
Thoughtful design touches: grab straps on saddle rail straps, easily adjustable straps, reflective accents
Made from recycled materials
Comes in teal and red, in addition to black and tan
Could be better:
Short strap length limits capacity more than seems necessary
Not optimized for dropper seat posts
6 liter size is too small for longer or more involved trips, so this probably won't be your only seat bag
About Swift Industries
Swift Industries is a small, female-owned bike bag company in Seattle, Washington. They're a team of passionate cyclists and trailblazers enthusiastically dedicated to the pursuit of fun and adventure by bike. I'd heard good things about the company, both their workmanship and their culture, and have seen their bags being used out in the wild by happy bikepackers. I was excited to finally try one of their products.
How I Tested the Olliepack
I tested the Olliepack as part of my more minimalist "racing" configuration at the Smoke 'n Fire bikepacking race. I'm not fast enough to go without sleep on a ride like this, but I do pare down to essentials: bivy instead of tent, no stove, and the bare minimum of layers to keep from freezing during late night and early morning riding hours. For this ride my Olliepack held my warm layers, small first aid kit, toiletries, and sometimes overflow food after big resupplies.
This year the route was about 380 miles. The terrain is a majority gravel and dirt roads with a substantial minority of singletrack, and a little bit of pavement. My finish time was about 3.5 days.
Minimalist Size
Let's start with this: the 6 liter Olliepack is a small seat bag intended for lightweight adventures. Think overnighters, fast-and-light missions in summer conditions, technical trail riding, and self-supported bikepacking races. This is intentional on Swift Industries' part; they're hoping to preserve the fun of unloaded riding while carrying the essentials.
While the Olliepack is the perfect size for bikepacking races and overnighters, I personally wouldn't use it for a longer or more involved ride. My small bike frame doesn't fit much in the frame triangle, so a larger seat bag is a must for me. On long routes like the Great Divide or Western Wildlands, or even touring for a few days with stove and ample warm layers, I need a seat bag in the 12 – 14 L range.
This isn't a knock against the Olliepack. It's designed for a specific purpose – maximizing fun and nimble bike handling – and achieves its goal. But if you're shopping for your first seat bag and looking for something that can handle a wide variety of trips, you may want to look at bags in the 10+ liter range.
As for unloaded weight, it's hard to find a competitor lighter than the Olliepack. My Revelate Designs Vole, a similarly sized bag I've also used for bikepack racing, weighs almost exactly the same as the Olliepack on my scale (333 grams for the Vole versus 331 for Olliepack). Many similarly sized bags (see the price comparison table below) weigh more.
No-Sway Attachment System
Every bikepacking bag claims to have some sort of "anti-sway" design, so I wasn't expecting the Olliepack to stand out much here. But I have to say, after 380 miles of gravel and singletrack, this bag is rock-solid.
At first glance the attachment system looks similar to many bikepacking saddle bags: Velcro strap around the seat post and two saddle rail straps. But apparently a lot of testing went into the details, including the exact angle of the compression straps and the tacky material used on the top of the bag and back of the webbing. However Swift Industries did it, it works! The Olliepack was a cinch to mount, stayed exactly where I put it, and rode high and sway-free behind my saddle (a Selle Italia Diva Gel Superflow).
The difference was especially obvious compared to the Revelate Designs Vole I'd been using for races prior to the Olliepack. This 7 liter seat bag fills a similar minimalist niche and has a number of smart design features, but in over a thousand miles I could never get it to stay straight and stable on my saddle rails. No matter how I stuffed and cinched, the Vole would always end up slightly askew after a stretch of bumpy trail. Perhaps it was user error all along, but refreshingly the Olliepack had no such issues.
Bonus points: Thank you Swift Industries for the extra-long grab straps on the saddle rail attachments! No more frustrated fumbling to feed short straps over saddle rails.
Materials
The Olliepack body is made from Ecopak, a sustainable material made from 100% recycled materials. Though relatively new to the outdoor gear industry, Ecopak is gaining traction fast due to its combination of sustainability and performance features like durability, UV resistance, and water resistance.
HDPE inserts add stiffness in all the right places. The Olliepack keeps its shape even when not expertly stuffed – a nice change from some seat bags that require careful packing to avoid the dreaded droop.
Closure Straps
The Olliepack uses a roll top closure and three straps with buckles to secure and cinch: two on the sides and one over the top / back. Most seat bags I've used have one or the other of these strap systems, but not both. I expected to get tired of opening and closing three buckles every time I needed into the bag.
I quickly got used to it though, and came to appreciate the solid compression and cinching the system allows. Fastening the over-the-top strap first helps anchor things in place, making the side straps easier to fasten. Fortunately all three straps are easy to adjust in length, which was key as I ate through my food supply during remote sections of the route.
This brings me to my only gripe about this bag: all the closure straps (side and roll top) seem a bit too short to take advantage of the full capacity of the bag. I wouldn't be surprised if this is Swift Industries' way of intentionally preventing overstuffing to preserve handling, stability, and water resistance. Shame on me for even trying to overstuff! But when I'm out there in the thick of a big ride and need a place to shove a few extra Snickers and a sandwich, I'd rather have an overstuffed bag than go hungry for half a day.
Mesh Stash Pocket (Ingenious!)
Any bikepacker knows that keeping all our small items organized and close at hand – without having to open bags – is key. The mesh pouch on the Olliepack's underside is an ingenious way to add accessible storage and helps stretch the 6 liter capacity a little further.
On my Smoke 'n Fire run the stash pocket held a surprising number of snacks – energy bars and meat sticks mainly – and also conveniently held my baggie of wrappers and other trash. The elastic at the opening strikes a perfect balance between frustration-free access and making sure we don't leave a trail of protein bars in our wake.
I could also see this pocket being a good place for lightweight tent poles, either from a solo tent or just one pole from a larger tent split between multiple people. This is a fantastic benefit for those struggling with where to pack a tent on their bike.
Dropper Post Compatibility
I'm not running a dropper seatpost at the moment, but since the Olliepack promises fun on rougher terrain you might wonder how it plays with a dropper. The small size is certainly a plus in that regard, and its high position behind the saddle works well to maximize tire clearance.
The main issue comes from the Olliepack's seatpost strap. Though wide and grippy to reduce sway, it's a bit too wide and too short to wrap comfortably around the Wolf Tooth Valais. Thus you'd likely have to wrap it directly around the dropper post stanchion, which can cause wear to the stanchion and dust seal over time. Another possible solution is the Topeak DP, but I haven't tested it personally.
Another consideration is the mesh pouch underneath, in exactly the spot where the tire would rub if you dropped a bit too low. Some seat bags intended for dropper post use, like my older Revelate Vole, have a skid plate in this location to prevent damage.
Given the Olliepack's emphasis on sway-free riding and minimalist packing, it would be nice to see more dropper-friendly features. I wouldn't necessarily want to give up the mesh pouch I love so much, but having a Valais-friendly strap would at least open up more options.
Price Comparison
Bikepacking can be expensive, and I'm a big fan of budget-friendly bikepacking gear that leaves us with more money left over to get out and ride in interesting places.
At $130 the Olliepack isn't cheap, at least compared to the most affordable seat bags available. But many of those packs are large, unwieldy, droopy, and made as cheaply as possible from non-sustainable materials. It seems that quality bikepacking bags, like everything else these days, cost a fair bit of money.
To compare the Olliepack's price fairly, let's look at a few competitors:
Within that range the Olliepack is priced competitively, especially coming from a smaller brand like Swift. It also happens to be the lightest, if you're counting.
In Conclusion
The Olliepack meets my ultralight bikepacking needs perfectly, and I'll be using it again for my next race or overnighter. It's more stable than the similarly sized seat bag I was using before, and a number of thoughtful design choices (mesh stash pocket!) make it a joy to use. Though its small size won't work for all riders and all trips, it's a good reminder that sometimes less is more, especially when exploring more rugged terrain.
Learn more or buy an Olliepack here.
More Bikepacking Resources
If you liked this review of the Olliepack, you might also find these helpful:
Or, visit the Exploring Wild bikepacking resources center for LOTS more.
Bike resources in your inbox?
There's more where this came from! Sign up here for occasional emails full of inspiration and information about bikepacking and bicycle touring.


Share the Adventure
If you found this article helpful, please consider sharing so more people can benefit from it: