The Osprey Porter 46 is a carryon+ size travel backpack with a burly design and thoughtful features. During 5 months of backpacking through Sub-Saharan Africa, it performed admirably on everything from day-long bus rides to multi-day hikes.
I absolutely love my Porter 46, but the range of travelers and travel styles out there is vast, and it might not be perfect for everyone.
In this review of the Osprey Porter 46 I'll tell you everything I loved about it, as well as some drawbacks you may run into depending on your travel style.
Osprey Porter 46 Summary
Retail Price: $139.95 (check for deals on Amazon)
Capacity: 46 liters
My Rating: 4.5 out of 5
Review Summary: I love the Osprey Porter 46 for its durability, roomy dimensions, and ability to pass as carryon luggage. I also love that it's comfy enough to work as a hiking backpack for the occasional overnight trek. The one potential drawback, depending on you and your travel style: it looks a bit goofy and boxy on my small frame. But if you're using this pack for the kinds of adventurous trips it really excels at, you probably don't care.
Pros:
Surprisingly roomy
Carry-on size (if packed properly)
Durable
Well thought out pockets and compartments
Reasonably comfortable for trekking (hip belt, load lifter straps)
Cons:
Boxy appearance
Can be rejected as carry-on luggage if overstuffed
Not cheap
It fits a ton of stuff.
This thing is like Mary Poppins' magic carpet bag: the inside is way bigger than the outside. I was astounded at how much stuff I fit in there: light camping gear and a solo tent, clothing for 5 months, all the stuff in this packing list, and an epic supply of contact lenses and malaria pills.
Full disclosure, my husband met me in Senegal for a week and resupplied me with some essentials, like beef jerky and contact solution, and took home a few things I wasn't using. But otherwise, everything I needed for 5 months fit in my bag.
You can (usually) carry it onto an airplane.
I did not check any baggage on my three long-haul flights, despite being away for five months. This was only possible because I stuffed my Osprey Porter 46 within an inch of its life. I then slung it casually over one shoulder like a purse while striding confidently past the airline employees as they vigilantly gate-checked everyone else's roller bags. Score!
When fully stuffed the Osprey Porter 46 is over most airlines' carry-on size and weight limits, so your mileage may vary. Either avoid stuffing it to the limit or take your chances. Even when overstuffed it fits comfortably in the overhead bins on typical larger planes, and on small planes even a more typical backpack might be an issue anyway.
The Porter's carry-on-ability turned out to be essential. My cross-continent hop from east to west Africa deteriorated into a hilarious disaster involving canceled flights, 4 layovers, an unplanned stop in Liberia and a minor non-violent protest in the Abidjan airport. If I had checked luggage I suspect it would still be knocking around West Africa somewhere. Carry-on-only for the win!
You can carry it everywhere else too.
The airplane turned out to be only the beginning of the challenges facing my Porter and I. It sat in my lap for hours crammed into bush taxis, the kind where you have to pay when you get out because inside you can't move your arms enough to reach your pockets.
On run-down buses and in chaotic bus stations I loved having a pack that fit under my seat where I could keep an eye on it. On death-defying motorbike taxis it was small enough to fit up front in the driver's lap, significantly increasing my chances of living through the next 10 minutes.
And when everyone tried to charge me the extra "foreigner tax" for luggage, my pack was small enough that I could reasonably negotiate them down.
When you're on the road in unfamiliar places, having a small pack increases your options and even your safety. You can move fast when needed, walk somewhere with a better price instead of being ripped off, and go see what's around that corner when curiosity strikes.
Having a pack that I can carry for miles is such a core part of my travel style that I can't imagine exploring a new place any other way.
It's indestructible.
Over the course of five months my beloved Osprey Porter 46 got strapped to the top of I don't even know how many cars and buses, stepped on by children, pooped on by animals, dumped in the mud, and covered in dust. At the end of all this it returned home in better condition than I did, ready for its next adventure.
Maybe even more importantly, the stuff inside fared well too thanks to the Porter's stiff side panels (except for that poorly placed mango that one time). Considering it was already well-used when I bought it on eBay, I would say it's officially bomb-proof.
It's comfortable enough to double as a hiking backpack.
While the Porter is first and foremost a travel pack designed to get you from the bus station to your hostel, it transitions surprisingly well to real-deal hiking. I carried it for four days in Rwanda on the Congo Nile Trail, and three days across a remote border crossing from southern Senegal to northern Guinea.
While I was not always comfortable on those hikes, I can honestly say pain from my backpack was not my biggest issue. Usually it wasn't even in the top three.
The Porter isn't optimized for long-distance hiking (no real internal frame or ventilation on the back) so don't expect perfection, but the hip belt is sturdy enough to make it tolerable. The load-lifters on the shoulder straps also make a big difference.
It's a unisex pack, so there is no women-specific version. However, I found the straps were adjustable enough to fit my small frame without issue. I looked pretty comical hauling it around when fully loaded – it's a bit on the wide and boxy side – but as a white tourist in Sub-Saharan Africa a boxy pack is the last thing anyone will notice about you.
It's convenient to use.
The Porter unzips all the way around so you can get to everything easily, which is key when you're basically living out of it for months. It has two pockets along the interior sides for keeping things organized, and a very convenient wide and flat pocket on the outside, perfect for maps or documents. The lid has a laptop pocket, a smaller zippered pocket and a bunch of little spaces for pens and such. Yay pockets!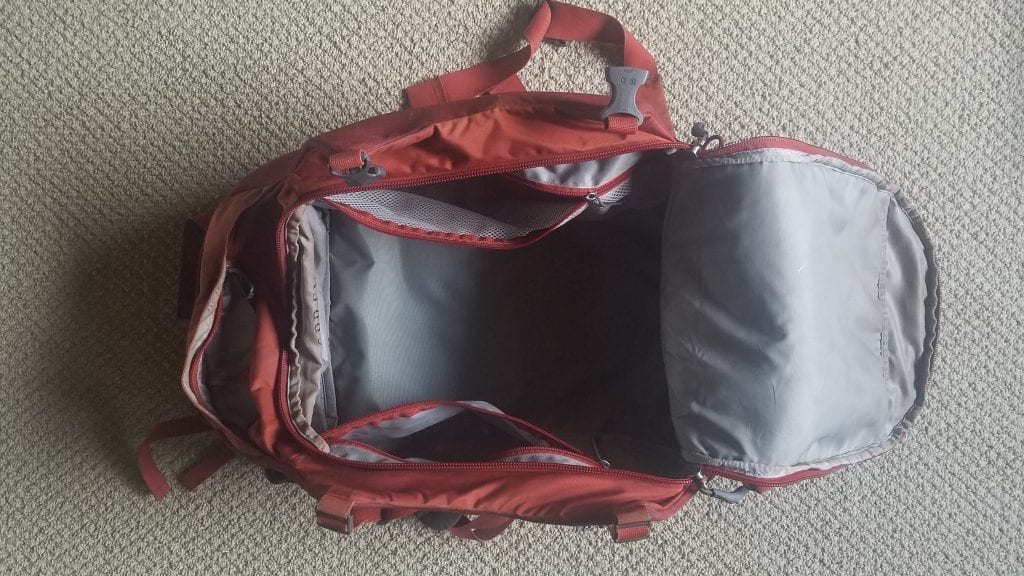 There are straps on the outside that allow you to compress the pack down to a much smaller size. This would be useful for a shorter trip, or if you want to convert it to a daypack while you're on the move. They're also great for attaching things (my drying laundry) to the outside of the pack or, conveniently, carrying a 1.5 liter water bottle.
Important tip: put that water bottle cap side down if you want it to still be there when you get off the moto taxi. Oops!
Finally, the shoulder straps can be stowed away if you want to want to check it as luggage, and the heavy-duty padded handles on the top and side are key for hefting it around in its fully loaded state.
Price
Compared to high-end hiking and travel bags the Porter is reasonably affordable, but to us budget travelers the price – currently $140 on Amazon – may seem a little steep.
I lucked out and found mine used on Ebay for $70, so it was cheaper and more importantly pre-scuffed, which made me look like I knew what I was doing from day one (spoiler alert: I didn't). Even for full price though, the Porter 46 would have been worth the money to me, no question.
Drawbacks and Alternatives
I personally have no complaints, but I can imagine that for some travelers the Porter 46 is not the right fit.
If you plan to do a LOT of hiking (my hikes were short compared to the overall length of my trip), you'll be more comfortable with a hiking-specific backpack.
If you want something sleek and stylish, you'll probably want something more, well, sleek and stylish.
If you usually travel with a wheeled suitcase and are looking to bridge the gap between wheels and a backpack, you might prefer a wheeled travel backpack instead. The Osprey Fairview/Farpoint is a popular choice and has a lot in common with the Porter.
And if you're a truly minimalist packer you may even find the Porter's sturdy 46 liters too roomy.
It goes without saying that if you're a maximalist packer a carry-on bag probably won't work for you anyway.
In Conclusion
I love to hike and travel and therefore own an embarrassing number of backpacks, but the Osprey Porter 46 is the best adventure travel backpack I've found.
If you're looking for a sturdy, roomy, practical travel backpack that can transition into a hiking or day pack every now and then, I think the Porter 46 is a great choice. If you pack light for long trips, or pack moderately for short trips, the capacity will probably be about right.
If that sounds like you, check it out on Amazon. It's incredibly popular and gets mostly good customer reviews, which you can read for even more nitty-gritty as you continue your search for the best carry-on travel backpack. Happy travels!
More Adventure Travel Resources
Travel resources in your inbox?
There's more where this came from! If you're into adventurous, thoughtful, off-the-beaten-track travel, sign up here for occasional emails with my best tips and inspiration.
Share the Adventure
If you found this article helpful, please consider sharing so more people can benefit from it: