The Bottom Line
Outdoor Research Helium (women's / men's) is an ultralight rain jacket popular with backpackers and other weight-conscious outdoor adventurers.
I've been using a Helium jacket since 2014 and recently bought the updated model. Its light weight and small packed size are unbeatable.
For very stormy weather or non-stop drizzle the Helium is not quite robust enough, but it's perfect for summer mountain weather.
If you've spent much time on the trail, you've surely seen the legendary Outdoor Research Helium Rain Jacket (women's / men's) out in the wild. Its unique combination of featherlight weight, functional design, and affordable price have made it a favorite of backpackers (and bikepackers, peak baggers, climbers, travelers, and other varieties of adventurers) for over ten years.
I actually own two OR Helium rain jackets. When my first began disintegrating after eight years of use, I bought another. Outdoor Research recently updated the Helium rain jacket to be even lighter, more durable, and sustainable, and I was excited to try it out.
Though the durability issue bears addressing (and I'll share those details in this review), my second purchase says a lot about how much I appreciate this jacket and how well it fills a unique niche.
Between my two versions I've tested the Helium Rain Jacket on the John Muir Trail, Tahoe Rim Trail, Arizona Trail, Western Wildlands bikepacking route, and many shorter shenanigans by foot and bike. In this detailed review I'll help you decide if the Helium Rain Jacket is right for you.
When you buy through affiliate links in this post, I may earn a small commission. Thanks for your support! I always offer unbiased opinions based on real experience from the road and trail. Learn more.
Overview: Helium Rain Jacket
Price: $180
Weight: 6.3 oz (women's)
Sizes: XS – 4X
My rating: 4.3 / 5 stars, serves its purpose well with a few compromises
My conclusion: The Outdoor Research Helium Rain Jacket is a favorite thanks to its featherlight weight, tiny packed size, and functional-yet-minimalist design. Though it's not the best choice for gnarly alpine conditions or back-to-back soggy days, the Helium is surprisingly durable and really shines as a wind and occasional rain layer in moderate 3-season conditions. It may not stand up to many years of heavy use, but at its affordable price point I can't complain.
Reasons to buy:
Impressively lightweight and packable
Affordable price
Comfortable and versatile fit
Streamlined no-frills design
Made with bluesign-approved materials for sustainability
Comes in wide range of sizes up to XXXL / 4X
Lots of color options
Reasons to avoid:
Wets through in heavy rain
Not the most breathable; gets clammy inside (wish it had pit zips)
Zipper is difficult to use one-handed
Chest pocket too small for many phones, no hand pockets
Durability issues with the inner lining after years of use (based on the older Helium II model – maybe the newer version holds up better)
Helium vs. Helium II
The Helium rain jacket has been around since 2010, long enough to go from the Helium to the Helium II and now back to just Helium. Naming new product versions must be a tough job. 🙂
My original jacket from 2014 is a Helium II. My latest version from 2022 is the newer Helium. The two use entirely different materials, as they should. Technical fabric technology has improved considerably in the last eight years.
According to Outdoor Research, the new version's "Pertex® Shield with Diamond Fuse Technology enables the Helium Rain to be 5x more tear-resistant than the Helium II, and an even lighter weight." Personally I prefer the look and feel of this new Diamond Fuse fabric, which has a more matte texture and feels less shiny / sticky to the touch. As for the tear resistance, neither of my two jackets – including the 8 year old Helium II – has any tearing, but I'm pretty careful with my gear.
You can still find a dwindling selection of older Helium II jackets for sale, but don't be fooled: the "II" is actually a step backward. It's still a great product and you might be able to get it for a discount. But if money isn't tight and you'd like the latest and greatest, look for "Helium" without the II.
How I Tested The Helium Rain Jacket
I own two Helium rain jackets. The first, a burgundy "Helium II" model, was bought to hike the John Muir Trail in 2014. Since then it's traveled the Tahoe Rim Trail, Arizona Trail, and a bunch of shorter hiking trails and bikepacking routes.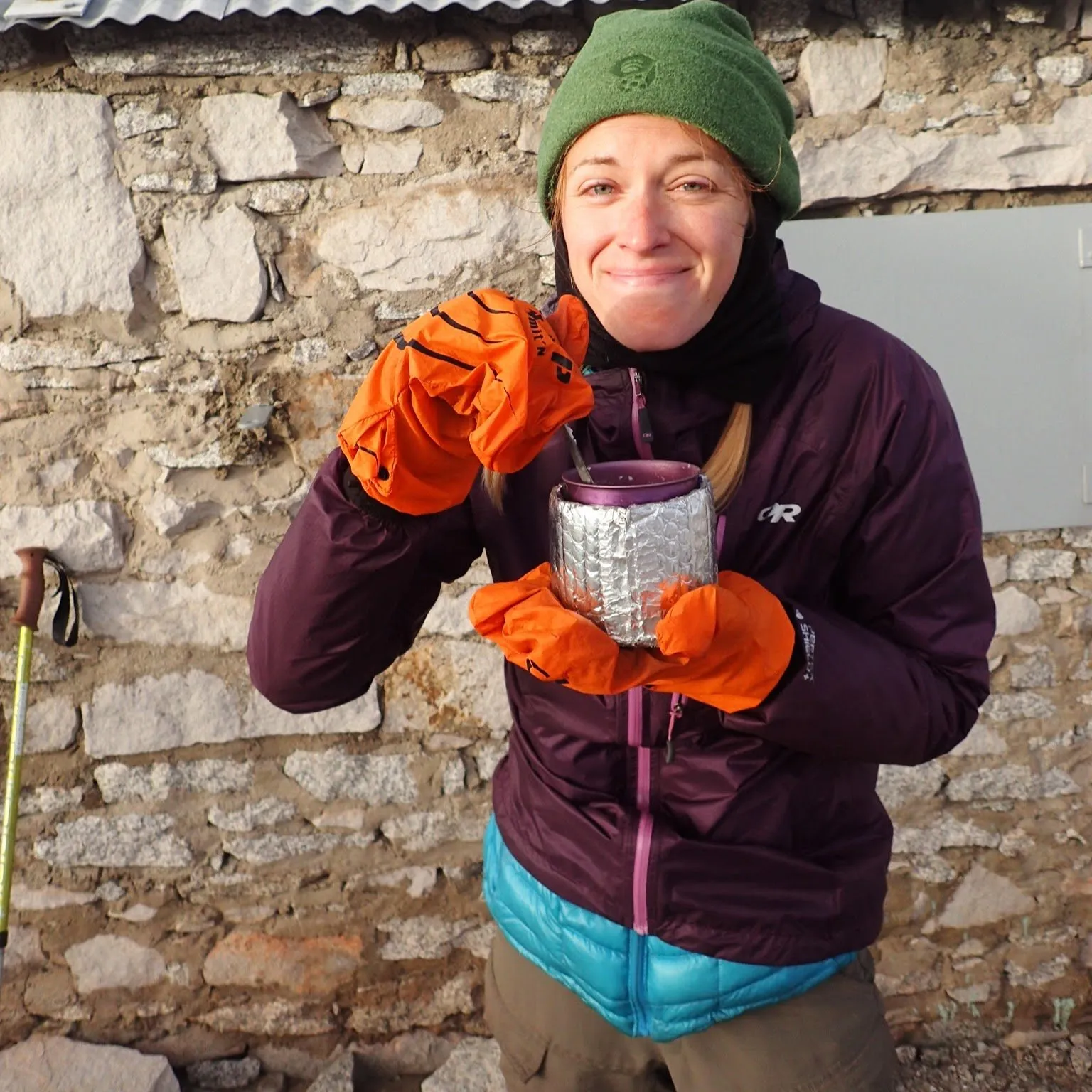 After seven years of periodic use, the lining on the inside of my Helium II began to peel off. When the damage accelerated I decided to replace it. I bought my replacement Helium, chambray blue color, in 2022 from the updated line. So far it's seen action at a handful of bikepacking races, some short backpacking trips, and a 1200-mile stretch of the Western Wildlands bikepacking route.
This review includes a mix of my impressions from both models. I have more experience with the older one and many things haven't changed, but I'll let you know which observations are relevant to which versions.
Technically this is a women's review of the OR Helium Rain Jacket, and I hope it'll be especially useful to female readers. But the men's and women's version are very similar; only color choice and minor fit differences distinguish them. My husband also owns a men's Helium II jacket from 2014 and gives this review his thumbs up. His experience with it has been very similar to mine.
Weight and Packed Size
Weight is what sets the Helium apart from the pack, so let's start with that. The updated women's Helium weighs a mere 6.3 oz!
At this weight the primary competitors are from ultralight backpacking companies catering to thru hikers, such as the Zpacks Vertice and the Enlightened Equipment Visp. Both have a slightly different set of features (including pit zips) and higher price tags.
For comparison the Marmot Precip, which I also own and like, is a popular affordable rain jacket with a $100 price tag. It weighs 9 oz, still fairly lightweight but significantly heavier than the Helium. A number of other popular lightweight rain jackets fall within the 8 to 13 oz category, while a burly 3-layer jacket for all-weather use (like the Arc'teryx Beta AR) can weigh 16 oz or more.
As for packed size, the Helium disappears into your pack. The chest pocket functions as a tiny little stuff sack if you want to be tidy about it.
Weather Protection
A rain jacket has one key job: keep us dry when there's water coming down. Depending on factors like elevation, air temperature, and wind speed, this can be a serious matter of safety. The Helium jacket does pretty well in this regard given its weight, but it's not a trust-your-life-to-this-jacket-in-any-weather kind of jacket.
Typically, 2.5 layer waterproof jackets like the Helium are lighter than 3-layer jackets, but they don't keep you dry as reliably. They'll do fine in light rain, but in a sustained deluge they'll eventually wet out in the most exposed areas (shoulders, arms, or back, depending on your activity). I've definitely found this to be true of the Helium, especially after extended use. Washing and treating with Nikwax TX.Direct restores the waterproofing for awhile but needs to be repeated each season.
The Helium shines as a lightweight rain jacket for 3-season adventures with occasional rain. It's also an excellent emergency layer to throw in your pack for a day hike — it's so light you'll forget it's there until you need it. The Helium is a popular choice for lightweight thru hikers, so it's a common sight on trails like the PCT, AT, and AZT. It's mostly an appropriate choice for these environments, but more than a few PCT hikers have surely wished for a 3-layer rain jacket after a few soggy days in the Pacific Northwest.
The Helium would be a risky choice for high alpine adventures outside of summer season. Basically, if it's cold or windy enough that getting wet could be dangerous, I personally reach for a more robust hardshell jacket.
I use my Helium often in dry weather as a critical part of my lightweight layering system. I tend to run cold, so I'll throw on the Helium over my puffy at camp or even while I sleep for extra coziness. It's also an excellent windbreaker on blustery days and chilly bike descents.
Breathability
Letting moisture out while preventing it from coming in is the crux of good rain jacket engineering. The Helium, with its 2.5-layer Pertex Shield waterproofing, makes some compromises in this department.
The minimalist design lacks pit zips and the fabric feels less breathable than Gore-Tex. This leads to a hot and clammy feeling during higher aerobic output. Hiking or biking on flat ground in cool weather usually works fine, but grinding uphill or running can quickly lead to overheating.
During low aerobic output, like sitting around at camp or even sleeping on extra-cold nights, I find the Helium very comfy. It only starts to feel clammy if I'm working up a sweat inside. To be fair, this is a challenge for every rain jacket and the Helium does well enough. Personally I would trade a fraction of an ounce more weight for pit zips.
Fit and Sizing
The Helium rain jacket has a straightforward, comfortable fit: large enough to layer a medium-weight puffy underneath but trim enough to avoid unnecessary flapping or bunching.
I'm 5'5″ and 120 lbs with a slim build. My Helium jackets are size small, which is my usual size. The Helium women's small fits me well if a little loosely. My husband has a broader torso and muscular build, but he's also happy with his usual size medium in the men's Helium.
Of note for people who, like me, have long arms: the sleeves on the Helium rain jacket are elastic and sufficiently long. They cover a long-sleeved midlayer and keep my wrists dry, even when riding my bike with arms outstretched.
Comparing my Helium II from 2014 with my new Helium model, Outdoor Research has enlarged the fit in every dimension. The modern version is a little wider, about an inch longer, and the sleeves are a bit lengthier. My 2014 model did feel a little tight when layered over a puffy jacket, so I'm in favor of these changes. I'm sure they'll also help the jacket fit a wider range of body types.
Outdoor Research offers the Helium in a broad range of sizes: women's XS – 4X, and men's S – XXXL, to fit as many outdoor adventureres as possible.
Materials and Construction
The Helium is made from 30D bluesign-approved ripstop nylon with waterproof Pertex® Shield Diamond Fuse technology. The older Helium II was smooth and felt slippery and clingy against bare skin. Happily the new Helium has more of a textured finish both inside and out, improving the next-to-skin feel.
Two minor additions to the new version that I appreciate: small reflective detailing for nighttime visibility, and a soft zipper cover in the chin area to avoid scratchiness when the collar is fully zipped.
Hood
The Helium's hood is minimal but functional, and hasn't changed much from the older Helium II. It's smaller than average and doesn't provide full storm coverage (as compared to the hood on my Arc'teryx Beta AR for example) but the small brim is still helpful.
I especially love the adjustable cinch cord at the back. It lets me snug the hood down so it stays on my (small) head, and also enlarge it to fit over a helmet. Though it's certainly not full-coverage when used over a bike or climbing helmet, it does prevent water from getting into the helmet vents.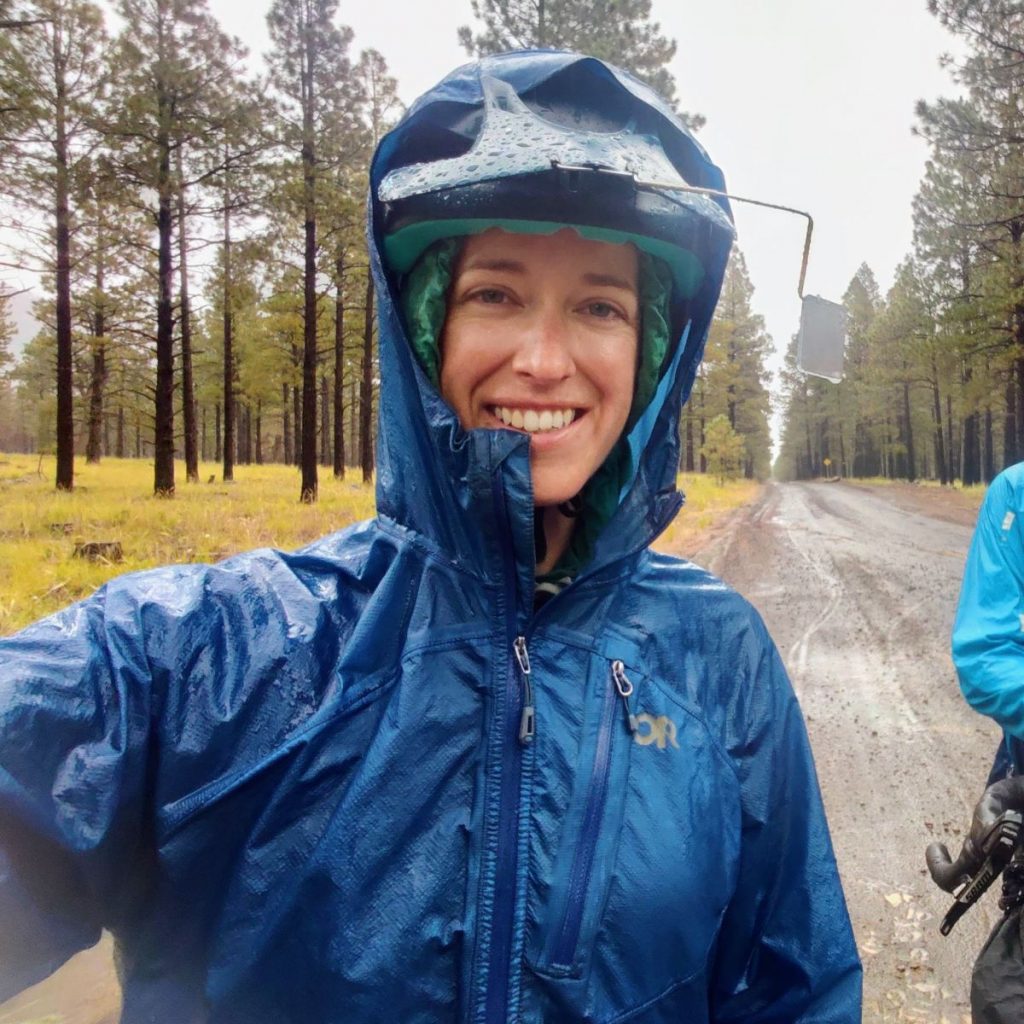 Zipper
The YKK "AquaGuard" zipper on the Helium rain jacket does its job. I've never noticed water seeping through. However, especially on my new Helium model I find it a bit too stiff. It's loosened up a little over time, but it's still hard to raise or lower with one hand.
Pocket
The Helium's minimalist design includes a single zippered pocket on the left outer chest, but no hand pockets or interior pockets. The chest pocket is well-positioned to not conflict with backpack straps, but isn't big enough to fit my smartphone (which measures roughly 3″x6″).
I'm a heavy user of pockets on my rain jackets — to warm my hands, keep my gloves handy, or protect my phone from water — so the Helium's lack of bigger pockets is a minor annoyance for me.
Durability
I've already mentioned that I bought my new Helium rain jacket when my old one started falling apart, so let's talk about durability. The Helium, especially the new version with Diamond Fuse, is impressively durable for its weight. It is still a lightweight jacket though, and I would not expect it to last forever if you're using it often.
My original Helium II jacket was eight years old and well-used. The outer fabric is still in good condition, but the innermost layer started peeling off in chunks on high-wear areas like the shoulders and back. It seemed only a matter of time before my 2.5-layer rain jacket ended up as a 1-layer jacket… So when I spotted the new Helium on sale at an awesome price, I bought one.
The new jacket shows minimal signs of wear so far after a month of bikepacking. I'll try and remember to report back in another eight years!
As I noted above, the Helium's water resistance is not perfect and decreases over time. About once a year I wash mine with Nikwax TX.Direct to restore the waterproofing.
Price and Value
In my opinion the OR Helium rain jacket is a great value. In the outdoor gear world we've come to expect high prices for quality lightweight gear, but the Helium is a rare exception. Sure, you can pay less for a decent jacket like the Marmot Precip, but if ounce saving is your goal you can't beat the ounces-saved-per-dollar-spent ratio of the Helium rain jacket.
True, my 8-year-old jacket eventually needed to be replaced. If it had cost twice as much I would have been disappointed. But honestly, at the Helium's price point and weight I'm willing to replace it after a few years of hard use.
Other Options to Consider
If you're in the market for a true ultralight rain jacket, the Zpacks Vertice is another option to consider. It weighs one ounce less and is more fully-featured (pit zips, drawstring cuffs) but costs over $100 more than the Helium. The Enlightened Equipment Visp is similar.
If you're into ultralight hiking, you might also be considering a radically different option: a poncho! Basic emergency rain ponchos are quite affordable, but those made for backpacking (like this one) can be heavier than the Helium jacket and almost as expensive (though you may not need rain pants, which saves weight and money).
I'm not a poncho devotee so I'll leave it up to you to do that research. For occasional showers in warm and low-wind areas I might consider it, but generally I want full upper body coverage to keep me warm, dry, and safe in the backcountry.
If you're not counting every ounce and want a full-featured rain jacket at an affordable price and very reasonable weight, check out the Marmot Precip.
Finally, if you're planning for serious alpine adventures in variable conditions you'll be better off with a 3-layer waterproof jacket. Consider the Arc'teryx Beta AR if you're feeling spendy, or the REI Co-op Stormbolt if budget is a big factor. Outdoor Research's newer Helium AscentShell 3-layer jacket, targeted at alpine conditions, might also be worth checking out.
In Conclusion
The Outdoor Research Helium rain jacket is a mainstay in the ultralight hiking world for good reason: its unique combination of light weight, packability, and affordable price sets it apart from the competition.
The Helium is a specialized product for a specific niche, and it won't meet the needs of all outdoor adventurers. If you spend a lot of time in high alpine or soggy conditions, you'll likely be disappointed by the Helium's lack of features (like hand pockets and pit zips), smaller hood, and tendency to wet out in heavy rain.
But if your goal is to travel fast and light (or slow and light) in moderate conditions while staying warm in occasional rain, you can't beat the Helium's weight, size, or value. If, like me, you find yourself using it so much that you eventually wear it out, you might even find yourself buying another to fill that unique niche.
Shop the Helium jacket at REI, Outdoor Research, Amazon
More Outdoor Resources


Hiking resources in your inbox?
There's more where this came from! Sign up here for occasional emails full of inspiration and information about backpacking and hiking.


Share the Adventure
If you found this article helpful, please consider sharing so more people can benefit from it: