The Bottom Line
REI's Link Panniers are designed to haul generous amounts of cargo on rough roads and trails.
We've tested two pairs over 2000 miles of bikepacking in Central Asia, Morocco, and Portugal.
We love their light weight, easy-to-use design, affordable price, and rattle-free attachment system, but wish they were easier to take on and off the rack.
As we prepped for a month of rugged bikepacking in Central Asia, my partner and I faced a dilemma. Complex international trip with a six day food carry = too much stuff to fit in a seat bag or micro panniers. But rocky backroads, gnarly hike-a-bikes, and tricky river crossings demanded something smaller and more off-road-friendly than my old Ortlieb Back-Rollers.
Enter the REI Co-op Link Panniers: 18 liters each of affordable, lightweight, rattle-free gear capacity designed for rough roads and trails. These panniers seemed to fill a unique niche and be perfect for our needs, but we didn't have a ton of time to test them before heading off to Bishkek. Fortunately they worked so well in Central Asia that we also used them on our next big trip in Morocco and Portugal this past spring.
Together these trips add up to three months and 2000+ miles, often on rugged terrain. In this review of the REI Link Panniers I'll share how ours have held up, what we love about them, a couple things I wish were different, and what kind of bikepacking I think they're best for.
When you buy through affiliate links in this post, I may earn a small commission. Thanks for your support! I always offer unbiased opinions based on real experience from the road and trail. Learn more.
Review Summary
Price: $80 each ($160 for pair)
Weight: 17 oz each
Size: 18 L each
Weight limit: 20 pounds each
Color: grey
My rating: 4.7 / 5 stars, love them, just a couple small complaints
Review summary: REI's Link Panniers are an affordable solution for dirt-loving bikepackers who need more gear capacity than a seat bag or micro panniers can provide. After 2000+ miles of testing I've found them to be durable, versatile, rattle-free, and mostly user-friendly. If they were easier to mount and unmount from the rack they'd be nearly perfect.
What I love:
Hook and loop attachments are secure, versatile, and rattle-proof even on rough ground
Just-right size: roomy enough for long or complex trips but won't tempt you to overpack too horrendously
Affordable price
Lightweight construction won't add too much weight to your bike
Compression straps can adapt to a smaller or larger load
Very durable throughout our 2000+ miles of testing
External straps and pockets make it easy to dry laundry, attach a solar panel, or carry awkwardly shaped items like sandals or tent poles
Comes as a single pannier in case you want to mix and match
Made from bluesign®-approved materials for sustainability and safety
Could be better:
Time-consuming to remove from rack for bringing into tent or motel
Water resistant but not completely waterproof (don't submerge)
Would be nice to have a right-side and left-side pannier so that both pockets could be oriented toward the back; a front-facing pocket might be unusable for some riders due to heel clearance issues.
I wish the stuff sacks came in different colors to make organizing easier
Attachment System
The soft hook-and-loop attachment system is the primary reason we chose Link Panniers for these bikepacking trips.
I've used Ortlieb Back-Roller panniers for a number of pavement-focused bike tours in the past. While they have some nice advantages — easy to remove from the rack, very waterproof — their plastic attachment system doesn't inspire my confidence for the rougher gravel and singletrack riding I do now.
The Link Pannier system uses four smartly placed hook-and-loop straps that wrap around various parts of a front or rear rack. The top straps support most of the weight while the bottom straps, angled at a diagonal, add stability.
This system has two key advantages over plastic hooks on rough terrain: it doesn't rattle, and it won't suddenly fail under strain like a plastic hook could. (To be fair, Ortlieb's plastic hooks are extremely durable and I've ridden gravel with them in the past and had no issues.)
Each strap is actually a robust set of two straps that stick to the back of the pannier and to each other, creating a bomb-proof connection. They're so sticky that it's actually a little hard to get them on and off, but that's ok — better too sticky than not strong enough.
The placement of the straps is versatile and should work on a wide range of setups. Unlike hooks it doesn't require a certain diameter of rack tubing. While I'm sure there's a rack out there they won't fit, we had no problems positioning the straps on our Tubus Logo Evo and Old Man Mountain Divide racks.
The one downside to the Link's attachment system: it takes a couple minutes to get the panniers on and off the rack. It's doable, but not something you want to do every night to bring gear into your tent or motel room. We usually left the panniers on the bikes and just grabbed an armful of stuff sacks to carry into our tent or room. We needed to remove the panniers a couple times to carry bikes across rivers, and it added slightly to the frustration factor.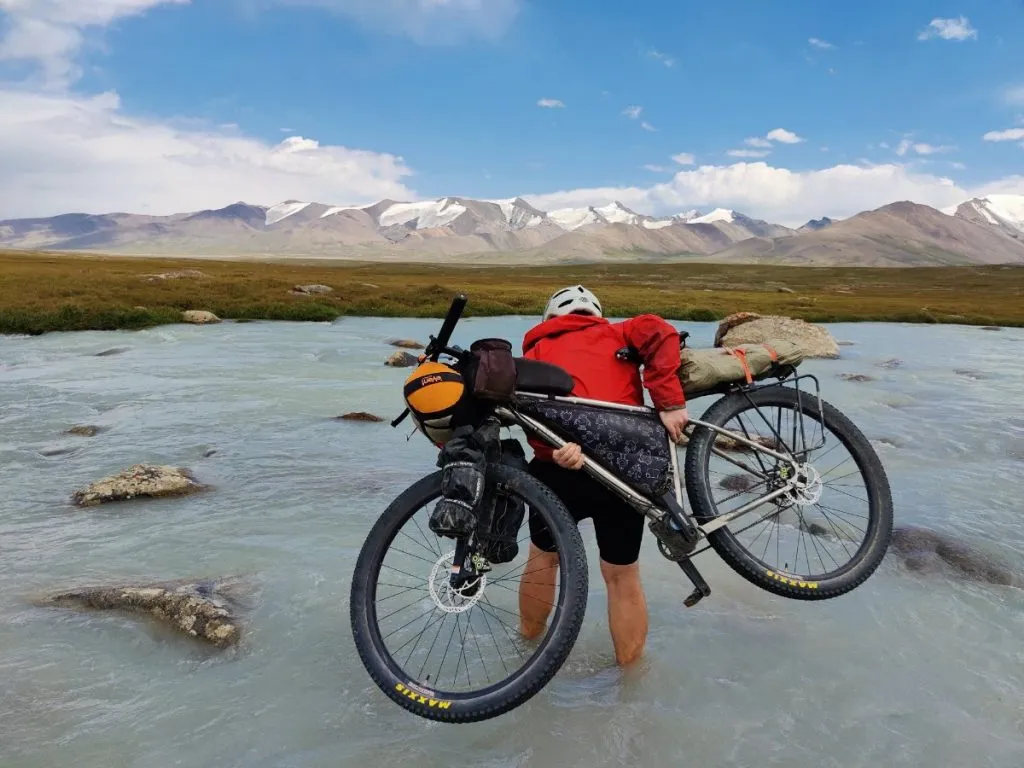 Compression Straps
The Link Panniers have two horizontal straps designed to compress partially empty panniers for a streamlined and stable load. This is super helpful for loads that expand and contract, like eating your way through a large food supply or wearing ALL your layers on a chilly day. This is another nod to the Link's off-road focus. While a half-full pannier has never bothered me on paved roads, on rugged terrain I like to keep things tight and make my panniers as small as possible for hike-a-bikes.
We also found the straps perfectly positioned for attaching other things:
Drying laundry
Sandals (because who wants wet or dirty sandals inside the panniers?)
Tail light and reflective triangle for occasional road riding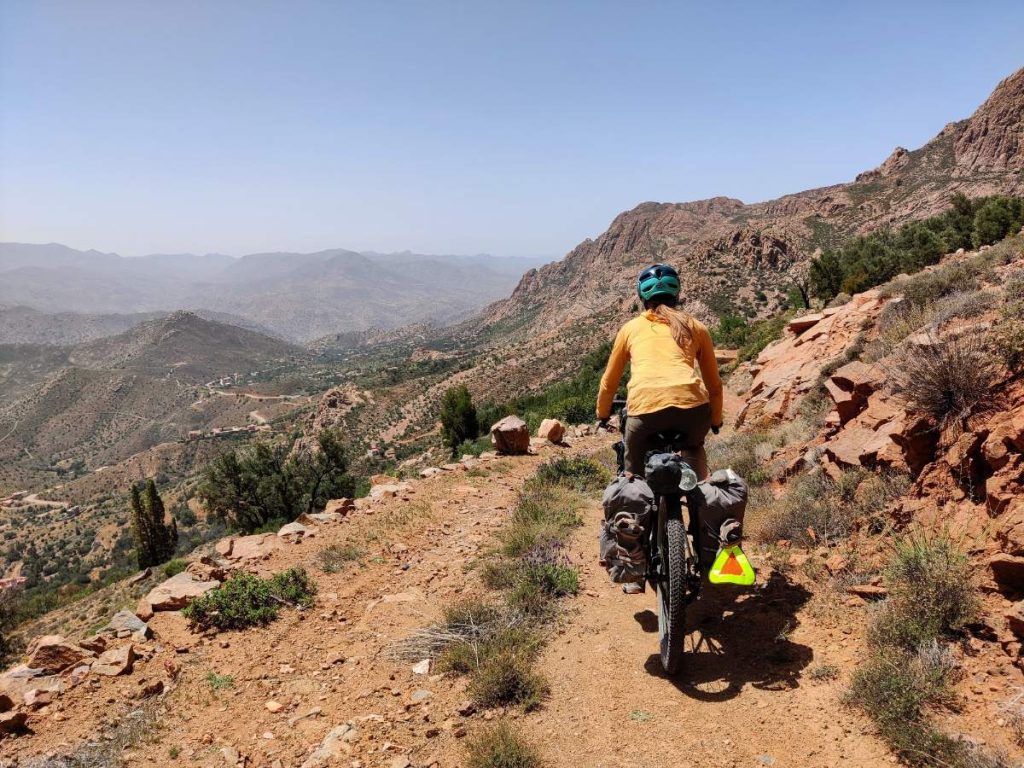 Pockets
Each pannier has a pocket running vertically down one side, which REI says is for tent poles. I think these pockets are useful, though we never actually used them for poles. I used mine for wet socks and to hold the power bank being charged by my solar panel (not at the same time).
I would worry slightly about tent poles being vulnerable to breakage in a crash when using these pockets. Perhaps a shorter set of poles (like those on newer bikepacking-focused tents) would fit perfectly, but a longer set would stick up beyond the top of the bag. That said, tent poles can be tricky to pack on a bike and this solution seems as good as any.
My one wish for the pockets: I would prefer a left-handed and right-handed version so both panniers can have the pocket oriented toward the back. On bikes with minimal heel clearance the forward-facing pocket is less usable.
Roll-Top Closure
The Link Pannier closes with a single buckle that secures a roll-top closure. I like this design because it's quick and easy to get in and out of during the day. The resulting loop is also convenient for carrying the pannier by hand when it's off the bike.
The only drawback: it takes some care to make sure the closure is waterproof. You need to roll down the fabric several times, and if the pannier is too full this becomes a struggle.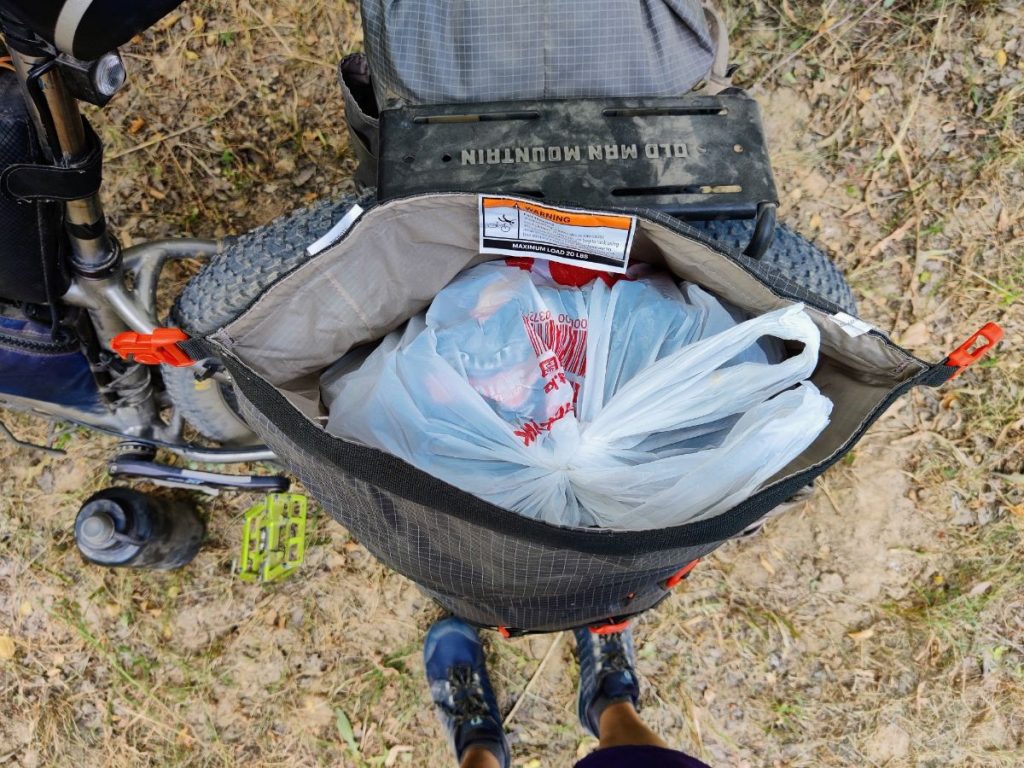 Capacity
The Link Panniers offer a just-right capacity, in my opinion. The 18 liter size is almost as large as a traditional touring pannier (the Ortlieb Back-Roller holds 20 liters), making it a viable alternative for riders on rugged and complex trips who need more space than minimalist bikepacking bags provide. Two panniers together hold 36 liters plus whatever you can strap to the top of the rack, which is vastly more than any bikepacking seat bag.
I also love that the Link panniers are slightly smaller than traditional panniers. Panniers in general aren't great for hike-a-bike, and every inch counts when your calf keeps brushing your bag on an endless climb. The Link feels noticeably more compact than my Ortlieb Back-Rollers, especially with the compression straps cinched down a bit.
The bags hold their shape well even when partly empty, thanks to a plastic back panel and ballistic nylon bottom and the aforementioned compression straps.
Each pannier is rated for up to twenty pounds of load. That's similar to many standard panniers and is unlikely to limit your packing decisions, unless you like really heavy gear. The combined 40 pound rating may actually be more than your rack is rated for!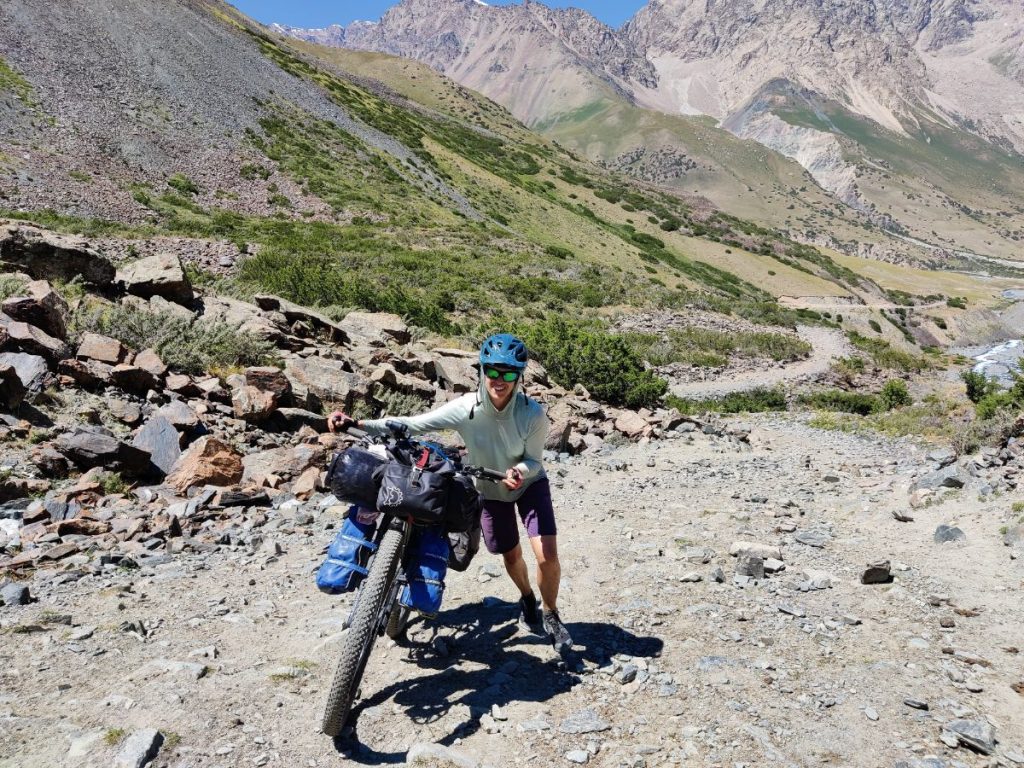 Water Resistance
REI says the Link Panniers offer "multilevel weather protection" via DWR-treated outer fabric, seam-sealed inner liners, and three drop-in stuff sacks that are DWR-treated and seam-sealed.
What does all that mean in practice? The Link Panniers are robustly water-resistant (if closed properly) and in my experience they will keep your gear dry in the rain. However, they are not completely waterproof. While they might survive a quick accidental dunk — a possibility we came close to testing during river crossings in Kyrgyzstan — I would not trust them to be submerged for any length of time.
We encountered lots of rain in the mountains of Kyrgyzstan. LOTS of rain. We never had any issues with the contents of our panniers getting wet.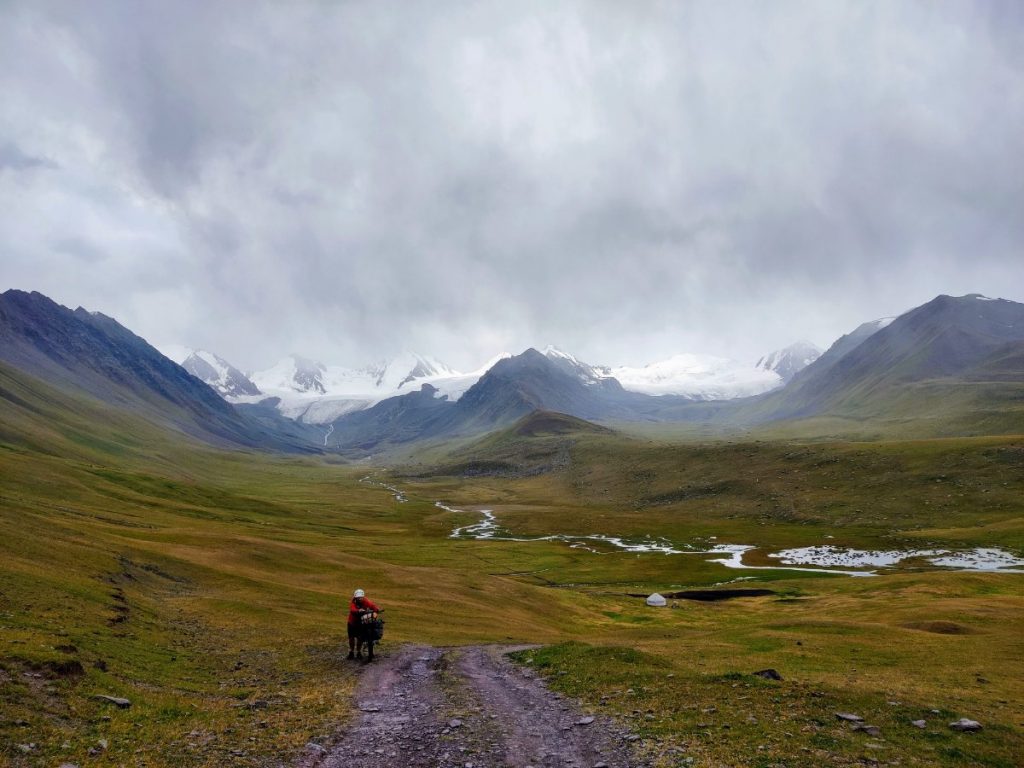 Stuff Sacks
Each pannier comes with two lightweight water-resistant stuff sacks to help with organization and weatherproofing. They fit well in the pannier and are useful for organizing if you don't already have your own system. I used mine for clothes and miscellaneous accessories.
As someone with my own organization systems from many miles on the road and trail, I have a request to REI: make these stuff sacks in different colors please! If you use both sacks from two panniers you have four tan stuff sacks that all look the same… When they're all sitting in my tent I pick the wrong one to open first every single time.
Weight vs. Features
The Link Panniers are pleasantly lightweight. At only 17 ounces each, a pair is a full two pounds lighter than a pair of Ortlieb Back-Rollers. When you're pushing up a massive mountain, every pound counts!
Some of this weight difference comes from the soft attachment system, simple closure hardware, and non-waterproof fabric. A simple design and minimal organizational features also help keep weight down.
Two examples of these tradeoffs: lack of any interior pockets and lack of a shoulder strap. I wouldn't mind a small zippered pocket against the back panel for protecting and keeping track of small items. I also think a detachable shoulder strap would be a nice touch. We carried our panniers onto the plane and would have appreciated a shoulder strap while walking through airports.
Durability
Despite their relatively lightweight construction we found the Link Panniers very durable. After three months of nonstop use, often on rugged terrain, ours have zero functional signs of wear. If that changes as we put more miles on them, I'll update this review.
Conclusion
We took a risk on the Link Panniers because REI has a history of making well-designed gear at good prices. The rest of their bikepacking bag lineup looks carefully thought out and these panniers seemed no different.
I'm happy to say they worked out really well for our bikepacking trip in Central Asia, and again in Morocco and Portugal. We'll definitely use them again for future trips with similar needs (off-pavement adventures requiring more cargo space than a bikepacking bag setup) and I'll update this review with any future impressions.
If you're looking for a set of dirt-friendly panniers at an affordable price, I definitely recommend the Link Panniers. As a relatively new item in REI's lineup, they made a strong entrance in an already crowded space. If REI listens to feedback and tweaks a few minor design choices, these panniers will be perfect.
More Bikepacking Resources
If you found this review helpful, you might also like these posts:
Or, head over to the complete bicycle travel section for lots more!
Bike resources in your inbox?
There's more where this came from! Sign up here for occasional emails full of inspiration and information about bikepacking and bicycle touring.


Share the Adventure
If you found this article helpful, please consider sharing so more people can benefit from it: