This fall I chose the Solstice Lightweight Hoody from Ridge Merino for a big bikepacking trip in the American West. The Western Wildlands section ride followed dirt roads through the plains of southern Idaho, the high plateaus of Utah, and the barren desert of northern Arizona. The month-long adventure included a few scorching hot afternoons, plenty of chilly mornings and evenings (no surprise at 10,000 feet in October), very little shade, and only occasional showers and laundromats.
I've long been a fan of merino for its stink-resistance and wide thermal comfort range, but sun hoodies are new to me this year. Now that I basically live outside for a few months each year I've decided to up my skin protection game. Could the affordable Solstice really live up to its promise of sun protection and comfort in both the heat and the cold? What better place to find out than the American West in early fall?
Overall I was impressed with the Solstice Hoody. Lightweight merino wool is a challenging fabric to get right and Ridge Merino has done a great job minimizing its downsides. But it's not a perfect choice for all conditions, and the design choices will appeal to some folks more than others. This review shares all the details based on my month with the Solstice Hoodie.
There are affiliate links in this post. Buying through them may provide me with a small commission at no extra cost to you, which helps keep this site running and growing.
Ridge Merino Solstice Lightweight Wool Hoodie
Price: $80
Weight: 7.5 ounces
Fabric: (m)Force™ Merino – 87% Merino Wool 13% Nylon
Fabric weight: 145 g/m
Origin: Designed and tested in California, sewn in Thailand
My rating: 4.3 / 5 stars, good value that performs well
My conclusion: The Ridge Merino Solstice stands out as an affordable all-around merino sun hoody. Though the 145 g/m fabric isn't ideal for the hottest days, it does everything else really well: sun protection, durability, and no-see-through looks especially. The larger hood is a matter of personal preference, but overall the design is thoughtful and the fit is forgiving.
Solstice Hoodie Pros:
Fabric is relatively durable for lightweight merino
Sleeves are plenty long; thumb loops help with sun protection
Stink-resistant even on multi-week outdoor adventures
Large adjustable hood fits over helmets and offers good sun coverage
Affordable for a merino hoody
Made from sustainably sourced merino wool
Solstice Hoodie Cons:
Fabric is too heavy for total comfort in hot weather (say around 80+ F)
Large hood and drawstrings sometimes get in the way
My Experience With The Ridge Merino Solstice Hoodie
I recently put the Ridge Merino Solstice Hoodie through the wringer during a monthlong bikepacking trip on the Western Wildlands Route. The ride spanned southern Idaho, the high plateaus of Utah, and northern Arizona during September and October. In other words, the climate was varied! There were near-freezing mornings and nights up at 10,000 feet and scorching afternoons down low in the desert. Aside from a spare t-shirt I kept packed away for occasional town days, the Ridge Solstice hoody was my one and only base layer shirt for the whole month.
My Solstice hoody is a women's small, and I hope this women's review will be especially useful to female readers. Ridge Merino makes a men's version of the Solstice with exactly the same specs, just a different fit and slightly different color choices, so most of my observations should apply to it as well.
Throughout the review I'll be making comparisons to the Smartwool Ultralight Sport Hoodie, another merino sun hoodie I put through the wringer this season. These two options sit on opposite ends of the spectrum when it comes to fabric weight and features versus minimalism.
Temperature Range
Merino wool is known for its impressively flexible thermoregulation: adding warmth when it's cool and helping to cool when it's hot. The Solstice performs well in this regard, but its comfort range is best suited for moderate-to-cool temps in my opinion.
At 145 g/m weight, the Solstice is considered lightweight merino but not ultralight. Thus it suffers from the same limitations as most merino shirts of similar weight: it's not quite light enough for comfort in humid or truly hot weather. I have a few 150-weight merino t-shirts that I can tolerate in such conditions. But the added coverage of long sleeves and the substantial hood, either on my head or resting on my back, made the Solstice noticeably too heavy when temps topped around 80 F. I managed fine – it's still a very breathable fabric – but I wished for a more airy-feeling shirt.
On the flip side, the Solstice is just heavy enough to add meaningful warmth in cooler temps. At 10,000 feet in early October you can bet we had some chilly days. I was able wear the Solstice alone at awkward in-between temperatures when I would have otherwise needed to add a second (and less breathable) layer. I especially appreciated the hood in cooler temps; popping it up at camp or while riding on a windy ridgeline improved my comfort significantly.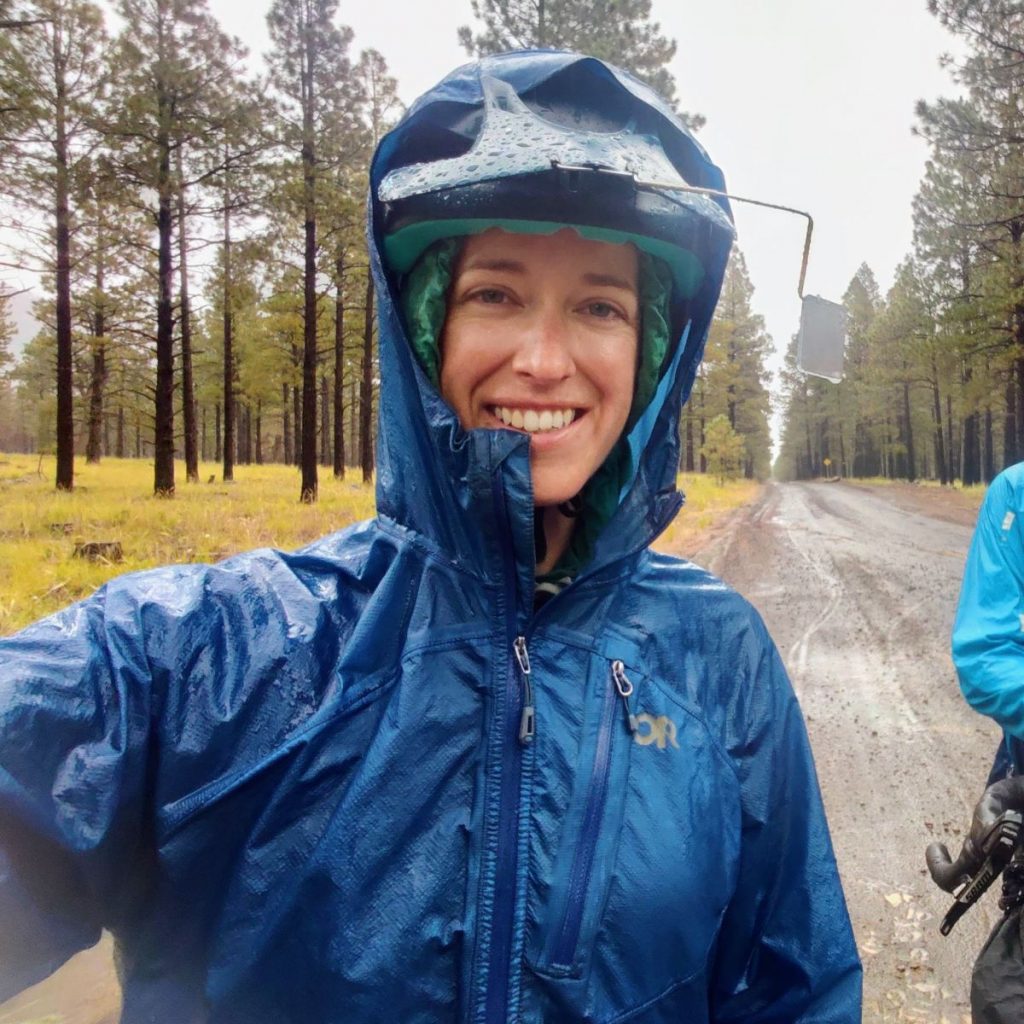 To summarize, the Solstice is a great merino sun hoody for adventures in moderate temperatures: spring, fall, and high-alpine summer conditions all come to mind. It's fine for the occasional hot and dry day in the 80's or 90's. It would not be my top choice, however, for humid conditions or sustained hot weather. For that I would recommend the lighter and more minimalist Smartwool Ultralight Sport Hoodie.
Fabric
The Solstice Hoodie is made from Ridge's (m)Force™ Merino, a blend of 87% merino wool and 13% nylon. This combination is designed to blend the natural thermoregulation and stink-resistance of merino wool with improved durability and shape retention. The technology seems to work well, as I'll describe in other parts of this review.
Some merino fabrics can be a little scratchy, but the Solstice feels smooth and soft next to the skin. I wore it as a base layer day and night (I often didn't change for sleeping, don't judge) for weeks on end and nothing about the fabric or fit ever bothered me.
Ladies: I'm happy to report that the Ridge Merino Solstice is not see-through and not clingy. By comparison, my Smartwool Ultralight hoody showed the outline of my sports bra (a skin-colored Patagonia Barely) more than I was comfortable with in Central Asia. Granted my Ridge Solstice is a darker color, but I expect the lighter colors to still do better than the Smartwool since the Solstice fabric is heavier.
Sun Protection
The Ridge Merino Solstice is UPF 50+ certified. I wore it while biking for a month straight in mostly shadeless environments: open plains, high plateaus, and barren deserts. With other shirts I've sometimes noticed sunburn or increasing tan on my back from sunlight coming through the shirt, but I didn't notice this with the Solstice. By comparison it protected my skin much better than the ultralight Smartwool Sport. Once again we see an advantage of the Solstice's slightly heavier fabric, even if it's a tad warmer in hot conditions.
Hood
The Solstice's large hood can't be beat when it comes to sun protection. It covers my neck well and is even large enough to shade my face from certain angles. It fits easily over my bike helmet and also works well underneath it, depending on whether I need it for shade or warmth and whether my helmet is already on or off.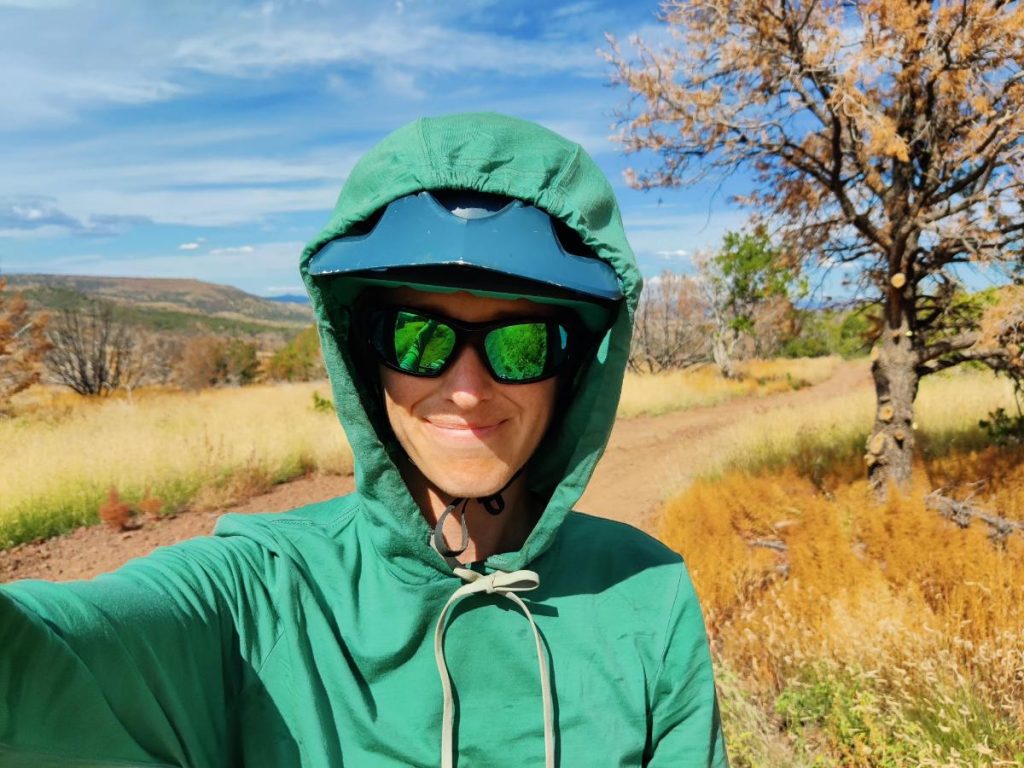 I especially liked the hood for a combination of warmth and sun protection on cold clear days. Especially when deployed under my helmet, it added significant warmth and kept my ears from freezing in chilly wind.
That said, the large hood also has drawbacks for me. I know some people love it, so this is a matter of personal preference. When I wasn't wearing the hood it sometimes felt annoyingly bulky, flopping over my shoulder when I bent forward or sometimes blowing around in strong wind. I could imagine it getting in the way when putting on a backpack.
I also could have done without the drawstring. I almost never used it – the hood stayed in place fine without – and I didn't like how it flopped against my chest when riding. Also, if I'm being honest about having a smidge of backcountry vanity, I don't like the way it looks.
Finally, due to the Solstice's fabric weight I found the hood too warm in hot weather. In those conditions I usually sacrificed sun protection for better ventilation around my head. You'll notice I'm not wearing the hood in most of these pictures, and this is why. Had the hood been lighter and cooler I definitely would have worn it more.
Putting all that together, I would have preferred a more minimalist hood like the Smartwool Ultralight Sport Hoody. Though not big enough to fit over a helmet, that hood worked great under my helmet and I almost never thought about it otherwise.
Fit and Design
The women's Ridge Merino Solstice runs true to size as long as you're expecting a loose fit. I'm 5'5″ and weigh 120 pounds and my chest is an A cup. I usually wear a women's small, and a small in the Solstice fit me nicely if a bit loosely. I didn't notice any significant shrinkage when washing and drying, even in the not-so-gentle machines at public laundromats.
The cut is fairly long (even on my long torso) and not too boxy; I like the way it fits me. I wore it as a base layer but it would have easily fit over a t-shirt underneath. Though it was a loose fit on me, I still had no problems layering over it. Sometimes I wore as many as four layers over the Solstice on chilly fall days at high elevation: a 260-weight merino midlayer, wind vest, down puffy, and rain jacket.
The large and low-cut armholes are very comfy and never cause that unpleasant feeling of bunched fabric in the armpit, even under backpack straps. I've mostly worn my Solstice for biking so far, but when I tried it under a backpack the seams at the top of the shoulders didn't bother me.
My arms are long for my height, and the Solstice's sleeves are plenty long enough for me to comfortably use the thumb loops. I often went without the thumb loops when wearing cycling gloves and there was no awkward gap between the sleeve and glove. I appreciated the thumb loops for sun coverage when off the bike or occasionally riding without gloves. They also make it easier to add layers on top without the sleeves riding up.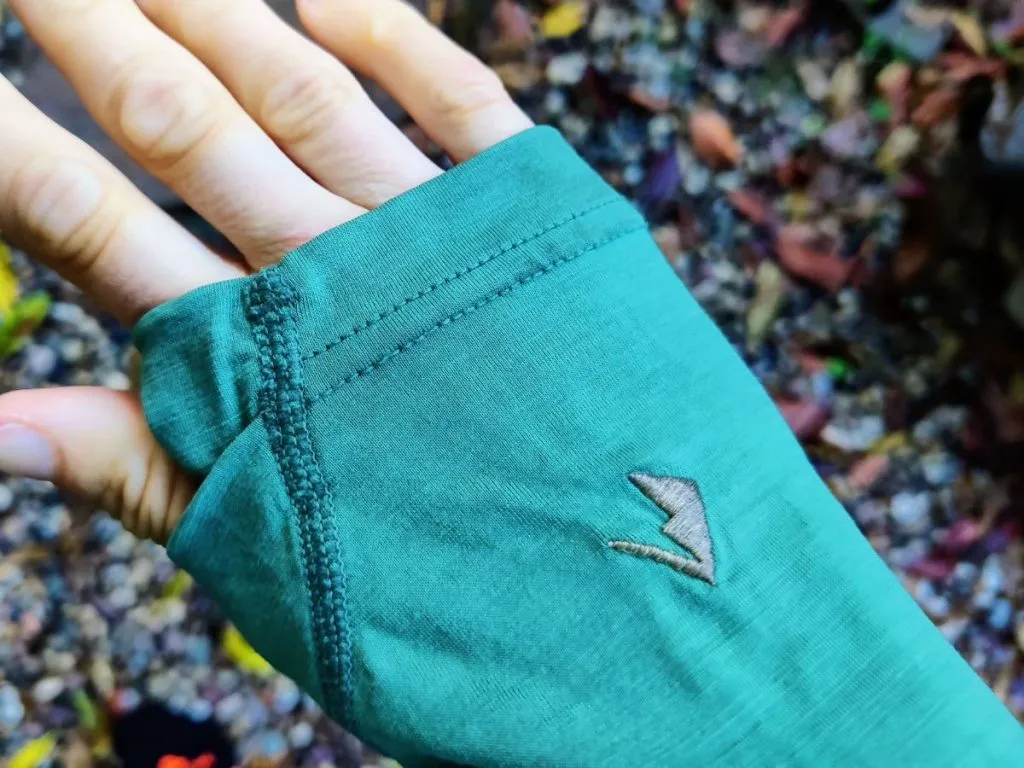 Overall the Solstice was a good fit for my body and felt comfortable to move around in. Though I've yet to find a sun hoody that's truly flattering, I didn't feel too frumpy in it either.
Stink Resistance
Merino wool's natural stink-resistance is the main reason I live in it for backpacking, bikepacking, and travel. I've never found a synthetic garment that stays as fresh as merino over days or weeks without a proper shower or laundry.
I'm happy to report that the Ridge Merino Solstice was as stink-resistant as I've come to expect from merino. Though showers were scarce and temps were sometimes hot, funk levels remained manageable throughout the trip.
Durability
Durability tends to be an issue with lightweight merino shirts, but my Ridge Merino Solstice has excelled here. Usually after a month of nonstop use I would expect persistent dirt stains and a small hole or two. It seems Ridge's (m)Force™ technology – a blend of merino and nylon designed to improve durability – does its job quite well.
My Solstice – a middle-dark "Frosty Spruce" color – has zero holes and only faint darkening around the cuffs and neck. The fabric is in great shape, even after several wash and dry cycles in the not-so-gentle machines at public laundromats.
Dirt stains seem to wash out better than many other merino shirts I've tried, even in comparably dark colors. My light-colored Smartwool Ultralight Sport Hoody, by contrast, is almost unusably grubby-looking after similar use (one month of nonstop wear). My Smartwool hoody is basically relegated to yard work and solo backcountry trips, while my Solstice still looks good enough for travel.
Price and Value
Merino clothing tends to be expensive, but at $80 the Solstice Hoodie is on the affordable side of the merino sun hoody range. Comparing to a few other popular merino sun hoodies: the Smartwool Ultralight Sport matches the $80 price tag, the Voormi River Run sells for $129, and the Ibex Indie costs a whopping $170!
Especially when you factor in its durability, I think the Ridge Merino Solstice is a great value. Unlike some merino shirts that wear out after a couple months of use, you'll really get your money's worth out of the Solstice.
If budget is an issue you can find synthetic sun hoodies – like the Patagonia Capilene Daily Hoodie and REI Sahara Shade Hoodie – for lower prices. Some are better than others at approaching the stink-resistance and excellent thermal range of merino. If I were buying a sun hoody for single-day use (in other words, it's being washed regularly) I would go with synthetic for its better balance of cost and durability. But for long remote trips the stink-resistance of merino is worth the extra cost to me.
In Conclusion
The Ridge Merino Solstice stands out as an affordable all-around merino sun hoody. Though the 145 g/m fabric isn't ideal for the hottest days, it does everything else really well: sun protection, durability, and no-see-through looks especially. The larger hood is a matter of personal preference, but overall the design is thoughtful and the fit is forgiving.
As for my Solstice, it's still in great shape and has a solid place in my adventure clothing rotation. I'll happily wear it again on a future trip, as long as conditions won't be too toasty.
More Outdoor Resources
If you liked this review, you might also like these other articles:
Or, visit the Exploring Wild hiking resources center for LOTS more!


Hiking resources in your inbox?
There's more where this came from! Sign up here for occasional emails full of inspiration and information about backpacking and hiking.


Share the Adventure
If you found this article helpful, please consider sharing so more people can benefit from it: