If you've poked around the world of boutique bikepacking bags, you've likely heard of Rogue Panda. It's a hard name to forget! They now offer a full line of bags for every part of the bike, but they're especially well-known for their original focus on custom frame bags.
Do you need a custom frame bag? That depends. They're pricey, and in many cases you can get away with a stock bag carefully chosen based on your frame triangle measurements. However, as you venture further down the bikepacking rabbit hole a custom frame bag may be one of your first investments. For some riders — those on unusual bikes, full-suspension rigs, or small frames where every millimeter matters — a custom frame bag can substantially improve the way you pack your gear.
In 2022, feeling very confident that my obsession with this wacky activity is here for the long haul, I made some big upgrades to my bikepacking setup. My snazzy new Stella joined the family, and my grubby old Salsa frame bag just wasn't cutting it. My lovely bike deserved a lovely frame bag that fit her properly. Thus I took the leap and bought the most expensive bikepacking bag I own: my custom full frame bag from Rogue Panda.
I've now bikepacked about 3000 miles with this frame bag (and coordinated Alamo top tube bag) and I'm finally ready to write a review. If you're considering a custom frame bag, or even another type of bag from Rogue Panda, I hope you find it helpful.
My husband also has a custom Rogue Panda frame bag, purchased based on my recommendation after my first few rides with mine. His is larger (I'm jealous!) and made from a spiffy custom print with black background and white robots. He loves it, his custom fit is flawless, and he has literally zero complaints. This review is written in my voice and focuses on my bag, but I'll mention his occasionally where his experience differs from mine.
In case you are wondering: I don't have any relationship with Rogue Panda and I bought these bags at full price with my own money.
Rogue Panda Custom Frame Bag Review
Price: from $195
Size: custom
My rating: 4.5 / 5 stars, love it, just a couple small things
My conclusion: Rogue Panda's custom frame bags stand out for their extensive and fun fabric options, thoughtful design details, easy measuring process, and outstanding customer support from their small Flagstaff team. I love the way mine looks and how well it's held up over thousands of miles, though I wish it were just a hair wider and bigger.
What I Love:
Fun fabric choices (you can even provide your own artwork and they will print a custom fabric)
Extensive feature options (attachment, pocket, reflective tape, etc)
Options for full, partial, wedge, and full-suspension shapes
Reliable zippers
Easy "PandaVision" sizing process
Price is in line with competition
Excellent customer service
What I Don't Love:
Wish my bag was a hair wider and bigger; I need all the space I can get!
Fabric Choices
If I'm being completely honest, Rogue Panda's fun fabric options are the main reason I decided to go with them for a custom frame bag (they also came highly recommended from a few friends). For years I've been buying bikepacking gear in whatever color was on sale, a.k.a. black. If I was going to splurge on a custom bag, it needed to be colorful!
I waffled between Space Nebula, Neon Paint Splatter, and Sunset Topo. I finally decided on Space Nebula; my bike is named Stella after all! The customer support folks at Rogue Panda worked with me to position the pattern on the bag in order to bring out the colors I wanted to accentuate. I'm really happy with the result; it suits my (bike's) personality perfectly and I get a lot of compliments on it.
If the stock fabric options aren't enough, Rogue Panda can print a completely custom fabric. There isn't even an extra charge for this, as far as I know. My husband created his own design – a cheerful black and white robot-themed print – and we both think it turned out really well.
Custom Fit and Sizing
A custom-fit frame bag obviously requires detailed knowledge of your frame, but the process is surprisingly easy. If Rogue Panda has your bike on file, you don't even need to measure. Otherwise you follow their PandaVision process which consists of attaching a tape measure to your bike and taking a picture from the correct distance and angle. I did it in my driveway against my garage door in about ten minutes and sent them two different pictures to choose from. Here's what one of them looks like:
The PandaVision process works well. My fit is good overall, but feels perhaps a couple millimeters on the small side. Related to this — and also the location of the bolts and logo on my down tube — the bag pulls away from the down tube when stuffed full. I suspect this is within the normal variation of the fitting process; some bags will be just a hair on the small or large side, and the location of the bolts and logo on my bike didn't help. My husband's bag is an absolutely perfect fit for his bike.
This brings me to the only other hesitation I have about this bag: it is on the "sleek" (narrow) side compared to what I was expecting. This is probably a matter of personal preference and expectations. Before getting my custom bag I was using a bulky Salsa EXP bag, 3″ wide at the edges and too big for the space. It was an awkward fit and sometimes brushed against the cranks, but it held considerably more stuff.
Rogue Panda makes their bags 2.5″ wide at the edge, which seems to be common for custom frame bags. It's probably the right size for most riders and most bikes, as too much width can get in the way of cranks and even legs. But combined with the slightly small cut mentioned above, my bag feels a tad… skimpy. I would prefer a more generous cut and a width of more like 2.8″. Rogue Panda doesn't mention an option for custom width on their website, but if frame triangle space is a big concern for you, it wouldn't hurt to ask.
All that said, the bag does fit my bike well and never gets in my way, so it is probably very close to the ideal size. I'm a smaller bikepacker with a small frame triangle, so space is a big priority for me and I care about eking out every last millimeter. If that's also you, maybe talk to the customer support folks before ordering to see if there's any way for them to err on the large side.
Attachment Options
Customizing a frame bag is about more than just size and shape; you also get to choose an attachment style and other features. Rogue Panda does a great job of presenting the options and their pros and cons.
I chose bolt-on attachments for the down tube and lace-up for the top and seat tubes. This added a bit of cost ($65 at current pricing) but was worth it to me. The straps on my old Salsa frame bag were always getting in the way and rubbing my frame, and I wanted this new bag to be stable and look spiffy.
I'm happy with how the attachments turned out. The lace-up looks cool and provides a nice clean routing for my kLite Qube dynamo tail light cable. The bolt-on down tube attachment makes it easier to run a gear cage underneath. There's one small strap on the upper portion of the down tube which just barely clears the decal on my bike; I don't know if this is a standard placement or if they positioned it based on my PandaVision picture. There's a bit too much space between the bolts and the strap, causing the bag to pull away from the frame slightly in the middle of the downtube, but I can live with this.
The one downside to these types of attachments: the bag is harder to install and remove than it would be with straps, especially with the lace-up attachments. I'm happy to leave my frame bag on my bike all the time, so this isn't an issue for me.
Other Features
Rogue Panda offers a few other add-on features: side pocket, reflective tape, and a top-tube daisy chain.
I chose the side pocket and highly recommend it. It's the perfect place for my pump and a few other small items that would be hard to access in the main compartment.
I did not choose the reflective tape. I already plaster my bike with reflective tape on moving parts (rims, spokes, cranks) for safe night riding, and I wanted to maximize the amount of pretty fabric on my small bag. If you're looking for a quick way to add some nighttime visibility to your setup, however, the reflective tape strip seems like a good choice.
I don't remember the daisy chain being an option when I ordered my bag, but it does seem handy for maximizing usable bag space and keeping small items like pump or tools close at hand. I'd be tempted to add it if ordering now.
Durability
After 3000 miles, my frame bag is nearly as good as new. The outside has acquired a bit of dusty patina, as expected, so the colors are not quite as bright as they once were. All the functional bits — zippers, seams, etc. — show no signs of wear.
Special shout-out to the zipper, which feels sturdy and continues to run smoothly despite quite a bit of dust and grime. The zipper on my old Salsa frame bag has become much sticker with use, but Rogue Panda's zipper doesn't have that problem so far.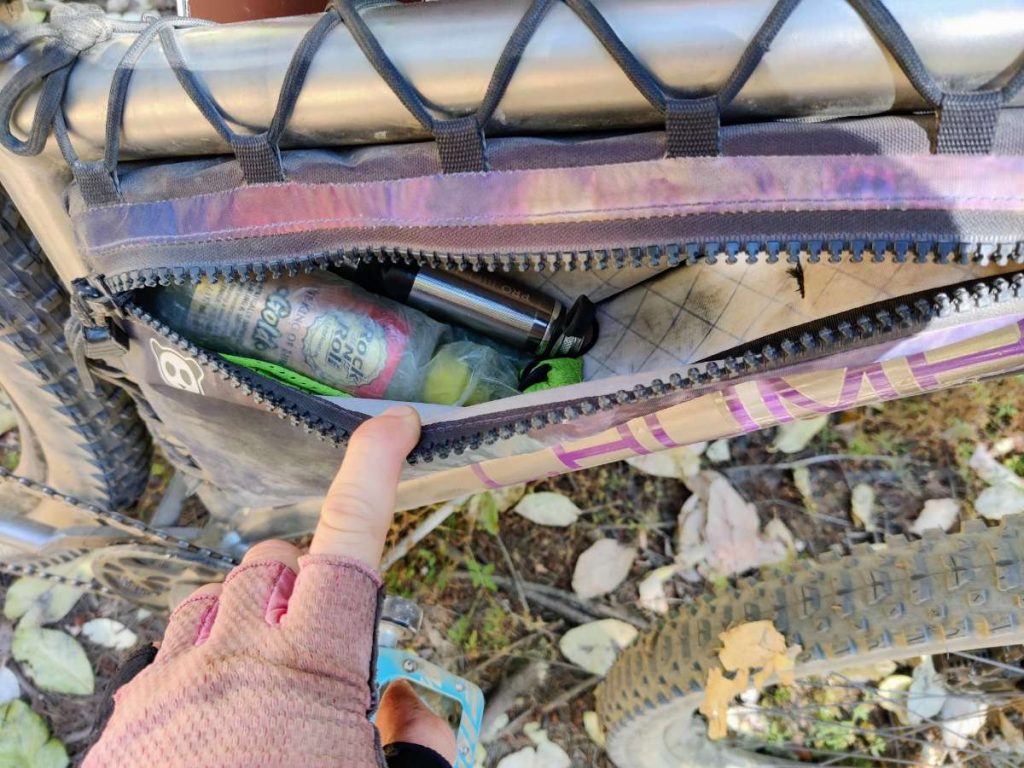 Price
My Rogue Panda custom frame bag cost $245, and that was back in 2022 when prices were lower. I won't try and deny it: this is a big splurge for most people! For me, after 15,000 miles of traveling on my bike with scrappy budget setups I finally started treating myself to some premium gear. A custom frame bag is one of the best investments in my opinion, especially if the popular stock options aren't a close fit for your bike geometry.
Rogue Panda's prices are very much in line with the competition when it comes to custom bikepacking frame bags. I've seen less expensive options on Etsy (no idea about the quality) but all the popular bikepacking bag makers charge a similar amount for their base custom frame bag offerings.
Communication and Customer Service
Rogue Panda is a small team based in Flagstaff, Arizona with self-described "wacky, dirtbag roots." Interacting with their team was a highlight of the ordering and purchase process. They really go above and beyond to make their customers happy.
My order included both a frame bag and a top tube bag in the space nebula print, which is unusual in that it's non-repeating. They went back and forth with me by email to see how I wanted the two bags coordinated (from the same pattern, or two separate nebulae). They even let me hack together a mockup showing exactly where I wanted the nebula.
Additionally, when my top tube bag didn't fit my bike due to no fault of theirs (turns out my bolt placement was not standard) they made it right at no extra cost. Five stars for Rogue Panda's customer support and communication!
Alamo Top Tube Bag Review
To go with my spiffy new frame bag, I also ordered an Alamo Top Tube Bag in the same print. This bag comes in three sizes (I got the smallest) with custom fabric and choice of strap or bolt-on attachment. As with the frame bag, I chose the bolt-on option (no extra charge) because my bike has the necessary bottle bosses and it's nice to eliminate clutter and rubbing from a couple extra straps.
I've been very happy with my Alamo top tube bag. The zipper is smooth and the sides are stiff, which means the bag can be opened and closed one-handed. It's roomy enough for my dynamo charger and a power bank with space left over. My only wish is for a cable port in the front to clean up my dynamo cable routing. If you use this bag for snacks, sunglasses, phone, etc. I think it's close to perfection.
More Bikepacking Resources
If you found this review helpful, you might also like these:
Or visit the bikepacking section for lots more!
Bike resources in your inbox?
There's more where this came from! Sign up here for occasional emails full of inspiration and information about bikepacking and bicycle touring.


Share the Adventure
If you found this article helpful, please consider sharing so more people can benefit from it: