All I wanted was a comfortable shirt that would protect me from the sun, keep me cool in scorching heat, and survive a month of non-stop biking and camping with rare showers and no laundry. Is that too much to ask?
This summer I took a chance on Smartwool's Merino Sport Ultralight Hoodie during a monthlong bikepacking trip in Central Asia. I needed serious sun protection for shadeless days and reasonable comfort in 90+ degree heat. I'm a big fan of other merino products from Smartwool and had high hopes for their ultralight sun hoody.
How did it do? I can certainly appreciate the challenges of designing a magic garment that meets all these needs. The Smartwool sun hoody did great in some respects and made compromises in others. I think it's a solid option overall – in fact I recently bought a second one for an upcoming trip – but it does have some drawbacks to be aware of.
In this detailed review I'll explain what this merino sun hoody excels at and what it struggles with so you can decide if it's right for your needs.
Women's Version Only
The Merino Sport Ultralight Hoodie seems to be exclusively a women's shirt. The closest men's equivalent is the Men's Smartwool Merino Sport Hoodie, which costs $20 more and blends merino with polyester instead of Tencel. These are two different products and I'm only reviewing the Women's Merino Sport Ultralight Hoodie here.
When you buy through affiliate links in this post, I may earn a small commission. Thanks for your support! Don't worry, everything you read here is unbiased and based on real experience on the road and trail. Learn more.
Smartwool Merino Sport Ultralight Hoodie (Women)
Price: $80
Weight: 5 ounces
Fabric: 53% merino wool / 47% TENCEL™ lyocell
Fabric weight: 120 gsm
Made in: Vietnam
My rating: 4 / 5 stars, performs well in many areas but with compromises
My conclusion: The minimalist Smartwool Merino Sport Ultralight Hoodie excels as a light and airy women's merino sun hoody for hot weather. The loose fit and natural stink-resistance make it easy to wear for days or weeks on the trail, and the small hood provides sun protection without getting in the way. The breathable ultralight fabric has tradeoffs though, especially in light colors: it's a bit see-through, not the most durable, collects dirt stains easily, and doesn't offer full sun protection.
Smartwool Merino Sport Hoodie Pros:
Light and airy fabric works well even in very hot weather (better than most lightweight merino shirts I've tried)
Stink-resistant even on multi-week outdoor adventures
Minimalist design: small hood and no drawstring
Affordable for a merino hoody
Made from ethical and sustainable ZQ-certified merino wool
Smartwool Merino Sport Hoodie Cons:
Light colors are see-through so choose your bra carefully
Sunburn can occur through the fabric
Fabric collects dirt stains easily
Short sleeves and no thumb loops
Not the most flattering fit
Unlikely to last a long time
Small hood (may be preferred by some people)
No drawstring (may be preferred by some people)
My Experience With The Merino Sport Ultralight Hoodie
I recently put the Smartwool Merino Sport Ultralight Hoodie through the wringer during a monthlong bikepacking trip in Kazakhstan and Kyrgyzstan. Aside from a spare merino t-shirt I kept packed away for exploring occasional towns, the sun hoody was my one and only shirt for the whole month. I wore it alone in the blazing heat of Kazakhstan's deserts and as a baselayer in the cooler high elevations of the Tian Shan Mountains.
Why Merino?
My favorite adventures tend to take me far from showers and laundry machines, so I've long been a fan of merino wool for backpacking, bikepacking, and travel. It naturally resists body odor — key for those just-one-shirt types of trips — and stays comfortable over a wide thermal range. The right weight of merino wool can add warmth on a chilly morning and yet somehow remain comfortable in the afternoon heat.
Why A Sun Hoodie?
For many years I paired merino t-shirts with sun sleeves and a neck Buff for sun protection. While this mostly prevented sunburn, the dark tan on my neck and upper arms (where sun sleeves sometimes slip down) was proof that my skin was not fully protected.
I switched to long-sleeve merino sun hoodies for my big adventures this year and I couldn't be happier. No more fidgeting with slipping sun sleeves or hot cloth bunched around my neck. I don't always wear the hood, but when the sun feels harsh it's a big relief to pop it up like a magic shield. When temps drop it also adds a surprising amount of warmth.
Ideally every sun hoody would be magically lightweight, durable, and fully SPF protective. In reality though, there are tradeoffs. I liked the Smartwool Merino Ultralight hoody quite a bit – in fact I just bought a second one for an upcoming trip – but it does come with some compromises. In this review I'll explain what this hoodie excels at and what could be better.
Temperature Range
This is where the Smartwool Ultralight Hoodie really shines: it's one of the few merino sun hoodies lightweight enough to be comfortable in HOT weather.
While bikepacking in Kazakhstan I experienced a few days of temps near 100 F as I pedaled across a shadeless desert. While this kind of heat is never comfortable, the Smartwool Ultralight Hoodie felt as light and airy as could be expected.
I think this sun hoody would also be ideal – or at least tolerable – for hot and humid conditions. The heat in Kazakhstan was dry, but I've spent a lot of time wearing merino shirts in hot muggy climates and hate how the heavier ones stay sweat-soaked all day long.
Compared to another popular merino sun hoody I've been using, the Ridge Merino Solstice, the Smartwool Ultralight is much more comfortable when temperatures exceed around 75 degrees F.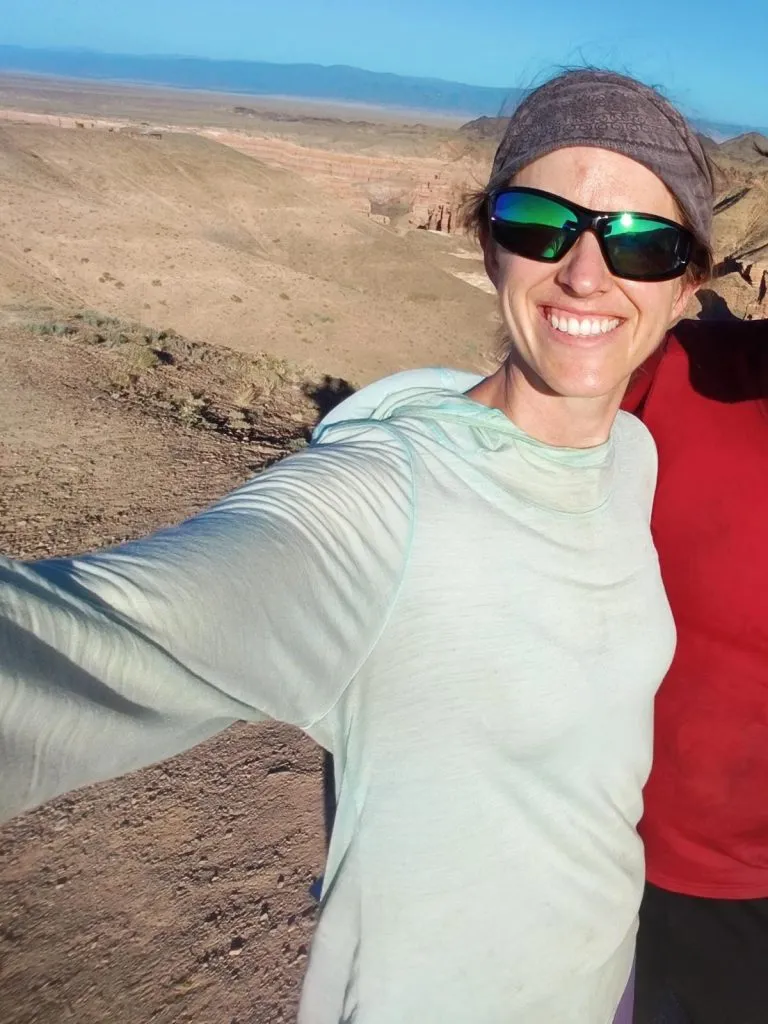 Fabric
The Smartwool Ultralight Sport Hoodie is made from a unique blend of 53% merino wool and 47% TENCEL™ lyocell. This combination blends the quick dry time of lyocell (a semi-synthetic fabric made from cellulose fibers) with the natural thermoregulation and stink-resistance of merino wool. As mentioned above, this combination works well in hot weather and feels light and dry against the skin.
Sometimes this shirt is also called the "Smartwool Merino Sport 120 Hoodie" after the 120 weight designation of the merino. Many light and ultralight merino shirts are 150 weight, which I find a bit heavy for hot weather. This hoodie's 120 weight makes it truly ultralight.
Heads up ladies: the lighter colors of this thin fabric are somewhat see-through. I wore the light blue "bleached aqua heather" color to Central Asia because I thought a light color would feel better in the heat. I sometimes felt awkward about the subtly visible outline of my sports bra (a skin-colored Patagonia Barely), especially in a region where modest clothing is the norm. The fabric was also a bit clingy against my sports bra. Throughout the trip I spent more time than I wanted to thinking about my chest.
If bra show-through is a concern for you, I'd recommend choosing a darker color. The dark blue color has no such problem.
Sun Protection
Another consequence of the Merino Sport Hoodie's ultralight fabric: it doesn't offer the best sun protection for extreme or long-term sun exposure. I quickly developed sports bra tan lines through the shirt on my back and shoulders. After getting a moderate sunburn on one particularly exposed day I started wearing sunscreen under the shirt.
My experience in Central Asia – biking for weeks in high mountains above treeline and across shadeless desert – is probably on the extreme side. Casual users might not notice any issues. I think the worst sun exposure happened when the shirt got sweaty and stuck to the skin on my back and shoulders. In my forward-leaning cycling posture these areas were in direct sunlight all day long.
Hikers wearing backpacks, or anyone using a more upright posture in less intense heat, might not have this problem. If you do plan to wear this shirt as your sole sun protection for a long adventure, be aware that its protection is only partial.
Hood
I would describe the hood on the Smartwool Merino Sport Hoodie as "minimalist." It works great to shade the neck, but it won't necessarily shade your face from a variety of angles like the roomy hood on the Ridge Merino Solstice. It's cut small and definitely won't fit over a helmet, but it works well as a thin layer under a helmet. There's no drawstring, but you won't need one since the stretchy hood fits close to the head anyway.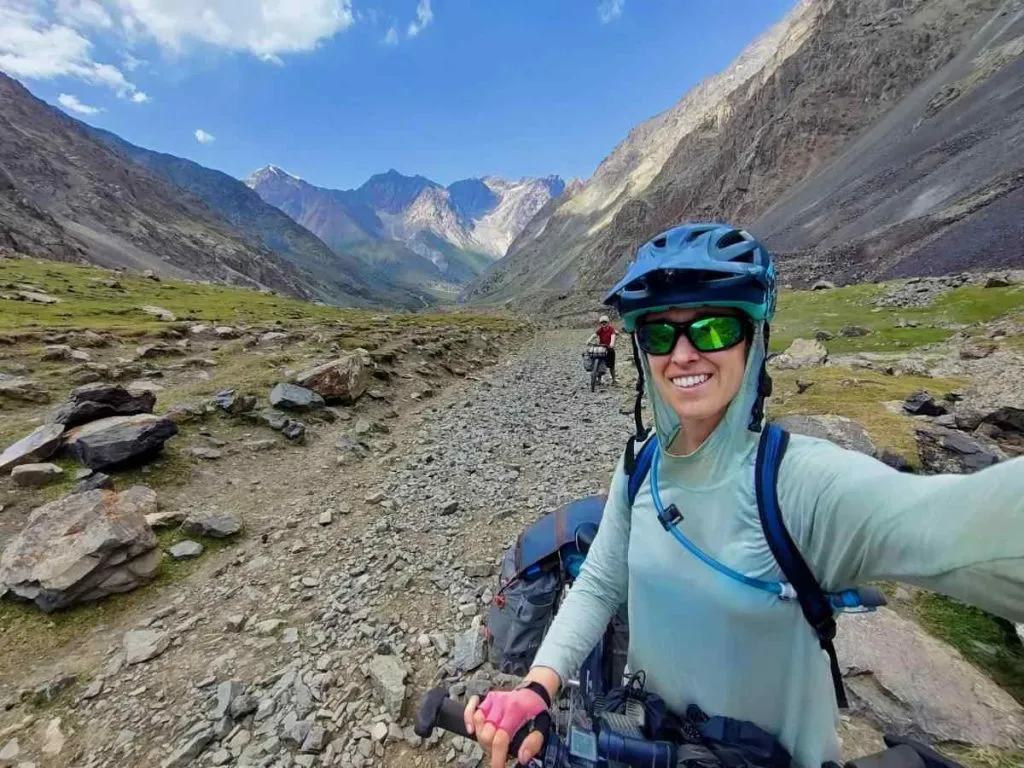 I know some folks prefer a larger hood, but personally I like the small minimalist hood on the Smartwool sun hoody. There's less fabric to get in the way when I'm putting on a backpack or bending down to work on my bike. There aren't any drawstring cords flopping around on my chest.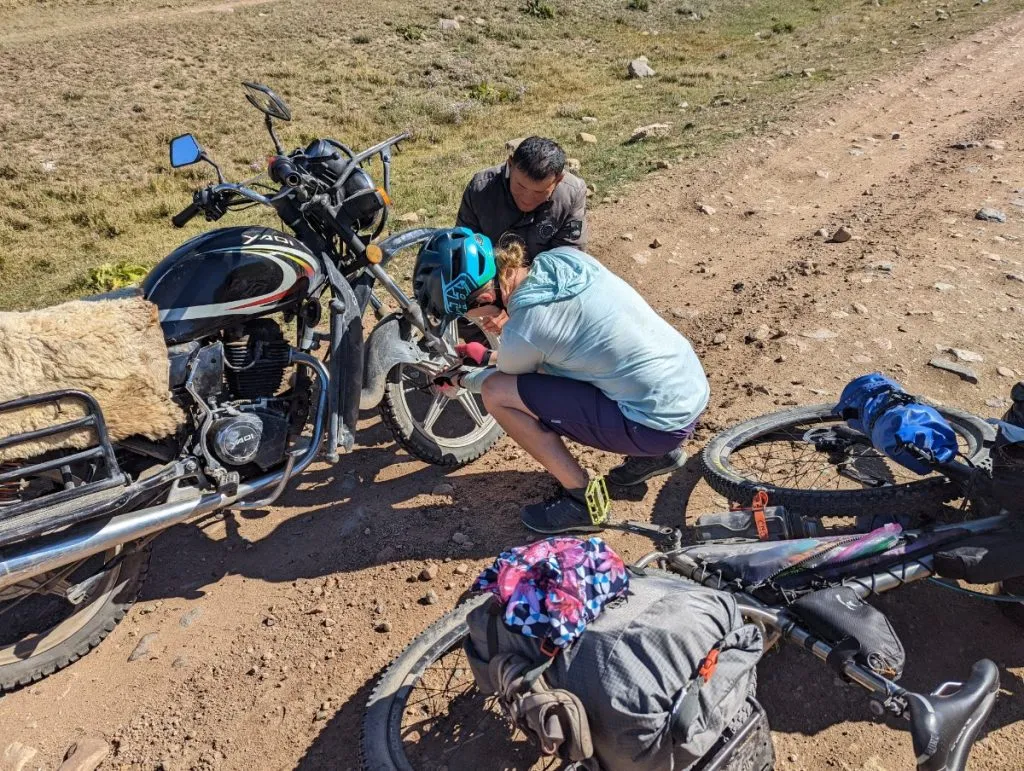 When I bikepacked in the Ridge Merino Solstice the hood sometimes flopped over my shoulder when I bent forward, or flapped annoyingly in strong wind. With the Smartwool Sport Hoodie I hardly ever think about the hood except to pull it up for protection from the harsh sun.
Fit and Design
The Smartwool Merino Sport Hoodie runs a bit big. I'm 5'5″ and weigh 120 pounds and my chest is an A cup. I usually wear a women's small, but in this case I returned it and bought an XS instead. The XS fit me better overall but neither fit perfectly.
You can expect the Merino Sport Hoodie to shrink a bit once washed. I was careful to wash mine with cold water and dry it on low heat as directed, but it's still a good inch shorter and narrower when I compare it to my new unwashed one.
I have long arms and the sleeves were a little too short on the XS, especially once I washed it. The Merino Sport Hoodie has no thumb loops. Personally I like thumb loops and the longer sleeve lengths that usually come with them, so this was a downside for me. I had to sunscreen an inch of skin between the cuff and my cycling gloves to avoid burning.
I also have a fairly long torso and thought the Merino Sport Hoodie could have been a tad longer at the hem. The overall fit was boxy and I didn't feel especially attractive in it, but that was the least of my concerns on this trip.
Unlike some designs that use raglan sleeves for smoothness under backpack straps, the Smartwool Sport Hoodie has seams atop the shoulder. Though I mostly use the Sport Hoodie for bikepacking, I've also used it backpacking and didn't feel any discomfort from the seams.
The armholes on the Ultralight Merino Sport Hoodie are generously cut, which I really appreciate. No one enjoys the feeling of fabric bunched up in their underarm, especially in hot weather! I'm sure this also helps, along with merino's natural stink-resistance, to keep the shirt smelling fresher during multi-day adventures.
Stink Resistance
Merino wool's natural stink-resistance is the main reason I live in it for backpacking, bikepacking, and travel. I've never found a synthetic garment that stays as fresh as merino over days or weeks without a proper shower or laundry. Since this Smartwool sun hoody is only 53% merino wool (the rest being Tencel) I worried it might get a little funky during a month of remote bikepacking.
I'm happy to report that the Smartwool Ultralight Sport Hoodie was as stink-resistant as I've come to expect from 100% merino wool. Though showers were scarce and temps were often hot, funk levels remained manageable throughout the trip.
Durability
Ultralight merino fabrics tend to be fragile and this Smartwool sun hoody is no exception. To be fair, mine has only a single tiny hole after a month of wear. I was bikepacking though and usually not wearing a backpack. I wonder if the thin fabric can withstand rubbing from a multi-day pack during a long backpacking trip.
If you're thinking about this sun hoodie for a long thru-hike like the PCT, you might need to ship yourself a fresh one partway through. And if you're using it closer to home, I'd recommend washing it gently and not too often if you want it to last.
The light colors also have a tendency to pick up dirt that doesn't wash out. Mine became discolored with dirt and sweat stains in just a week or two. Granted I really put it to the test! During a month of biking and camping in Central Asia my shirt saw only a handful of sink and river rinses and not a single washing machine. By the end it looked so grubby I was embarrassed to wear it on the plane home. By comparison, I've worn the Ridge Merino Solstice Hoodie for a month of similarly uncivilized bikepacking and found it much less prone to dirt stains.
If not for the dirt issue I think the longevity would be acceptable for such a lightweight shirt. I'm going to try a darker color next time and see if that hides the dirt better.
Price and Value
Merino clothing tends to be expensive, but at $80 the Smartwool Ultralight Hoodie is on the affordable side of the merino sun hoody range. Comparing to a few other popular merino sun hoodies: the Ridge Merino Solstice matches the $80 price tag, the Voormi River Run sells for $129, and the Ibex Indie costs a whopping $170!
Normally $80 isn't too much to pay for a high-quality technical garment, but I would expect it to remain wearable for longer than a month. The staining and durability issues combined with the merino price premium do make this hoodie feel a bit spendy.
If budget is an issue you can find synthetic sun hoodies – like the Patagonia Capilene Daily Hoodie and REI Sahara Shade Hoodie – for lower prices. Some are better than others at matching the stink-resistance and excellent thermal range of merino, but the lightest options are quite comfortable in hot weather.
If I were buying a sun hoody for single-day use (in other words, it's being washed regularly) I would go with synthetic for its better balance of cost and durability. But for long remote trips the stink-resistance of merino is worth the extra cost to me.
In Conclusion
After a month of heavy use my Smartwool Merino Sport Ultralight is too well-used for another big trip. I hoped it would last longer. But I liked it well enough that I bought another, this time in a darker color, for another upcoming hot-weather trip. At the relatively affordable $80 price point I'm willing to pay for a second one – if it were much more expensive I would have given up on it. So far I like the darker blue color; it's not see-through and doesn't accumulate dirt stains as easily.
The women's Merino Sport Ultralight Hoodie from Smartwool stands out for its excellent hot weather performance. Though the thin ultralight fabric comes with its drawbacks – limited durability and see-through light colors especially – it feels wonderfully light and airy. If you primarily adventure in cooler weather there are better options out there, but for temps above 80 F the feel of this hoodie can't be beat.
For a more well-rounded merino sun hoody that does pretty darn well in hot weather and also beats the Smartwool Sport in terms of durability, thickness, and sun protection, check out the Wuru Nuyarn Lightweight Merino Hoodie.
More Outdoor Resources
If you liked this review, you might also like these other articles:
Or, visit the Exploring Wild hiking resources center for LOTS more!


Hiking resources in your inbox?
There's more where this came from! Sign up here for occasional emails full of inspiration and information about backpacking and hiking.


Share the Adventure
If you found this article helpful, please consider sharing so more people can benefit from it: