At a Glance
The NeoAir XLite is Therm-a-Rest's most popular ultralight sleeping pad.
The women's version is a bit shorter and a bit warmer, which nets out to the same weight as the regular version.
I've tested it over 100+ nights of backpacking and bikepacking and love how comfortable yet lightweight this pad is.
Out on the trail, a good night's sleep is precious. When we're backpacking, bikepacking, or otherwise carrying all our gear on self-powered adventures, a comfy lightweight sleeping pad is key.
I've spent over 100 nights on my Therm-a-Rest NeoAir XLite Women's sleeping pad in the last two years. Before that I used a regular NeoAir XLite for eight years. I believe the XLite is the best balance of comfort, warmth, and lightweight packability on the market. And because I'm a small-ish person who sleeps cold, the Women's NeoAir XLite is yet another step up from the already impressive NeoAir XLite.
In this long-term review I'll explain how the Women's XLite differs from the regular version, what type of outdoor adventurer will appreciate it, and my likes and dislikes after sleeping on it for dozens of nights.
When you buy through affiliate links in this post, I may earn a small commission. Thanks for your support! I always offer unbiased opinions based on real experience from the road and trail. Learn more.
Therm-a-Rest NeoAir XLite Women's Sleeping Pad
Price: $200
Weight: 12 ounces
R-Value: 5.4
Dimensions: 20 x 66 x 2.5 inches
My rating: 4.5 / 5 stars, great sleeping pad with a couple minor issues
My conclusion: The women's version of Therm-a-Rest's legendary ultralight 3-season sleeping pad, the NeoAir XLite, offers an unbeatable warmth-to-weight ratio for shorter people thanks to extra insulation and reduced length. If you're around 5′ 5″ or less in height and value lightweight gear for self-propelled adventures in variable temperatures, the Women's NeoAir XLite is an obvious choice.
What I like:
Pad's length matches my height, so I'm not carrying more pad than I need
5.4 R-Value helps me sleep warm even on sub-freezing nights
Thick pad is comfy for side and back sleeping
WingLock valve makes it easy to inflate, deflate, and fine-tune firmness
What I dislike:
Expensive
Eventually developed a slow hard-to-find leak and needs to be topped up once or twice per night
Width may feel narrow to some, and the Women's version is not available in wide like the regular version
My Experience With the NeoAir XLite Women's Sleeping Pad
I've used my Therm-a-Rest NeoAir XLite Women's Sleeping Pad for roughly 90 nights over the last 1.5 years, mostly for bikepacking and a bit of backpacking.
I bought it in 2021 after my older NeoAir XLite (regular version), which I'd been using for 8 years and countless nights of backpacking and bikepacking, finally developed a slow leak that I couldn't find. After many attempts at submerging it in bathtubs / lakes / cow troughs with no luck, I finally decided to replace it.
Therm-a-Rest updated their valve system in 2020 and I was curious to try it, plus I'd been eyeing the women's version anyway. I'm 5′ 5″ tall and I definitely sleep cold, so Therm-a-Rest's decision to make the women's version shorter and warmer seemed like a smart move. I bought my Women's NeoAir XLite in summer of 2021 and have been using it ever since.
NeoAir XLite Women's vs. Regular
The NeoAir XLite Women's sleeping pad is the same as the regular NeoAir XLite, with two exceptions. The women's version is:
6 inches shorter than the regular pad (66 inches versus 72)
Warmer than the regular pad (R-Value of 5.4 instead of 4.2)
It weighs the same (12 ounces) as the regular, and packs down to the same size (4 x 9″). Essentially, Therm-a-Rest cut material and weight by making the pad shorter, then added it back with extra insulation. We could also call it the NeoAir XLite For Shorter and Colder People, but I guess that's a little wordy.
The idea is that women, on average, are shorter in height and run colder while sleeping. For those of us who fit that generalization, the Women's XLite is a brilliant idea. For those who don't, there's no reason to choose it over the regular XLite.
If you happen to be a shorter man, a child, or any other human who can fit on a 66 inch pad and would benefit from a bit of extra warmth, the "women's" version is still a great choice for you. It's the same color and shape as the regular, and not covered in pink flowers or anything like that.
Pad Length (Women's Version)
Since pad length is a defining feature of the Women's NeoAir XLite, let's start there.
The pad is 66 inches long. I am 65 inches long (5′ 5″). As you might expect, it just barely fits me. If I don't position my head very carefully near the top, my feet dangle over the bottom. This doesn't bother me though, because it's a small amount and my feet are still elevated off the cold ground. I often sleep on my side, in which case the bend in my knees makes it a non-issue.
If you're shorter than I am, say 5′ 3″ or less, I think the women's length will be perfect for you. For folks in my height range, say 5′ 4″ to 5′ 6″, you'll have to decide if the extra warmth is worth is the need to position yourself more carefully on the pad (for me it definitely is).
If you're taller than 5′ 6″, expect your feet to hang off the edge. This might be fine if you're looking for a warmer pad at the lightest possible weight. It's still much longer than the torso-length NeoAir XLite and lighter than the warmer NeoAir XTherm. But don't expect the full-length sleeping pad experience.
If you're tall but sleep cold, another option to consider is the Therm-a-Rest NeoAir XTherm. It has an incredibly warm R-Value of 6.9 for only 15 ounces of weight. Its warmth-to-weight ratio (its R-Value divided by its weight) is almost the same as the Women's NeoAir XLite, but it's a standard length and even warmer.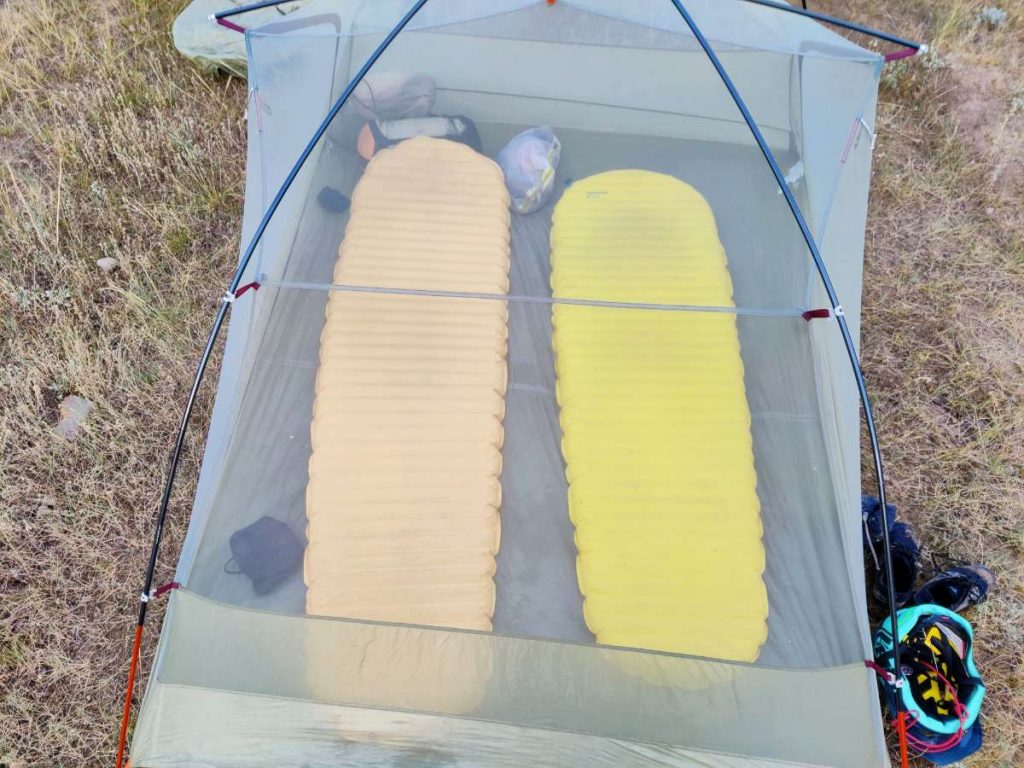 Pad Width
Like the regular XLite, the Women's XLite has a mummy shape and 20″ max width. This is relatively narrow; by comparison the Sea to Summit Ether Light XT Women's has a width of 21.5 inches. Some popular (but heavier) backpacking pads measure 23″ or even 25″ wide.
Some people feel the NeoAir XLite is a tad too narrow. I can understand this, especially when sleeping on my side; there isn't much room for my arms. I'm a slim build at 120 pounds and 5′ 5″, so if I feel this way I can imagine many other people do too. On the other hand, my husband – who is much broader in the shoulders and torso – also sleeps comfortably on his NeoAir XLite and has never complained about the width.
Personally I'll take the XLite's lighter weight in exchange for the narrower profile. But if this is something that bothers you, the XLite women's or regular might not be for you. Therm-a-Rest does offer the regular XLite in a wide version (25″ width), but it only comes in longer lengths (72″ or 77″) and without the women-specific boost in R-Value.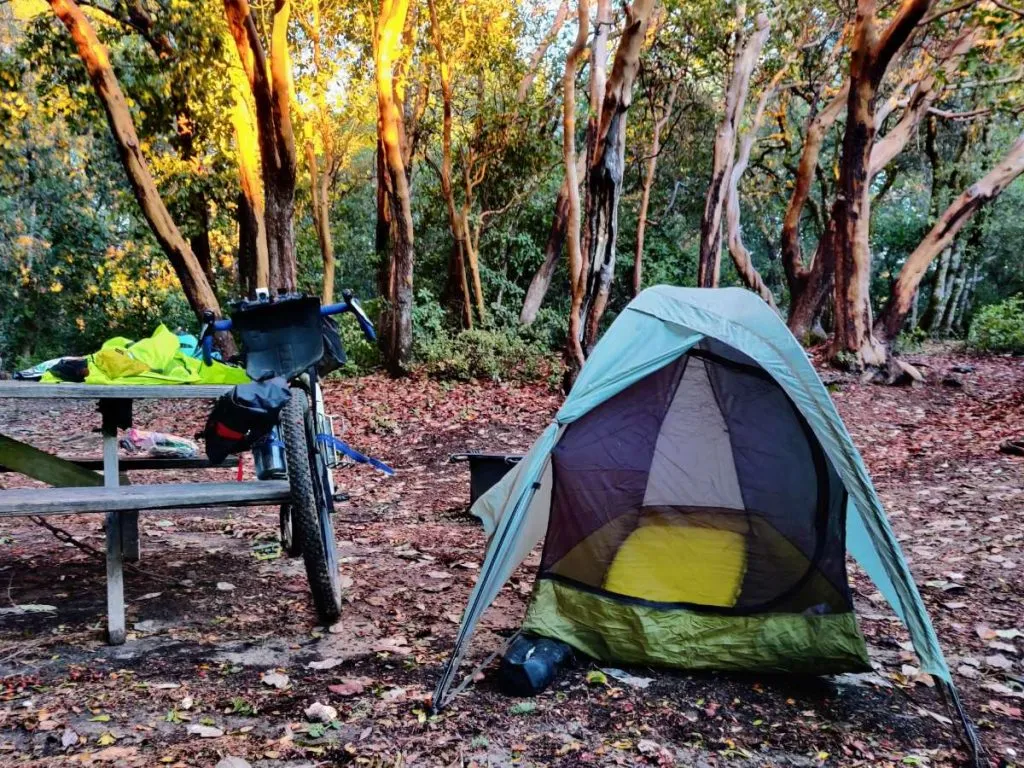 Weight and Packed Size
The Women's NeoAir XLite weighs 12 ounces and has a packed size of 9 x 4″, the same as the regular NeoAir XLite. No other sleeping pad offers such a high R-Value for such small weight and packed size.
If you stick to summer adventuring in mild weather, you can get close to the same weight with competitors like the NEMO Tensor Ultralight (13.8 oz, 2.5 R-Value) and the Sea to Summit Ultralight Air Mat (13.9 oz, R-Value 1.1). Therm-a-Rest has its own lighter offering: the NeoAir UberLite (8.8 oz, R-Value 2.3). All three of those pack down a bit smaller, but the R-Values are simply not warm enough for the types of adventures many of us enjoy.
The NeoAir XLite really hits the sweet spot of balancing weight, size, and warmth for spring, fall, and high-alpine summer conditions.
R-Value and Warmth
The Women's NeoAir XLite has an impressive R-Value of 5.4, which is even warmer than the already impressive XLite's value of 4.2. Unlike other pads of comparable weight that are mostly intended for summer conditions, the XLite is warm enough to get you through those chilly sub-freezing nights in the mountains or desert.
I've slept on the Women's XLite down to temps in the twenties, possibly even the teens. While I'm not totally cozy in those temps with a 3-season setup, I get through the night, and I don't feel my sleeping pad is the limiting factor.
Honestly, I've always found the regular NeoAir XLite pretty warm too. It's hard to say if I notice the extra insulation in the women's version, but I'll take any advantage I can get on those bone-chillingly cold nights!
Thickness and Comfort
NeoAir XLite sleeping pads are known for being impressively comfortable for their weight, or impressively light for their comfort. The Women's NeoAir XLite is essentially the same, from a comfort perspective, as the regular XLite. I've spent many nights on both and find the 2.5 inch thickness perfect for my mix of side sleeping and back sleeping.
Like all air pads, the XLite's feel can be fine-tuned by changing the air pressure inside. For a firmer pad (better for back sleeping) add a few puffs of air. To make more space for hips and shoulders to sink in while side sleeping, deflate a bit.
Though I find the NeoAir XLite's comfort totally adequate and have slept on it for weeks and months at a time, it is not as comfortable as sleeping in my own bed. When sleeping on my back it doesn't support my tailbone as much as I'd like, leading to a feeling of compression in my low back. This is especially noticeable when I've been biking a lot and have tight hip flexors, so I can't blame the pad entirely.
Valve and Inflation
Therm-a-Rest made a big update to the valves on its NeoAir pads in 2020, and I love the new version.
When inflating my old NeoAir XLite, air would sneak out between every breath. Not just any air — gross, moldy, nasty air that had been inside my gross, moldy sleeping pad and was now trying to sneak into my mouth. Yuck.
Happily the new WingLock valve system prevents backflow when switched into one-way mode for inflation. It has a high flow rate that makes inflating and deflating fast and easy. I've found it easy to use and have no complaints.
Therm-a-Rest also aims to prevent the mold problem (caused by damp air from our lungs) with a lightweight pump sack. I was skeptical at first and planned to ditch the sack and save a few grams, but now I'm hooked and always carry it. It's extremely light and compact, saves breath when I'm tired or camped at high altitude, and might extend the life of my pad. All good things!
Noise
The classic complaint about NeoAir pads in general, including the women's version, is that they make crinkly noises when you move around on them. This is somewhat true, but I think it's often overstated and I don't find it to be a problem. After many cumulative months of sharing a small tent with my husband, both of us on NeoAir XLite pads, we're still married. So it can't be that bad!
In all seriousness though, I believe Therm-a-Rest has improved the noise problem in their newer pads. My XLite from 8 years ago was a bit louder, but even back then it wasn't a big issue. I'm a noise-sensitive person and I just don't find the NeoAir's crinkling bothersome.
If it seems too loud out of the box, I suggest giving yourself a few nights to see if you get used to it. For me the best-in-class balance of warmth, light weight, and comfort are totally worth a bit of minor crinkling.
Durability
I think the NeoAir XLite (both regular and women's) is surprisingly strong for its weight, but it's still an ultralight air pad so care is needed. It's smart to check your campsite for sharp things before setting up, and for extensive desert camping I sometimes use a thin foam underpad.
Fortunately, if the pad does get punctured it's not a big deal to patch it. I patched my Women's NeoAir XLite after bad luck with site selection at a popular car camping spot, and I patched my old XLite Regular several times during its 8 year life. The patch process isn't difficult and the patches can hold for years if you apply them carefully.
Worse than an obvious puncture: the sneaky slow leak. You can't find it, even when submerging the pad in still water, so you can't patch it. NeoAir XLite sleeping pads are indeed vulnerable to these (as is any air pad), and over time you may find yourself adding a few puffs of air in the middle of the night.
After a few dozen nights my Women's XLite developed a slow leak that I still haven't found. It doesn't bother me much to add air once or twice a night, so I'll keep using it unless it gets worse. I used my old XLite for seven years – much longer – before it developed the same problem, so I suspect I was unlucky to have this issue so soon with my Women's XLite.
Other NeoAir XLite Models
The Women's NeoAir XLite can be thought of as a unique offering in Therm-a-Rest's full NeoAir lineup. The UberLite, XLite, and XTherm address three different points on the weight / warmth scale. The Women's XLite adds a fourth option in a unique length.
Here are the pads in the NeoAir line, and how the women's XLite fits in:
| | | | | | |
| --- | --- | --- | --- | --- | --- |
| Model | Weight (oz) – regular size | R-Value | Length – regular size | R-Val / Weight | Sizes |
| XLite Women's | 12 | 5.4 | 66 | 0.45 | women's regular (short) |
| XLite | 12 | 4.2 | 72 | 0.35 | small, regular, regular wide, large (long and wide) |
| UberLite | 8.8 | 2.3 | 72 | 0.26 | small, regular, regular wide, large (long and wide) |
| XTherm | 15 | 6.9 | 72 | 0.46 | regular, regular wide, large (long and wide) |
As you can see from the above table, the Women's XLite has a warmth-to-weight ratio comparable to the XTherm. Though its absolute R-Value is still a bit low for winter adventuring, it's an extremely solid 3-season choice and both the warmest and lightest true 3-season (i.e. warm enough for not just summer) lightweight pad available.
Therm-a-Rest only offers one size in the Women's NeoAir XLite, and does not offer a women's version of any other pads in the NeoAir line. Though I can understand why Therm-a-Rest made this choice – they already offer a variety of other sizes and R-Values with non-gendered branding – some folks will feel left out. Notably, if you're a shorter person who wants a NeoAir pad wider than 20 inches, you'll be stuck carrying around extra unneeded length with the Regular Wide size. Hopefully Therm-a-Rest will address this with additional short-wide sizing in the future.
In Conclusion
If you're a backpacker or bikepacker in search of lightweight gear for 3-season adventuring, the Therm-a-Rest NeoAir XLite is the best combination of comfort, warmth, and lightweight packability on the market. If you're shorter than 5′ 5″ the NeoAir XLite Women's version offers a bonus: extra-warm insulation without additional weight or bulk.
I think the Women's NeoAir XLite is perfect for smaller people who are already sold on the idea of the regular NeoAir XLite. If you're looking more generally for a women's sleeping pad for traditional backpacking or car camping, the Women's XLite probably isn't the right fit. You could get a heavier but comfier and more durable pad – women-specific or not – for less money. But if you're a smaller person and cold sleeper who's already leaning toward the regular NeoAir XLite for ultralight adventuring, the Women's version may well seal the deal.
More Outdoor Resources
If you found this review helpful, you might also enjoy these:
Or visit the backpacking and bikepacking sections for lots more!


Hiking resources in your inbox?
There's more where this came from! Sign up here for occasional emails full of inspiration and information about backpacking and hiking.


Share the Adventure
If you found this article helpful, please consider sharing so more people can benefit from it: