A solid handlebar bag is a key part of any bikepacking setup, and the RockBros handlebar bag is a solid budget option indeed. Mine has seen around 1000 miles of trail, gravel, and pavement, and is still in excellent condition.
The roll-style bag mounts solidly to the handlebars, including drop-style bars (though at a reduced capacity), and includes a fantastic front pouch for extra convenient capacity.
Extra straps are included for attaching another item to the bag, but beware, the straps loosen over time. Other than this frustrating flaw, this bag is a great option for those looking to explore bikepacking gear without paying two or three times as much for a premium brand.
Full disclosure, I have since upgraded my handlebar setup to a Salsa EXP Anything Cradle, and I prefer it slightly over this RockBros bag. But, it cost over twice as much, and it has some drawbacks of its own (full comparison below).
Here's everything I like about the RockBros handlebar bag, a few things I don't, how I get the most out of it, and how it compares to other bikepacking handlebar bags.
RockBros Handlebar Bag Overview
Review Summary: The RockBros Front Roll Handlebar Bag + Pouch is a solid choice for bikepackers on a budget. The combined capacity of around 20 liters (assuming straight handlebars) is a great way to carry a sleeping bag or tent, plus plenty of snacks and other small items in the pouch. The soft attachment system is surprisingly effective and versatile, though straps will start loosening if it's overloaded. For the right type of usage, it's a great set of bags. Read on for the details.
Pros and Cons
Pros
Good value for money.
Flexible handlebar mount with adjustable height.
Sturdy and durable materials.
Convenient shock cord for holding extra layers.
Pouch is large and very convenient for snacks.
Versatile straps can hold an extra item (tent or dry sack) in addition to front roll + pouch.
Cons
Limited capacity on drop bar bikes.
Front roll is tricky to stuff while on the bike, and a bit of a hassle to remove frequently.
When an extra item (eg. tent) is strapped to the roll bag, the straps loosen over time, risking tire rub.
Design and Features
The RockBros handlebar bag set includes two pieces. which are designed to work well together but can also be used separately:
Front roll bag that attaches to handlebars (also available separately)
Detachable pouch that attaches to front roll bag, or to handlebars alone.
The set also comes with a few standalone adjustable buckle straps. These don't have an obvious intended use, at least as far as I can tell, but have been quite useful for attaching and cinching down gear in all kinds of places on my bike.
Front Roll Bag
This is essentially a tube-shaped dry sack with two soft mounting points (as opposed to a rigid mount like the Salsa Anything Cradle). The bag opens on both ends with roll-top closures.
On a mountain bike with flat handlebars, the capacity is an impressive 16 liters. On a drop bar bike, like my Long Haul Trucker with Cowchipper bars, you'll need to roll the ends in quite a bit more. However, the bag WILL work with drop handlebars, as long as you account for this decrease in capacity. On my drop bar bike the capacity is enough for my down sleeping quilt, stuffed aggressively.
The mounting system uses sturdy velcro straps and a set of optional foam spacers, allowing some flexibility in position of the bag. The spacers help keep the bag from resting directly on cable housing (though not as much as a rigid mount would), and also allow for mounting the bag a bit lower to help with clearance for drop handlebars. I've found the mounting system to be reliable and solid.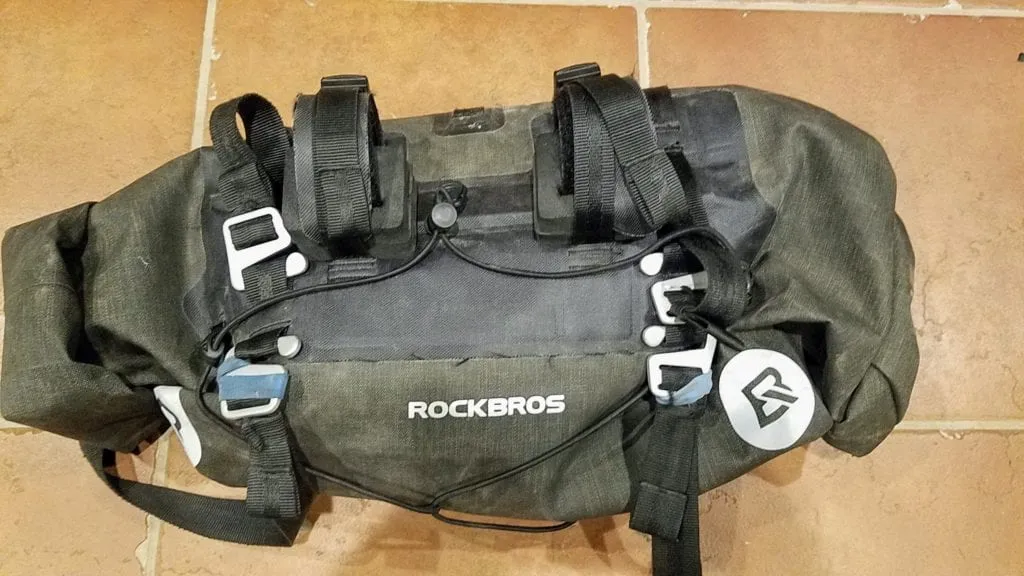 In addition to the mounting straps, there are two long straps with metal hooks that wrap all the way around the front of the bag. As far as I can tell, these are for attaching an extra item, like a tent, to the front of the bag. When not needed, they can be shortened and hooked into place on the front of the roll bag. They are convenient for adding gear capacity, but they loosen over time on rough trail, causing tire clearance issues for people on smaller bikes.
[CAUTION: I don't trust the metal hooks to stay in place, and if they unexpectedly came loose and caught in your front wheel, it would be really, really bad. I reinforce mine with rubber bands. See Problems and Solutions below for more detail.]
There is a criss-cross of shock cord on the top/front, which is very convenient for holding frequently used layers, gloves, or even the occasional sandwich. The add-on pouch, which I'll describe next, attaches by hooking into two loops on the front of the roll bag in a way that still leaves most of the shock cord accessible.
Add-On Pouch
This is my favorite part of the two bag set!
With a capacity of 6 liters, this roll-top bag holds a surprising amount of stuff. I use it for snacks, headlamp, gloves, basically anything small I might need easy access to throughout the day or evening. It's very easy to open with one hand, though closing it while riding is a bit harder.
The back of the bag has several different mounting options, including wide velcro straps that could mount directly to handlebars for rides that don't require the full roll bag. There are also two vertical loops for passing some kind of horizontal strap, and some small loops for attaching to the roll bag via the metal hooks.
I love this pouch so much that even when I use my Salsa Anything Cradle instead of the RockBros front roll, I still attach this pouch to it. It's a wonderfully versatile little piece of gear. It's available separately if you choose a different roll bag and still want to add this on.
Tire Clearance
I ride a size small Salsa Fargo (28″ wheels) and a 50 cm Surly Long Haul Trucker (26″ wheels). This bag has plenty of tire clearance on both, EXCEPT when the extra straps are used to attach another item, like my tent, to the roll bag.
These straps tend to loosen over time, especially on rough trail, allowing whatever they're securing to drop lower over the front tire and potentially rub. The straps are pretty easy to tighten, and can be made to loosen more slowly by positioning elastic bands near the buckle, but I haven't yet found a way to stop it entirely.
The extra capacity is convenient, but you'll have to decide for yourself whether it's worth the tradeoff. When not trying to attach another item to the roll bag, I've had no problems with tire clearance.
Packing Tips
Unlike the Salsa Anything Cradle, which holds a detachable dry sack, the RockBros Front Roll bag attaches directly to the bike. The mounting system is, in my opinion, too much of a hassle to remove every night, so you'll need to find a way of loading the bag while it's still attached to the bike.
I find this easiest to do with the bike lying on the ground. I make sure to carefully stuff my sleeping quilt down along the edges of the bag as I stuff it, otherwise it doesn't pack down as small as I'd like.
As with any handlebar gear storage, it's best to pack light items in this bag to avoid messing with the bike's steering or balance.
Problems and Solutions
Any bag potentially has its issues, even the expensive ones. This budget handlebar bag, though still a great value, has a few. Here's a summary of the minor issues I've found and how I solved them.
Drop Bar Clearance
As with any handlebar roll bag, drop handlebars significantly decrease the capacity. I've found two ways to eek out a little more:
Use the foam spacers to position the bag a bit lower. Especially if you have flared drops, like Salsa Cowchipper or Woodchipper bars, this will give you a bit more capacity.
Use an adjustable strap around the ends to cinch it down even further after rolling the ends as tight as you can. The bag actually comes with a strap that's perfect for this. I'm not sure this is the intended use, but it works great.
Potentially Dangerous Buckles
The straps for holding extra gear attach with a non-locking metal buckle that just slides into a loop. During rough riding I have seen these buckles start to slide loose, and have noticed that they are theoretically the perfect length to catch catastrophically in my front spokes.
This has not happened to me, but I take steps to prevent it, and I don't want it to happen to anyone else either. I use a rubber band around each buckle, as shown in this picture, to make sure it doesn't slide loose.
Loosening Straps
As mentioned above, the roll bag's straps can be used to attach an additional item like a tent. These straps unfortunately tend to loosen over time, especially on rough terrain, and need to be re-tightened. I've found that cinching the little elastic loop (meant to hold the tail of the strap) right up against the buckle slows this a bit, but doesn't stop it entirely.
This is, unfortunately, my biggest issue with the bag. Note that if you don't need to attach an extra item, or if that item is very light, it's not an issue.
Waterproof?
Is the RockBros Handlebar Bag waterproof? I've yet to fully test it in pouring rain, but with the ends rolled securely I would expect it to be fully waterproof.
That said, I never trust any single bag to keep my down quilt dry in cold and rainy conditions. I use a kitchen trash bag as an inside liner, which works great. I just need to make sure I remember which end the opening is on when it's time to get my quilt out.
Alternatives
For the price I think the RockBros bag is a solid choice, but this section will help you compare it to other options.
Handlebar bags can more or less be categorized into two styles:
Integrated bag and handlebar mount, like the RockBros bag
Handlebar mounted harness and detachable dry sack
The second style is a bit easier to pack and unpack. It's easier to stuff your puffy sleeping bag into a slender tube from the comfort of your tent, than outside in the rain while the bag is attached to your bike which is lying on the ground.
Also, the detachable style is a bit more flexible if you want to carry something without using the bag, for example just strapping your tent to the harness.
Here's a quick overview of how the most common options break down based on style and price:
Integrated bag and mount
Harness and detachable dry sack
Budget price
RockBros
Moosetreks
Topeak Frontloader
Roswheel
Lixada
Premium price
Ortlieb
Revelate Sweetroll
Salsa EXP Anything Cradle
I'll go over each of these options in more detail below.
Budget Handlebar Bags
In the budget category, there are now a few other well-priced offerings available on Amazon. I have not tried any of these myself, but here are my observations based on the listings:
If anyone has tried any of these, please let us know what you think in the comments.
For people just getting into bikepacking and not totally sure what you need for the long term, I think those budget options above are a good place to start. It may not be the last handlebar bag you buy, but it will help you make a more informed choice if you stick with the sport and eventually upgrade your gear.
If you're really on a budget or just going out on your first ride or two, don't overlook one of the most classic budget bikepacking gear hacks of all time: a dry sack attached to the handlebars with two straps.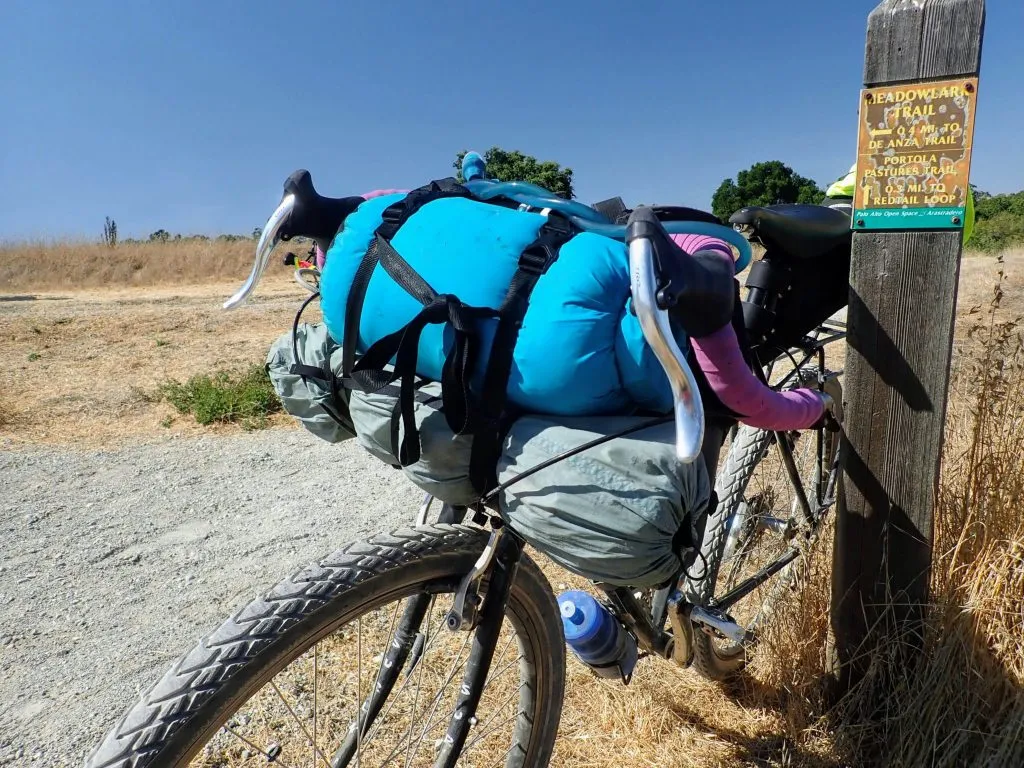 Premium Handlebar Bags
If you have a larger budget and are looking to invest in one of the more classic bikepacking brands, these are the most common options:
Salsa EXP Anything Cradle + Dry Sack ($220) (with optional front pouch): Harness with a removable dry sack. Mounting system is rigid metal, which makes it easier to position off the cables and eliminate tire rub. For this reason, I prefer it over the RockBros Front Roll bag, but it does come at a price. No easy straps for attaching a second bag, but you could rig something up. Optional front pouch is small and hard to open/close; I prefer the RockBros front pouch.
Revelate Designs Sweetroll ($110): harness with removable dry bag. Soft mounting points for crash resilience, and supposedly they are still quite stable (foam spacers included, similar system to RockBros).
Ortlieb Handlebar Pack ($160): Design looks almost exactly like the RockBros and Moosetreks bags, but at 3x the price. It's hard to say without trying it, but based on the reviews at REI, I'm not convinced it's worth the price. If anyone has tried it, please let us know in the comments.
Salsa EXP Anything Cradle vs. RockBros Handlebar Bag
Recently I had the chance to buy a used Salsa EXP Anything Cradle and dry sack for a great price. Since the RockBros bag does have a few drawbacks, I thought it might be time to try an alternative.
So how does the Salsa EXP Anything compare to the RockBros handlebar bag?
Salsa advantages:
More solid mount that doesn't rest on cables or slip over time
Detachable dry sack is easier to stuff and unstuff, especially in the rain
Salsa disadvantages:
Heavier
Front pouch is much smaller and hard to zip/unzip
Lacks the extra straps for attaching an additional item (though you can add your own)
When I can choose any gear combo I want now, I typically use the Salsa EXP Anything Cradle + dry bag with the RockBros front pouch attached to the front. This is my ideal setup: stable mount, convenient removable dry bag, plus convenient high-capacity front pouch. Perfect!
If you are trying to decide between these two options, here's my advice:
If budget is a factor and you are a casual / infrequent bikepacker, get the RockBros bag + pouch.
If you bikepack a lot, especially on more technical trails, get the Salsa cage. But you don't necessarily need to get the extra front pouch to go with it.
If you have money to burn, get both! Use the RockBros front pouch with the Salsa cage.
Other Budget Bikepacking Resources
If you found this review helpful, you might also like these other bikepacking gear reviews and tips:
Or, check out the full list of bikepacking resources here.
Bike resources in your inbox?
There's more where this came from! Sign up here for occasional emails full of inspiration and information about bikepacking and bicycle touring.


Share the Adventure
If you found this article helpful, please consider sharing so more people can benefit from it: