Thanks to steady growth of bikepacking's popularity, these days there are many high-quality, US-made, premium bikepacking seat bags available. The RockBros saddle bag is not one of them.
For what it is though – a cheap made-in-China imitation – it's surprisingly good! For about half the price of more premium brands like Revelate Designs you get a large-capacity bikepacking saddle bag that ticks the most important boxes.
For anyone bikepacking on a budget, the RockBros seat bag should be on your list of bikepacking bags to check out. At the original time of writing (January 2020) it's the largest seat bag I know of that retails for under $90. (Update: As of 2023 there are now some worthy competitors, though most are still smaller than the RockBros bag).
Depending on your bike setup and the type of terrain you ride, the RockBros saddle bag might be the only bag you'll ever need. Or it might end up being a gateway bag: the bag you use to figure out if this bikepacking thing is for you, at which point you upgrade. Still, for the price it's a great way to dip a toe into the world of bikepacking bags.
I've put a bit over 1000 miles on my RockBros bikepacking seat bag, and observed my husband putting a few hundred miles on his. In this review I'll share all the details: what I love, what bugs me, and how I get the most out of this affordable bikepacking bag.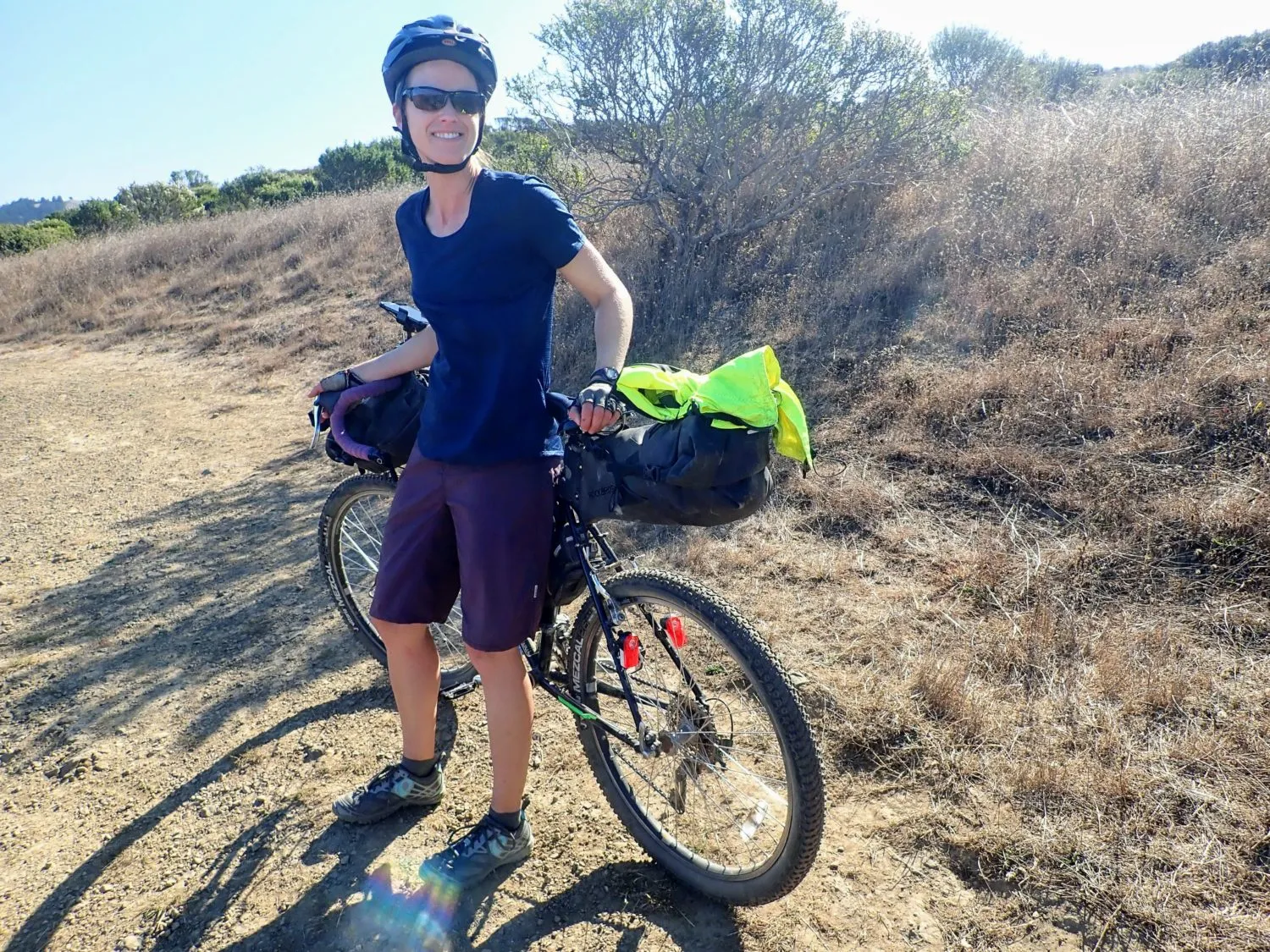 When you buy through affiliate links in this post, I may earn a small commission. Thanks for your support! Don't worry, everything you read here is unbiased and based on real experience on the road and trail. Learn more.
RockBros Seat Bag Overview
Review Summary: The RockBros saddle bag is one of the better values out there for a large bikepacking seat bag. It holds 14 liters worth of gear in a surprisingly stable configuration. Some hassles with sagging and loosening straps knock down my rating, but I still think it's a good entry-level bikepacking bag for those on a budget, especially if you have lots of space between your seat and rear tire and don't ride super bumpy technical trails.
Pros and Cons
Pros
Stable mount with minimal side-to-side movement, even when fully loaded.
Shock cord and light attachment points are convenient features.
Large capacity
Good value for money.
Cons
Seat rail attachment straps loosen on rough terrain.
Bottom sags when packed full.
Buckles have been known to break.
Design and Features
Considering its price I think the RockBros seat bag is impressively well designed and fully featured. The bag attaches to your saddle rails with two buckle straps, and to your seatpost with two sturdy velcro straps (many bags only use one strap here). The seatpost attachment comes with a foam insert that helps with stability. Here's a close-up showing the attachment system (the strap going around the blue bag on top is my own addition):
The top is nicely designed, with a web of shock cord for stuffing extra layers and a whole strip of attachment points for a tail light. The roll closure is lined with velcro, a brilliant idea that keeps your stuff from spilling out every time you leave it sitting open for a moment.
The capacity of 14 liters rivals even the most premium seat bags, and is larger than most other budget seat bags. It's not lightweight, but neither is the rest of your setup if you need a 14 liter seat bag. Though it looks pretty funny and can be a tad unwieldy when stuffed to the limit, I definitely appreciate the flexibility that such a large capacity offers on longer trips.
Tire Clearance
This is a big bag. How much space do you need above your rear tire? Officially, the RockBros seat bag needs 5 inches of exposed seatpost and 7-8 inches between seat and rear tire.
Here's my own experience: measure straight down from the back of your seat rails (where the bag will attach) to where that vertical line encounters your rear tire. If this distance is around 7.5 inches or less, you will need to be careful with how you pack the RockBros seat bag, and you will want to minimize strap sag on bumpy terrain.
It's still possible to use this bag if you're in this clearance range, but it might require some fiddling. See Problems and Solutions below for some workaround ideas.
Note that in some of my pictures, like the one below, I'm riding a bike with 26″ wheels (my beloved Long Haul Trucker). This makes the seat bag look like it requires less space than it actually does. My bike frames are size small and with 29″ wheels this bag is usually hovering just an inch above my rear tire.
Packing Tips
Basic bikepacking packing principles apply: put the heaviest things closest to the attachment point and the center of the bike. In a seat bag this minimizes side-to-side swing and potential effects on bike handling.
I start with something heavy in the very innermost corner, perhaps a can of food (cold ravioli for dinner, yum) or bag of electronics. Then, I stuff all my layers and other soft things into the middle, making a solid mass of stuff to keep the bag stiff through the transition point from stiff bottom to unsupported. At the end I stuff in a few odds and ends that I might need to access during the day: extra snacks that don't fit up front, gloves, rain jacket.
When I need even more capacity, I sometimes strap things to the outside top of the bag, near the saddle. Be sure to tether them so they can't bounce off!
Problems and Solutions
The RockBros seat bag performs well for the price, but it's not perfect. Here are three issues I've encountered, plus ideas for how to avoid or fix them.
Loosening Straps
While the side-to-side stability is good, I have problems with the straps that buckle through the saddle rails. They loosen over time, especially on rough terrain. Since I don't have much extra clearance between the bottom of the bag and my rear tire, I need to stop fairly often to re-tighten the straps so the bag doesn't rub on the tire.
My solution: attach an extra strap through the front of the saddle rails and under the seat post attachment, as shown below. This helps support the weight of the bag, which takes some load off the straps so they don't loosen as fast.
My husband's solution: tie the straps tightly together over the top of the bag, which seems to have a similar effect:
Saggy Bottom
The bottom of the bag is only stiff for about half its length, which is what allows you to pack it down small for more minimal loads. But when stuffed to the limit, this creates a point where the bag likes to hinge downward at the back.
Unless you have loads of clearance between bag and tire, this is going to cause tire rub. You can see it happening in this picture:
My solution: put something thin and stiff in the bottom of the bag across the point where the bag starts to bend. This could be a camp sandal, Kindle e-reader, or even a specially cut piece of plastic or cardboard. It also helps to pack clothes or soft things very compactly into a single solid mass before cinching down the roll-top closure.
Broken Buckles
While my buckles are still going strong (knock on wood), I've seen two other riders experience broken buckles on this bag. It's always the buckles on the straps that attach to the seat rails, so the solution above under "loosening straps" might help.
If it happens to you on the trail, you can repair it pretty well by looping another strap, zip tie, paracord, etc. through the rolltop closure strap and around the seat rail. But, this may not be a good long-term fix.
Waterproof?
Is the RockBros seat bag waterproof? So far so good, but I've yet to test it in a torrential downpour. I always protect my water-sensitive gear (warm layers, electronics, sleeping bag) in plastic bags anyway, regardless of how waterproof my bags claim to be. A simple kitchen trash bag stuffed into the bottom of the seat bag works well for me.
Epilogue and Recommendations
When I bought my RockBros seat bag in 2020 it was one of very few in its price range. I was on a strict budget and not willing to spend top dollar for premium brands, so I bought this RockBros bike bag and rode the crap out of it. It worked for me, but would I buy it again today in hindsight? I'm not sure.
Since writing the first version of this review, a number of other well-priced alternatives have come out. If you're on a budget and looking for a seat bag, definitely check out this list of other bikepacking saddle bags under $100. Many are just a bit smaller than the RockBros, but if you don't desperately need that last few liters of capacity you can likely get better longevity and less sagginess from some of the options in that list (I'd suggest the REI, Topeak, or Zefal).
Another option is to buy a used premium seat bag for a budget price. This is how I bought my first Revelate Designs seat bag, which was a definite upgrade to the RockBros. See this post on where to find used bikepacking gear for ideas.
Do I still use my RockBros seat bag? Honestly, I don't. After many thousands of miles it became clear that my bikepacking obsession is here to stay, and I became willing to spend more money on gear. These days I reach for a seat bag by Revelate Designs (Viscacha or Vole) or Swift Industries (Olliepack). None of those can hold 14 liters like the RockBros bag can, but when I need more capacity I now use a rear rack and REI Link Panniers. For me, a small rider on a 29er bike riding bumpy trails, the RockBros bag was just a bit too large, saggy, and unwieldy.
For you though, the story may be different. If you ride a big bike with plenty of tire clearance, and/or mostly ride on smooth-ish pavement or gravel, and you want the extra capacity of a large seat bag, I still think the RockBros is a good buy.
Other Bikepacking Resources
If you found this review helpful, you might also like these other bikepacking gear reviews and tips:
Or, check out the full list of bikepacking resources here.
Bike resources in your inbox?
There's more where this came from! Sign up here for occasional emails full of inspiration and information about bikepacking and bicycle touring.


Share the Adventure
If you found this article helpful, please consider sharing so more people can benefit from it: