As a resident of the San Francisco Bay Area, I often find myself traveling further afield — to entirely different states — to get my bikepacking fix. But Central California has some great bike touring too, even if it's not quite as remote and rugged as Colorado or New Mexico.
I've been meaning to piece together a bike tour from back roads in Central California, especially the prized segment of closed dirt road from Arroyo Seco, for some time now. And this March, just as winter transitioned into spring, I finally had the opportunity.
The day after Daylight Savings Time, two friends and I set off from Soledad for a week of leisurely riding through Central California's mountains, valleys, farm country, wine country, and more. There were ramen dinners, burrito lunches, a few IPA's, and even a hot tub! Via many quiet miles of rural pavement and a bit of gravel we pedaled, camped, and moteled our way through four counties (Monterey, San Luis Obispo, Fresno, and San Benito).
Though we've all lived in California a long time, we were repeatedly surprised by the extent of open space and rural land we encountered on this route. More than once we stopped and marveled, "I had no idea this was here! I feel like we're not in Central California anymore!" Some of the highlights:
Arroyo Seco – Indians Road, 15 miles of closed dirt road and trail winding through the beautiful and rugged Santa Lucia Mountains
Fort Hunter-Liggett, quiet paved roads through a military base
Peaceful valley surrounding Parkfield, the feeling of traveling back in time, and crossing the San Andreas Fault into the "earthquake capitol of the world"
Parkfield – Coalinga Road / Parkfield Grade, quiet gravel climb and fun paved descent with excellent views over the folds of the Jacalitos Hills en route to Coalinga
Riding through oil fields north of Coalinga, not exactly scenic but interesting nonetheless
Coalinga Road through quiet ranches and BLM land
La Gloria Road, an old gravel stagecoach route with great views, and the only public crossing of the Gabilan Mountains
A leisurely bike tour is the perfect way to kick off the spring season, and I'm fortunate to have shared this one with good company. The route rode well enough that I think others would enjoy it too, so I'm posting this detailed writeup in hopes that you'll feel inspired to give it a go!
The Route
Surface and Bike Choice
By mileage, this route is 87% paved. Quality ranges from potholed single lane country road to smooth highway. Though a majority of the miles are lightly traveled, some sections with no shoulder may be too busy for comfortable riding during high-traffic times (see Traffic and Camping Timing below, as well as the Route Overview section).
The unpaved sections are:
Arroyo Seco – Indians Road: 15 miles. The most rugged section by far, this stretch is an unmaintained dirt road with a few sections of (short, easy) hike-a-bike due to washouts.
Parkfield Grade on the Paso Robles side: 4 miles of well-graded gravel
Old Hernandez Road: maybe 5 miles(?) of gravel with one unbridged water crossing
La Gloria Road: 10 miles of decomposed granite and gravel, varying quality (was washboarded when we rode)
There's no perfect bike for the whole route, given this variety. You could do almost the entire thing on a sturdy road bike, but it would take all the fun out of the stunning section on Arroyo Seco – Indians Road. You'll enjoy that section to the fullest with a mountain bike (hardtail or a rigid drop bar mountain bike), but then you'll have to pedal it on pavement for the other 87% of the route. A touring bike or gravel bike could be a good compromise.
Our group rode with a variety of nontraditional mountain bike setups: a rigid drop bar mountain bike, a rigid flat bar mountain bike, and a vintage rigid mountain bike that would be considered more of a touring bike these days. All of us ran varying types of mountain bike tires, which was definitely overkill for most of the route but fun for Arroyo Seco – Indians Road.
Since I mostly do off-pavement bikepacking these days, a more gravel and MTB-focused setup is what I have and what feels most natural. I didn't mind riding it on pavement, but more pavement-focused riders might reasonably choose a more pavement-focused bike and tires.
Best Time to Ride
This route is at its best in the springtime but could potentially be ridden most of the year depending on weather and recent conditions.
Spring is ideal for its mild weather, water access, green scenery, and wildflowers, which typically bloom around late March into April. Note that even in spring it can get chilly; we had sub-freezing temps on our first night!
Summer can be scorching down in the lowlands; the typical daily high temp for Coalinga in July is 100 degrees! Surface water would be scarce too. I wouldn't recommend riding this route in summer unless you are really determined, experienced with hot weather, and prepared to carry a lot of water.
Fall would have reasonable temperatures but less lush greenery, and natural water sources may be dry.
Winter could work during a dry period, but I would avoid this route during or after a rainstorm as the dirt roads can be muddy and sticky in places. It's not "death mud" territory but it will still slow you down. Arroyo Seco – Indians Road is also vulnerable to landslides during heavy rain.
Start Location and Direction
We started and ended our ride in Soledad because we all drove down from the Bay Area. There's a large public parking lot next to Caesar Chavez Park on Front Street. We called the Police Department in advance and were given permission to park our cars there for the duration of the trip.
If starting from Southern California or using public transport, it probably makes sense to start in Paso Robles instead. There's an Amtrak station in Paso Robles and the Coast Starlight train allows unboxed bikes (space must be reserved in advance when booking ticket).
Starting in Paso Robles also has the advantage of a short first day if you overnight in Parkfield (highly recommended) rather than pushing all the way to lackluster Coalinga on the first night. Furthermore, the most scenic section of the entire route — the closed section of Arroyo Seco – Indians Road — would be saved for the middle of the ride. Starting from Soledad this section is over by the second day, which is a bit anticlimactic.
As for direction, we rode counterclockwise but you could ride the loop either way. Going clockwise you'd have to climb the steep side of La Gloria Road, but you'd get a nice descent on Arroyo Seco – Indians Road in return. All other things being equal, you might choose the direction that puts you in high-traffic areas on the quietest days of the week (see next section).
Traffic and Camping Timing
If you have flexibility in your schedule, I'd suggest timing your ride to hit high-use areas during their lowest-traffic times:
Lake Nacimiento Campground and the road to and from: busy during weekends, with Saturday night likely fully booked at the campground and heavy recreational traffic on Saturday (towards the lake) and Sunday (away from the lake).
Roads around Paso Robles, Coalinga, and Soledad have commute traffic patterns, busier in mornings and late afternoons on weekdays.
Parkfield Cafe and Lodge at V6 Ranch: check their website for current cafe hours. If the cafe is open you'll get to eat there, but the area will feel busy and there may be more traffic on the road to and from. If the cafe is closed you'll have to bring your food, but you may luck out like us and be the only guests at this peaceful and idyllic spot.
The BLM campgrounds along Coalinga Road are first come, first served and likely to fill up on Friday and Saturday nights during high season.
Pinnacles National Park and Highway 25 to and from: Campground likely fully booked on weekends, and heavy recreational traffic to and from the park on Saturday and Sunday.
Where to Stay and Eat
Much of the route passes through private land where overnight options are limited. Here is every legal overnight stop I'm aware of, plus notes on where to find food and water nearby.
Note: This table scrolls horizontally on small screens.
Mileage (from Soledad CCW)
Location
Food Notes
Water Notes
0
Soledad (motels)
restaurants and grocery stores
available
22 – 44
Los Padres National Forest (multiple campsites, see below)
none
– Sometimes available at Arroyo Seco campground or in river at nearby day use area
– Sometimes available in small stream at Hanging Valley, may need to look left or right of road
– Possible other seasonal creeks
90
Lake Nacimiento Resort (campground, reservation may be needed, ~1.5 miles off route)
– Very small store in Lockwood (mile 68), check hours
– General store at resort, check hours
– Large grocery store in White Oak (mile 91.6, uphill from lake)
available at campground
106
Paso Robles (lots of motels), or San Miguel 10 miles north (just one motel, call first)
restaurants and grocery stores
available
139
Parkfield (lodge or camping)
check cafe hours
available
168
Coalinga (motels)
restaurants and grocery stores
available
195 – 209
BLM camping (multiple campsites, see below)
none
– San Benito River access at Clear Creek Road (mile 204)
– San Benito River crossings at mile 226 and 227
– Possible other seasonal creeks
Note: Hernandez Reservoir is not easily accessible, and much of the San Benito River is on private land.
235
Pinnacles National Park (campground, reservation may be needed, ~2 miles off route). Good hiking nearby.
small general store, check hours
available at campground
260
Soledad (end)
restaurants and grocery stores
available
I recommend camping as much as possible on this route. We ended up staying in cheap motels in both Paso Robles and Coalinga, and while the shower and bed were nice, the camping is where this route really shines.
If you can manage to pass through both Paso Robles and Coalinga during the day and camp in lovely Parkfield instead, I think that would be ideal from a mood perspective. I also highly recommend wild camping at Hanging Valley or elsewhere on the closed section of Arroyo Seco – Indians Road, and leaving yourself plenty of time to enjoy it.
Camping in Los Padres National Forest
Between Arroyo Seco Campground and the boundary of Fort Hunter-Liggett (miles 22 – 44) there are many lovely camping options. Developed campgrounds include Arroyo Seco and Santa Lucia. There are beautiful dispersed sites off the main road near the border with Hunter-Liggett.
The most scenic and peaceful option is to camp along the closed section of Arroyo Seco – Indians Road, where camping is legal anywhere but often not practical due to the steep terrain. Hanging Valley at mile 33 is perhaps the best option, and water can often be found there (you may have to explore left or right of the road to find it). A few other pullouts beside the road can work too and offer better views, with one of the best near mile 35.
Camping between Coalinga and Highway 25
Between mile 195 and 209 are several developed BLM campgrounds, some free and some charging a small fee, all first-come first-served: Condon Peak, Laguna Mountain, and Sweetwater. Though the surrounding area appears to be BLM land, our impression was that most of the land along the road was private and dispersed camping would be difficult.
I don't believe any of the BLM sites have potable water, so you'll probably want to fill up from the San Benito River. The easiest access is at Clear Creek Road coming from the south, or along Old Hernandez Road if coming from the north. You might find other seasonal creeks too. Hernandez Reservoir, though it looks promising on the map, is further from the road than it looks and I'm not sure it's publicly accessible.
Los Gatos Creek Park used to have a campground, but it's currently closed.
Itinerary and Pacing
Our Itinerary from Soledad
Here is our daily itinerary, starting and ending in Soledad.
| | | |
| --- | --- | --- |
| Day | Miles / Feet of Climbing | Overnight Location |
| 1 | 34 / 3790 | Hanging Valley dispersed camping |
| 2 | 58 / 3310 | Lake Nacimiento Resort campground |
| 3 | 18 / 1509 | Paso Robles (Economy Inn) |
| 4 | 34 / 2530 | Parkfield Lodge (camping) |
| 5 | 30 / 2530 | Coalinga (Travel Inn) |
| 6 | 41 / 3500 | Sweetwater Campground |
| 7 | 52 / 2280 | Finish in Soledad |
What I liked most about this itinerary: Camping at Hanging Valley, Parkfield, and Sweetwater
What I liked least about this itinerary: awkwardly short mileage and too much town time on days 3 and 5
Note on Pacing
We were a group of three with varied bike and gear setups, some heavier than others. Overnight locations were spaced such that riding to the next was often a little too short, but riding to the next-next was a bit too far for us. Thus we took several short days in a row, especially through the middle section, to make sure the fun factor was maintained.
If you pack reasonably light, are a strong climber, and/or ride during longer daylight hours, you could easily complete the route at least one day faster than we did. To do this I would suggest combining our days 3 and 4 into a single long day. To shave off another half to full day, combine our days 5 – 6 too. You might camp at Condon Peak instead of Sweetwater to shorten that day a bit. After that you can choose to push all the way to Soledad or camp at Pinnacles for your last night.
Route Overview
Here's a more detailed overview of each section, including road descriptions and pictures.
Soledad to Paso Robles
The route leaves Soledad on quiet flat roads, but first you'll need to ride one exit's worth on Highway 101. This seems to be legal and there are sidewalks on the on and off ramps, plus a wide shoulder on the highway.
Arroyo Seco Road heads for the hills and eventually begins climbing in a rolling, often gradual fashion. Past the turnoff to Carmel Valley Road traffic becomes even lighter. Arroyo Seco Campground makes a good spot for a break before the real climbing begins. There are bathrooms and usually water, but if the water is off (as it was during our visit) you could filter from the river at the Day Use Area. We also found water in a creek a bit further up the road.
Continue past the Road Closed sign onto the dirt road, which you'll follow for the next 15 miles. Past Marble Peak Trailhead the road is not traveled by vehicles and becomes more overgrown. You might have to dismount to walk through a few short areas of landslide, and you'll be climbing for a while. Take your time and enjoy; this section is the most scenic of the whole route in my opinion!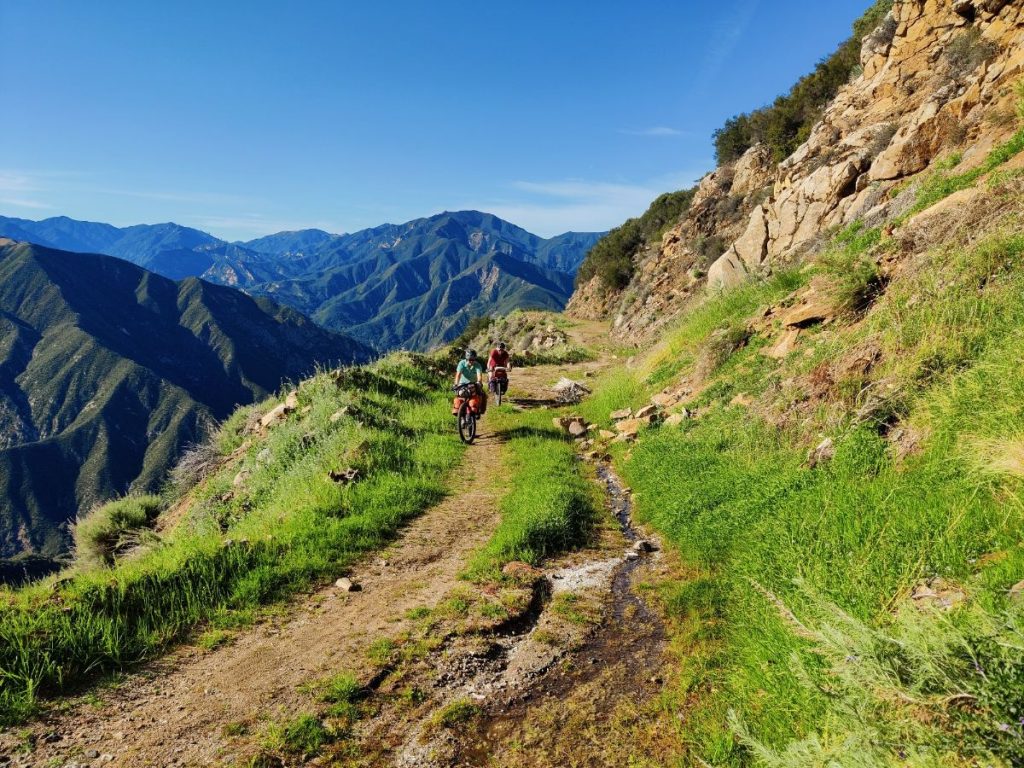 You can camp anywhere here, if you can find a flat patch of ground. The best option is Hanging Valley. You'll see "Hanging Valley Campground" — not a real campground — on Google Maps around route mile 33. We found water there by exploring up the wash to the left. You could also camp at a scenic pullout elsewhere along the road.
Finally you'll get the descent you earned, a long ribbon of dirt switchbacking down to Escondido Campground. A short climb along the creek brings you to Santa Lucia Memorial Campground, where pavement returns. The next section is a beautiful spin through peaceful meadows and oak trees toward and into Fort Hunter-Liggett.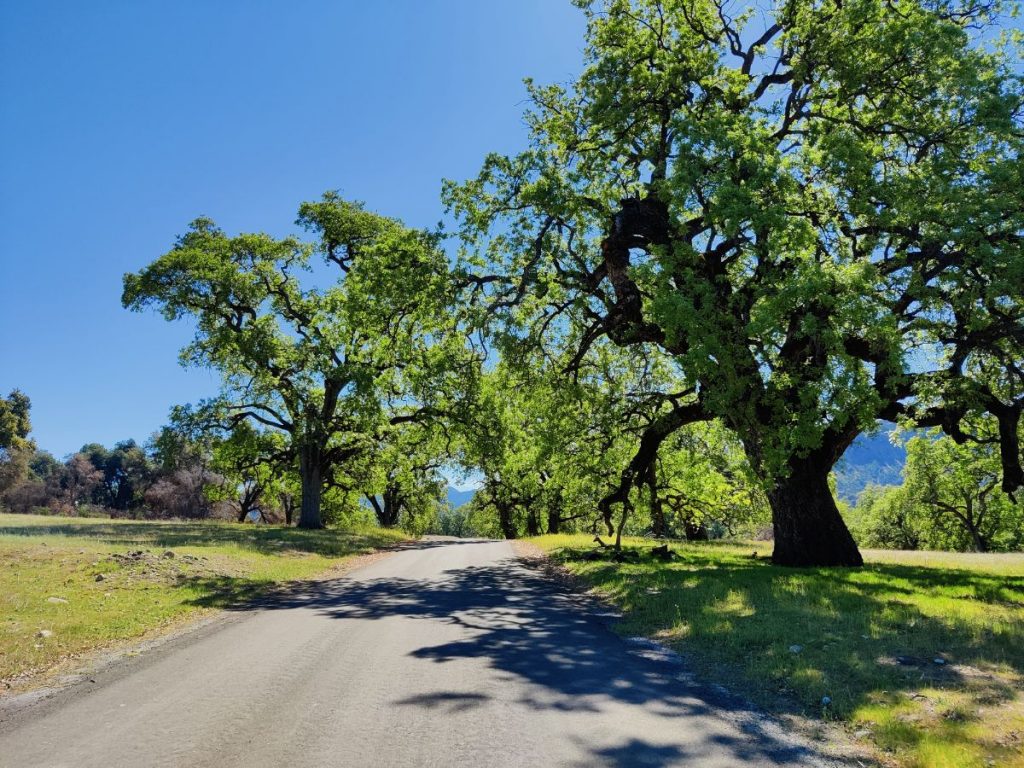 Activity picks up as you near Jolon Road. At the tiny town of Lockwood you'll find a small convenience store with bathrooms and water before turning right onto Interlake Road. We found this road quiet on a Monday afternoon, but it may be crowded on weekends with people driving to the lakes. The terrain is rolling, with some short steep climbs.
Before Nacimiento Lake Drive you'll face a steep 1.5 mile climb; no shame in walking here! From the top it's an easy coast down to the dam, after which you'll turn off route to Lake Nacimiento Resort if you want to camp there (it's a hilly 1.5 miles away). Check in advance about reservations; we were told to just show up. Since we did so after dark, we paid on the way out with no issues.
After Nacimiento Lake you'll continue on rural highway, which (at the time we were there) was a little too busy for our liking. Closer to Paso Robles the road grows even busier but a good shoulder makes it manageable. The route passes through the northern end of Paso Robles and skips the more touristy downtown area. You can turn right to access it, or just grab burritos at the Mexican market and resupply at the 7-Eleven like we did.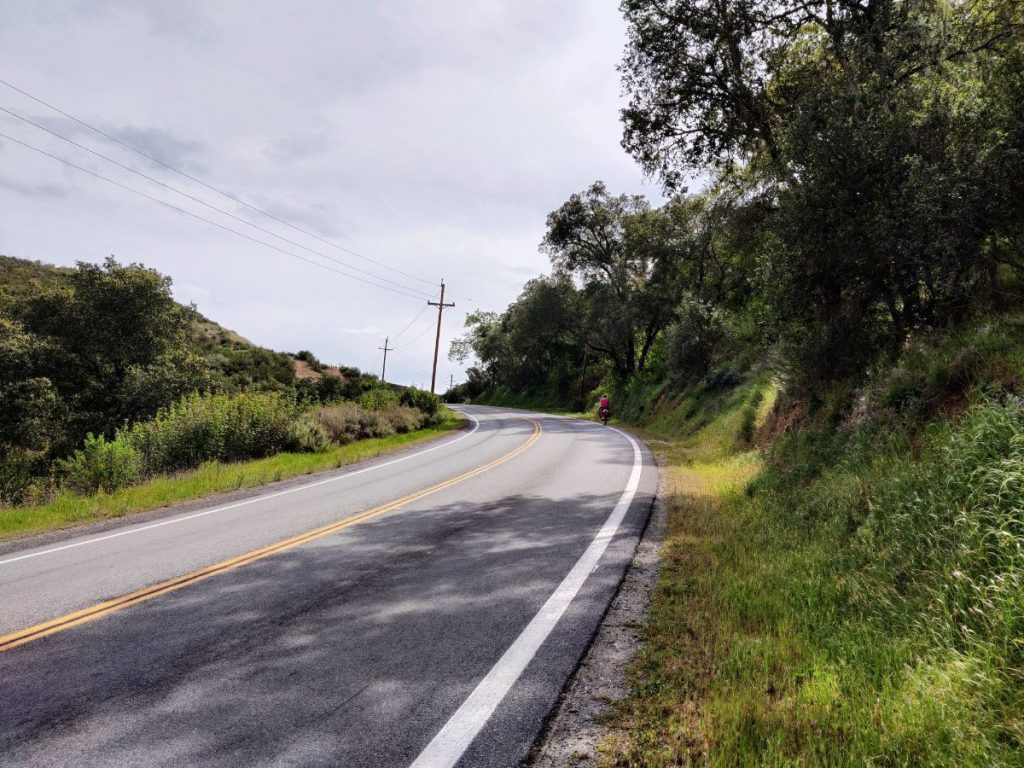 These days Paso Robles is known mostly for its vineyards. Like much of the surrounding area, the town was developed in its current form in the late 1800's after the railroad arrived. Native American people of the Salinan and Chumash tribes lived in the region for a long time prior to that.
There are plenty of motels in Paso Robles if you want to spend the night. There are also a couple "RV Resorts" outside of town, but we didn't check to see if they allow tent camping.
Paso Robles to Coalinga
Leaving Paso Robles the route does a funny U-turn to access River Road (or you could hop the guard rail on the north side of the road just past the 101 crossing if you prefer). River Road to San Miguel is a quiet paved road through vineyard country and signed as a bike route.
A long but mostly very gradual climb begins shortly after the right turn on Vineyard Canyon Road. The final 1.5 miles are steep, followed by an equally steep downhill. Soon it levels off into a peaceful spin through a farming valley that feels like a step back in time. Don't miss the left turn to Parkfield, where you'll cross the San Andreas Fault and Salinas River.
Parkfield is little more than a few buildings, all belonging to the V6 Ranch. It's a lovely place and I recommend camping there (or you can splurge on a room at the lodge). I can imagine it gets busy on weekends, but we had it all to ourselves. The kind owner Jack set us up with a lovely camping spot and even sold us some cold beer from the closed restaurant.
Leaving Parkfield the route follows Parkfield – Coalinga Road on a very gradual incline for about five miles. The climbing then begins abruptly where the pavement ends. It's a steady 7 – 8% grade on good gravel for about 5 miles, with the Monterey – Fresno county line at the top. From the high point down to Highway 198 is a very enjoyable paved descent with excellent views over the San Joaquin Valley.
The route then heads to Coalinga via ten miles on Highway 198, a relatively main road by standards of this route, but we found the traffic light enough. Coalinga is an understated town originally developed as a coaling station for the Southern Pacific Railway and currently surrounded by Chevron oil fields. It has adequate restaurants, grocery stores, and a few motels (some quite affordable) if you want to spend the night. Otherwise you'll have to climb all the way to Condon Peak Rec Area, 30 miles and over 200 feet of climbing away, to find a campsite.
Coalinga to Soledad
From Coalinga the route stairsteps northwest through oil fields owned by Chevron, where you can watch working oil derricks up close. A long gradual climb leads up into the Diablo Mountains on Coalinga Road through mostly private ranch land. Hernandez Reservoir doesn't seem to be accessible, but you can get water from the San Benito River at Clear Creek Road. You'll probably need it, since the BLM campgrounds in the area don't provide drinking water.
After a steep final push the route reaches Condon Peak Recreation Area, the first of several BLM campgrounds. After ten more flatish miles you'll reach some short climbs leading to two more, Laguna Mountain and Sweetwater. These are first come first served, and Sweetwater filled up on Friday night when we were there in March. Sweetwater is the last camping opportunity until Pinnacles National Park 25 miles later.
Up next is old Hernandez Road, a lovely single-lane road through ranches and farms. About half is surfaced with potholed pavement and half with gravel. We encountered a "road closed" sign at the turnoff but made the decision to go anyway, and were glad we did. The only obstacle was an unbridged crossing of the San Benito River around mile 226, easily passable on bikes and it looked like some trucks were getting through too. When the river is higher, however, this could be more difficult. The decision is yours!
Next you'll follow Airline Highway for seven miles to the La Gloria Road turnoff. This road can be busy with traffic heading to and from Pinnacles on weekends. If you need a camping spot in the area, Pinnacles is your only option; make reservations in advance on weekends.
La Gloria Road isn't well signed, so don't miss the turn! This is the last major climb of the route and it's a special one. The gravel / decomposed granite road winds upward (mostly gradually) alongside a creek through quiet ranchland. Apparently this old stagecoach road was used in the late 1800's by residents sending their children to a schoolhouse on the Monterey County side of La Gloria Road.
From the high point it's a sometimes steep and dramatic gravel descent (made all the more dramatic by a rainstorm during our visit) with views out over the Salinas Valley. Pavement returns at the Swiss Rifle Club and the route continues downhill along stairstep roads on the outskirts of Soledad. There's a sneaky left turn off Camphora Gloria Road shortly before 101; take this to avoid riding on the shoulder of 101 to close the loop.
Other Notes
Water capacity: We usually carried 2 – 3.5 liters each, and once filled up to 4 – 5 liters for a night of dry camping (more than we needed, in hindsight). If you ride this route in hotter months, you'll probably need more.
Water treatment: There are two sections of the route where drinking surface water will save you from carrying a heavy load: Los Padres National Forest and the BLM land near Condon Peak and Sweetwater. You'll want a filter or other treatment method for those. Otherwise you can mostly get away with taking potable water from towns and campgrounds.
Traffic safety: I definitely recommend bringing a flashing taillight and high-viz vest for this route. Long sections are on two lane roads with no shoulder, and some of these sections can be busy depending on timing. It's nothing crazy by road riding standards, but as a bikepacker who prefers dirt and gravel I was glad to be highly visible on these sections.
Fort Hunter-Liggett is an active military base. You're required to carry a photo ID, and you should stay on the main road and pay careful attention to road signs. If you see a sign that says "military personnel only" or "caution: live fire" that is probably not a good place to stop for lunch.
Other Resources
I owe much of the inspiration for this route to this trip report on Doing Miles. They rode in 2010 so a few things have changed, including water availability and some camping options, but overall their report is still very helpful. I shortened their route to focus on the northern half due to timing constraints and because I wanted to include Parkfield Grade.
Arroyo Seco – Indians Road sometimes closes, so check the forest service website before you go. It's a popular mountain biking route and you can look for recent ride reports on Trailforks and Strava.
Pin For Later
More Bike Travel Resources
Bike resources in your inbox?
There's more where this came from! Sign up here for occasional emails full of inspiration and information about bikepacking and bicycle touring.


Share the Adventure
If you found this article helpful, please consider sharing so more people can benefit from it: