Looking for a versatile steel drop bar mountain bike that's happy to carry you across the country on dirt roads, or across your local trail system? There's a good chance the Salsa Fargo and Kona Sutra LTD are both on your shortlist.
These two relatively affordable mid-range bikes have a ton in common and look quite similar on the surface. They cost almost the same amount but carry their value in different places: the Fargo has a lighter and more versatile frame and fork while the Sutra LTD has nicer components. Both are known for a stable ride on rough unpaved roads, surprising capability (for a rigid drop bar bike) on singletrack, and cargo carrying options galore.
Which one should you buy? I've written this detailed side-by-side comparison based on thousands of miles with my Fargo and extensive research on the Sutra LTD to help you decide.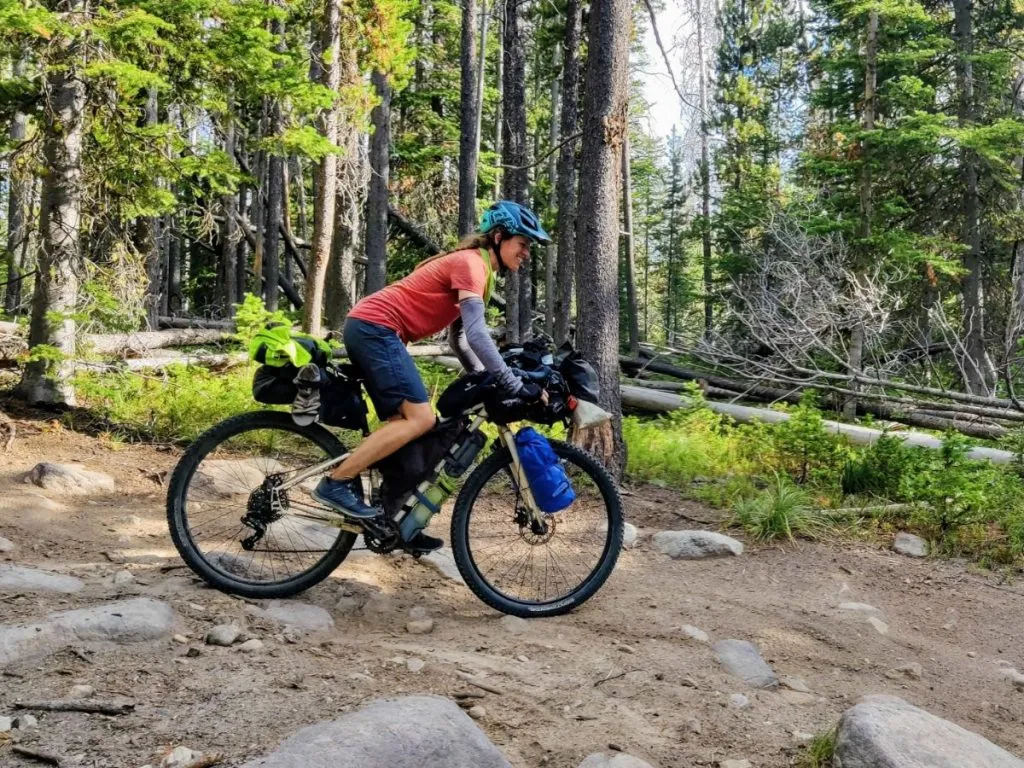 When you buy through affiliate links in this post, I may earn a small commission. Thanks for your support! Don't worry, everything you read here is unbiased and based on real experience on the road and trail. Learn more.
Clarifying the Model Names
This comparison is specifically between the Fargo and the Sutra LTD, which is a unique newer bike in Kona's classic Sutra line with a rather confusing history.
Long story short: In 2019 Kona added the Sutra LTD to the Sutra family as a more dirt-friendly spin-off of their classic road touring bike. Then in 2021 they launched the ULTD as an even more trail-friendly drop bar MTB with more dramatic geometry updates. In 2022 they did away with the ULTD as a model name and updated the LTD to match the ULTD's geometry and build spec. So the current LTD is actually more similar to the ULTD than to older versions of the LTD.
Confused? Put another way, the 2022+ Sutra LTD is a drop bar MTB that is:
Essentially the same as 2021's now-discontinued Sutra ULTD
A bit different (more MTB-like) from pre-2022 versions of the dirt touring Sutra LTD
Quite different (much more dirt-friendly) from the ongoing original Sutra, which is more of a road touring bike.
If you're shopping for the current Sutra LTD and reading online bike reviews, here's what this means for you:
The current Sutra LTD is basically the same bike as the 2021 Sutra ULTD, which a lot of people reviewed during its one year run. So look at ULTD reviews too, for example at bikepacking.com, Path Less Pedaled, and The Radavist.
Reviews of the Sutra LTD 2021 or older models are not referring to the same bike as the current Sutra LTD. Generally you should expect the newest version to perform even better on trails and rough dirt.
Fargo vs. Other Sutra Models
Of all the bikes in the Sutra family, past and present, the current (2022+) Sutra LTD is closest to the Salsa Fargo and the most apt comparison. The rest of this post will focus on the Fargo versus the Sutra LTD. But for those wondering about these other possible comparisons, here's a quick summary.
Fargo vs. Sutra (original)
These two bikes excel at very different types of riding. The Sutra is a road touring bike that can handle some gravel. The Fargo is a drop bar mountain bike that can gracefully handle a much wider range of terrain, from pavement and gravel (especially with narrower tires) up to chunky 4×4 roads and light singletrack.
If you're interested in the original Kona Sutra, a more apt comparison is a bike like the Surly Disc Trucker: Kona Sutra vs. Surly Disc Trucker
Fargo vs. Sutra ULTD (2021)
The 2021 Sutra ULTD was essentially the first version of the current Sutra LTD, so this comparison is basically what the rest of this article is about.
Fargo vs. Sutra LTD (2021 and Older)
The older Sutra LTD (prior to its 2022 update) was still a dirt-focused touring bike, but with more of an emphasis on gravel and dirt roads. The new Sutra LTD is more MTB-like and trail-friendly thanks to updates like a longer wheelbase, slacker headtube, longer fork, and more room for dropper seat post travel. See the ULTD review on bikepacking.com for all the details.
Salsa Fargo
First launched in 2009, the Fargo is Salsa's longest running bike model and a cult classic in the bikepacking world. It's a drop bar mountain bike especially beloved for its versatility on long mixed terrain routes. The Fargo excels on dirt and gravel roads, including rough and chunky ones, and rides surprisingly well on pavement and smooth singletrack too.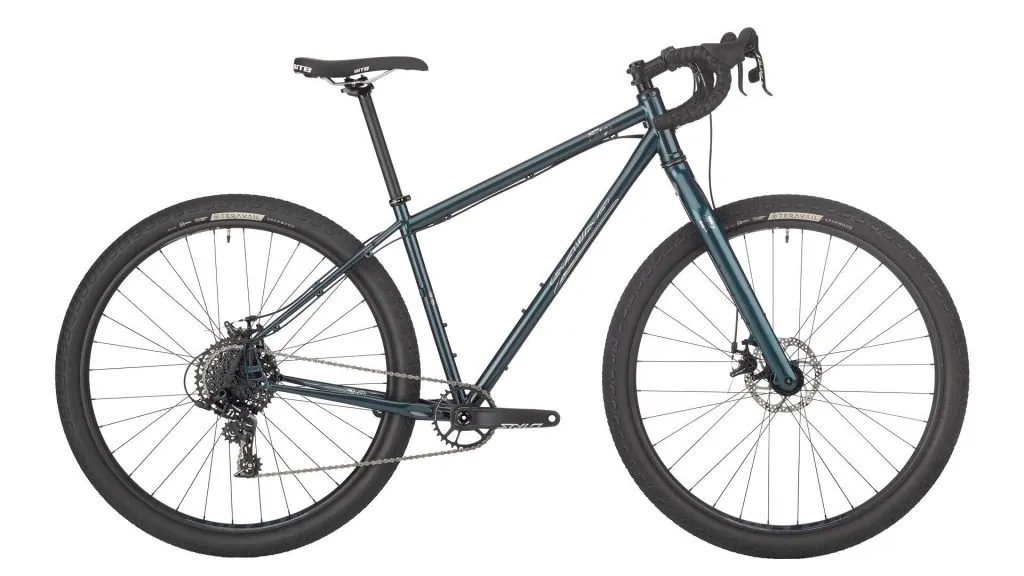 From Salsa: "Fargo Apex 1 is Salsa's drop-bar off-road touring bike built to shatter limits. Ride it on singletrack, gravel, or other places you wouldn't take your standard touring bike."
Latest Fargo models and framesets:
Kona Sutra LTD
The Sutra LTD is Kona's steel drop bar mountain bike designed for bikepacking, adventure riding, and spicing up familiar mountain bike trails.
From Kona: "The Sutra LTD is one of those bikes that just changes everything. You thought you were a mountain biker, but you find yourself sneaking off on adventures and enjoying the drop bars on the LTD. You thought you were a roadie but find yourself absolutely destroying singletrack when no one else is looking and suddenly getting rad is all you wanna do!"
Latest model and frameset:
Side by Side Comparison Table
Salsa Fargo (2021 Apex 1)
Kona Sutra LTD (2022)
Full spec
Salsa website
Kona website
Price
$2649
$2699
Frame material
chromoly steel, triple-butted
chromoly butted steel
Fork material
carbon fiber
chromoly steel
Wheel size
29″ (also compatible with 27.5″)
29″ (also compatible with 27.5″)
Tire clearance
29 x 3.0″ without fender (only on SM–XL frame sizes)
29 x 2.4″ with fender
27.5 x 3.0″
29 x 2.4″
27.5 x 2.8″
Tires
Teravail Sparwood 29 x 2.2″, Durable, Tubeless-Ready

Maxxis Rekon Race EXO TR 29 x 2.25″

Rims
WTB ST i25
WTB KOM Team i27 TCS 2.0
Handlebars
Salsa Cowchipper (drop bar with generous flare)
Kona Road (drop bar with slight flare)
Brakes
mechanical disc (TRP Spyre-C),
160 mm rotors
hydraulic disc (SRAM Rival HRD),
180 mm rotors
Gearing
1×11
(11-42t cassette, 32t chainring)
1×11
(11-42t cassette, 36t chainring)
Groupset
SRAM Apex
SRAM Rival
Suspension corrected?
yes (100 mm travel)
yes (40 mm travel)
Dropper post
not included
TranzX Dropper +RAD Internal 31.6mm
Drivetrain compatibility
1x, 2x, singlespeed, internally geared hub, belt drive
1x (2x uncertain, singlespeed possible with added chain tensioner)
Hub spacing
Front: 110 x 15 mm thru-axle
Rear: 148 or 142mm thru-axle, or 135mm QR w/ Alternator reduction plates
Front: 100x12mm thru-axle
Rear: 142x12mm thru-axle

Frameset options
steel: $1249
titanium: $3349
steel: $699
Sizes
XS, S, M, L, XL
48, 50, 52, 54, 56, 58 cm
Weight
24.5 lbs – size large
Closest number I could find is 28.3 lbs for 56 cm size, from bikepacking.com's Sutra ULTD review
Similarities
Rigid 29ers
Both the Fargo and the Sutra LTD are fully rigid mountain bikes with 29″ wheels. Rigid mountain bikes are a great choice for unpaved roads and relatively smooth trails because they're lighter, simpler, and cheaper than bikes with suspension. They're especially popular with bikepackers because a simpler bike = less that can go wrong in the middle of a long trip.
The 29″ wheel size is very popular on this kind of bike for its efficiency and tendency to roll over anything in its path, but it does take a bit more effort to bring up to speed. Some mountain bikes use smaller 27.5″ wheels for a more maneuverable feel. Both the Fargo and Sutra LTD can also be used with 27.5″ wheels, especially with high-volume tires to keep the bottom bracket high.
Drop Handlebars
The Fargo and the Sutra LTD are both drop bar mountain bikes, an increasingly popular sub-niche that puts road-style drop bars (but wider and more flared) on bikes with geometry and features designed for trails. Drop bars offer the advantage of multiple hand positions and postures, which is especially nice on long days and multi-day trips. They're less confidence-inspiring on rough trails since they offer less stability and leverage, though really wide flared drops can work surprisingly well.
The Fargo's Cowchipper bars are wide and generously flared, and one of my personal favorites. With 24 degrees of flare and width up to 52 cm on Fargo size XL, they're a bit more aggressively dirt-focused than the Sutra LTD's "Kona Road" bars.
The Sutra LTD's Kona Road bars have a less-pronounced 16 degree flare and a bit deeper drop, and they max out at 48 cm wide. But they're still a respectable gravel-style drop bar, and you can always swap them out later if you want something with even more stability.
Note that while switching between different types of drop bars is easy, switching a drop bar bike to flat bars is another story. It often requires changing most of the drivetrain to accommodate the switch between road and MTB shifters and brake levers, and it can be detrimental to the bike's handling in some cases. If you're considering either a Fargo or a Sutra LTD, make sure you're good with drop bars.
Steel Frames
Both the Kona Sutra LTD and the Salsa Fargo have chromoly steel frames. Though relatively heavy compared to other common bike materials (aluminum, carbon, titanium) steel is popular for its not-too-stiff ride feel, durability, and affordability.
The Fargo's carbon fiber fork sets it apart from the Sutra LTD's steel fork, which I'll discuss more down below. The Fargo also comes in a titanium frameset, opening up the option of a lighter and higher-end Fargo build.
Price
The latest Salsa Fargo and Kona Sutra LTD are remarkably close in price: $2649 for the Fargo and $2699 for the Sutra LTD.
Though overall comparable in terms of quality and value, the Fargo and Sutra LTD allot their cost somewhat differently. The Fargo splashes out on a carbon fork but has an otherwise fairly basic (though dependable) spec, while the Sutra LTD sticks with a steel fork but levels up the component quality (dropper seatpost and hydraulic brakes, for example).
Drop Bar MTB Geometry
The Fargo and Sutra LTD both aim for a middle ground in their geometry: comfort and efficiency on unpaved roads while edging enough toward the mountain bike side of the spectrum to handle some singletrack. They certainly won't win any speed records in technical riding, but they'll get you through some surprisingly rough stuff.
As you can see from that bikeinsights.com overlay, The Sutra LTD and Fargo share some important geometry characteristics. Their head tube and seat tube angles, wheelbase, and chainstay length are all very similar. The Fargo has a bit more trail and higher bottom bracket, and a famously upright stack-to-reach ratio.
Generally speaking, both these bikes span the space between endurance/adventure gravel bike and cross-country hardtail mountain bike. Reviewers have said both are stable at speed, confident on rough and chunky roads, and comfortable for long days of riding. I haven't ridden the Sutra LTD, but I've ridden a Fargo for nearly 5000 miles and I find this style of bike extremely versatile and comfortable.
1×11 Drivetrain
The Sutra LDF and Fargo both have a SRAM 1×11 drivetrain and 11-42t cassette, with a couple key differences.
Tier: The Sutra LTD is based around the SRAM Rival groupset, which is one tier higher in price, performance, and weight than the Fargo's value-focused Apex groupset.
Chainring: The Fargo has a 32 tooth ring upfront while the Sutra LTD has a stout 36 tooth. The Fargo can already feel geared a bit too high when hauling a load on mountainous terrain, so I can imagine the heavier Sutra LTD is even more challenging. For bikepacking in hilly areas you might want to change the Sutra LTD's chainring to something smaller.
Lots of Cargo Mounts
Both bikes are designed to be loaded up with gear and ridden off into the sunset. Each has two sets of bottle mounts in the frame triangle and one beneath the downtube. Both have 3-pack mounts on the fork blades, but the Fargo has two sets on each blade while the Sutra LTD has one.
The Kona Sutra LTD has a few less common mounts: beneath the top tube (which could be used for a bolt-on frame bag) and above for a bolt-on top tube bag.
Both bikes are compatible with front and rear racks as well as fenders.
Comfy Loaded and Unloaded
The Fargo and Sutra LTD are marketed as bikepacking bikes, and they're certainly excellent for that purpose. But they're also both known to be fun and comfortable to ride unloaded as well, which is perfect for the majority of folks who ride their bikes more at home than on tour.
I can speak for the Fargo personally. As a small-ish (120 pounds) rider, sometimes touring-focused bikes can feel stiff to me without a cargo load. My Fargo feels just as comfy on unloaded day rides as it does loaded down with a cross-country gear list.
I haven't ridden a Sutra LTD, but several of its reviewers share a similar sentiment. The Radavist says the ULTD (now the LTD) is a great choice even if you don't plan to tour, and bikepacking.com calls it "noticeably plusher" than the old LTD and said that the frame "soaks up bumps quite well, while still feeling fairly responsive and not too soft or flexy."
Biggest Differences
The Fargo and Sutra LTD have so much in common, at such a similar price point, that it might be hard to choose between them! This section spells out the differences to help you decide.
Fargo Has Carbon Fork
One of the biggest differences between these two bikes is the Fargo's carbon fork compared to the Sutra LTD's steel. This probably accounts for nearly 1.5 pounds of the Sutra LTD's heavier weight, and a few hundred dollars of the Fargo's higher frameset price. A carbon fork feels different, usually stiffer and better at absorbing vibration. Some riders, myself included, prefer carbon forks while others like steel.
You could potentially add a carbon fork to the Sutra LTD, but its shorter length — 415mm axle-to-crown compared to the Fargo's 483mm — limits your options. The Whisky No. 9 MCX would be a fit but it would also limit tire width.
Carbon forks are pretty sturdy these days, but they can be cracked under heavy impact or abraded by bikepacking bags. If you want a super-durable all steel machine, perhaps for a long international tour, the Sutra LTD's steel fork is more robust. But you can swap in a steel fork on the Fargo for less money than adding a carbon fork to the Sutra LTD, and some of the Sutra LTD's other features – like hydraulic brakes and dropper seat post – aren't the most long-haul friendly either.
Fargo Fork is Suspension-Corrected
Another fork-related difference: the Fargo's longer fork and higher front end allows for swapping in a suspension fork with up to 100 mm of travel. The Sutra LTD fork is not suspension corrected, at least not enough for any modern MTB fork. If you fancy the unusual idea of a drop bar hardtail, the Fargo is the better choice.
Fargo Clears Wider Tires
The Sutra LTD has respectable tire clearance: 29 x 2.4″ or 27.5 x 2.8″. But that's puny compared to the Fargo, which clears a meaty 29 x 3″ (except size XS) or 27.5 x 3″.
To be fair, most riders don't feel a need for such wide tires on this type of bike. Tires in the 29 x 2.2″ or 27.5 x 2.8″ neighborhood are typical, and plenty capable for many mixed-terrain rides and routes. Extra width comes into play for very rocky or sandy routes – think Baja Divide. If you wanted to run 29″ wheels you might be a bit on the narrow side for a route like that with the Sutra.
As spec'ed, both bikes comes with tires in the 29 x 2 to 2.25″ range. The Fargo's Teravail Sparwoods are a bit more gravel-focused, while the Sutra LTD's Maxxis Rekon Race is a low-profile XC tire ideal for dry trails.
Fargo Supports More Drivetrain Options
Versatility is a key principle of the Fargo's design, both in terms of terrain and build options. If you like to tinker, Salsa's Alternator Dropouts offer a few compatibility advantages that the Sutra LTD doesn't:
Run either 148 or 142 mm rear thru axle hub, or even 135 mm QR with an adapter plate
Option to run internally geared Rohloff hub
Chain tensioning for singlespeed conversion (intentional or emergency)
Frame split for a belt drive
Adjustable wheelbase for tweaks to handling
Fargo is Lighter
It's hard to make a direct comparison, but reviews of the Sutra LTD (mostly back when it was the ULTD) measured it around 28 – 29 pounds. Salsa's website lists the Fargo at only 24.5 pounds for a size large, which is definitely a big enough difference to feel.
A big chunk of this difference comes down to the Fargo's lighter carbon fork. The Sutra LTD's dropper seatpost probably adds a bit of weight, but of course it also adds value for many riders. I'm just speculating here, but Salsa's triple-butted chromoly tubing may be a bit lighter than Kona's "butted tubing" (which I would guess means double butted).
Combine the Sutra LTD's heavier weight with its higher stock gearing and you have a bike that's noticeably more difficult to pedal uphill. Path Less Pedaled called it "chonky" and A number of reviewers have said the bike feels "sluggish" due to its weight. Smaller riders or otherwise weight-sensitive folks might prefer a Fargo for this reason alone.
Sutra LTD Has Nicer Components
The Sutra LTD, with its steel fork, might seem overpriced alongside the Fargo with its carbon fork. But looking at the rest of the build spec we can see where Kona chose a number of component upgrades the Fargo lacks.
Hydraulic brakes: The Sutra LTD comes stock with SRAM Rival HRD hydraulic disc brakes while the Fargo has TRP Spyre mechanicals. For day to day riding those hydraulic brakes are a nice upgrade. If you plan to ride long and rugged tours through countries without high-end bike shops, you might prefer the Fargo's mechanical brakes for their simpler maintenance and repair.
Larger rotors: The Sutra LTD spec includes 180 mm rotors front and back for better heat dissipation and stopping power, while the Fargo sticks with more traditional 160 mm rotors. Personally I think this is a worthwhile upgrade for loaded riding, at least in the front. But it's a bit out of balance with the Sutra LTD's not-so-hill-friendly climbing gear, and it does make the bike a wee bit harder to pack into a box for travel.
Dropper post: As if to claim the "mountain bike" part of its "drop bar mountain bike" category, the Sutra LTD comes stock with a TranzX dropper seatpost and integrated lever at the left shifter. You can certainly add a dropper to the Fargo if you'd like, but this is a point in favor of the Sutra LTD if you're drawn to rugged descents and technical trails. The TranzX dropper gets bonus points for having tool-free adjustable travel, an especially helpful feature for smaller riders and bikepackers who sometimes ride with a seatbag.
Groupset tiers: The Sutra LTD includes brakes, shifter, and derailleur from SRAM's Rival groupset, which is a tier above the entry-level Apex 1 used on the Fargo. Generally speaking this means a bit lighter weight and smoother performance, though Apex is still very dependable.
Rims: A further example of Kona putting a bit more value into components: the Sutra LTD comes with WTB's lighter KOM alloy rims, while the Fargo uses entry-level WTB ST rims.
Sizing and Standover
This isn't really an advantage one way or the other, but depending on your body you might find either the Fargo or Sutra LTD to be a better fit. The Sutra LTD comes in six frame sizes compared to the Fargo's five, so between-size riders might find a closer match with the Sutra LTD.
The Fargo's standover height is 690 mm on the smallest XS frame, while the Sutra's smallest 48 cm frame has a standover of 735. If you're on the shorter side this could certainly be a point in favor of the Fargo. Both the Fargo and Sutra LTD make good bikes for tall people, with the Fargo being a tad longer and taller in the largest size.
Ideal Terrain
Normally I use the following spectrum to show how two bikes differ, especially on the right end. Often one is significantly more capable on trails than the other. But in the case of the Salsa Fargo versus the Kona Sutra LTD I'm giving them a fairly similar range. Though people might prefer one over the other in terms of fit and feel, they're designed (at least as spec'ed) for the same terrain and riding style.
I've given the Fargo a wee bit wider range on both ends due to its lighter weight and broader compatibility. As spec'ed the bikes are quite similar, but if you're willing to tinker the Fargo will reward you with more versatility. Since the frame is lighter, you could throw on a set of narrower and lighter wheels and have a more satisfying road ride. On the more rugged side of the spectrum the Fargo's wider tire clearance and suspension corrected fork give it an edge.
Here's a sampling of the kind of terrain these bikes are both great at:
Summary and Reasons to Choose Each
Some comparisons are obvious, like the Salsa Fargo vs. Vaya. Simply choose the bike that fits the terrain you want to ride. But since the Fargo and Sutra LTD are so well-matched, the choice is a bit more nuanced. Here are some reasons that might tip the scale toward one or the other.
Reasons to choose the Fargo:
You like especially wide 29″ tires and see a lot of rocky or sandy riding in your future.
You prefer the feel of a carbon fork.
You're a small or otherwise weight-sensitive person and feel the Sutra LTD's heavier frame will weigh you down.
You like to tinker with your bike and want to keep options as open as possible, especially for wheels and fork.
You might someday be interested in a Rohloff hub or belt drive.
You plan to ride a substantial amount of pavement or gravel and won't get your money's worth out of the dropper post and hydraulic brakes.
You plan to ride long-haul international tours and prefer simpler components, like mechanical brakes and standard seat post. (For a full-on apocalypse-proof bike I would choose the Fargo and swap in Salsa's steel Firestarter fork.)
Reasons to choose the Sutra LTD:
You're excited to ride trails and will appreciate the dropper post.
You prefer hydraulic brakes.
You prefer the feel of a steel fork.
The Fargo's extended compatibility and carbon fork don't matter to you, and you'd rather put your money into higher-tier components.
Though that list looks much shorter for the Sutra LTD, they're both great bikes! The Fargo is a bit more nuanced and versatile, and it's the bike I'm personally more familiar with. But the up-and-coming Sutra LTD gives the classic Fargo a run for its money and is quickly growing popular in the drop bar MTB space. Whichever one you end up choosing, I wish you many epic adventures together.
More Bikepacking Resources
If you found this helpful, you might also enjoy these:
Bikepacking the Western Wildlands Route from Idaho to Arizona
Preventing and Treating Saddle Sores: Tips from Endurance Riders
How to Deter Theft While Bikepacking and Touring
Or visit the bikepacking section for lots more.
Bike resources in your inbox?
There's more where this came from! Sign up here for occasional emails full of inspiration and information about bikepacking and bicycle touring.


Share the Adventure
If you found this article helpful, please consider sharing so more people can benefit from it: