At first glance, especially to folks looking in from outside our weird world of bikepacking, the Fargo and Cutthroat have far more in common than not. They're both 29er drop bar mountain bikes designed for comfortable all-day riding, gear hauling, and tackling a wide range of terrain from smooth gravel to light singletrack. People have even called the Cutthroat a "carbon Fargo," which does have some truth to it.
In practice though, these two bikes appeal to rather different riders and styles. Which bike is best for you depends on how and where you plan to ride it (and of course, your budget).
Competing at the pointy end of the Tour Divide or other mixed-terrain bikepacking race? The Cutthroat is the natural choice, and was even designed for this use case specifically. Rambling through multiple countries on backroads for months at a time? The Fargo is a more durable and worry-free rig. But for many cases in between there are reasons to fall in love with either, and that's probably why you're here.
I've ridden my Salsa Fargo over 4500 loaded miles, and I've been curious about the Cutthroat for years. I saw a ton of them while riding the Great Divide and chatted with many of their riders. In this post I've combined personal experience, conversations with other bikepackers, and online research to highlight the most important differences between the Cutthroat and the Fargo and help you choose between them.
Quick summary: The Salsa Fargo and Salsa Cutthroat are both 29er drop bar mountain bikes designed for multiday rides on a mix of unpaved roads and smooth trails. The Fargo has a steel or ti frame and is more durable, versatile, and (for the steel version) affordable. The Cutthroat has a carbon frame and is more performance-oriented, specialized, and expensive. Both bikes are really fun! Which is best for your riding goals? Read on for a detailed comparison.
Salsa Fargo
First launched in 2009, the Fargo is Salsa's longest running bike model and a cult classic in the bikepacking world. It's especially beloved for long distance travel on mixed terrain due to its versatility. The Fargo excels on dirt and gravel roads, including rough and chunky ones, and rides surprisingly well on pavement and smooth singletrack too.
The Fargo is available as a complete build (currently the Apex 1), as well as a steel frameset and titanium frameset. The build spec aims for dependability and value.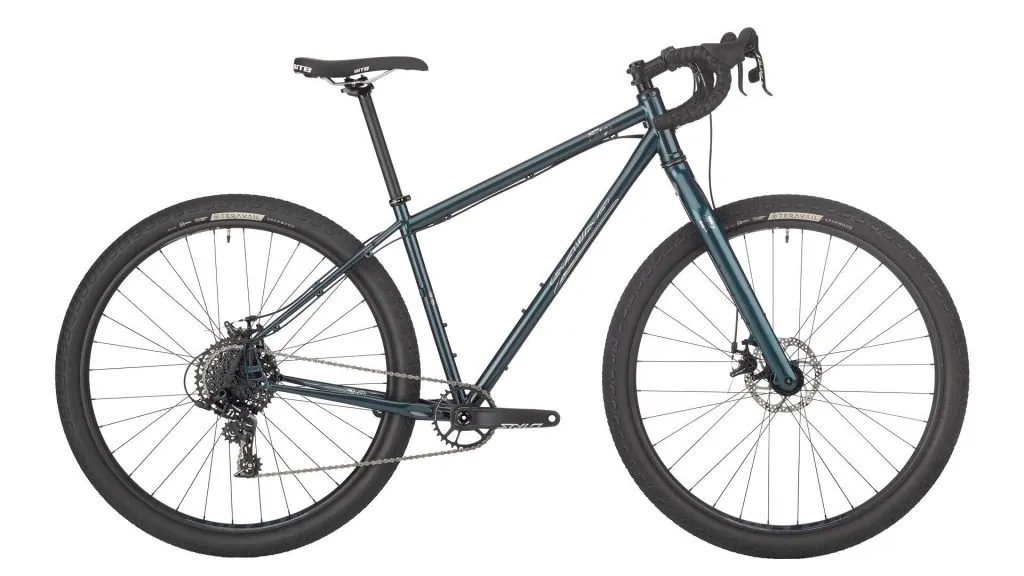 From Salsa: "Fargo Apex 1 is Salsa's drop-bar off-road touring bike built to shatter limits. Ride it on singletrack, gravel, or other places you wouldn't take your standard touring bike."
Fargo models and framesets:
The Fargo is ideal for:
Low-stress long-haul bikepacking
International touring with off-pavement focus
Spicing up your favorite MTB trails
Saving money to spend on your next bike travel adventure
Salsa Cutthroat
The Cutthroat is Salsa's gravel bike / mountain bike mashup designed specifically for ultra-distance bikepack racing on mixed terrain routes like the Tour Divide. While it's won more than a few races, it's also carried many more leisurely riders on bikepacking trips both short and long.
The Cutthroat is available as a carbon frameset or several complete builds at a range of price points. The most affordable model (C GRX 600 1X) aims to balance value and performance, while the most expensive model (C X01 Eagle AXS) goes all-out with all the bells and whistles. There's also a 2X drivetrain model, for those interested.
From Salsa: "Cutthroat is Salsa's ultra-endurance mixed surface bike inspired by the Tour Divide. It's designed and built to cover long distances with speed and comfort."
Cutthroat models and framesets:
The Cutthroat is ideal for:
Competitive bikepack racing
Fast-and-light bikepacking
Doubling as a gravel bike
Getting a high-end bike without a custom build
Note on the name: While the name "Cutthroat" has a decidedly competitive ring to it, apparently the bike is actually named after the Cutthroat Trout, the state fish of every state along the Tour Divide. It's often affectionately shortened to "Cutty."
Check Cutthroat prices and availability: Campfire Cycling, REI, Jenson USA
Side by Side: Fargo vs. Least Expensive Cutthroat
Chances are the $2600+ Fargo and the $8400+ high-end Cutthroat won't appeal to the same rider. But folks looking for a mid-range bike might debate between saving a thousand bucks on the Fargo or splashing out on the most affordable model of the Cutty.
To help folks in this position, here's a comparison table between the steel Fargo Apex 1 versus the most affordable Cutthroat model, the C GRX 600 1x. The other Cutthroat models go up from here in price and quality. I'm assuming that someone interested in a $5000+ Cutthroat likely isn't comparing builds with a steel Fargo, so I'll omit the more expensive models here.
Salsa Fargo (2021 Apex 1)
Salsa Cutthroat (2022 C GRX 600 1x)
Full spec
Salsa website
Salsa website
Price
$2649
$3599
Frame material
chromoly steel, triple-butted
carbon fiber
Fork material
carbon fiber
carbon fiber
Wheel size
29″ (but also compatible with 27.5″)
29″
Tire clearance
29 x 3.0″ without fender (only on SM–XL frame sizes), 29 x 2.4″ with fender, 27.5 x 3.0″
29 x 2.4″ in back, 29 x 3.0″ in front
Tires
Teravail Sparwood 29 x 2.2″, Durable, Tubeless-Ready
Teravail Sparwood 29 x 2.2″, Durable, Tubeless-Ready
Rims
WTB ST i25
WTB ST i25
Handlebars
Salsa Cowchipper
Zoom DR-AL-199BTFOV
Brakes
mechanical disc (TRP Spyre-C),
160 mm rotors
hydraulic disc (
Shimano GRX RX400), 160 mm rotors
Gearing
1×11, SRAM Apex
(11-42t cassette, 32t chainring)
1×11, Shimano GRX
(11-42t cassette, 36t chainring)
Suspension corrected?
yes
yes
Dropper post
none
none (internal dropper routing)
Drivetrain compatibility
1x, 2x, singlespeed, internally geared hub, belt drive
1x, 2x
Hub spacing
Front: 110 x 15 mm Thru-axle
Rear: 148 or 142mm thru-axle, or 135mm QR w/ Alternator reduction plates
Front: 110 x 15 mm Thru-axle
Rear: 148 x 12 mm Thru-axle
Frameset options
steel: $1249
titanium: $3349
carbon: $2599
Sizes
XS, S, M, L, XL
52, 54, 56, 58, 60 cm
Weight
24.5 lbs – size large
24.2 lbs – 56 cm size
Key Feature Comparisons
Frame Material
Components can be swapped but the frame is forever, and it's one of the most significant differences between the Cutthroat and Fargo. The Cutthroat is entirely carbon fiber, while the Fargo is chromoly steel with a carbon fiber fork.
Which is better? Opinions and preferences differ. Some folks adore the feeling of carbon and love how it absorbs vibration from the road, while others find it a bit too stiff or otherwise unpleasant. This is where a test ride can really make your decision easier. If at all possible, visit a bike shop that has both in stock and see for yourself which ride quality you prefer.
Durability is the other big topic when it comes to carbon frames. We often say that carbon frames are less durable. This isn't to say they can't handle the riding they were designed for – a Cutthroat isn't going to snap in half the first time it hits a rock in the trail! Carbon fiber bikes can be incredibly strong and well-engineered.
In my opinion the durability issue is more about the rigors of long-distance bike travel. Need to transport your bike on the bus? It might be stressful to watch the baggage handler strapping your carbon bike to the roof. If you attach bikepacking bags but mess up your protective tape job, you might find a nasty abrasion when you remove the bags in a month (been there, unfortunately). And with carbon we can't always tell the extent of the damage by looking at it. A sudden blow or deep abrasion could lead to a structural weakening that we'll never notice… until maybe one day it breaks suddenly.
This isn't meant to scare you away from carbon. Plenty of people ride hard on carbon bikes, even mountain bikes, with no problems. But if your riding style tends to be long, rugged, and scrappy, and you don't enjoy fussing over your gear, you'll likely find the steel Fargo a more stress-free ride.
Of course there's also the titanium Fargo frameset, which you'll have to get to build up yourself and which is an interesting combination of lighter weight, excellent ride quality, and durability. More on this option down below.
Price
Another obvious difference is price: the Cutthroat is more expensive than the steel Fargo. The lowest-priced Cutthroat model ($3599) costs nearly $1000 more than the complete Fargo build ($2649). The other models go up from there, all the way up to $8000+.
The exception is the titanium Fargo frame, which currently costs $750 more than a carbon Cutthroat frame.
Fancy Build Specs
The Fargo is offered with one or two build specs each year, as well as steel and titanium framesets. The complete builds are solid and practical. If you want a fancy Fargo with all the bells and whistles you can certainly build it up yourself (probably with the ti frameset). But as a stock build, the Fargo is decidedly mid-range.
The Cutthroat, on the other hand, currently comes in four complete models (and a frameset) ranging from $3599 up to $8,399! At the low end the build is a tad fancier than the Fargo but similarly focused on value. At the high end you get all the bells and whistles a seriously competitive (and wealthy!) cyclist could ask for: electronic shifting, carbon rims, and two pounds of weight savings over the less expensive models.
Groupsets
The bike industry loves to geek out about groupsets. Personally I think they're less of a decision-making factor for many riders compared to other aspects of a bike and build, but they do give a sense of how "high-end" a bike model is supposed to be and where it falls on the affordable vs. lightweight spectrum.
Here's a quick overview of the groupset each model is based around, arranged by increasing price, to help orient you:
Fargo Apex 1: 1×11 version of SRAM Apex, the lowest of four tiers in SRAM's road lineup.
Cutthroat C GRX 600 1x: 1×11 version of Shimano GRX RX 600, the middle of three tiers in Shimano's GRX group designed for gravel, bikepacking, and cyclocross.
Cutthroat C GRX 800 2x: 2×11 version of Shimano GRX RX810, the highest of three tiers in Shimano's GRX group designed for gravel, bikepacking, and cyclocross.
Cutthroat C GX Eagle AXS: Eagle is SRAM's 12-speed mountain bike group, GX is the middle of five tiers, and AXS GX is the lowest of the three tiers offering electronic shifting. The brakes and shift controls are from SRAM's Rival tier, the second-highest of four tiers in SRAM's road lineup.
Cutthroat C X01 Eagle AXS: Eagle is SRAM's 12-speed mountain bike group, X01 is the second-highest of five tiers, and AXS X01 is the middle of three tiers offering electronic shifting. The brakes and shift controls are from SRAM's Force tier, the third-highest of four tiers in SRAM's road lineup.
Those last two models are what's called a "mullet" drivetrain: road in front, MTB in back. They pair road shifters and brakes – necessary for the Cutthroat's drop bars – with MTB cassette, cranks, and derailleur for a wider gear range.
Weight
I had always assumed the Fargo must be significantly heavier than the Cutthroat, so I was surprised to find the weight difference is only 5 ounces according to Salsa. The Fargo Apex 1 in size large weighs 24 lbs 8 oz, while the Cutty C GRX 600 1x in size 56 cm is 24 lbs 3 oz. Now, the 56 cm frame on the Cutty seems more like a size medium in the Fargo, so this comparison may not be entirely fair and the difference is likely a bit larger. But in any case, the weight difference is not as big as one might expect.
The only Cutthroat model with a major weight difference is the most expensive C X01 EAGLE AXS model, which weighs 22 lbs 4 oz and costs several thousand dollars more.
Rims and Tires
The Fargo and both Cutthroat GRX models come with the same tubeless-ready WTB ST i25 rims, a dependable if heavy choice. The two higher-tier Cutty models upgrade to DT Swiss X1900 alloy and Whisky No.9 30W carbon, respectively.
The Fargo and all models of Cutthroat come with 29 x 2.2″ Teravail Sparwood tires. Though the Sparwood is in Teravail's gravel category, Teravail says it was designed for "long-distance mixed-terrain routes." It's even named after a town on the Tour Divide / Great Divide Mountain Bike Route, which is a pretty strong signal about the type of riding both bikes excel at.
Tire Clearance
Though both Fargo and Cutthroat come stock with the same tires, the Fargo is compatible with wider tires thanks in part to its Alternator Dropouts and adjustable wheelbase. The Fargo can clear up to 29 x 3.0″ without fenders on every size except XS, and 27.5 x 3.0″ on all sizes.
The Cutthroat fork can clear 29 x 3.0″ tires, but the rear is limited to 29 x 2.4″ according to Salsa, so in practice most riders will be limited to 29 x 2.4″ on the Cutthroat. Mud clearance needs to be considered for this type of riding, especially with the Cutthroat. Carbon frames are vulnerable to damage from abrasion, though Salsa's abrasion resistant plates are designed to help.
In summary, the Fargo can more comfortably flex to especially rough or sandy surfaces thanks to its clearance for 3.0″ wide tires. The Cutthroat, which maxes out at 2.4″ wide, may struggle a bit on this type of terrain.
Handlebars
Both the Fargo and Cutthroat are designed for wide, flared drop bars intended for gravel and light trails. The Fargo ships with Salsa Cowchippers (one of my personal favorites), while all Cutthroat models ship with Zoom DR-AL-199BT FOV.
The Zoom bars appear to be a racier choice with larger reach and drop and smaller flare, putting the rider in a slightly more aggressive position. Bars are an easy change to make though, at least between one drop bar and another, so you'll have plenty of freedom to experiment in both cases.
Gearing
As you might expect from a bike built for racing, all Cutthroat models have a higher high gear than the Fargo. The C GRX 810 2x has a much higher high gear (such is the advantage of a 2x drivetrain – see 1x drivetrains for bikepacking to learn more). This allows strong riders to push faster on flats and gradual downhills where a leisurely bikepacker might simply relax.
The two top-end Cutty models with SRAM Eagle 1×12 have a lower low gear than the Fargo thanks to their wide-range mullet drivetrains, making for easier climbing. But hill-haters take note: the two more affordable Cutty models have a higher low gear than the Fargo Apex 1, which is already a bit on the high side for hilly routes and heavy loads in my opinion.
The most affordable Cutthroat (C GRX 600 1x) has the same cassette range as the Fargo (11-42 teeth). But while the Fargo has a 32t chainring up front, the Cutthroat has 36t. This Cutthroat is likely geared a bit too high for most casual bikepackers, but reasonable for well-trained racers carrying minimalist gear.
Here's a table showing how the Fargo's gearing compares with each Cutthroat model:
| | | | | |
| --- | --- | --- | --- | --- |
| Model | Chainring(s) | Cassette | Lowest gear ratio | Highest gear ratio |
| Fargo Apex 1 | 32 | 11-42 (11 speed) | 0.76 | 2.91 |
| Cutthroat C GRX 600 1X | 36 | 11-42 (11 speed) | 0.86 | 3.27 |
| Cutthroat C GRX 810 2X | 46/30 | 11-34 (11 speed) | 0.88 | 4.18 |
| Cutthroat C GX Eagle AXS | 34 | 10-52 (12 speed) | 0.65 | 3.4 |
| Cutthroat C X01 Eagle AXS | 36 | 10-52 (12 speed) | 0.69 | 3.6 |
Brakes
All Fargo and Cutthroat models have disc brakes, but the Fargo's are mechanical and the Cutthroat's are hydraulic at varying price and quality tiers.
Many riders, myself included, prefer the feel of hydraulic brakes and find them easier on the hands during long days. They are unfortunately a bit more complicated to repair and maintain during a long trip through the middle of nowhere, which is why many long-distance bike travelers actually prefer mechanical disc brakes.
Both the Fargo and Cutthroat have 160 mm rotors front and back. Personally I would upgrade to 180 mm in the front for loaded bikepacking, especially on the Fargo since it tends to carry heavier loads.
Bells and Whistles
If you're into bells and whistles and fancy components, the Cutthroat comes stock with more of them (though you can always make your own upgrades to the Fargo). For example:
Dropper seat post: included in the top two Cutthroat models
Electronic shifting: included in the top two Cutthroat models
Carbon rims: included in the top Cutthroat model
Bottom Bracket
While the Fargo uses a common threaded bottom bracket (73mm BSA), the Cutthroat uses a Press Fit BB92. Many reviewers have knocked this choice because press fit bottom brackets sometimes creak and are more of a hassle to maintain and replace.
According to a message from Salsa (published on Gear Junkie) this BB is central to the entire design of the Cutthroat frame and changing it would require too many compromises. Though it's an unpopular choice, it apparently works well enough and hasn't prevented the Cutthroat from becoming extremely popular.
Cargo Carrying
Both the Fargo and Cutthroat are built for the long haul and designed to carry cargo.
Racks: Both bikes can be outfitted with front and rear racks. Salsa recommends their Alternator Rear Rack for the Fargo and the Wanderlust Rear Rack with a seatpost collar for the Cutthroat, which lacks rear rack eyelets. Both bikes' carbon forks have mid-blade mounts for low-rider racks.
Bottle and gear cage mounts: Both bikes have these in spades. The Cutthroat has either two or three 3-pack sets in the main triangle depending on frame size, a set beneath the down tube, and two sets of 3-pack mounts on the fork. It also has a set of bolt-on top tube bag mounts. The Fargo has two pairs in the frame triangle, one beneath the down tube, and two 3-pack sets on each fork blade.
Bikepacking Bags: If you don't want to mess with detailed measurements or custom frame bags, Salsa offers their own line of bikepacking bags. The Salsa EXP Series frame bag will fit the Fargo, and the Cutthroat Direct-Mount Frame Pack bolts onto the Cutthroat to minimize strap rub on the carbon frame.
Frame triangle: Frame bags are an ideal place to carry weight while bikepacking (low and centered), so bikepackers are always lusting after larger frame triangles. The Fargo's is decent, but the Cutthroat is known for its enormous frame triangle that maximizes volume at every frame size.
Fender mounts: The Fargo has 'em, the more streamlined Cutthroat doesn't.
Note on bikepacking bags and frame damage: bags and straps rubbing against carbon fiber will damage it over time, potentially even leading to a dangerous failure if not noticed. With a carbon bike like the Cutthroat (and the Fargo's carbon fork) it's essential to apply protective frame tape anywhere bags may rub, and check it periodically during a multi-week ride to make sure it hasn't worn through.
History
Both bikes are established mainstays in Salsa's lineup, but the Fargo is a true classic: it launched in 2009 and is Salsa's longest-running bike build. The Cutthroat launched more recently in 2016 and has become incredibly popular in just a few years.
Geometry
When it comes to the geometry choices that influence handling, the Fargo and Cutthroat are fairly similar but not identical. Here's a comparison from bikeinsights.com:
Bike geometry can get complicated, but even a novice can see that this diagram has a lot of overlap and these bikes are designed for a very similar style of riding. Several key numbers are identical between them, including head tube angle (69 degrees), bottom bracket drop (70 mm), chainstay length (445 mm), and effective top tube length (540 mm).
The most obvious difference is the Fargo's more upright stack and reach, putting the rider in a slightly more relaxed and upright position. This makes sense for a recreation-focused bike like the Fargo, compared to the Cutthroat's more performance-focused niche. Still, the difference between the Fargo and Cutthroat is fairly small and it's easy to tweak by changing the stem and handlebars.
Short-legged riders take note: The Fargo has a slightly lower standover height, which might be relevant to certain riders whose inseam is right on the border between frame sizes of either bike.
Compatibility
If you're the type who likes to tinker and experiment, here are a few compatibility-related factors to consider between the Cutthroat and the Fargo.
Wheel Size
Both bikes are designed around 29″ wheels. Salsa says the Fargo is compatible with 27.5+ wheels (meaning 27.5″ diameter with 2.8 – 3″ width). However, they say the Cutthroat is not designed for anything other than 29″ wheels.
Word on the street is you can actually run 27.5″ wheels on the Cutthroat. The issue, as far as I can tell, is that the Cutthroat's more limited tire width forces a lower volume tire and thus smaller wheel diameter. The problem with that is a lower bottom bracket and potential pedal strikes on rough trails. The Fargo, by comparison, can clear beefy 27.5 x 3″ tires which makes the 27.5″ wheel size more appropriate.
Hub Spacing
Both bikes are designed around MTB Boost spacing: 110 x 15 mm thru axle in front and 148 x 12 mm thru axle in rear. If you want more options for swapping wheelsets, there are various ways to convert larger diameter hubs to fit smaller diameter axles, and narrower hubs to fit wider frames.
The Fargo's Alternator dropout system offers a bit of extra flexibility over the Cutthroat, including the option to run a 135mm QR rear wheel if you'd like. This is probably not something most Cutthroat owners want to do anyway, but if you like to tinker and mix and match, the Fargo is more flexible.
Drivetrain Compatibility
If you like to experiment with exotic drivetrains, the Salsa Fargo is a better choice than the Cutthroat. Thanks to Salsa's Alternator Dropout system the Fargo can be converted to singlespeed, belt drive (yes there's a frame split), and even Rohloff hub. The Alternator Dropouts also provide wheelbase adjustability so the Fargo can be tuned to favor stability or agility.
Both the Fargo and Cutthroat frames are compatible with either 1x or 2x traditional drivetrains, for the time being. One of the Cutthroat models is a 2x, otherwise all other stock builds are 1x.
Fork Compatibility
Both the Cutthroat and Fargo are designed around long suspension-corrected rigid forks, meaning you can swap in a suspension fork to smooth out the bumps if you want. Both the Fargo's Firestarter 110 Fork and the Cutthroat Fork have axle-to-crown length in the 480 – 483 mm range, and can be replaced by a 100 mm travel suspension fork without detrimental impact on geometry.
It's worth noting that Salsa tried suspension builds of both the Fargo (2015 – 2016) and the Cutthroat (2019) and promptly discontinued both. Presumably there just isn't enough demand for the quirky combination of drop handlebars and suspension fork. But if you're the type who likes to tinker, the Cutthroat and Fargo give you the same opportunities when it comes to forks.
Ideal Terrain
Both the Fargo and Cutthroat pride themselves on the versatility needed to link up a few thousand miles via as much dirt and gravel as possible. Their sweet spot is rough gravel and dirt roads of varying quality, with a bit of smoother gravel (or even pavement, heaven forbid) and easy singletrack mixed in.
Both bikes are often praised for their confident handling on rough terrain, at least relative to the drop bar MTB genre. Neither has the most modern MTB geometry and you can find drop bar MTBs (like the Surly Grappler) that are more optimized for singletrack. But they both do surprisingly well on trails considering how well they also do on gravel.
If I had to name one as the winner on more rough and rugged terrain, it would be the Fargo, mainly for its wider tire clearance. As stock builds the Fargo and Cutthroat both come with 29 x 2.2″ Teravail Sparwood tires, which puts them on pretty even footing. But the Fargo's adjustable wheelbase, compatibility with wide 27.5″ tires, and clearance for up to 29 x 3.0″ (except size XS) allow the Fargo to be set up more effectively for singletrack, super-rough roads, and sandy surfaces.
If I had to choose one of these bikes for a long day of pavement, I would choose the Cutthroat for its lighter weight and higher gearing.
Ideal Riding Style
In my opinion, the biggest difference between these two bikes isn't their ideal terrain but the ideal style in which to travel through it.
The Cutthroat, though still plenty rugged, is more performance-oriented and requires a bit more care. It's best suited for the type of riding where weight and performance matter, you'll have access to high-end bike shops periodically, and you'll have a fair amount of control over your bike. On a long trip it'll be important to check for frame abrasions and reapply protective tape. If you transport your bike via bus or a friendly stranger's pickup truck, you'll have to hope they're gentle when loading and unloading. On a really long trip you might need to consider maintenance of hydraulic brakes.
Though some people do take rugged international trips on the Cutthroat, I'd say it's best suited for trips that are a bit shorter (up to a month or two), in countries with high-end bike shops, and on routes that are well-developed and researched. For bikepacking fast and light on established routes in the United States, for example, the Cutthroat is fantastic.
The Fargo, on the other hand, is optimized to be a reliable workhorse with minimal needs. Its steel or titanium frame can take some knocks, whether from rubbing bikepacking bags or rough treatment in the luggage hold of a bus (though the carbon fork does require a bit of care). The steel version can be repaired by a welder pretty much anywhere in the world. Mechanical disc brakes are easy to troubleshoot and repair in the field. The sliding dropouts allow for tensioning an emergency singlespeed conversion so you can keep limping along if your rear derailleur fails. Basically, the Fargo is more resilient to bad luck.
For all these reasons, the Fargo is a much lower-stress choice for long, unpredictable, or international trips. If you want to spend a few months or years rambling through multiple countries in Asia or South America (for example) I would definitely recommend the Fargo.
Titanium Fargo vs. Cutthroat
Given the Cutthroat's higher price point compared to the steel Fargo, the most apt comparison may be the Salsa Cutthroat versus the titanium Fargo. A Fargo ti frame paired with top-shelf components could be every bit as swanky, performant, and expensive as the upper-level Cutthroat builds.
If you're looking in this price range, both bikes are great options. In my opinion the decision comes down to 1) ride feel and 2) durability, especially as relates to the type of riding you plan to do.
Personally I love the ride feel of titanium. It's just so smooth, as if floating a half inch above the ground instead of rolling on it. I know some folks prefer the feel of carbon, while others find it too stiff. Much depends on the specific design, and Salsa has worked hard to make the Cutty's carbon frame as comfy as possible. The "Class 5™ Vibration Reduction System" combines tall thin seatstays and laterally stiff chainstays to balance compliance and stiffness in the right directions.
When it comes to durability, titanium can definitely lower stress levels during faraway travel or long-distance journeys. This is especially true if you go for months at a time without removing your bikepacking bags, which have a tendency to abrade carbon fiber despite best efforts with protective frame tape. This isn't to say a carbon Cutthroat can't handle your epic bikepacking trip — it most likely can. But a titanium Fargo can do so with less babying and has better odds of surviving bad luck in the worst case scenario.
Summary: Reasons to Choose Each
To wrap all this up, here are the most compelling reasons to choose one over the other in my opinion:
Reasons to choose the Fargo:
You're not the type to fuss over your gear and want a frame you don't have to worry about in rough conditions.
You want to save money and still get a reliable, quality bike.
You plan to do a lot of long, international, and/or unpredictable bike travel where you can't always control what happens to your bike or find a shop to make repairs.
You want to push the limits of rigid mountain biking and run wide 3.0″ tires for especially bumpy or sandy routes.
You like to tinker and may want to run singlespeed, Rohloff, belt drive, or an old set of QR wheels in the future.
You're into the idea of a titanium frame; choose the Fargo ti frameset and build it out yourself.
Reasons to choose the Cutthroat:
You want to be competitive in bikepack racing, and/or enjoy bikepacking in a fast and light style.
You really like the feel of the carbon frame.
You want a stock build with 2x gearing.
You want a stock build with high-end components like electronic shifting.
You want a bikepacking bike that can double as a gravel bike for speedy day rides.
At the end of the day, both these bikes are fantastic options! Whichever one you choose, I wish you many happy miles together.
More Bikepacking Resources
If you found this comparison helpful, you might also like these articles:
Or visit the bikepacking section for lots more!
Bike resources in your inbox?
There's more where this came from! Sign up here for occasional emails full of inspiration and information about bikepacking and bicycle touring.


Share the Adventure
If you found this article helpful, please consider sharing so more people can benefit from it: