Shopping for a versatile off-pavement bikepacking machine at an affordable price? Chances are the Salsa Fargo and Surly Ogre are both on your shortlist. Each of these bikes offers a steel frame, dependable spec, gear hauling features for days, options for drivetrain and wheel tinkering, and clearance for beefy tires in both 29″ and 27.5+ sizes.
Yet for all their overlap in functionality, the Ogre and Fargo have some significant differences. Some, like handlebars and fork, are obvious while others are more subtle. If you're on the fence about which bike is best for your needs or whether the Fargo is worth the extra $900, this detailed comparison will help you understand the differences.
As a proud owner of both a Salsa Fargo and one of Surly's classic models (the Long Haul Trucker), I love both these brands and have spent a lot of time researching and thinking about their bikes. I've written this comparison of the Salsa Fargo versus the Surly Ogre to help you decide which of these bikes should be your next adventure machine.
Salsa Fargo
First launched in 2009, the Fargo is Salsa's longest running bike model and a cult classic in the bikepacking world. It's a drop bar mountain bike especially beloved for its versatility on long mixed terrain routes. The Fargo excels on dirt and gravel roads, including rough and chunky ones, and rides surprisingly well on pavement and smooth singletrack too.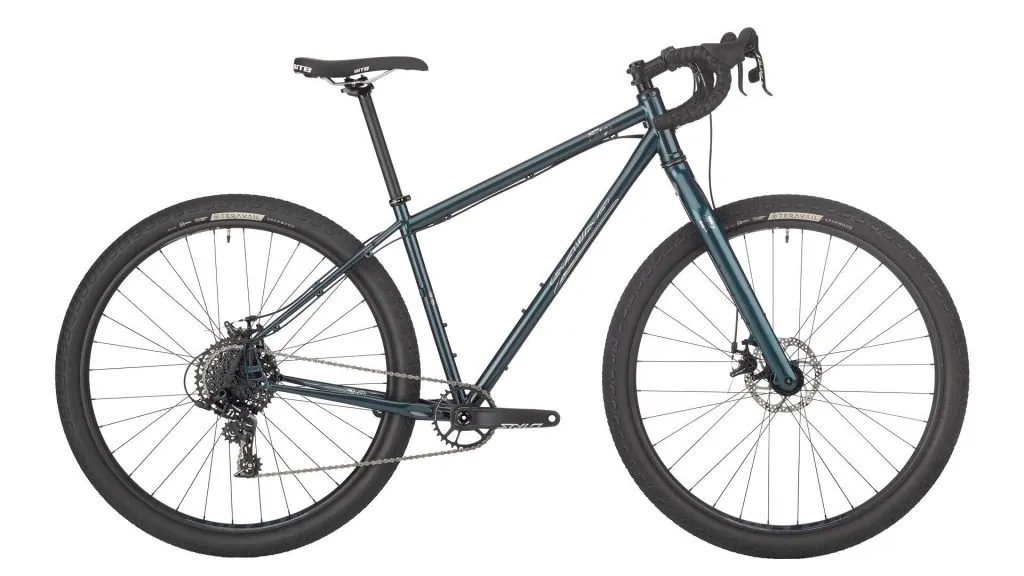 From Salsa: "Fargo Apex 1 is Salsa's drop-bar off-road touring bike built to shatter limits. Ride it on singletrack, gravel, or other places you wouldn't take your standard touring bike."
Latest Fargo models and framesets:
Surly Ogre
The Ogre is a rigid 29er and a versatile steel beast designed for bikepacking, dirt touring, and all-season commuting. With clearance for wide tires, mounts for every cargo carrier you can imagine, and a practical dirt touring geometry, the Ogre makes a great all-around workhorse bike.
From Surly: "A steel utility vehicle designed for fully-loaded exploration, whether across town or across the country… A versatile all-season commuter bike."
Latest model and frameset:
Side by Side Comparison Table
Salsa Fargo (2021 Apex 1)
Surly Ogre (2022 Complete)
Full spec
Salsa website
Surly website
Price
$2649
$1749
Frame material
chromoly steel, triple-butted
chromoly steel, double-butted
Fork material
carbon fiber
chromoly steel, double-butted
Wheel size
29″ (also compatible with 27.5″)
29″ (also compatible with 27.5″)
Tire clearance
29 x 3.0″ without fender (only on SM–XL frame sizes)
29 x 2.4″ with fender
27.5 x 3.0″
29 x 2.6″ (w/o fenders)
29 x 2.5″ (w/ fenders)
27.5 x 3.0″ (w/o fenders) 27.5 x 2.8″ (w/ fenders)
Tires
Teravail Sparwood 29 x 2.2″, Durable, Tubeless-Ready

Surly ExtraTerrestrial 29 x 2.5″ 60tpi, Tubeless Ready
Rims
WTB ST i25
WTB i29
Handlebars
Salsa Cowchipper (drop bar with flare)
Salsa Bend (flat bar with backsweep)
Brakes
mechanical disc (TRP Spyre-C),
160 mm rotors
mechanical disc (Avid BB5),
160 mm rotors
Gearing
1×11
(11-42t cassette, 32t chainring)
1×11
(11-48t cassette, 32t chainring)
Suspension corrected?
yes
no
Dropper post
not included
not included
Drivetrain compatibility
1x, 2x, singlespeed, internally geared hub, belt drive
1x, 2x, 3x, singlespeed, internally geared hub
Hub spacing
Front: 110 x 15 mm Thru-axle
Rear: 148 or 142mm thru-axle, or 135mm QR w/ Alternator reduction plates
Front: 10 x 100mm QR
Rear:
"Gnot-Boost" 145mm
12 x 142mm or 12 x 148mm (axle included)
10 x 135mm with Surly 10/12 Adapter Washers (not included)
Frameset options
steel: $1249
titanium: $3349
steel: $949
Sizes
XS, S, M, L, XL
S, M, L XL
Weight
24.5 lbs – size large
unknown (but heavier than the Fargo)
Biggest Differences
If you're deciding between a Salsa Fargo and Surly Ogre, here are the biggest differences to consider.
Salsa vs. Surly
These two brands are actually owned by the same parent company: Quality Bicycle Products (QBP). They are a large distributor of bike parts and bikes headquartered in Minnesota, and owners of several other well-known brands including All-City, Whisky, and Teravail tires.
The difference is in the branding and bike specs. Surly's innovative history included some of the earliest fat bikes and singlespeed setups. Today they're known for bomber and affordable steel bikes, many of which focus on bikepacking and touring, and a quirky irreverent vibe.
Salsa's "adventure by bike" tagline includes all kinds of riding, from road to full-suspension MTB. They make bikes and components from a wider range of materials than Surly, including steel, aluminum, carbon fiber, and titanium. They offer bikes across the price spectrum but their range is generally a bit higher quality, lighter, and more expensive than Surly.
Handlebars
Perhaps the single biggest difference between the Fargo and the Ogre: the Fargo has drop bars and the Ogre has flat bars. While it's pretty easy to change from one drop bar to another, or one flat bar to another (or to an alt bar), it can be complicated and expensive to change between the two styles. Thus, you should think carefully about which style of handlebar you want when choosing the Ogre versus the Fargo.
Drop bars: Generally people like drop bars for the comfort and fatigue-resistance of multiple hand positions and postures. They're standard on road and gravel bikes, so they can feel a bit faster and more familiar on pavement or smooth dirt. For bikepacking one downside is the more limited capacity of handlebar bags; most bags will fit, but you'll have to roll them up narrower. Drop bars are also less confidence-inspiring on really rough ground. The Fargo's Cowchipper drop bars are wide and flared to offer as much control and comfort as possible.
Flat bars: Flat bars are great for bikepacking because they maximize handlebar gear space and offer more control when the going gets rough. However, some people find them uncomfortable due to the internally rotated forearm angle and single hand position. The Salsa Bend bars on the Ogre have generous backsweep to help with ergonomics, and you can always add bar ends for an additional hand position.
Handlebar choice often comes down to personal preference, so test ride a few options if possible. For more help, see Handlebars for Bikepacking: Drop, Flat, Alt – Which is Best?
Fork
The Ogre's fork is steel like the rest of its frame, while the newer Fargo comes with a carbon fork. The Fargo's carbon fork is significantly lighter (over 1.5 pounds) than the Orge's steel fork, and many people feel it's a more comfortable ride thanks to carbon's vibration damping properties.
Personally I strongly prefer the ride feel of a carbon fork. For very rugged adventures, however, a steel fork is lower stress. With a steel fork you won't have to worry about your bikepacking bags abrading the carbon, or potential unseen structural weakness from a knock your bike took in the luggage compartment of the local bus.
The Fargo's geometry is suspension corrected, so you can add a suspension fork if you want to smooth out the bumps. The Ogre is not suspension-corrected, in other words its rigid fork is too short to be replaced by a suspension fork and still preserve its handling characteristics.
It's worth noting that most riders won't need a suspension fork on either of these bikes thanks to their high-volume tubeless tires, which do a great job of soaking up smaller bumps. And suspension forks on drop bar bikes like the Fargo are relatively rare; Salsa tried offering a suspension Fargo in 2015 and promptly discontinued it.
Note: You might see mention of the Ogre having a suspension-corrected fork, but this was an older model. Since its redesign in 2017 the fork is too short to be suspension-corrected.
For riders who want to swap wheelsets, note that the Ogre fork has QR dropouts. This feels a bit dated and makes it harder to find compatible wheelsets. The Fargo's fork uses modern 110 x 15 mm Boost spacing.
Geometry
A bike's angles and measurements determine how it handles on different surfaces and across different styles of riding. We can get a snapshot of the differences using this overlay from bikeinsights.com:
Keep in mind that a rider's posture – how upright or forward they are – also depends on stem length and handlebar type. So this diagram doesn't show us everything, especially considering how different the handlebars are on these two bikes. But without getting too into the weeds on geometry, we can see a few differences between the Fargo and Ogre.
Though the differences aren't huge, the Fargo's geometry lies more toward the mountain bike side of the spectrum than the Ogre's. In particular the Fargo's 69 degree headtube angle is significantly slacker than the Ogre's 71.5 degrees, and the Fargo's front center is a little longer. Generally this should make the Fargo a bit better at descending technical trails and a bit more stable at speed.
The Fargo certainly isn't the most aggressive singletrack-slaying machine, but as far as drop bar mountain bikes go, it's singletrack-friendly. For a drop bar mountain bike with even more modern MTB geometry than the Fargo, see Surly's Grappler.
Weight
Surly bikes are known for being heavy steel beasts and the Ogre is no exception. I couldn't find an exact weight for the Ogre, but I'm confident it's at least 2-3 pounds heavier than the 24.5 pound Fargo. The Ogre's steel fork, heavy tires, and burlier rims alone should account for a couple pounds, not to mention the heavier double butted frame.
To be fair, neither of these bikes is meant to be light and sporty. If you're loading up with days or weeks of provisions, a few pounds of difference in bike weight is hardly noticeable. But there are a few cases where it may be important: smaller riders, those who do a lot of unloaded riding, and folks who enjoy bikepacking with minimalist gear may find the Ogre's extra heft a bit frustrating.
Price
Surly is hard to beat when it comes to making reliable, bikepacking-friendly rigs for affordable prices. At "only" $1749, the Ogre costs $900 less than a 2021 Fargo Apex 1. For some folks that alone makes the decision.
In my opinion the Fargo offers some nice upgrades that will be welcome if you ride a lot of miles. But if money is limited and your goal is to get out there on a reliable bike that won't let you down, the Ogre is a fine choice.
Sizes
The Surly Ogre is more limited in its sizing; there is no size XS frame option. For smaller riders, especially those with relatively shorter inseam measurements, this will be a deal breaker.
Other Feature Comparisons
Steel Frame
Both the Fargo and Ogre frames are made from chromoly steel, a popular choice for rugged bikepacking and touring rigs due to its strength and repair-ability. Steel can have a nice ride feel when well-engineered, and it's affordable. The main disadvantage: it's on the heavy side.
Surly's bikes in particular are known for being heavy steel beasts, and sometimes a bit stiff. This is partly due to Surly's use of double butted steel. The Fargo's triple butted construction, by comparison, is a bit fancier. Triple butting allows for thinner walls near the center of the tubes, which cuts weight and arguably improves ride feel.
I have not ridden an Ogre, but I have ridden thousands of miles on a Surly Long Haul Trucker. As a small (120 pound) person, I find the LHT uncomfortably stiff when not loaded down with touring gear. My Fargo, on the other hand, feels great when unloaded. Different riders have different preferences, but lightweight riders in particular might want to consider whether the Ogre's heavier-duty steel frame will feel good to them.
The Fargo frame is also available in titanium, which offers a fantastic balance of durability, lightness, and smooth ride feel. All that comes at a higher price, but if you're looking to spend some money I definitely recommend it.
Wheel Size
Both bikes are designed around 29″ wheels, a popular choice for bikepacking and dirt road riding thanks to their stability and efficiency at speed. They take longer than 27.5″ wheels to spin up, but once rolling they don't want to stop.
Either bike can also take 27.5″ wheels if you want to swap, especially with suitably high-volume tires to keep the wheel diameter large and the geometry as intended. Most riders won't feel the need to switch sizes but it's nice to have the option, especially if you're a smaller cyclist or ride a lot of singletrack and prefer the more nimble handling.
Max Tire Clearance
Both of these bikes clear pretty wide tires, but the Fargo wins with its clearance for 29 x 3.0″ (except on size XS). The Ogre clears "only" up to 29 x 2.6″, though I wouldn't be surprised if that's on the conservative side. Both bikes clear up to 27.5 x 3.0″ tires if you decide to change wheel size.
Tires
The Fargo comes with 29 x 2.2″ Teravail Sparwood tires, a durable gravel tire designed around "long-distance mixed-terrain routes" — that is, routes like the GDMBR with plenty of gravel and dirt roads, a bit of pavement, and a bit of singletrack.
The Ogre comes with beefy Surly ExtraTerrestrial 29 x 2.5″ tires, which Surly describes as a "heavy-duty off-road touring tire that shines on hardpack surfaces."
These two tires are both focused on versatility, durability, and long-distance bike travel. But the ExtraTerrestrials are burlier and heavier, weighing 1040 g compared to the Sparwood's 860 g.
Tires are one of the easiest things to change about a bike, so you won't be limited by these choices. But a bike's spec'ed tires can tell us a lot about how and where the bike is designed to be ridden.
Rims
The Fargo's 25mm internal width rims are a bit narrower than the Ogre's 29 mm. In practice this means the Ogre's are a bit heavier, a better fit for tires on the widest side of the frame clearance (29 x 2.6″), and a worse fit for narrower tires.
If you're sticking to the typical range for bikepacking, say between 29 x 2.2″ and 2.4″ wide, either rim will work fine. There's really only an issue if you want to run skinnier gravel or road tires on the Ogre, and then you might need a second wheelset. But one could argue the Ogre is more about comfort than speed, and why would you want to run narrow tires anyway?
Gearing
Both the Salsa Fargo and Surly Ogre have 1×11 drivetrains with a 32 tooth chainring. The only difference: the Ogre's 11-48t cassette extends slightly lower than the Fargo's 11-42t, which makes for a slightly easier climbing gear on the Ogre. Since the Ogre is heavier and a bit more of a utilitarian workhorse, this makes sense.
Brakes
The Ogre and Fargo both have mechanical disc brakes, which are a common choice for bikes in this price range. Though many riders prefer the feel and performance of hydraulic disc brakes, they're more expensive and harder to fix if something goes wrong in the middle of nowhere.
If you plan to use either of these bikes for a long and rugged tour, especially in places without modern bike shops, mechanical disc brakes are a great choice. Even if you're mostly riding closer to home, they'll be easier and cheaper to maintain.
Cargo Carrying
Both the Ogre and Fargo are made for loaded long-distance riding and have very similar cargo-carrying features: front and rear rack compatibility, three bottle or gear cage mounts in the frame (two of the Ogre's are 3-pack style), and two 3-pack mount sets on each fork blade.
Both bikes will work with a variety of bikepacking bags. However, if you want to avoid futzing with measurements the Fargo is an easy fit with Salsa's EXP Series frame bag.
Though you can attach a variety of trailers to either bike, the Ogre comes with a specific trailer mount for Surly's Bill and Ted trailers.
Ideal Terrain
If I had to position these bikes on a spectrum of ruggedness from pavement to technical trails, I would extend the Fargo's range slightly further into the singletrack category due to its geometry and ability to run a suspension fork. I think they both handle pavement comfortably enough, but the heavier Ogre will be slower. Both are excellent at gobbling up gravel and dirt roads, whether smooth and well-maintained or rough and gnarly.
In short, the Ogre and Fargo have a lot of overlap in terms of their ideal terrain, which is primarily loaded non-technical dirt riding. But in my opinion the Fargo is a bit more versatile and probably performs better at the outer edges of its intended range.
Durability and Travel Style
The Fargo and Ogre are both excellent long-haul travel bikes for folks who don't want to fuss over their gear. Compared to the carbon Salsa Cutthroat, for example, both the Fargo and Ogre are low-stress rigs suitable for long and unpredictable journeys or rugged international adventures.
The Fargo, with its carbon fork, might require a bit more care than the Ogre when it's time to strap the bike to the roof of the bus. But personally I would not hesitate to take either of these bikes on a long, rugged, multi-country trip.
Compatibility
The Ogre and Fargo both pride themselves on versatility and compatibility, especially when it comes to changing wheelsets and fiddling with exotic drivetrains. Surly uses "Gnot Boost" 145 mm rear spacing and sliding horizontal dropouts, while Salsa uses their modular Alternator sliding dropout system. Both allow for a wide range of options, including:
142 or 148 mm thru axle rear hub, or 135 mm QR hub with adapter
Adjustable wheelbase: slide wheel forward for more nimble handling or back for more stability
Compatible with internally geared Rohloff hub
Chain tensioning mechanism for emergency singlespeed conversion if you break your rear derailleur
Compatible with singlespeed, 1x, or 2x drivetrains (Ogre even compatible with 3x)
One big difference that a small number of people will care about: the Fargo has a frame split for a belt drive, while the Ogre does not.
Summary and Reasons to Choose Each
Still wondering which bike is best for you? Here's my take on it: the Fargo is lighter, higher quality, and probably more fun to ride, especially on trails. If you're cool with drop bars, plan to ride a lot, and can afford the Fargo, it's probably the best choice for most use cases. If I were buying a bike for long-distance bikepacking or serious weekend riding, I would choose the Fargo over the Ogre.
However, the Ogre is reliable and bomber and has all the essential features of a bikepacking rig at a significantly lower price. If it suits your budget better or if you want a bike for more casual riding, the Ogre is a good choice too. If I were buying a bike mainly for commuting and a bit of weekend fun, I would consider the Ogre a better value.
Reasons to choose the Fargo:
You prefer drop bars to flat bars
You're a smaller, lighter, or weaker rider for whom bike weight really matters.
You're a lighter rider who plans to sometimes ride unloaded, so a more compliant frame may be important.
You're into the idea of bikepack racing, where speed matters (though truthfully the Fargo isn't the most competitive choice either; check out the Salsa Cutthroat)
You plan to use this bike for a fair amount of singletrack (though if you want to ride a lot of rough singletrack you should consider a hardtail or full-suspension bike)
You want the option to run a suspension fork
You want the option to run a belt drive
Reasons to choose the Ogre:
You're working with a limited budget.
You're buying a bike mainly for commuting, with only occasional bikepacking or trail riding.
You prefer flat handlebars over drop bars.
You want a truly bomber all-steel bike for rugged adventures.
Ultimately both bikes will get you out there, off the pavement, and hauling all your gear as you pedal off into the sunset. It's hard to go too wrong with either the Fargo or the Ogre. Whichever you end up choosing, I hope you enjoy many happy and adventurous miles together.
More Bike Resources
If you found this helpful, you might also like these:
Or, visit the bikepacking section for lots more!
Bike resources in your inbox?
There's more where this came from! Sign up here for occasional emails full of inspiration and information about bikepacking and bicycle touring.


Share the Adventure
If you found this article helpful, please consider sharing so more people can benefit from it: