The search for a comfortable women's bike seat can sometimes seem endless, but I'm feeling pretty good about mine lately.
After over 10,000 miles on another saddle I recently switched to the Selle Italia Diva Gel Superflow and found some of my "unsolvable" saddle problems to be solved, especially when it comes to soft tissue issues. So I thought I'd write this in-depth review of the Diva Gel Superflow in hopes of helping more women experience pain-free cycling.
Before we go on, you should know that I really put my bike seats through their paces. I'm a bikepacker and occasional self-supported endurance racer, which means I sometimes ride for 20 hours in a row, sleep in a ditch by the side of the road, and do it again the next day. And the next, and the next. (Because it's "fun," I swear.)
I've put over 1600 miles on my Diva Gel Superflow saddle so far, primarily during several bikepacking trips and races in the 200 – 450 mile range (Tour de los Padres and The Big Lonely, for example). A majority of those miles have been on gravel and dirt roads with plenty of pavement and some singletrack mixed in. I also use it for my casual day rides around home, both on mountain bike trails and on the road.
My Diva Gel Superflow has spent quality time on two different bikes – my Fargo bikepacking rig and my Stella mountain bike – and was even briefly on my Long Haul Trucker road touring bike. In my opinion it works equally well for mountain biking, gravel riding, and casual road riding or commuting.
The only subgenre of cycling where this saddle would seem out of place: competitive road cycling. If you need a saddle that's half the weight (and twice the price), look into Selle Italia's line of performance-focused saddles with a similar style of cutout. For everyone else, especially women who ride long distances and / or struggle with soft tissue pain, I recommend giving the Diva Gel Superflow a try.
There are affiliate links in this post. Buying through them may provide me with a small commission at no extra cost to you, which helps keep this site running and growing.
Review Summary
The Selle Italia Diva Gel Superflow is a popular women's bike saddle suited for most types of riding. I've ridden mine for 1600+ miles of road, gravel, and trail. I love its deep center cutout and just-right amount of padding for long days in the saddle, and the fact that it comes in two widths for a better fit.
Price: $160 (but often available at a discount, so check around)
Weight: 275 g (S3 size), 285 g (L3 size)
Sizes: 275×135 mm (S3), 270×152 mm (L3)
My rating: 4.5 / 5 stars, almost perfect for me
Buy it: Backcountry, Amazon, Competitive Cyclist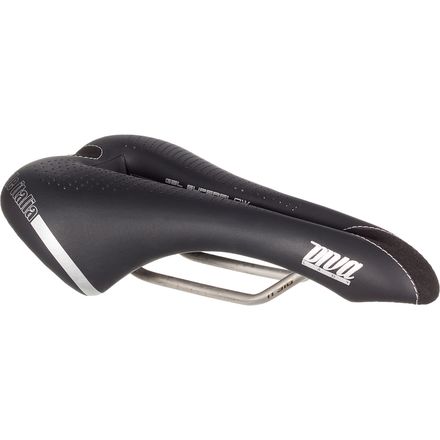 Likes and advantages:
Large center channel relieves soft tissue pressure
Available in two widths
Gel padding helps absorb road chatter
Relatively non-bulky design compared to other comfortable women's saddles
Dislikes and disadvantages:
Too heavy and comfort-focused for more competitive racers
Relatively thick profile may cause groin chafing for some riders
About the Diva Gel Superflow
According to Selle Italia's product description, the Diva Gel Superflow is their single most popular saddle overall. They have a lot of saddles, and many cyclists are men, so I think that's really saying something.
The Diva Superflow is part of the "sportouring" line, which might not mean much to US-based cyclists. Essentially it's designed for a balance of comfort and performance. It's not as lightweight or sleek as more performance-oriented saddles, but it's also not a big cushy couch cushion either.
The saddle as a whole is designed for female anatomy (though we all know there's a lot of variation there). "Superflow" refers to the wide central cutout designed for pressure relief. The top layer of padding is silicone gel to absorb vibrations, and the outer surface is microfiber. The rails are lightweight but strong titanium.
The Diva Gel Superflow comes in two sizes for different sit bone widths, which allows it work for a wider range of riders. Measure your sit bones or the width of another saddle that fits you well in order to pick your size.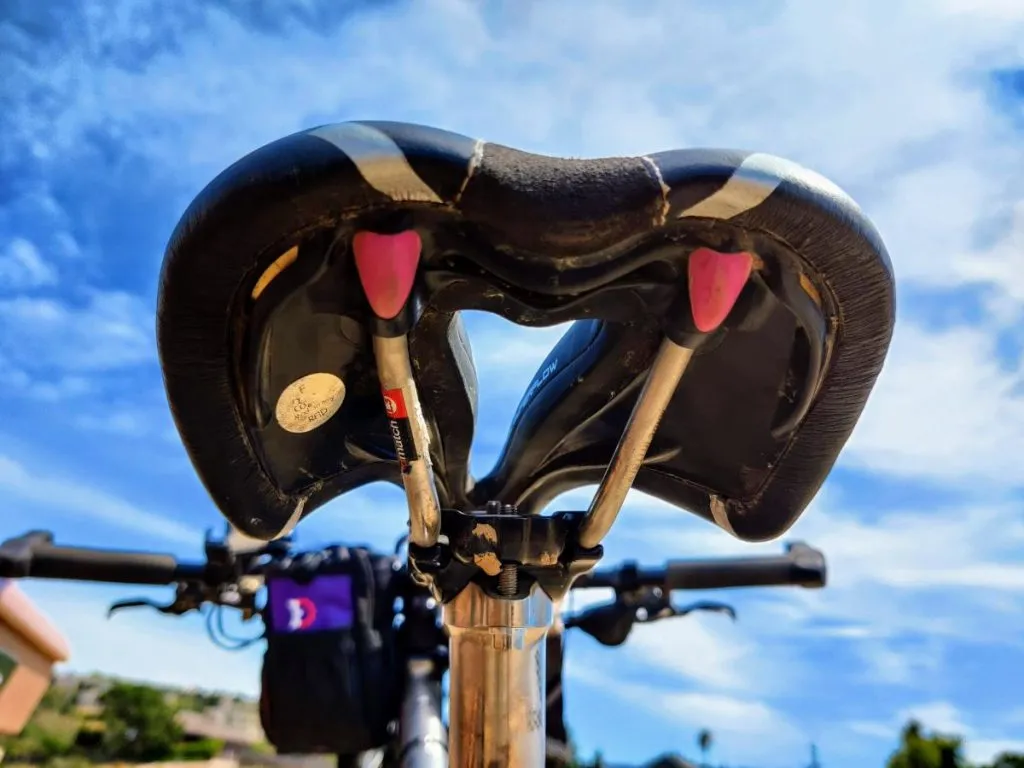 My Experience and Impressions
I switched to the Diva Gel Superflow women's bike saddle after finally giving up on my Brooks B17. Although that leather saddle worked well enough for over 10,000 miles of touring and bikepacking, it was never perfect. I'm an "outie" (see Solving Bike Seat Pain for Women) and have always dealt with more soft tissue pressure and chafing than I would like. After a particularly bad several days of bikepacking racing I finally decided to explore other options.
The Diva Gel Superflow has mostly solved my problems; I wish I had tried it sooner! With it I need far less chamois cream to get through a long day in the saddle, and I can ride for longer before I start feeling that bothersome pressure that eventually drives me to take a roadside break.
Of course we're all different, but I absolutely think this saddle is worth a try. It's worked well for me and I see a number of other women riding long days and multi-day trips on it. Read on for my detailed review of the Selle Italia Diva Gel Superflow saddle based on 1600 miles of riding (and counting).
Fit and Comfort
I chose this saddle primarily for its generous center cutout, and for me it works as advertised. Not all cutouts work for all women; we need to find one that fits our unique anatomy. For me the Diva takes pressure off the center of my soft tissue (which no longer contacts the saddle) and puts it more squarely under my sit bones, where it belongs. Thus I get less chafing between the folds of my soft tissue, and less pressure-induced soreness there. I'm sure the ample ventilation doesn't hurt either.
The Gel Superflow comes in two widths. I bought the wider version and still feel like it's a tad on the narrow side, which surprised me since I'm a fairly "narrow" person in general. Of course I'd heard that sit bone width doesn't correlate with overall physical stature, but my experience here really drove it home.
For me, the one negative tradeoff has been an increase in groin / inner thigh chafing where my legs meet my torso. This is probably because the Diva Gel Superflow is moderately thick in the vertical dimension, and not as smooth as my old leather saddle. It's noticeably less thick than some options — I also tried the bulky Selle SMP TRK saddle and found it even worse — but thicker than a firm and svelte racing saddle.
I've mostly solved this chafing problem by applying a combination of chamois cream and aloe vera gel (see Saddle Sore Tricks from Ultra-Distance Cyclists). The skin also seems to have toughened up over time. It's a far more manageable problem than the soft tissue chafing I used to get, so I still consider the Diva Gel Superflow a big improvement.
Finally, the microfiber outer cover provides just the right amount of friction. I can move easily around the saddle, such as when mountain biking, but never have the sensation that I'm slipping when I'd rather not.
Padding
The gel padding on the Superflow is surprisingly effective at absorbing vibration without feeling overly squishy. Coming from a leather saddle, I'm used to the idea that firmer is better for long rides. Avoid sinking into soft padding, the argument goes, and you'll have less surface area in contact with the saddle and therefore less chafing.
The gel padding on the Superflow, however, works really well for me. I do a lot of long days on gravel and dirt and a little padding definitely helps take the sting out of rough surfaces. It also seems to flex under my sit bones just enough to accomodate the movement of my pelvis as I pedal. When I'm on the bike for 18 or 20 hours, several days in a row, these small improvements add up to a big difference.
Durability
I've put 1600 miles on this saddle so far, mostly while bikepacking, and they have not been easy miles. It's seen tons of gravel and dirt, gnarly hike-a-bikes, rain, a bit of snow, and 90+ degree heat. I've camped out many nights with my bike laying beside me in the dirt.
Yet the Diva Gel Superflow remains in good condition! Aside from a bit of fading where the printed text has been rubbed (purely cosmetic), it's looking almost as good as new.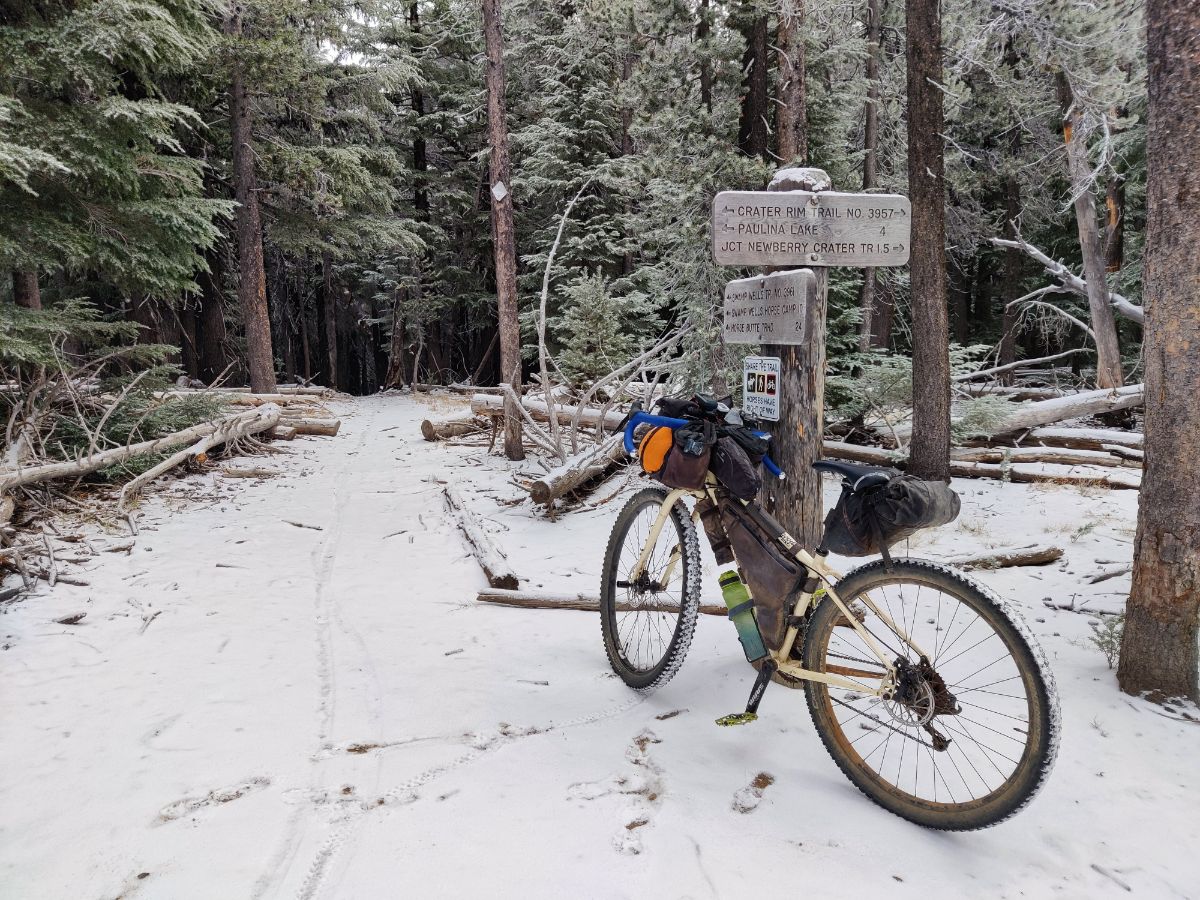 Aesthetics
The saddle is mostly black, with some white patterns and text and subtle pink accents. Though the accents are decidedly feminine, I don't think it screams "girly" either. This will certainly come down to individual preference, but I personally like the way it looks on my bike.
More Saddle Soreness Help for Women
If you're a woman who struggles with saddle soreness, I have a few other resources that might help you.
More Cycling Resources
If you love riding bikes, you might also enjoy these articles:
Or, visit the cycling and bike travel section for lots more!
Bike resources in your inbox?
There's more where this came from! Sign up here for occasional emails full of inspiration and information about bikepacking and bicycle touring.


Share the Adventure
If you found this article helpful, please consider sharing so more people can benefit from it: