Update: Six Moon Designs no longer sells the Haven tarp by itself. It now comes bundled with the inner NetTent for a modular fully enclosed shelter. This setup has a slightly different set of pros and cons, but since I haven't had the chance to test the combination personally I'm going to leave this tarp review as-is.
If I'm being honest, I got off to a slow start with my Haven Tarp. Though I was intrigued by the idea of cutting pack weight by ditching the tent, the Haven languished in my garage for a couple years before getting to come out and play.
On joint adventures with my husband, our Tarptent Double Rainbow seemed lightweight enough and offered the simple familiarity of a tent. For the really fast-and-light endeavors, usually short trips in good weather, our ultralight Borah bivvies did the trick. The Haven seemed just a bit too heavy for a tarp and a little too minimalist for a tent.
It wasn't until we thru hiked the Colorado Trail that I finally came to appreciate the Haven Tarp, made by Six Moon Designs, for its unique balance of luxuriousness and weight savings. It's shaped like a roomy tent, pitches quickly with two trekking poles and six stakes, and has convenient doors on both sides. Combined with our Borah bivvies we had a weatherproof, bug-proof, flexible two-person shelter system for 13.5oz per person.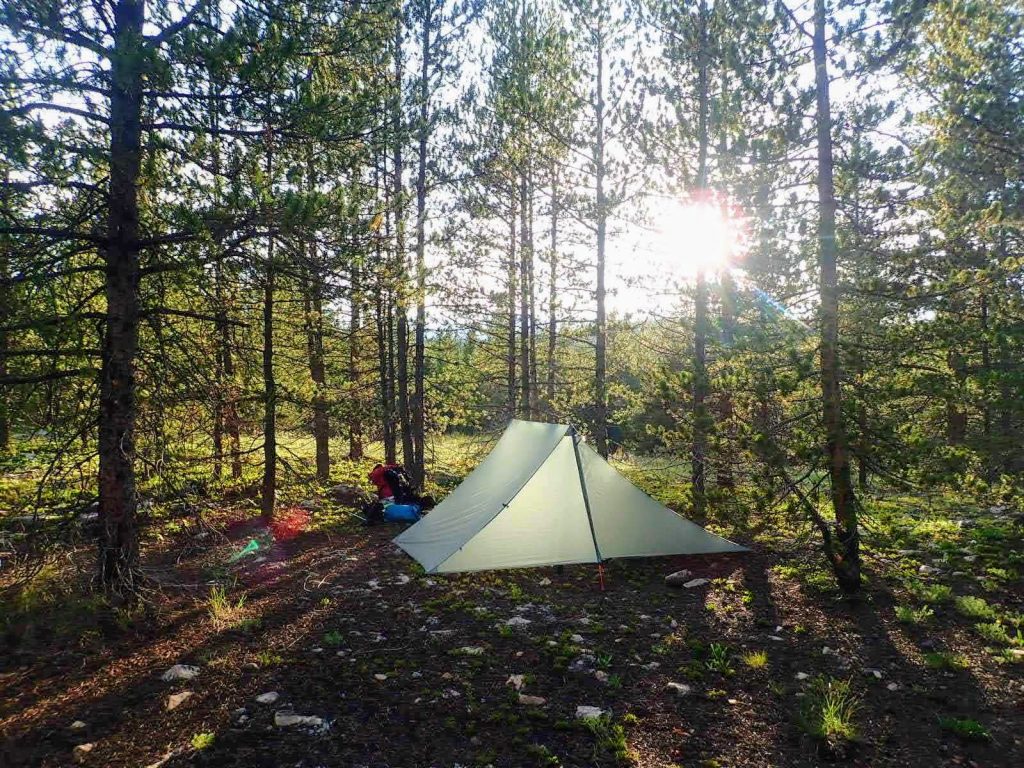 We liked it so much that we recently hiked the Arizona Trail with the same setup. On dry desert nights we enjoyed the stars from our bivvies. About half the time we pitched the Haven for weather protection, warmth, or just to have a cozier place to sleep.
In this review of the Six Moon Designs Haven Tarp I'll tell you how ours performed over 1300 miles in a variety of conditions, and show you lots of action shots, so to speak, of the Haven in the wild. Overall we've been very happy with it, but there are a few things you should know if you're shopping for a tarp and wondering how the Haven compares to other options.
About the Haven Tarp
Review Summary: The Haven Tarp is an easy-to-use lightweight backpacking tarp for two people with room to spare. It's shaped like a tent, pitches quickly with two trekking poles and six stakes, and has convenient doors on both sides. We've had minor issues with the vestibules, but given the affordable price tag and solid functionality we're still pretty darn happy with it.
Pros and Cons
Pros
Fast and easy to set up and adjust
Very roomy
Each person gets their own door
Does pretty well in rain, wind and snow
No pole in the middle
Good value for money
Cons
Not the lightest, as far as tarps go

Minor durability issues with older version, possibly fixed in new version
Vestibules hard to pitch taught (maybe we're just missing something?)
Design
Shape and Structure
I usually describe the Haven as a tarp shaped like a tent. The front and back are sloped upward from four corners and the peak is offset, providing maximum headroom when you're sitting up in bed. Each side of the peak is supported by a trekking pole or, if you don't hike with poles, a dedicated carbon fiber pole.
There are two medium-size vestibules, one on each side, and each includes a zippered door. No climbing out over your partner for those midnight pee runs, yay! You do have to navigate around the pole as you enter and exit, but this is minor and totally worth not having a pole in the middle of your "living area" like some tarps. The flaps for each door can be rolled upward and fastened for ventilation or views.
The well-defined shape is a great benefit for newbies and experienced tarp users alike, because it means a generally no-fuss pitch compared to more minimalist tarp designs. You don't need to pound 12 stakes, find a perfectly positioned tree, or tighten everything perfectly to stay protected from the weather. Just two trekking poles and six stakes will give you a consistent and reliable pitch pretty much every time.
Living Space
The Haven's roomy interior was one reason we chose it for the Colorado Trail – and again for the Arizona Trail – over our older Tarptent Double Rainbow. When you're sharing a shelter with your partner for months at a time, a few extra inches of personal space can make all the difference!
Neither of us is particularly large – I'm 5'5″ and he's a few inches taller – so we fit easily in the Haven with plenty of room for packs at our heads, plus the vestibule for shoes and other miscellaneous items. We have plenty of headroom when sitting up, though a saggy pitch might mean my head grazes the front wall as I'm moving around.
If it's not windy we angle the trekking pole supports outward at the bottom, creating more space between them. This gives us an extra couple inches for tossing and turning without disturbing each other.
Doors and Vestibules
Both sides have a vestibule which guys out with a single stake. The bottom / foot-end panel of the vestibule unzips from the top / head-end panel, functioning as a door with full-length zipper. The zippers seem durable; no problems yet.
The door flaps roll up into elastic bungees. You can technically roll them both to leave the sides wide open, but we tend to just use the bottom one, especially since we broke the plastic clips on the guy lines (more on that below). Embarrassingly, it took me forever to figure out how to roll them so they don't come unrolled in the center: roll from the short vertical edge (the one with the zipper), NOT the long bottom edge!
Vestibule size depends on how you've pitched the tarp. It's generally enough to cover a pack, shoes, and other small items, but if it's raining these will stay drier if they're all the way inside at your head or feet.
For some reason we often struggle to get the vestibules pitched so they're smooth and taught; sometimes it almost seems like the angles aren't quite right. I assume we're doing something wrong since the tarp is otherwise well designed. It might have to do with the way we've compensated for the broken clips. If anyone figures out the trick, let me know in the comments below please!
Ventilation
At each corner, where the poles slide into the sleeves, there is a small vent. These let some moist air escape while still keeping rain out. Depending on how low you pitch the edges, you can also have ventilation around the sides. Together this does a pretty good job of limiting moisture buildup on the inside, but occasionally we'll still wake up with dampness at the foot of our sleeping quilts if they've touched the tarp.
Packed Size
We still use the stuff sack that came with the Haven. When packed (including stakes) it forms a cylindrical-ish shape that's 14 x 5 x 3.5 inches in size. It fits nicely in almost any pack, or I strap it to the top of my ULA Circuit when I need more interior space for food.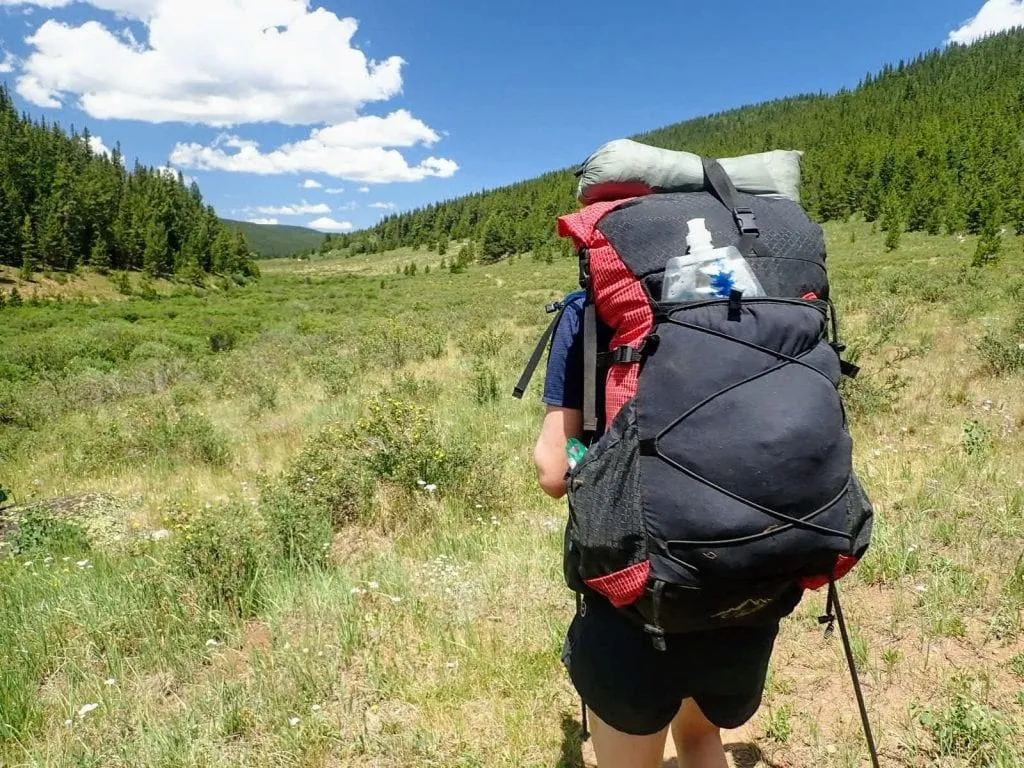 Set Up
After many weeks on the trail – especially in thunderstorm-prone Colorado – we have our setup time down to almost nothing. While it's possible to pitch it alone if you sequence things right, we find it easiest to pitch together. One person puts the poles into the sleeves and holds both poles upright, while the other runs around putting in the stakes. One two three four five six… done!
There are a few ways to fine-tune the pitch. If the weather is nasty you can adjust the guy lines to bring the corners closer to the stakes, leaving less room around the edges for wind or rain to sneak in. You can also make the trekking poles shorter if yours are adjustable; we usually like around 107 cm. Finally, use the adjustable lines running from each peak to the vestibule stake to tension the top between the two poles.
Weather
How does the Six Moon Designs Haven tarp perform in bad weather? It's certainly a three season shelter, but we've put ours through a number of tests and feel it's performed pretty well. Here are the highlights.
Rain
When pitched well and low to the ground, the Haven protects well against rain. Its roomy design helps, since everything can be gathered away from the edges. We usually pair our Haven with water-resistant bivvies from Borah Gear, which further improve protection against splashing, spraying, and wet ground. I wouldn't say they're necessary though; the Haven will keep you dry enough by itself in most cases.
Another benefit of the Haven over a traditional tent: it's easy to set up in the middle of the day while you wait out a storm. On the Colorado Trail we sometimes huddled beneath it to wait out afternoon thunderstorms and loved that we didn't need to worry about muddying a tent floor.
Wind
We had some seriously windy nights on the Arizona Trail! It's never a peaceful night's sleep in those conditions, but we thought the Haven did pretty well.
Orientation matters a lot. When we pitched it with the feet into the wind for ideal aerodynamics, it stayed put with only a bit of sagging. However, when the wind direction was even slightly from the side we had occasional problems with the vestibule stake pulling out and the pole tipping over, collapsing the side of the tarp. Good stakes matter too here; we used titanium stakes to make life easier on the rocky Arizona Trail.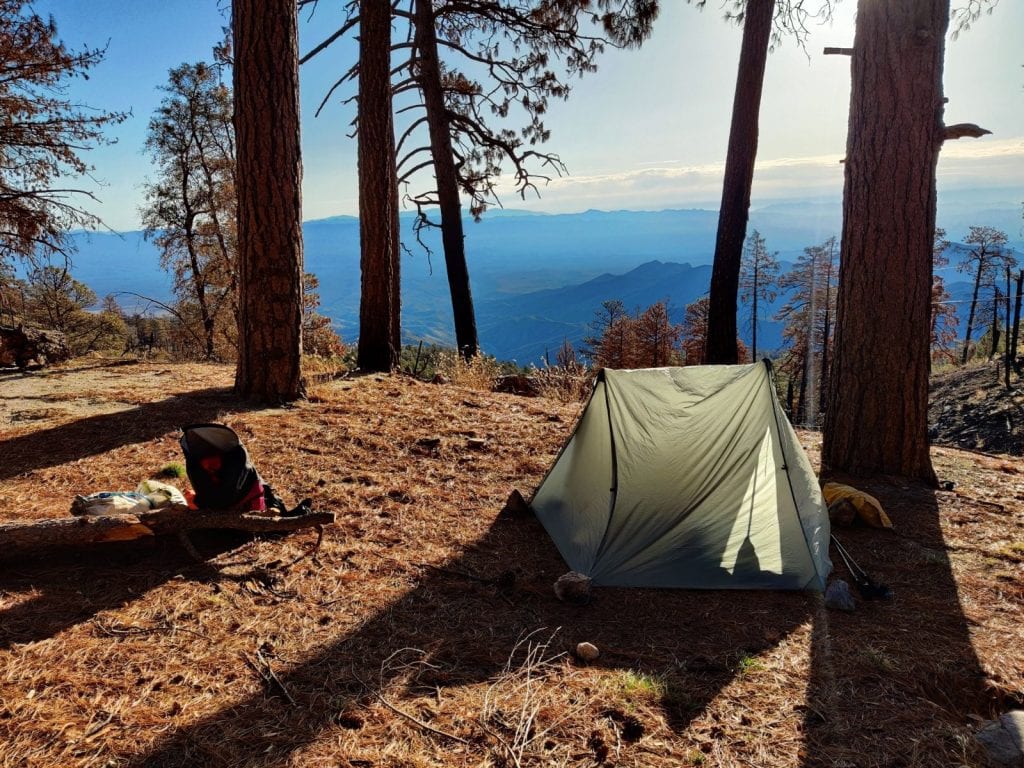 Snow
The mercurial Arizona Trail also provided us with two chances to test the Haven under several inches of snow accumulation. It was actually pretty cozy! The snow tended to slide down and build up at the bottom of the front and back panels, which caused sagging, but no major problems. We knocked the biggest snow piles off from time to time and never had a problem with the Haven in snow.
Cold
This one might be obvious, but just a reminder: tarps aren't only for precipitation! During the many dry but sub-freezing nights on the AZT, we sometimes pitched the Haven just to capture some warmth and create a cozier sleeping space.
Pro tip: If you use a gravity filter setup for your water, you can hang it from the trekking poles inside the tarp. This is handy for those cold evenings when you worry about your filter freezing, or don't want to wait for water to filter before crawling into your cozy sleeping bag.
Durability
After several months of cumulative nightly use, our Haven is still in pretty good shape. The zippers work smoothly, the pole sleeves are good as new, and the stitching is all in-tact despite some heavy winds and substantial tension.
The only issue we've had is with the plastic clips on the vestibule guy lines. Eventually they both broke and we replaced them with paracord. This means we can only open the bottom door panels, but that doesn't bother us at all.
Looking at the latest pictures on the Six Moon Designs site, it looks like newer versions of the Haven use different clips anyway. I wouldn't be surprised if they've upgraded to something better.
What About Bug Protection?
Tarps, while lighter than tents, come with one major sacrifice: creepy-crawlies and mosquitoes are welcome to come in and say hello. Because of this, many people pair their tarp with some form of bug protection, at least in certain climates and ecosystems where bugs are an issue. Here are two options:
Haven NetTent: This fully-enclosed mesh tent can be used on its own for bug protection, or together with the Haven to form a fully enclosed bug-proof and waterproof shelter system. Together the system weighs 34 oz, not bad for a double-walled two person tent! Unlike the bivy mentioned below, this setup allows you to sit up and move around within the bug net and also store your gear and food inside, which is helpful in areas with rodents.
Borah Gear Bivy: this ultralight water-resistant bivy has bug netting over the face and chest area, providing bug protection and extra weatherproofing when paired with the Haven Tarp. If you're interested, check out my full review here. We loved ours in Arizona, but in a mosquito-infested area I would recommend the NetTent instead so you can sit up and move around within your bug-free zone.
Both of these options create a nicely modular sleep system. Beautiful clear night? Just set up your bug protection and enjoy the stars. Rainy but bug-free? Pitch the tarp alone. Need both? Use both. It's nice to have the flexibility and variety.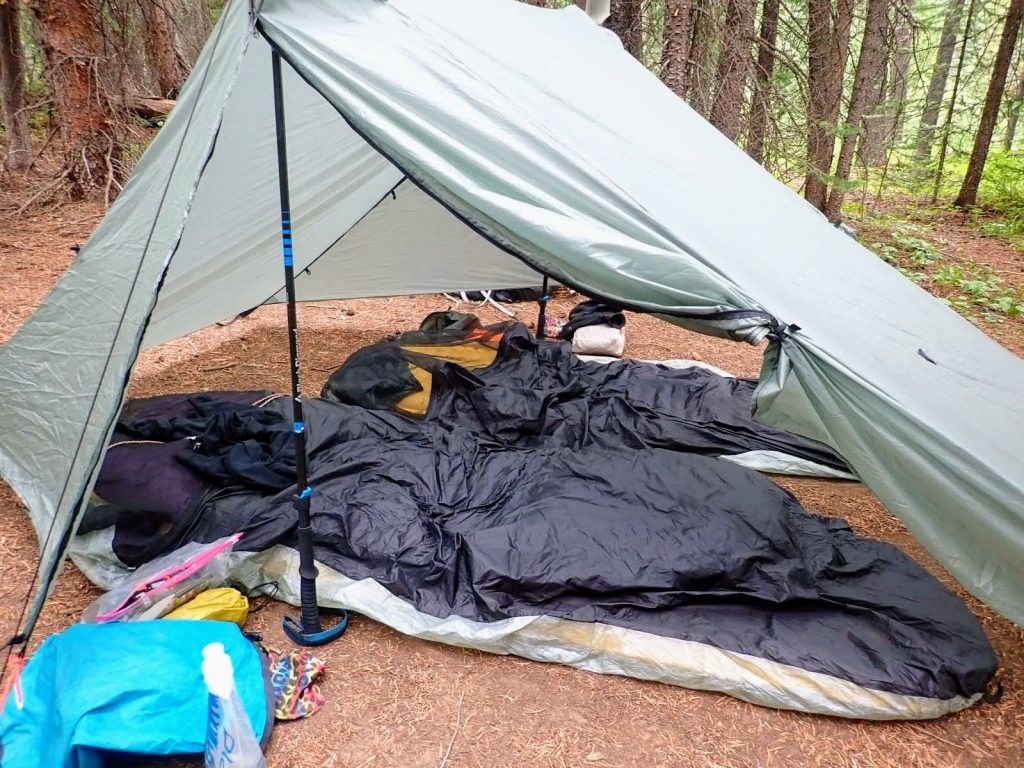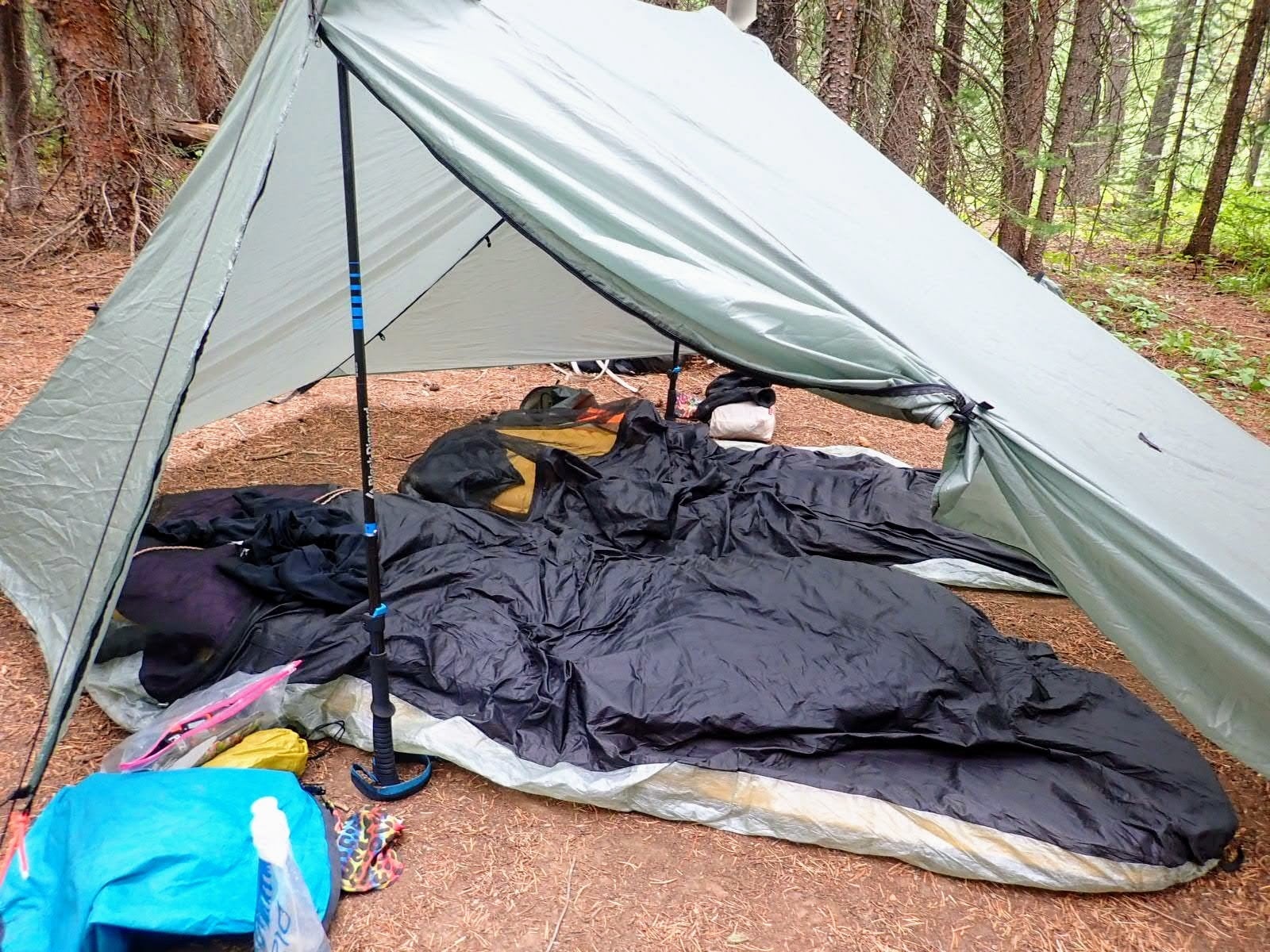 In Conclusion
After 1300 miles and several months of cumulative use, we've been happy with our Haven tarp. As a tarp novice it initially appealed to me for its simplicity and ease of setup, but it's grown on me for many more reasons. It's kept us dry, warm, and cozy through Colorado and Arizona, and we'll likely use it on future hikes too.
More Backpacking Resources
If you're in the market for a new tarp, you might also find these helpful:
For even more, see all backpacking resources from Exploring Wild.


Hiking resources in your inbox?
There's more where this came from! Sign up here for occasional emails full of inspiration and information about backpacking and hiking.


Share the Adventure
If you found this article helpful, please consider sharing so more people can benefit from it:
Pin For Later