Sleeping under the stars on a bikepacking trip can be peaceful, awe-inspiring, and empowering! But it can also be a special kind of hell without the right sleeping pad.
Yep, I've been there! It can feel like the sun will never rise when you're tossing, turning, and shivering through those early morning hours.
I often see new bikepackers put a lot of thought into their sleeping bag choice while neglecting their sleeping pad. But the pad is an equally important part of a comfortable sleep system. The absolute best sleeping pad for bikepacking – if it existed – would be comfy, warm, durable, feather-light, and ultra-compressible. It would also be cheap. But since this unicorn doesn't exist, we have to navigate the tradeoffs.
This post covers everything you need to make your backcountry bed choice: what makes a sleeping pad good for bikepacking, top sleeping pad models and what they do (and don't) excel at, and that most ubiquitous of all bikepacking-related questions: where to carry the darn thing on your bike.
Summary: Top Sleeping Pads
What to Look For
Before jumping into the top sleeping pad models, let's quickly talk about what to look for as you make your choice.
Warmth / R-Value: Sleeping pads aren't just about comfort, they also prevent us from losing body heat to the cold ground. (Sleeping bag insulation, when squished beneath our bodies, doesn't help much.) A pad's R-value measures how well it resists heat transfer between your body and the ground, in other words, how well it keeps you warm on a cold night.
Sleeping pad R-values range from around 1 at the low end (adequate for a warm summer night) to 7 or higher (for winter-weather adventures). Most three-season bikepackers should aim for an R-value between 3 and 5, and 4+ is best if you sleep cold or adventure in chilly climates.
Cushion: This is subjective, but a thicker and softer pad is generally more comfortable. Side sleepers are especially prone to aches and pains from a too-thin sleeping pad, but the details will depend on your body.
Weight: All other things being equal, lighter is better. Who prefers to ride a heavier bike? The quest for lighter weight is generally what limits a pad's ability to excel in other key areas like comfort, R-value, and durability, so there will always be tradeoffs here.
Packability: Perhaps even more than backpackers, bikepackers care about compressibility and shape. A classic bikepacking bag setup involves lots of awkwardly shaped little bags and few good places for bulky objects.
Durability: Anyone who's spent a night on a leaky sleeping pad knows how important durability is! Punctures are always a possibility with inflatable pads, but it's worth thinking about any special needs you may have in the durability department (like spikey desert foliage or rocky ground).
Inflation type: Most sleeping pads in this list are inflatable, meaning you blow them up. Self-inflating pads contain foam insulation that expands on its own as air is sucked in, but these are usually heavier and not as popular for bikepacking or backpacking. Some inflatable pads have fancy lightweight pump methods to save your breath (and prevent mold and mildew inside), but it's also not a big deal to blow them up with your lungs. Personally I find this consideration less important than all the others above.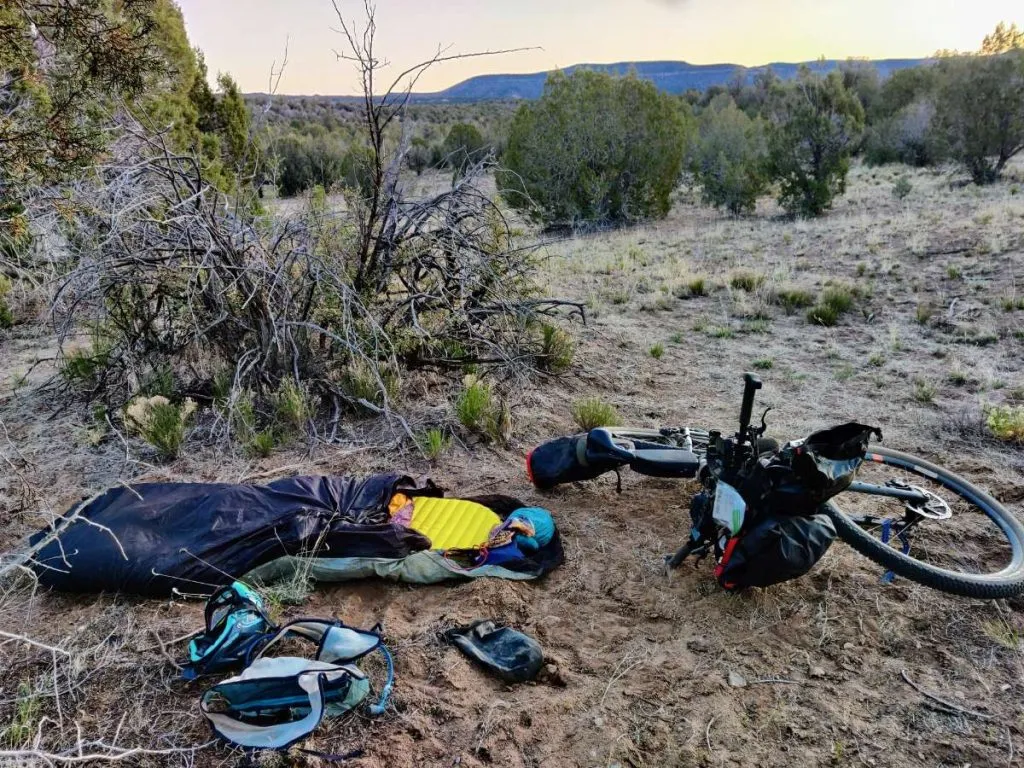 Top Sleeping Pads for Bikepacking
Below are six sleeping pads that excel in different ways, but all are excellent choices for the right type of bikepacker. I've focused on the best of the best: lightest, comfiest, warmest, and cheapest (but not all in the same pad, unfortunately) so you can make a confident choice based on your priorities and riding style.
All the sleeping pads in this list are marketed as backpacking pads, in contrast to the heavier and bulkier pads best suited to car camping. I don't know of any sleeping pads specifically optimized for bike travel, which is fine because our needs for comfort, warmth, and packability are pretty much the same as for backpackers.
Short Length Sleeping Pads
If you're into ultralight bikepacking or bikepack racing, you may be curious about short-length sleeping pads. Some ultralight hikers swear by a torso-length pad with their backpack under their legs and feet. Bikepackers don't usually have a large backpack, but we can still use torso-length pads in some situations.
In warm summer conditions or when moving fast is more important than comfort, a torso-length pad saves meaningful bulk and weight for minimal sacrifice. If you're riding all day and part of the night you'll be too tired to even notice the missing bottom half! A space blanket or rain jacket could be used as a lightweight ground sheet under the legs in place of a backpack.
Therm-a-Rest offers short versions of their NeoAir XLite and UberLight inflatable pads, as well as their Z Lite foldable foam pad. The UberLight Short weighs an impressively light 6 ounces, surely the best balance of comfort and weight savings on the market. For a more affordable but arguably less comfortable solution, any closed-cell foam pad can be cut down to your desired length.
Are Expensive Pads Worth It?
At first glance the prices of higher-end models like the Therm-a-Rest NeoAir might seem surprising. All we need is something soft to lie on, right? As an enthusiastic proponent of affordable gear, I totally get it.
But after spending hundreds of nights in my tent, I'm here to tell you that a quality sleeping pad is absolutely worth the cost. You're not paying extra just for brand prestige or small business charm; the more expensive models really are lighter, warmer, and comfier.
If you can spare the money and plan to use the pad a lot (either often or for a long time), I recommend getting the nicest pad you can afford. Sleep quality can truly make or break a trip, and longer multi-week trips become virtually impossible if you can't get a good night's sleep in your tent.
Another way to think about it: say you spend $200 on a Therm-a-Rest NeoAir XLite for a two month tour of the Great Divide. That's $100 per month even if you never use the pad again, and you might sleep on it for 20 nights each month during that trip. Consider that just one night in a hotel is likely to cost about $100, the same as a month's use of your pad. From that perspective the cost of the sleeping pad is quite reasonable!
On the other hand, if money is tight and you plan to use the pad for occasional short trips, an affordable option could make a lot of sense. Do what you gotta do to get out there and go bikepacking.
Carrying A Sleeping Pad on Your Bike
Now that you have your bikepacking sleeping pad, where should you pack it on your bike? While not quite as challenging as finding a spot for your tent or carrying lots of water, packing a sleeping pad into a tight bikepacking setup still takes some thought.
Top of seat bag: If your seat bag has shock cord on top (or you rig your own strap) a small inflatable sleeping pad can fit nicely just behind your saddle. Some people can also fit an accordion-fold foam pad here, either parallel to the seat bag or even across it perpendicularly.
Front of handlebar roll: Folding closed-cell foam pads often work well strapped to the front of a handlebar roll. They take up a lot of space, but they're not heavy enough to affect steering much.
Inside sleeping bag roll: When riding with an inflatable pad, lightweight sleeping quilt, and bivy, I roll them all up in a "bivy burrito" and slide it into my handlebar bag. Bonus: saves time with camp setup and strike. This only works with my most minimalist setup, otherwise it's too bulky to fit in the handlebar bag.
Backpack: Not everyone likes bikepacking with a backpack, but on technical terrain and for small riders it's often the only option. An inflatable sleeping pad can fit inside a larger hydration pack and won't be too heavy on the shoulders. I've even seen people strap an accordion-fold foam pad to the outside of their backpack.
Tips for Inflatable Sleeping Pads
Finally, a few hard-earned words of wisdom about inflatable sleeping pads and bikepacking.
Carry the patch kit. On every trip. You'll thank me later. To find the leak, inflate and submerge in still water (bathtub, lake, cow trough) and look for bubbles.
Fine-tune air pressure for comfort. Inflatable pads can feel very different depending on how much air is in them. A full pad will be firm and warm but can feel unstable and hard. A slightly deflated pad will cradle your body and allow space for shoulders and hips to sink in, and is often preferred by side sleepers. Experiment to see what works best.
Adjust air pressure in changing temperatures. Cold air is denser and takes up less space in an inflatable pad, so what seems like a slow leak might just be changing temperature. If you blow up your pad in the afternoon sun, be sure to add a few more puffs of air when you crawl into your tent in the cool evening.
Protect with an additional layer when attaching an inflatable pad to the outside of bike bags. If you lay your bike down in rough gravel, the little stuff sack the pad came with won't do much to protect it.
Choose your campsite carefully. Inflatable pads are vulnerable to punctures, so check the area carefully for rough or sharp things before laying down your pad. Desert foliage is notorious for popping pads, but it can happen anywhere.
Consider a foam layer for desert bikepacking. In the thorn-ridden deserts of Arizona, for example, chances of puncture are high no matter how well you prep your site. Some folks choose a closed-cell foam pad for this reason, but if you can't sleep comfortably on one, consider adding a thin foam pad like the Gossamer Gear Thinlight (which I used during my AZT thru hike) underneath your inflatable pad.
Comparison Table
In Conclusion
These are just a few of many possible sleeping pads for bikepacking. You'll find plenty of other middle-of-the-road options — moderately light, somewhat affordable, comfy-ish — from a number of brands. But this post highlights the best of the best in each category, the pads I feel comfortable recommending to any bikepacker depending on their specific needs.
If you're still on the fence and need an all-around great lightweight sleeping pad for bikepacking, you can't go wrong with the Therm-a-Rest NeoAir XLite (or, if you're under 5'5″ tall and sleep cold, the women's version). It's been my primary pad for over eight years of bikepacking and backpacking. I recommend it to anyone unless specific circumstances (winter bikepacking, budget constraints, etc.) dictate otherwise.
I hope this article helps you choose the perfect sleeping pad for your bikepacking adventures, and I wish you many peaceful, warm, comfy nights under the stars.
More Bikepacking Resources