If you've never been to the Wallowa Mountains, you'll be surprised by what you find there: an alpine wonderland rising unexpectedly from the sage-covered hills of northeastern Oregon. Backpacking in the Wallowas, and in Eagle Cap Wilderness more specifically, offers big mountain scenery rivaling parts of the high Sierra, but at a smaller scale and without the permit hassles.
You could wander the Wallowas for a week linking up various trails into loops or traverses. Most visitors backpack the somewhat easier Lakes Basin Loop in the most popular and accessible region south of Joseph, but this post is NOT about that loop. I'm allergic to the path most traveled, and instead chose a challenging 36 mile loop starting from the southern edge of the Eagle Cap Wilderness.
This route dips into the highlights of the Lakes Basin area at the north, including an optional Eagle Cap summit, but approaches and returns via more rugged and less-traveled trails of the southern region. If you like solitude mixed with big climbs and descents on trails that aren't perfectly manicured, this is the route for you.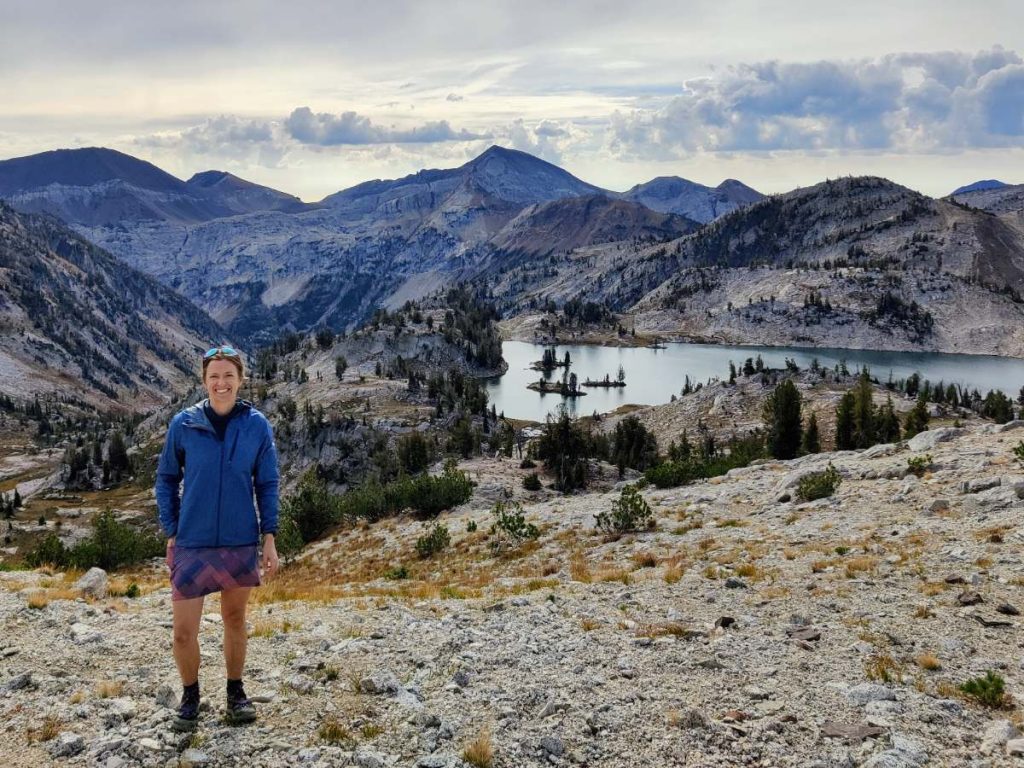 I backpacked this Eagle Cap Wilderness loop with my partner over 3.5 days in mid-September of 2023. We had mostly excellent weather and found the trails to be in better condition than expected (maintenance level varies year to year). Based on our experience, I highly recommend it, but I almost hesitate to do so. I don't want this beautiful area, rightly nicknamed the Alps of Oregon, to become a victim of its own popularity. If you do go backpacking in Eagle Cap Wilderness and the Wallowas, please tread lightly and Leave No Trace as always — let's keep this special place pristine.
When you buy through affiliate links in this post, I may earn a small commission. Thanks for your support! I always offer unbiased opinions based on real experience from the road and trail. Learn more.
At A Glance
Location: Wallowa Mountains, northeastern Oregon
Distance: 36 miles
Days: 3 – 5 for most hikers
Elevation gain / loss: 9200 feet
Min and max elevation: 4565 to 9550 feet
Season: July – September
Difficulty: hard
Trail info and conditions: USFS website and AllTrails
Highlights:
Lovely alpine scenery, including Lakes Basin highlights
Explore rugged and less-visited trails in Eagle Cap Wilderness
Abundant water sources
Not too crowded
No permit quota (free self-issued permit at trailhead)
Lowlights / potential challenges
Some trails not recently maintained, expect blowdowns and encroaching brush
Trailhead requires driving 23 miles on gravel road (2wd low clearance ok, but go slow).
Who will love this route: Experienced backpackers who love solitude, long climbs and descents, and trails that aren't overly manicured
Who might want to skip it: New or unconfident backpackers, those who aren't up for long climbs and descents (first climb is 5000 feet!), those who aren't comfortable driving for an hour+ on gravel forest roads
Bikes: not allowed
Map and Navigation
Here is the AllTrails map of our exact route:
To navigate we used the AllTrails app with premium subscription that allows caching maps for offline use, which is well worth the few dollars a month. Since there were two of us, we each served as each other's navigation backup (two phones with two offline maps) and did not carry a paper map.
If you're solo I would recommend a backup paper map (the Green Trails map is a popular choice) at minimum, and perhaps a backup phone or GPS device with the route downloaded. Some junctions are well-signed, but there's always a possibility of losing the trail. You can't count on meeting other hikers to ask for directions on the less-traveled parts of this loop.
We got our route inspiration from this trip on Hiking Project (includes extra out and back to Hidden Lake) and this AllTrails route (omits out and back to Eagle Cap summit), and made just a few of our own modifications. In particular we skipped the out and back to Hidden Lake on the first night, as there were plenty of spots to camp directly on East Eagle Trail. We also took a more direct approach to Eagle Cap summit that makes more sense when traveling clockwise.
Access Trailhead
While most hikers enter the Wallowas from the more accessible northern trailheads, like Little Alps Trailhead south of the town of Joseph, this route begins at the southern edge of the wilderness at East Eagle Trailhead.
If coming from Baker City to the west, the easiest route to East Eagle TH requires driving 23 miles on gravel after you leave the pavement of Highway 86. The road is well-maintained if you take the correct route (see below) and standard 2wd cars can make the trip, but it can be badly washboarded in places and you'll need to go slowly.
IMPORTANT: The best route from Highway 86 is likely NOT the route that Google Maps suggests. About 10 miles from the pavement you should take a right turn to stay on well-maintained gravel via NF-7715 and NF-77. Going straight instead on NF-7020 puts you on a rough and narrow dirt road that's sketchy without 4wd. This is the easiest way to drive to East Eagle Trailhead if coming from the west.
It's also possible to reach East Eagle Trailhead from Halfway, OR further to the east. I believe this is a straightforward drive on gravel NF-77, but haven't driven it myself.
Parking at East Eagle Trailhead is free, and there are plenty of free dispersed camping spots in the area if you want to spend a night before or after your hike. As you near the end of the road you'll see a parking lot on the right that says trailer parking. Park here if you have a larger vehicle or want more sun for solar panels, and take the Kettle Valley Trail or walk along the road (adds roughly a mile to the hike). Otherwise continue to the parking lot at the very end of the road, which is where this loop starts.
When to Hike
Backpacking in the Wallowas is a summer activity, as the higher trails are typically snow-free from July to September. Details vary from year to year based on snowpack and weather. In a high snow year there might be snow in the high country well into July, while on low snow years late June might be feasible. Check recent trail reports on AllTrails and the USFS website for the latest conditions, keeping in mind that conditions change from year to year.
Mosquitoes are an issue during early summer while snow is melting and leaving pools of standing water (bring bug repellent!). Once most of the snow has melted and standing water has dried (usually August) bugs are less of an issue. On the bright side, wildflowers are usually at their best in July and early August.
September brings cooler temps, increased chance of snow, and shorter daylight hours, especially toward the end of the month. While September can sometimes be a perfect time to hike in the mountains (I hiked this route from Sept. 16 – 19 and had great weather) be sure to check the forecast and bring appropriate gear.
Days and Direction
Most backpackers should plan 3 to 5 days to complete this loop. We spent 3 nights and 4 days hiking this route, but our first and last were half-days, so really it was three days of hiking for us. This was enough time to cope with shorter September daylight hours and the fact that we weren't in backpacking-specific shape, but not so much time as to feel leisurely. I would say the average backpacker, with some experience and decent fitness, can finish this route in four full days especially with longer summer daylight hours.
Keep in mind that almost every mile is either uphill or downhill, some sections of trail are rocky and slow, and the high elevation will feel taxing if you're not acclimated. Also, there are many gorgeous places to camp or enjoy a long lunch break. In other words, allow a bit of extra time!
Should you hike clockwise or counterclockwise? We chose clockwise because the climb is mostly a gentler grade and generally a nicer approach to the lovely high alpine region. The East Eagle Trail follows a creek with water and periodic camping opportunities, while the Kettle Creek Trail is a steeper ascent up a brushy hillside; you'll probably need to make it to Crater Lake before camping if you go counterclockwise.
The one advantage I can see to going counterclockwise: the Kettle Creek Trail seems to be less frequently maintained than others, and reports from a few years ago described it as a difficult bushwhack. We found it fairly well trimmed when we went through, but if you worry about making it through this section, perhaps better to get it over with early while you still have the option to turn back.
Camping
Camping is easy on this route: simply look for a previously used flat area on a durable surface without live vegetation (dirt, pine needles, etc). You'll find sites every few miles or more on most of the route, often nicely tucked away in the trees near water sources. Sites are more frequent in the gradual valleys and basins, and pretty much all the lakes have a few campsites. On weekends the sites in the popular Lakes Basin area might be crowded.
When you do camp, it's obviously important to practice Leave No Trace to keep this pristine alpine wonderland in good shape. Here are the basics:
Don't camp or poop within 100 feet of a water source or wetlands (at some of the lakes the established sites don't follow this rule, in which case walk well away from the water to use the bathroom).
Don't wash clothes or do dishes directly in water sources.
Bury poop in a cathole at least 6" deep and pack out used toilet paper (more on this fun subject here).
Follow all campfire restrictions noted on your permit or signs.
Follow all posted signs about where to camp and not camp, especially around the popular lakes where some areas are off-limits to let vegetation recover.
Suggested Itineraries
There are many good places to camp on this route; just be sure to choose previously used sites on durable surfaces (i.e. not on top of living vegetation). Pretty much every lake has some campsites nearby, and you'll find them tucked away every couple of miles in most of the valleys. The only places without campsites are usually the steep climbs to and from passes where the trail switchbacks across a steep hillside.
You don't necessarily need to plan every camp location in advance; in fact it's more fun not too. But for your planning purposes, here are some itineraries you might aim for depending on your target pace.
Our Itinerary (3.5 days 3 nights)
We based this itinerary more around where we ended up and less around seeking out the most ideal camp spots. The biggest drawback was the long third day, but the advantage was that we were able to drive in and out on the same days we hiked. If you have time, I'd recommend driving in the day before and camping near the trailhead, then getting an earlier start on day 1.
Day 1: 5.5 miles to campsite by East Fork Eagle Creek (half day)
Day 2: 9 miles to Moccasin Lake, including out and back to Eagle Cap summit
Day 3: 16 miles to Crater Lake
Day 4: 5 miles to East Eagle Trailhead (half day)
Fast Itinerary (3 Days 2 Nights)
If you're in shape and traveling light, you could knock this route out in three days with variations on this itinerary:
Day 1: 9 miles to hanging meadow before final climb to Horton Pass (or, if weather is good, continue 1 more mile to camp at top of Horton Pass to make tomorrow shorter)
Day 2: ~15 miles to somewhere along South Fork Imnaha River (includes Eagle Cap summit)
Day 3: 12 miles to East Eagle Trailhead
Moderate Itinerary (4 days 3 nights)
Day 1: 9 miles to hanging meadow before final climb to Horton Pass
Day 2: 8 miles to Glacier Lake (includes Eagle Cap summit)
Day 3: 13 miles to Crater Lake
Day 4: 5 miles to East Eagle Trailhead (half day)
There are many good variations on this four day itinerary. You could make the first day a little shorter by camping around mile 5 – 6 on the East Eagle Trail, or taking the side-trail to Moon or Hidden Lakes. Then you can make the second day shorter by camping at Mirror or Moccasin Lake (both nice, though Glacier is arguably more scenic).
If you don't make it all the way to Crater Lake on the third day, look for a spot along the South Fork Imnaha River before starting the climb to Crater Lake. This breaks up the mileage more evenly, but also makes it harder to drive out and get your burger and shower at the end of day four.
Leisurely Itinerary (5 days 4 nights)
Five days is a comfortable itinerary for this route, especially if you're carrying heavier gear and/or want to spend some leisurely time at camp. Here's an example:
Day 1: 5.5 miles to campsite by East Fork Eagle Creek (or take the side trip to Moon or Hidden Lake)
Day 2: 9 miles to Moccasin Lake (includes Eagle Cap summit) – could easily adjust to be a bit shorter (Mirror Lake) or longer (Glacier Lake)
Day 3: ~9 miles to site along South Fork Imnaha River (not exact location)
Day 4: ~6 miles to Crater Lake
Day 5: 5 miles to East Eagle Trailhead
Food Storage
There are black bears in the Wallowa Mountains, but they don't typically pose a danger or hassle to hikers. Still, it's best to store your food responsibly: either hang it properly, use an Ursack (I think a hard-sided canister is overkill here) or sleep with it. I would be a bit more cautious at the heavily used sites in the Lakes Basin, where it's possible a bear has learned to appreciate the taste of hiker food. We used an Ursack Major, simply tied to a strong tree (the trees in many areas weren't suitable for a good bear hang).
Water
Water is abundant on this route. Even during our hike in late September we never needed to carry more than two liters at a time. Most of the long climbs and descents follow flowing creeks, and the Lakes Basin section is, unsurprisingly, full of lakes. The only section that might be lacking water (and even there we found a few streams) is the final descent down Kettle Creek Trail after leaving Crater Lake.
Be sure to filter or treat your drinking water to avoid diseases like Giardia, which can be spread by other hikers pooping in the woods. We used our usual system: a Sawyer Squeeze filter and CNOC Vecto bag set up as a gravity filter. For other options, see Best Water Filters for Backpacking.
I tried a new water carrying system on this trip: the Smartwater Bottle drink tube from One Bottle Hydration. I've long been a hydration bladder fan since I can't reach bottles in my pack's side pockets, but this system is the best of both worlds and my new go-to. Learn more about the pros and cons in 5 Ways to Carry Water While Backpacking.
Permits
You do need a permit to hike this Eagle Cap Wilderness loop, but you can self-issue it for free at the East Eagle Trailhead. Simply fill out the information (there should be a pencil in the box) and drop the official copy in the slot, then read the regulations and keep the visitor copy with you while hiking.
Note that there are two parking lots in the area, and two trailheads. The first says "trailer parking" and is actually the trailhead for the Kettle Creek Trail, along which you can connect to the true start of the loop at East Eagle. This trailhead may not have a permit station (I don't remember seeing one). The official East Eagle Trailhead, a bit further at the very end of the road, definitely has a permit station.
Trail Description by Section
This description starts at East Eagle Trailhead and goes clockwise. Mile references are from the AllTrails map of the route we hiked.
East Eagle Trailhead to Horton Pass
From East Eagle Trailhead going clockwise, you're looking at 10 miles and 4000 feet of climbing (plus an additional thousand feet if you do the out and back to Eagle Cap). Don't worry though, much of the climb is gradual as the trail meanders alongside East Fork Eagle Creek. You'll likely want to break up this climb into two days and there are some campsites throughout this section, especially where the valley broadens a bit. Avoid sites closest to the creek if you can, because they can be cold and damp overnight.
At mile 6.5 there's an optional out-and-back on the left to Moon Lake and Hidden Lake. This adds mileage and climbing but is an option for those who prioritize camping at gorgeous lakes. If you prioritize avoiding out-and-backs, you can find camping on East Eagle Trail.
Around mile 9 the trail crosses a stream in a scenic high meadow, the last reasonable camping before the pass, and begins climbing more steeply to Horton Pass. Horton Pass itself has a few campsites at the top, sheltered only by scrubby bushes, but I would not want to camp up there in high wind or stormy weather.
This section of trail is not as well-travelled as the Lakes Basin area, and we saw just a couple other hikers on it. When we hiked this trail we found it overgrown in places and had to hike around a few blowdowns, but it was easy enough to follow.
Eagle Cap Summit (Optional)
At Horton Pass, ten miles in, there is the option to drop your pack and do a 1.5 mile out-and-back to Eagle Cap summit, a thousand vertical feet higher. I highly recommend this, if you have time. You'll get incredible views of the valley you just hiked up as well as the Lakes Basin into which you'll hike next.
Most hikers should allow at least two hours for this excursion, maybe more if you're feeling sluggish. Be sure to bring at least a liter of water, a sack, a jacket for the wind, and hiking poles if you have them (and I recommend you do).
From Horton Pass, look to the right and you'll see a faint rocky trail. Don't worry, it soon gets a bit smoother and is easy to follow all the way to the summit. Partway up this trail joins with another one that intersects your route a bit further down en route to Mirror Lake, but from Horton Pass it's most efficient to take the trail you're on.
Eagle Cap summit is a popular side trip for backpackers on the Lakes Basin Loop, so expect to see other hikers here. If you drop your pack at the pass be mindful of your food supply and don't leave snacks accessible to critters.
Horton Pass to Hawkins Pass
From Horton Pass, which is mile 12.5 after returning from the summit out-and-back, you'll enjoy some well-earned downhill into the Lakes Basin. Keep an eye on your map to navigate the more frequent junctions in this area.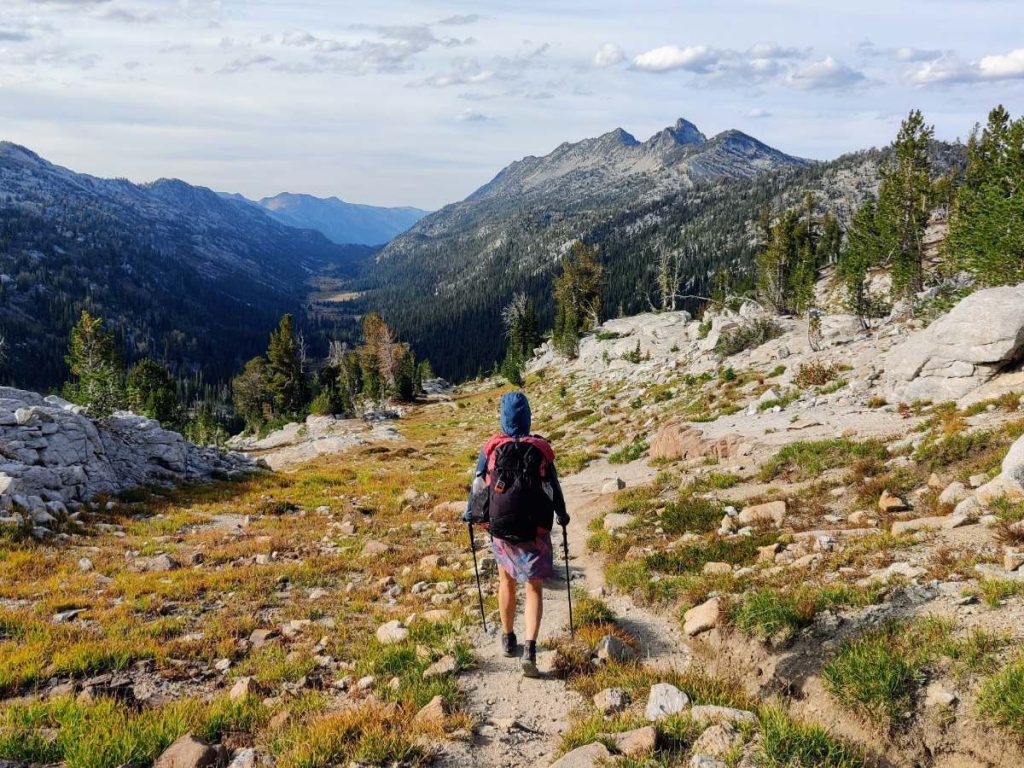 Mirror Lake is a good camping spot, followed shortly by Moccasin Lake. Both are very pretty, but if you have the time and energy you might choose to tackle the rough thousand foot climb to Glacier Pass and short descent to the highly scenic Glacier Lake for camping (mile 17).
Continuing from Glacier Lake, a nice descent leads to Frazier Lake around mile 19. This is where most backpackers turn left on West Fork Wallowa Trail to return to their more northern start point. You instead turn right and get busy climbing to Hawkins Pass at mile 20.5.
This section of the route overlaps the more popular Lakes Basin Loop routes accessible from the northern trailheads. Expect to see more backpackers in this area, and be sure to camp thoughtfully at the higher-use sites near the lakes.
Hawkins Pass to East Eagle Trailhead
This final section is less well-traveled than the rest; when we backpacked this loop we saw literally no other hikers from Frazier Lake to the end.
From Hawkins Pass the trail descends across a steep and sometimes loose hillside down to a rugged alpine valley. I thought the views in this area were especially nice! The top is steep but the gradient eases as the trail gently descends alongside the South Fork Imnaha River, contouring around Cusick Mountain to your left.
About five miles after leaving Frazier Pass, the descent finally ends at a junction with Cliff Creek Trail (called Cliff River Trail on the signs). Turn right to transition into the Cliff Creek drainage, where a mostly gradual five mile climb to Crater Lake awaits. Though Cliff Creek / River strangely does not show up on the AllTrails map, there is indeed a roaring waterway here. Access is not always easy due to the steep banks, but you could fill up in a couple places if needed.
Campsites and flat spots are scarce on this section, though you may be able to find a small one in a pinch. In general I would recommend trying to finish this climb and camp at Crater Lake; we pushed hard to get this done at the end of a long day.
Crater Lake is much more remote-feeling than the more popular lakes of earlier in the loop – we had the entire place to ourselves. In mid-September the water level was a bit low but it was still a pretty place. The best campsites are found where the trail wraps around the northern edge of the lake. There are a few trees for shelter and coziness, and easy water access and great views of the mountains across the water.
From Crater Lake, Kettle Creek Trail plunges 3000 feet in five miles, mostly via switchbacks across alternately scrubby and forested hillside high above Kettle Creek. You may not find any water in this section, so fill up at Crater Lake. Reports from Hiking Project indicated that this section was a frustrating bushwhack, so we worried about it beforehand. But someone must have done some pruning, because we found it totally acceptable. Brush encroaches on the trail in some places, but it didn't slow us down.
Near the bottom you'll reach a junction: head left if you parked at the trailer parking lot or right for East Eagle Trailhead at the end of the road. Your loop is finished!
Backpacking Gear
I always recommend a relatively lightweight backpacking gear setup because it's more comfortable and fun, and this is certainly true on the long climbs and descents of the Wallowas. Here are some of the key gear items I use on most backpacking trips, and on this Eagle Cap Loop specifically. For more, see my favorite backpacking gear.
Backpacks: We both carried ULA Circuits. We love them because they're lightweight, adjustable, and have a very flexible 68 liter capacity. On this short trail we kept them cinched down to a smaller volume, but they also expand to manage 7-day food carries when needed.
Sleep: Therm-a-Rest NeoAir XLite sleeping pads (warm and light) and Enlightened Equipment Convert quilts with synthetic hoods. The Convert is a great middle ground between a sleeping bag and a lightweight quilt because the full zipper helps prevent drafts in cooler temps.
Shelter: Borah Gear bivvies and a Six Moon Designs Haven tarp. We love this setup for backpacking as a couple because we can set up the bivvies alone on clear nights for a bit more space and stargazing, or we can get cozy in the tarp when more warmth or weather protection is needed. We only pitched the tarp once on this trail when the sky threatened rain, and otherwise enjoyed views of starry skies from our bivvies.
Shoes: Altra Lone Peak trail running shoes. We've both been hiking and running in these for many years and won't wear anything else. They're comfy, breathable, quick-drying, and have excellent traction.
Cooking: JetBoil MicroMo, super fast at boiling water for rehydrating meals. Snow Peaks titanium mugs for drinks (a luxury item), Sea to Summit collapsible X-Mugs as bowls, Toaks titanium long-handled spoons.
Water: Sawyer Squeeze filter in gravity mode with CNOC Vecto 3 liter dirty bag.
Electronics: Garmin InReach Mini, Petzl Actik headlamp, power bank and cables
Other must-have items:
Hiking poles for balance and efficiency
Sunscreen, hat, perhaps arm sleeves or a sun hoodie
Rain gear and warm layers
Warm gloves, useful on chilly September mornings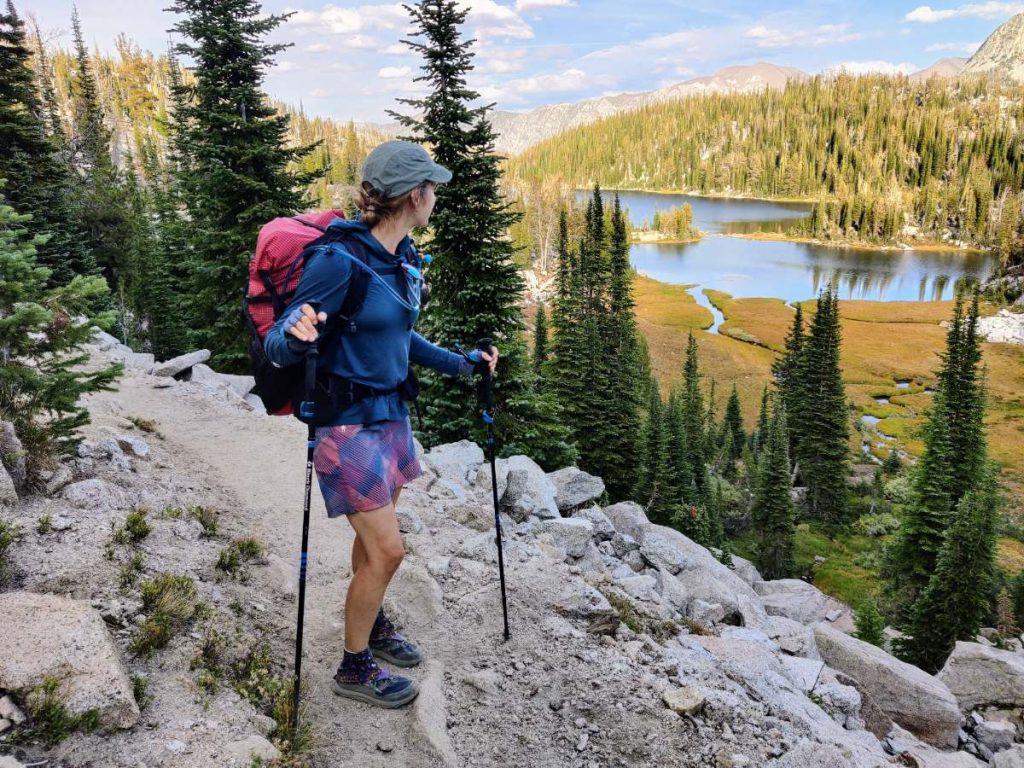 More Resources
If you love backpacking, you might also like these other posts:
Or visit the backpacking home page for lots more!


Hiking resources in your inbox?
There's more where this came from! Sign up here for occasional emails full of inspiration and information about backpacking and hiking.


Share the Adventure
If you found this article helpful, please consider sharing so more people can benefit from it: