In the world of long-distance touring bikes it's hard to find two more esteemed competitors than the Surly Disc Trucker and the Kona Sutra. Both are built for the long haul and have large fan clubs of happy, intrepid bike travelers singing their praises.
If you're trying to choose between the Sutra and the Disc Trucker, this detailed comparison will walk you through their specs, similarities, and differences. I'll explain their implications for touring, as well as riding closer to home (unfortunately most of us can't be out touring all the time). By the end I hope you'll have a clearer idea of which best suits your style and goals.
See also:
When you buy through affiliate links in this post, I may earn a small commission. Thanks for your support! I always offer unbiased opinions based on real experience from the road and trail. Learn more.
Disc Trucker Overview
The Disc Trucker is the more modern disc brake sibling to the famous Long Haul Trucker, and long-distance road touring is its reason for living. It's the kind of bike you buy right before quitting your job and putting all your belongings in storage. Or perhaps, for those of us who can't quite manage such a major commitment, it's the kind of bike we tour on for a few weeks or months, and then ride to the grocery store and back while pretending we're on an around-the-world bike tour.
From Surly: "The Disc Trucker is a pure-bred drop bar touring bike suitable for traveling anywhere in the world on mostly paved roads."
Price: $2049
Material: steel
Drivetrain: 3×9 (Shimano Sora / Alivio)
Wheel size: 700c or 26″ depending on frame size
Brakes: mechanical disc (TRP Spyre-C)
Handlebars: drop bar with rise (Surly Truck Stop)
For complete specs see Surly's website
Check Disc Trucker's price and availability: Campfire Cycling, Jenson USA
Kona Sutra Overview
The Kona Sutra is a long-standing mainstay in Kona's lineup, and nearly as much of a cult classic as the Trucker. It's optimized for pavement and gravel touring and offers a surprisingly nice spec for its price. As if there was any doubt as to what this bike is for (long-distance bike touring) it comes with a front rack and Brooks leather saddle.
From Kona: "The Sutra is many things. It's functional. It's stylish. It's incredibly versatile, and it comes ready for the long haul on the bike tour of your dreams."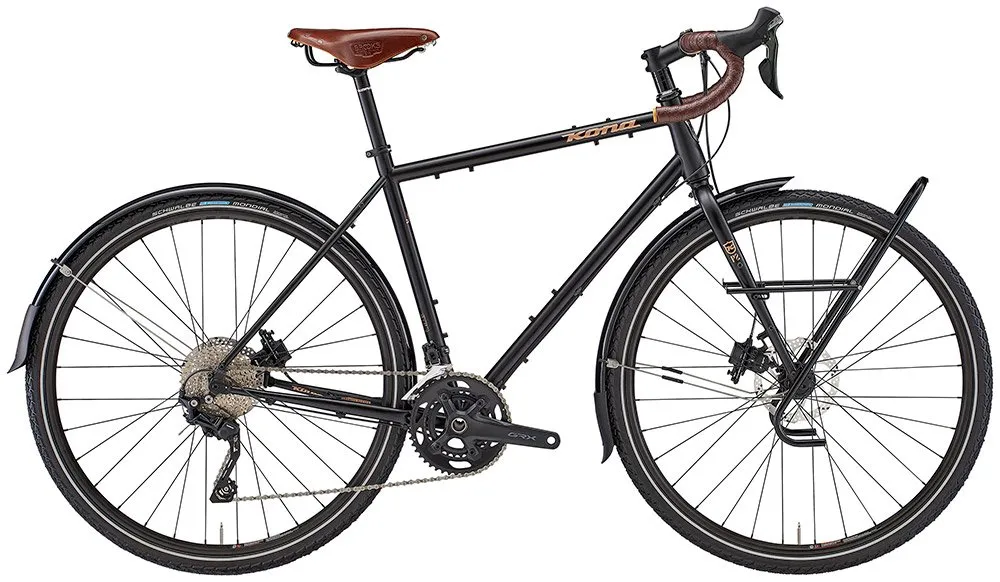 Price: $2099
Material: steel
Drivetrain: 2×10
Wheel size: 700c
Brakes: cable-actuated hydraulic disc (TRP)
Handlebars: drop bar (Kona Road)
For complete specs see the Kona website
Check Sutra's price and availability: Campfire Cycling, Moosejaw
Similarities
In the vast world of bikes, the Disc Trucker and the Sutra are close cousins designed for the same niche of long-distance bicycle touring. As such, they have quite a bit in common:
Chromoly steel frame and fork
700c wheel size (for larger sizes of Trucker and all sizes of Sutra)
Drop handlebars
Heavy-duty touring tires of similar width
Similar price point
Designed to be sturdy and reliable for long-haul rides
Thru axles (12 x 100 front and 12 x 142 rear)
Despite all those commonalities however, these bikes offer different pros and cons that will appeal to different riders. Read on as I tease out the differences between them.
Geometry
The lengths and angles of a bike's tubes determine how it feels and handles on different types of terrain. Both the Sutra and Disc Trucker are designed primarily for pavement and a bit of gravel. As touring bikes they aim for a comfortable all-day posture that's reasonably upright, and stable handling even with a heavy load.
Here's an overlay from bikeinsights.com showing how they compare, using the size 56 cm frame which has 700c wheels on both bikes:
Bike geometry can get complex, but looking at the overlay you might guess these two bikes would handle a bit differently. In particular the Sutra has a few features that edge toward the gravel side of the geometry spectrum: longer front center and a slightly slacker head tube angle. This makes toe overlap less of a concern for folks with big feet, and should make for slightly more relaxed steep descents.
All that said, both these bikes are well-suited for touring and your favorite geometry is likely to depend on the shape of your body. A test ride is by far the best way to figure out which geometry works best for you, if you can manage it.
Side by Side Comparison Table
Surly Disc Trucker
Kona Sutra
Full spec
Surly website
Kona website
Price
$2049
$2099
Frame material
double-butted chromoly steel
butted chromoly steel
Fork material
double-butted chromoly steel
butted chromoly steel
Wheel size
700c (frame sizes 56 – 64cm)
26″ (frame sizes 42 – 56 cm)
700c / 29″
Tire clearance
700c x 47mm
26 x 2.1″
(with or without fenders)
29 x 2.1 (anecdotal)
Tires
Surly ExtraTerrestrial:
700c x 41 mm
26 x 46 mm
Schwalbe Marathon Mondial 700c x 40 mm
Rims
Alex Adventurer 2 (tubeless ready)
WTB ST i23 TCS 2.0 (tubeless ready)
Handlebars
Surly Truckstop (drop bar with rise)
Kona Road (drop bar with slight flare)
Brakes
Mechanical disc: TRP Spyre C, 160mm rotors
Cable-actuated hydraulic disc: TRP HDC711C, 160mm rotors
Gearing
3×9
Chainrings: 48/36/26t
Cassette: 9-speed 11-34t
2×10
Chainring: 30/46t
Cassette: 10-speed 11-36t
Groupset
Shimano Sora / Alivio
Shimano GRX / Tiagra or Microshift
Suspension corrected?
no
no
Dropper post
no
no
Other Extras
none
Tubus front rack, fenders, Brooks B17 saddle
Drivetrain compatibility
1x, 2x, 3x, singlespeed with chain tensioner
1x, 2x, singlespeed with chain tensioner (not sure about 3x)
Hub spacing
Front: 12×100 (thru axle)
Rear: 12×142 (thru axle)
Front: 12×100 (thru axle)
Rear: 12×142 (thru axle)
Frameset options
steel: $799
Sizes
42, 46, 50, 52, 54, 56, 58, 60, 62, 64 cm
48, 50, 52, 54, 56, 58 cm
Weight
28 – 29 lbs (according to FAQs on Surly's website)
?
Key Differences Explained
Wheel Size
If you're in the larger half of the Disc Trucker's size range (56 cm and bigger) the wheel size is the same; both the Sutra and larger size Truckers come with 700c wheels (equivalent to 29″ diameter). Smaller riders have a meaningful choice to make though, as the smaller size Disc Truckers come with 26″ wheels while the smaller Sutras stick with 700c.
In some ways this is a point in the Trucker's favor for smaller riders. Smaller wheels scale the geometry more consistently and allow for a lower standover height. If you want to run bikepacking bags, 26″ wheels create more tire clearance on smaller frames. And they're a bit more maneuverable and efficient, and quicker to spin up to speed.
On the other hand, riders of the smaller Disc Truckers will miss out on the advantages of larger wheels: more efficient at maintaining speed, less resistance when hitting bumps and ruts, and larger volume tires to soak up vibration.
Touring bikes invite yet another consideration: parts availability. The Surly Disc Trucker clings to the older standard of 26″ wheels for small frames in part because it's more common in developing countries. If you want to ride Cairo to Cape Town you'll have better luck finding spare tubes, tires, and spokes for 26″ wheels, though as bikes become more widely available this is less true than it used to be.
On the other hand, finding 26″ parts in the US and Europe can be hard. Here it's far easier to find 700c and 29″ wheels, so if you like to experiment with different tires or wheels you'll have far more options with the Sutra.
I've ridden over 9000 miles on my Long Haul Trucker (the now-discontinued rim brake version of the Disc Trucker) with 26″ wheels. I've also ridden equally as far on other bikes with 700c / 29″ wheels. I prefer the feel of larger wheels on anything except smooth pavement because they absorb bumps and handle obstacles better. I'm 5'5″ which is tall enough for a reasonable 700c geometry, but if I were a few inches shorter I might prefer 26″ wheels for standover reasons.
Brakes
Both the Sutra and Disc Trucker use cable-actuated disc brakes, which are often preferred over hydraulic brakes for touring because they're easier to repair and maintain (and they're cheaper).
The Disc Trucker's TRP Spyre brakes are reliable and popular. I use them myself and have heard folks say their feel and performance is about as good as you can get with mechanical disc brakes.
The Sutra uses an interesting higher-end option: cable-actuated hydraulic disc brakes from TRP. This hybrid design transfers force from the lever to the caliper via cable like standard mechanical disc brakes, so there's no hydraulic hose to muck with. But the piston itself contains a small hydraulic chamber that moves the pads. In theory this offers the best of both worlds – maintainability of cables plus the feel and modulation of hydraulics – and reviews of the system are generally positive.
While I like hydraulic brakes in general and think the hybrid design is neat, I also like TRP Spyres and appreciate that they're a well-known and simple option. If I were choosing between the Disc Trucker and Sutra for a long tour in developing parts of the world, I would give a slight edge to the Disc Trucker based on brakes alone.
Gearing
No 1x drivetrains here! The Trucker and Sutra are both geared with the hefty range typical of pavement touring bikes.
The Disc Trucker's triple chainring and 9-speed cassette give it a healthy range of gear ratios from 0.76 to 4.36. Note that the 26″ Trucker will feel a bit easier in that low climbing gear than the 700c Sutra or larger Trucker.
The Sutra comes with a 11-36t 10-speed cassette paired with 46/30t double chainrings up front, for a more-than-sufficient upper gear ratio of 4.18. The climbing gear ratio is acceptable low at 0.83, though not as low as many touring bikes and mountain bikes.
Ranking these climbing gears by suitability for heavy loaded touring, the Disc Trucker (especially in 26″ wheel size) wins. The 11-36t Sutra's climbing gear is a tad high but will work. At the high end of the range they're both more than sufficient for pushing speed on gradual downhills or tailwinds, if that's what you want to do. Generally tourers aren't too concerned with top end speed, and the Disc Trucker especially has more high gears than most riders will care about.
Personally I prefer a 2x setup over a 3x for touring. I ride the whole range — 1x, 2x, and 3x — on different bikes, and the 3x on my Long Haul Trucker feels overly complex compared to the others. I like 1x drivetrains for bikepacking and trails, but I think 2x is still nice for pavement due to the smaller steps between gears. If I had to choose one of these bikes based on gearing alone, it's a tough call. I'd prefer the 2x setup of the Sutra but the climbing gear of the Trucker.
Sizing
If you're an extra-small or extra-large cyclist, the Surly Disc Trucker's wider size range might make all the difference for you.
At the small end, the Disc Trucker sizing extends down to 42cm while the Sutra stops at 46cm. Combine this with the Trucker's smaller 26″ wheels and you have a much better fit for short riders, with a standover height that's 30mm lower for the smallest Trucker than the smallest Sutra.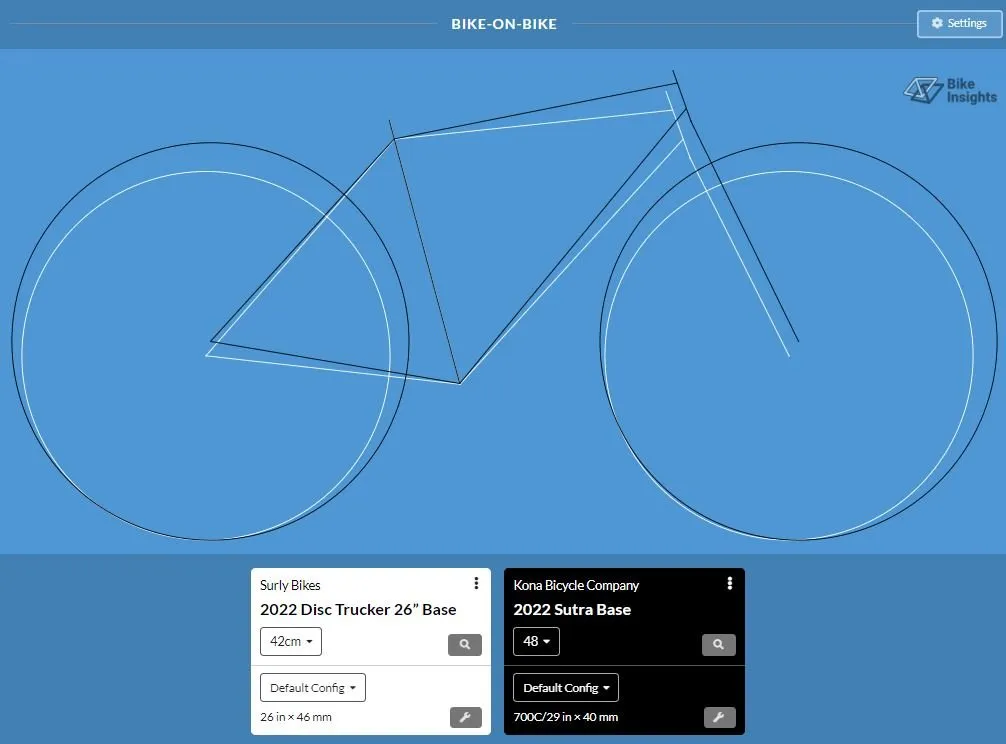 The tallest riders may also find that the Disc Trucker, which comes in sizes up to 64cm, suits them better than the largest 58cm Sutra frame. This overlay compares the largest size in each bike and shows that the Trucker offers significantly higher stack and a bit more reach, which will help taller folks feel less cramped.
Extra Goodies
The Kona Sutra manages to pack in a surprising amount of value for the money, including some touring-focused extras that leave no doubt about the purpose of this bike. The included Tubus Tara low-rider front rack, Brooks B17 leather saddle, and fenders are worth at least $300 if you were to buy them independently.
On the other hand, if you don't actually want these items that may be a point in favor of the Disc Trucker. Brooks leather saddles are beloved by many but don't work for everyone; I personally stopped using mine after a few thousand miles and it was a big relief. I've also stopped bothering with fenders – I always get muddy anyway – and I've never toured with a front rack. So while the Sutra gives you an excellent start in the touring world, the Disc Trucker gives you more room to experiment and make your own choices.
Cargo Loading
As long-haul touring bikes, both the Surly Disc Trucker and Kona Sutra are happy to be loaded down with all your worldly possessions. The Trucker has three standard bottle mounts in the frame and two 3-pack style mounts on the fork for mounting gear cages.
The Sutra matches all those and also adds bolts on the top tube for bolt-on frame bags and top tube bags. Those last ones certainly aren't essential, but they can be convenient and clean if you want to roll with a higher-end bikepacking setup.
Both have front and rear rack mounts, and the Sutra comes with a low-rider front rack included.
Ideal Terrain and Riding Style
Normally in my bike comparisons this is where I point out important differences, but in the case of the Surly Disc Trucker versus the Kona Sutra I have mostly similarities to share.
Both are pavement-focused touring bikes, but any good long bike tour is bound to include some gravel and these bikes are ready for it. I've ridden my Trucker on plenty of gravel and dirt and can confirm: though it's not very agile on anything technical, it's happy to grind along unpaved roads.
I would give the Sutra a slight edge in terms of handling on unpaved roads based on its geometry, hybrid hydraulic brakes, and bigger wheels on small frames. But for all practical purposes these bikes are suited to similar types of riding.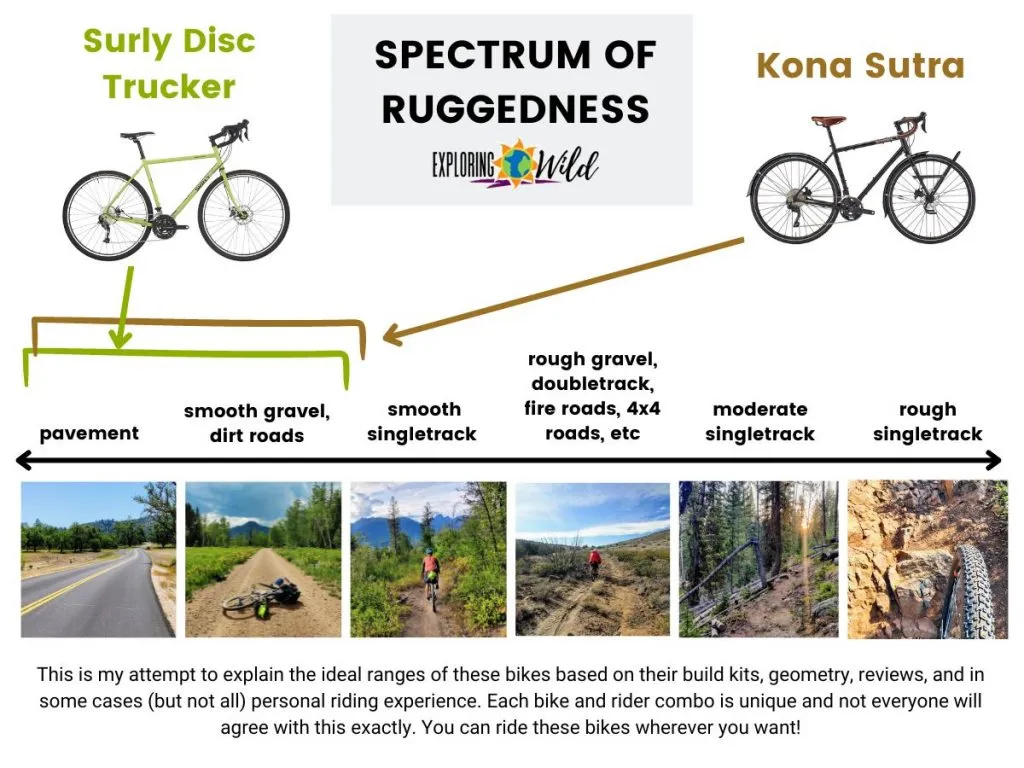 It's often the case that one bike or another is more touring-focused in its design and construction, but again the Sutra and Disc Trucker are on even footing here. Both are designed with the longest of long bike tours in mind. You can certainly ride them both unloaded too, and many do service as commuters and around-town bikes when not out exploring far-flung countries.
The Trucker, from personal experience, is tuned to be at its best with a heavy load. I ride it unloaded too, but when I load it back up for a trip there's a sense of "ahhh that's better" about the ride feel. I'm a relatively light rider, 120 pounds, and I've heard this is less of a problem for heavier folks. The 26″ wheels may be contributing too. I haven't heard this criticism of the Kona Sutra, so perhaps the tubing is a bit more compliant. Likely the ride feel of each is a matter of preference and depends on the weight of rider and cargo.
Value For Money
I've always thought of Surly bikes as affordable, but I have to admit I'm impressed by the Kona Sutra's spec and price. For just $50 more than the Disc Trucker you get the bonus front rack, fenders, Brooks leather saddle, a slightly higher-end groupset, and fancier cable-actuated hydraulic brakes.
If those are features that matter to you, your money buys a little more with the Kona Sutra. If they don't matter to you, you can probably sell them on eBay to effectively give yourself a discount on the bike. On the other hand, the Surly Disc Trucker is a hair cheaper and gives you a more basic spec than you can upgrade according to your own priorities.
Summary and Reasons to Choose Each
It's a tough choice between the Kona Sutra and Surly Disc Trucker, two classic and popular bikes ready for long-haul touring. Here are a few points that might sway you one way or the other.
Reasons to choose the Surly Disc Trucker:
You're on the very short or very tall end of the size range.
You're a smaller rider who wants 26″ wheels, either for geometry reasons or parts availability on tours in developing areas.
You don't want or need the Sutra's Brooks leather saddle or front rack.
You prefer simple mechanical disc brakes to the Sutra's cable-actuated hybrid.
You prefer the Surly's scrappy and… well, surly… vibe to the elegance of the Sutra.
Reasons to choose the Kona Sutra:
You'll get value from the included saddle, rack, and fenders.
You're a smaller rider who does not want 26″ wheels.
You prefer a 2x drivetrain over a triple.
Beauty is in the eye of the beholder, but many think the Sutra is nicer-looking than the Trucker. One might even say it's sexier.
If road touring is your dream, you can't go wrong with either the Sutra or the Disc Trucker. I've ridden my Trucker over 9000 miles and absolutely love it, but if I were to choose again I might be tempted by the Sutra and expect it would meet my needs just as well. If you get a chance, test ride one or both and let fit and feel be your guide.
If you also feel drawn to gravel and dirt roads and more rugged landscapes, have a look at the Kona Sutra LTD. This cousin of the Sutra is better equipped to take on rougher unpaved roads and occasional trails. Learn more: Kona Sutra LTD vs. Salsa Fargo: Comparing Drop Bar Mountain Bikes
More Bike Touring Resources
If you found this helpful, you might also enjoy these:
Or, visit the touring and bikepacking sections for lots more!
Bike resources in your inbox?
There's more where this came from! Sign up here for occasional emails full of inspiration and information about bikepacking and bicycle touring.


Share the Adventure
If you found this article helpful, please consider sharing so more people can benefit from it: