Surly's lineup is such a delicious smorgasbord of touring-friendly bikes that it's almost overwhelming. How to choose from amongst all those bomber steel steeds with quirky attitudes and unquenchable thirst for adventure?
The Surly Disc Trucker and the Straggler particularly invite comparison. Both are pavement-focused but can handle gravel; the Straggler especially loves it. Both are cargo-friendly, but the Trucker lives for it. Both have generous gravel-width tire clearance, wheel size that scales with frame size, chromoly steel frames, and drop handlebars.
I've ridden over 9000 loaded miles on my Long Haul Trucker, the now-discontinued rim brake sibling of the Disc Trucker. Though a vast majority of these miles were solo adventures, I once had the pleasure of sharing a trip on Chile's gorgeous Carretera Austral with a friend and her Straggler. Both bikes handled that trip with strength and confidence and minimal hassle. Though each model has since been updated a bit in geometry and build kit, their spirits remain unchanged.
If I had to sum up the difference: the Straggler is a more versatile bike when it comes to terrain and purpose, though it makes a good touring bike too. The Trucker is laser-focused on heavy long-haul touring, though it can be ridden for other purposes as well. To understand the details of how their geometries and build kits contribute to their relative strengths and weaknesses, read on!
When you buy through affiliate links in this post, I may earn a small commission. Thanks for your support! I always offer unbiased opinions based on real experience from the road and trail. Learn more.
Disc Trucker Overview
The Disc Trucker is the more modern disc brake sibling to the famous Long Haul Trucker, and long-distance road touring is its reason for living. It's the kind of bike you buy right before quitting your job and putting all your belongings in storage. Or perhaps, for those of us who can't quite manage such a major commitment, it's the kind of bike we tour on for a few weeks or months, and then ride to the grocery store and back while pretending we're on an around-the-world bike tour.
From Surly: "The Disc Trucker is a pure-bred drop bar touring bike suitable for traveling anywhere in the world on mostly paved roads."
Price: $2049
Material: steel
Drivetrain: 3×9 (Shimano Sora / Alivio)
Wheel size: 700c or 26″ depending on frame size
Brakes: mechanical disc (TRP Spyre-C)
Handlebars: drop bar with rise (Surly Truck Stop)
For complete specs see Surly's website
Check Disc Trucker's price and availability: Campfire Cycling, Jenson USA
Straggler Overview
The Straggler is technically listed in Surly's pavement category, but it likes gravel too. It's closer to a gravel bike than the Midnight Special, more versatile than the Disc Trucker, and similar to the Cross-Check but with disc brakes. Surly describes the Straggler as the bike to have if you only have room for one bike in your life. In other words, it's versatile.
From Surly: "Straggler is a bikepacking-inspired road/gravel bike mostly at home on pavement but ready for trail duty when called."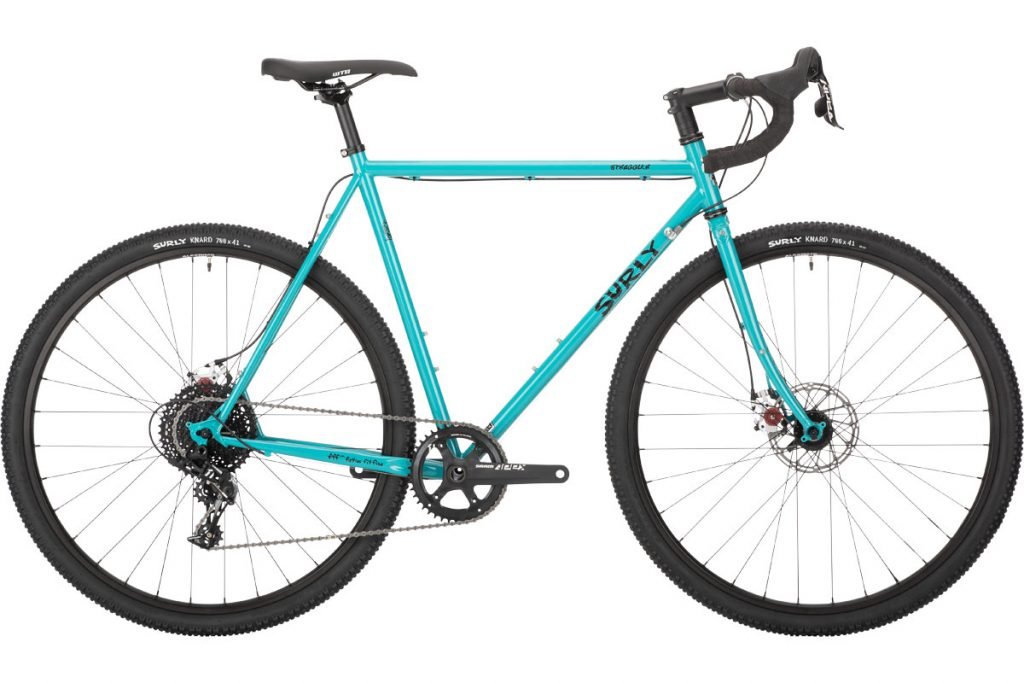 Price: $1849
Material: steel
Drivetrain: 1×11 (SRAM Apex)
Wheel size: 700C / 29″ or 650b / 27.5″ depending on frame size
Brakes: mechanical disc (SRAM Avid BB7)
Handlebars: drop bar with flare (Salsa Cowbell)
For complete specs see Surly's website
Check Straggler's price and availability: Campfire Cycling, Angry Catfish
Similarities
In the full universe of all bikes, the Disc Trucker and Straggler are pretty closely related. Both bikes:
Are made by Surly, a brand owned by Quality Bicycle Parts
Are best at pavement and light gravel
Have steel frame and fork
Have mechanical disc brakes
Are designed to carry cargo, with the same max load rating of 355 lbs (rider + gear)
Are reliable and sturdy
Have drop handlebars
Have road-ish geometry, broadly speaking
Use 700c size wheels on the larger sizes and smaller wheels (26″ or 650b) on smaller sizes
Come in a wide range of frame sizes
Aim to deliver a sturdy and reliable build at an affordable price
For all these similarities there are still significant differences between the Straggler and Disc Trucker. I'll tease them out in the rest of this comparison.
Geometry
The lengths and angles of a bike's various tubes tell us a lot about what kind of riding it's designed to excel at. In the case of the Straggler and Disc Trucker, their geometries are fairly similar and lie squarely within the road and gravel category. Compared to a bike like the Salsa Fargo, also designed to carry a load but optimized for dirt and rough gravel, the Trucker and Straggler both have a steep head tube angle (72 degrees on both), short front end, and low bottom bracket.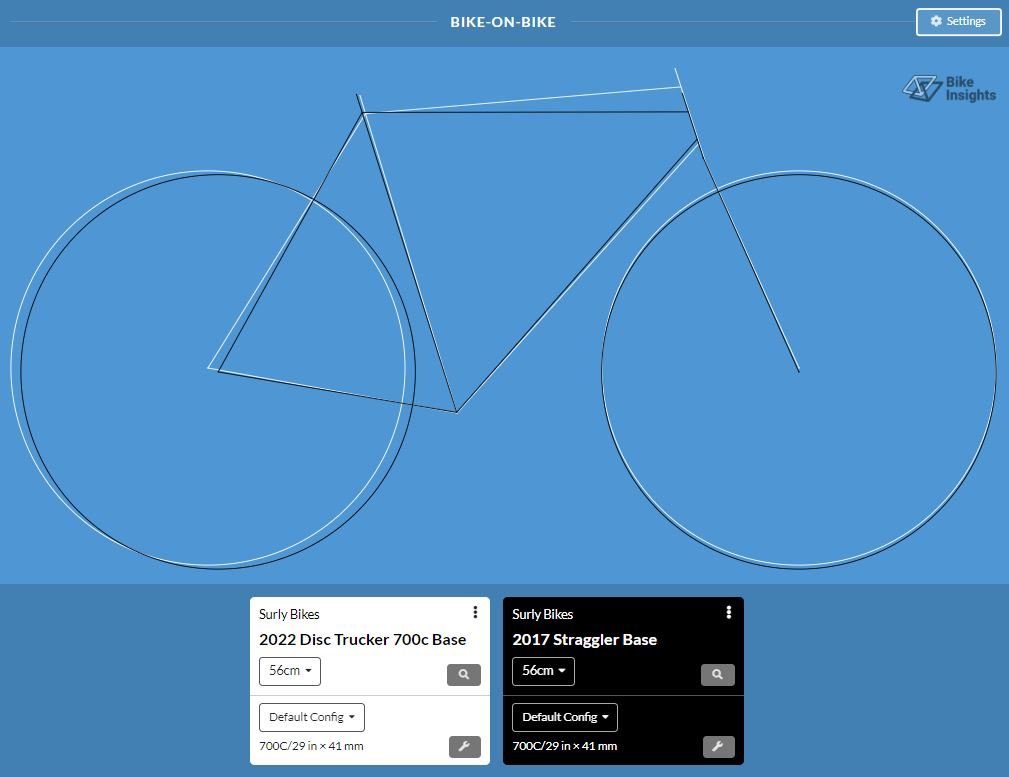 A couple differences stand out in the above Straggler versus Disc Trucker comparison from bikeinsights.com. First, the Trucker has a bit more upright stack and reach for more upright riding posture, typical of touring bikes designed for all-day comfort. Second, the Trucker has longer chainstays, which contributes to stable handling (important on a heavily loaded touring bike) and increases heal clearance for panniers.
Ideal Terrain
Given their fairly similar geometry, it's no surprise that these bikes have a large overlap in ideal terrain. They're both mainly intended for pavement, though in a slow adventure-seeking kind of way, not a fast roadie way.
Both can also handle gravel and have comparable max tire clearance. Surly positions the Straggler as a bit more gravel-friendly, calling it a "mountain biker's road bike." This makes sense given the slightly shorter chainstays, slightly higher-traction Knard tires, 1x drivetrain, and the handling and ride feel.
Don't underestimate the Disc Trucker when it comes to gravel though. World tourers ride gravel roads on the Trucker in all kinds of interesting corners of the globe. I started bikepacking on my Long Haul Trucker (the older rim brake sibling of the Disc Trucker) with 26 x 2.1″ MTB tires. It feels like a freight train and wants nothing more than to plow straight ahead, but with suitable tires it's as happy to do so on gravel as on the pavement.
In short, both these bikes can handle some gravel and dirt roads. Neither is ideal for singletrack by any means, but it's been done. The Straggler is marginally better on trails because it's more maneuverable, but neither is ideal.
If you want to ride roads, mostly pavement and some gravel, either of these bikes could work and you should consider your expected riding style (see next section). On the other hand, if you're drawn toward rougher gravel and dirt roads and some trail when the opportunity arises, look at the Surly Ogre.
Ideal Riding Style
This is the biggest differentiator between the Straggler and Disc Trucker in my opinion. Both can handle similar terrain, but they're designed to do so with different goals.
The Disc Trucker is optimized in every way for heavily loaded long-distance touring. It's longer, heavier, and has more mounts for gear cages. Less tangibly it has different handling and feel. I would not describe the Trucker as "fun" or "versatile," though I've heard those words applied to the Straggler.
The Trucker wants to be loaded down with months' worth of gear and pointed straight toward the horizon. Its frame feels best with a heavy load. You can certainly ride it unloaded – lots of folks use it for commuting, for example – but it can feel stiff, especially if you're a lighter rider. When I've been riding my Trucker unloaded and then load it up for a tour, there's a feeling of "ahhh yes, that's better."
The Straggler, by comparison, is designed to be ridden unloaded but to also handle a load when needed. It's the more versatile of the two in terms of handling and purpose. Both bikes are rated for the same max load – 300 pounds of rider and 55 pounds of cargo – so the Straggler isn't exactly a weakling. It's just not specifically designed to be at its best under a heavy load.
If you want to commute on your bike most weeks out of the year and tour for a few weeks or weekends, the Straggler is probably the better bet. On the other hand, if you want to quit your job (no commuting at all, yay!), and go tour for a few months or years, the Disc Trucker will be in its element.
Side by Side Comparison Table
Surly Disc Trucker (2022)
Surly Straggler (2022)
Full spec
Surly website
Surly website
Price
$2049
$1849
Frame material
double-butted chromoly steel
double-butted chromoly steel
Fork material
double-butted chromoly steel
double-butted chromoly steel
Wheel size
700c (frame sizes 56 – 64cm)
26″ (frame sizes 42 – 56 cm)
700c / 29″ (frame sizes 54 – 62cm)
650b / 27.5″ (frame sizes 38 – 54cm)
Tire clearance
700c x 47mm
26 x 2.1″
(with or without fenders)
700c: 700c x 42mm (with or without fenders)
650b: 650b x 42mm (with fenders)

Tires
Surly ExtraTerrestrial:
700c x 41 mm
26 x 46 mm
Surly Knard:
700c x 41mm, 33 tpi
650b x 41mm, 33 tpi
Rims
Alex Adventurer 2, tubeless ready
Alex Adventurer 2, tubeless ready
Handlebars
Surly Truckstop (drop bar with rise)
Salsa Cowbell (drop bar with flare)
Brakes
Mechanical disc: TRP Spyre C, 160mm rotors
Mechanical disc: SRAM Avid BB7 Road, 160mm rotors
Gearing
3×9
Chainrings: 48/36/26t
Cassette: 9-speed 11-34t
1×11
Chainring: 42t
Cassette: 11-speed 11-42t
Groupset
Shimano Sora / Alivio
SRAM Apex
Suspension corrected?
no
no
Dropper post
no
no
Drivetrain compatibility
1x, 2x, 3x, singlespeed with chain tensioner
1x, 2x, singlespeed without chain tensioner
Hub spacing
Front: 12×100 (thru axle)
Rear: 12×142 (thru-axle)
Front: 10×100 (QR)
Rear: 10×135 (QR)
Frameset options
steel: $799
steel: $749
Sizes
42, 46, 50, 52, 54, 56, 58, 60, 62, 64 cm
38, 42, 46, 50, 52, 54, 56, 58, 60, 62 cm
Weight
28 – 29 lbs (according to FAQs on Surly's website)
24 – 25 lbs (according to FAQs on Surly's website)
Key Spec Differences Explained
Here are the main differences noted in the comparison table above and explanations for why you might care about them.
Wheel Size
Surly has done a nice and somewhat unusual thing with both the Straggler and the Disc Trucker: smaller frames use a smaller wheel size. This helps scale the geometry down more consistently for smaller riders on smaller frames.
The Straggler goes with traditional 700c wheels (the road / gravel equivalent of 29″ in the MTB world) on larger size frames, and 650b (similarly equivalent to 27.5″) on smaller sizes. If you happen to fit a size 54cm frame you can take your pick between the two.
The Disc Trucker also has 700c wheels on larger sizes, and smaller sizes come with less common (these days) 26″ diameter wheels. This was originally a nod to compatibility needs of world tourers, who sometimes find themselves in need of a replacement wheel in the middle of Mongolia or Mozambique or other places where most bikes are a bit older. These days, as other bike wheel sizes become more common around the world, it's less of a concern.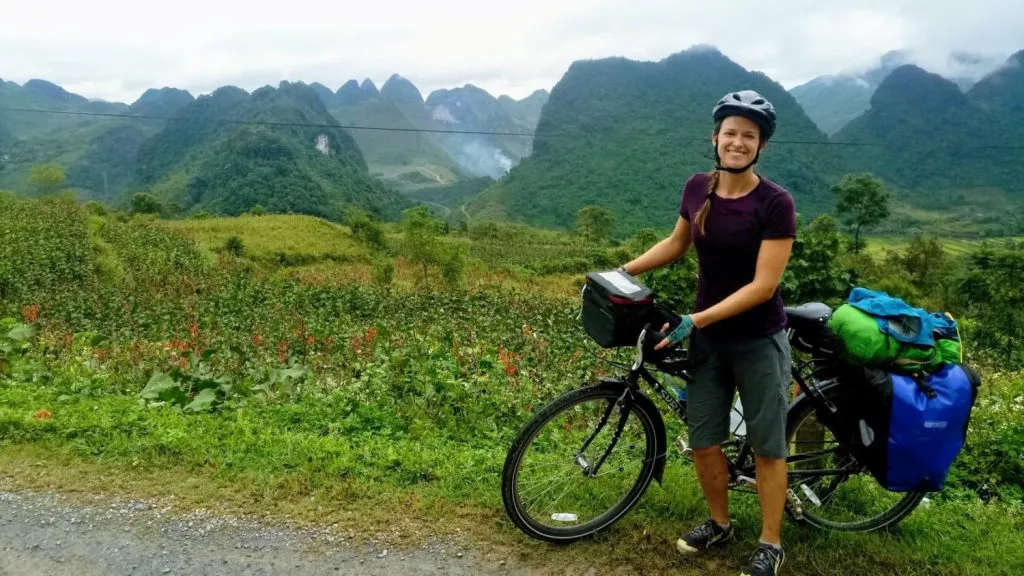 Gearing
The Disc Trucker comes with a beefy 3×9 triple while the Straggler uses a more modern gravel-style 1×11 drivetrain. If you're accustomed to one, the other will likely take some getting used to. Often it comes down to personal preference, but there are some valid concrete reasons to prefer either one.
If the tradeoffs between 1x and 2x or 3x are new to you, see 1x Drivetrains for Bikepacking. In short, the Trucker's triple gives a much wider gear range that's both lower in the low gear and higher in the high gear. It lets you spin up steep hills with a heavy load and also power through gradual downhills with plenty of speed. The price: shifting complexity (which gear am I in again?), mechanical complexity (another derailleur to keep aligned), and extra weight.
The Straggler's 1x drivetrain is refreshingly simple: nothing to do with your left hand and no front derailleur to fiddle with. The tradeoff is a narrower range, but not as much narrower as you might think thanks to that wide 11-42t cassette. While the Trucker's gear ratios range from 0.76 – 4.36, the Straggler's range from 1.00 – 3.82.
In my opinion, both these bikes extend higher on the high end than is necessary for most cases, especially when touring, and especially the Trucker. In over 9000 miles of touring on my similarly geared Long Haul Trucker I've rarely used those highest of high gears. I definitely use the lowest low gear, and sometimes I think it could be even lower for heavy touring.
The Straggler, in my opinion, is geared surprisingly high. With a lowest gear ratio of 1:1 the Straggler will be challenging for most riders to get up a steep hill, especially with a touring load. I would personally want to replace the front chainring with a 36, or even a 32 tooth for touring. Surly says the Straggler is mainly for unloaded riding and occasional light-duty touring, and I suppose this is one of the reasons why.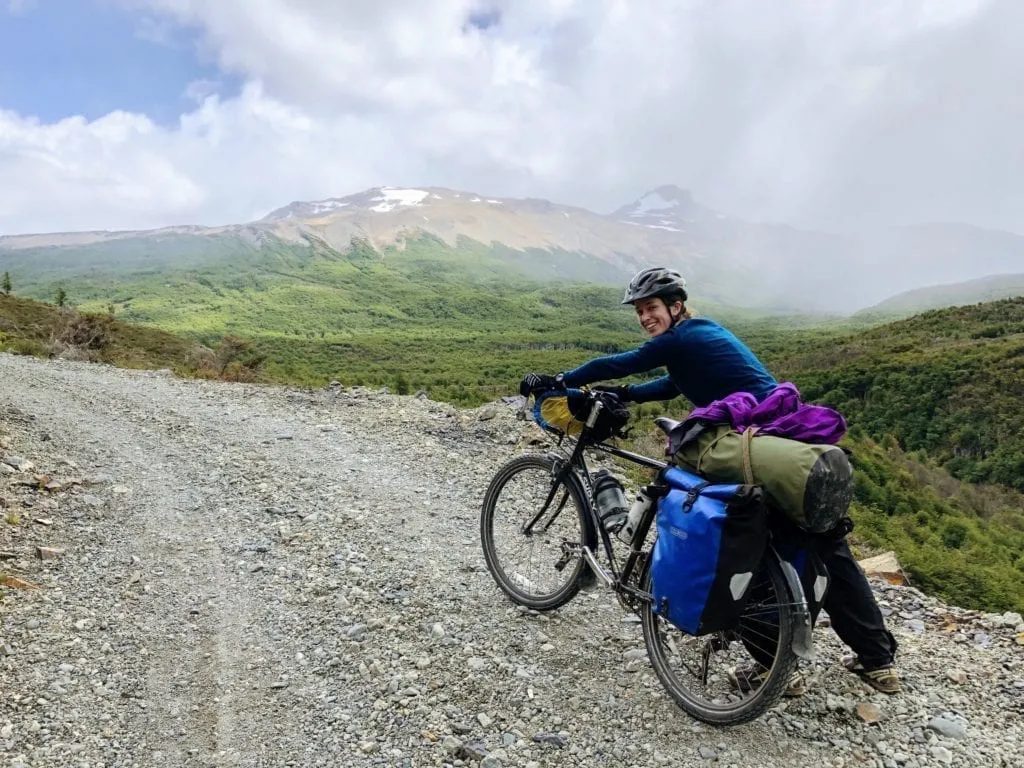 Weight
The Disc Trucker and Straggler are both heavy bikes, but the Trucker in particular is a beast! According to the FAQs on Surly's website, the Straggler weighs in around 24-25 pounds while the Trucker tips the scale at 28-29 pounds.
I would guess much of this weight difference comes down to the frame – the Trucker's stiff tubes most likely contain more steel – and all the parts associated with the Trucker's triple gearing.
Tires
Both the Straggler and Disc Trucker come spec'ed with Surly tires: the ExtraTerrestrial for the Trucker and the Knard for the Straggler. Both are intended to balance fast-ish rolling on pavement with capability on unpaved roads. The ExtraTerrestrial is a "heavy duty off-road touring tire" and is bit burlier and heavier than the Knard.
The width on both bikes is comparable, with the 700c versions both coming in 41mm width. The 650b wheels on the Straggler come with 41mm width Knards, while the 26″ Trucker uses 46mm width ExtraTerrestrials. These widths fall squarely into the typical gravel and all-road touring range.
Dropouts, Axles, and Hubs
The Disc Trucker has a vertical rear dropout, while the Straggler uses a forward-exiting horizontal dropout. This means the Straggler's rear wheel position can be adjusted slightly, either to tweak handling or to run singlespeed without a chain tensioner (including an emergency singlespeed conversion, if your derailleur breaks in the middle of nowhere).
The Trucker lacks a sliding dropout, so if you want to run singlespeed you'll need a chain tensioner. Not a big deal, but potentially a reason for singlespeed fans to prefer the Straggler if otherwise undecided. If you're interested in the nitty gritty, this post from Surly shares more.
As for axles, the Trucker uses 12mm thru axles and the Straggler uses quick release skewers. Both have their advantages, though standards are generally moving toward thru axles. If you plan to change up your wheels this will impact your available options. Sometimes you can run a thru axle wheel in a quick release frame using an adapter in the hub, but you can't go the other way around.
Cargo Carrying
The Straggler and Disc Trucker are both designed to handle bottle cages and racks, but the Trucker has a few extra mounts that the Straggler lacks. The Disc Trucker has three standard bottle mounts on the frame and two 3-pack mounts on the fork, while the Straggler has only two standard bottle mounts on the frame and none on the fork.
Personally I love fork blade mounts for gear cages when running a bikepacking setup, so this is a minor drawback of the Straggler in my view, especially since Surly says the Straggler is "a bikepacking-inspired road/gravel bike."
Both bikes are set up to take front and rear racks thanks to upper and lower threaded eyelets in back and upper, lower, and mid-blade threaded mounts on the fork.
Summary and Reasons to Choose Each
If you're still on the fence between these two Surly bikes, here's a summary of reasons you might prefer one or the other.
Reasons to choose the Disc Trucker:
You'll be riding loaded more often than unloaded
You like having a front derailleur and a very wide gear range
You expect to ride a lot of pavement, and maybe some gravel too
Reasons to choose the Straggler:
You'll be riding unloaded more often than loaded
You like the simplicity of a 1x drivetrain
You're a smaller rider, and/or a lighter bike makes a difference to you
Your interests include a fair amount of gravel and dirt roads in addition to pavement
You run singlespeed and prefer sliding dropouts to running a chain tensioner
Budget is a big factor; the Straggler is $200 cheaper (though that's a small difference relative to the total price, so choose the bike that's best for you if you can afford it)
The Straggler is probably the better choice for more people. If you do most of your riding unloaded or lightly loaded the lighter and more versatile Straggler will be more fun to ride. It can still handle a touring load – even a heavy one – when needed.
The Disc Trucker is more of a niche choice, beloved by those who use it for its intended purpose but not a perfect fit for everyone. If you see substantial long-distance road touring in your future, racking up hundreds or even thousands of miles at a time with a fairly heavy load, the Trucker would make sense. You can still enjoy riding it unloaded, but it's heavier and handles like a freight train. It'll get you there though, no matter where "there" is.
In the end these are both reliable adventure-ready bikes from a respected brand, and it's hard to go wrong choosing either. You never know exactly where either one may take you until you try it!
More Bike Travel Resources
If you found this comparison helpful, you might also like these articles:
Or, visit the bikepacking and bicycle touring sections for lots more.
Bike resources in your inbox?
There's more where this came from! Sign up here for occasional emails full of inspiration and information about bikepacking and bicycle touring.


Share the Adventure
If you found this article helpful, please consider sharing so more people can benefit from it: