In the world of drop bar mountain bikes, the Salsa Fargo and Surly Grappler are both big names right now. The Fargo is the longest-running drop bar MTB in existence, and the Grappler is a brand new offering. Naturally, people are comparing them.
On the surface these two bikes look pretty similar: wide flared drop bars, knobby rubber, rigid fork, cargo mounts for days. But digging deeper, are they suited to the same types of terrain and riding style? More importantly, if you're in the market for drop bar mountain bike and looking at these two models, which one should you buy?
As a proud owner of both a Salsa Fargo and one of Surly's classic models (the Long Haul Trucker), I love both these brands and have spent a lot of time researching and thinking about their bikes. I've written this comparison of the Salsa Fargo and the Surly Grappler to help you decide which of these two fun bikepacking-focused drop bar mountain bikes should be your next ride.
When you buy through affiliate links in this post, I may earn a small commission. Thanks for your support! I always offer unbiased opinions based on real experience from the road and trail. Learn more.
Salsa Fargo
First launched in 2009, the Fargo is Salsa's longest running bike model and a cult classic in the bikepacking world. It's especially well-loved for long distance travel on mixed terrain due to its versatility. It excels on dirt and gravel roads, including rough and chunky ones, and rides surprisingly well on pavement and smooth singletrack too.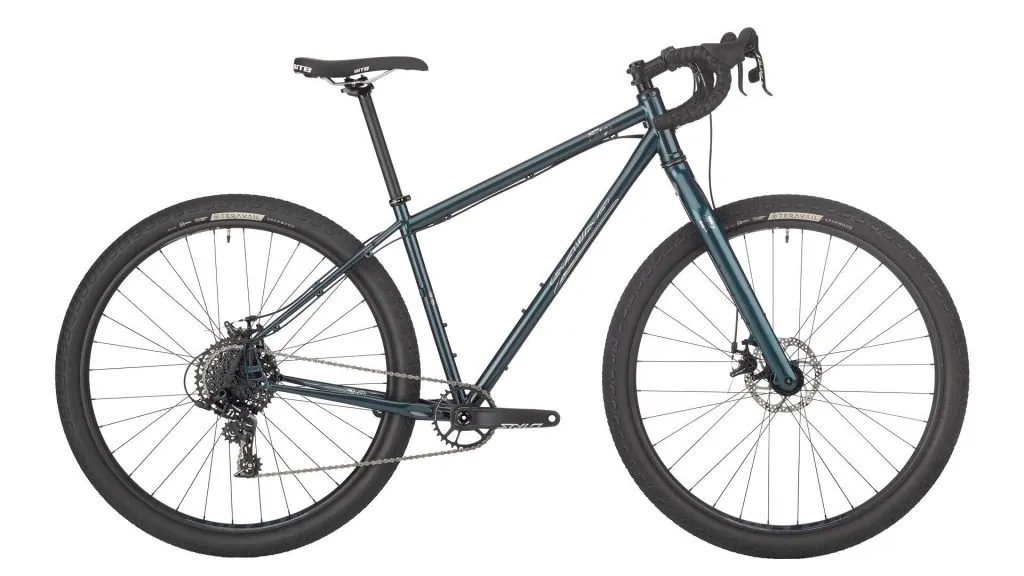 From Salsa: "Fargo Apex 1 is Salsa's drop-bar off-road touring bike built to shatter limits. Ride it on singletrack, gravel, or other places you wouldn't take your standard touring bike."
Surly Grappler
The Grappler launched in 2022 as Surly's first foray into the growing drop bar MTB category. Surly designed it around a stable and comfy drop bar position while maintaining an MTB-forward geometry. It excels on doubletrack and chunky dirt roads and is designed to handle technical trails as well as a rigid drop bar bike can.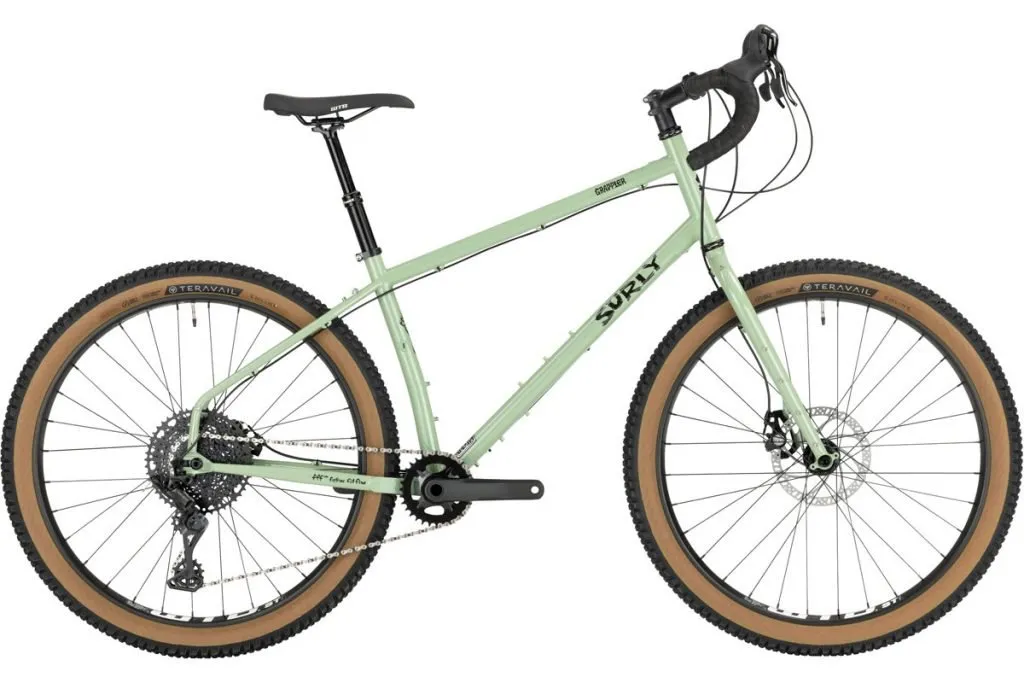 From Surly: "Grappler is a drop-bar trail bike built for single-track sessions, all-day dirt rides, and bikepacking excursions."
Check Grappler price and availability: Campfire Cycling, Moosejaw, Jenson USA
Naming note: The Grappler was originally released as the "Ghost Grappler," but the name has since mysteriously changed to just "Grappler."
Comparing Key Features
So which of these two bikes will best suit your riding goals, preferences, and budget?
Digging through bike specs can be time consuming, especially if you're not sure what to look for. Here I've pulled together the most important features of the Grappler and Fargo so you can see them side-by side. In the next section I'll explain why they matter.
Surly Grappler (2022)
Salsa Fargo (2021 Apex 1)
Detailed spec
Surly website
Salsa website
Price
$1949
$2649
Earliest model
2022 (brand new!)
2009 (a long-running classic)
Frame material
chromoly steel, double-butted
chromoly steel, triple-butted
Fork
rigid, chromoly steel, double-butted
(Surly Dinner Fork)
rigid, carbon fiber
(Salsa Firestarter 110)
Wheel size
27.5″ (but also compatible with 29″)
29″ (but also compatible with 27.5″)
Tire clearance
29 x 2.2" without fender (29 x 2.0" with fender), 27.5 x 2.8" (27.5 x 2.6" with fender)
29 x 3.0″ without fender (only on SM–XL frame sizes), 29 x 2.4″ with fender, 27.5 x 3.0″
Tires
Teravail Ehline, 27.5 x 2.5″
Teravail Sparwood 29 x 2.2″
Rims
WTB ST i40 TCS
WTB ST i25 TCS
Handlebars
Salsa Cowchipper drop bar
Salsa Cowchipper drop bar
Brakes
mechanical disc (Tektro Mira MD-C400),
180/160 mm rotors
mechanical disc (TRP Spyre-C),
160 mm rotors
Gearing
1×10, Microshift
(11-48t cassette, 32t chainring)
1×11, SRAM Apex
(11-42t cassette, 32t chainring)
Suspension corrected?
no
yes
Dropper post?
TransX YSP15, 30.9, 100mm travel
none
Frameset options:
steel: $799
steel: $1249
titanium: $3349
Sizes
XS, S, M, L, XL
XS, S, M, L, XL
Weight
29.4 lbs – Large (from bikepacking.com's review)
24.5 lbs – Large (from Salsa's website)
Key Differences Explained
Salsa vs. Surly
These two brands are actually owned by the same parent company: Quality Bicycle Products (QBP). They are a large distributor of bike parts and bikes headquartered in Minnesota, and owners of several other well-known brands including All-City, Whisky, and Teravail tires.
The difference is in the branding and bike specs. Surly's innovative history included some of the earliest fat bikes and singlespeed setups. Today they're known for bomber and affordable steel bikes, many of which focus on bikepacking and touring, and a quirky irreverent vibe.
Salsa's "adventure by bike" tagline includes all kinds of riding, from road to full-suspension MTB. They make bikes and components from a wider range of materials than Surly, including steel, aluminum, carbon fiber, and titanium. They offer bikes across the price spectrum but their range is generally a bit higher quality, lighter, and more expensive than Surly.
Old vs. New
While not a big deciding factor for most folks, it's worth noting that the choice between the Grappler and the Fargo is a choice between new versus established. The Fargo, first launched in 2009, is one of the original drop bar mountain bikes and a cult classic in the bikepacking world. The Grappler is brand new in 2022.
If you're the type who likes to pioneer something new, the Grappler might be more fun for you. If you prefer a classic with a recognized name and a lot of history, the Fargo may have an appeal beyond its physical characteristics.
Price
The Surly Grappler costs $700 less than the Fargo for a complete build, and is one of the most affordable drop bar MTBs on the market. If you're working with a limited budget this tips the scale in favor of the Grappler. Surly's bikes are known for being affordable without sacrificing the types of quality and reliability you really need while riding through the middle of nowhere.
If your budget can stretch to accommodate the Fargo, which is still relatively affordable as far as bikes go, you do get some added value. The most obvious difference is the Fargo's carbon fork, which is over a pound lighter and offers superior stiffness and chatter absorption. The Fargo uses triple-butted steel tubing that's lighter than Surly's double-butted steel. The Fargo's components are a bit higher-tier in general, which should (in theory) equate to better performance and lighter weight.
Wheels: 27.5″ versus 29″
One of the biggest differences between the Surly Grappler and Salsa Fargo (and a majority of other rigid mountain bikes): the Grappler is designed around 27.5″ wheels while the Fargo is a 29er.
The 29″ wheel size is said to be more efficient and stable, a great choice for cruising chunky gravel and dirt roads. Once it starts rolling, it doesn't want to stop. The 27.5″ wheel size is supposed to be more nimble and maneuverable, so some riders prefer it for singletrack.
The 27.5″ wheel size also offers benefits for smaller riders in particular. It scales down to small frame sizes with less sacrifice in geometry, allows for lower standover height in some cases, and leaves more room for bikepacking bags above the tires.
It's worth noting that the bikepacking.com reviewers found the Grappler very stable despite its 27.5″ wheel size. Both wheel sizes work well, and if you're newer to riding and don't have a strong preference you'll probably be fine with either.
Note that both bikes are compatible with the other wheel size, if you want to change it up. You can put 29″ wheels on a Grappler and 27.5″ wheels on a Fargo. This will change the handling a bit, which is a matter of personal preference.
Max Tire Size
Many people like wider tires for comfort on bumpy roads, floatation in sand, and traction on technical trails. Generally speaking, a bike with clearance for wider tires gives you the option of riding more rugged routes.
Both the Grappler and the Fargo have somewhat complicated max tire sizes thanks to their adjustable dropouts, multiple compatible wheel sizes, and fender mounts. Generally the Fargo has clearance for slightly wider tires, especially at the 29″ wheel size.
Here's a summary:
Fargo: 29 x 3.0″ without fender (only on SM–XL frame sizes), 29 x 2.4″ with fender, 27.5 x 3.0″
Grappler: 29 x 2.2" without fender (29 x 2.0" with fender), 27.5 x 2.8" (27.5 x 2.6" with fender)
Note that the Grappler's fork is its limiting factor. It has a very short axle to crown distance of 420 mm compared to the Fargo's 486 mm. The rear of the Grappler's frame can clear 27.5 x 3" (27.5 x 2.8" with fender) or 29 x 2.5″ (with or without fender) with the wheel pushed all the way back in the dropout.
Technically this means you could run a pair of larger tires by replacing the Grappler's fork. However, good luck finding one that preserves the Grappler's unique geometry and also has a straight steerer tube that fits in the Grappler's old-school 34mm headtube. I'm not aware of any other rigid mountain bike forks that fit the bill, but maybe there is one out there.
Despite its more limited fork and frame clearance, the Grappler's wider rims (40mm internal width) are actually better suited to wider tires than the Fargo's. A 29 x 3″ tire on the Fargo's stock 25mm rims would be pushing the limits of recommended compatibility and would ideally involve a second wheelset, though I'm sure people get away with it.
Rims and Minimum Tire Width
We tend to think less about minimum tire width, but if you ever find yourself wanting to lighten up a bikepacking rig for gravel or road touring you'll understand the importance.
The Grappler's rims are significantly wider (40mm internal) than the Fargo's (25mm internal). This means you can run narrower tires on the Fargo. For example, a 29 x 1.8″ tire could be part of transforming a Fargo into an all-road touring bike. Such a narrow tire isn't really compatible with the Grappler's stock rims.
But, note that the Fargo is a 29er, and the higher volume associated with a 29″ tire means you don't need as much width for a similar ride quality. With this in mind you can see that the Grappler's stock 27.5 x 2.5″ tire is not actually too different from the Fargo's 29 x 2.2″.
To run even narrower tires, you can of course swap in a wheelset with narrower rims. Both the Fargo and the Grappler make this easier with their versatile hub spacing that can accommodate the narrower hubs more common on gravel bikes. Note that this isn't necessarily recommended from a handling perspective as smaller tire will change the geometry, but for some people it's a worthwhile tradeoff.
Tires
Tires may be one of the easiest things to change about a bike, but the stock tires tell us a lot about what kind of riding a bike is designed for.
Both bikes come spec'ed with tires from QBP-owned Teravail. They describe the Grappler's Ehline tire, which is in the "off-road" category, as "an ideal tire for modern XC trails… a great choice for riders who take on increasingly aggressive and challenging terrain." In other words, it's a mountain bike tire.
The Fargo's Teravail Sparwood is in the "gravel" category and was designed "around long-distance mixed-terrain routes." Since it's named after a town on the Great Divide Mountain Bike Route, we can assume Teravail is talking about the blend of majority gravel, some pavement, and a bit of rough stuff that the GDMBR is known for.
Both tires are tubeless ready, as you would expect from any modern mountain or gravel tire.
Fork
The fork is another major difference between the Salsa Fargo and Surly Grappler. Both forks are fully rigid, but that's as far as the similarity goes.
The Fargo has a lightweight carbon fork with modern MTB length, the Salsa Firestarter 110. Carbon forks are a higher-end option because of their lighter weight, stiffness, and superior vibration damping.
The Grappler comes with a heavier and shorter steel fork, the Surly Dinner Fork. The fork alone accounts for about 1.4 pounds of the weight difference between the Grappler and the Fargo.
The Fargo's fork is a higher-end option, and it's easier to change if you want to experiment. The Fargo's geometry is designed around a suspension-corrected fork (meaning it's longer from axle to crown) so you can install a suspension fork on the Fargo if you want to. You could also switch to a different modern carbon fork with similar axle to crown distance.
The Grappler's steel fork is NOT suspension corrected, so you won't be able to change to a suspension fork without radically messing up the geometry. It's short, 420mm axle to crown, so it's also harder to find a rigid carbon mountain bike fork if you'd like to upgrade. As if to say "don't even bother trying," the Grappler uses a 34mm headtube size that won't accept modern 1.5″ tapered steerer tubes. In short, the Grappler gives you few options for changing your fork in the future.
Related: Best Rigid Mountain Bike Forks
Handlebars
Here's one thing the Grappler and Fargo have in common: they both come with Salsa Cowchipper handlebars. The Cowchippers are a popular wide flared drop bar for gravel bikes and drop bar MTBs, and one of my personal favorites. To learn more, see Cowbell, Cowchipper, Woodchipper: Comparing Salsa's Flared Drop Bars.
Brakes
Both the Fargo and Grappler have mechanical disc brakes, a popular choice for bikepacking rigs due to their balance of stopping power and simplicity. The Fargo uses TRP Spyre-C brakes while the Grappler uses Tektro Mira MD-C400. Note that these are both road brakes, as is necessary to interface with the road-style controls on the drop handlebars.
Both bikes have 160mm diameter rotors on their back wheels. The Fargo also has a 160mm rotor on the front, while the Grappler has a larger 180mm front rotor for improved stopping power on steep descents and under heavy loads. This 180mm rotor is a more modern mountain bike setup and presumably signals the Grappler's capabilities on rowdier trails.
Rotors are easy to replace so this isn't a big deal, but it does tell us a bit about what these bikes are designed to excel at.
Gearing
Both builds have a 1x drivetrain with a 32 tooth chainring up front and an 11-tooth smallest cog (high gear) in back. The Grappler has a lower low gear, wider range, and one less gear overall, and therefore bigger jumps between gears.
In practice this makes the Grappler's 1×10 gearing a bit more trail-friendly (assuming undulating and sometimes steep trails) due to its wider spacing and lower climbing gear. The Fargo's 1×11 gearing, though still totally workable on trails, is more gravel-friendly and road-friendly due to its smaller spacing (better chance of finding the optimal gear for a consistent grade).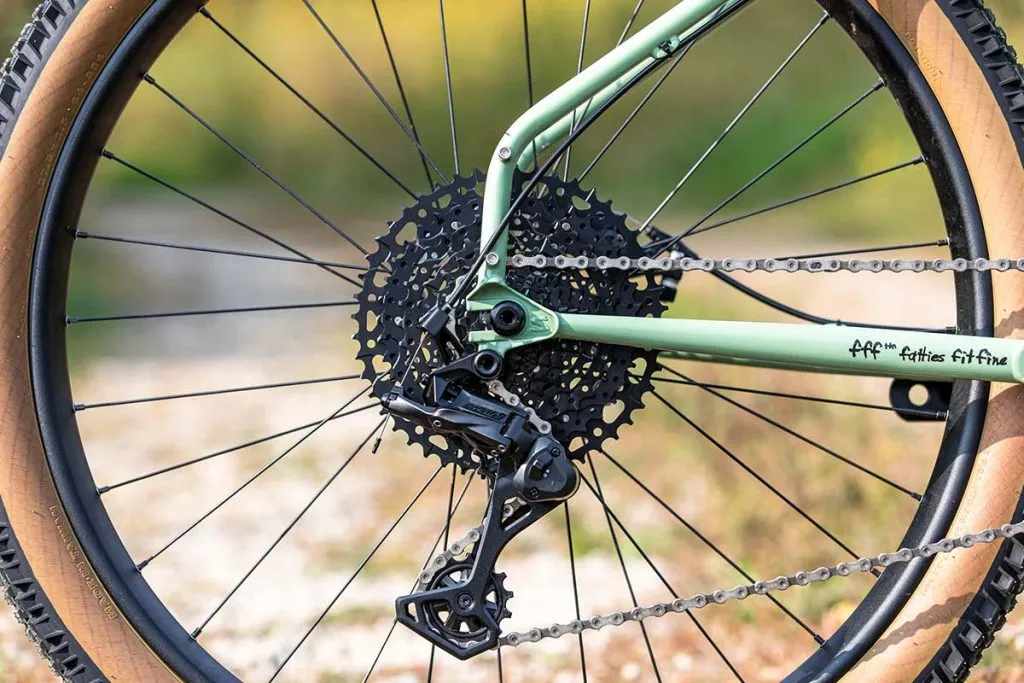 Steel Frame Construction
Aside from the Fargo's fork, both the Grappler and Fargo frames are made of chromoly steel. The Surly uses slightly heavier double-butted steel, which is cheaper to make but not as light as the Fargo's triple-butted steel. The triple butting allows for thinner walls in the center of the tubes; here's a picture that's worth a thousand words.
Dropper Seatpost
Dropper posts are almost a must-have for singletrack riding these days. They allow you to get your weight lower and the seat out of the way, which helps with technical riding and especially steep descents.
The Grappler comes with a dropper seat post, while the Fargo does not. Of course you can add a dropper post to the Fargo, but a good one can cost a few hundred dollars. Surly's choice to include a dropper post on an otherwise simple bike tells us a lot about what kind of riding they expect us to do on the Grappler.
Frameset Options
Both the Grappler and Fargo are available as framesets only, so you can build up your own configuration if you prefer.
The Fargo frameset is available in both steel and titanium. Titanium is a premium bike frame material that unlocks the possibility of a higher-end bike for more competitive and weight-conscious riders. The Grappler is only available in steel.
Weight
Neither of these bikes is very light, but the Salsa Fargo is lighter. A size large Grappler weighs about five pounds more than a size large Fargo. This is a big enough difference that most riders will feel it, especially smaller and lighter folks.
Why the weight difference? I haven't compared every component, but a significant chunk must come from the Fargo's lighter carbon fork and triple-butted tubing. The Fargo's higher price point theoretically allows for a somewhat more expensive and lightweight build kit, though I haven't actually compared all the bits. The Grappler's dropper seatpost adds weight too, though it also adds value and some folks will end up adding one to their Fargo.
Geometry
A bike's geometry determines how it handles on different types of terrain and how comfortable it feels to riders with different body geometries. It can be complex, but you don't have to be an expert to see that the Fargo and Grappler are optimized for somewhat different types of riding. Here's an overlay from bikeinsights.com: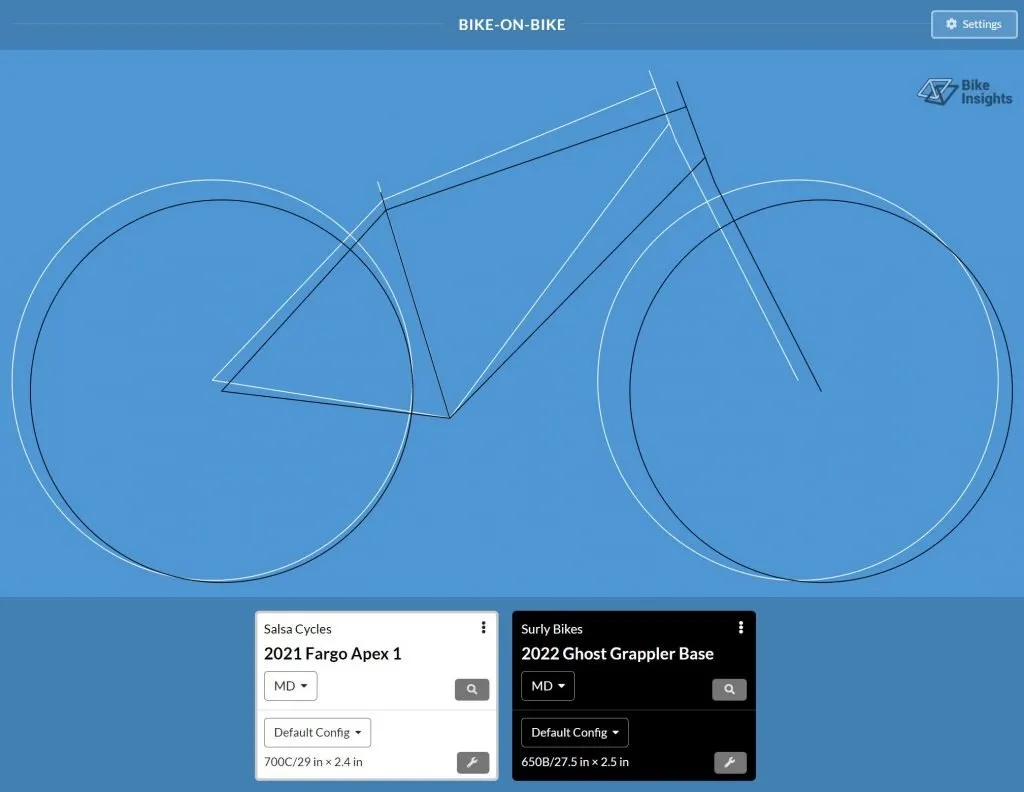 As you can see, the Grappler is longer at the front end (bottom bracket to front axle) and shorter at the back end (bottom bracket to rear axle) relative to the Fargo. This reflects current trends in mountain bike geometry, where the goal is stability on aggressive descents and centered weight for handling while staying nimble and maneuverable at the rear.
The Grappler has a somewhat shorter stack and a much longer reach than the Fargo. All else being equal this puts the rider in a more forward-leaning posture on the Grappler. The Fargo has a particularly upright stack-to-reach ratio so this isn't too surprising, but the Grappler is on the other end of the spectrum as far as drop bar MTBs go. Which is more comfortable for you has a lot to do with your body and preferences.
A geometry expert could certainly say more, but the upshot is that the Grappler leans more toward modern mountain bike geometry while the Fargo, though still trail-capable, has closer ties to touring geometry.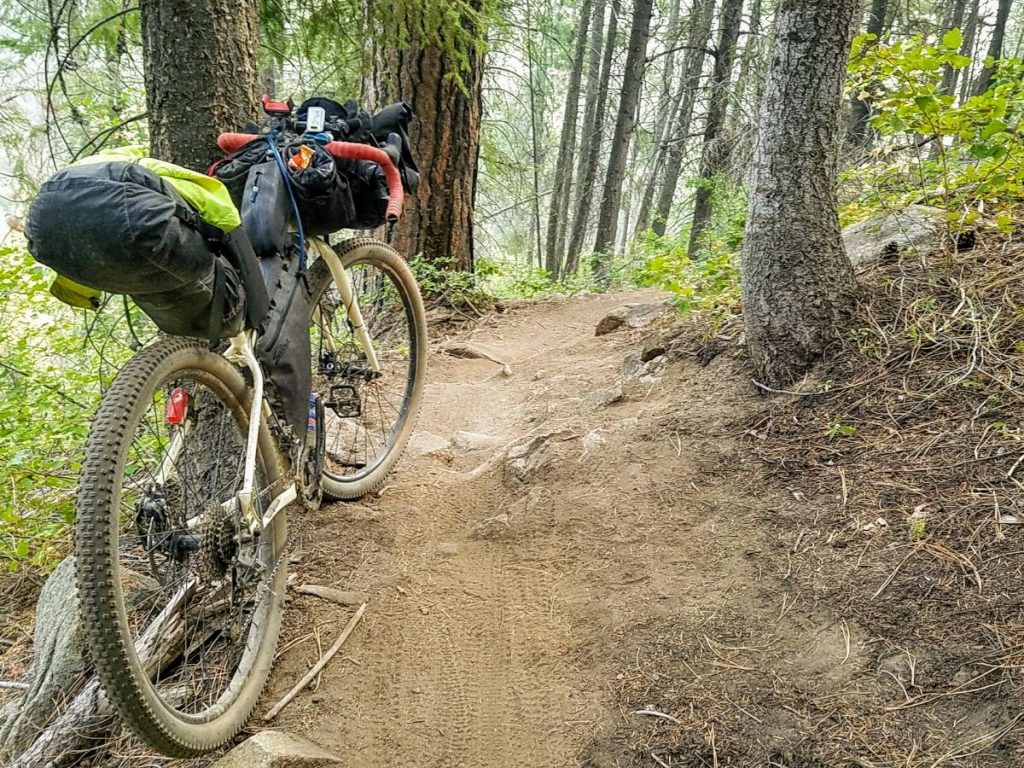 Ideal Terrain
Do the Fargo and Grappler have the same sweet spot in terms of terrain? On the surface they both look well-suited for mixed-terrain bikepacking on everything from smooth gravel to moderate singletrack. The short answer is that both a Fargo and a Grappler would probably make a great bikepacking rig for many mixed-terrain routes.
If we want to get more specific we can look for clues in each bike's geometry, build kit, and marketing. Based on all that, I venture to say the Surly Grappler is designed to excel more on rough 4×4 roads and singletrack. I'm saying this based on the MTB tires, 27.5″ wheel size, lower and sparser gearing, dropper seat post, and of course the geometry.
The Salsa Fargo, by comparison, is designed to excel more on gravel and 4×4 roads and to be versatile across a wide range of terrain. It can handle some singletrack and it eats rough dirt roads for breakfast, and it may be more efficient than the Grappler on gravel and pavement for long distances.
In summary, the two bikes have a large overlap in terms of viable terrain, but the Grappler's range extends further to the technical side while the Fargo's range might be slightly wider overall. Here's a diagram I made up to illustrate this: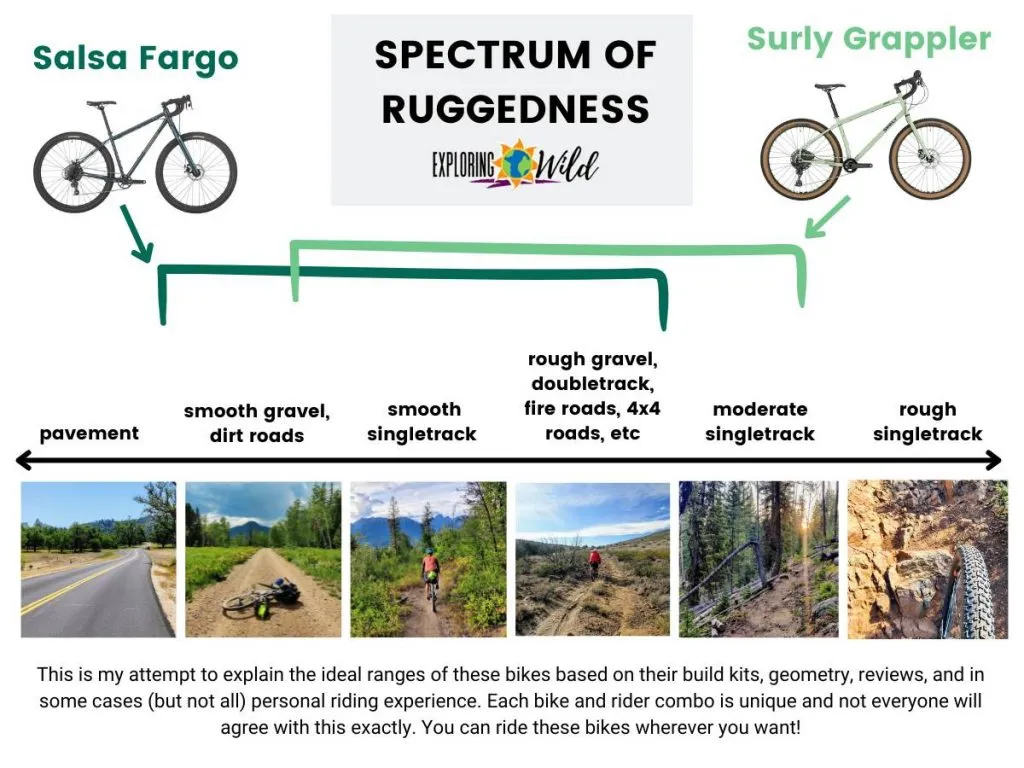 Compatibility and Versatility
If you're just starting your journey down the bike rabbit hole, you may think you're just buying a bike – a single monolithic machine that will remain unchanged. But once you've been riding for awhile, it's easy to get sucked into making modifications and experimenting with your build. What if I tried _____ (lighter wheels, different handlebars, a suspension fork, singlespeed)?
Both the Fargo and Grappler are versatile bikes when it comes to compatibility, especially for drivetrain and wheels. Here's a quick overview of some important specs and what they mean in the context of future changes you might want to make.
Surly Grappler (2022)
Salsa Fargo (2021 Apex 1)
Dropouts
horizontal slotted sliding dropouts
Alternator 1.5 swinging dropouts
Rear hub spacing
Surly's Gnot-Boost spacing:
142mm or 148mm Boost thru axle, or 135mm QR using Surly 10/12 Adapter Washers
Salsa's Alternator Dropout system:
142mm or 148mm Boost thru axle, or 135mm QR w/ Alternator reduction plates
Front hub spacing
15 x 110mm Boost
15 x 110mm Boost
Drivetrain compatibility
1x, 2x, singlespeed, internally geared hub
1x, 2x, singlespeed, internally geared hub, belt drive
Axle
thru axle (compatible with QR skewer using Surly 10/12 Adapter Washers)
thru axle (compatible with QR skewer using Alternator 1.5 QR plates)
Suspension corrected?
no
yes
What does all that mean for your creative bike projects? A few concrete examples:
Swapping wheelsets: Both bikes give you lots of options for finding compatible wheelsets thanks to their versatile rear spacing. Either could be adapted to run a gravel wheelset with narrower hub, or older MTB wheels with QR skewers if that's what you have.
Drivetrain changes: Both bikes are very flexible in terms of exotic drivetrains. The Fargo and the Grappler support converting to 2x, singlespeed, or even internally geared hubs like the Rohloff. One difference between them: the Fargo has the frame split necessary to run a belt like the Gates Carbon Drive, while the Grappler does not.
Switching to flat handlebars: Both bikes are designed around drop handlebars, so flat bars come with geometry changes that may or may not be welcome. That said, if you get the itch to try flat bars the Grappler is an easier switch than the Fargo (though both are doable with enough money).
Swapping to a suspension fork: This is an easy swap to make on the suspension-corrected Fargo but is not recommended for the non-suspension-corrected Grappler. It's worth noting that suspension forks on drop bar bikes are relatively unpopular and Salsa discontinued their suspension version of the Fargo after only two years in 2016. However, a few folks will appreciate having the option.
Swapping to a carbon fork: In case you're thinking "I'll get the Grappler now because it's cheaper, then add a carbon fork like the Fargo's later," I'm sorry to say this isn't a good plan. The Grappler's fork is short by modern MTB standards, plus it uses a 34mm headtube that doesn't work with tapered steerers. Only the Ritchey WCS Carbon Mountain comes close, as far as I know, and you'd need a QR hub in your wheel. So plan to stick with the Grappler's steel fork.
Adjustable dropouts: Though not technically a component change, it's worth noting that both bikes allow small wheelbase adjustment via sliding dropouts. You can slam the rear tire forward for a bit more nimble handling, or push it back for more stable cruising. This feature also helps with both bikes' very versatile drivetrain, wheel, and tire compatibility.
Cargo Loading
If your goal is to ride off into the sunset with a week's worth of provisions, both the Grappler and the Fargo are a dream to load up for bikepacking.
Racks: Both bikes have front and rear rack mounts. Salsa recommends using their dedicated Alternator rear rack for the Fargo, while the Grappler's mounts appear to be more general-purpose.
Bottle and gear cage mounts: Plenty on both bikes! The Grappler has two sets in the frame triangle, a 3-pack beneath the downtube, a 3-pack on each fork blade, and a unique set of bottle mounts on the seat stays. The Fargo has two sets of 3-pack mounts on each fork blade, two bottle mounts in the frame triangle, and one beneath the downtube.
Frame triangle: The Grappler's long headtube gives it a slightly larger frame triangle, which is helpful for maximizing cargo space in this very convenient location.
Bikepacking bags: Both bikes will work fine with a wide variety of bikepacking bags. But if you don't know where to start, Salsa offers its own line of compatible bags and cages that will definitely work with the Fargo.
Which Should You Buy?
Still undecided between the Salsa Fargo versus the Surly Grappler? I don't blame you. They're both awesome bikes with a lot of overlap in their capabilities. I think either one would be a great option for many bikepackers, but if we were hanging out on the trail and you asked my opinion, here are the recommendations I would offer.
Reasons to choose the Surly Grappler:
You're working with a limited budget. The Grappler is one of the best values you'll find in the world of bikepacking-optimized bikes.
You ride a lot of singletrack on your mountain bike already, and want a fun rigid bike to keep those trails interesting.
Your bikepacking interests skew toward rough doubletrack and singletrack; gravel is just a necessary way to link up more rugged terrain.
Geometry preferences: your body prefers a longer, reachier bike for whatever reason.
Reasons to choose the Salsa Fargo:
You plan to ride a lot of gravel and not much singletrack on this bike. The Fargo does fine on trails but isn't optimized for them, and some of the Grappler's singletrack-friendly features (like the dropper post and 27.5″ wheels) are wasted on gravel.
You're a small person trying to keep bike-to-body-weight ratio down. The Fargo is lighter (or maybe I should say less heavy).
You're interested in speed, performance, and bikepack racing on a limited budget. Neither of these bikes is ideal (check out the Salsa Cutthroat), but the Fargo is a bit lighter with higher quality steel frame and components can be upgraded over time. And then there's the option of upgrading to a titanium Fargo frame for a fairly high-end ride.
You might want to run a belt drive someday. The Fargo is compatible but the Grappler is not.
You want the freedom to try different forks, including possibly a suspension fork.
Geometry preferences: your body prefers a more upright, shorter bike for whatever reason.
To Summarize
Relative to the full landscape of bike categories, the Fargo and Grappler have far more in common than not. They're both rigid drop bar mountain bikes designed with bikepacking in mind. They both have 1x drivetrains and mechanical disc brakes. Both use proprietary adjustable dropouts for compatibility with different wheel sizes, hub spacing, and exotic drivetrains. Heck, they even both come in the color green(ish)!
Yet there are a few important differences. The Grappler's geometry and build spec (wheel size, tires, gearing, brake rotors, and dropper post) are more optimized for singletrack. The Fargo, while certainly singletrack-capable, is optimized more for versatility across a wide range of terrain. The Grappler is heavier and less expensive, while the Fargo is lighter and a bit higher-end in construction and components.
Both the Surly Grappler and Salsa Fargo will be happy to transport you through all kinds of wild and wonderful places. Both get very positive reviews in terms of handling, reliability, and fun. Ultimately the choice will come down to budget, your riding goals, and perhaps even which bike you can get your hands on the soonest.
Detailed Reviews
If you're thinking seriously about these two bikes, you've probably already seen some detailed reviews. I've ridden a Fargo extensively but I have not ridden a Grappler, so I'll direct you to these:
Note that the demo Grapplers used in those reviews (and Surly's pictures) had Woodchipper handlebars. The Grappler currently ships with Cowchippers, which are a better choice in my opinion and the opinions of both reviewers.
As for the Fargo, here's a sampling of reviews from different years and perspectives:
I hope this detailed comparison has helped you make your choice! Whichever bike you choose, I wish you many happy miles together.
More Bikepacking Resources
If you found this comparison helpful, you might also like these articles:
Or, visit the bikepacking section for lots more!
Bike resources in your inbox?
There's more where this came from! Sign up here for occasional emails full of inspiration and information about bikepacking and bicycle touring.


Share the Adventure
If you found this article helpful, please consider sharing so more people can benefit from it: