Perhaps you started with pavement bicycle touring and have, over time, come to appreciate the peacefulness of gravel and dirt. Maybe you've considered trading in those four panniers for the oddly satisfying creativity and minimalism of the bikepacking style. Well first of all, we should hang out, because you sound cool.
And also, maybe now you're wondering, can I gravel tour on my Long Haul Trucker? Can I join this offroad trip my friends are planning without getting left in the dust? Or do I have an "n+1" problem on my hands?
Well, as someone who has been there and tried all that, here is the short answer in my opinion:
For the long answer… Keep reading.
Let me be clear: if you're here because you're wondering which Surly bike is best for off-pavement riding, the Long Haul Trucker is most definitely not it. If dirt is your goal, leave right now and go check out the Ogre, Grappler, Krampus, or even the Straggler, or almost any other bike in Surly's lineup.
But if you already own a Long Haul Trucker and are wondering how far it can stretch onto dirt and gravel, this is the post for you. As the saying goes, "Run what you brung," and I've brung my LHT onto the dirt enough times to learn a few things the hard way.
Since returning from more pavement-focused rides in Southeast Asia and the USA, I've been lured into the world of off-pavement bike travel and taken my beloved LHT along for the ride. We've cruised gravel, we've hit the dirt, and we've also gotten our butts totally kicked on rocky technical singletrack. You could say we've found our limits.
Yes, riding your Long Haul Trucker on dirt and gravel will eventually hold you back as things get technical. But in the meantime, there's no reason to postpone that off-pavement route you've been eyeing. Give your LHT a chance! It might surprise you.
Pros and Cons
To start out, let's list some basic pros and cons of taking a Long Haul Trucker onto dirt roads and trails.
Pros of the LHT for gravel touring and bikepacking:
Durability: The LHT is bomber. Just like it survived being strapped to the roof of that bus in Cambodia, it can take a few hits in rocky terrain. When you're way out in the back of nowhere, this is one less thing to worry about.
Steel frame: Related to durability, but also to ride comfort. Especially if loaded the LHT's steel frame is pretty good at absorbing bumps in the road, even a dirt or gravel road.
Mounts and bolts: Touring-focused design has sufficient rack and bottle mounts for flexibility in gear carrying. (Just be sure to dab some Blue Threadlocker on those bolts before hitting that washboarded gravel.)
Wide gear range: The stock gearing (my 2018 model is 3×10) is actually pretty good for loaded riding on hilly off-pavement terrain. The granny gear serves me well on steep climbs while my highest gear keeps me moving on smooth descents.
Cons of the LHT for gravel touring and bikepacking:
Weight: That durable steel frame comes at a weight cost. If you're serious about switching to a more minimalist gear setup and/or riding rougher terrain, eventually you'll feel the bike weight more (compared to when you're hauling everything and the kitchen sink on smooth pavement while touring).
Tires: The stock tires are decent width but not ideal for rougher or looser terrain. They can easily be swapped of course, but the frame clearance maxes out somewhere around 2 inch tires. More on this below.
Drop handlebars don't offer enough stability in rough or loose terrain.
Bar end shifters can be awkward in rough and inconsistent terrain (this is one of the biggest cons for me).
V brakes (unless you have the Disc Trucker): I've never had a problem with the rim brakes stopping me, even in the rain. But the grit from off-road riding will wear your rims down eventually, and the less precise braking feel could decrease confidence on rougher terrain.
Geometry is designed for hauling heavy loads, not shredding singletrack, thus tight switchbacks or quick maneuvers can feel awkward and bottom bracket clearance is a little low.
Stock rims are not tubeless-ready, which will become important if you plan to ride a lot on bumpy terrain and/or in areas with sharp rock or thorns.
Wheel size is 26″ (small frame) or 27.5″, no 29″ available. I'm putting this as a con since 29ers are in vogue at the moment for bikepacking, but I understand it's really a matter of personal preference.
Modifications for Better Off-Road Riding on a LHT
In my quest to mitigate some of those cons and transform my LHT into a more capable off-road touring machine, I made a few modifications that I would recommend to anyone interested in logging significant off-road miles on their Long Haul Trucker.
Tires
This is, so to speak, where the rubber meets the road in terms of having an enjoyable long ride. I recently had a breakthrough when transitioning from touring-focused tires to bikepacking-focused tires and I want to spread the word.
Wide Tires on a Long Haul Trucker?
Let's get the frame/tire clearance thing out of the way. You're not the first to wonder about the widest tire that will fit on a Long Haul Trucker. For the official word, here's what Surly has to say on the matter.
Unofficially though, the widest tire I've fit on my (50cm frame, 26″ wheel) LHT is a pair of 26×2.1″ Vittoria Mezcals. The frame clearance is adequate, without fenders. When inflated the tire does not fit between the brake pads, so I need to deflate to remove/install the wheel and then inflate once the wheel is on the bike.
My Favorite Tire (so far) for Bikepacking on my LHT
By far, my favorite tire for a bikepacking setup (striving for fast and light) is the above-mentioned 2.1″ Vittoria Mezcal. My first ride on them was like a breath of cool fresh air after leaving a hot stuffy room (the hot stuffy room being heavy, burly touring tires). Even on pavement they rolled faster than the Mondials I'd run previously. On gravel and dirt, they were more confidence inspiring and slipped less. Their slightly larger volume, even compared to the 2″ Mondials they replaced, made for a noticeably cushier ride. I couldn't believe I'd waited so long to try this type of tire.
What about punctures? Running tubes, I had zero punctures through 425 miles of Idaho backcountry, including some fairly nasty rocky sections. However, in Oregon I once fixed twelve (yes, 12) goathead thorn punctures in one day.
Now, if you know anything about goat head thorns (which, obviously, I did not), you'll know I'm an idiot for riding out into the middle of the Oregon outback with tubes, no sealant and no tire liners. It's not the Mezcals' fault. After a stop in Prineville for new tubes, patches, and some rubber tire liners, I rode another 500ish miles on Oregon dirt without another puncture.
In summary, the Mezcals are not as puncture-resistant as burly touring tires, but they are way, way more fun to ride on dirt. And with some added precautions, they should be acceptable even for thorn country.
Brief History of My Other Touring Tires
For those interested in touring tires for the Long Haul Trucker, before the Mezcals my tire evolution went like this:
Continental Ride Tour 1.75″ (stock tire on my LHT): thousands of pavement miles and a few hundred miles of gravel in Southeast Asia. Only one puncture. Fine for occasional gravel but too smooth, in my opinion, for confident riding on rougher terrain, singletrack, etc.
Schwalbe Marathon Mondial 2″: 500+ miles of rougher gravel, plus around 500 miles of pavement, in Patagonia. No punctures! These things are heavy. You might not notice the difference if touring heavily loaded, but if bikepacking with more minimal gear, these aren't very fun. They are, however, highly puncture-resistant, and probably more confident in gravel than the Contis above.
Schwalbe Marathon 1.5″: 3500+ miles across the US, about one third gravel and two thirds pavement. Three punctures. Definitely faster than the Mondials and adequate for gravel, but again, too smooth for confident handling in extended sections of dirt and rough gravel.
I don't consider myself an expert on tires, and there are certainly lots of other options I haven't tried. Check out this bikepacking-specific tire overview while researching your next set of rubber.
Handlebars
If you plan to push the limits of your LHT on rougher terrain, here's one change I highly, highly recommend: Salsa Cowchipper "dirt drop" bars. For only about $40, these just might be the best value upgrade I've ever made to my bike. After struggling through over 500 miles of gravel and gale-force wind on the Carretera Austral, and another thousand+ miles of gravel on a cross-US ride, I finally realized that the traditional drop bars on my Long Haul Trucker were not offering the stability I needed for off-road adventures.
The Cowchipper bars occupy the middle position in Salsa's appealingly named line of "adventure bars": Woodchipper, Cowchipper, Cowbell. (See what they did there? Clever.) All three offer varying degrees of outward flare, allowing for wider hand position and therefore more control on rough terrain.
The Woodchipper is the most extreme, and some riders say it's a bit much, designed to be ridden in the drops most of the time. The Cowbell, on the other hand, is rather subtle. For me, the Cowchipper is where it's at. When riding rougher terrain I move my hands to the drops, where the hand position is just wide enough to offer extra stability. Yet I can still enjoy the variety of hand positions offered by drop bars, which helps prevent nerve damage on long rides.
Note: I did need to purchase this new stem to accommodate the larger diameter of the Cowchipper compared to the stock bars on my 2018 LHT.
Surly LHT Handlebars for Small Hands
As a small-handed individual, the LHT's stock drop bars were too deep for me. My hands would cramp up on long descents, and I was never able to find a compatible set of brake levers that helped. When I switched to the Cowchippers the problem immediately went away. I find their shallower drop and flared angles to be way, way more comfortable.
Given their popularity with the majority male cohort of bikepackers, it seems that larger-handed riders like them too.
Saddle and Seat Post
I started my bike travel adventures with a Brooks B17 saddle and never looked back. I still use it for gravel and off-road riding on my LHT and find it totally adequate, even for long tours and ultra-distance race events.
This isn't specific to off-road riding, but eventually I learned that leather saddles don't allow for as much backward adjustment of the saddle on the seat post. This explained why I sometimes felt like my saddle was too far forward. I ended up buying an offset seat post like this one and now my Brooks saddle feels like it's in the right place.
On a related note, if you're female and saddle soreness is getting you down, check out this guide to fixing saddle issues for women on long-distance rides.
Shifters
Supposedly, it's possible to change from the LHT's bar-end thumb shifters to "brifters." As far as I can tell, this requires some drive train modifications that are beyond my current level of bike mechanic skill and understanding. For me, I've decided that this investment is in the category of "when I really need this, it's time to just get a new bike."
Bikepacking Bag Setup
You can absolutely run bikepacking bags on a Long Haul Trucker. I have a relatively small (50cm) frame and the 26″ wheels give me enough clearance to run a fairly standard set of affordable entry-level bags.
Of course there are many companies out there selling quality bikepacking gear. But if you're taking a Long Haul Trucker on dirt trails, I'm going to hazard a guess that you're not ready to shell out for the high-end gear just yet. Let's call it a transition phase. I understand.
Here's a fairly affordable, entry-level setup that has worked pretty well for me on my LHT (pictured above).
Rock Bros seat bag: Roomy capacity, easy to use, love the shock cord on the top for carrying layers. I use it mostly for clothes and some extra food. If full, the back half can sag onto the tire unless you put something stiff (I use a single flip-flop sandal) across the bottom where the stiff part meets the unsupported fabric part. For more detail, see my full review here.
Rock Bros handlebar bag set: The roll-side bag holds my sleeping quilt and fits between even my narrow (42cm) Cowchipper bars when partially filled. The large straps also allow me to carry my small tent up front, and the smaller second bag is great for food, and the shock cord on top is perfect for stashing layers throughout the day. For more detail, see my review.
Moosetreks frame bag: The size small fills my 50cm LHT frame almost like a custom fit. The zippers are cheap and I keep waiting for them to break, but so far with a little care they've survived 4500+ miles. I carry a hydration bladder in the top pocket and something else heavy – like tools or electronics – in the bottom pocket. For more detail see my review.
Rock Bros top tube bag: Handy for sunscreen, tools, chamois cream, and a more water resistant phone holder when it's raining too much to use my my handlebar mount.
No-name climbing chalk bags as feed bags: These things aren't made for bike touring as far as I can tell, but they work shockingly well. The snap-closure straps can attach to your handlebars and stem. There's even a little plastic ring, which the pictures show being used to carry a water bottle, that happens to fit perfectly on the top of my steerer tube in place of a spacer.
Water: One thing the LHT lacks, compared to dedicated bikepacking rigs like the Salsa Fargo or Surly ECR, is bottle mounts on the front forks. It's possible to work around this though. When I needed to increase my 3 liter water capacity to 6 liters for some Oregon desert riding, I used this setup on my front forks:
You may also want to check out this list of the bikepacking and touring gear I know and love, most of which I first tried and tested on my Long Haul Trucker.
Gravel Touring and Bikepacking With Racks and Panniers
Can you run racks on a Surly Long Haul Trucker and still explore dirt? Of course. It's not ideal for singletrack, but for gravel roads, why not?
I've logged plenty of gravel miles using a rear rack and two panniers. If you choose to do this, I would recommend:
A sturdy steel rack, like those made by Tubus, that won't break on rough terrain.
Blue threadlocker to keep those bolts from vibrating loose.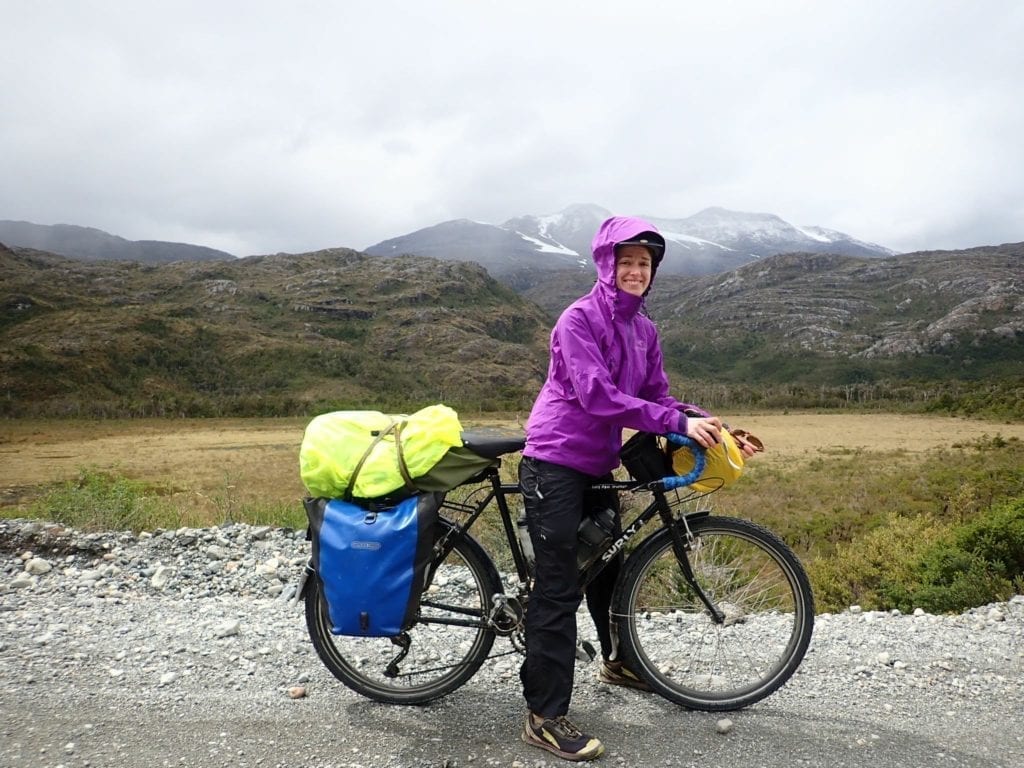 Finally, here is a weird hybrid approach I used after ditching panniers but before taking the plunge into bikepacking bags:
Nonstandard for sure, but it got me through 3500+ miles of riding across the US. It's a bit faster than panniers due to better aerodynamics and reduced cargo space. I would recommend it for smooth(ish) gravel, but definitely NOT for singletrack or bumpier surfaces, as the dry bag can sometimes tip off-center.
Terrain Limitations
So how far can you push a Long Haul Trucker as a bikepacking rig? As my interest in off-road riding has grown, I believe I've finally found the limits. Here's a photo-illustrated guide to riding a Long Haul Trucker on various types of terrain, with the grades I would personally give it for each:
Pavement: A+
The LHT was born ready for loaded pavement touring.
Smooth gravel: A
No problem, even with the stock tires.
Rough gravel: C
More pleasant with highest volume tires you can fit (2.1″ in my case) and flared handlebars for extra stability.
Smooth easy singletrack: B
Pretty good except for tight switchbacks and frequent sudden changes in slope (those bar end shifters). Flared drop bars like Cowchippers and dirt-focused tires like Vittoria Mezcal make for more fun.
Rough rocky singletrack: D
This is where I get off and walk. The rigid frame and relatively low volume tires leave me bouncing all over the place. The bar end shifters make it hard to shift and stabilize at the same time. This is hardtail MTB territory.
Hike-a-bike: B-
The LHT hikes through the rough stuff about as well as any other bike, and the durability is a plus when things get sketchy. The only drawback is that it's on the heavy side, which matters more when you have to carry/drag instead of ride it.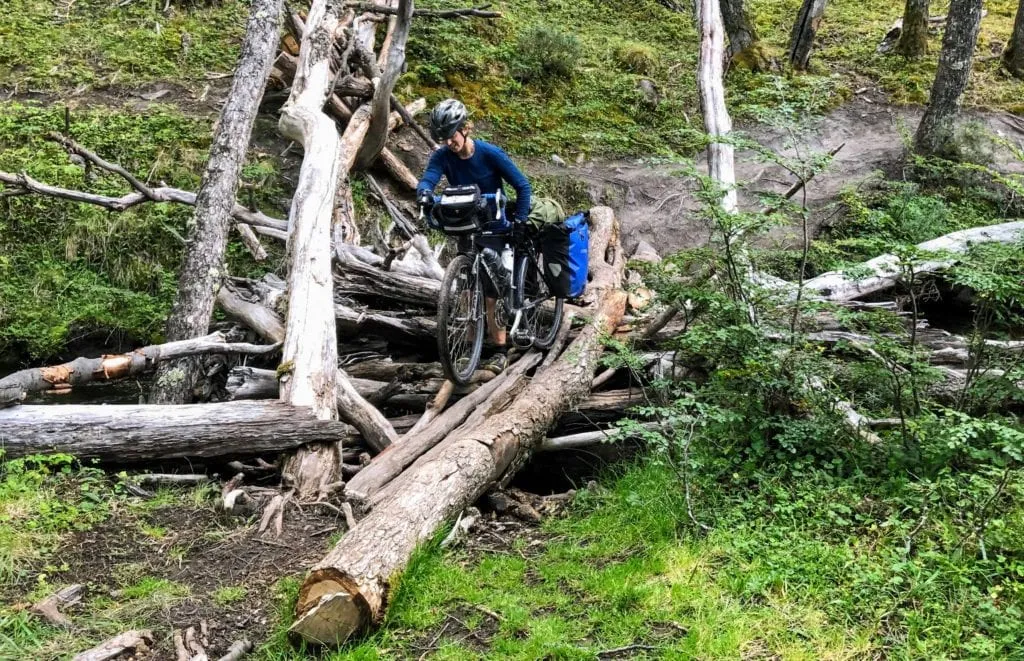 Obviously, a highly skilled rider can ride almost any bike on almost any terrain. The question is, for the rest of us who might be only moderately skilled, can we ride the bike on the terrain and still mostly have a fun trip? Because at the end of the day, if it's not fun, why are we doing it?
For me, my Long Haul Trucker (with the modifications I outlined above) remains fun on gravel and dirt roads, with some sections of easy singletrack mixed in, as long as I've packed it light enough. For sustained sections of anything more technical and/or bumpy, as I experienced in the Idaho Smoke 'n' Fire race this past summer, it starts to feel like a silly choice.
As I feel my riding heading more in this direction, I do feel like it's time to consider a new bike. If and when I pull the trigger on that Salsa Fargo I've been coveting, I'll let you know how it compares. 😉
Until then, to anyone wondering if their Surly Long Haul Trucker is up to the challenge of exploring the growing dirt and gravel scene, I'd say give it a try. May the wind be at your back, the dirt not too rutted, and the gravel not too washboarded. But definitely give it a try.
Update: LHT vs. Salsa Fargo
You could probably see this coming… As of late 2019 I lucked into an excellent deal on a used 2018 Salsa Fargo. Since used bikes in my small size don't come along too often, I pounced, and now my beloved LHT has a sister.
So, how do the Long Haul Trucker and the Fargo compare? Here's what I've noticed so far.
Agility: The Fargo, unsurprisingly, is easier to maneuver on any trajectory that's not a straight line. There is a section of super-tight switchbacks on my local trails that I have always struggled to ride on my LHT without putting a foot down, yet my first attempt on the Fargo was completely clean.
Weight: The Fargo, though seemingly a beefier frame, is a bit lighter than the LHT. I'd have to take all the bags off both and weigh them to tell you exactly how much, which I'm not going to do right now, but trust me, there is a difference.
Brifters: On anything but smooth pavement, I like being able to shift without moving my hands. The Fargo wins here. The disc brakes are also nice, though less of a big deal.
Stiffness: I've heard that the LHT is tuned for a comfortable ride under heavy loads, and as a lighter rider I can confirm that it does indeed feel a bit stiffer than the Fargo. When I ride the LHT lightly loaded on bumpy surfaces, it's just not as comfy, especially with tubes. Which brings me to…
Tubeless-ready: The Fargo has tubeless compatible rims, which finally motivated me to try tubeless tires after my LHT and I had a tense encounter with goat head thorns in central Oregon. Tubeless tires are a game changer for off-pavement riding in certain areas, especially deserts, because of their flat resistance. I also like being able to lower the pressure for a more comfortable ride on bumpy surfaces.
When you combine these factors, it's obvious that yes, the Fargo has an edge for bikepacking on rougher trails. This should be completely unsurprising, since that's what it was designed for, and the LHT was not.
However, my LHT is absolutely still getting to come out and play. For trips with substantial sections of pavement and smooth gravel, she is still my first choice. When it's time for singletrack or all-dirt routes, I take the Fargo. I feel very fortunate to have the choice.
With all this said, I stand by my original recommendation: if you see a lot of rugged riding in your future, don't purchase a new and shiny Long Haul Trucker as your primary bikepacking rig. But if you already have one, or are drooling over a new one and wondering if it can handle the occasional unpaved adventure, then I still say absolutely yes, you CAN bikepack on a Long Haul Trucker.
More About Bikepacking and Gravel Touring
Bike resources in your inbox?
There's more where this came from! Sign up here for occasional emails full of inspiration and information about bikepacking and bicycle touring.


Share the Adventure
If you found this article helpful, please consider sharing so more people can benefit from it: