The Straggler is one of the most popular bikes in Surly's lineup, and for good reason. It's a fun, versatile, sturdy steel bike with more varied capabilities than its "road / gravel" designation gives it credit for.
But can it bikepack? The answer is clearly yes because many people are doing it. It's a good choice overall, but not without limitations. In this post I'll lay out the pros and cons of the Straggler for different types of bikepacking, offer tips on loading it up with gear, and suggest a few updates you might want to make.
There are affiliate links in this post. Buying through them may provide me with a small commission at no extra cost to you, which helps keep this site running and growing.
Surly Straggler Overview
The Straggler is technically listed in Surly's pavement category, but it's way more than a road bike. It's closer to a gravel bike than the Midnight Special, more versatile than the Disc Trucker, and similar to the Cross-Check but with disc brakes. Surly describes the Straggler as the bike to have if you only have room for one bike in your life.
From Surly: "Straggler is a bikepacking-inspired road/gravel bike mostly at home on pavement but ready for trail duty when called."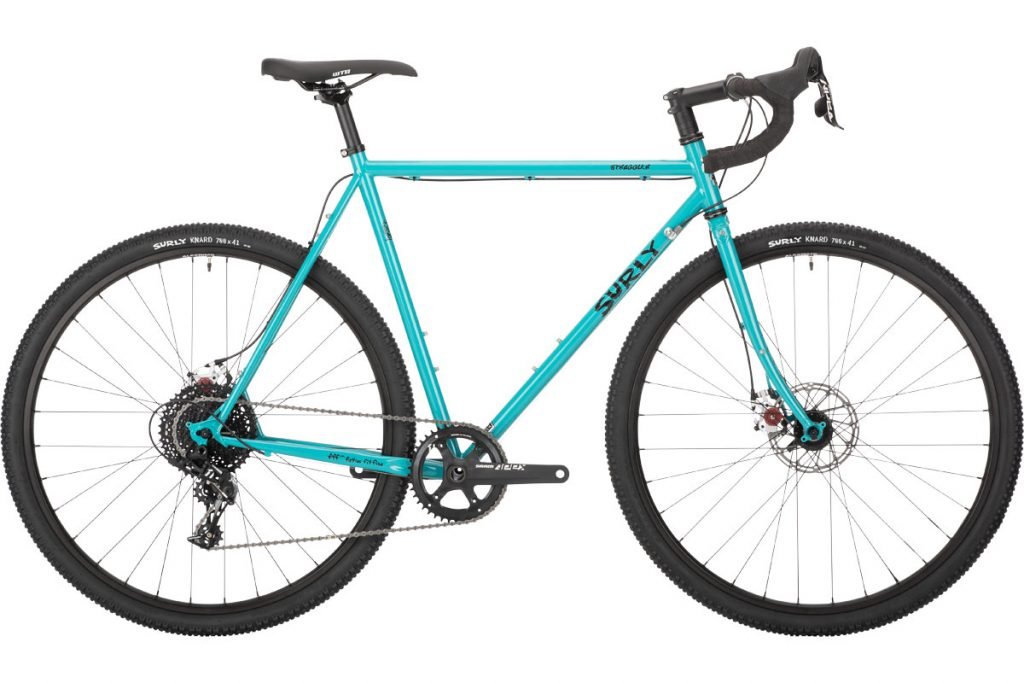 Key specs:
Price: $1849
Material: steel (double-butted chromoly)
Drivetrain: 1×11 (SRAM Apex, 42t and 11x42t))
Wheel size: 700C / 29″ or 650b / 27.5″ depending on frame size
Tire clearance: Up to 700c x 42mm or 650b x 42mm depending on frame size
Brakes: mechanical disc (SRAM Avid BB7)
Handlebars: drop bar with flare (Salsa Cowbell)
For complete specs see Surly's website
Check Straggler's price and availability: Campfire Cycling, Angry Catfish
Is The Straggler Good for Bikepacking?
Verdict: Yes, the sturdy steel Straggler works well for bikepacking on a mix of gravel and pavement, especially with a light-to-moderate load. Its 42mm tire clearance, flared drop handlebars, and simple mechanical disc brakes check important boxes for a reliable gravel bikepacking rig. It works with some racks but is especially well-suited to a bikepacking bag setup, particularly for smaller riders thanks to the 650b wheel size. You might need to lower the gearing on the 1×11 drivetrain to pedal it up hills with a load.
Why bikepack with a Straggler:
Sturdy and reliable
Well-suited to bikepacking bags
Versatile enough for pavement, gravel and dirt roads, and occasional easy trails
Mechanical disc brakes are capable and easy to maintain
650b wheels on smaller frames improve clearance for bikepacking bags
Front and rear rack mounts
Relatively affordable
Why not bikepack with a Straggler:
Gearing is too high for hilly loaded riding; would suggest a smaller chainring
Tire clearance is limited for off-road riding
Not as many mount points for bottle and gear cages as some dedicated bikepacking bikes
Cowbell handlebars not as ergonomic and flared as some; would suggest switching to Cowchipper
Handling under load may not feel as stable as some
Please note: Almost everything on this website is written from my own personal experience, but I have not personally bikepacked on a Straggler. However, with nearly 20,000 miles of bikepacking and touring experience (almost half of that on a Surly bike) I'm here to analyze the Straggler's specs from a bikepacking perspective and help you decide if it meets your needs.
Ideal Terrain
While it's partially true that "the bike you have is the best bike for bikepacking," certain bikes are better for certain terrain. The Straggler loves long and leisurely rides on a variety of roads: paved, well-maintained gravel, or smooth dirt. This preference is reflected in its geometry, tire width, flared handlebars, and other specs. Reasonably skilled riders could stretch the Straggler's capabilities to easy singletrack from time to time, but that's not where it feels most at home.
Loading the Straggler for Bikepacking
Any bike can be loaded with gear if you're determined enough, but some make it easier than others. The Straggler finds a middle ground that's especially well-suited to bikepacking bags, even for smaller riders. It's easy to load up with a light-ish load, but larger cargo capacity will take a bit of thought and may not feel as natural as some bikes that are designed for it.
Cargo Mounting
Bottle cage mounts: The Straggler has two in the frame triangle but lacks an extra set beneath the downtube. It would be nice to have that space for an extra bottle or tool kit, but you can always find a different way of strapping a bit of gear down there.
Fork mounts: Unfortunately the Straggler does not have 3-pack mounts on the fork. This type of mount is super handy for bikepackers who need to expand capacity on more demanding trips; just throw on a couple cargo cages and dry bags and you're good to go. However, with a bit of "creativity" (actually just hose clamps and a layer of old tube to protect the frame) you should have no problem crafting a DIY solution on the Straggler's sturdy steel fork.
Frame bag: The Straggler, with its massive frame triangle, is a prime candidate for a bikepacking frame bag. Fill it up with a water bladder, tools, food and fuel, or anything heavy that's best carried low and central for ideal bike handling.
Seat bag: One advantage of the Straggler's smaller 650b wheels on smaller frame sizes: more space between rear tire and saddle. This means most riders should be able to run a decent-size seat bag, something that's often a challenge for shorter riders on 29er bikes.
Handlebar bag: As with the seat bag, 650b wheels allow for running a bulkier handlebar bag setup. The only limit here is the Straggler's drop handlebars. This isn't a big deal though, as even the smallest Straggler can fit a standard harness (like the Revelate Handlebar Harness) as long as you roll the dry bag into a narrower width.
Rack mounts: The Straggler has 'em, front and back. They're compatible with Surly's own Rear Disc Rack and 8-Pack and 24-Pack front racks. The seatstay mounted disc brake caliper interferes with some rear racks; look for options designed specifically for disc brakes and make sure you can return if it doesn't fit. Apparently the Tubus Disco works well, and the Old Man Mountain Divide is another option, or just go with Surly's own Rear Disc Rack.
Handling and Load Rating
Just because you can load down the Straggler, should you? Beside the fact that lighter loads generally make for happier cyclists, here are two factors to consider.
Load rating: Don't be thrown off by Surly's mention of "light touring setups" in the Straggler's description. The sturdy steel frame and beefy alloy 32 spoke wheels can handle plenty. According to Surly's Q&A "The Straggler is rated and tested to a Condition 2 by the ASTM, which means it has a 300lb rider weight limit and a 55lb cargo limit, or 355lb total." This is the same limit as Surly's Disc Trucker, the iconic round-the-world touring machine. Though the Straggler doesn't have as many mount points and isn't designed specifically to handle best under a heavy load, it's no weakling.
Loaded handling: This might be the primary reason to avoid loading the Straggler up too heavily. I haven't tried it personally, but the folks over at Path Less Pedaled referred to the Straggler's handling as "squirrely" and speculated that it may not play well with a heavy load. That said, plenty of people have loaded up their Straggler with racks and panniers, so this is probably a relative matter of personal preference.
Steel Frame and Fork
The Surly Straggler frame and fork are chromoly steel, a popular choice for bikepacking bikes. Though steel tubing isn't light (especially Surly's) it has several benefits for bikepacking and touring. It's strong and durable (compared to carbon), repairable by welding if it does break (a benefit for off-the-beaten-path bike travelers), and pretty good at absorbing bumps and vibration (for when your bikepacking route leads somewhere unexpectedly rough).
Wheels
The Straggler is unusual in that its wheel size varies by frame size. Frames up to 54 cm get 650b wheels (the gravel equivalent of 27.5" MTB wheels) while larger sizes get 700c (equivalent to 29"). This allows Surly to scale the Straggler's geometry more consistently to smaller sizes.
Another benefit when it comes to bikepacking: the smaller wheel diameter creates more space above the tires for bikepacking bags on smaller frames (larger frames already have plenty of space). This is a nice benefit for smaller cyclists (roughly 5'4" or shorter) who often struggle to fit a full-size seat bag above a 29er wheel.
The Straggler uses QR skewer axles, which have their pros and cons. Though not as ideal for rough terrain, they're certainly convenient, and they offer compatibility with a wide range of wheels (including more modern thru axle hubs, with the use of an adapter) should you want to mix it up.
Note that unlike some bikes built to take either 29" or 27.5" wheels, Surly doesn't recommend switching wheel diameter for a given frame. The Straggler's wheel size is more than just a starting point; the frames are designed specifically around the wheel size they come with.
Tires
The Straggler comes with 41mm width Surly Knard tubeless-ready tires that are perfect for bikepacking. They're durable, reasonably fast-rolling on firm surfaces, and have just enough knobbiness to hold steady on slightly looser surfaces. The 41mm width is already on the wide side of the frame clearance so don't expect to go too much bigger, but you could always go narrower if you'll be focusing mainly on pavement.
The tire clearance on the Straggler is 42mm width (for both wheel sizes) at the rear and 2" at the fork. This keeps the Straggler firmly in the gravel category as opposed to rigid MTB, but it's a comfortable width that can work for many gravel-focused bikepacking routes.
Tubeless tires are standard on gravel and mountain bikes these days, and I consider them a must-have on any new bikepacking bike, so fortunately the Straggler has them. Of course you can bikepack with tubes, but for certain routes (including some of the finest desert bikepacking) tubeless tires make life much easier.
Gearing
So far I've given the Straggler high marks as a bikepacking bike, but here's my first major criticism: the Straggler's 1×11 drivetrain is geared too high for loaded bikepacking. A 1x drivetrain is common enough on bikepacking bikes and can work well for both trails and gravel, but typically the chainring is smaller.
The Straggler's massive 42 tooth chainring, paired with an 11-speed 11-42t cassette, gives it a 1:1 gear ratio in the easiest gear. Though this isn't unusual for a gravel bike, it's higher than you'll find on mountain bikes, touring bikes, and dedicated bikepacking bikes like the Salsa Fargo. On a moderately steep climb with a bikepacking load, this climbing gear will have many riders walking.
Though hike-a-bike is not necessarily bad when bikepacking, I would recommend changing to a smaller chainring for frequent loaded riding in hilly areas. The 11-42t cassette is already decently wide, and switching to a 34 or 36 tooth ring up front would help a lot.
Brakes
The Straggler's Avid BB7 mechanical disc brakes are a solid choice for bikepacking. Many bikepackers prefer mechanical disc brakes over hydraulic for their simplicity; it's easier to replace a cable by the side of the road than to bleed your brake lines. Though hydraulic brakes do have better feel and stopping power for heavy loads and rugged riding, they're definitely not necessary for the kind of terrain the Straggler is built for.
Avid BB7 brakes are a popular choice for bikepacking. Technically they're road brakes, but you'll find them on a number of affordable drop bar mountain bikes designed with bikepacking in mind. Personally I prefer TRP Spyre brakes (less fiddly to adjust) but Avid BB7s get the job done and you can easily upgrade later if you want.
Handlebars
The Straggler's flared Salsa Cowbell handlebars are a decent choice for pavement and gravel-focused bikepacking. If you plan to spend a lot of time bikepacking, especially on gravel, I might suggest changing to a bar like the PNW Coast or Salsa Cowchipper with even more flare for better leverage and all-day ergonomics. Read more: Salsa Cowbell vs. Cowchipper vs. Woodchipper
Horizontal Dropouts
The Straggler's forward-exiting horizontal dropouts offer benefits for bikepacking:
Adjustable wheelbase: Slide the rear wheel a little forward (for more nimble handling on trails) or backward (for more stability or pannier heel clearance).
Chain tensioning for emergency singlespeed conversion: Ever mangle your rear derailleur in the middle of nowhere? Then you can appreciate this feature that helps you limp to civilization in a single gear.
Chain tensioning for actual singlespeed conversion: If you're into singlespeed bikepacking, the Straggler is ready.
Sizing
I've already touched on this when talking about bikepacking bags, but the Straggler has special appeal as a bikepacking rig for smaller riders. With frame sizes down to 38 cm, the Straggler offers an option for folks who can't ride typical 700c gravel bikes or 29er rigid mountain bikes.
Weight
Surly's bikes are known for their heft, but the Straggler is lighter than most. According to Surly's Q&A the 54 cm Straggler weighs 24 lbs. This is heavier than a typical gravel bike designed for speed on unloaded rides. But it's roughly on par with other fully steel "adventure" gravel bikes like the Salsa Vaya, as well as burlier off-road-capable drop bar MTBs like the Salsa Fargo with a carbon fork.
FAQ
Is the Surly Straggler good for bikepacking?
Yes, the Surly Straggler is a great bike for some types of bikepacking, especially on paved and gravel roads with a light to moderate cargo load. As discussed above, you may want to modify the gearing for hilly riding.
Can you tour on a Surly Straggler?
If by "touring" you mean bike travel on mainly pavement, then yes, you can tour on the Straggler especially for shorter and lighter trips. The Straggler is well-equipped to carry cargo with front and rear racks or a bikepacking bag setup, but long-haul road tourers may feel limited by its 1×11 drivetrain and more lively handling.
Is the Surly Straggler a gravel bike?
Yes, the Straggler is a type of gravel bike focused on leisure, utilitarian, and adventure riding as opposed to speed.
In Conclusion
The Straggler excels at versatility. It's a do-some-of-everything bike that you can ride to work, ride for fun, and sometimes load up and ride to the campground (even if that campground is a few hundred miles away).
If you're thinking about buying a Straggler for bikepacking, consider how much loaded versus unloaded riding you want to do, and whether you're happy to stick to gravel or feel called by more rugged routes. As a dedicated bikepacking bike for serious routes with more rugged terrain, the Straggler will find its limits. I would not buy a Straggler specifically to tackle a route like the Great Divide, for example. Though to be fair, there are much worse choices. If I already owned a Straggler and wanted to ride the Divide on it, it would get the job done.
If you already have a Straggler and want to go bikepacking on it, do it! I would suggest a lightweight bikepacking bag setup if you can manage it; here are ideas for budget bikepacking gear that won't cost too much. If you prefer racks and panniers, the Straggler can do that too – see the section above on rack mounts for compatibility tips.
More Bikepacking Resources
If you found this helpful, you might also like these:
Or visit the bikepacking section for lots more.
Bike resources in your inbox?
There's more where this came from! Sign up here for occasional emails full of inspiration and information about bikepacking and bicycle touring.


Share the Adventure
If you found this article helpful, please consider sharing so more people can benefit from it: