The Tahoe Rim Trail is in many ways an ideal route for fastpacking and ultralight hiking. The terrain on the 170 mile loop around Lake Tahoe is challenging but approachable enough for long days. It's a loop, so logistics don't need to be the hardest part of the trip. And the relative closeness to civilization makes it a reasonable place to test an ultralight gear setup, with options to bail or change plans always within a day's reach.
The food and resupply strategy is also pretty simple. Resupply options at regular intervals mean fast hikers never need to carry more than 2-3 days of food, even less if they're really moving quickly. And unlike the nearby and ultra-popular John Muir Trail, bear canisters aren't required (though you still need to have a solid food storage plan).
Update: As of 2022 bear canisters are now required within Desolation Wilderness and strongly encouraged for the rest of the route.
After thru-hiking the John Muir Trail in 2014 at a much more reasonable pace (18 days from Lyell Canyon), my husband and I decided a couple years later to see if we could get ourselves around Lake Tahoe in one week. Seven days.
A bit arbitrary? Definitely. But it was the motivation we needed to push ourselves.
Looking back, I see that trip as my first real experiment in fast-and-light overnight endurance adventures. At the time neither of us had ever hiked 25 miles in a single day (though as ultrarunners, we'd jogged farther), let alone done it for seven days in a row. We had the makings of a pretty lightweight gear setup, but fine tuning was definitely needed. Would we be able to make it all work?
Spoiler alert: we did manage to hike the Tahoe Rim Trail in 7 days! Mission accomplished. It wasn't easy though, and we learned a ton in the process.
Though this was back in 2016, I think the itinerary and learnings from our trip are as relevant today as ever. And with the nearby John Muir Trail becoming increasingly overloaded, I've started suggesting the TRT as a possible alternative to a JMT thru hike.
In this post I'm sharing our 7 day Tahoe Rim Trail itinerary and trip notes. Our schedule could be followed exactly, modified a bit, or doubled or even tripled for a much more reasonable 14 or 21 day TRT itinerary. In any case, may it serve as potential inspiration for other backpackers in search of a new objective.
---
Short on time? Try this 55 mile loop in Desolation Wilderness that includes part of the TRT.
Why 7 Days?
Our goal was to hike the entire 170 mile Tahoe Rim Trail in one week / seven days, which comes out to an average of about 24 miles per day. This was an appealing goal because:
It was a neat and tidy time period.
A week was all the time we could take off from work.
25 miles per day seemed like about as much as we could cover while hiking briskly for full daylight hours and still getting reasonable amounts of sleep at night. The goal was a fast and light hike, but not a death march.
My TRT Thru Hike Overview
We completed this hike in early August of 2016. The weather was warm, clear, and sunny every day. We had no rain, and there were only a couple small patches of snow still remaining, which posed no issues whatsoever.
We started at Spooner Summit Trailhead and hiked clockwise.
How did we choose Spooner Summit as our start point?
We wanted to drive to the start and park our car as close to the trail as possible (Spooner Summit has overnight trailhead parking).
We wanted two on-trail (no extra miles or hitchhiking) resupplies evenly spaced throughout the route. Tahoe City was the most obvious, followed by either Echo Lakes or Tramway Market (near Kingsbury South). We found that by starting at Spooner Summit, and resupplying at Tahoe City and Echo Lakes, we could divide our 7 days perfectly into 3 chunks.
Why did we choose to hike clockwise? We could have gone either way, but a few reasons that tipped the balance:
Hiking clockwise from Spooner Summit saved the highest elevation section – up and over Relay Peak – for the end of the hike instead of the beginning. Since we drove up from sea level the day before starting, we figured we could use the extra time to acclimate to higher elevations.
It was also nice to have this scenic section to look forward to for most of the hike.
For some reason, clockwise seems most common, so we figured there might be a reason. 🙂
TRT 7 Day Backpacking Itinerary
Here's the schedule we used to backpack the Tahoe Rim Trail in one week.
Day
Miles
Segment
Notes
1
26
Spooner Summit to Star Lake
2
23
Star Lake to after Showers Lake
Camped 1.5 miles past Showers Lake
3
21
After Showers Lake to after Gilmore Lake
Lunch and resupply at Echo Lake.
Camped 1.5 miles past Gilmore Lake
4
25
After Gilmore Lake to PCT/TRT junction
5
25
PCT/TRT junction to Watson Lake
Lunch and resupply in Tahoe City
6
24
Watson Lake to Galena Falls
Hard day, Relay Peak
7
25
Galena Falls to Spooner Summit
Daily Notes
Day 1: Spooner Summit Trailhead to Star Lake
This was a long first day! Highlights included walking under the chairlifts at Heavenly (one of our go-to Tahoe ski resorts in winter), views out over the Nevada desert, and Monument Pass.
Star Lake was a popular camping spot. We had to look a bit to find an available campsite as we arrived late and after dark, but we did eventually find a good one.
Day 2: Star Lake to 1.5 miles past Showers Lake
The TRT joins with the PCT during this section, and we saw a few PCT hikers putting our pace to shame despite our attempts at fast hiking. We ate dinner and filled up on water at Upper Truckee River and then continued hiking past Showers Lake for about 1.5 miles, to a great site with nice view over the valley.
Day 3: Past Showers Lake to 1.5 miles past Gilmore Lake
Ate breakfast during a lovely sunrise at camp, then a lot of downhill to Echo Lake for lunch (and ice cream and beer). We resupplied at the little store there and continued on into Desolation Wilderness. The trail was crowded with day hikers through this stretch.
We stopped for dinner and to refill water at a creek just past Gilmore Lake, then hiked on into the late evening, making camp about a mile below Dick's Pass.
Day 4: Past Gilmore Lake to PCT / TRT Junction
The morning started with a chilly hike over Dick's Pass, where a few patches of snow still lingered. There were some beautiful wildflowers along the next stretch, and then some long miles of uninspiring forest until Barker Pass Trailhead.
We ate dinner and refilled water at North Fork Blackwood Creek, then hiked uphill until just after dark. We camped near the top of the climb up Twin Peaks, just before the TRT splits off from the PCT.
Day 5: PCT / TRT Junction to Watson Lake
After 11 miles we hit Tahoe City and treated ourselves to lunch at Jiffy's Pizza. They were kind enough to watch our packs and let us charge our power banks while we resupplied at the Save Mart grocery store.
Then it was a long uphill out of Tahoe City up to Painted Rock. We hiked for a couple hours after sunset to make up for the time spent in town, and saw some cool wildlife: a huge frog, a porcupine, and a group of mountain bikers riding at night with the brightest headlights I've ever seen.
Day 6: Watson Lake to Galena Falls
This was the toughest day of the whole week. It felt like the entire day was uphill, including the climb up Relay Peak, the highest point on the trail. The views were great though, and this section felt more remote and quieter than most other stretches of the TRT (few day hikers).
After a few miles of steep downhill from Relay Peak, we camped at Galena Falls, one of the few water sources in this area. We had trouble finding a good tree to hang our food and nearly lost it all when it snagged up high in a tree with too many branches.
Day 7: Galena Falls to Spooner Summit Trailhead
Tied a pocket knife to the end of a dead tree trunk and sawed our food down! That took some time, then we were on our way for the final day. This stretch was a bit frustrating, with not many milestones and a lot of mountain bikers on the trail.
We ate a late lunch at Marlette Camp while others there set up camp for the night, then we hiked another 9 miles through a scenic high meadow and then 5 miles of downhill to Spooner Summit Trailhead. We finished in the dark, relieved to see our car right where we left it, and to be done with this challenge!
Next stop: Jack in the Box in South Lake Tahoe.
Pacing
Hiking 170 miles over 7 days works out to around 24 miles per day on average, and most of our days ended up being very close to that (21 – 26).
My original plan had us hiking a couple shorter days and a couple longer (29 – 30 mile) days. We quickly realized, after the first two days, that the last few miles really made a big difference in terms of how tired we felt at the end of the day. We decided we'd rather push a steady consistent pace each day than dig too deep on a couple long days and have to pay for it later.
Food and Resupply
We resupplied and bought lunch at Echo Lakes on day 3 (Echo Chalet restaurant and store) and Tahoe City on day 5. This allowed us to keep our food pretty light.
For simplicity (and because Echo Lakes does not accept mail drops) we chose to resupply from whatever food we could buy along the way, instead of mailing packages to ourselves. At Echo Lakes this was a bit expensive and the selection wasn't amazing, but we were able to find what we needed. In Tahoe City it was easy to find pretty much anything at the big Save Mart.
We chose to go stoveless on the TRT to keep our pack weight down. This worked pretty well, saving both weight and time, though I think I would have grown tired of it on a longer grip. Here's what we ate:
Lunch: salami, hard cheese, nut butter, tortillas
Dinner (yes, these work with cold water):
Couscous, supplemented with whatever else we could find (freeze dried bean flakes and veggies for the first two days)
Ramen
Mashed potatoes
Snacks: the usual: nut butter, trail mix, bars, dried fruit
In terms of meal timing, we fell into a rhythm of eating both breakfast and dinner on the trail most days, instead of at camp. Advantages:
More chances to rest and break up the long miles
Warmer temperatures and sunlight while eating (instead of before sunrise / after dark, when we would typically be in camp)
Filtering water while eating on the trail made dry camping easier, so campsite selection was simpler (though we did camp near water most nights anyway)
No worries about attracting bears to campsite with food scraps from eating
Gear
We used this hike as an excuse to fine-tune our lightweight gear and packing strategy. We each carried a ~30 liter frameless day pack from Inov-8 (old discontinued models, not particularly fancy or pricey).
A few key gear picks:
Six Moon Designs tarp in case of rain (never used, no rain)
Sleeping quilts: my Enlightened Equipment Enigma and my husband's from Underground Quilts
Therm-a-rest Neo Air X-lite sleeping pads
Emergency space blanket to add extra warmth to my sleeping setup (I'm a cold sleeper)
Ursack Major for food storage, sometimes difficult to find good places to hang it.
A good headlamp and spare batteries (we did some night hiking)
Electronics: phones (used for recording GPS track), SPOT tracker, USB power banks
Mosquito repellent: don't skimp on this!
One technique that helped save time when making and breaking camp: the "bivy burrito." Instead of separately rolling up a bivy sack, sleeping pad, and sleeping bag into their respective stuff sacks, we discovered we could simply roll them all up like a burrito and stuff the roll into our packs.
Clothing
Here is all the clothing I wore and/or carried. My husband used a similar list. Definitely no room here for spare t-shirts or extra socks!
Icebreaker merino wool t-shirt
Running shorts
Running tights for sleeping and warmth
Long sleeve merino wool shirt for sleeping and warmth
Mountain Hardwear Ghost Whisperer down jacket
Outdoor Research Helium II rain jacket
White Sierra Trabagon rain pants
Sun sleeves for arms
Merino wool sports bra
Merino wool panties, 2 pair
Warm hat (today I would bring my insulated hood, but I didn't have it back then)
Running hat for shade
Buff headwear
Light gloves
DryMax trail socks, 2 pair
Altra Lone Peak trail running shoes
Sunglasses
For more details on my specific favorites for this kind of lightweight hike, see this post on lightweight clothing for backpacking.
Water
The Tahoe Rim Trail is known to have a few dry sections of 10-20 miles, but when you're hiking 24 miles a day these are easy to plan around. We only had water issues on one section, because we stupidly didn't fill up at Echo Lakes and then ran dry between there and Lake Aloha.
We each had 4 liters of water capacity: 3 liters in a hydration bladder plus one extra liter in a Platypus foldable bottle. We didn't always fill everything up, but sometimes we did.
For water filtration we used a Platypus 4 L GravityWorks. Though not exactly ultralight, we appreciated the convenience during our short breaks on long days. If I were going today I would probably use a Sawyer Mini + CNOC Vecto 3L instead, because it's smaller and lighter.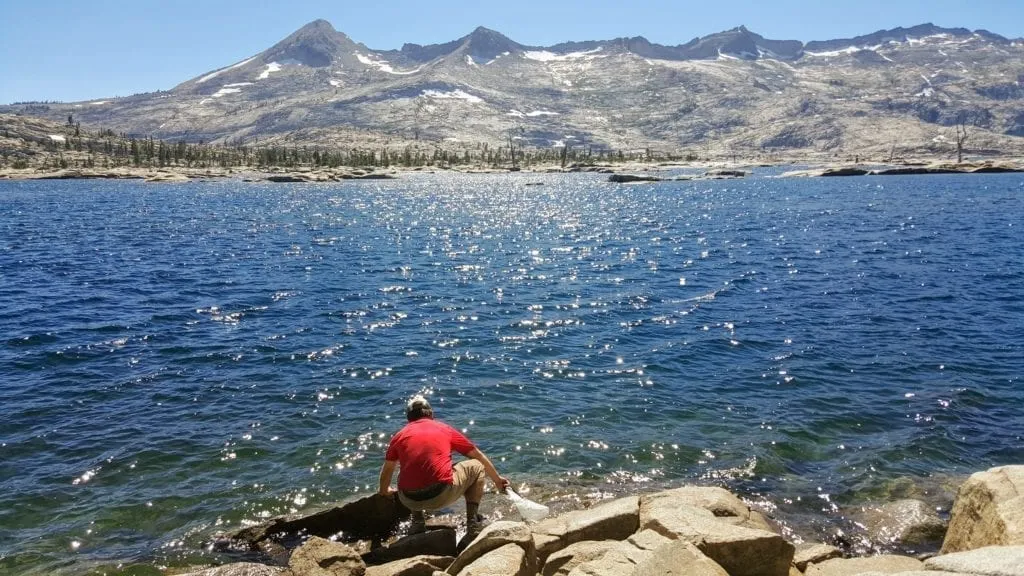 Guides and Maps
For planning our Tahoe Rim Trail thru-hike, the section descriptions and maps at tahoerimtrail.org were very helpful.
For planning as well as on the trail, we used the Tahoe Rim Trail Pocket Atlas from Blackwoods Press. It's very small and light, with helpful maps that show good campsites and water sources.
For a view of the big picture in case of potential route changes, bailouts, etc., we carried this Lake Tahoe Basin trail map (I think the Nat Geo or Tom Harrison maps would also work fine).
Final Thoughts
So how do I feel in hindsight about backpacking the TRT in a week? While 24 miles per day is rather pedestrian in the world of ultralight hiking and especially fastpacking, for us at the time it was a pretty big deal.
I'm definitely glad we did it, both for the physical challenge as well as the fine-tuning of lightweight gear and skills. I loved the mix of strength, endurance, mental resolve, logistics, and tactics needed to pull it off.
It was also during this trip, ironically, that I first realized the value of relaxed outdoor adventure. While stopping to scarf a late lunch at a beautiful campsite with 12 miles still to go, I admit to envying the hikers on a more conservative schedule who were already setting up camp, cooking dinner, or reading a book beside a lovely stream.
The TRT really clarified the importance of intentionally choosing a goal and style for each trip. If the goal is about making miles and testing gear, then embrace it and push. But if the goal is to just to spend pleasant time in a beautiful place, that's fine too. The important part is that everyone in the group is bought into the same goal before starting!
Before this trip my outdoor adventures were a continually escalating series of longer, harder, faster. After the TRT they became more varied and intentionally crafted with different goals in mind. It's nice to have a range of options, skills, and gear to choose from, especially when one end of that range allows you to move fast and light through the mountains all day long.
More Lightweight Backpacking Resources
If you're dreaming about the Tahoe Rim Trail, you might also be interested in these posts:


Hiking resources in your inbox?
There's more where this came from! Sign up here for occasional emails full of inspiration and information about backpacking and hiking.


Share the Adventure
If you found this article helpful, please consider sharing so more people can benefit from it:
Pin For Later