The Big Lonely has been on my radar since the small first edition in 2020. Having ridden part of the Oregon Outback in 2019 and accidentally stumbled upon the trails around Newberry Crater in 2020, I knew the route would offer high-quality riding and link up some pleasantly familiar sections of scenic high desert and forest.
And Bend, oh Bend… That town is my fantasy dream home. Any excuse to visit, I'll take it.
So when The Big Lonely 2021 rolled around, I figured I'd put my summer of riding to good use one last time and visit a couple friends as a bonus. I loaded my trusty bike in the back of my trusty car and tackled the whole drive in one go, arriving in Bend the afternoon before the 6am start.
It turns out that October can be a very different experience than summer in central Oregon! I got a bit more adventure than I bargained for and came away with a great impression of this unique event.
In this writeup I'll share my experience so that others, particularly mid-pack and back-of-pack folks like me, can get a sense for what to expect if you're thinking about giving The Big Lonely a try.
About The Big Lonely
The website for The Big Lonely is the best place for up-to-date info. In a nutshell, we're dealing with 350 miles and 25,000 feet of elevation gain in a big loop out of Bend, Oregon, in self-supported bikepacking race/event style.
Many folks will be pushing for speed, but as with many bikepacking events, it's all relative. The event also welcomes and celebrates folks who want to ride slower, sleep more, or both. I think The Big Lonely would be a great first bikepacking event for folks just getting started, provided you have some outdoor experience and are prepared to handle cold or wet weather.
The October timing means weather is a big wildcard on an otherwise fairly straightforward route. There is a lot of gravel and dirt road, a bit of pavement, some excellent smooth singletrack, and a smidge of rougher trail. There might also be rain, snow, mud, freezing nights, hot days, or all of the above.
In 2021 we struggled with cold temps and a bit of snow, undoubtedly contributing to the 31% finish rate. Of the 13 folks who finished, I'm stoked to say 9 of us were women! Of course finish rate doesn't tell the whole story, but given the low numbers of women usually participating in these events I love the message this sends to the bikepacking community.
Though this is a typical "underground" event with no formal prizes, it's very well-organized and run. Jesse puts an insane amount of time and energy into scouting the route, sending out pre-race info, and following along with all the riders out there on the course. He's very supportive of all riders, fast or slow, and wants to make the event as inclusive as possible. So if you're on the fence, don't worry, you'll feel welcome.
In 2021 the event collected donations to benefit the Adventure Access Fund, which provides financial, educational, and equipment sponsorships to prospective BIPOC Adventurers.
Daily Notes
For those interested in the details, here's how each day went for me en route to my finish in 3 days, 9 hours, and 55 minutes.
For reference, I was roughly on pace (maybe just a couple hours too slow) to break three days until the snowstorm rolled in on the last night. I was in the mid-to-back of the pack until most of the folks behind me scratched and I spent a leisurely night at Paulina Lake, waiting out the snow and coldest temps.
Folks who can push past Ashwood into Ochoco National Forest on the first night should be able to beat three days and finish solidly in the mid-pack, assuming nothing crazy happens with the weather (which is definitely not a safe assumption).
For more practical info on bike, gear, and resupply, skip to the bottom.
Day 1: 121 miles
To Ashwood, roughly 6am – 1:30am
As we gathered in the dark at Phil's Trailhead, I slipped on my rain pants for warmth. I'd only ridden two miles from my car and already couldn't feel my legs – a bad sign! The temperature was apparently 26 degrees.
When the sun rose we were pedaling up Mrazek Trail. The light was welcome but my hydration hose stayed slushy for hours in the sub-freezing temps, and my phone battery was almost dead from keeping it on my bars in the cold air. I restarted it, hooked up a power bank, and kept it warm in my jacket pocket. The singletrack was nice, mostly non-technical and mostly gradual, though I did get off to walk a few times. Gotta save some energy for later!
A series of dirt roads and more singletrack made for a long and welcome descent into Sisters, where I ran into Jesse and learned that a few riders were already dealing with mechanicals. Thankful for a working bike, I stopped at the Space Age gas station for resupply. It was small but had everything I needed, and after about 30 minutes I was off.
From Sisters the route follows pleasant singletrack and forest roads with only mild elevation change all the way to Lake Billy Chinook. On this section my drive train began complaining loudly. After several stops to clean and lube my chain, I discovered that the dust cap on the end of my bottom bracket was no longer sealed. The ultra-fine dust in this section was wreaking havoc.
I started to panic – would I have to drop out, or worse, get stuck somewhere with an unrideable bike? Fortunately a passing rider took a peak and assured me it would probably last through the race. He works at a bike shop, and that reassurance was all I needed to ignore the awful noises and press on.
The roads around Lake Billy Chinook are paved, scenic, and quite steep in places, offering good excuses to pause and enjoy the views. The noises and gritty feeling immediately improved once off the dirt roads. I rolled into busy Madras just after sunset and chose the Madras Truck Stop for resupply. Turned out to be a good move. I ate a burger and they kindly made me a sandwich to go, and didn't charge me for a majority of my resupply food. It was cold, dark, and windy outside and they could tell I needed the extra help to push on to Ashwood.
The road to Ashwood was uneventful, just a long section of gravel in the dark. I rode in all my layers, including my down jacket most of the time, and it wasn't until the final descent that I got really chilled. I checked the tracker before I lost service and was surprised to see that many riders were still in Madras. Can't blame them, it was certainly tempting. The only other nearby rider who pushed on was Eleanor, who I'd shared some miles with earlier, and she was up ahead just out of reach.
Arriving in Ashwood around 1:30am I knew my plan to push on to the Ochocos was dead. I needed some rest. I bivvied next to a picnic table right beside a sign that said "potential snake habitat." It took almost an hour to eat and stop shivering enough to fall asleep. Seemed like as soon as I got to sleep, my alarm rang and it was almost sunrise, time to hit the road!
Day 2: 114 miles
To just past intersection of Bear Creek Fife Road and Crooked River Highway (gravel road), roughly 6:30am – 2am
It took some effort to drag myself out of Ashwood in the freezing temps, even though I let myself wait until the first hint of dawn. Those first few miles felt clumsy and painful, but gradually my body got used to pedaling and the miles of ranchland passed.
The Ochocos were tough but I welcomed the sunny riding and warmth from climbing. The roads were mostly dirt and gravel, a bit of pavement, and a couple sections so steep I chose to walk them. Campers were out in their RVs but not surprised to see me, after presumably seeing almost everyone else pass earlier.
The hard work finally eased with a nice paved descent and flat-ish ride into Prineville on Highway 26. Traffic was courteous and the shoulder grew wider closer to town, but I was glad to be off the highway just before dark.
In Prineville I made a somewhat disappointing resupply stop, failing to find much comfort despite being surrounded by options. Subway had closed their indoor seating and bathroom and was out of chocolate chip cookies, but I scarfed my sandwich outside in the cold and bought a second for the road.
A quick stop at the Chevron completed my resupply. The cashier knew about the race and I appreciated her words of encouragement. By this point I hadn't seen another rider since before Madras, and I wouldn't see any for the rest of the race! The Big Lonely, indeed.
I rode out of Prineville in the dark, spinning along the paved Crooked River Highway past inviting campgrounds. I was feeling sore in the saddle area and the easy riding was actually a strain; I would have preferred some tough climbing or even hike-a-bike.
Eventually the climb up from the reservoir offered a good excuse to walk for a bit. Soon the road turned to wide gravel and I spent the next few hours riding in the dark through a patchwork of high desert ranchland and BLM parcels.
Around 2am I bivvied behind a scraggly tree near the powerlines and once again had trouble falling asleep because of the cold. After less than two hours of sleep I dragged myself out into the cold and back onto my bike.
Day 3: 68 miles
To Visitor's Center at Paulina Lake, 5am – 8:30pm
The high desert was a beautiful place to be at sunrise. I was past the highway crossing by early morning, thankful for the low traffic this time of day, and headed back into the hills.
The "abandoned" ranch I remembered from the Oregon Outback route was still there, but as I rode through I noticed a few folks working, which made it much less creepy. Still, I felt very low on energy through this section and struggled with the washboarded and slightly uphill roads.
I finally stopped to stuff my face with food, which helped a lot. I realized I had probably been undereating, a mistake I often make in these events when the food just doesn't go down easily enough. On top of that, I was just barely on track to finish in the middle of the night, meaning my food supply would have to stretch farther than expected. One hundred fifty miles is a ways to go without resupply, and I regretted not packing even more food in Prineville.
This section seemed to go on forever, and the reward for getting through it was a big climb to Newberry Crater rim. I happily got off and pushed to give my legs and seat a break. I arrived at the rim in the late afternoon and started the five miles of singletrack toward Paulina Peak, noting the wind and fog hovering nearby. A few flakes of snow began to fall.
The forecast had called for very cold temps on Sunday night, but I had not expected snow. My plan to be descending Swamp Wells by sunset was clearly out of reach; I was moving too slowly.
I hit the final gravel climb to Paulina Peak just after sunset. Snow was falling more quickly now, and parts of the road were already white. It was a big relief to finally reach the peak, throw on ALL my layers, and start the descent.
Snow was blowing straight into my helmet light and much of the road was now white. I could barely see, but made it down by following the edge of the road and the occasional reflective post. I fantasized about going to the Paulina Lake Lodge for a hot dinner. It hadn't been in my plan, but heck, if I was going to miss my 3 day goal, may as well do it in style!
At Paulina Lake everything was closed for the season and the place was eerily deserted. So much for a hot dinner. The water was shut off and I was nearly out, so I hunted in the dark for a place to refill. At one point my foot punched through frozen muck and I sank up to my knees in thick mud. For a second I thought I might actually be stuck there. Someone would find my frozen body in the morning and think "What a stupid way to go!" I flung myself flat on the squishy ground and gradually, carefully wriggled free, nearly losing a shoe in the process.
I finally found access to flowing water in the creek (Paulina Creek Trail on the north side of the bridge), but my chlorine dioxide bottle had cracked and spilled, so I would have to take my chances with the untreated water. Fingers crossed!
It was only 9pm, but absolutely frigid, windy, and still snowing. My food supply was running low since I'd hoped to finish later that night; I would have to break into my meager "emergency" rations. But the thought of climbing back up to the crater rim and tackling the long descent in the coldest part of the night was too much for me. I was depleted, sleep-deprived, and didn't trust my ability to stay warm and safe. My three day goal suddenly seemed arbitrary, and I decided to bivy on the covered porch of the visitor center where I would at least have some shelter.
Once the decision was made I felt better and actually got a fair amount of sleep. The covered and raised porch provided quite a bit of warmth compared to bivvying in the snow. I climbed into my sleeping quilt with my muddy rain pants still on for warmth; I could wash it later. It felt like wimping out, but upon seeing the snowy trail the next morning I knew it was the right decision for me.
Note: I heard later that two riders were asked to leave the visitor's center the next night, so maybe best to not plan on sleeping here unless you really need the shelter.
Day 4: 43 miles
To the finish! 7am – 4pm
Perhaps I could have dragged myself into the cold dark forest a couple hours earlier and tackled the climb in the dark. But having given up my arbitrary goal, I got lazy and left just as the sky was lightening. I would later learn than most of the riders behind me had scratched, and Eleanor had pushed on through the entire night to finish that morning. Hard core!
Though cold, tired, and hungry, I enjoyed this section in a strange way. The snowy forest was beautiful and quiet, and Eleanor's tracks were reassuring. Fortunately I've ridden Swamp Wells trail in dry conditions and know how fun it is, so I was content to take it slow and ride (and sometimes walk) safely through the snow and sections of loose volcanic rock.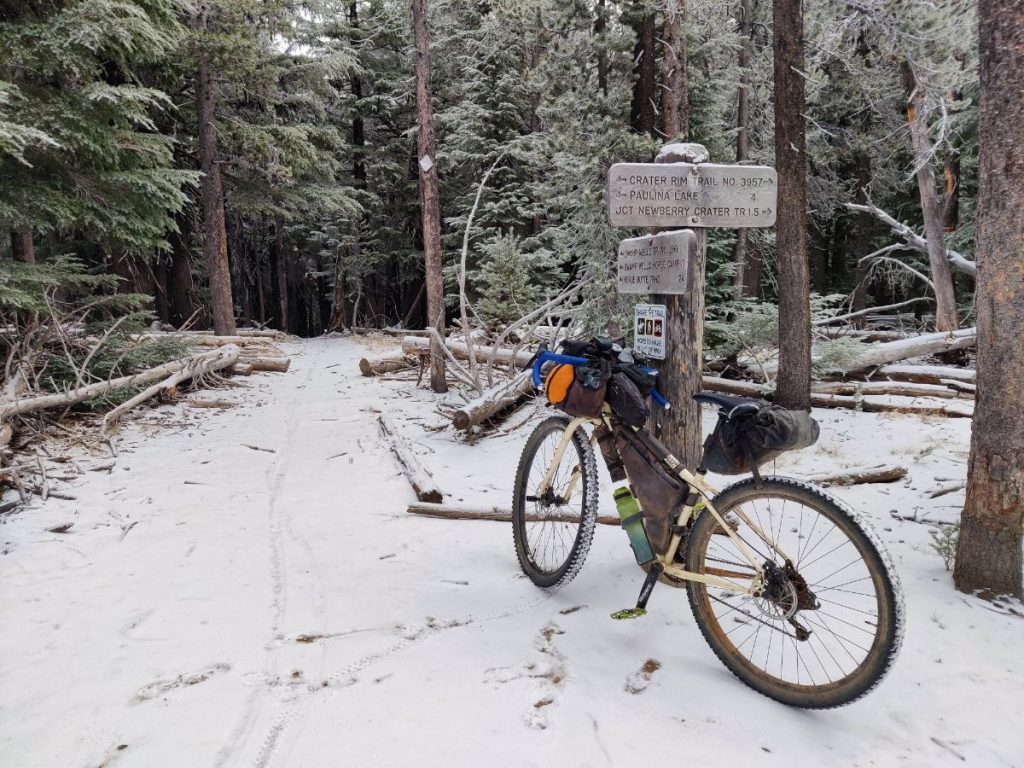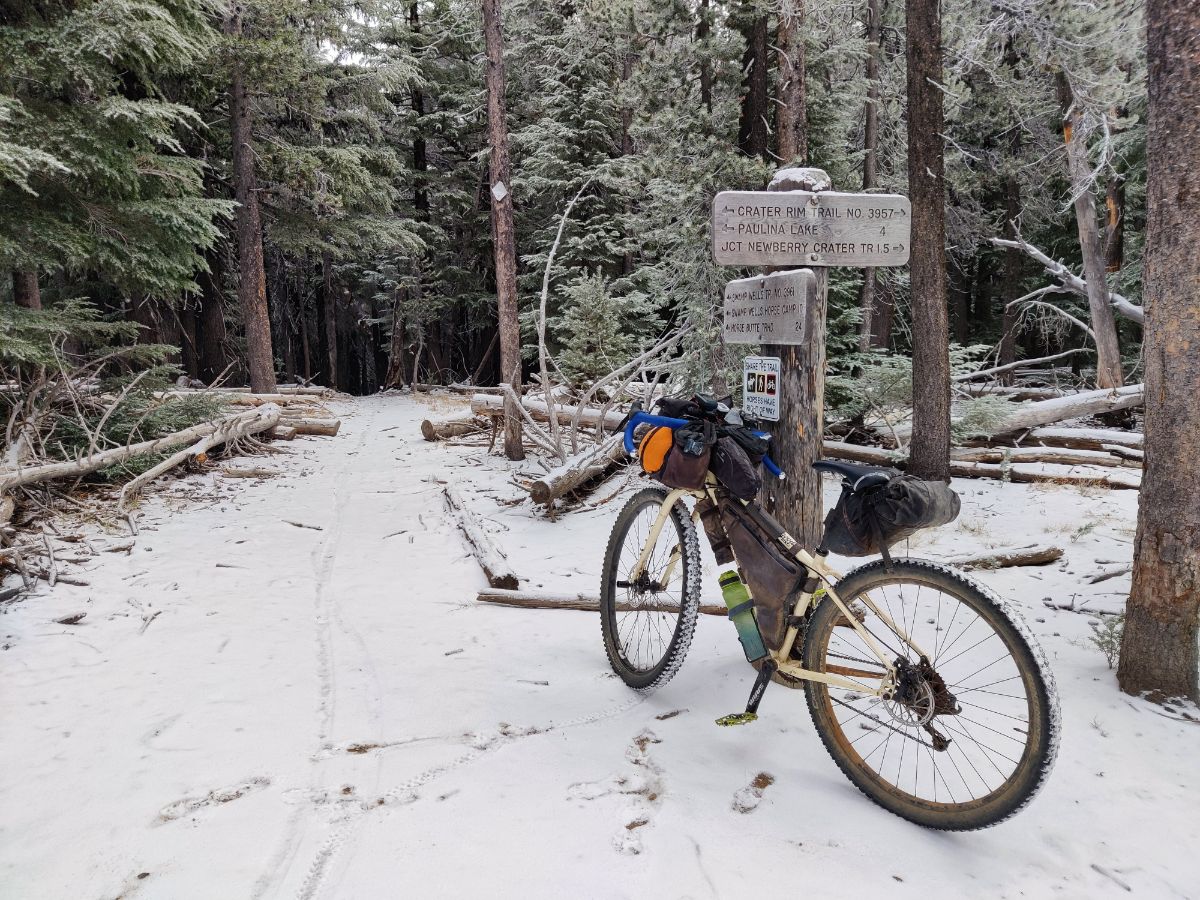 I was running on fumes the entire day, scavenging in my feed bag for stray bits of trail mix and savoring every last bite. My supply from Prineville had barely been enough for a 3 day finish, let alone an unplanned 8 hour stop. At some point I kind of got used to the hunger, and my body switched into fat-burning mode and just kept chugging along.
The final ten miles of pavement passed uneventfully, and I rode about halfway up Pilot Butte before deciding to have mercy on my depleted body and get off to walk. Jesse (the organizer) and one of the photographers were waiting for me at the top, such a kind gesture and the perfect way to finish. We chatted about the snow and cold, other riders, and the route while soaking up the 360 degree views.
And just like that, it was done! I got a ride to my car and picked up a pizza. I was very fortunate to stay with friends in Bend for the next few days, eating and sleeping and recovering well. It took a few days to dig out of the caloric deficit hole I'd dug, and another few days before I stopped feeling sleepy throughout the day. Otherwise, I had no lingering pain or other issues.
Bike and Bags
I rode my rigid steel Salsa Fargo for this event, as I do for all my bikepacking exploits these days. The basic idea – rigid drop-bar bike – was great for all the gravel and smooth singletrack on the route. If you want to go fast, of course a lighter gravel bike along the lines of a Salsa Cutthroat would be even better. I don't think you need a hardtail for this route, but it certainly works if that's what you've got.
My setup was almost the same as what I rode all summer on the Great Divide Mountain Bike Route and then the Smoke 'n Fire 400. I didn't have much time to make changes in between, so I stuck with my Continental CrossKing ProTection 29×2.3 tires for all three routes. You could probably get away with less tire for The Big Lonely, but I thought it worked fine for my goals and pace (i.e. slow).
One change I did make after Smoke 'n Fire was to swap out my Woodchipper handlebars for a new Coast handlebar from PNW Components. The Coast is wider at the hoods and a bit less flared, meaning more space for handlebar bags and a bit more stability while riding in the hoods, something I knew I wanted after struggling with the singletrack on Smoke 'n Fire. I'll be writing a more detailed post on this change, but for now I'll just say the Coast bars worked really well for this kind of route. I don't think I'll be going back to the Woodchippers.
The other important change: a brand new saddle! I know, that's a bit risky. My trusty Brooks B17 has been letting me down lately, and after a rough time at Smoke 'n Fire I figured things couldn't get much worse. So I popped a brand new Selle Italia Diva Gel Superflow on there, went for a twenty mile test ride, said a prayer to the bikepacking gods and headed off to The Big Lonely. It wasn't perfect, but it was definitely better than my old Brooks. (If you struggle with saddle pain too, especially ladies, see Solving Saddle Pain for Women).
Bags
It's taken a few years to get my bikepacking setup dialed in, thanks to limited tire clearance on my small 29er frame and my aversion to spending money on expensive gear.
Here's the setup I ran for The Big Lonely:
Handlebars: Revelate harness and pouch with Sea to Summit eVent compression dry sack (14 L). This is where I packed my sleeping quilt, sleeping pad, and emergency bivvy, with food in the front pouch. I prefer this new setup to the Salsa Anything Cradle I've used in the past, because it's lighter and the larger diameter bag fits better between my drop handlebars.
Seat bag: Revelate Viscacha 14 L. This is where I packed all my warm and rain gear, which means it was mostly empty during The Big Lonely because I was wearing everything! If I had a magic gear collection with all the options, I would choose a 7 L or 8 L seat bag for this event next time.
Frame bag: Salsa EXP. This held some tools, electronics, and a spare tube. Sometimes this is where I keep a 2 liter hydration bladder, but I've been preferring a hydration backpack lately instead.
Cockpit: Two cheap chalk bags from Amazon as feed bags, and Moosetreks top tube bag. These held food, electronics, sunscreen, and other small items. This phone holder worked great. A bar extender added space for my gadgets.
Backpack: New this year, I've been wearing a running hydration pack (Ultimate Direction Vesta) instead of carrying water in my frame bag. This setup keeps my bike lighter for hike-a-bike and makes it easier to access my electronics and lights in my frame bag instead of seat bag. My pack is small enough that my puffy and rain jackets fit over it, so I don't have to mess with it every time I change layers.
Gear List
Since I'm not racing competitively, I bring mostly the same gear and clothing as I would for a touring-pace ride in similar conditions. It's all about staying warm and dry and powering my lights and navigation devices. The biggest changes from a touring pace ride: no tent and no cook kit.
Clothing (base)
chamois shorts
baggy shorts (Club Ride Savvy are my favorite)
t-shirt (IceBreaker Tech Lite tee, comfy and stink-resistant)
buff
sun sleeves
merino wool lightweight hiking socks
sunglasses
Pearl Izumi X-Alp Canyon SPD bike shoes
helmet
Clothing (cold and wet)
Merino wool midweight long sleeve shirt with ¼ zip (fits over helmet). I rode in this almost the entire time.
High-viz windbreaker vest: helpful for warmth and also visibility on the rare stretch of busy road
Down jacket: essential for sleeping and cold descents. I even spent many daylight hours riding in this on The Big Lonely.
Warm tights: for sleeping and cold riding. I put these over my chamois shorts on night 1 and never took them off!
Gore-Tex rain jacket (Arc'teryx Beta AR): For rain or snow, or just extra warmth in cold temps. I trust my life to this jacket in bad weather. It's bulky, so if the forecast is dry I would consider a lighter rain jacket or even just a windbreaker.
Rain pants: worn often, mostly for warmth and briefly for snow
Pearl Izumi lobster gloves: essential for cold descents and night riding, since my hands get numb very easily.
Extra socks: I wore two pairs for most of the ride. In wet weather I would sandwich a plastic bag between them as a vapor barrier.
Sleep
Enlightened Equipment Convert sleeping quilt, rated to 10 degrees (I'm a cold sleeper and the quilt is well-worn so probably not quite 10 degrees anymore)
Therm-a-Rest NeoAir X-lite sleeping pad
SOL metallic emergency bivy, for extra warmth and rain protection
Electronics
Two 10,000 mAh power banks
Two-port quick-charging wall charger
Three USB charging cables
Jabra Elite 75t wireless earbuds
Garmin InReach Mini for tracking and emergency communication
Garmin eTrex 22x: new this year, with the goal of using less phone battery for navigation. In past years I only used my smartphone and RideWithGPS for navigation. This year I still ran RideWithGPS on my phone and used it for the elevation profile and audio off-course alerts, but mostly used the Garmin for quick course checks. This allowed me to carry one fewer power bank and worry less about running out of juice.
Since I don't have a dynamo hub, keeping my lights and phone charged for long days and nights always takes some thought. For more on this tricky topic, see my post on Charging Electronics While Bikepacking.
Lights
I changed my light setup this year and was really glad I did. Reliable lights make such a big difference for night riding, both psychologically and logistically.
In the past I've ridden with only one USB-rechargeable headlight that could not be charged while in use. So when it ran out of battery after a few hours, I had to stop and sleep. This year I had two good quality lights plus a backup, all with different battery systems, so I could swap and keep riding.
Headlight 1: Light and Motion Imjin 800 Onyx, helmet mounted, with spare battery pack. Nice and lightweight, especially with the battery in my hydration pack, which is nice when your neck and shoulders are already tired. Only downside: not USB-rechargeable. I brought two battery packs but left the charger at home.
Headlight 2: NiteRider Lumina 900 Boost, helmet mounted. Heavier than the Imjin, USB-rechargeable, but not while it's being used. I used this as a secondary light, switching to it when either of my Imjin batteries ran out, then recharging it from a power bank during the day
Headlight 3: Princeton Tec Snap headlamp on M-Wave quick release mount. Having a second point of light close to the ground helps create depth and is also helpful if your helmet light dies suddenly. I brought the headlamp strap and also used the Snap as a normal headlamp for setting up camp.
Tail light: Blackburn Central 50 (USB rechargeable)
Water
2 liter hydration pack, also used to carry extra snacks
1 liter bottle on down tube
1 liter foldable Platypus bottle for extra capacity (not used)
AquaMira chlorine dioxide drops. Pros: not damaged by freezing temps like a Sawyer filter. Cons: the bottle cracked and spilled, leaving me with no water treatment. I might go with chlorine dioxide tablets instead next time. (Read more: Water Treatment for Bikepackers)
Tools and Spares
I carry enough stuff that I can fix most standard problems and keep riding. Here's a quick overview, or for more detail see Tools and Spares for Bikepacking.
Multitool (Park Tool IB-3)
Leatherman PS (mainly for pliers and screwdriver)
Mini pump
Chain lube and rag (very important, SnF is super dusty)
Spare brake pads, used this year! The sand, mud, and long downhills really chewed through them. I suggest starting with brand new pads and still carrying spares.
Quick link pliers, spare quick links, short section of chain
Spare tube and Park Tool preglued patches
Extra sealant, 2 oz
Tire plug kit, tire boots, tiny superglue tube, spare valve stem
Spare brake and shift cables
Assorted zip ties
I didn't have any mechanicals on The Big Lonely aside from my unhappy bottom bracket, which was already overdue for replacement. It survived the trip but I'll definitely be replacing it before my next ride.
Other
Small first aid kit
Toothbrush and toothpaste
Chapstick and sunscreen
Toilet paper and ziplock baggie
Route and Planning Notes
Researching and planning is half the fun of prepping for a bikepacking event, so I won't take all the fun out of it for you. 🙂 These are just some quick notes based on the 2021 route.
Resupply: Sisters, Madras, and Prineville all have a pretty good selection, and (I believe – check for yourself!) 24-hour gas stations. They also have plenty of restaurants if you fancy a sit-down meal. The stretch from Prineville to the end is 150 miles and can take longer than you expect, so I would suggest packing more food than you think you need out of Prineville.
Water: Water is easy to find in Sisters and Madras on day 1, but after that you'll need to plan more carefully. The Ochocos sometimes have seasonal streams. Prineville is obviously a key place to fill up, and you can top up after 20 miles at Big Bend Campground. After that there is nothing until Paulina Lake. At Paulina the campground may be closed and water turned off for the winter, in which case you can find water in the lake or (even better) in Paulina Creek, especially near the trail on the north side of the bridge.
Camping: There is plenty of wild camping on National Forest and BLM land. In fact, mid-pack riders will likely end up in Ochoco NF on night one and Deschutes NF on night two, which is a perfect itinerary for camping. There are, however, some long-ish (like 20 miles) stretches of private ranch land where the only option is to bivvy right beside the road. Most of this land is before and after the small town of Ashwood. Therefore it seems most riders either stay in Madras on night 1, push to Ashwood and sleep there (my choice), or push another 20 miles into the Ochocos.
Hotels: More than a few folks took advantage of hotels in Madras and Prineville to get out of the cold, but being prepared to camp is mandatory. I mean this literally – there is a required gear list for this event – and also figuratively, since the spacing of towns doesn't line up well for most folks' paces.
The Big Lonely vs. Smoke 'n Fire 400
This was my first try at The Big Lonely, but I've ridden the somewhat similar Idaho Smoke 'n Fire 400+ three years in a row. I suspect these events will appeal to a similar group of riders, so if you're wondering how they compare, here's what comes to mind.
Scenery: TBL has unique high desert landscapes, volcanic geology, some big vistas, and wide-open "Oregon outback." SnF has more mountains and more of an alpine feel in places, and lots of variety. You can't go wrong with either when it comes to spending time outside in pretty places.
Terrain: Both routes are a majority gravel, some singletrack, and a bit of pavement. Some of the singletrack on SnF is rockier and more suited to a hardtail bike. Much of TBL's singletrack is smooth and rideable on a gravel bike. SnF has a bit of mandatory hike-a-bike and plenty of other tough sections that most riders will choose to walk. TBL seems almost completely rideable for strong riders, though many will choose to walk the steepest climbs and occasional singletrack obstacles.
Climbing: Both routes have plenty of climbing but SnF has more, and its climbs are a bit bigger, steeper, and higher on average. But don't underestimate TBL! There are some sneaky shorter climbs that barely register on the elevation profile but will definitely slow you down.
Traffic: Exposure to dangerous traffic is relatively low on both routes, though both have short sections of highway where you'll want to be visible.
Resupply: TBL has fewer resupply stops but they're bigger towns with more choices and longer business hours. SnF passes by more towns and restaurants but most are tiny and all have limited hours. I thought the resupply on TBL felt sparser than SnF, but it was nice to not worry about whether I would arrive during open hours.
Camping and lodging: Both routes have a few motels but most riders camp / bivy. There is plenty of public land (National Forest and BLM) on both routes, but TBL has a few longer stretches of private land (especially around Ashwood) where bivy options are very limited.
Length: SnF is nearly 100 miles longer, which equates to an extra day for most people. Being out there longer is definitely harder.
Weather: Both have potential for dicey weather, including rain, snow, very cold temperatures, and even uncomfortably hot afternoons. I've experienced multiple sub-freezing nights on both routes. That said, TBL's timing in October makes significant rain, mud (including the dreaded "peanut butter mud") and snow more likely, and gives riders fewer hours of daylight to enjoy the sunshine.
Vibes: Both events have a fun and welcoming culture. My experience with SnF has been more social, probably due to the bigger field and smaller towns where riders are sure to see each other while resupplying. TBL is smaller and I saw no riders after day 1, but it definitely has the foundations of a great culture, and I suspect it'll have the same social vibes once it grows a bit. Then again, it is called The Big Lonely so who knows…
Overall difficulty: Any ride is as hard as you make it, but all other things being equal, I would say TBL is a bit "easier" (or rather, slightly less hard) than SnF based on terrain, surface, and overall distance. But the weather is a big wildcard for TBL, which might be why the TBL finish rate has been lower than SnF for the last two years. They are both challenging!
In Conclusion
The Big Lonely was the perfect way to wrap up a long summer of riding, and I'm glad I decided to squeeze it in. It's a very well-run event and I expect it'll become quite popular over the next few years.
If you're on the fence I'd encourage you to check it out, even (especially?) if you're newer to bikepacking events. Just be sure to pack plenty of warm layers!
More Bikepacking Resources
If you're interested in riding The Big Lonely, you might find these helpful too:
For even more pedal-powered goodness, check out the bikepacking resources center.
Bike resources in your inbox?
There's more where this came from! Sign up here for occasional emails full of inspiration and information about bikepacking and bicycle touring.


Share the Adventure
If you found this article helpful, please consider sharing so more people can benefit from it:
Pin For Later