New Zealand is a magical place. The pair of scenically gifted islands way down south is famously home to more resident sheep than people, and far more than its fair share of natural beauty: rugged alpine mountains, dramatic beaches, sparkling lakes, and wide-open plains.
From a travel logistics perspective, New Zealand is easy. English is spoken, tourism infrastructure is plentiful, and the country is as developed and safe as they come. This leaves outdoor lovers with plenty of energy to get out and explore with abandon, finding both relaxation and challenge amidst the mountains and fjords. If you're in search of the planet's best nature holiday destinations, New Zealand should be high on your list.
The outdoorsy culture, moderate summer climate, and wide variety of New Zealand's stunning natural landmarks make it a premier destination for nearly every outdoor sport you can think of. If you're into hiking, biking, boating, climbing, canyoning, camping, or all of the above and doing it all in beautiful places, New Zealand will be your paradise.
On top of all that, New Zealand's outdoor recreation infrastructure – hut and campsite systems, online reservations, holiday park campgrounds, outdoor equipment outfitters, campervan rentals – make New Zealand one of the easiest places in the world to organize independent multi-day outdoor journeys. Throw your gear in a backpack, canoe, or on the back of a bicycle and go exploring!
My husband and I took full advantage of this when we visited New Zealand, packing our 3 week itinerary to the brim with multi-day human-powered journeys, with a few adrenaline-filled days of adventure mixed in. The fun literally never stopped.
Read on for a 3 week New Zealand itinerary for outdoor adventure lovers, jam-packed full of some of the best outdoorsy things to do in New Zealand.
Three Week New Zealand Itinerary Overview
My husband and I embarked on our New Zealand adventure over Christmas and New Years of 2015-2016. Our 19 days spent playing outside in beautiful places remain among the travel highlights of my life.
The variety of amazing options was overwhelming as I planned the trip, but after much research I finally produced a New Zealand itinerary that, if I don't say so myself, is an epic masterpiece of awesomeness.
Here's a quick overview:
Fly into Auckland airport and rent car
Hike the Tongariro Northern Circuit (north island, 2-4 days)
Canoe on the Whanganui River (north island, 3 days)
Hike the Kepler Track (north island, 3-4 days)
Fly (or ferry) from Wellington to Queenstown
Flyboarding and bungee swinging in Queenstown (south island, 1 day)
Rock climbing (south island, 1 day)
Canyoning (south island, 1 day)
Alps 2 Ocean Bicycle Route (south island, 4-6 days)
See? So much awesomeness. We packed a lot into less than three weeks! An ideal time for this itinerary would be more like four weeks, but we were short on time off work and willing to put in some long days. We compressed the hikes into shorter-than-recommended times, which we got away with because of our lightweight gear and endurance sports background, but I wouldn't necessarily recommend it to most travelers.
If time allowed, we would have opted for a more relaxed pace and longer stays in a few of the lovely towns we zipped through.
New Zealand Travel Tips
Before diving into each activity in detail, below are some general notes about travel in New Zealand that might be helpful. You might also want to check out this useful list of things to know about traveling in New Zealand to help you understand what to expect.
Transportation In New Zealand
We got around both islands using a combination of rental car, plane, and bus. We tried a little bit of everything!
We flew into Auckland on the north island and worked our way south in a one-way rental car to Wellington. From there we took a short hop flight to Queenstown on the south island, where we rented another car to get to the Kepler Track and back to Queenstown. Then we returned the car and traveled the rest of our route by bus (and bicycle!), ending at Christchurch airport.
We chose transportation by balancing cost and efficiency. The rental car and short-hop flight were more expensive than bus and ferry, but allowed us to fit more activities into our tight schedule. In some cases (and believe me, I calculated many cases) a rental car was actually almost as cheap as linking several buses, and much more convenient.
We looked into traveling New Zealand by campervan, which sounded like a lot of fun. But we ultimately decided our itinerary was a bit too packed with overnight hiking, biking, and boating trips to make a rental van worth the cost. For a longer or more relaxed trip though, a campervan would be perfect.
Cost of Travel in New Zealand
I won't lie, this was an expensive trip. New Zealand is not a budget travel destination, but we were overdue for a vacation and decided to go all in on this one. Coming from America, the most expensive part (about half the total cost of the trip) was our plane tickets. We also paid for a fair number of activities, though our preference for self-guided trips saved us money there.
We saved money where possible by camping or choosing inexpensive cabins at holiday parks, and buying food from grocery stores to cook in the communal kitchens. Many of the outdoor activities are less expensive per night than staying in hotels, though staying at huts can still add up.
Best Time to Visit New Zealand
The high tourism season in New Zealand runs from mid-October to April, with trips during December and January being the most popular. It's easy to see why once you're there: the weather. This is New Zealand's summer, when the temperatures are warmer, the mountains are free from snow and the days are sunny and long, stretching until nearly 10pm at the height of summer.
The one downside to visiting New Zealand during this time is that everyone else is doing it too. Popular campsites and activities may be booked up and some areas will feel very touristy. If you do want to visit New Zealand during the high season make sure to book popular activities well ahead, six months or even a year before your trip.
Great Walks and Tramping
New Zealand's vast and accessible network of maintained trails, dotted with huts and campsites to suit all hiking styles, is amazing for multi-day self-supported hiking.
The New Zealand government's Department of Conservation has an excellent website that makes researching, planning, and booking a breeze. There is a set of premier routes called the Great Walks that are especially well maintained and popular with visitors. They're so great, we did three of them!
Accommodation along the most popular routes often fills up in high season, so booking ahead – sometimes many months ahead – is essential if you want your first choice of route.
Campsites are generally cheaper, but the huts can be darn tempting, especially in bad weather. We hiked long days and often splurged on the huts, enjoying the luxury of leaving our tent and cooking setup behind to save weight.
To make a great thing even better, New Zealanders endearingly refer to hiking or trekking as "tramping." What's not to love?
New Zealand's Holiday Parks Are Awesome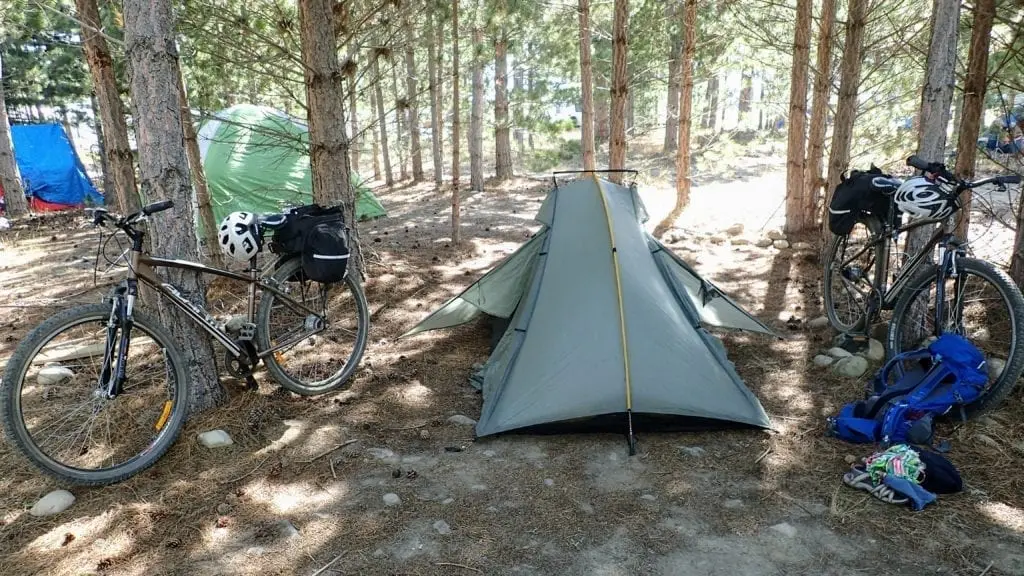 After the trail network, my next most favorite thing about New Zealand is the holiday parks. This style of accommodation isn't common in America, but in New Zealand practically every town seems to have one.
A holiday park is usually a complex offering a range of affordable accommodation, from basic private cabins to rooms with shared bathrooms to a grassy spot to pitch a tent. Frequently the grounds are large and include laundry rooms, picnic tables, and sometimes – strangely but awesomely – a trampoline. All guests have access to a communal kitchen and shared bathrooms with showers.
We stayed at holiday parks wherever possible in New Zealand, often pitching our tent to save money. After an especially tiring hike or when we needed to do some serious gear sorting, we would splurge on a room for the comfort and increased space.
OK, here we go! Let's get to that list of awesome specific things to do in New Zealand. Our first adventure after landing at New Zealand's Auckland airport and picking up our rental car was…
Tongariro Northern Circuit Hike
Time: 2-4 days
Start and finish: Whakapapa Village
Info and bookings: New Zealand Department of Conservation website
The Tongariro Northern Circuit is a beautiful and interesting loop hike through active volcanic terrain. As one of New Zealand's "Great Walks," it has a detailed website describing the hike as well as the huts and campsites along the way (which must be booked in advance).
The trail is located about 4 hours drive south of Auckland. We rented a car and started driving south right away, but if you have more time I would suggest spending a day or two exploring the city of Auckland. If you're not renting a car at the airport like we did, here's a helpful guide on how to get to Auckland from the airport.
We hiked the Tongariro Circuit in two days because we don't mind long mileage and were trying to pack a lot in, but most people take 3-4 days and probably enjoy themselves a bit more. We stayed at Oturere Hut so we didn't need to carry camping gear (left it in the rental car), which definitely helped us hike faster.
If you're short on time and looking to get the most bang for your buck, consider taking a shuttle from Whakapapa Village and hiking back via the Tongariro Crossing day hike.
This trail is amazingly scenic. You'll meander through wide open basins, climb a steep trail to a windswept ridge, and marvel at the geothermal activity as steam rises from the ground right next to you. It was the perfect introduction to the giant outdoor playground that is New Zealand.
Whanganui Canoe Journey
Time: 3 days
Start and finish: Ohakune. Your canoe rental outfitter will drive you and your canoe to the start at Taumarunui (5 day version) or Whakahoro (3 day version), and pick you up from Pīpīriki at the end.
Info and bookings: New Zealand Department of Conservation Website
Canoe hire and optional guide: Yeti Tours
Never done a multi-day paddling trip before? No problem. New Zealand is the perfect place to try it. The only one of New Zealand's "great walks" that isn't actually a walk, the Whanganui Journey is a 3 or 5 day canoe trip down the lovely Whanganui River with well tended campsites and huts along the way (bookings required during high season). You can rent a canoe from an outfitter in Ohakune and they'll transport you and the boat to the river, give you a quick crash course on canoe skills and safety, and turn you loose.
We're by no means experienced canoe-ers and had never done a multiday river trip before, but aside from tired arms we managed fine. We quickly learned to appreciate the relative luxury of canoe travel compared to hiking: we loaded up our watertight barrels with heavy canned food and even a bottle of wine yet didn't suffer at all from the extra weight. We stayed at campsites both nights, at John Coull and Tieke.
The river has a few very small rapids to navigate, which add a bit of excitement to an otherwise relaxing float. The largest one capsized us and a few other canoes nearby, but it's in a safe place where you can simply drag your canoe to the sandy shore and sort things out. The biggest risk is getting your gear wet, so be sure all your important stuff is carefully protected. A word of warning, the watertight barrels that came with our canoe weren't completely watertight. Plastic bags and dry sacks are your friends.
There are three day and five day options, with the five day trip starting further up the river. We chose three days and felt it was the perfect length: long enough to get into the flow (so to speak) of river travel and enjoy the most scenic stretch of river, but not so long that it became monotonous.
The only bad thing about this trip: sand flies! These vicious little f**kers attacked my ankles one night at the campsite, and since the bites seemed very mild I didn't try very hard to cover up or slather on more bug repellent. Two days later my legs were covered in angry, itchy red welts that kept me awake at night and drew sympathetic comments from passing strangers. Whatever you do, don't underestimate New Zealand sand flies. If they do get you, visit a local pharmacy for prescription strength antihistamine lotion.
Our Details:
Transport to Ohakune: drove rental car from Whakapapa Village, about 1 hour.
Transport from Ohakune: drove rental car to Wellington Airport, about 3.5 hours, then flew to Queenstown on the south island to pick up a rental car and drive to the Kepler Track.
Lodging in Ohakune: cabin at Ohakune Holiday Park
Kepler Track Hike
Time: 3-4 days
Start and finish: Te Anau
Info and bookings: New Zealand Department of Conservation Website

The Kepler Track, in gorgeous Fiordland National Park, is one of the more famous of New Zealand's Great Walks. It's easy to see why as you navigate green fairy-land forest, gape at alpine scenery from knife-edge ridgelines, and enjoy a well deserved dip in the clear waters of Lake Manapouri.
The recommended time for this hike is 4 days, but we squished it into 3 because we're impatient like that. This resulted in a 19 mile middle day, which I wouldn't necessarily recommend unless you're experienced with that kind of distance, at least not if you want to actually enjoy your hike.
We spent our first night – which happened to be Christmas – at the Luxmore Hut. This was possibly the most scenic overnight of our entire trip, high up in the mountains with views for days. The short hikes to a nearby cave and summit are definitely worthwhile if you have energy left over (bring at least two lights for the cave!).
Our second night at Moturau Hut was less scenic but still enjoyable, and right on the lake. After a long hot day of hiking, we jumped in the lake immediately upon arrival.
Bookings are required for the huts and campsites in high season, and this is a popular route, so you'll probably need to plan ahead if you want to include the Kepler Track in your New Zealand itinerary. I highly recommend it!
Our Details
We drove to the trailhead at Te Anau from Queenstown in a rental car, about 2 hours. When we returned to Queenstown we dropped off the rental car and did the rest of our trip by bus.
Around Queenstown
Time: 2-4 days
They don't call Queenstown the Adventure Capital of the World for nothing. You can terrify yourself in impressively many ways in and around this beautiful city, from classics like bungee jumping and skydiving to more "relaxed" activities like rafting, mountain biking, and paragliding. If you're into this kind of thing, you'll be in paradise in Queenstown.
We spent two days enjoying some of the chiller options (with the exception of a tandem bungee swing!) and resting our legs from the Kepler Track. The town has a great adventurous energy to it and should be a part of anyone's New Zealand vacation itinerary.
Our details:
Transport there: We flew to Queenstown from Wellington, on the north island. This cost more than taking the ferry, but was key in allowing us to fit everything we wanted to do into our packed timeline.
Transport away: we continued our trip with a bus to Wanaka. Alpine connections, 5:30pm departure.
Lodging: Lomond Lodge Motel ensuite room, a bit of a splurge but very enjoyable.

Nevis Swing
Time: a few hours
Info and booking: AJ Hackett Bungy

Not wanting to miss out on a taste of the adrenaline Queenstown is famously dripping with, we booked a tandem ride on the Nevis Swing for the morning of our first full day in town. I wanted to get it over with before I could change my mind, and then spend the rest of our time in Queenstown celebrating being alive after this big bad 300 meter plunge and swing across the Nevis Canyon.
This thing is big. Really big. I can still feel the bottom falling out of my world and my stomach rocketing into my throat as the operator pulled the release in "surprise mode" – more fun than a countdown.
Yes it's expensive for a very short ride. Yes it's terrifying. Am I glad we did it? Definitely. The AJ Hackett bungee crew was impeccably and reassuringly professional. These guys really know what they're doing and everyone in our group had a great time.

For those who prefer the retina-detaching plunge and bounce of traditional bungy jumping (as opposed to the gentler arc of the swing), the same company offers several sites around Queenstown, including the highest bungy jump in New Zealand right next door to the Nevis Swing. I'm happy with our choice, though I must admit the swing's controlled release lacks a bit of the drama that comes from stepping to the edge of a platform and voluntarily throwing yourself off. Next time…

Lake Wakatipu
Queenstown is situated right on the shore of scenic Lake Wakatipu. In the summer the beach is a lovely place to wile away a few hours swimming, sunning, strolling, or drinking beer at one of the beachside bars and restaurants. You'll also find plenty of opportunities for boat tours, stand up paddle board rentals, and other water activities, the most unique of which definitely has to be…
Flyboarding
Time: 30 minutes
Info: Flyboard Queenstown
My husband is a boarding enthusiast. Which kind of boarding you ask? Any kind. Surf, snow, balance, wake, skate, you name it, he's tried it and he's good at it. So he could not resist the opportunity to strap a water-jet-propelled hoverboard to his feet and levitate above the surface of Lake Wakatipu for an action-packed and expensive thirty minutes.
I myself am a casual boarder of various types (though skiing > snowboarding any day), but decided to save my money and skip this one. I tend to prefer slower endurance-based adventures over quick thrills. However, my husband still says this is one of the best things he did in New Zealand. So if it sounds like your cup of tea, we recommend going for it.
Ben Lomond Hike or Mountain Bike
Time: A few hours

There is a lovely chairlift running to a scenic viewpoint in Ben Lomond Scenic Reserve, literally right next to the center of Queenstown. But why take the gondola when you can spend an hour scrambling up a seriously steep and rocky "trail" instead? At the top you'll be rewarded with fantastic views, a restaurant, and even a luge ride (yes we tried it, it was fun!).
We explored on foot but were also impressed by the network of downhill mountain bike trails crisscrossing the area. Several outfitters in town rent mountain bikes and you can take them up on the lift and ride back down on trails of varying difficulty from beginner to advanced.
Rock Climbing
Time: 1 day
Instructor/guide: Independent Mountain Guides
We booked this in advance with Independent Mountain Guides. Our guide Dave met us in town and drove us out to a nearby crag for an afternoon of top roping. We climb regularly in the gym but don't get outside on real rock very often, so this was a treat.
I will say that the structure was more geared toward beginning climbers, as is common with half day or single day rock climbing outings. Our guide definitely fast-tracked the belay instruction and showed us the most challenging routes at the crag, but we still weren't as challenged as we would have liked. Climbers with some experience (and a big enough budget) might prefer to take on a guided alpine climb on one of the surrounding peaks or ridgelines.
Canyoning near Wanaka
Time: 1 day
Start and finish: Wanaka
Guide: Deep Canyon

Do you love rappelling down waterfalls as icy water pummels you in the face? How about sliding face-first down a slick rock chute into a dark pool?
Me neither, and that's exactly why this trip blew my mind. I can swim capably but water is not where I feel most at home, and this one day spent swimming, jumping and sliding through a wet canyon near Wanaka was a mental challenge for me (the others in my group seemed quite comfortable). Because of this, of course, it was also the most satisfying thing I did in New Zealand. Funny how that works.
We booked the Big Nige trip with guide company Deep Canyon. The day started with a scenic drive and a steep hike up the hill beside the canyon. At the top we donned thick wetsuits and climbing harnesses, received a safety briefing, turned our back to the void and rappelled into the canyon.
You don't need any prior knowledge or gear, though things will feel more familiar if you've ever rock climbed. Our guide from Deep Canyon was absolutely fabulous, technically capable and also a pro at managing the emotions and courage of our group. Safety was an obvious top priority and he backed us up with a safety line on all our rappels and in any area with the even remote fall potential. Our group was small, only four clients, which was perfect for this type of trip.
Our Details:
Lodging in Wanaka: private room at Wanaka Bakpaka
Transport to Wanaka: Bus from Queenstown (Alpine Connections, 5:30pm)
Transport from finish: Bus from Wanaka to Tekapo (Naked Bus, 11:45am, 2.5 hours)
If you're in Wanaka for a bit longer and can spare a long half-day, the famous Roys Peak Hike is nearby and highly recommended.
Alps 2 Ocean Bicycle Route
Time: 4-6 days
Start: Tekapo
Finish: Oamaru
Info: Alps 2 Ocean website
Bicycle rental and optional guides: Cycle Journeys
After two weeks of non-stop hiking and other adventures, we decided to cap it all off with a four day bicycle trip. The Alps 2 Ocean bicycle route is a linkup of roads and trails starting in the southern Alps near Mt. Cook (New Zealand's tallest mountain) and ending on the beach in Oamaru. This means it's net downhill! Don't let that fool you though, there is plenty of work to be done while cycling this route.
Most of the route follows quiet country roads with no or light traffic and is a mix of pavement and dirt. As of early 2016 a few sections were entirely on highway with too much traffic and not enough shoulder. We didn't enjoy this part, which fell mostly on our third day. But I understand the route is under development and they're still opening new sections to reduce the number of highway miles.
Unless you come with your own touring bike, you'll need to rent one. We worked with Cycle Journeys to arrange a one-way bike and pannier rental plus luggage transfer, starting in Tekapo and finishing at their other office in Oamaru. Cycle Journeys also does guided and supported tours of the route, if that's more your style, but we thought it was perfectly reasonable and fun to cycle independently.
If renting bicycles for a self-supported trip, I suggest you ask carefully about the rack and pannier setup. We ended up riding the whole way with backpacks on, unable to fit all our camping gear into the tiny panniers that were clearly designed for use on supported trips.
We were NOT experienced cyclists at the time and had never done an overnight tour before. We crammed the whole route into four days (are you noticing a pattern here?) and wouldn't have wanted to go any faster. Long days on a bike are tough when your body isn't used to them. Hello saddle sores!
If you're interested in cycling this route, find all the details of our trip and a sample itinerary in my Alps 2 Ocean overview.
Our Details:
Lodging in Tekapo: room at YHA Lake Tekapo
Lodging in Oamaru: Top 10 Holiday Park
Transport to Tekapo: Bus from Wanaka (Naked Bus, 11:45am, 2.5 hours)
Transport from Oamaru to Christchurch Airport: Atomic Bus, 9:50am, 3 hours 40 minutes
Enjoy your New Zealand adventure!
As you can see, we had a blast and highly recommend an adventurous trip to New Zealand. There are endless options for places to see and things to do, and while I think this active New Zealand itinerary samples some of the best, we definitely had to skip many great possibilities. If you've been or if you go in the future, let us all know how it went in the comments!
Travel resources in your inbox?
There's more where this came from! If you're into adventurous, thoughtful, off-the-beaten-track travel, sign up here for occasional emails with my best tips and inspiration.
Share the Adventure
If you found this article helpful, please consider sharing so more people can benefit from it: