Sierra Leone calls – make that hollers enthusiastically – to the adventurous traveler. Do you like mangoes, beaches, seafood, mountains, rivers, hiking, kayaking, monkeys, and motorbikes? How about friendly locals, dusty (or muddy) back roads, and enough surprises to keep you on your toes? Perfect.
I spent three months traveling overland through five West African countries, and Sierra Leone was a highlight. Here are my picks for things to do and places to visit in Sierra Leone, along with tips for making the most of your trip.
If this list captures your imagination, head on over to this detailed Sierra Leone travel guide next for useful tips on finding transport and lodging, staying healthy and safe, and lots of other random things I learned in West Africa.
Explore Freetown
The capital city of Freetown is going to be the first and probably last stop on your Sierra Leone itinerary, unless you arrive by land, because it's where the airport is. It's also the most happening place in Sierra Leone and well worth a couple days of your time. You may want to position these days at the end of your trip, rather than the beginning, to give yourself a buffer for getting to the airport on time despite unpredictable transportation.
Freetown is definitely more picturesque than some other African capitals, with its beaches and colorful buildings stacked up amidst green foliage on steep slopes. Wander the hilly streets, shop the spirited markets, enjoy a beer and grilled fish on Lumley Beach, sample the nightlife, or visit historical points of interest like the Cotton Tree and the national museum.
It's not unheard of for tourists and locals alike to be pickpocketed or robbed in certain neighborhoods at night, so if you do sample the nightlife – something I wasn't able to do much of as a solo lady – keep your wits about you. During the day though, you can feel comfortable wandering the city.
I stayed at Sierra International Hotel on Rawdon Street. It's a good budget option with helpful staff, but the streets in this neighborhood aren't great to walk late at night due to occasional robbery, so I wouldn't recommend it if you'll be coming or going after 9pm or so.
Relax, Swim or Kayak on the Freetown Peninsula
Less than an hour's drive outside Freetown, the Freetown Peninsula is home to River Number 2, Bureh Beach, and several other breathtaking stretches of sand and water. This is a great place to head for some hardcore relaxing, maybe after a jaunt into the rougher interior. You can kayak, swim (only safe in certain places, check first), or simply laze the day away over Star beer and fried fish.
I stayed at Cockle Point, just a little bit beyond the actual River Number 2 beach, which was much less crowded.  They had adorable bungalows for $40 per night, or places to pitch a tent for $10 per night.  Their food and beer were a bit expensive but very tasty, and the owners were kind and attentive.  They have a small private beach, plenty of places to sit and a kayak available to borrow for self-guided trips up the river.  If you feel like drinking beer in a slightly different place, you can cross the river – either on foot or in a small boat depending on the tide – to Africa Point and watch the waves crash on the shore from your wooden lounge chair.
During the weekend the area is busy with locals from Freetown and NGO workers out for a weekend vacation, but during the week it's pretty quiet.  I was almost the only person there on Monday night and got a major discount on my room because of it. The whole area is being developed rapidly with nice beach-front houses, so it might not stay quaint and charming forever.  
To get to River No 2 and other beaches from Freetown, find a taxi and negotiate hard.  To get back, your hotel can probably call a taxi for you, but you can probably get a better price by heading to the main road and negotiating yourself.
Wander Around Makeni
Makeni is the economic center of the northern province, and the 5th largest city by population in Sierra Leone.  It feels (and is) relaxed and small compared to Freetown.  Still, if you know where to look, you can find expat-quality healthcare and a grocery store (Monoprix) with western comforts like peanut butter and overpriced ice cream sandwiches (yum).
One of the first things you'll notice in Makeni is that every second car seems to be a white NGO Land Cruiser.  World Food Programme, UNICEF, Doctors Without Borders, all of them have a major presence here, which is a stark reminder of the challenges the country faces.
You can get to Makeni from Freetown in about 4 hours via shared taxi, but you're better off allowing a whole day to deal with the unpredictability of shared taxi travel.  Most taxis will drop you near the clock tower in the center of town, near the market.  From there you can simply walk or take a moto taxi up the main road – Kabala Highway – looking for guesthouses.
I stayed at Polaris Hotel, a small family-run guesthouse a couple dirt blocks off the main road.  Their teenage son helpfully walked me to a restaurant and back after my taxi arrived close to sunset.  Their rooms are basic but clean and have lots of thoughtful touches like places to hang clothes and a shelf above the sink.  They do serve breakfast, but it was a little meager and I ended up supplementing elsewhere.
I also looked at Alisam Guesthouse on the main road, which seemed fine and had running water unlike Polaris, but I chose Polaris because it felt a bit homier to me.  Alisam would have been a slightly shorter walk to everything else though, including restaurants.  The Clubhouse is a well known western-ish style restaurant on the main highway and I ate several dinners there.
I spent a pleasant day just wandering around Makeni, buying groundnuts and bagged water from people on street corners and shuffling through the busy central market.  There is a nice little library near the post office, which was a great place to sit under a ceiling fan with a cold soda for a couple hours and read local newspapers.
Enjoy the Views in Kabala
Kabala is a lovely small town in the north that is cooler, quieter, and greener than many others.  Currently (2018) the entire town lacks grid electricity, but guesthouses will run a generator in the evening and sometimes throughout the rest of the day.
I enjoyed wandering around town and the small market, but honestly there isn't too much to do there.  The main draw of Kabala seems to be organizing hiking into the surrounding area. Yagala Guesthouse doesn't often host foreigners so they weren't sire how to organize a hiking guide for me, but I eventually found the only hotel in town that usually hosts foreigners and arranged everything there.
Kabala Hill View quickly and easily arranged for me to hike up Wara Wara Mountain the next morning, a quick and steep jaunt through a forest and up to a nice view of the town.  They also connected me with a motorbike driver who knew the way to Sinekoro, the most common starting point for hiking Mt. Bintumani.  Over a lukewarm beer on the Kabala Hill View balcony overlooking the town, we negotiated a rate for the next morning and that was that.
I didn't stay at Kabala Hill View, but it had nice views over the town and the prices for their most basic rooms were reasonable. Instead I stayed at the more centrally located Yagala Guesthouse, one of the first options I encountered in town. The friendly owner directed me to Choices Restaurant around the corner for dinner, which is a bit of a misnomer since they only serve a couple of dishes for dinner and they are both going to be mostly rice, but it was a nice enough spot and fairly popular with locals. 
Climb Mount Bintumani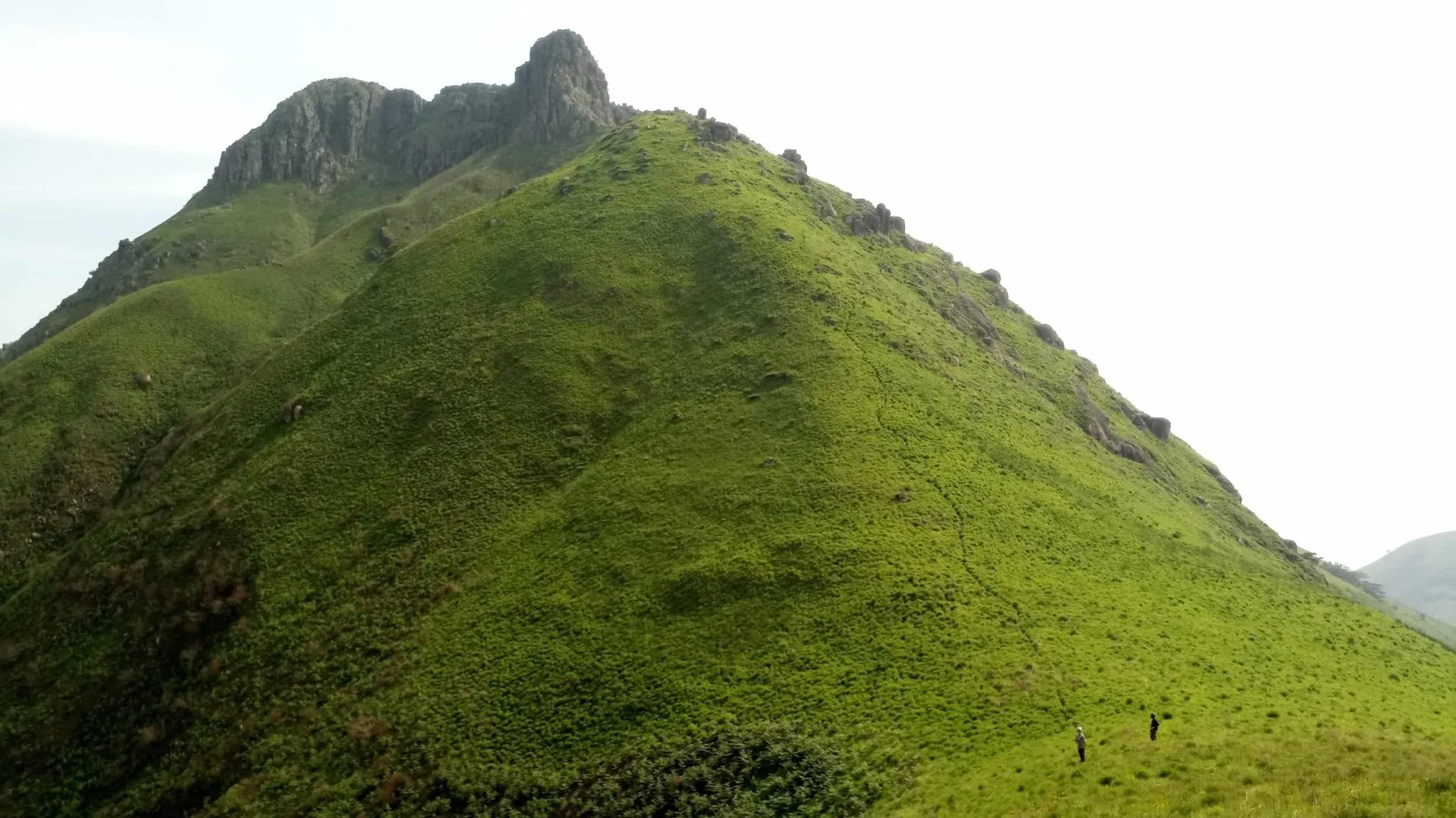 Mount Bintumani, in the Loma Mountains, is the highest point in Sierra Leone at 6,381 feet.  Don't let the unassuming height fool you, climbing this thing is one heck of an adventure.  From the motorbike ride to the start, to the negotiations with village elders, to the self-appointed guides and porters and the slippery grunt of the hike itself, everything about Bintumani is rough around the edges. It didn't help that I came down with malaria while camped at the top (most likely acquired in Guinea, take your malaria pills!), but that's another story.
If this sounds fun, check out this comprehensive guide to climbing Bintumani for all the details.  In short: buy food ahead of time (including for your guide and porters), bring plenty of cash, and be prepared for serious negotiations and a stout hike. It takes two or three days plus a night in Sinekoro village on either end, which is a few hours from Kabala by motorbike. You'll need camping gear for yourselves and ideally for your guide and porters, who probably won't have their own. Bring warm layers and a sleeping bag; the high camp on Bintumani is the only place in Sierra Leone I ever felt cold. 
The hike itself is hot, beautiful, and brutally steep.  They don't do switchbacks in this part of Africa.  It's mostly straight uphill through humid jungle to reach Camp 2, where you can spend the night.  In the morning it will be a few hours up and down to tag the summit, then a long and slippery slog back down to the village.  Someone in Kabala told me the full hike could be done in one day, but after experiencing the trail I truly believe only high level trail runners could complete this trail safely in one day. For the rest of us… Take two days!
After the hike pretty much everyone goes back to Kabala.  I had originally intended to attempt a back-roads route to Koidu, traversing the Loma Mountains.  From Sinekoro, our hiking guide was going to walk with me for a few kilometers to another village where he said I could hire a motorbike taxi to drive me to Koidu, about half a day on bad roads.
Unfortunately I never completed this route because I came down with malaria literally on top of Mt. Bintumani.  Feverish and achy, I happily accepted the offer from my new friends – NGO aid workers I met in Sinekoro – to come back to Makeni in their Land Cruiser and recover at their house for a few days.  That turned out to be a great experience as well, so I don't regret it, but it would have been cool to get to Koidu the adventurous way.   Maybe you can try it.
Bintumani can also be climbed by a couple other routes starting from different villages.  I went from Sinekoro, the most common starting point.  The Bradt Guide to Sierra Leone is the only place I've seen information on the others, and even it's pretty minimal.
Explore Kenema
With my time in Sierra Leone running out, I asked locals whether I should see Kenema or Bo.  They recommended Kenema.  You can probably get there from Makeni in one day by two separate bush taxis, connecting in Bo; allow a full day.  I stayed at the unmarked City Council Guesthouse, which was a bit hard to find, but as usual the friendly locals helped me out.
Kenema is a good place to arrange hikes and camping in Gola Rainforest, a preserve near the eastern border of Sierra Leone. Enjoy a stroll or moto taxi ride to the Gola Forest Headquarters (164 Dama Road) to arrange a guide. The tourism manager was out at the time I arrived, but stopped by my guesthouse later in the evening – what great service!  The Bradt guidebook mentions some kind of forest service building much closer to the City Council Guesthouse, but I wasn't able to find it even after a lot of walking and asking. 
Kenema is a nice town to walk around, with its lively streets and attractive central mosque. The Pastoral Center is also a nice place to walk if you want to leave behind the bustling streets for quiet, tree-lined walking paths.
Hike in Gola Forest 
After Bintumani it was hard not to feel a bit underwhelmed by my trip to the east part of Gola Forest, but if you haven't just come from the tallest mountain in the country it's a nice option. You can take a short night hike during which a guide will try to track animals, or longer day hikes through the forest, or even a multi-day trek all the way to Tiwai Island.
I camped at the Sileti ranger station and was the only visitor there.  There is a guesthouse with real beds and showers, but for less money you can pitch a tent under an open-air shelter, take bucket showers at the ranger station, and enjoy an evening chat on the porch with any guides and rangers working there. Food will be bought and cooked once you make arrangements with your guide; be sure to ask for it not too spicy if that's not your thing. You can find more information on the Gola Forest website: www.golarainforest.org
I chose the eastern region of the forest because it was on the way to the border with Liberia, my next destination. If you're headed back to Freetown instead you might check out the west side of Gola Forest, which links up with the famous Tiwai Island.  Some expats I met in Makeni said they really enjoyed their visit to Tiwai Island and saw lots of monkeys.  I suspect it may be better for wildlife sightings than Gola East, where I didn't have much luck.  You can take day hikes or camp on Tiwai Island, and their helpful website is here: www.tiwaiisland.org.
From Gola Forest my guide drove me on his motorbike, for a fair price, to the Liberian border.  It was a few hours on lonely dirt roads and then it was time to say bye to Sierra Leone.
Route Map
For those who are ready to get down to details, this map shows a few things:
Yellow roads: the route I took through Sierra Leone (includes some doubling back, look at the numbered locations to figure out where).
Red towns: places I stayed
Blue towns: places I didn't stay, but considered
Orange roads: the routes I took from Guinea to Sierra Leone, and from Sierra Leone to Liberia
Small grey route: a route I wanted to take but didn't.  I still think it would have been awesome.
You can see that I entered and left Sierra Leone by land, but this same itinerary would work if you are flying into and out of Freetown.  Simply get transportation back to Freetown at the end.  If using public transportation you may need to transfer to another car in Bo and it could potentially take two days total if the timing is wrong.
I haven't mentioned how long to stay at each destination because I think this depends a lot on individual preferences.  Take the amount of time you have, the places you most want to see, and add a full travel day for getting between each place. Then decide which places you want to spend more days at depending on what you like to do most.
Finally, note that the highlighted route may not be exactly as driven by the shared taxi drivers and motorbike speedsters who ferried me all around this lovely country.  It simply shows the obvious connections between destinations, but there may be places where the common transport routes deviate a bit from what I drew.
More Sierra Leone Travel Tips
If this sample itinerary has piqued your interest, check out this detailed Sierra Leone travel guide to learn more!
Be sure to also check out the rest of my West Africa travel guides, we well as this guest post I wrote about how to travel in West Africa on a budget.
You Might Also Like
Travel resources in your inbox?
There's more where this came from! If you're into adventurous, thoughtful, off-the-beaten-track travel, sign up here for occasional emails with my best tips and inspiration.
Share the Adventure
If you found this article helpful, please consider sharing so more people can benefit from it: