So you're thinking about a long walk in the woods (or desert or mountains)? Congratulations! A thru hike can be an epic adventure and a transformative experience.
But first, the practical stuff. One of the most pressing questions you may have, especially if this will be your first long hike: What size backpack is best for your thru hike?
You might be surprised to hear that thru hiking isn't really the determining factor here. The best backpack size for a thru hike, just like for any type of backpacking trip, depends on your gear, the conditions, and how much food and water you'll need to carry at one time.
In this post I'll explain how these factors determine the ideal backpack size for your thru hike, whether it's the PCT, AT, or any other long, short, popular, or lesser-known trail.
When you buy through affiliate links in this post, I may earn a small commission. Thanks for your support! I always offer unbiased opinions based on real experience from the road and trail. Learn more.
Factors to Consider
It's NOT About Trail Length
Newer hikers often make the mistake of thinking pack size should depend on the length of their thru hike. Surely a 2700 mile trail like the PCT requires a bigger pack than a couple hundred miles on a shorter thru hike like the John Muir Trail, right?
Actually, not really! People hike the PCT with 40 liter packs and the much shorter JMT with 70 liter packs. It turns out the gear you need for one night in the wilderness is almost the same, with a few exceptions, as the gear you need for hundreds of nights. As long as you can get to town and restock on food every few days, the length of your thru hike doesn't matter nearly as much as other factors.
So what does matter when choosing a backpack size for thru hiking? Here are the most important factors to consider.
Your Gear List and Base Weight
Your gear list is the most important factor to consider when choosing your pack size. To state the obvious: the more minimalist and compact your gear is, the less space it takes up.
But how to know whether your gear list is light, heavy, or average? Backpackers use a term called "base weight" to group hikers into loose categories. Like any method of categorizing people, it shouldn't be taken too seriously! But it's a helpful place to start.
Base weight is everything in your backpack except for consumables (food, water, fuel, sunscreen, etc). The established categories are:
Conventional / traditional: base weight over 20 pounds
Lightweight: base weight between 10 and 20 pounds
Ultralight: base weight less than 10 pounds
This calculator can give you a sense of how gear adds up to base weight. Generally speaking, most folks with a thoughtful list of modern gear are in the lightweight category these days. Folks with older gear, a strict budget, and/or a taste for camp luxuries are often in the conventional group. If you're ultralight, you already know it and everyone who meets you on the trail probably does too. 😉
Keep reading for more detail on how gear affects pack size in the Backpack Size Ranges section down below.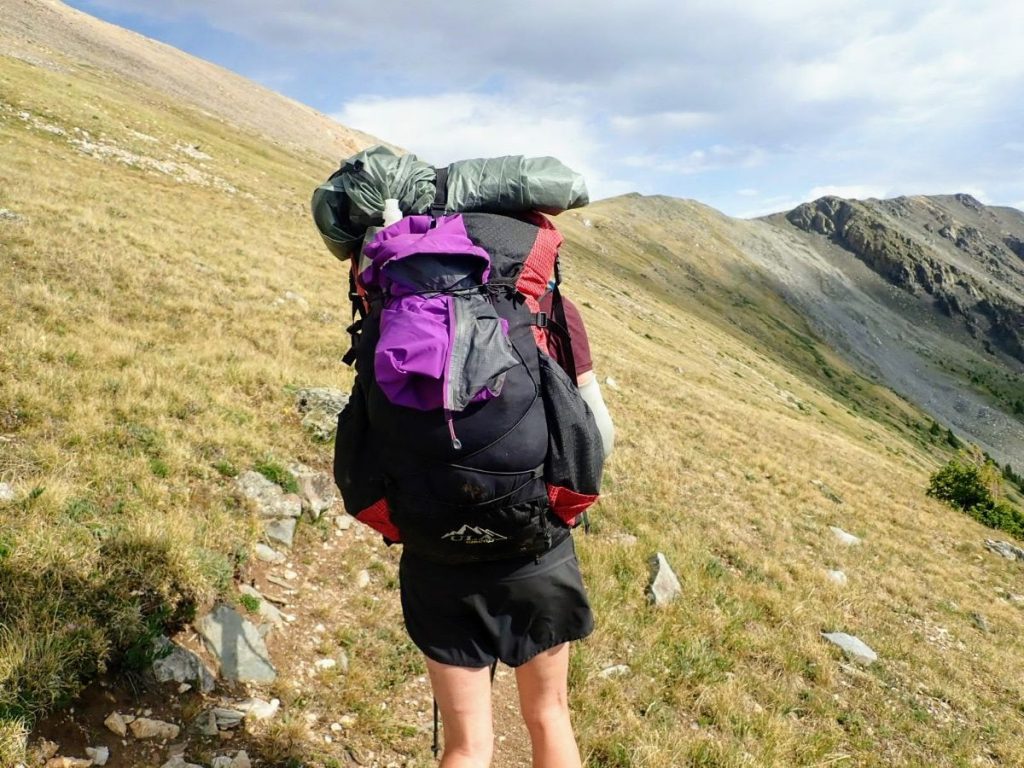 Resupply Frequency
Thru hikes are too long to carry all your food from the beginning, so you'll be stopping along the way to restock. This is called resupplying, and the distance between resupplies — particularly the longest segment you'll encounter — is another key factor to consider when choosing your pack size.
One day of backpacking food for one person takes about 1.5 liters of space, or a bit more or less depending on food choice and how it's packed. So if a section of trail will take you five days to hike, you need enough space for at least 1.5 x 5 = 7.5 liters of food (having an extra day of food is always a good idea!).
On the most popular thru hiking trails in the United States, resupplies typically come along every 3 to 6 days. A period of 7 or 8 days is considered on the long side but not uncommon. Carries of 9+ days can be managed, but they're heavy and not very fun (and, most importantly for our topic at hand, require more backpack space).
Certain trails are known for having longer or shorter food carries. The Appalachian Trail is the least remote of the Triple Crown trails and rarely requires more than 5 days of food at a time. The John Muir Trail includes a remote section where many hikers choose to carry 8 to 9 days of food. See the Specific Trails section below for more examples.
Water Frequency
Water is fairly dense and is usually more of a consideration for weight than pack size, but it does take up space. One liter of water takes up… well, one liter of space (plus a bit extra for the bottle or bladder). You'll want to know the longest water carry on your trail and how many liters you'll need to hike it safely.
On water-rich trails it's rarely necessary to carry more than 2 to 3 liters of water at a time. In dry places and times of year, for example the Arizona Trail in fall, hikers may need to carry 5 to 6 liters or even more in extreme cases.
A single long water carry usually isn't enough to make or break a backpacking setup, but if your pack is already borderline too small it might push you over the edge. Frequent long water carries are a good reason to consider a more robust backpack that will be comfortable holding more weight (more on backpack styles below).
Have a plan for where you'll carry your water and make sure there's plenty of space for all the bottles and bladders required.
Your Pace
Water and food needs mostly depend on time, not distance, so your hiking pace is another factor. Faster hikers can move between resupplies and water sources more quickly, thus carrying less in their packs.
To understand how much food and water you'll need for the longest carries, consider pace, fitness, and terrain. Thru hikers who've been on the trail for a few weeks generally have their "trail legs" and can comfortably hike 20 – 25 miles a day on moderate terrain. In their very first week on trail, however, they may struggle to reach 15 miles per day.
Difficulty of terrain is also key. On smooth sections of the well-maintained PCT it's much easier to hike big miles. A super rocky section of the Appalachian Trail, on the other hand, can challenge even fit hikers to cover 15 miles per day. High altitude, lots of elevation gain, overgrown trail, snow, and cross-country navigation also reduce daily mileage.
Also worth considering: a smaller and lighter backpack helps you hike faster, which allows you to carry less food, which fits in a smaller and lighter backpack, which helps you hike faster, which allows you to carry… (See where I'm going with this?)
Other Considerations
Here are a few other special cases that can impact the ideal pack size for your thru hike.
Bear canister: On parts of the PCT and much of the John Muir Trail, a bear canister is required for food storage. Their bulky shape can be tricky to fit into a smaller backpack along with other gear, so some folks err on the larger side for these trails.
Cold or snowy conditions: In shoulder season (spring or fall) you may need extra warm layers or a more robust shelter than an average summer thru hiker. PCT and CDT hikers often run into snowpack in wet years or early season, requiring an ice axe and crampons or microspikes for safety. Usually these items are carried on the outside of the pack, but should still be considered in your overall backpack choice and packing plan (and don't forget to learn how to use them!).
Kids or pets: Thru hiking as a family or with your dog? You may need to carry more gear in a larger pack in order to support them.
Other specialized gear: Hiking with camera gear, medical equipment, or other bulky gear? Again, err on the larger side for your backpack.
Backpack Size Ranges
Putting that all together, here are the backpack size ranges to consider for your thru hike.
Tip: You can get away with a somewhat smaller pack if you're able to attach a bulky item, like a tent or bear canister, to the outside of your pack. See How to Carry a Tent for examples.
30 – 40 Liters: Fast Ultralight Hikers Only
If you like cold-soaked meals, collect DCF fabric, and think a full-length sleeping pad is too luxurious, you might be able to thru hike with a pack in the 30 to 40 liter range. This is essentially a large day pack, and it's only for the strictest fast-and-light types with prior thru hiking experience and a base weight less than 10 pounds.
A small and light pack certainly helps you cover more ground, but your fitness and experience also need to be dialed. You better be hiking twenty mile days with ease and pulling thirties when necessary to get through a long food carry or dry stretch. You're willing to spend some money on gear and forgo comfort at camp in the name of hiking as far and as comfortably as possible.
Even the most obsessively minimalist hikers can only get away with a pack this small on relatively straightforward trails with frequent resupply stops. One some trails a pack this size just isn't feasible. Pacific Crest Trail hikers, for example, may struggle to fit a bear canister, warm clothes, and plenty of food through the Sierra (though it's been done). On the more straightforward Appalachian Trail it would be a bit easier.
Popular thru hiking packs in this size range:
40 – 50 Liters: Dedicated Lightweight Hikers
Though slightly more attainable for non-superhuman hikers, a pack in the 40 to 50 liter range is still ambitiously small for most thru hikes.
On a straightforward trail like the AT it can be workable, provided you have a lightweight gear list and the willingness to hike long mileage days through the few longer food carries. On trails with more intensive gear requirements or longer food carries, most folks will prefer more space.
A sample sleep and shelter system for a pack in this size range might include a Therm-a-Rest NeoAir Uberlite sleeping pad, Enlightened Equipment Revelation quilt plus hood, and an ultralight trekking pole supported shelter weighing around one pound (see lightweight solo tents for examples).
Popular thru hiking packs in this size range:
50 – 60 Liters: Typical Lightweight-ish Gear List
Finally, we have a thru hiking pack size suitable for a majority of hikers! In fact, all but one of the five most common backpacks on the PCT fall into the 50 – 60 liter size range, making it the most common thru hiking backpack size out there.
If you've made an effort to optimize your gear list, it should be able to fit into a pack of this size with space left for a 7+ day food carry. You may need to get a little creative and strap something to the outside for the first day or two, but it can be done.
To thru hike with a pack in this size range, you still need a somewhat lightweight approach to gear and packing. You may carry a carefully chosen luxury item or two and you should have room for all the standard items (like a stove), but you still need to think carefully about what you really need and try to leverage multi-use gear.
You don't need to spend a fortune on ultralight gear to use a pack in this range, but you also can't just go to Walmart (or even REI) and buy the cheapest gear you find. Look for midrange lightweight gear and try to keep your base weight under 20 pounds.
A sample sleep and shelter system in this range might include a Therm-a-Rest NeoAir XLite sleeping pad, Enlightened Equipment Convert quilt plus hood, and a lightweight solo tent in the 1.5 – 2 pound range.
Popular thru hiking packs in this size range:
60 – 70 Liters: Traditional Gear List, or Lightweight-ish With Room to Spare
This is the second most popular thru hiking backpack size, and probably the most versatile. I personally thru hike with a very popular 68 liter lightweight backpack (the ULA Circuit) and love it.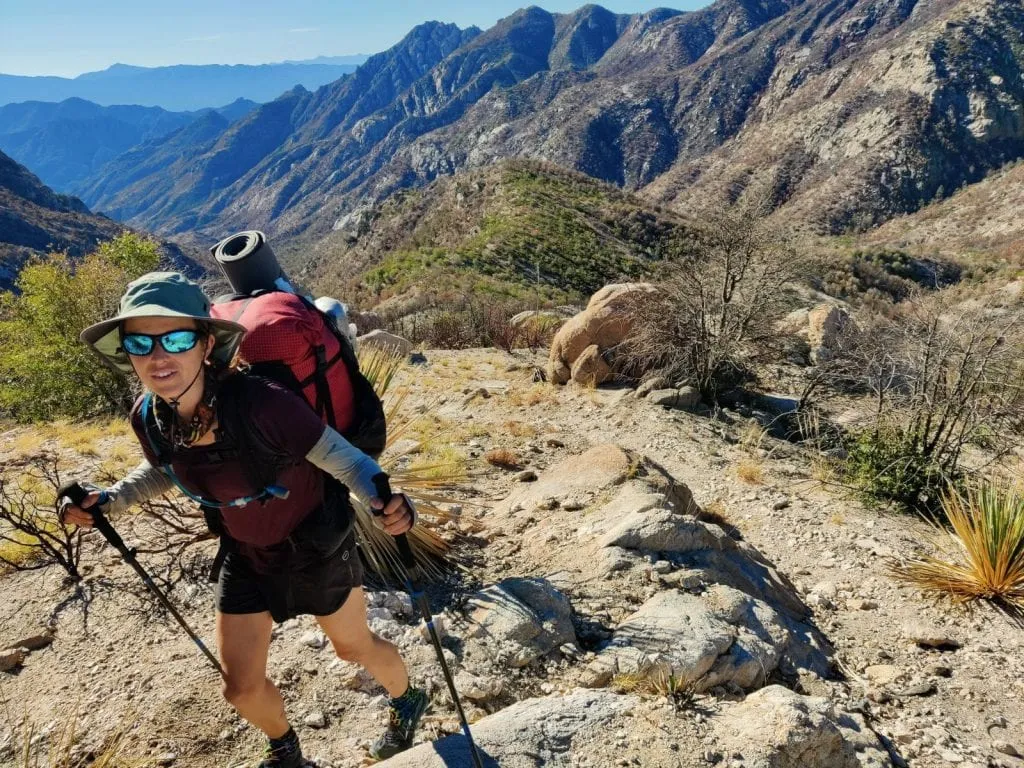 A 60 to 70 liter backpack accommodates a lightweight gear list with plenty of room to spare, so you'll never have to stress about a long food or water carry causing a packing conundrum. It's also a good size for folks with more conventional (read as "heavier") gear who don't want to replace their whole collection just to shave off a few pounds.
For those taking on a more complex trip with specific gear needs — winter gear, technical gear, young kids, or extra-long expedition food carries — a pack this size will accommodate a reasonably thoughtful gear list plus your extras.
Popular thru hiking packs in this size range:
70+ Liters: Traditional Gear List or Demanding Expedition
Personally, I cringe a little when I see someone thru hiking with a full 70+ liter backpack. It just looks so uncomfortable! But some folks have reasons for needing this much gear, and others simply prefer to hike with lots of luxuries or with cheaper and bulkier gear. Hike your own hike!
Popular thru hiking packs in this size range:
Pack Style: Lightweight or Conventional
So far we've only talked about backpack size, but you have another important choice to make for your thru hike: backpack style and weight.
Backpacking packs can be roughly divided into categories I'll define as follows:
Conventional:
Weighs 4 pounds or more when empty
Lots of compartments and features
Robust suspension system to transfer weight to hips
Designed to carry loads up to 50 pounds or more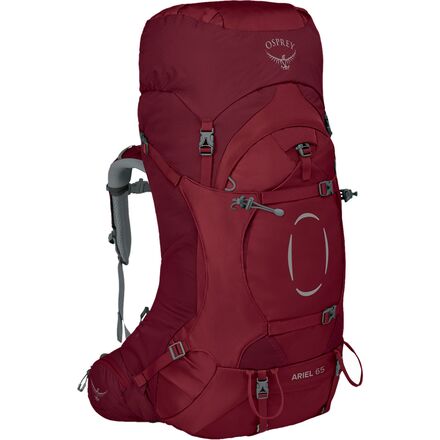 Conventional pack example: Ariel 65L Backpack – Women's
Lightweight:
Weighs 3 to 4 pounds when empty
Moderate number of compartments and features
Decent suspension system to transfer weight to hips
Designed to carry loads up to 40 pounds or more
Lightweight pack example: Gregory Paragon 68 Pack – Men's
Ultralight:
Weighs less than 3 pounds when empty
Fewer compartments and features, requires hiker to create their own organization system
Minimalist suspension system to transfer weight to hips
Designed to carry loads up to 30 – 35 pounds
Ultralight pack example: Hyperlite Mountain Gear Junction 3400
If this reminds you of the base weight discussion above, good job! Conventional packs are the most comfortable way to carry a heavier conventional gear list. Ultralight packs use lightweight materials and streamlined design, and can get pretty uncomfortable if packed with non-ultralight gear. Lightweight packs are a good in-between, often sporting a conventional style but made with lighter (and more expensive) materials.
While lightweight and ultralight packs are very popular (I personally love my ULA Circuit), I don't recommend them unless your gear list is truly lightweight. Opt for a more conventional pack if your base weight is over 20 pounds; your shoulders and back will thank you.
If you do have a lightweight or ultralight gear list, note that many ultralight packs can compress down to a smaller size when not full. You'll pay very little weight penalty for this extra space since the materials are already very light. Thus you may want to err on the side of a larger pack for convenience and versatility.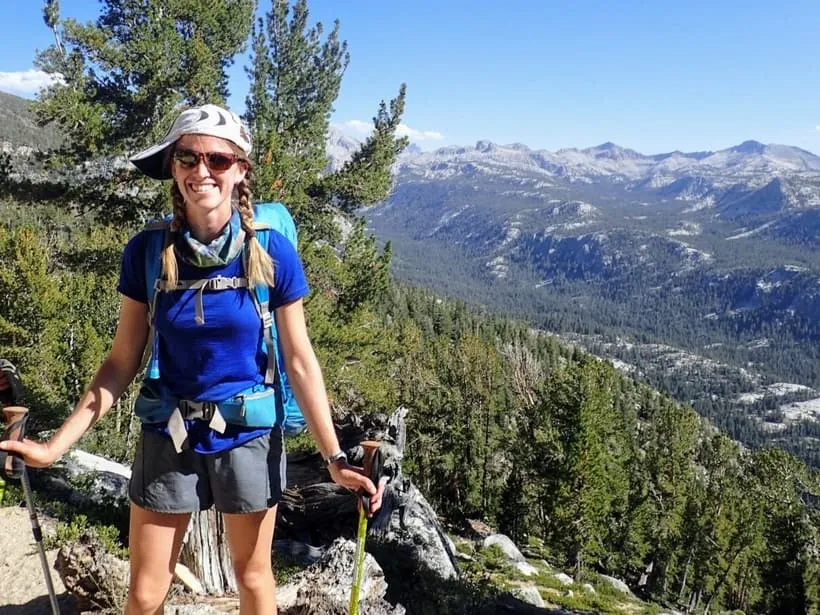 Specifics for Popular Thru Hikes
The point of this article is to help you choose the right backpack size for any thru hike based on the trail and your gear list. To get you started in the right direction, here are a few notes for the most popular thru hiking trails in the U.S.
Note that most hikers could use the same pack for all these trails and be perfectly happy! They have much more in common than not. But if you have experience with one trail and want to know how others compare, or if you're on the fence between two pack sizes and want a tie breaker, these observations should help.
Pacific Crest Trail
According to the PCT Resupply Survey, the average resupply duration is 6.4 days. This is on the long side for a thru hike, due in part to some longer carries through the Sierra region. According to the PCT Gear Survey the most common backpacks range in size from 40 to 75 liters — quite a big range!
The PCT is a varied trail. The need to accommodate long food carries and a mandatory bear canister in the Sierra, long water carries in the desert, and potential snow in the mountains means PCT hikers should err on the side of a slightly larger pack compared to many other trails.
Appalachian Trail
The AT is generally less remote than the PCT and towns are easier to get to, thus most food carries are short (3 to 5 days). It depends on the season but snowpack is usually less of an issue than on the PCT or CDT, and water is usually plentiful. If a hiker wanted to stretch the limits of a smaller pack, the AT would seem to be a good trail for it.
Continental Divide Trail
The CDT Resupply Survey says the average time between resupplies is 5.5 days. Though towns on the CDT are known to be a bit harder to reach than other trails, CDT hikers tend to be more experienced thru hikers and may hike longer days from the beginning. Other challenges like snowpack, large temperature swings, and long water carries are similar to the PCT or a bit more intense.
The most common backpacks on the CDT are a bit smaller than the PCT on average, maybe due to the lack of a bear canister requirement and also a more experienced group of hikers.
John Muir Trail
The JMT is an extremely popular short thru hike overlapping the most remote region of the PCT. According to the JMT hiker survey the average time between resupplies is 7 days. This is skewed by the southern half, which has no on-trail resupply options for the last 111 miles.
Since this is a shorter trail and more popular with newer backpackers, folks tend to hike shorter daily mileage than on the PCT. It's not uncommon for JMT hikers to carry up to 9 days of food for the southern section, and hard-sided bear canisters are required. This makes a larger pack more appealing for those who aren't hiring a pack team or hiking out to resupply during the southern half.
Read more: JMT Thru Hike: How Long Does It Take?
Tahoe Rim Trail
The TRT is a loop around Lake Tahoe comparable in length to the JMT. Because it's usually done as a summer hike and resupplies are straightforward, it's a great opportunity to try a smaller pack. Bear canisters are not required, however many hikers chose to carry them anyway since bears are so active in the area.
Read more: Tahoe Rim Trail Ultralight Itinerary | TRT vs JMT
Colorado Trail
The CT overlaps one of the most stunning sections of the CDT through Colorado. It's relatively straightforward compared to many other trails and would be a great place to try a smaller pack.
It's a summer mountain hike so weather is a bit less variable than the super-long trails (though hikers should always be prepared for mountain storms). Resupplies are usually in the 3 to 5 day range, but at least one section will stretch to 6 or 7 days for average pace hikers. Water is mostly easy to find; no more than 4 liters is usually necessary. I think a lightweight hiker could aim for 50 to 55 liters of backpack space on the CT, unless choosing to carry a bear canister.
Read more: Thru Hiking the Colorado Trail: Essential Q&A
Arizona Trail
The AZT is a unique middle-distance thru hike traversing a variety of ecosystems from classic desert to pine forest. Resupplies are often in the 4 to 6 day range (slightly longer than the Colorado Trail) and water can be scarce especially in fall. Since the hiking season is spring or fall (summer is too hot) hikers can expect more sub-freezing temps and snow than a typical CT or JMT hike.
Combining all these factors, AZT hikers might want to have a few extra liters of capacity compared to the CT.
Read more: Thru Hiking the Arizona Trail: Essential Q&A
Long Trail
The LT overlaps a section of the Appalachian Trail and continues north through even rockier and more technical terrain. Resupply distances are fairly short and water is plentiful, and for in-season hikes the temperatures are milder and less erratic than the western mountain and desert trails. Though all hikers should have their their own shelter, some choose to sleep in the wooden shelters in bad weather.
Combine these factors with the LT's notoriously rough and steep terrain, and you get an excellent opportunity to try a smaller and lighter pack. If I had to choose a smaller pack for one thru hike in this list, it would be the Long Trail.
More Tips for Choosing A Thru Hiking Pack
Buy your other gear first, especially the big items (shelter and sleep systems). This will keep you honest about what size pack is best suited to your gear list.
Pay attention to max load ratings. If your base weight is over 20 pounds, don't try and cut weight by choosing a minimalist backpack. Ultralight packs don't have the same kind of suspension system as more conventional packs, which means you'll really feel the weight in your shoulders and back.
Try it out! First, fill it up and hike around your house. Does anything rub you the wrong way? If it seems promising, go for a day hike and eventually a backpacking trip. Make absolutely sure it works for you before starting your thru hike. I've tried very popular packs that simply didn't work for my body; just because a pack is popular doesn't mean it will work for you.
Still can't decide? Get a pack in the 60 – 68 liter range. It's the sweet spot that will fit most gear lists and reduce stress about long food carries. You can always leave some empty space in a too-big pack, but it's frustrating to try and overstuff a too-small pack for days on end.
More Backpacking Resources


Hiking resources in your inbox?
There's more where this came from! Sign up here for occasional emails full of inspiration and information about backpacking and hiking.


Share the Adventure
If you found this article helpful, please consider sharing so more people can benefit from it: