I still remember the first time someone asked me if I was thru hiking.
It was many years ago on the John Muir Trail, my first real backpacking trip. I barely knew what it meant but the term carried an allure I found appealing.
"Are you thru hiking?"
Why yes. Yes I am. I am hiking this whole darn trail from beginning to end. I am thru hiking.
At the time I didn't fully understand the concept, and because Wild and similar books had yet to be published, many other people didn't either. In recent years it's become more widely known and practiced, but there's still a bit of the "if you know you know" vibe about it.
Since hiking the John Muir Trail – a "gateway drug" for thru hiking – I've backpacked plenty of short trails, and also stepped up to mid-distance thru hikes like the Colorado Trail and Arizona Trail. While living on these trails for a month or two I felt like a thru hiker, ate like a thru hiker, and definitely smelled like a thru hiker.
Yet on those trails I shared miles and conversation with veterans of even longer trails like the PCT, AT, and CDT. Perhaps I was not really a thru hiker, not as much as they were. Perhaps I'm more of a backpacker. A backpacker who sometimes thru hikes. Hmm…
So what's the deal? Who's a backpacker and who's a thru hiker? When we talk about backpacking versus through hiking, what are the implied nuances of culture, mood, and logistics? What do hitchhiking, Hawaiian shirts, and flat rate USPS boxes have to do with backcountry hiking, anyway?
In this fun post I'll explain what thru hiking is and what distinguishes it as a type of backpacking. I think most hikers will agree that all thru hikers are backpacking, but not all backpackers are thru hiking, so let's get specific and figure out what the thru hiking mythology is all about.
Hike Your Own Hike
Sometimes people get uptight about labels, so let me be clear: my purpose here is not to divide us. We're all one big happy trail family as far as I'm concerned.
As someone who blurs the line between backpacker and thru hiker, I feel comfortable making some generalizations while acknowledging the gray area between them. Of course some people thru hike like backpackers, backpack like thru hikers, and everything in between. I don't care which label others think I qualify for, and I don't think you need to either. This is all just for fun.
If you think of yourself as a backpacker and are considering a thru hike, this post should help you understand the cultural and logistical aspects that come along with all the walking. And if you already think of yourself as a thru hiker, I hope you'll have fun reminiscing about those trail escapades that only seem to happen on the longest of long walks.
Thru Hiking Books
Some of my favorite stories from long trails:
What is Through Hiking?
A thru hike, or through hike, is a long-ish backpacking trip on an established route with a focus on completing the trail from start to finish. Most thru hikes are "point to point" and finish far from where they start, but you can thru hike a loop too, as with the Tahoe Rim Trail.
"Long-ish" is obviously subjective. Some people talk about thru hiking the 72 mile High Sierra Trail, or even the 30 mile Skyline to the Sea trail near my home in California. Most thru hikes are at least a couple hundred miles or more. Even the 800 mile Arizona Trail is sometimes called a "short" thru hike.
Ultimately it's more about the trail than the distance. It's possible to section hike hundreds of miles on the Appalachian Trail and still not technically be thru hiking, though you'll certainly get a good feel for the thru hiking experience.
There's another sense in which thru hiking, at least in the United States, has come to mean specifically hiking the Pacific Crest, Appalachian, or Continental Divide trails. These 2000+ mile trails – projects that take most folks 5-6 months – dominate the culture of thru hiking, as well as the counts of trail alumni. Many of these folks go on to hike other shorter trails, but their identity as thru hikers remains largely based on their longest trail experiences.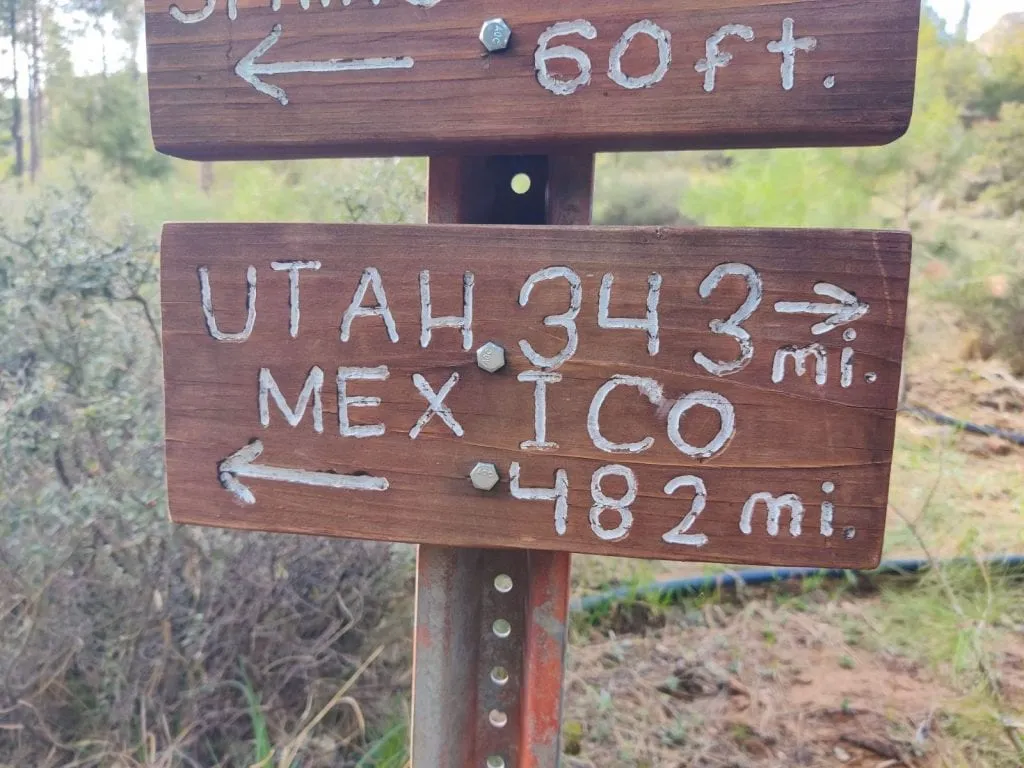 How Thru Hiking Differs from Backpacking
That was a basic definition of thru hiking, but it certainly doesn't tell the whole story. Here are some notable ways that thru hiking differs from the broader concept of backpacking in terms of logistics, mood, and culture.
Resupplies
Most thru hikes are so long that you can't carry all your food from the start.
Instead, thru hikers stop at towns, lodges, and post offices every so often (usually between 2 – 7 days) to restock on food and other consumables like toothpaste, toilet paper, and sunscreen.
Sometimes it's possible to buy food at a grocery or convenience store, and other times it's necessary to mail yourself a box via General Delivery. Many thru hikers become experts at the art of mailing resupply boxes as efficiently and cheaply as possible.
Thru Hiking Resupply Checklist
Spend your town time resting and eating instead of worrying what you're forgetting. Download this free town day resupply checklist to your phone, or even print it out like in the old days:
Get the Checklist
Resupply stops are also where hungry and tired thru hikers might enjoy a hotel room, hot shower, extra-large pizza, and maybe a couple beers before heading back out to the trail. Speaking of which…
Rest Days
Zeros and nearos – hiking no miles or very few miles in a day – are essential for resting sore bodies and rejuvenating tired minds. When you're on the trail for weeks or months it's common to take a rest day every week or two, sometimes more often.
Rest days have a tendency to fill up and not feel all that restful. By the time you've shopped for resupply food, done laundry, visited the post office, hunted for a new fuel canister, and various other town chores, you might feel you need a "double zero" before hitting the trail again.
Trail Towns
Trail towns are technically just towns along the trail where hikers might go for a resupply or rest day. But thru hikers know that a true trail town is more than that. It's a milestone to look forward to, a friendly space to gather with other hikers, and an opportunity to rest and rejuvenate before heading back out onto the trail.
A great trail town is a small community that offers cheap lodging, hearty meals, affordable groceries, and a conveniently walkable layout. A good brewery doesn't hurt. Most of all, the best trail towns manage to be "hiker friendly" – that is, welcoming to the dusty, hungry, somewhat unsocialized folks loitering by the power outlets as they repack food bags on the front porch of the general store.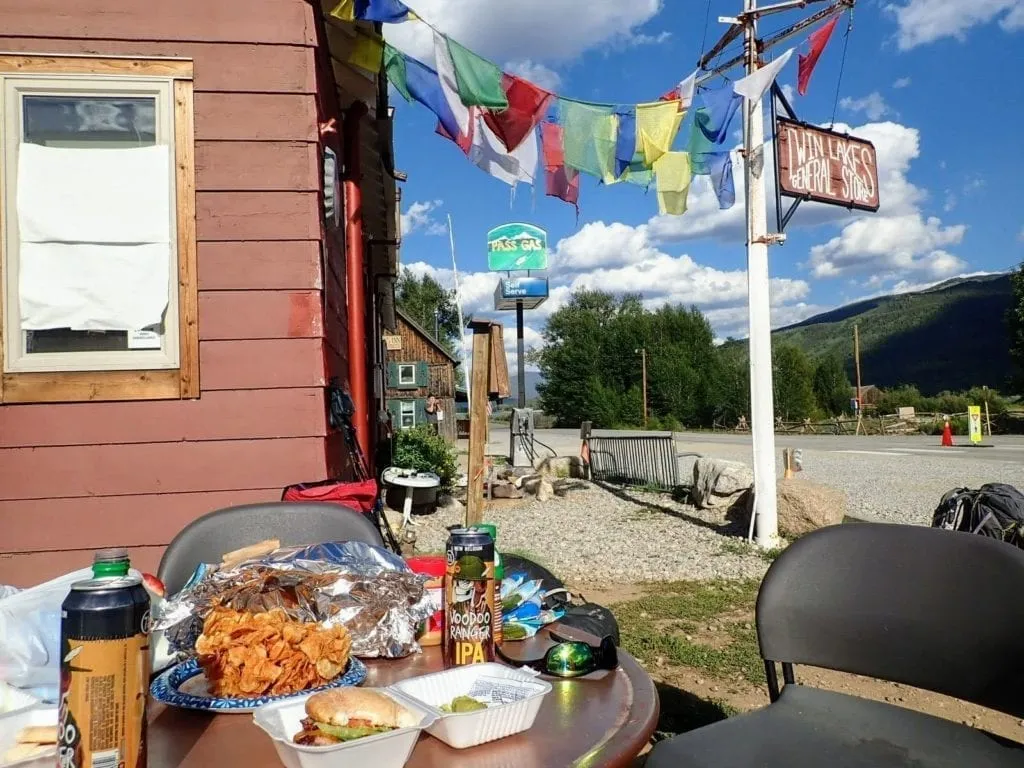 Hiker Boxes
A hiker box is a fabulous concept that I wish existed in daily life. They're usually found at hiker-friendly establishments in trail towns, such as hostels and general stores. Thru hikers drop off what they don't need or want to carry anymore – extra food, gear, etc. – and pick up whatever they find that's useful to them. Take what you need and leave what you don't – what a concept!
Before you hit the grocery store to resupply, check the hiker box. You might get lucky and find your favorite flavor of Ramen noodles, a half-full fuel canister, or a replacement tent stake for the one you bent. When you're unpacking your tenth resupply box and can't bear the thought of another peanut butter Clif bar, leave it in the hiker box for someone else to enjoy.
Hitchhiking
The nearest trail town might be many miles from the trail, which means thru hikers often rely on the kindness of strangers for transportation.
The first time I ever truly hitchhiked – side of the road, thumb out – was while thru hiking the Colorado Trail. A kind dad and his two daughters took us five miles into town in the back of their truck. Since then I've had other rides, all good experiences, each a chance to briefly connect with a generous stranger.
Near popular trail towns on popular trails like the Pacific Crest Trail, thumbing a ride can be quite easy. In remote areas along the Continental Divide Trail or lesser-known trails, it can be much harder. Either way, it's unlikely you'll finish a long thru hike without at least a couple hitchhiking experiences.
Trail Magic
A cooler full of fresh fruit, a cache of water in the dry desert, a can of warm beer leaning against a remote trail marker…
Trail magic – acts of kindness committed by "trail angels" for the benefit of hikers – can make your day on a thru hike.
Sometimes the trail magic and trail angels are organized, almost official. They might offer rides to or from town, a cheeseburger cooked on their RV's grill, or even a free place to spend a night. The thru hiking community is strong, and trail angels go a long way toward tying it together.
Never expect or rely on trail magic, but appreciate the heck out of it when it appears. If you see a trail angel in the wild, thank them. Offer a donation if it seems appropriate and you can afford it. Then thank them again. Trail angels, we love you!
Trail Family
Though backpacking is often associated with solitude, thru hiking can be a surprisingly social activity. This is especially true on popular long trails like the PCT or AT, where hikers seeking solitude may actually struggle to find it.
Hiking a long trail can get lonely, even for the most introverted among us. It's hard to find friends who can drop what they're doing and join for months, so many thru hikers start their journey alone. Those looking for friendship often find it in the form of Trail Family or "Tramily."
You might walk with these folks or just leapfrog throughout the day, camp with them or just say hi when you pass, hang out on rest days or just keep in touch and share trail info back and forth. Some trail friendships last long after the hike is done, and it's not uncommon to join up with past trail family to hike a new trail in the future.
Trail family can also lead to challenges, so be prepared to hike alone too. Differing paces, incompatible hiking styles, or an injury can break up a trail family and leave thru hikers feeling lonely once again.
Hiker Trash
There's something about loitering near the power outlets, scavenging food from hiker boxes, and sleeping wherever you end up. It's as if financially comfortable, socially settled people get a thrill from dabbling in a privileged version of hobo life. We put ourselves out there in the wild with just the gear on our backs and a faith that "the trail provides," a rare opportunity in today's organized and settled world. It feels primal, communal, and freeing.
I think this is why thru hikers embrace the term "hiker trash." We know we're weird and smelly and normal folks might not want us around, but that's part of the fun. We can play at being social outsiders while still enjoying the safe embrace of the thru hiker community. So if someone calls out "Hey hiker trash!" as you're thru hiking, take it as a compliment and return the greeting.
Hiker Fashion
As a backpacker I've always worn practical outdoor clothing: stink-proof merino wool shirt and black running shorts or khaki cargo pants, depending on the weather. So when thru hiking I was surprised to meet many folks flaunting the traditional wisdom of outdoor textiles.
Colorful Hawaiian shirts, neon shorts, and funky hats decorate the bodies of many long-distance hikers. You'll find them shopping at thrift stores instead of gear stores, at least for their base layers (everyone still needs a good quality rain jacket).
This aspect of the hiker trash vibe serves a practical purpose too, at least psychologically. When you're wearing the same clothes every day for months in a low-stimulation environment, it's nice to wear something that sparks joy.
I'm typically a function-over-form type of gal. If I can get away with wearing the same comfortable outfit every day, I will. But after the Arizona Trail I felt a sudden hunger to wear everything in my closet! Bright colors, flowy fabrics, feminine skirts, I enjoyed it all. Two months in black shorts and a red t-shirt had worn me down. I can absolutely understand why long-haul thru hikers embrace a quirky sense of fashion for their months on trail.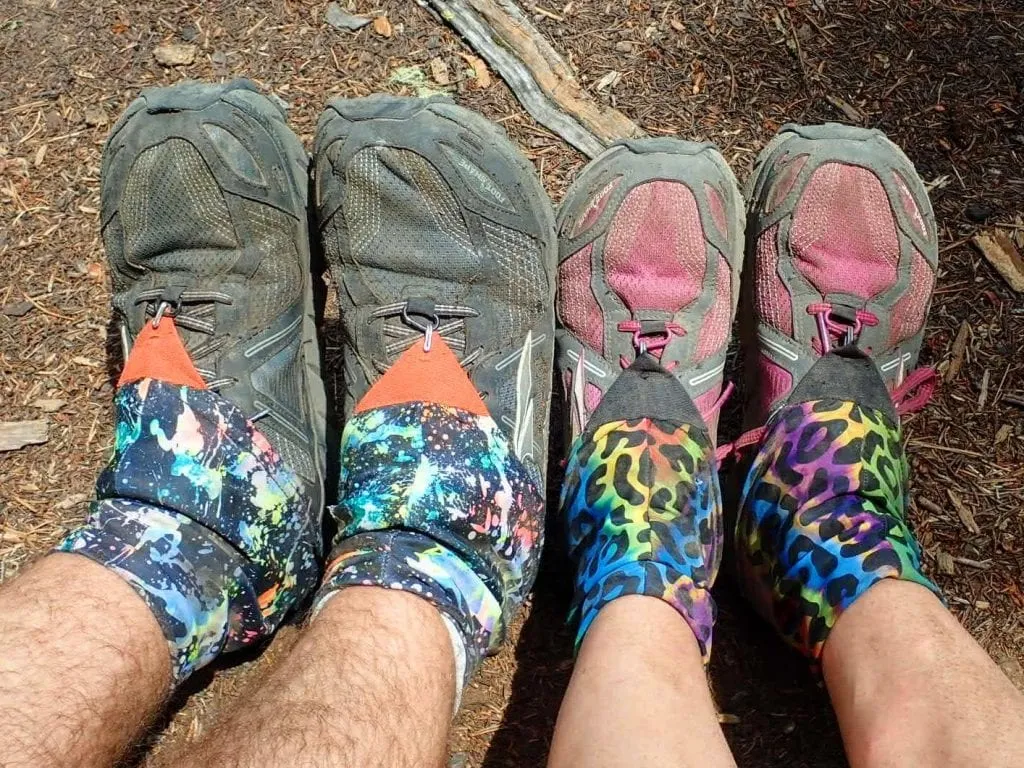 Planning (Or Lack Thereof)
On a short backpacking trip it's common to plan each day's distance and camp location in advance, perhaps aiming for a campground or scenic lake.
But when you're staring down hundreds or thousands of miles it's impossible to plan each day. Thru hikers tend to take an on-the-fly approach to planning, starting with an overall time or daily average mileage goal but taking each day as it comes.
Not only would detailed planning be a ton of work for such a long hike, it would almost certainly need to be changed. We never know when we'll have a great day and want to power on, or develop a nagging injury that needs more rest. "Trail legs" kick in eventually and allow longer daily mileage, but we never know exactly when they'll arrive.
When I started the Arizona Trail, the only thing I knew for sure is that we would refill water at mile 8 (it was a dry area). That's it! For 800 miles. I had sent resupply boxes to towns along the way based on rough estimates, and we had an app full of information on water sources and resupply points, but otherwise we let each day unfold on its own.
If you're a planner and have never hiked this way before, it's liberating!
Relentless Forward Progress
Long thru hikes often come with an unavoidable sense of urgency. Some backpackers (not all) walk in order to camp, but most thru hikers camp in order to walk. It's common for thru hikers to average twenty miles a day, or even pull a thirty+ when the going is flat and easy.
Whether because of returning to a job or school, beating the arrival of winter weather, cutting down on food and water weight between resupplies, or just making the most of acquired fitness, long daily miles have inevitable thru hiker appeal. It might also be that several months is already long enough to spend hiking, so why drag it out even more.
This is a big reason why thru hikers also tend to have lightweight gear and use lightweight backpacking techniques. Logging long days is hard enough already, and a minimalist approach to camping gear works well when you spend far more time walking than camping.
Of course some backpackers hike like this too, prioritizing comfortable miles over luxurious camp time. And many thru hikers, despite what the traditionalist backpackers might claim, do take time to enjoy the scenery. But given the chance to linger or move forward, thru hikers will choose to move forward more often than not.
Rites of Passage
A typical backpacking trip can be enjoyed on a long weekend or short vacation, so it often feels like recreation. But a thru hike, for many, is a grand project more akin to a pilgrimage or rite of passage.
Due to their length, most thru hikes require significant time off from work and "normal life," which is why you'll find many students, new grads, and retired folks on long trails. For many of these people a thru hike isn't just about the hiking, it's about marking a transition in their lives with a grand adventure.
Some folks have barely backpacked before setting foot on a 2000+ mile trail! And some won't continue to be regular backpackers after their thru hike, though many will. Sometimes it's about the hiking, and sometimes it's about what transpires while the hiking happens in the background.
It's cliché to say people "find themselves" on the trail, but after a few hundreds or thousands of miles, you're guaranteed to have found something.
In Conclusion
I'm sure you can see now that a thru hike is more than just an extra-long weekend backpacking trip. If the logistical and cultural additions make you think "I want some of that!" then thru hiking might be perfect for you.
Of course these are generalizations, so it they don't fit you perfectly please don't send me angry emails. 🙂 Instead, you can comment below with your own perspective to help others understand the nuances of all this.
At the end of the day, we're all hikers and we're all trying to find what we need in the wild outdoors. Whether you consider yourself a backpacker, thru hiker, or something else entirely, I wish you happy trails.
More Thru Hiking Resources


Hiking resources in your inbox?
There's more where this came from! Sign up here for occasional emails full of inspiration and information about backpacking and hiking.


Share the Adventure
If you found this article helpful, please consider sharing so more people can benefit from it:
Pin For Later