As I sit here reflecting on five days of Tour de los Padres, and nursing the worst case of poison oak I've ever had the misfortune of experiencing, I keep coming back to this thought: the bikepacking in California is better than I realized!
I first started bike touring as a way to explore other countries. When I transitioned to off-pavement bikepacking, I was drawn to other states. To narrow the gap between my biking life and home life, I recently set myself a goal of exploring more of California by bike. Tour de los Padres was the latest in a series of local bike adventures that have me appreciating my home state with new enthusiasm.
Tour de los Padres is a small low-key bikepacking event / race / route focused on Los Padres National Forest, typically the southern section near Santa Barbara. This was its ninth year, though the route has changed several times and this year it was the longest yet. For those unfamiliar with this type of bikepacking event, low-key really means low-key. No support, no photographers, no Instagram account — just a GPX track and a start time, and a tracking map for our loyal dot watchers.
The ride mostly attracts a dedicated group of locals, and they kindly welcomed me into their fold. Organizer Erin rides his own event and several other participants helped scout the route. I had the pleasure of leapfrogging and camping with a number of folks and every one of them was a strong rider and rad person. It never fails: people who show up to bikepacking events are generally awesome.
We pedaled and sometimes hiked our way along an epic linkup from the Big Sur area down to Santa Barbara on dirt roads, trails, and some pavement. There was intense heat, gorgeous scenery, surprisingly rugged terrain, and some sneaky challenges. Hats off to the organizers for constructing such a long bikepacking route through a relatively populated part of the country with patchy public land. I'll never think of Central California the same way again.
My approach to this ride was somewhere between racing and "touring with a sense of urgency." I wanted to enjoy the route and not destroy myself, but I also wanted to ride long days and some of the nights to see what my body and new bike were capable of. In a competitive racing situation I likely would have been in the back half of the pack, but it seemed like most of the field consisted of strong riders taking a moderate or more leisurely approach. Thus, I was able to finish 4th out of about 14 riders. I'll take it!
I hope this detailed ride journal and notes will be helpful for anyone looking to ride some or all of Tour de los Padres or overlapping routes in the area. If you're curious about bikepack racing and events more generally, you might find it interesting too. Or, just skim through the pictures to see some of the most spectacular bikepacking this region has to offer.
The Route
Typically there are two routes, the longer Proper route and a shorter Tour route. In 2022 the Proper route was longer than ever before, ambitiously linking up the northern and southern sections of Los Padres National Forest via 436 miles of dirt, gravel, and pavement. If you're researching the event in future years, note that the route may have changed.
Here's the Proper route from the 2022 Grand Depart:
Note: After the event the route was modified slightly based on feedback from riders. In particular a few unpleasant sections of fence hopping and pavement hike-a-bike were removed. If you're looking to ride this route or part of it, use this updated route instead.
Daily Notes
Day 0: Home to Start
The first part of the puzzle was getting myself to the start at Arroyo Seco Campground. I didn't know anyone willing to drop everything and go camping on a Wednesday, not even my own husband, so I had to get creative.
I'm a huge fan of affordable bike-friendly public transit. It helps facilitate my recreational adventures, and more importantly it helps many more people navigate their daily lives. Shoutout to Caltrain, Amtrak, and Monterey-Salinas Transit for their bike-friendly policies!
I left my house on the peninsula around 8am and pedaled a couple miles to the nearest Caltrain station. From there, I took the following series of connections:
Caltrain to San Jose Diridon Station: $3.50, bike free in bike car
Amtrak from San Jose to Salinas, $14, bike $20 in baggage car
MST Bus from Salinas to Greenfield, $3.50, bike free on front rack
Pedaled from Greenfield to Arroyo Seco, 17 miles on paved rural road
I was never asked to remove any bags, though I did remove the seat and handlebar bags on Amtrak and MST to make the bike easier to load and less likely to tip. Every step was easy and smooth, and I was at the campsite by 5pm. Two thumbs up for bike-friendly public transit!
Day 1: Arroyo Seco Campground to San Simeon Campground (103 miles, 10,300 ft climb)
Most of the riders camped at Arroyo Seco the night before the start, which made for a social evening and a festive rollout around 7:45am. This first section, from Arroyo Seco to Fort Hunter-Liggett, is the only part of the route I had ridden before and I was looking forward to it! I quickly fell toward the back of the pack but wasn't too worried. "Slow and steady" is my style, and I expected to catch up with a few others once the heat of the day kicked in.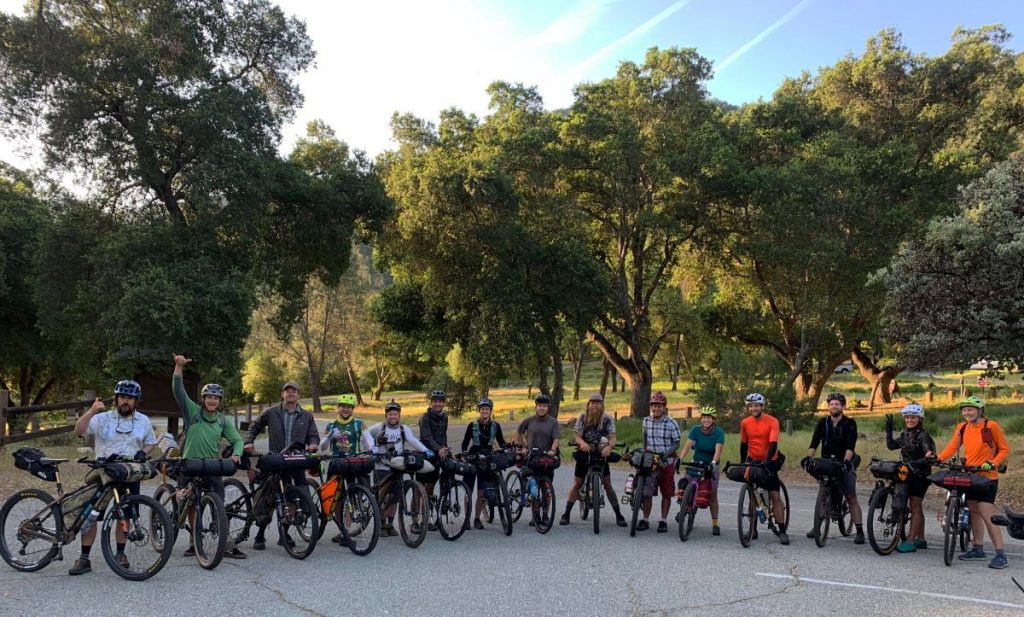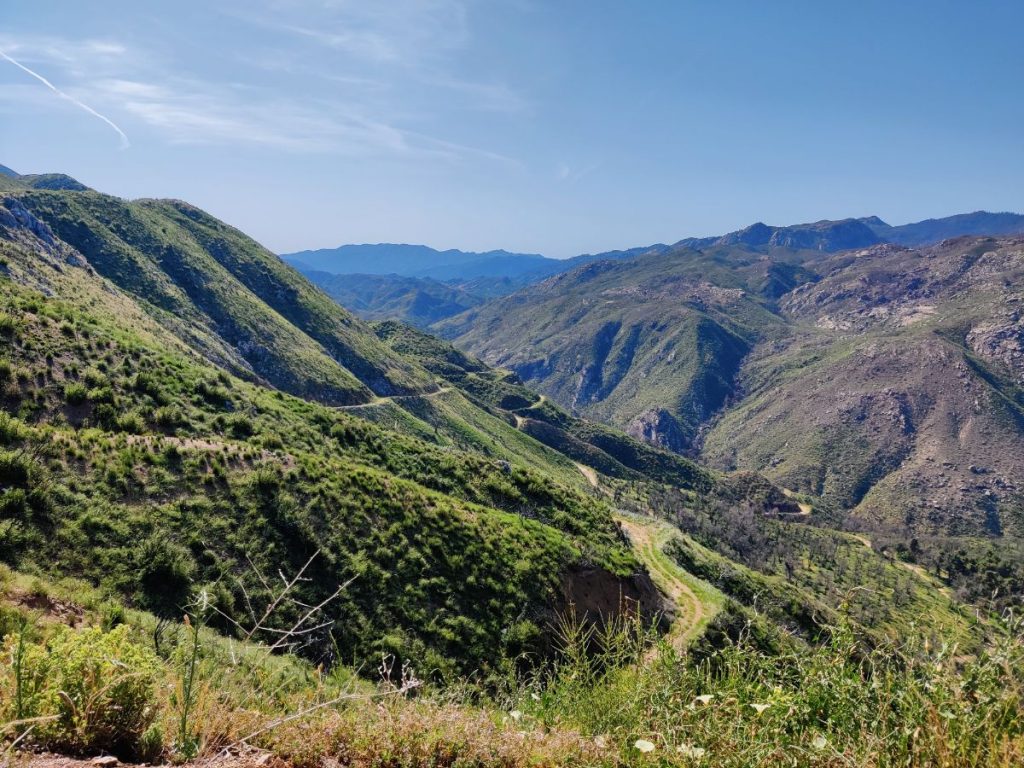 Arroyo Seco – Indians Road, which we'd split into two days when touring casually with friends a few weeks prior, zipped by in just a few hours! Soon I was spinning along the pavement of Fort Hunter Liggett, baking in the afternoon heat.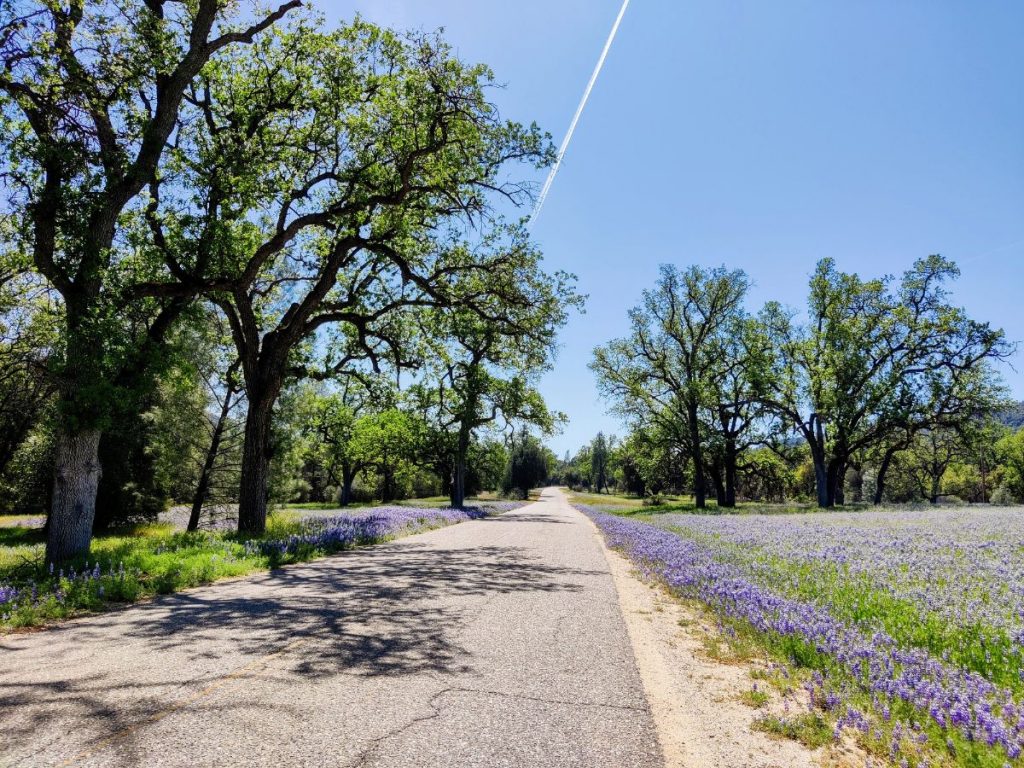 The second big climb of the day brought me to the high point of Nacimiento Fergusson Road, currently closed to vehicles due to landslide damage. Here the route turned left onto the dirt of South Coast Ridge Road, bordered by the Ventana and Silver Peak Wilderness areas. The road was scenic but full of punchy climbs, and I hiked often due to tired legs.
At long last the dirt road plunged seven miles downward to Highway 1. I reached the junction just as the last light was fading. Next up: fifty paved highway miles, the first ten curvy with no shoulder. I had been worried about traffic on this section, but on arrival at the junction I knew this would actually be the perfect time to ride it.
I decided to pedal the next thirty miles in the dark to San Simeon Campground, where I knew I would sleep well at the hiker / biker site. Traffic was light, drivers wouldn't be gawking at the views, and my bike was lit up like a Christmas tree with lights and reflective tape. The air was finally a comfortable temperature, and the sound of the ocean was soothing.
San Simeon was quiet when I pedaled in and made camp around midnight. Taking my phone out of airplane mode, I was surprised to see that everyone else had stopped riding around sunset! After trailing most of the pack all day, I was actually currently in the lead. Interesting!
Day 2: San Simeon CG to Cuesta Ridge (70 miles, 7600 ft climb)
I slept soundly for a few hours, woke around 4am, and was back on the highway (now with a good shoulder) for some peaceful pre-dawn riding. In Cayucos I made a quick stop for an excellent breakfast burrito before turning inland and leaving the ocean for the last time until the finish line.
A pleasant trail led along Whale Rock Reservoir and ended at one of the biggest obstacles of the entire ride: a locked gate. The route cues prompted innocuously: "Hop the gate!" As a smaller bikepacker, it was nearly chest-high and seemed insurmountable!
I was busy removing my seat bag and handlebar bag when an official-looking white pickup truck pulled up. I figured I was about to get busted for trespassing (though I'd come in at an open entrance), but instead he asked "Do you need to get out of there?"
He pulled over and unlocked the gate, asked a few questions about my ride, and wished me well. Magic! The trail provides, as they say, and this lifted my spirits for the entire day. If the universe wanted to send me an encouraging signal, it couldn't have come up with a better one.
Note: This section has been removed in the updated route. Phew!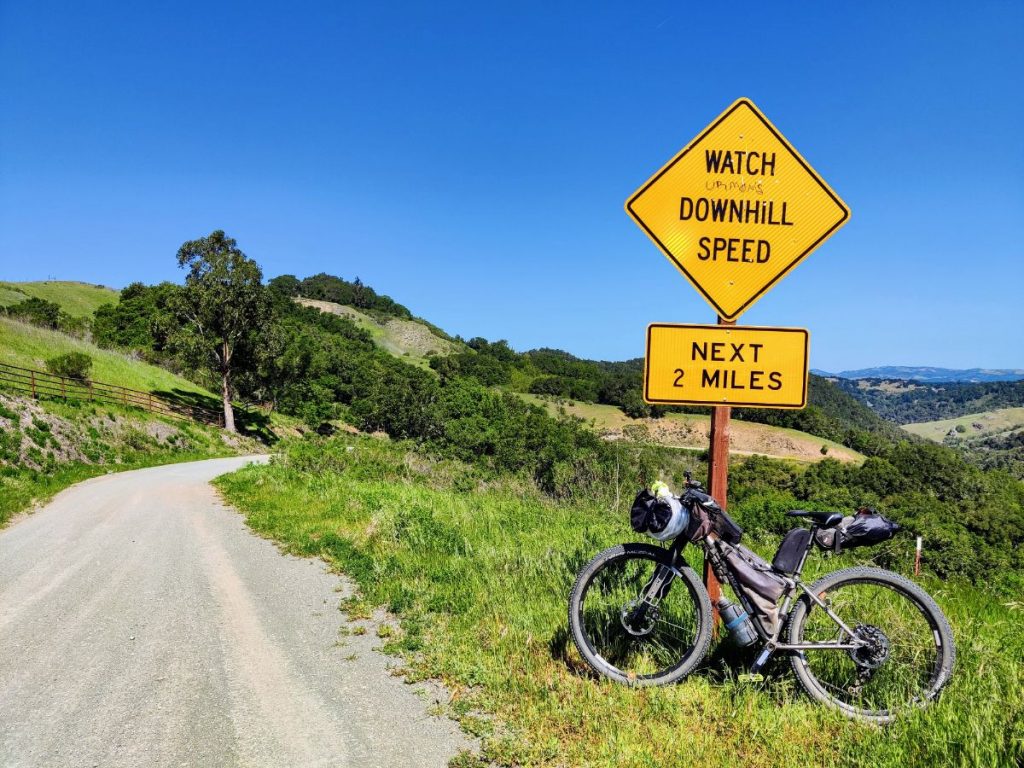 A pleasant gradual climb and descent along unpaved Santa Rita Road led to the town of Templeton. I parked outside Trader Joe's and bought my lunch and resupply, lingering in the shade of a picnic table umbrella. I'm sure temperatures were in the nineties when I dragged myself out onto the road again.
Above Atascadero the route wound through rural neighborhoods on paved roads. One memorable section seemed to climb straight up for about a mile until topping out at a brand new housing development. I found it very hard to keep my effort level manageable on this stretch. Here I was, hiking up pavement, having to stop in every meager patch of shade to regain control of my body temperature. Slow and steady…
After a busy section of Highway 41, fortunately downhill, I was relieved to hit the turnoff to Cerro Alto Campground. I spent half an hour sitting in the shade there, stuffing food into my face and refilling water containers in preparation for the next big climb.
The Cerro Alto climb was tougher than expected. Steep singletrack deteriorated to steep and rocky singletrack, more of an energy sapping heave-a-bike situation than hike-a-bike. It took forever, maybe hours, to reach the optional out-and-back to the summit. By then the hardest part was done, so I took the short detour to the summit before starting the rocky descent. I hadn't seen another rider that day, but I had enough service to check the tracker and see that several were close behind.
Coming down from Cerro Alto I got my first lesson in riding with wide flat bars, new to me on this trip. While scooting down an overgrown section of trail my right bar end caught in some bushes and jerked the wheel sideways, throwing me over the bars. There was a lot of blood from my knee and some from my elbow, but otherwise bike and body were each in one piece.
The long day was taking its toll and my knee was stiffening up as I hiked the punchy climbs of Cuesta Ridge. I wasn't too surprised when Drew and Jones caught up to me, still riding strong despite a long day of their own.
I'd had a crazy plan to push past Santa Margarita to the next section of public land that night, but I was moving really slowly and my knee was telling me to take a break. I also knew that a weird semi-populated stretch was coming up – train tracks and highway underpasses and whatnot – and I never feel safe in those types of places at night.
So when the guys chose a lovely ridgetop campsite just after sunset it was too tempting to pass up. We scarfed down dinner overlooking the lights of San Luis Obispo and hunkered down in our bivies against the gusty wind.
Day 3: Cuesta Ridge to Queen Bee Campground (60 miles, 6800 ft climb)
I left the campsite around 5am while the guys were still sleeping, knowing I would need a head start to stay in the mix. The descent from Cuesta Ridge, mostly on challenging mountain bike trails, was a brutal way to start the day. My stiff and sore knee complained about every step of rocky trail I hiked and scooted down, and there was no chance to get into a pedaling rhythm and loosen it up. The views, however, were gorgeous.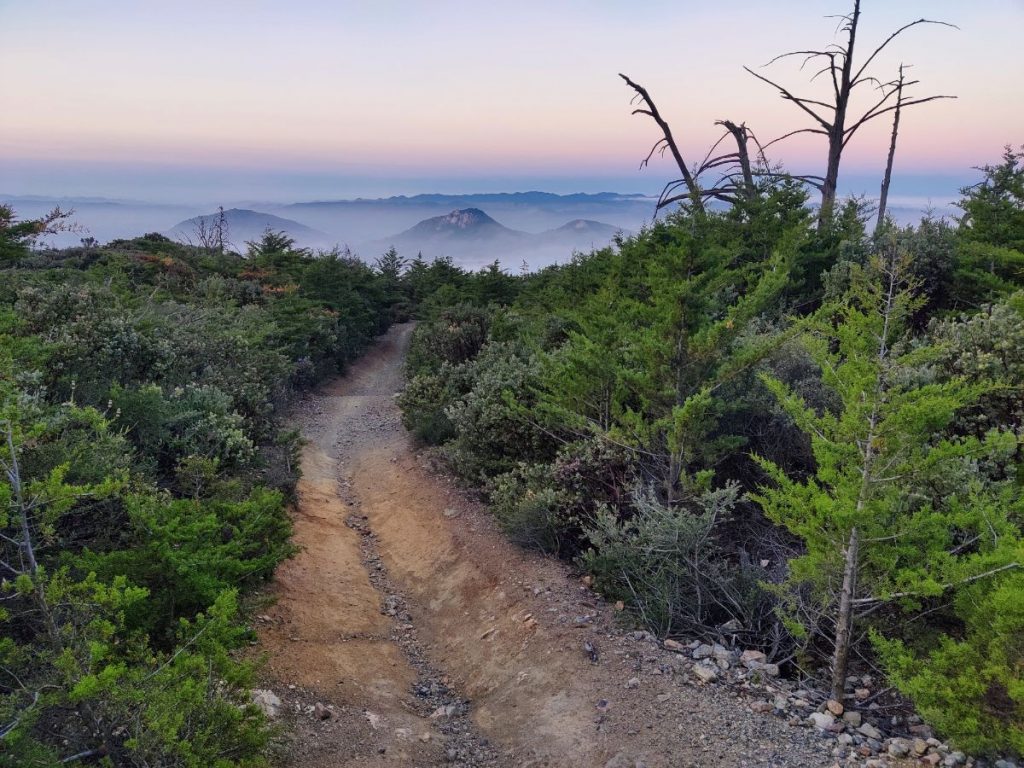 As expected, the next section along the train tracks and highway was best ridden in daylight. In Santa Margarita I scarfed down a breakfast sandwich and chatted with a few other riders as we prepared for the next section. Their speed on the road was impressive, and I was behind them all by the start of Rinconada Trail. I did plenty of hiking there to appease my cranky knee, and was happy to finally find a pedaling rhythm on the gradual ridge road near Hi Mountain.
A long dirt descent led down into Pozo where I caught up to Nancy, Zach, Lizzo, and Quentin cooling off at a creek. I trailed them out to Turkey Flat OHV area and could see them just ahead as I struggled through one of the toughest battles of the whole route. First there was deep sand, then absurdly steep climbing, then endless singletrack too steep for me to ride either up or down. I leapfrogged a bit with Nancy as we both struggled to push our bikes up the steep slopes. Erin passed us here, making it look like just a walk in the park! How does he do that?
I was happy to be done with Turkey Flat, but the downhill wouldn't be free miles. I tried my best to be off the overgrown singletrack of Fernandez Trail by dark and just barely made it. My new wide bars and bar ends led to another crash in this section, but I was moving slowly enough that no harm was done.
It was somewhere around here, I think, that I saw the poison oak graze my right arm. I made a mental note to wipe down with Tecnu at camp, and kept going. Well, as you'll see later, that didn't go well.
As I neared Queen Bee Campground I had a choice to make. My plan had been to push on to the Carrizo Plain, but I was low on energy and my banged up knee was complaining. I had only made it 60 miles that day, but I had worked darn hard for them!
I knew a few other riders would be camped at Queen Bee and there would be water there. The lure of friendly company in the big dark night was too strong to resist. I rolled in just as the others were going to bed and tried my best not to keep them awake as I scarfed down food and set up my bivy.
Day 4: Queen Bee CG to Painted Rock Campground (117 miles, 7700 ft climb)
I was up at 3am along with Zach, Lizzo, and Quentin. They pulled ahead during a peaceful and cold pre-dawn ride to the fire station for water, then on to Carrizo Plain National Monument. It was a nice place to be when the sun came up, and I was looking forward to a long stretch of flat-ish riding. My goal was to reach New Cuyama, the last resupply of the route, before the store closed at 9pm.
I felt that I rode pretty strong through this section, but I never caught the riders ahead. My knee finally loosened up as I got into a rhythm, and I used podcasts to help pass the time. The weather was sunny but mercifully cooler than past days. By mid-afternoon I could tell I was on pace to reach the store before it closed.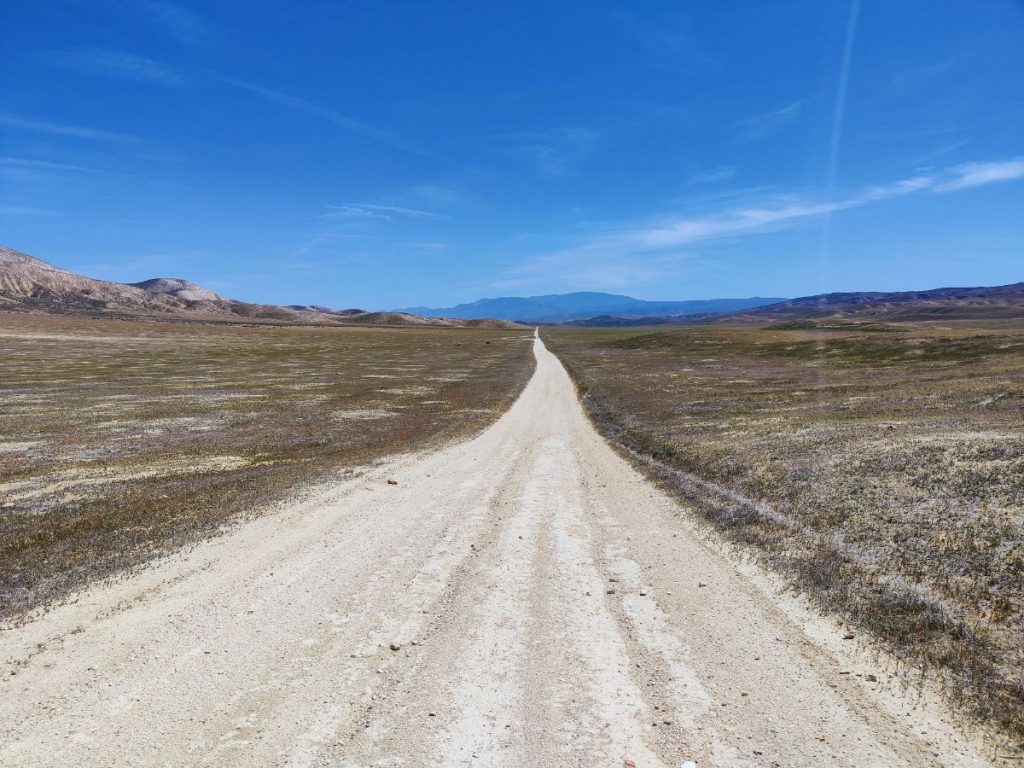 The route finally exited the plain over a series of hills. It dumped out at a rough fenceline road parallel to the distant highway, cutting straight through steep embankments and messy washes. It felt like an odd and uncomfortable transition zone between backcountry and civilization, and I wanted to be done with it.
The final fraction of a mile was a cross-country bushwhack over some absurdly steep and slippery slopes and along a PG&E gas line, ending at a locked gate beside the highway. Pure adrenaline somehow got my bike and me over the barbed wire without attracting too much attention. I guess this is technically BLM land, but it felt sketchy.
From there, finally, a tailwind pushed me along smooth pavement into New Cuyama and the final resupply of the route. I grabbed a burrito but made a glaring error in my snack assessment, somehow convincing myself I was "almost done" and already had enough food to get me to the finish. I guess my brain was a little too cooked for good decision making.
Just before sunset I pedaled out of town, feeling surprisingly strong for having ridden 100 miles already. At Aliso Park Campground I forced myself to pass the other riders I'd been leapfrogging with, exchanging encouragement and wishing I could join them at their campsite. No doubt they could have continued that night if they wanted to — all were strong riders and faster than me — but they chose to enjoy a slightly more leisurely finish on Tuesday.
I, on the other hand, had an Amtrak ticket for Tuesday and was hellbent on finishing by Monday night. That meant I had to get up this next climb before sleeping. Fortunately Aliso Trail turned out to be a "nice" moonlight hike-a-bike, open and dramatic, and my energy mostly held up.
I topped out at Sierra Madre Road around midnight, and that was when I realized how zonked I was! I tried to get back on the bike, but my legs felt clumsy and dead after all the hiking. The cold ridgetop wind cut through my jacket. Bunny rabbits scampered in my light beam along the edges of the brush and the road twisted and turned high above steep canyons. It was surreal, and I was torn between wanting to experience more and desperately wanting to stop moving.
I made it about five more miles to Painted Rock, a small campsite near some significant Chumash pictographs. Here the cost of the day's effort became very clear. My hands were almost too cold and weak to set up camp and unbuckle my helmet, and I was nearly too tired to eat. I choked down as much cheese and tortilla as I could manage before falling asleep, which was definitely not enough. After four days of good energy management, I had finally dug myself into a hole that would be hard to get out of.
Day 5: Painted Rock CG to Santa Barbara (81 miles, 7800 ft climb)
I forced myself up before sunrise in hopes of finishing before dark later that day (hah!). The area was badly trampled by cows, full of painful divots that rattle bones and aggravate saddle sores. Eventually the road became smoother, and the next few hours were some of the most spectacular on the route.
Sierra Madre Road first jumped out at me from a map several years ago. It's one of those long dirt squiggles that just begs to be explored by bike, and riding it during Tour de los Padres was everything I hoped for and more! The serpentine ribbon unspooled itself along the Sierra Madre Ridge for miles and miles, twisting from one side of the ridge to the other, gradually climbing all the way up into fragrant pine forest. In a certain (sleep deprived, hungry) state of mind it almost felt like I'd been up there forever and always would be, swooping around each corner to new views of endless mountains.
On the way up to Big Pine Mountain I got passed by Erin, Ben, and Ian. All were friendly and encouraging and it was a nice mental boost to see them. They were riding strong up the climb, and that would be the last I'd see of them (or any other riders) out on the route.
Finally, after an epic and hard-earned downhill, the route flattened out (relatively speaking) along Camuesa Creek. At this point I was pushing for the finish and didn't take many pictures. I had eaten the last of my poorly planned food supply and had to walk many of the climbs, so the going was slow.
At sunset I was on the final climb over the last range of hills between the mountains and the coast. I hit Romero Saddle in the dark hoping for a smooth cruise down to town, but instead found singletrack. The surface was alternately smooth and rocky and the lights in the distance never seemed to get closer. "Just keep moving," I promised myself, "and you'll get there eventually."
At long last the trail dumped out at a paved road. Just one more obstacle, a washout and creek that needed to be crossed, and then it was smooth sailing through nice neighborhoods. Santa Barbara is probably a pretty safe place, but I didn't want to hang out downtown alone so late at night. I decided to just zip by the finish line and keep pedaling until I reached the motel I'd booked the day before.
Of course I had chosen the cheapest motel I could find, three miles away and straight into a headwind. Ugh. I made a quick stop for food at a gas station on the way into town, then didn't stop pedaling again until midnight. With great relief I collapsed into my cheap motel room with my convenience store feast. Heaven on earth!
Aftermath
The next day I loaded up a bag with food and water and spent all day eating and drinking as the Amtrak chugged northward. Somewhere around SLO the poison oak on my arm began to ooze through my shirt sleeve… That's when I knew it was going to be bad. 🙁
Back at home it's been the usual recovery routine: loads of food, long nights of sleep, and the occasional nap. My knee is still sore where I fell on it, and my skin is still scratched from those overgrown trails. The poison oak is definitely the most annoying souvenir from the journey, but it's starting to turn the corner. In a few more days I think I'll be almost good as new.
Suggestions for Touring
For a bikepacking event / race I think it makes sense to include a variety of challenges and obstacles, and for everyone to follow the published route. But if you're using this route as inspiration for a casual tour, you might want to make some modifications.
Here are my recommendations for the best sections of the route, and those you might want to avoid if heavily loaded and/or looking for a primarily pleasant ride.
Definitely recommend:
Arroyo Seco – Indians road, Fort Hunter Liggett, South Coast Ridge Road
Carrizo Plain, if you like wide-open landscapes
Everything from New Cuyama onward, especially Sierra Madre Road and the descent from Big Pine — all top-notch bikepacking!
Consider bypassing:
Whale Rock Reservoir trail and locked gate (removed from updated route)
Uppermost section of Cerro Alto. Not sure but it looks like there are shortcut options.
Technical trails descending from Cuesta Ridge (unless you're into that). Take TV Tower Road instead.
Leaving Templeton there was some tricky routing around private property, and some really steep pavement. I would route through Atascadero instead. (removed from updated route)
Train track just before Santa Margarita, where all signs of bike and vehicle traffic end. Detour to highway instead.
Turkey Flat OHV area, unless you like deep sand and steep hike-a-bike.
Cross-country bushwhack and locked gate exiting Carrizo Plain. Continue on Soda Lake Road to Highway 166 instead.
Comparison to Other Events
I was very curious, going in, about how Tour de los Padres would compare to other events of similar length like Smoke 'n' Fire and The Big Lonely. Here are my thoughts.
Camping and public land: significantly fewer options than SnF and TBL. That's coastal California for you; we just don't have those huge unbroken stretches of public land like Idaho and Oregon. I don't love stealth camping, in the illegal sense, so this often meant choosing between stopping too early or pushing on too far.
Weather: different every year (apparently last year they had snow!) but this year was HOT, definitely the most challenging heat I've dealt with during a bikepacking event. The folks one day behind me had cold rain over the highest elevation section; be prepared for anything.
Water: A few sections were dry enough to require 5-6 liters of capacity, given the hot weather. This isn't super rare, but I'd say it's on the dry side for most bikepacking events.
Elevation gain: By the numbers, Tour de los Padres has a similar climb to mileage ratio as Smoke 'n' Fire. They felt fairly similar, but I think TDLP has a bit more steep hike-a-bike. SnF has the high elevation factor though; I'd say they're comparable in difficulty here.
Vibe: Friendly and supportive, as these events always are. Smaller and less competitive at the front end (at least this year) than SnF and TBL. All riders seemed strong and capable though, and the finish rate was high – much higher than I've ever seen at SnF or TBL.
Overall difficulty: Hard to say, as this feels like comparing apples to oranges. The terrain is tougher than The Big Lonely, though last year's snowstorm incident made that event difficult in its own way. There's a bit more tough hike-a-bike than SnF, and more heat, but it was nice to not deal with the typical sub-freezing temps of SnF. I might say TDLP is comparable to or slightly harder than SnF in terms of overall difficulty, but that difficulty manifests in different ways. My best time at SnF is faster, but I push harder there because I know the route and my goal is to achieve a personal best time. Could I match that time at TDLP if I knew the route? Maybe, but it wouldn't be easy.
Bike and Setup
My New Bike
If you've been following along, you'll notice I was on a new bike for this ride! My new Chumba Stella Ti is a significant upgrade from my beloved secondhand Salsa Fargo, which I've been riding for the last 5000-ish miles.
I have my supportive husband to thank for chipping in a substantial amount to bring this new fancy-schmancy titanium machine into my price range. I guess jewelry is supposed to be the traditional gift, but fortunately he's learned that bikes and bikepacking are the key to this gal's heart.
As a long-time advocate for budget-friendly bikepacking, I have conflicted feelings about this upgrade, especially given my public forum here. Yes, the new bike is a dream to ride. It's lighter and more responsive, and easier on my body during long days on rough roads. But do you need a bike like this to go bikepacking? Definitely not. I rode my secondhand steel Fargo all over the western US and had a great time, and I will always support people getting out there on whatever bike they have or can afford.
I'll be writing more about the details of the new bike and the experience of switching as I get to know it even better. For now, suffice to say it was a great choice for TDLP. Lightweight fully rigid frame, Vittoria Mezcal 29×2.25″ tires, flat backswept bars with Cane Creek bar ends for control and long-day ergonomics, 1×12 drivetrain, hand-saving hydraulic brakes. No mechanical issues whatsoever.
One big lesson learned: bar ends are nice for ergonomics and control, except on overgrown trails. I crashed twice during TDLP, once badly enough to draw blood and slow me down the next day (knee is actually still a little sore over a week later) when a bar end snagged in trailside shrubbery. I probably also need to get my bars shortened a bit.
Bikes for Tour de los Padres in General
Like any mixed-terrain route, there's no such thing as the perfect bike for TDLP. Folks ran everything from gravel bikes to full suspension mountain bikes. My personal pick would be a rugged gravel bike, rigid mountain bike, or lightweight cross-country hardtail if you enjoy rougher trails and want to make the most of them. There is quite a bit of pavement on the route, and relatively little technical trail. It depends on what surfaces you want to optimize for and which you want to just get through.
Gear Highlights
I use a pretty consistent gear list (example from the Great Divide here) for most bikepacking adventures, with a pared-down minimalist version for races and events. For Tour de los Padres these were the notable differences from my typical touring kit:
No tent, just a water-resistant Borah Gear bivy with emergency SOL bivy in case of rain (not needed for me, but others did have rain).
No stove, but I did bring a collapsible cup and small spoon so I could eat cold-soaked ramen and oatmeal.
Lightweight down jacket (Mountain Hardwear Ghost Whisperer, old and well-used) instead of my usual warmer one.
Hydration pack with 3 liter capacity. At times I carried 5-6 liters of water, so this provided extra space and kept the bike lighter for those burly hike-a-bikes.
Reflective tape: In preparation for riding Highway 1 and other roads at night, I added some Gear Aid reflective tape to my cranks, rims, and spokes. Being unmissable gave me extra peace of mind while riding after dark, and I would highly recommend it to anyone who rides at night.
Garmin eTrex 22 (long term review here): I usually navigate with RideWithGPS on my phone, but for long or rugged rides I also add this. It helps conserve phone battery, attaches more securely to my handlebars so I can keep my phone tucked safely away, and serves as my navigation backup in case of phone failure. I don't love that the 22x lacks elevation profiles (32x has them), so I'm not necessarily recommending it, but I got it on sale and it works for now.
Dynamo lights: See My New Bike section above! Another amazing feature of the upgraded setup: SON dynamo hub with KLite Gravel headlight and Qube rear blinker. I still used a helmet-mounted light to supplement the dynamo when riding slowly, but wow, what a treat to have reliable lights that don't need to be charged! In the past I've carried 2-3 power banks for an event of this length and constantly stressed about battery life when riding at night. The dynamo opens up a whole new world, and I'll be writing more about it after further testing.
Related: In-Depth Review: kLite Gravel ULTRA v2
Lessons Learned
I always like to take stock of what went well and what could have gone better after each ride. In theory this helps me learn from my mistakes. In practice I seem to repeat old mistakes and keep finding new ones. Perhaps it'll help you learn from my mistakes.
What Could Have Gone Better
Forgetting sun sleeves: There wasn't much shade on Tour de los Padres, and despite using good sunscreen my arms got an uncomfortable amount of sun.
Getting awful poison oak: I actually brought poison oak wipes and used them at camp after suspected exposure, but apparently it was too little, too late. All they seem to have done is spread the oil around a larger area. Next time I'll use them right away, and more thoroughly.
Not eating enough after a long day: I felt awesome on day 4, right up until midnight when I suddenly started falling apart. I was too cold and tired to stuff down enough food, which made day 5 much harder. I should have stopped about an hour sooner when I still had the energy to eat a full meal before sleeping.
Running out of food on the last day: I've done this before and should have known better. At the last resupply stop I told myself "I have enough food! I'm almost done!" Well, it wasn't enough and it definitely slowed me down and made the final day less fun.
Running low on chamois cream and chain lube: Never skimp on these! It's not worth the few ounces of weight saved. Silver lining: I learned that aloe vera gel makes a pretty good chamois cream substitute.
Hand weakness: This was my first intense ride with flat handlebars, and toward the end I had a lot of trouble with fine motor skills like opening food wrappers and buckling straps. It's happened before, always with drop bars and most notably on the much longer Bike Nonstop US ride. I think my body needs more time to adjust to the MTB-style bars and controls.
Fluid retention: Despite managing my hydration fairly well (or so I thought) during those 90+ degree days, I had a lot of fluid buildup especially in my legs. This has happened before and it resolved within a couple days after finishing, but I wasn't happy to be lugging several extra pounds of fluid up the climbs toward the end of the ride.
What Went Well
Camping around others to manage mental energy: I love camping alone in the right circumstances, but when I'm pushing my limits and/or in places where it's hard to be stealthy, camping with others helps me sleep better and maintain a positive state of mind. Plus it's more fun! I chose to camp at a campground or around other riders for all but one night on this ride, even though at times I was tempted to ride further and stealth camp alone somewhere random. This made the whole experience less stressful, and reinforced the lesson that progress isn't always just about the miles.
Minimal saddle problems: After a recent falling out with my Brooks leather saddle, I switched to the Selle Italia Diva Gel Flow and have been much happier. Brooks saddles are popular for good reason but they don't work for everyone. I used a lightweight Club Ride liner chamois and supplemented my limited chamois cream with aloe gel, and the combo worked pretty darn well.
Ate plenty and rode strong (until the end): Usually I struggle on day 3 after undereating on days 1 and 2. This time I managed to scarf enough calories that days 3 and 4 felt strong. Unfortunately I couldn't sustain it for day 5… Still, progress!
Closing Thoughts
It's always fun to go from an unknown route, just a line on a map, to intimately experiencing a landscape mile by mile. After riding Tour de los Padres I have an entirely new appreciation for this diverse and surprisingly rugged region of California.
Thanks a bunch to the organizers and scouts who made the adventure possible, and to all the strong and supportive riders I met out there on the route! Now if you'll excuse me, I'm off to go slather my entire arm in anti-itch cream.
Pin For Later
More Bikepacking Resources
If you're interested in California bikepacking routes or bikepacking events in general, you might also like these:
Or, visit the bikepacking resources page for lots more!
Bike resources in your inbox?
There's more where this came from! Sign up here for occasional emails full of inspiration and information about bikepacking and bicycle touring.


Share the Adventure
If you found this article helpful, please consider sharing so more people can benefit from it: