The A1 Classic MIPS helmet from Troy Lee Designs is literally a classic: it launched in 2013 and remains a favorite ten years later for its confidence-inspiring coverage, impeccable comfort, and thoughtful design. The modern MIPS version offers improved protection against brain injury from rotational forces, which is definitely a good thing. Combine this with the extended coverage half-shell design and you have solid protection in a convenient and comfy package perfect for trail and enduro riding.
I've been using my A1 Classic MIPS helmet for over 9000 miles of biking and bikepacking: through multiple countries, in a variety of extreme conditions, and on every surface imaginable. Sometimes I wear it on trails, sometimes on gravel, and yes, sometimes even on pavement. Though I'm not the typical singletrack shredding day rider, I've tested this helmet at the extremes: 20 hour days, 100+ degree heat, rain and snow, and all-day-every-day wear for weeks at a time.
After 9000 miles, it's still going strong and it's still the helmet I'll reach for on my next ride. Read on for my long-term review of the Troy Lee Designs A1 Classic helmet with MIPS.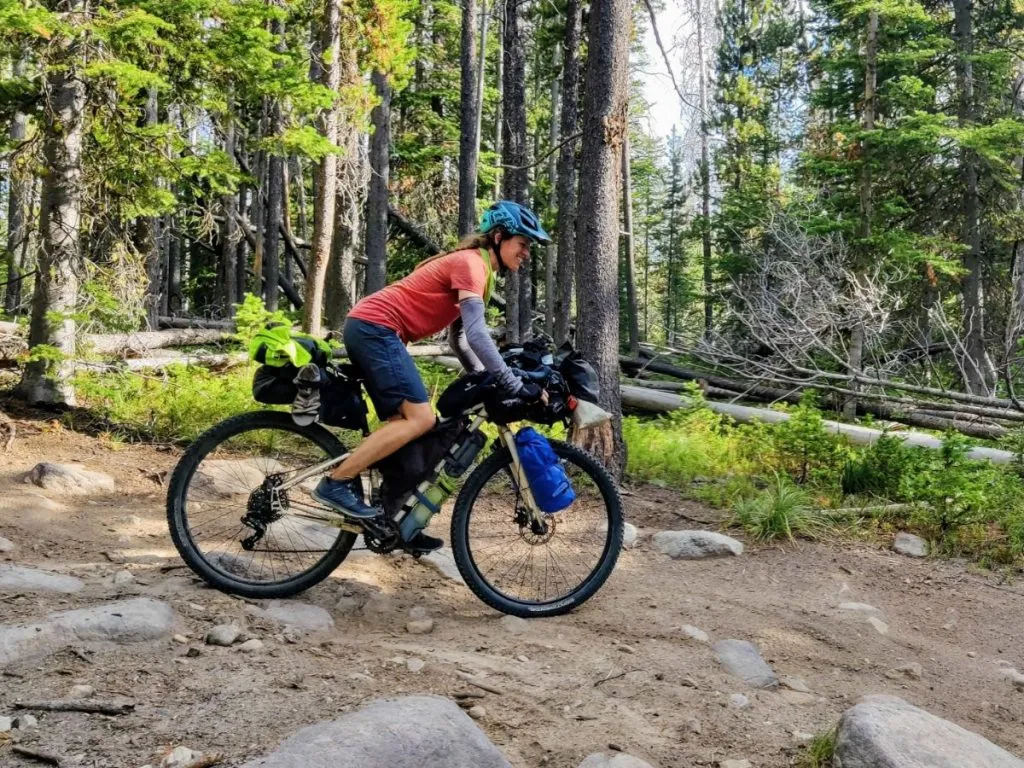 When you buy through affiliate links in this post, I may earn a small commission. Thanks for your support! I always offer unbiased opinions based on real experience from the road and trail. Learn more.
Troy Lee Designs A1 Classic Helmet
Price: $145
Measured weight: 13.1 oz (size S)
Sizes: XS, S, MD/LG, XL/2XL
Best uses: mountain biking, rugged bikepacking
My rating: 4.7 / 5 stars, almost perfect
My conclusion: The A1 Classic MIPS helmet combines confidence-inspiring extended coverage and MIPS technology, well-designed features, and all-day comfort in a quality helmet that's durable enough for the long haul. I've put mine through the wringer with 9000 miles including extra-long days, extreme heat and cold, and months of non-stop daily wear, and it's still the helmet I'll wear on my next ride.
Reasons to buy:
Top-notch comfort
Excellent 5 star safety rating
MIPS technology
Easy and well-designed adjustability
Wide range of sizes to fit most people
Extremely durable
Tons of color choices
Reasons not to buy:
Not the most well-ventilated
A bit expensive, but still a good value
How I've Tested This Helmet
I bought my A1 Classic helmet in late 2019 and have been using it ever since, for a total of around 9000 miles and counting. My usage is a bit unusual: most of my miles involve a loaded bikepacking setup on long-distance routes. I also use my A1 for day rides, but those miles don't add up nearly as fast.
On these bikepacking trips I do ride trails, sometimes technical ones, but a majority of my miles are dirt and gravel roads of varying quality. You could say this helmet is overkill for some of the riding I do, and serious trail riders should take note that my review doesn't come from that perspective.
But all-day comfort is really important on my long trips, as is safety. Though I may not be shredding singletrack all the time, the realities of bikepacking inevitably lead to some stupid stuff: riding rough trails in a snowstorm in the dark, for example, or pedaling the shoulder of a busy highway to link up with the next stretch of dirt road. At those times I'll take all the safety features I can get!
Safety: Coverage and MIPS
A bike helmet has one really important job: to protect your noggin in a crash. Fortunately (knock wood) my Troy Lee Designs A1 MIPS helmet has yet to take a hard hit, but its high safety rating (5 stars in the Virginia Tech rankings) and extended coverage definitely inspire confidence. The fully-encapsulated EPS foam design extends further down the back of the skull than some, providing more protection against impacts from rear angles.
MIPS stands for Multi-Directional Impact Protection System, a technology that first hit the bike helmet market in 2010 and has become increasingly standard over the last few years. Designed to prevent brain injury from certain types of angled impacts by mimicking natural "safety features" of the human skull, it allows the helmet to rotate a bit on the head to dissipate rotational force before it reaches the brain.
It sounds fancy, but in practice MIPS is implemented as a floating liner inside the helmet that snugs down onto your head and can slide roughly an inch in any direction relative to the outer shell. It's a proven technology that seemingly has no downside, and for me personally it's a must-have in any new helmet.
Fit and Comfort
The Troy Lee Designs A1 helmet is known for its comfort, and I suspect I'm one of its most rigorous comfort testers. I wear my A1 helmet for a few thousand miles of long-distance bikepacking each year, which means it's on my head all day, every day, sometimes for 20+ hours at a time when I'm dabbling at bikepack racking. The fact that I generally forget I'm wearing it says all that needs to be said about how very comfortable this helmet is.
I'll say a couple more things anyway though. Snugging it up feels like a gentle hug around my entire head. No hot spots, no rubbing, no annoying pressure points. It does a great job of distributing pressure and feels as if it were custom-made for the shape of my skull. I might assume it was, if not for all the positive comfort ratings from other riders whose skulls can't all be shaped like mine.
One very minor complaint: the front of the liner presses into my forehead when the helmet is tightened snugly. It's not enough to feel uncomfortable but it is enough to leave visible marks on my skin for a few minutes after I take it off. This can happen with pretty much any helmet though, and I'm not looking to win any beauty contests out on the trail, so no biggie.
Adjustability and Straps
The A1 Classic's easy adjustability is key to its combination of protection and comfort. The clicking dial at the back is very easy to use, even with warm gloves on. I adjust it often to adapt to whatever I'm wearing underneath: sometimes just a Buff headband for sweat, sometimes a sun hoody, and occasionally a down hood for truly frigid temps. Once I get it dialed in for a particular setup I can slip it on or off my head without touching the dial.
The straps are well-designed compared to some of my past helmets. The cam-lock splitters allow for routing the straps around the ears for zero annoying rubbing. The chin buckle is easily adjustable, the strap terminates in a loop instead of two flapping ends, and there's a nice rubber retaining loop to keep everything neat and tidy. The back section of the strap is a single continuous length that slides through a slot in the shell, so you can adjust exactly how much strap is on either side.
All these features combine for a super-customizable fit that can be snugged down for safety without any rubbing, pressing, or that annoying mild choking sensation from a poorly placed chin buckle.
Visor
I'm a big fan of the mid-sized visor on the A1 Classic MIPS helmet. When bikepacking I ride through all kinds of conditions in a variety of landscapes, often fairly exposed to the sun. On long shadeless days I love the sun protection and on rainy days I'm grateful for the cover.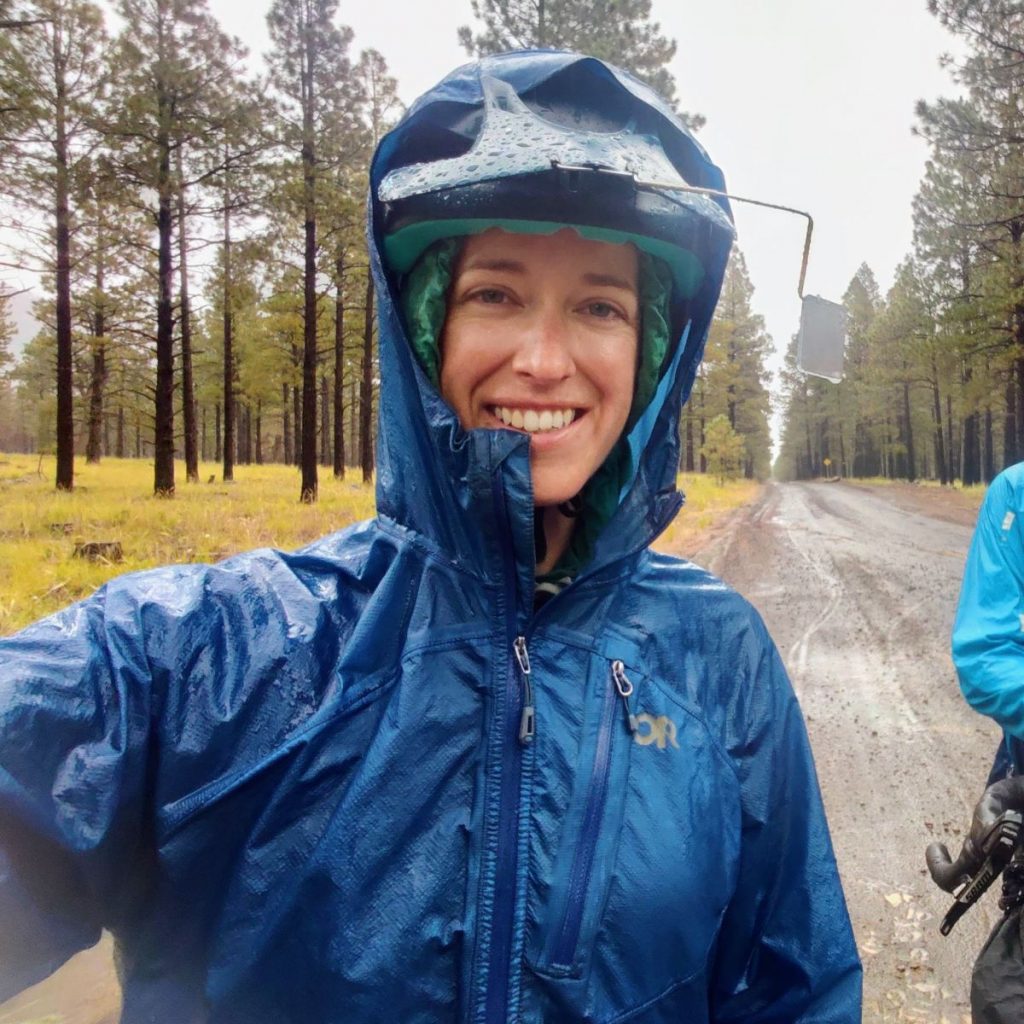 The visor is adjustable over a small range thanks to a tool-free screw at the front, and the adjustment system works well. It's possible to tighten the screw to a point where the visor is movable by hand but doesn't slip on its own.
The visor is also completely removable if you prefer to go without, and replacements are available if needed. The alloy screws that hold it on are designed to break in a crash to avoid adding rotational force.
Replacement screws are available on the Troy Lee Designs website, though they'll run you over $15 with shipping. In my experience they're pretty easy to lose; I lost the center one within the first thousand miles. I ended up moving one of the side screws to the middle and it's worked fine that way ever since, so I haven't bothered to order a replacement.
Sunglasses and Goggles
I almost always ride with sunglasses and have tried a variety of styles, and the A1 Classic helmet works well with most. My only minor complaint is that glasses with long arms — probably longer than I should be wearing on my small head — sometimes conflict with the helmet's behind-the-ears coverage. It's only an issue if my helmet is tilted back slightly, so this serves as a reminder to snug it down across my forehead and then all is well.
I don't ride with goggles, but other reviewers have pointed out that the A1's limited visor movement doesn't allow for pushing goggles up and off your face underneath the visor.
Liner
The padded Coolmax liner is nicely constructed, surprisingly durable, and very comfortable. It also resists grunge reasonably well. Every now and then I take mine out and hand wash it, which is easy thanks to the single-piece design and hook-and-loop fasteners. I've replaced it once in 9000 miles, when it became a little too compressed and funky and washing failed to restore its former glory.
Ventilation
Among reviewers who test many helmets side-by-side, the A1 classic gets middle of the road marks for ventilation. Its 16 vents are designed to maximize airflow for cooling despite the helmet's fairly beefy coverage. It's not exactly breezy and I do sometimes feel the urge to take it off and air things out on hot days. However, I have used it extensively in hot weather and usually feel it's the least of my problems in those conditions.
I've worn the A1 Classic in temperatures nearing 100 degrees Fahrenheit for several days at a time, primarily in Sudan and Kazakhstan. I wear a Buff underneath to keep sweat from dribbling into my eyes, a good trick with any helmet. It's possible that a different helmet would be slightly better in those conditions, but in hot weather any helmet will trap heat and I don't feel particularly limited by the A1.
Durability
After 9000+ miles of bikepacking I can confidently say the Troy Lee A1 Classic Helmet is very durable. Mine has been knocked around during weeks of living in the dirt, shipped overseas in cardboard bike boxes, and subjected to grueling conditions including snow and rain, sub-freezing temps, and 100+ degree heat.
I've replaced the liner once, when washing it just wasn't cutting it anymore. I did manage lose one of the visor screws early on, and have been riding with only two of the three ever since (though replacements are available from the Troy Lee Designs website). Other than those minor issues and some superficial scrapes atop the lid, it's as solid and spiffy as the day I bought it.
Note that if your helmet takes a hit in a crash, you should always replace it. The structure is designed to absorb impact, and doing so compromises its future protection. But as long as you can avoid using the helmet for its intended purpose (protecting your head in a crash), it should last for a very long time.
The A1 Classic Helmet for Women
The Troy Lee Designs A1 Classic helmet is a unisex model, so it's not specifically a women's mountain bike helmet. However, I'm a woman and in my opinion this helmet checks all the boxes.
The size range is wide and should suit pretty much all adults (and some kids). I have a relatively small head and wear size S, but the A1 even comes in XS to fit head circumferences down to 50 cm. This is actually a few cm smaller than the A2 and A3 models, which I'll discuss more below, making it a great choice for the smallest riders. At the large end the size 2XL tops out at 62 cm.
The A1 comes in a range of colors. At the moment none of them are especially feminine in the traditional sense (i.e. pink), but there are plenty of options to choose from. I like my blue color and find that it coordinates well with a lot of my women's clothes and other gear.
All the other features, like safety, durability, and adjustability, will be equally appreciated by cyclists of any gender. I would definitely recommend the A1 Classic to women as well as men. My husband wears one too and is also a big fan.
Price
The A1 Classic MIPS helmet officially retails for $145, but can be found for less if you're patient. As I write this some colors are on sale for less than $80 at a number of online retailers including REI, Backcountry, and Amazon.
Though $145 seems spendy for a helmet, especially if you crash and need to replace it, I think the A1 MIPS is a very reasonable value. It's cheaper than the A2 and A3, but you still get the MIPS technology and an extremely comfortable, well-designed helmet from a premium brand.
TLD does have a crash replacement program, though it's somewhat limited: 30% off a replacement within one year of purchase.
Compatibility with Mounts and Accessories
Many mountain bikers will be happy to know the A1 Classic works smoothly with light and camera mounts that wrap through the vents. I've used a light mount up there for many nights and never had issues.
I suspect fewer folks will care about these other accessories, which are more typical for bikepackers than mountain bikers. But for what it's worth:
Mirror: the Bike Peddler mirror clips easily to the front of the visor and is handy for staying safe en route to the trails.
Da Brim sun shade: This quirky cycling accessory does work with the A1 Classic if you position it beneath the visor.
A1 Versus Other Models
The full "A" line from Troy Lee Designs includes three other variations on their half-shell helmet design (their other lines are full-face). Here's how these compare to the A1:
A1 Drone ($89): A less expensive version of the A1 without the MIPS liner. While it's nice to see a more budget-friendly option, I would recommend the MIPS version if you can swing it. I'm normally into forgoing cosmetic details or extra bells and whistles to save money, but when it comes to lessening the risk of brain injury I'll gladly fork over the cash.
A2 ($169): A slightly lighter and breezier variation with a bit less coverage and slightly lower marks for comfort. Newer than the A1 but quickly gaining in popularity.
A3 ($250): Spendy premium version with even more back-of-head coverage, slightly better ventilation, and updated goggle-friendly visor design.
The A1 MIPS, for reference, retails for $145.
My Conclusion
The A1 Classic MIPS helmet combines confidence-inspiring extended coverage and MIPS technology, well-designed features, and all-day comfort in a quality helmet that's durable enough for the long haul. I've put mine through the wringer with 9000 miles including extra-long days, extreme heat and cold, and months of non-stop daily wear. I'm still happy to put it on for my next ride, whether that's at my local trails or across a faraway country.
If and when my A1 finally takes a hit or wears out, I will most likely buy another. That's how much I like it. I might be tempted to try the lighter A2, especially for largely non-technical bikepacking. But I'm not excited about its higher price tag, and it would have to be every bit as comfortable as the A1 for me to make the switch.
More Bike Resources
If you found this review helpful, you might also like these:
Or, visit the cycling and bikepacking sections for lots more.
Bike resources in your inbox?
There's more where this came from! Sign up here for occasional emails full of inspiration and information about bikepacking and bicycle touring.


Share the Adventure
If you found this article helpful, please consider sharing so more people can benefit from it: