If you're into backpacking, you know that your backpack is arguably your closest companion on the trail. A comfortable, well-fitted pack will make your load seem lighter, while a poor choice can make every step miserable.
When I started planning my Colorado Trail thru hike I knew it was time for a new pack. I'd had a few but never fallen in love with any, finding them either awkwardly big for my body thanks to unisex sizing, too flimsy for long food and water carries, or too heavy for my lightweight gear setup.
I chose the ULA Circuit for its roomy volume (68 liters), lightweight but robust design, reasonable price, and rave reviews from the thru hiker community. Many folks believe the Circuit is one of the best lightweight hiking backpacks available, and I'd seen quite a few out on the trails. As a female hiker I hesitated slightly over the lack of women-specific sizing, but put my faith in ULA's customizable unisex design with mix-and-match strap and belt sizes.
It fit well right out of the box – basically love at first buckle – and gained my trust on an overnight shakedown hike near home. Feeling confident, my new Circuit and I took off on the 480 mile Colorado Trail. The following spring I carried the same pack on the 800 mile Arizona Trail, and convinced my husband to upgrade his heavy old pack to a Circuit as well.
So how did it go? In this ULA Circuit review I'll go through what I love about it, what could be better, and what you should know before deciding to buy one. If you're looking for the best lightweight hiking backpack and considering the ULA Circuit, I hope it'll help with your decision.
About the ULA Circuit
Price and Details: $255 on ULA's website
Volume: 68 liters
Weight: 36.6 oz
Max recommended load: 35 lbs
My Rating: 4.5 / 5
Review Summary: The ULA Circuit backpack is a functional, durable, lightweight hiking pack suited to thru hiking and moderately lightweight backpacking. Customizable sizing and strap shapes will fit most bodies regardless of gender, and thoughtfully designed pockets and cords make it easy to stay organized. A very reasonable price tag adds to the appeal, making the Circuit my current favorite pack after 1300+ miles.
Pros and Cons
What I Love
Fits well thanks to multiple sizing options

Adjustable volume, good for

3-7 day food carries with lightweight gear
Many convenient pockets and cords
Carries weight surprisingly well for how light it is
Reasonable price for high quality
What I Don't Love
Side pockets hard to reach while pack is on
Small stitching inconsistency sometimes makes my right shoulder strap uncomfortable – likely not an issue on most packs
Design and Features
Pack Capacity
In my opinion, the ULA Circuit's 68 liter volume is a nice sweet spot. It's not so cavernous that you feel tempted to bring the kitchen sink, but has no problem expanding to fit food for a seven day carry between towns on a thru hike.
The roll top and side straps can be cinched down on small loads for a more stable feel (and, perhaps more importantly, that nice svelte look 🙂 ) when you're close to town or out for a short weekend trip. If space is getting tight you can strap a large item, like a tent or sleeping pad, to the outside on the top or back.
I've personally used the Circuit for everything from an overnight to a 7 day food carry. It fits an Ursack Major horizontally; ditto for an Ursack Minor unless the food bag is stuffed to absolutely bursting. It will fit any bear canister vertically, and smaller models horizontally.
Suspension and Padding
The ULA Circuit handles its load using a suspension hoop, single aluminum stay, and internal foam frame. The suspension hoop is removable, which is handy for running your pack through the washing machine when it gets a little funky.
The shoulder straps are moderately padded. They're not exactly pillowy soft, but they're not bad. I think my pack has a small inconsistency in the stitching on the right shoulder strap which can cause rubbing on my collar bone, but as long as I keep the strap adjusted carefully I can work around it. The load lifter straps help when the pack is full, and the sternum strap is adjustable in both length and height.
I think the Circuit handles weight pretty well, considering its fairly minimalist design. ULA recommends a max load of 35 pounds. In my experience the shoulder straps start getting a bit uncomfortable around 30+ lbs, but still bearable up to 35 lbs and even a bit higher.
My husband's Circuit probably weighed almost 40 lbs during our longer water carries on the AZT, and on the CT we met a woman who claimed her Circuit weighed 50 lbs loaded down with multiple weeks of food! It's not recommended and probably not comfortable, but if you need to stretch the weight limit every now and then to get through a long or dry stretch, I think the Circuit can handle it.
Roll Top Closure
The Circuit is essentially one big internal compartment, with a roll-top closure that buckles on both sides and cinches further with a strap over the top. I think the system works well. It's easy to use, can be cinched down to fit any size load, and there are no zippers to worry about getting stuck or wearing out.
The top strap adjusts from short to quite long, creating an extra place to carry a bulky item on the outside. I often use this strap to carry a tarp or tent, especially when I have to pack it away wet. It's also a great place for a foam sleeping pad.
Pockets and Cords
For a lightweight pack, the Circuit actually has a lot of convenient pockets. It's possible to stay very organized as long as you give some thought to what goes where.
Stretchy back pocket: The exterior mesh pocket on the back holds a surprising amount! I keep my small weather-related items back there, like gloves, sun hat, midlayer, and waterproof pack cover.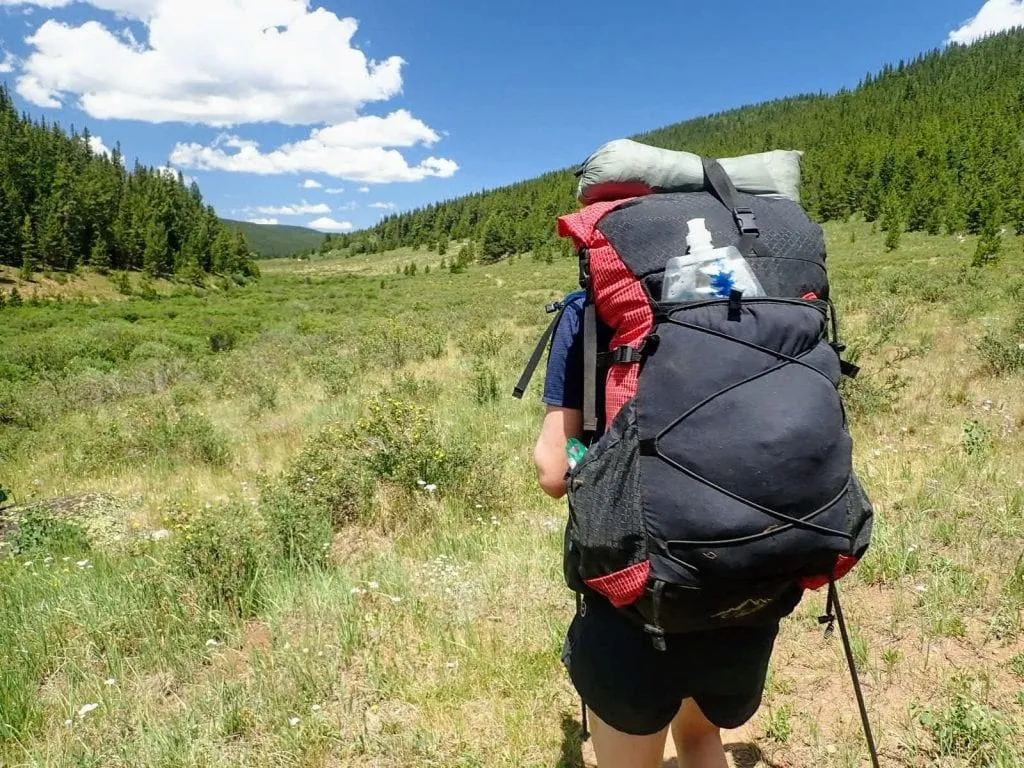 Rear shock cord: Good for holding a foam sleeping pad, folded ground cloth, or your socks while they dry in the sun.
Side pockets: Many hikers put their water bottles here, but I have trouble getting them in and out (maybe I need to work on my shoulder flexibility?) and I prefer a hydration bladder anyway. Instead I use these for snacks and small items like sunscreen and hand sanitizer. One small gripe is that each pocket has a sizeable hole in the bottom, presumably for draining water(?), and small things can fall through if you don't position them right.
Hip belt pockets: Roomy and convenient, big enough for my smartphone plus other small items like ear buds, chap stick, and snacks.
Pole straps: I tend to stow my hiking poles in one of the side pockets at the rare times I'm not using them, but the Circuit also has elastic bungee straps on the back that can hold hiking poles or an ice axe.
Fabric and Water Resistance
The fabric on my Circuit is water resistant, not waterproof. A light mist probably won't soak through, but I use one of ULA's lightweight pack covers in case of rain or substantial snow.
Size and Customization
ULA Circuit for Women?
After a bad experience with a unisex pack in the past, I was skeptical. Shouldn't there be a version of the ULA Circuit for women specifically?
But if you look closely, ULA is actually doing something smarter than offering a women's version: they're offering customizable sizing for everybody. Obviously not all women are the same size and shape, nor are all men. I appreciate this sizing system that allows every human to choose what's right for their body.
Size Options
Here are the choices you can make when ordering your Circuit. For details from ULA on how to measure and make your choices, go to the Sizing tab on the Circuit product page.
Torso length: Choose from small to extra large.
Shoulder strap type: Choose from J or S shape based on the shape of your chest and shoulders. According to ULA almost all women prefer the S shape, while many men prefer the J shape with the possible exception of those with very athletic shoulders. For what it's worth, my husband is fairly athletic but still likes the J straps, so most men should probably go with those unless you're truly an outlier. Here's what the two strap shapes look like:
Hip belt size: Choose from XS to XXL.
My sizes: In case this helps other women who are roughly my size, I'm 5'5″ and 120 lbs with a small chest and relatively long torso. These are the choices that fit me:
Torso length: small, 15″ – 18″
Shoulder strap: S shape
Hip belt size: small, 30″ – 34″
The sternum strap can easily be moved up and down on the shoulder straps to accommodate different chest shapes.
The hip belt, in addition to coming in several sizes, has a nice two-strap adjustment system. This makes it easy to angle the padding so that it fits a variety of hip contours, curvy or straight or in-between.
Colors and Embroidery
The fun stuff! ULA offers a few different colors to choose from, plus optional name embroidery for $15. You can even go all out and customize every section of your pack. I bought a stock red version to save money, but if you're going to be looking at your pack every day for weeks or months it may be worth the cost to make it look gorgeous and unique.
Add-Ons
Since I bought my ULA Circuit, they've stopped including the add-ons and instead offer them separately as accessories. Here are the add-ons to consider:
Hydration sleeve: If you hike with a hydration bladder, this is a must. Bladders can be hard to get in and out of loaded packs, but this sleeve makes it easier to slide in and out and also keeps the bladder positioned properly inside the pack.
Internal stash pocket: I use this as my wallet when I'm thru hiking, and definitely recommend it unless you have another place to carry your essentials like money and keys. It's conveniently positioned near the top of the pack so you can access it even when fully loaded, and detaches easily in case you want to carry it while leaving your pack somewhere unattended.
Shoulder strap pocket: This didn't come with my pack and I haven't missed it, since I carry my phone in my hip belt pocket and snacks in my side pockets. However, if you use the side pockets for water bottles then you might want this for extra snack or other small item storage.
Water bottle bungees: Haven't tried these for the intended purpose, though they are handy for routing my hydration bladder hose. If you use Smart bottles, I'd suggest trying the side pockets first. If those don't work for you, these bungees might be helpful.
Hand loops: I had no idea what these were even for when they arrived with my pack! If you use hiking poles, you don't need these. If you often hike without poles you might end up loving them, but I suspect most people won't miss them.
Again, these accessories no longer come with the Circuit, so be sure to order the ones you want.
Durability
Granted I've hiked "only" around 1300 miles with my Circuit, which is around half of a full-length trail like the PCT. But so far it shows zero signs of wear. It's been chewed on by mice, stabbed by cacti, thrown into pickup trucks, and dumped on the ground more times than I can count. No holes, no tears, no broken bits, not even any stains.
Value For Money
When choosing lightweight backpacking gear, I always look at weight versus price. It's often true that lighter gear is more expensive, but there are always a couple options that stand out as an excellent balance of lightness, functionality, and affordability. The ULA Circuit is definitely one of those standouts.
To help you compare, here's a quick list of the Circuit's major competitors in the lightweight hiking backpack space:
As you can see, the Circuit isn't the lightest, but it holds its own when it comes to both price and weight. The Mariposa comes close in price but has smaller capacity, and the Arc Haul and Windrider are both significantly more expensive. The Granite Gear Crown2 is perhaps the closest competitor; here's a side-by-side comparison for those on the fence.
Women take note: While all these packs come in different sizes, the Circuit is the only one that offers two different choices of shoulder strap shape. This may or may not be a factor for you, but if you've had trouble with unisex packs in the past perhaps it'll make a difference.
In Conclusion
If you're looking for a lightweight but sturdy hiking backpack for thru hiking or lightweight backpacking, I definitely recommend the ULA Circuit. I've found it comfortable, adjustable, durable, and blissfully free of the small annoyances that can drive you mad during weeks or months on the trail. It does its job so well that I don't think much about it – exactly what you want from a backpack!
Who might not want the Circuit? I met a few experienced thru hikers on the Arizona Trail who started their hiking obsessions with Circuits on the PCT and remembered their packs fondly, but eventually downsized to smaller and lighter packs when tackling the CDT or other more advanced trails with ultralight gear.
These folks were generally packing lighter and moving faster than we were, sometimes putting in thirty mile days when we did "only" twenty. If that's you, consider skipping the Circuit and going straight to a smaller and lighter pack like the Zpacks Arc Air. For everyone else, try the Circuit!
More Backpacking Resources
If you're getting ready for a new hiking adventure, you might also like these:
For even more, check out the full list of hiking and backpacking resources from Exploring Wild.


Hiking resources in your inbox?
There's more where this came from! Sign up here for occasional emails full of inspiration and information about backpacking and hiking.


Share the Adventure
If you found this article helpful, please consider sharing so more people can benefit from it:
Pin For Later