Shortly after I published my review of the ULA Circuit, I got an email from reader and experienced backpacker Kurt Neuswanger in Grand Junction, CO. Kurt was in the market for a new pack and wondered how the Circuit would compare to his long-time favorite, the Granite Gear Crown. Having never tried the Crown, I unfortunately didn't have much to offer and wished him luck.
So when Kurt ordered a Circuit, compared it in detail with his well-used Crown, and sent me his notes, I was excited! He graciously agreed to let me publish his review and comparison in hopes of helping other hikers decide between these two popular lightweight backpacks.
Quick Overview
Before we get into Kurt's comparison, here's a quick overview of each pack for those not yet familiar.
The Crown and the Circuit are both popular lightweight backpacks. They generally appeal to thru hikers and serious backpackers who carry lightweight gear and sometimes need space for longer food carries.
Both use minimalist internal frames to keep the weight down and aren't meant to comfortably carry much more than 30 – 35 pounds. If your gear isn't quite that dialed yet, try these lightweight backpacking tips first.
Granite Gear Crown2
Capacity: 60 L (unsure if pockets are included)
Weight: 2 lbs 4.7 oz (2 lbs 1 oz without top lid)
Max load: 35 lbs
Price: $199.95
Sizing: Comes in men's fit (with 3 torso sizes) and women's fit (with 2 torso sizes)
Details and to purchase:
Men's: Granite Gear, REI
Women's: Granite Gear, REI,
ULA Circuit
Capacity: 68 L (including pockets)
Weight: 2 lbs 4.6 oz
Max load: 35 lbs
Price: $279.99
Sizing: 4 torso sizes, 6 hip belt sizes, 2 strap shapes (roughly corresponding to men's and women's)
Details and to purchase: ULA Equipment
---
Circuit vs. Crown
Guest review from Kurt Neuswanger of Grand Junction, CO
I have been backpacking in Colorado, Utah, and Wyoming for about 45 years. Last summer, I ordered a new ULA Circuit, after using the Granite Gear Crown for the last 7 years. The pockets on the Crown had acquired some holes over the years, and I decided to try the Circuit after hearing positive reviews, including yours.
I had the Circuit all packed for a backpack trip to the High Uintas in Utah, and my buddy Greg had arrived, ready to leave. I was showing him the Circuit and started noting all the things that I was not satisfied with. Pretty soon I realized I should not use the Circuit, so I could return it for a refund. So I completely unpacked it and repacked everything into the Crown!
Size and Feature Comparison
The Crown and Circuit are almost identical in size, weight and features.
It is difficult to accurately compare volume, because ULA includes the pockets in its calculations but Crown does not specify whether its 60L size includes pockets. But they are virtually identical. I think the Circuit main compartment is larger. The hip pockets are the same size.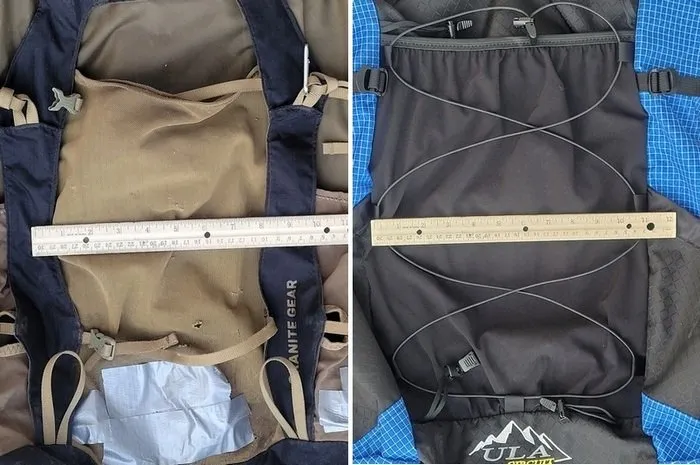 Pros of the Crown
Here are the things I didn't like about the Circuit:
1. The side pockets don't hold Smartwater bottles well. They too easily slip out. And I couldn't remove the bottles with the pack on, so the steeply sloped pockets were of no use to me. (I can't reach water bottles in the Crown either. I just remove the pack to get a drink.) (Alissa: I can't reach bottles in the side pocket of my Circuit either.)
2. The side pockets have large holes, making it impossible to hold small items like lip balm, batteries, knife, Garmin, etc. In fact, you really can't put anything in the pockets but bottles or tripods and tall items. I would personally sew those holes shut! (Alissa: This bugs me too. I put snacks, gloves, maps, and other medium-size items there but have lost a granola bar or two out the holes.)
3. The front pocket is opaque. I realize mesh is easier to rip, but I find it very useful to be able to see things inside the pocket (such as toilet paper or Garmin). Otherwise I'm not blindly feeling inside and emptying the pocket to get to that toilet paper!
4. The side compression straps cannot be unclipped. This makes it very difficult to insert an 18″ chair or mat. Granite Gear upgraded the Crown to clippable straps a long time ago.
5. I loosen and tighten my hip belt many times during a hike, and I prefer a single buckle for that convenience. Unfortunately, I didn't get a chance to try the Circuit in the real world to find out if its hip belt was more comfortable, which would offset that inconvenience (which is minor, admittedly). (Alissa: Personally I like the double buckles and the way they let me transfer pressure to different spots when I get sore.)
6. The Crown comes with an optional 5L top lid ("brain"), which I rarely use, but it is invaluable when I do need the extra space. Plus it provides the only zippered pocket on the pack (I really like zippered pockets and wish the Crown and/or Circuit had some of them).
Pros of the Circuit
Things I did like about the Circuit:
1. The bright color choices. I nearly lost my brown & black Crown when I leaned it against a tree to look for a campsite, and then I nearly couldn't find the pack again in the forest in the fading light!
2. The Circuit's compression straps are wider than the Crown's, which makes them easier to unclip.
3. The Circuit has a much better sternum strap, which slides all the way down, and is easy to unclip.
4. The Robic fabric appears to be quite durable, although it is slippery. (Alissa: My Circuit is still good as new after ~1300 miles so far, so I can confirm it's durable.)
5. The S-curve straps appear to fit better and are probably more comfortable, but I didn't get a chance to find out.
Sticking with the Crown
I wrote to Peter Longobardi at ULA, and he kindly offered to make me a custom pack with see-through mesh and clippable straps. He also suggested that the water bottle pockets work much better when holding Gatorade-sized bottles, but I depend on a Smartwater bottle for my Sawyer filter.
Peter at ULA told me they used to have a mesh big pocket but they changed fabric to make it more durable. I personally am willing to tolerate some holes in exchange for being able to see what is inside. The new Crown2 also has solid fabric side pockets.
I declined Peter's offer because essentially the Circuit would be just another Crown. And the Circuit costs much more than the Crown (right now the Crown is just $160 on the Granite Gear website). Plus, if ULA does not have your preferred pack in stock, the actual cost is even more than the advertised $255 base price.
---
Alissa: Thanks Kurt for the detailed review! I can definitely see the appeal of the Crown, especially at that price.
Women-Specific Fit
Being a woman, I want to add one final note about women's sizing to Kurt's very detailed comparison.
I've been happy with my "unisex" Circuit with S-curve straps, which are essentially ULA's answer to a women-specific pack, and the highly adjustable hip belt design.
It looks like Granite Gear is doing something similar with their "women's fit" version of the Crown2, which uses a different strap and hip belt shape from the men's version.
Of course we're all shaped differently, but I'd say both these packs offer a good starting point for women in search of a well-fitted pack.
In Conclusion
As you can see, Kurt ended up preferring his Crown after comparing it side by side with a Circuit. I love my Circuit and haven't tried the Crown, but I might be tempted if my Circuit ever wears out (looking unlikely at the moment, as it's quite durable). I can imagine folks might prefer one over the other simply based on fit and comfort, since we're all shaped a little differently.
A few things can be said for sure. If price is the primary concern, the Crown wins. If colors are a priority, the Circuit wins! Durability is hard to judge, but the Circuit looks pretty good there.
As for the rest, it may be a matter of personal preference. Hopefully the details here will help you decide between the Circuit and the Crown based on your own priorities.
More Backpacking Resources
If you're looking for a new backpack, you might also find these helpful:
Or visit the backpacking resource center for more gear reviews, backpacking how-to's, and trail inspiration.


Hiking resources in your inbox?
There's more where this came from! Sign up here for occasional emails full of inspiration and information about backpacking and hiking.


Share the Adventure
If you found this article helpful, please consider sharing so more people can benefit from it:
Pin For Later