If you're considering a DIY camper conversion, one of your biggest decisions (if not THE biggest) is which vehicle to use as a base. Are you the classic Sprinter type? How about a quirky old school bus? A stealthy box truck?
Or perhaps, if you're odd like we are, you're even considering a used ambulance for your camper conversion.
When my husband first floated the idea of a used ambulance as the base for our "camper van" conversion, I admit I was skeptical. We'd been tossing around the idea of a DIY van conversion for a few years, but the idea of using an ambulance as our "van" had never occurred to me.
But, thanks to his curiosity and a few intriguing Reddit threads, the idea captured our attention. The advantages of an ambulance camper conversion are pretty convincing. So, after a few months of reading and researching and scouring online auction sites (see this post for what we learned about choosing an ambulance), we finally pulled the trigger via Craigslist.
We're now well into "version 1" of our ambulance camper conversion, and we are very happy with our choice. It's not perfect and there are a few hassles to deal with. But there are going to be hassles with any camper conversion project; when you choose your vehicle you're just choosing which hassles you prefer.
So, if you're on the fence about which vehicle type is best for your camper conversion, let me explain what we love about our ambulance conversion… and a few of the things we don't love quite as much.
Advantages of Ambulance Camper Conversions
Used ambulances are relatively affordable. Especially with the increasing popularity of Sprinters and other classic vans for conversions, prices have risen. Used ambulances are still flying a bit under the radar, and if you're willing to look for a few months you can find a good quality vehicle – albeit with a lot of mileage on it – for under $20,000.
They're well built. The construction quality throughout the ambulance box is impressive. They are, after all, designed to be robust and easy to use on the road. Padded corners, sturdy hinges, ventilation in all the right places, and more! The only time we don't appreciate this is when we're trying to remove a particularly sturdy component.
They're often well maintained. You should verify the history of any used vehicle you're looking to buy, but ambulances are typically fleet maintained during their period of active use. You can usually count on regular maintenance and repairs at least once or twice a year.
Used ambulances come with a mostly usable living space already installed. Ambulance boxes are already kitted out with seating, cabinets, lighting, air conditioning, various useful mounting points and attachments, and other features that many people want in their conversion.
They're well insulated. Most conversion projects start with adding insulation to floors and walls, but an ambulance box is already well insulated.
They have extensive electrical wiring already in place. This can turn out to be a pro or con depending on your skills, what you want to do with your vehicle, and your approach to power and batteries.
They often come with additional safe seating in the back. Usually there are several bench seats with safety belts, sometimes even 3-point harness style, and usually a single rear-facing seat. If you're considering carrying passengers, this could save you some time and money. Keep in mind that these seats are only safe for passengers if you keep your conversion work collision-safe.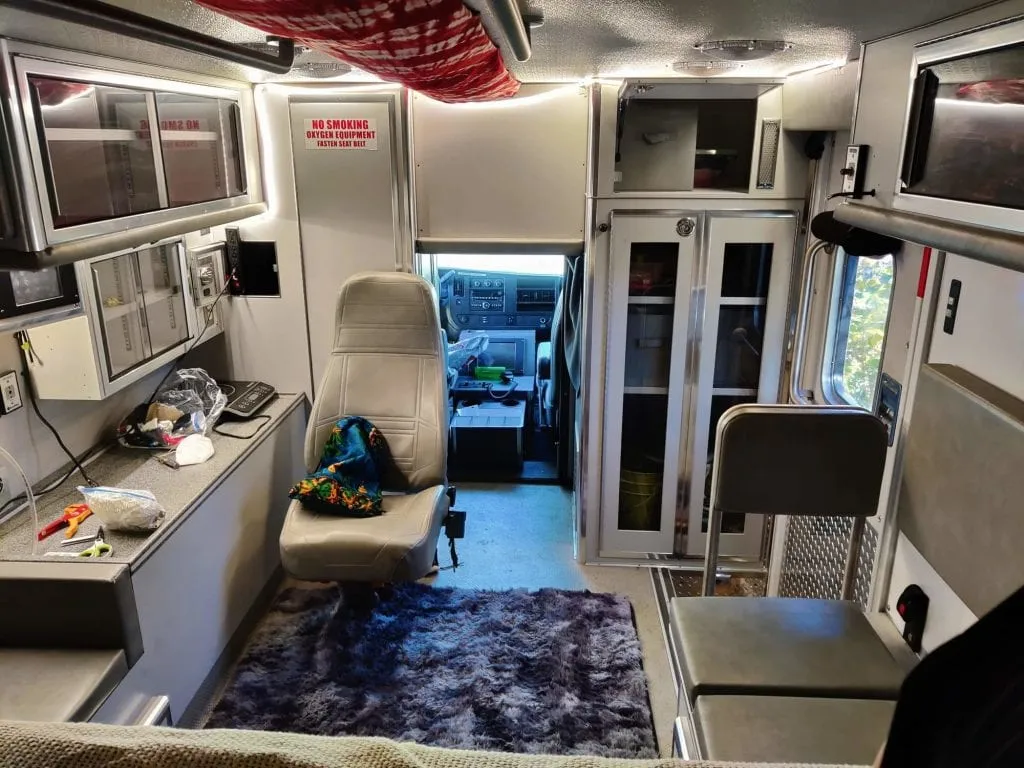 They're wide, as wide as a vehicle can legally be, and have vertical walls (if it's a type 1 or 3). This maximizes the usable space inside. For us – we're only 5'5" and 5'8" – we were able to fit our bed sideways across the back, saving more space for other things.
They're a good size for a camper. Because they're designed (especially type 1 and 3) for people to stand up and move around in, they're mostly the right height for a camper (though height does vary – see this post for details). The full length is just about enough for a luxurious bed plus some living space and maybe, if you're creative, a bathroom. They're a bit bigger than a cargo van but smaller and thus more maneuverable than most school buses or larger RVs.
They have TONS of storage, both inside and out. The inside of our ambulance is full of delightfully functional cabinets with adjustable shelves, sliding doors, sturdy hinges, and thoughtful ventilation. We had zero trouble organizing ourselves into our new tiny living space for our maiden voyage. There are also several large outside cabinets, perfect for storing trash, grey water, and the toilet bucket in our "quick and dirty v1" conversion. A couple cabinets are even accessible from both inside and out, which is just kinda fun.
Drawbacks of Ambulance Camper Conversions
Though we're happy with our choice, nothing is perfect, and we've noticed a few drawbacks as we work on our conversion project.
The electrical system is extremely complex, and if you're buying a used vehicle it probably has some bugs. Unless you have considerable skill and a detailed manual, it may be hard to fix or modify the system yourself. We ended up bypassing the original system and simply connecting new subsystems to our own solar and battery setup as needed. Some day we'll remove the original wiring that's no longer being used.
There's plenty of structural complexity to work around. Unlike the bare shell of an empty cargo van, we never know what we're going to find when we cut or drill into a wall that might be full of cables, ducts, attachments, or important structural support. This makes it a little more daunting to tackle modifications and requires a careful approach.
A lot of interior space is already taken up with storage and seating. This is great if you want to build out your project incrementally or use what's already there. But if you have your heart set on a specific layout, you'll need to first remove a lot of stuff in order to get the blank canvas you need. Speaking of removing stuff…
Their sturdy construction requires some serious tools to modify. To remove one of our cabinets so the bed could fit, we needed to cut through an inch of sturdy wood and then aluminum. It was doable, but only with a sufficiently powerful corded angle grinder.
They're so conveniently outfitted already that it can be hard to take the leap to a full conversion. This is the rut we're currently stuck in. Our final vision requires us to demolish a lot of really awesome seating and storage. We'll probably get there eventually, but for now it's hard to find the motivation since it's almost good enough already.
They are not at all stealth, at least until you do some serious work on them. Even after removing all the official decals (legally required), sometimes police and fire truck drivers still wave at us. If you plan to do a lot of urban stealth camping, an ambulance may not be the best choice.
It's hard to know what's legal when it comes to driving a used ambulance. We've struggled to find clear information, because rules seem to vary by state and be inconsistently enforced. We knew taking off all the "ambulance" and "star of life" decals was top priority, and supposedly the lights and sirens must be disconnected or covered. But even that leaves some room for interpretation, and we'd rather not be pulled over or cited someday thanks to a misunderstanding or oversight.
They can confuse people, like the DMV or insurance providers. Because ambulances are almost always registered as commercial vehicles (though this is common with used cargo vans or trucks too), you may have some extra hoops to jump through for paperwork like registration and insurance. We've usually been able to clarify that it's a former commercial vehicle registered for personal use, but it can take a bit more explanation than a simple camper van.
There are fewer stock items, videos, and examples out there to work from, compared to Sprinters and other more popular base vehicles. If you want to convert an ambulance into a camper, you'll need to get creative and strike out on your own.
Is an ambulance camper conversion right for you?
Pulling all this together, I think a used ambulance would make a great conversion project if you:
Have a limited budget but want a high quality vehicle
Have the patience and creativity to design your own conversion instead of copying examples
Want to do your conversion incrementally and use it as you go along, taking advantage of the features already there until you can replace them with your own
As for our conversion, we hit the road after installing solar panels and a platform bed. We have a grand vision for the complete conversion, but for now we're glad to spend time on the road learning what we need and how we want to use the space. We're glad we chose a used ambulance for our camper conversion, but we're not done yet! If our impression changes as we continue the adventure, I'll be sure to update this post.
Outdoor travel resources in your inbox?
There's more where this came from! If you love outdoor adventures in beautiful places, sign up here for occasional emails with my best tips and inspiration.
Share the Adventure
If you found this article helpful, please consider sharing so more people can benefit from it:
Pin For Later