As a bikepacking destination, Utah has a LOT going on. It may be best-known for the stunning red rock canyon country around Moab, but that's just the beginning. Three major geological regions — the Rocky Mountains, Great Basin, and Colorado Plateau — converge in Utah, and the result is a delightful variety of terrain from the high alpine of the Wasatch Range in the west to the sand and slickrock of the south and east.
The established bikepacking routes in Utah are similarly varied, and growing fast. Route developers have been hard at work piecing together the best paths through Utah's web of USFS and BLM roads and trails and other rural backroads (Utah is 63% public land, the second-highest percent of all the states, after Nevada). Bikepacking.com has published a number of shorter classics perfect for long weekend adventures, while Bikepacking Roots is the current authority on long-distance routes. Both organizations hope to encourage an appreciation of the sometimes-fragile landscapes and indigenous history of the wild land their routes pass through.
I recently spent ten days bikepacking from Utah's northern to southern border, and now I'm obsessed with this state as a bikepacking destination. I was already familiar with the dramatic deserts of the south and east, but on this ride I spent days traversing timbered plateaus above 10,000 feet and my impression of the state is forever changed. My bucket list has been officially updated with a bunch more Utah bikepacking routes, and in this post I'll share with you the classics, the long-hauls, and my own personal favorites.
White Rim Road
Length: 97 miles
Style: dirt and gravel road
Difficulty: beginner+
When to ride: spring or fall
Learn more: route description and ride reports
When most people think of bikepacking in Utah they're probably picturing the stunning red deserts and canyons of the Moab area. So let's start there! White Rim Road is a popular backcountry 4×4 drive in Canyonlands National Park. Bikes are welcome too and there are campsites dotting the canyon rim along the way. By connecting on a bit of paved road you can form a loop perfect for a premier bikepacking overnighter or long weekend.
Camping permits are hard to get, and you may be sharing a campsite with guided 4×4 tour groups. But the Canyonlands scenery is so out-of-this-world amazing that you probably won't mind. You'll be riding the rim alongside the inner canyons of the Colorado and Green rivers, sometimes just a stone's throw away from the drop-off, surrounded by yet more canyon walls towering above you. At the risk of understatement: it's a stunning place.
Aside from permit applications and campsite selection, water is the biggest logistical hurdle on this route. River access is rare and water is silty, so if you're riding over more than two days you'll likely have to pre-cache water or hire an outfitter to do it for you. Vehicle-supported trips are also an option on this route, if you're into that.
If you get your water and permit situation sorted, this route makes a great beginner trip thanks to its easy logistics and not-too-remote vibe. Anyone who starts out bikepacking on the White Rim Loop might be spoiled for future trips, but they'll definitely be hooked!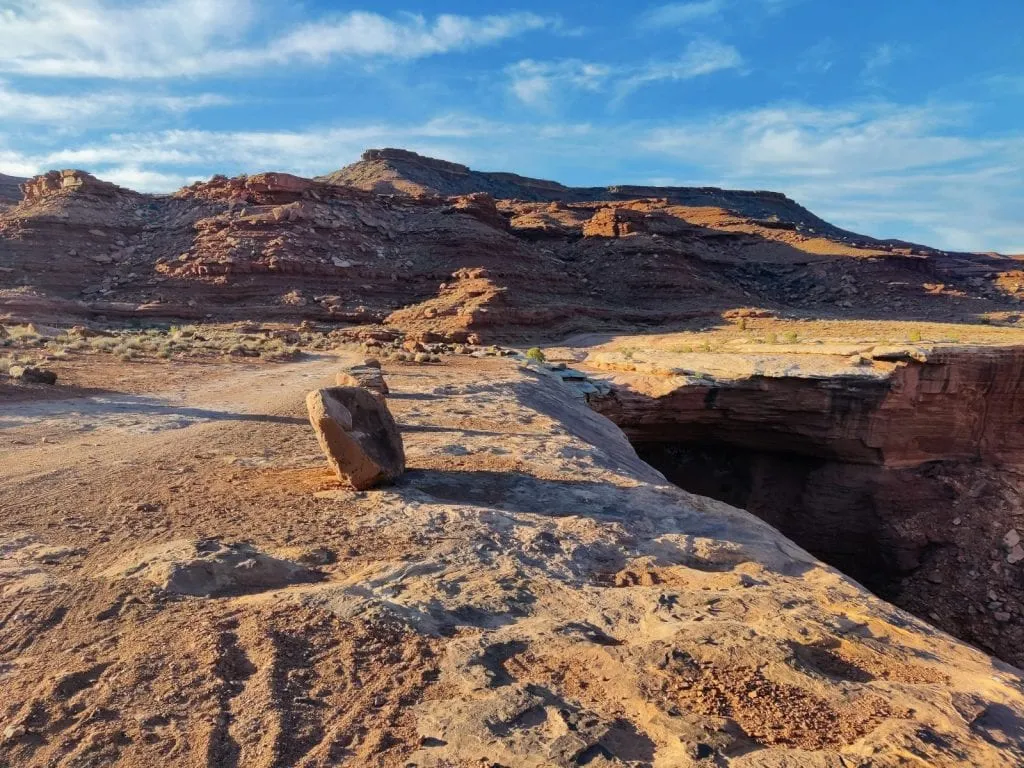 Kokopelli Trail
Length: 158 miles
Style: singletrack, doubletrack, dirt roads, some pavement
Difficulty: intermediate
When to ride: spring or fall (summer possible, but hot)
Learn more: route description and ride reports
For a big dose of Moab scenery without the permit hassles of the White Rim, consider bikepacking the classic Kokopelli Trail between the adventure towns of Fruita, CO and Moab, UT. This route is a bit more rugged and remote and about 25% technical singletrack, so definitely bring your mountain bike. Riders will enjoy plenty of classic red desert scenery and also cross the La Sal Mountains, as well as the Colorado / Utah state line, on a rewarding point-to-point route suitable for a long (maybe very long) weekend.
The area around Moab is packed with excellent bikepacking, and I've only chosen a couple highlights here. Be sure to also consider the Hey Joe Safari, Peaks & Plateaus, and any other new routes in the bikepacking.com collection.
Bears Ears Loop(s)
Length: 647 miles or less
Style: dirt and gravel roads
Difficulty: intermediate
When to ride: late spring or early fall
Learn more: route description (Bikepacking Roots)
If you'll looking for a longer Utah bikepacking route that samples the Moab area plus other highlights of Utah's diverse scenery, consider the Bears Ears Loop. The namesake Bears Ears National Monument, through which the southeastern side of the route passes, holds thousands of cultural and archaeological sites of significance to indigenous tribes and has been the subject of recent political conflicts. With this route Bikepacking Roots hopes to raise awareness of this sensitive region and inspire riders to love and protect it.
Though longer and not without challenges, the easy loop logistics and largely non-technical riding make this epic Utah bikepacking route a worthy goal for any rider. Highlights include high forested plateaus, classic Moab canyon scenery, mountain riding in the Abajo and Henry ranges, massive aspen groves (especially nice in the fall), and an optional connector through the famous San Rafael Swell rock formations allowing for two shorter loop options.
There's no singletrack on this non-technical route so you'll be fine with a rigid mountain bike, but don't underestimate how rugged the dirt roads in this region can be. Plan for about two weeks to ride the full loop, or you can shorten it via the connector through the San Rafael Desert (the challenge will be deciding which stunning half to pick). As with many routes in the area, water sources are a logistical focus and you'll need a large capacity, at least 8 liters according to Bikepacking Roots.
The Bears Ears Loop network acts as a switchboard through central Utah for riders wanting to piece together long rides from multiple routes. The western edge overlaps with the Western Wildlands Ride, in particular the cool and peaceful Aquarius Plateau at over 10,000 feet elevation. The southern edge shares routing with the longer Plateau Passage en route from Vegas to Durango. The northern edge is part of the Trans Rockies Connector that links the Western Wildlands Route to the Great Divide Mountain Bike Route, providing epic big loop potential. Knock yourself out!
Western Wildlands Section Ride
Length: 530 miles (Bear Lake border to Kanab)
Style: dirt and gravel roads, some pavement
Difficulty: intermediate+
When to ride: summer to early fall
Learn more: route description (Bikepacking Roots), ride reports (BikeSleepBike)
For fans of long-haul point to point bikepacking routes, you can't beat the Utah section of the Western Wildlands Route. The full routes stretches all the way from the US / Canada border to the US / Mexico border and is worth a look in its entirety, but if you're short on time the Utah section — especially between Soldier Summit and Kanab — is one of the highlights.
Starting at the vacation community of Bear Lake on the Idaho / Utah border, the WWR crosses sagebrush-studded plains and flirts with the Wyoming border. From Evanston riders have a choice: ride more developed areas through Park City or take the paved but scenic Mirror Lake Highway through the Uinta Mountains; I recommend the latter.
After passing Strawberry Reservoir and resupplying at Soldier Summit, the real highlights begin. The next hundred miles follow Skyline Drive, a rugged 4×4 road mostly above 9000 feet down the spine of the Wasatch Plateau. Despite sometimes challenging weather and tough riding, this scenic section and the following 5000 foot descent to Salina are a highlight of my bikepacking career.
From Salina there's still plenty more to enjoy: Lost Creek Canyon, Fish Lake, the largest aspen grove in the world, cool and peaceful Aquarius Plateau, a quick detour to Bryce Canyon National Park, scenic riding through a private ranch, and a pass through Grand Staircase-Escalante National Monument before popping out at the red cliffs of Kanab in the far south of Utah.
Note that part of this WWR section overlaps with the western edge of the Bears Ears Loop mentioned above. If you prefer to head east and see some classic desert scenery instead of traversing the high forested plateaus, you have two different options for linking up with that loop. The WWR in northern Utah also intersects with the Pony Express Route, another long-distance route developed by Bikepacking Roots.
Grand Staircase Loop
Length: 160 miles
Style: dirt and gravel roads
Difficulty: intermediate
When to ride: early spring or late fall
Learn more: route description (bikepacking.com)
I may be biased since this was my first bikepacking ride in Utah, but I think this route is top-notch. It's logistically simple and just the right length for a short but immersive adventure (about 4 days). The dirt road riding is interesting and challenging without being technical. You don't need any suspension, but a rigid mountain bike with wider tires is helpful for all the rocks and some sand.
The canyon country scenery, including Grand Staircase-Escalante National Monument and Glen Canyon National Recreation Area, is both classic and varied. Highlights include a sweeping descent down Kelly Grade, a gradual climb up Cottonwood Canyon with its distinctive cockscomb rock formation, and the rugged and remote "Death Ridge," the most challenging section in my opinion.
As with most desert bikepacking routes in Utah and elsewhere, pay attention to water sources especially in the fall. Their frequency is manageable but some planning is required, and you may need to carry 6-8 liters at times. Temps can be hot down low near Big Water (good for a simple resupply stop) and cooler up at the higher elevations.
Plateau Passage
Length: 1218 miles
Style: dirt and gravel roads, some singletrack, some pavement
Difficulty: advanced
When to ride: late spring to early fall
Learn more: route description (Bikepacking Roots)
The Plateau Passage is a long and rugged route traversing extensive public land and vast remote spaces between Las Vegas, NV and Durango, CO. Along the way it spends some quality time in Utah, crossing the high plateaus of the central region before continuing across the Colorado Plateau (still in Utah) and visiting Moab in classic canyon country before heading to the Colorado border. Though I'm familiar with several of the areas it traverses, the Plateau Passage is still very much on my bucket list.
This route is designed to be more challenging and remote than many of the others in this list, and some experience with desert bikepacking is highly recommended. The riding can be tough and 20% of the whole route is singletrack, so bring your mountain bike and at least 2.3″ wide tires as recommended by the route designers.
Utah Mixed Epic
Length: varies
Style: mix of singletrack, dirt and gravel roads, 4×4 roads, some pavement
Difficulty: advanced
When to ride: fall
Learn more: event website
Held annually in September or October, the Utah Mixed Epic is a self-supported bikepacking race that takes riders on a different adventurous route every year. The 2022 route was a challenging 637 mile loop starting and ending in Moab, and the 2023 edition is still being designed. Bikepack racing isn't for the faint of heart, but if you have some bikepacking experience and love pushing your limits, riding at night, and strategizing about how to cover more miles in less time, it could be your new favorite obsession.
In Conclusion
As you can surely see by now, Utah has some incredible bikepacking routes! Ride far enough and you'll encounter lush alpine scenery, stunning cliffs and canyons, endless arid expanses, and everything in between.
Utah is a rewarding place to bikepack, but it's not always easy. The dirt roads may be rocky, sandy, or muddy. The weather might be too hot or too cold, or both in the same day. The roads might be impassably wet and water sources may be dry. But the views are big, the land is vast, and the night skies are dark, and I promise it's all worthwhile!
More Bikepacking Resources
If you liked this post, be sure to check these out too:
Or visit the bikepacking section for lots more.
Bike resources in your inbox?
There's more where this came from! Sign up here for occasional emails full of inspiration and information about bikepacking and bicycle touring.


Share the Adventure
If you found this article helpful, please consider sharing so more people can benefit from it: