The vast Angkor Wat Archaeological Complex in Cambodia is an amazing sight to behold. There's a reason visitors come from all over the globe to tour Ankgor Wat and the dozens of surrounding temples, some of which are over a thousand years old. It's a stunning setting in which to admire the work of past civilizations, ponder the future of our own, or simply take some iconic pictures.
What is the best way to visit Angkor Wat? If you have a bit of time, moderate physical fitness, and are up for a little adventure I highly recommend touring Angkor Wat by bicycle. You'll be able to maneuver around the crowds, create your own flexible itinerary, and save money.
Seeing Angkor Wat on a bicycle isn't as hard as it might sound. Lots of people do it; in fact I was recently one of them. Read on for insider tips on how to get the most out of your Angkor Wat bicycle tour.
The Best Way to See Angkor Wat
The temple complex is actually pretty big and contains far more than just Angkor Wat itself. Assuming you want to see some temples beyond Ankgor Wat itself – and you really should – you won't be able to visit solely on foot. I say that as a person who loves to see places on foot, but this one is just too big. Many guided visitors are shuttled around by tour bus, and most independent travelers hire a tuk tuk driver for the day.
I propose that a bicycle is actually the perfect way to see the Angkor Wat complex. Here's why:
It's cheaper. Even if you rent a bike, you'll come out ahead compared to paying a private driver to shuttle you around all day.
It's perfect for the distances involved – too far to walk but not so far that you can't comfortably cover a lot in a few hours' time on a bike.
It's super flexible. While your tuk tuk driver will take you where you ask to be taken, nothing beats the flexibility of simply pulling over on a whim without needing to ask, explain, or arrange a meeting spot with someone who doesn't speak your language.
Sometimes it's faster. Around peak times like sunset the main road becomes totally choked with traffic. You'll be glad to have only two wheels as you maneuver carefully between the lines of stopped vehicles.
It gives you that rugged independent vibe. If you're a certain kind of independent traveler, you know what I mean. Angkor Wat is touristy and crowded. The flexibility of independent bicycling can be a partial antidote to the frustration of spending hours trapped behind shuffling, selfie-taking tour groups bused in from Thailand.
It's good exercise and good fun!
The Basics of Angkor Archaeological Park
Just a few things to know first, if you don't already:
What most people refer to as Angkor Wat is actually a large complex containing dozens of temples. Angkor Wat itself is the most famous but many of the others are just as worthy of a visit.
The complex is big, consisting of a few overlapping loops of main road with major sites spaced roughly every few kilometers.
The ticket grants you access to all temples at the complex for the time period you purchase it for: 1 day, 3 days or 7 days. Most people spend several days exploring the complex.
Siem Reap, the "base" for exploring the Angkor complex, is about five miles away along a straightforward and busy route.
Renting A Bicycle in Siem Reap
There are many, many options for renting a bicycle in Siem Reap, starting from just $1 – $2 per day. Start by asking at your hotel, or read reviews online if you're really organized, or simply walk around until you find a shop.
You may have to pay a little more, but it's possible to find shops that also rent helmets and have reflectors on their bicycles, both good ideas (you'll believe it once you see the traffic). If you want to be really prepared, bring a bike light from home for that post-sunset ride back in the dark.
Do you need a guide for Angkor Wat?
It's possible to arrange a guided Ankgor Wat bike tour in Siem Reap. Guiding is a good source of income for English-speaking Cambodians, and I'm sure a good guide can add a lot to your Angkor Wat visit. However, if you're on a budget or simply prefer to travel more independently, it's totally fine to visit without one.
If you want to get the most out of your visit, I do recommend reading about the temples or they will all start to look the same pretty quickly. I used the Rough Guide to Cambodia and skimmed through all the descriptions ahead of time so I was vaguely familiar with the names. Then I pulled up the relevant section on my phone right before visiting each one, usually while parking my bike, and re-read it while there in person. For me this was the right balance of information and independence.
Where to Buy Your Ticket
Don't make the same mistake I did! They no longer sell tickets at the main entrance on Charles De Gaulle road. You'll see an area that looks exactly like a ticket sales booth, but it does not, in fact, sell tickets anymore. If you arrive there without a ticket, you'll have to ride a few kilometers back into town to buy one.
The new ticket office is at the Angkor Wat Visitors Center, on Street 60 near the intersection with Apsara Road. It's a big efficient system and buying my ticket was easy and fast. Conveniently, credit cards are accepted. Once you get that piece of paper, guard it closely, as it will be checked by entrance monitors many times per day.
How Much Time to Spend at Ankgor Wat
Before you buy your ticket, you'll need to decide which one to get. Tickets are sold for either 1 day ($37), 3 days out of the next 10 ($62), or 7 days out of a month ($72).
Most people want to know, is one day enough? I'm going to echo what many others advised and say, generally speaking, no. Unless you're on a tight schedule and really just want a quick taste, I recommend the three day pass for most visitors. This is especially true for those seeing Angkor Wat by bicycle, as you'll have your work cut out for you just getting from temple to temple.
Here's the thing. Visiting Angkor Wat is hard work. It's hot and it's crowded. If you're anything like me, the crowds will grate on your nerves and everything will start looking the same after about half a day. If you want to enjoy your visit and get your money's worth, it helps to break up the sites into a few separate half-day chunks and give yourself a break to do something different in-between.
What to Wear and Bring
Angkor Wat enforces a strict dress code for both men and women: shoulders and knees must be covered. This can be easy to forget if you're riding a bicycle, since those of us from western cultures often dress more minimally when doing active sports in hot weather.
But don't forget! They will turn you away. A scarf is acceptable in a pinch for women wearing a sleeveless shirt, but it's easier just to wear a shirt with sleeves that cover at least your shoulders.
It's convenient to also bring a small backpack (I love these super lightweight packable ones for this kind of thing) so you can carry the following essentials:
Map and/or smartphone with navigation app
Water bottle
Sunscreen
Sunglasses
Camera
Possibly a rain jacket for those sudden downpours, or at least a plastic bag for your electronics if you get caught out.
Bike lock and helmet, if you can get them when you rent your bicycle
Keep in mind, it is HOT in Cambodia. You'll be spending a lot of time in the sun. Protect your skin and drink plenty of water (there are good quality toilets throughout the temple complex).
Getting to Angkor Wat from Siem Reap
Angkor Wat is a straight shot north of central Siem Reap on Charles De Gaulle street. It's a busy street with lots of traffic but the drivers are used to motorbikes and bicycles. Simply join the fray and pedal predictably in the shoulder until you reach the main entrance.
I won't lie, the traffic can be a wee bit intimidating to a cyclist who isn't used to it. Fortunately it is slow-moving and you're unlikely to have any serious incidents (though a minor bump here or there isn't uncommon). If you want some tips to prepare yourself, check out this post on how to bicycle safely in Southeast Asia traffic.
Choosing Your Angkor Wat Bicycle Route
So you have your bike, ticket, and backpack… Now what?
There are many possible routes for exploring Angkor Wat. The two most popular are known as the Petit (small) Circuit, and the Grand (big) Circuit. With a little bit of advance planning you can mix and match from the two to suit your schedule and endurance.
The Small Circuit is a 16 kilometer loop. The Large Circuit is an extension of the smaller loop that makes for a total of 26 kilometers. The beginning and end of both overlap each other (both loops start and end from the same place) but the middle sections are different. You can use them as guidelines but pick and choose from both, traveling whichever direction you want.
There is a good map here showing the small circuit in red and the extended large circuit route in green. I also recommend the Maps.me app, which has all the temples and routes labeled as well as places to eat, use the bathroom, etc.
Choose your own adventure, but here's one idea that worked well enough for me and allowed me to spread my visit out over several days while minimizing backtracking:
Day 1
Start counterclockwise on the grand circuit, skipping Angkor Wat for now and starting with the smaller temples in the northeastern corner (Banteay Kdei, East Mebon, Neak Pean, Preah Khan, etc.)
Join the small circuit heading clockwise, skipping the Bayon (for now) but seeing Ta Keo, To Prohm, and other small sites on the way.
Retrace route back down the east side of the small circuit from Banteay Kdei to Anchor Wat (still skipping it) and then head into Siem Reap to explore town for the rest of the day.
Day 2
Hit Anchor Wat first thing in the morning, as early as possible (after sunrise crowds disperse) to avoid the worst of the congestion.
Continue clockwise on small circuit, seeing Angkor Thom, the Bayon and other nearby smaller temples until the "temple fatigue" wears you down.
Day 3
Assuming you have a three day ticket, use the third day to do whatever you're still craving after the first two. Maybe you finally want to catch the sunrise (I'm not a morning person and don't like crowds so I never did), or the sunset (recommended). Or return to a particular area you really liked or had to skip.
Whatever you do, I highly recommend allowing time to visit some of the farther-flung, less famous temples on these routes. They are spectacular in their own right and often much more pleasant to wander around, being slightly less busy. Personally I really enjoyed wandering through the corridor mazes of Banteay Kdei and Preah Khan.
Timing and Crowds
There's no avoiding it, you'll need to mentally prepare yourself for crowds. Especially if you've been traveling elsewhere in Cambodia, you'll be shocked by the number of foreign visitors to Angkor Wat. A change of mindset is required, and sometimes a few deep breaths, depending on your tolerance for shuffling through crowded spaces like a herd of cattle.
The big ones are Bayon, Ta Prohm and of course Angkor Wat itself. The rest will still have plenty of visitors but seem quiet by comparison to those three. It's impossible to find a truly quiet time at the big three but in general early morning or late afternoon will be better than mid-day.
If the crowds get to be too overwhelming (I know I'm not the only one who feels like this sometimes, right? Right?), there's almost always a shadier, quieter place to be found nearby on a side path or back entrance.
Bicycle Parking at Angkor Wat Temples
One advantage of visiting Angkor Wat by bicycle is the ease of parking. No need to find your tuk tuk and driver in a sea of hundreds. Bicycles are easy to park and easy to find again when you return.
At the more crowded sites, look for the place where the motorbikes park. Often there will be an employee/guard nearby and this makes for an excellent spot to park your bike. If you have a lock, attach it to a tree or fence and you're all set.
Food and Water
There are many places to buy food, cold drinks and bottled water inside the temple complex, but they aren't cheap. Here are a few tips to help your Riels go further.
Many menus have ridiculously inflated prices. Like $6 per meal. My theory is that they give these to tour bus groups who don't know any better. If you look even the least bit surprised by these prices, they will often immediately offer to halve them.
Prices for drinks and snacks may be somewhat negotiable. There is a lot of competition nearby so if you really need to save a few bucks, you can try shopping around.
Bring your own water in a reusable bottle for both cost savings and good karma points.
Recommendation: Eat dinner like the locals do, picnicking on the lawn overlooking the Angkor Wat moat at sunset. Order a bowl of noodles and a blissfully cold beer or soft drink from one of the noodle cart vendors. They may even give you a mat to sit on. Take your food and mat over to the water's edge and enjoy the sunset amidst friendly Cambodian families. If you're lucky, the price will be $1. If you're unlucky, it might be $2.50 or $3. Either way, it's a nice experience. And if you're visiting Angkor on a bicycle you won't need a tuk tuk driver to wait for you while you enjoy it.
Hassles, Annoyances, and Safety
Touts and Vendors
Yes, there are some touts in the Angkor complex. The accented chorus of "Lady, you want pineapple? Lady, you want shirt? Lady, you want cold drink?" will grate on your nerves eventually. Small children may try to sell you trinkets, triggering guilt like nothing else.
These people are simply trying to earn a living. My advice is to just politely say "No thank you" and keep walking, unless you are interested in which case by all means stop and haggle politely but firmly. The vendors at Angkor seem aggressive compared to the rest of Cambodia and Southeast Asia, but I assure you they are still reserved and polite compared to many other places in the world.
One peculiar hassle I encountered came from the official ticket checkers. A number of them, seeing me pull up on my touring bike, tried to talk me into ditching my bike and hiring a tuk tuk. I think there is some kind of union of tuk tuk drivers attempting to drum up even more business in Siem Reap. If they ask you which temples you're going to see later, that's your cue to politely excuse yourself (unless you actually want a tuk tuk).
Traffic Safety
Bicycling is a wonderful way to tour the Angkor complex, but you'll need to be mindful of the traffic since you'll be riding the same route as all the cars, buses and tuk tuks. I rode my bike for 2.5 months in Asia and my only minor accident happened in Siem Reap on the way back from the temples (insider tip: give plenty of space to rowdy school boys goofing around on their motorbikes!). If I'd been following the advice I later wrote down in this post about traffic safety, I would have avoided it.
Personal Security
Siem Reap and Angkor Wat are fairly safe places. I have read cautionary statements that gave me pause, but personally I traveled solo as a young(ish) woman all around Cambodia and felt quite safe, including in Siem Reap and at the temples.
The only real concern at Angkor is theft, usually pickpocketing or bag snatching. I didn't personally observe this but have heard that it happens. Be mindful of where you wave your phone and camera around, carry your bag securely and away from traffic if walking in town, and always keep it in your control.
Other Cambodia Destinations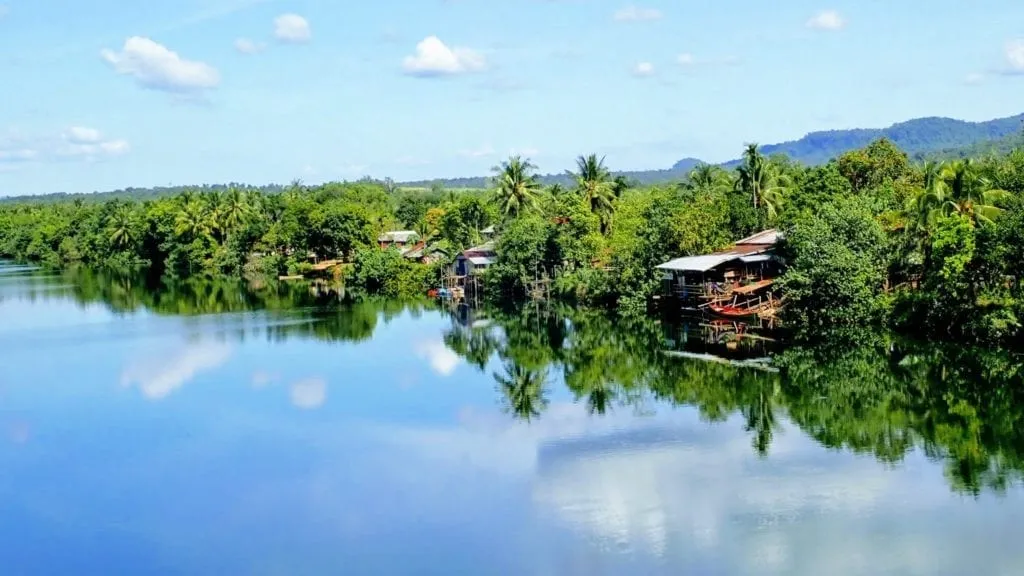 Angkor Wat is so popular that it's easy to overlook the other things to do in Siem Reap. I suggest taking at least an afternoon and evening to explore the city further, as it's probably the nicest and most accessible city in Cambodia.
Beyond Siem Reap there is an entire country to explore that many visitors never see. Personally I think it would be a shame to visit Cambodia without seeing anywhere more representative of the country as a whole. Not only will you get a better sense of how locals live, you'll also have more chances to interact with them in places that aren't completely overrun with tourists. Here are a few ideas to get you thinking.
Somewhat touristy Cambodia destinations (but less touristy than Siem Reap):
Phnom Penh
Kampot
Kampong Cham
Kratie
Less touristy (you may only see a couple other travelers):
Preah Vihear (the town, though the temple of the same name located elsewhere is supposedly nice too)
Temples of Koh Ker (just a few hour's drive from Siem Reap)
Stung Treng
Sisophon
Battambang
Krakor
More About Bicycling in Southeast Asia
I hope by now you're convinced that riding a bicycle is the perfect way to see Angkor Wat.
Personally I went a step further and traveled by bicycle exclusively for 2.5 months through northern Vietnam, Laos, Cambodia, and central Thailand. I would argue it's the perfect way to see a lot more than just Angkor Wat.
If you're curious about what this takes (no, I did not have much experience), you can read more about bicycling in Southeast Asia here.
Bike resources in your inbox?
There's more where this came from! Sign up here for occasional emails full of inspiration and information about bikepacking and bicycle touring.


Share the Adventure
If you found this article helpful, please consider sharing so more people can benefit from it: